Introducing: The Lorca Watches Model No.1 GMT
A strong debut for the fresh-faced New York microbrand
First impressions matter in the world of watches. And in late November 2022, Lorca Watches and the brand's founder Jesse Marchant made their first impression on me. With just three sentences, Jesse piqued my interest. "In short, I am an NYC-based recording artist who has created the watch I felt was missing on my tours. It is a compact (36mm case/37mm bezel) and thin mechanical Swiss Made sports watch that leans a little dressy while boasting a solid construction and 200m WR. The finishing is very crisp, and the watch features a discreetly integrated GMT function." This was a professional musician turned watch designer endeavoring to create what sounds (to me) like a damn near perfect watch. As you can imagine, opening up the thoughtfully put-together press document revealed the pair of stunning watches that I have the pleasure of introducing to you today in this hands-on review.
Before we dive in, I want to express my respect and admiration for people who are brave and ambitious enough to create a new watch (including our very own Thomas van Straaten). As a watch journalist, I have the privilege of seeing more than the average person, and sometimes the vastness of the range of designs available is genuinely overwhelming. And this variety exists even though, as a functional object (a tool, if you will), a watch's function largely determines its form. So designing a new watch is very much like reinventing the wheel. And of those who take on the challenge, few achieve something that genuinely feels new and not overly iterative. Even fewer manage to truly impress, creating an object that feels like it should have existed already and oozes the right kind of primordial charm. I genuinely believe that Lorca's debut timepiece achieves this.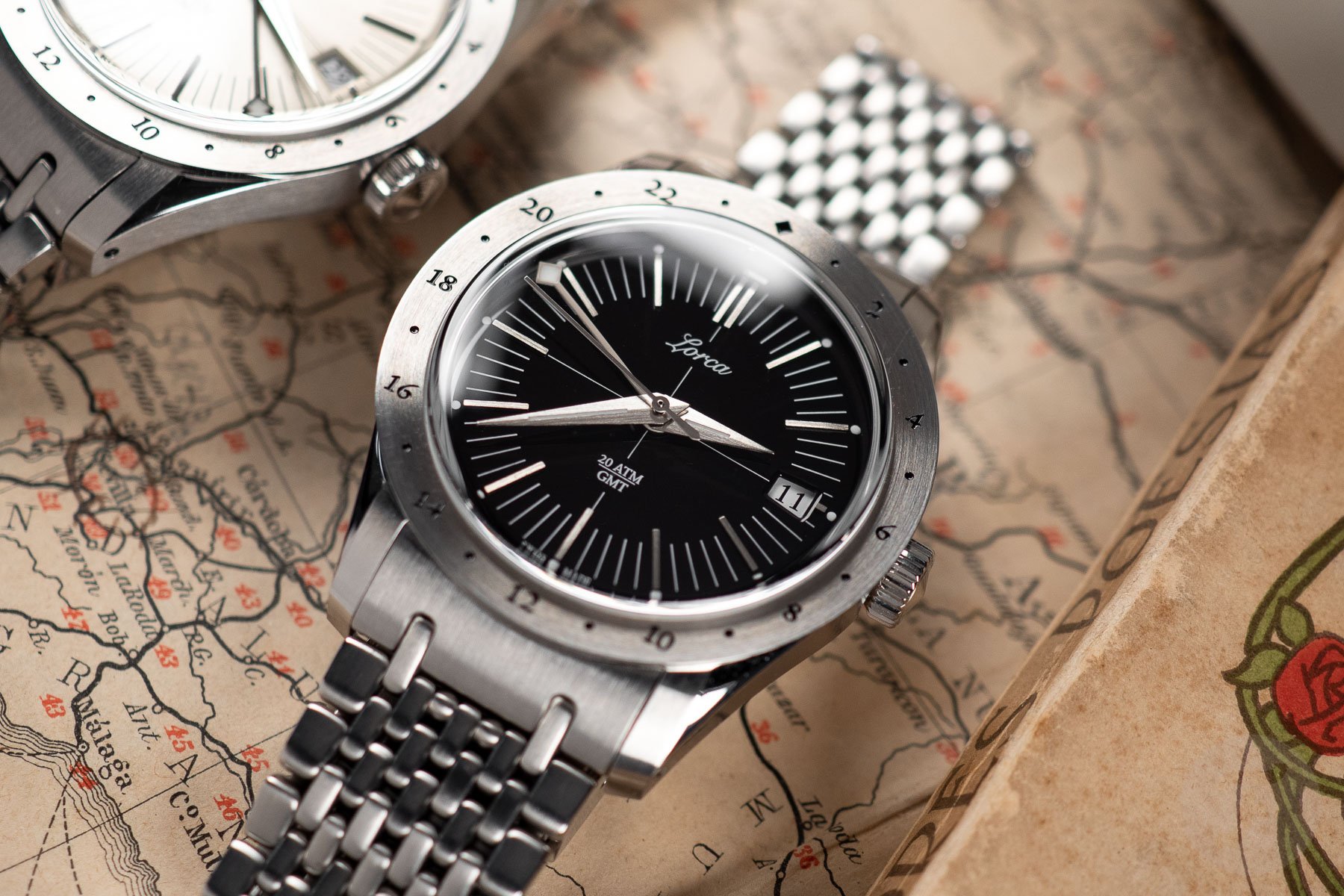 A formal introduction
The Lorca Watches brand was founded in 2022 by recording artist Jesse Marchant in New York City. To understand Marchant's roots, we must first head north, a straight shot up Interstate 87 alongside the Hudson River, and across the border near the town of Champlain. About an hour's drive into Canada, you'll find the city of Montreal, where he was born to a Swiss/Canadian family. And although he first made a name for himself on stage with a guitar in his hands, his maternal bond with Switzerland was always strong. Watches were a constant in his life, but their appeal and relevance did not blossom until he inherited his grandfather's gold watch 15 years ago. The memories of his grandfather and the time they spent together in Switzerland when he was a kid lived on inside that timepiece. They became the spark behind Jesse's newfound fascination for watches.
Through the following 15 years, Jesse amassed a humble collection of watches, mirroring his acquisition of knowledge on horology. All the while, he continued to visit Europe as a touring solo artist — in our first call to discuss the watch, he recounted fond memories of a show he played just last year in the legendary Amsterdam venue Paradiso. During one of these European tours, he found himself toying with the idea of creating a watch. In Marchant's own words, "After visiting numerous new and vintage shops in many different cities and years following publications that cover well-established and emerging brands, I still could not find the piece that I wished someone was making, let alone for a price I could afford or in a condition fit to be put through the paces." And thus, the Lorca Watches Model No.1 GMT was born.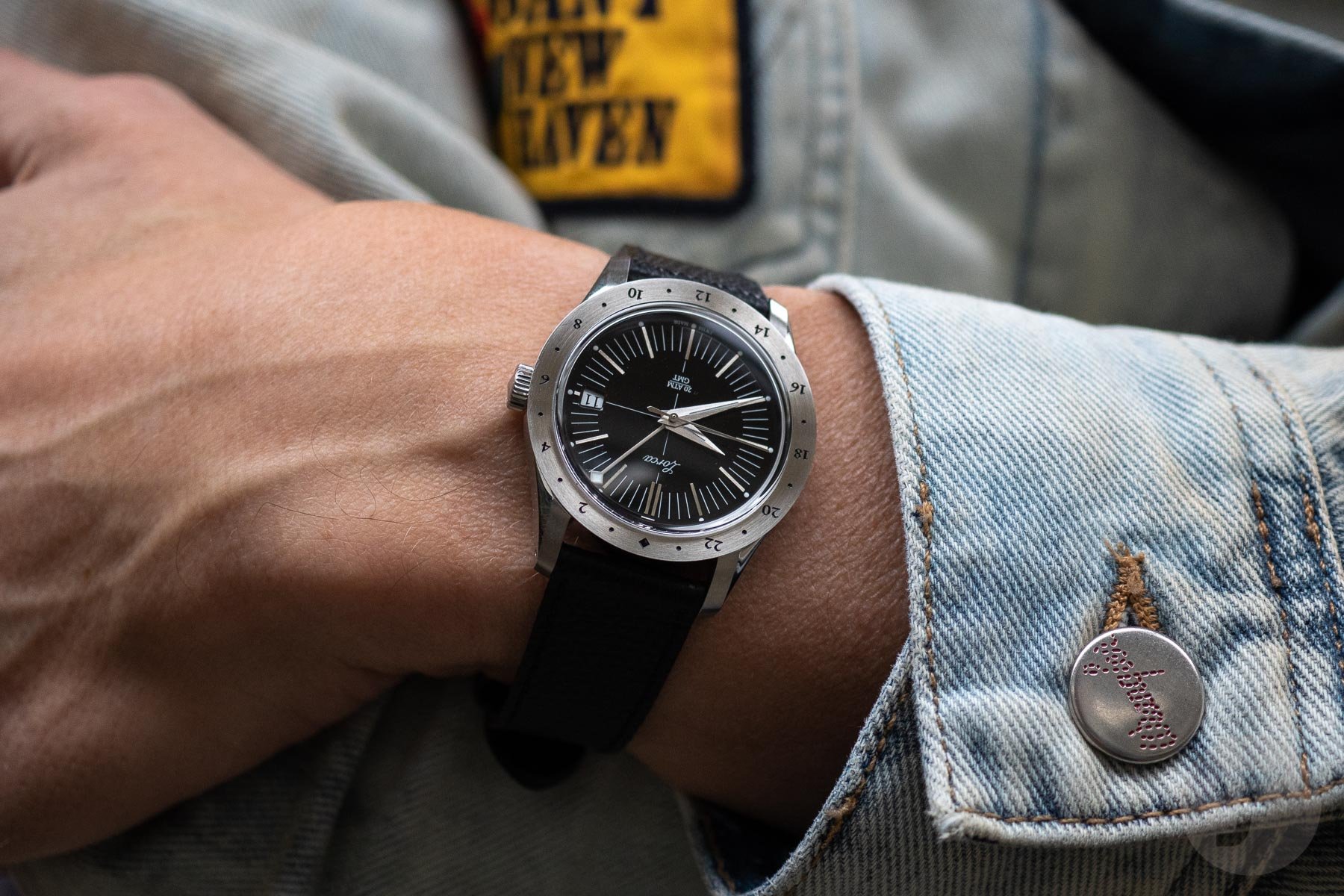 Building with purpose
Well, perhaps it wasn't that simple. Few things are more complicated than bringing something in your mind into reality, be it a watch, a song, a photograph, or any other product of a creative endeavor. However, Jesse's ideas were clear and specific. Thanks to extensive experience in designing his cover art, he was able to visualize a design that could satisfy them. After working with press materials that Marchant put together and having a lengthy call in which he told me more about the project, I quickly understood that the man has an excellent sense of taste and a true eye for design aesthetics. So how did he do in creating a sporty yet elegant watch that's both delicate and refined and can handle anything that a touring artist could throw at it?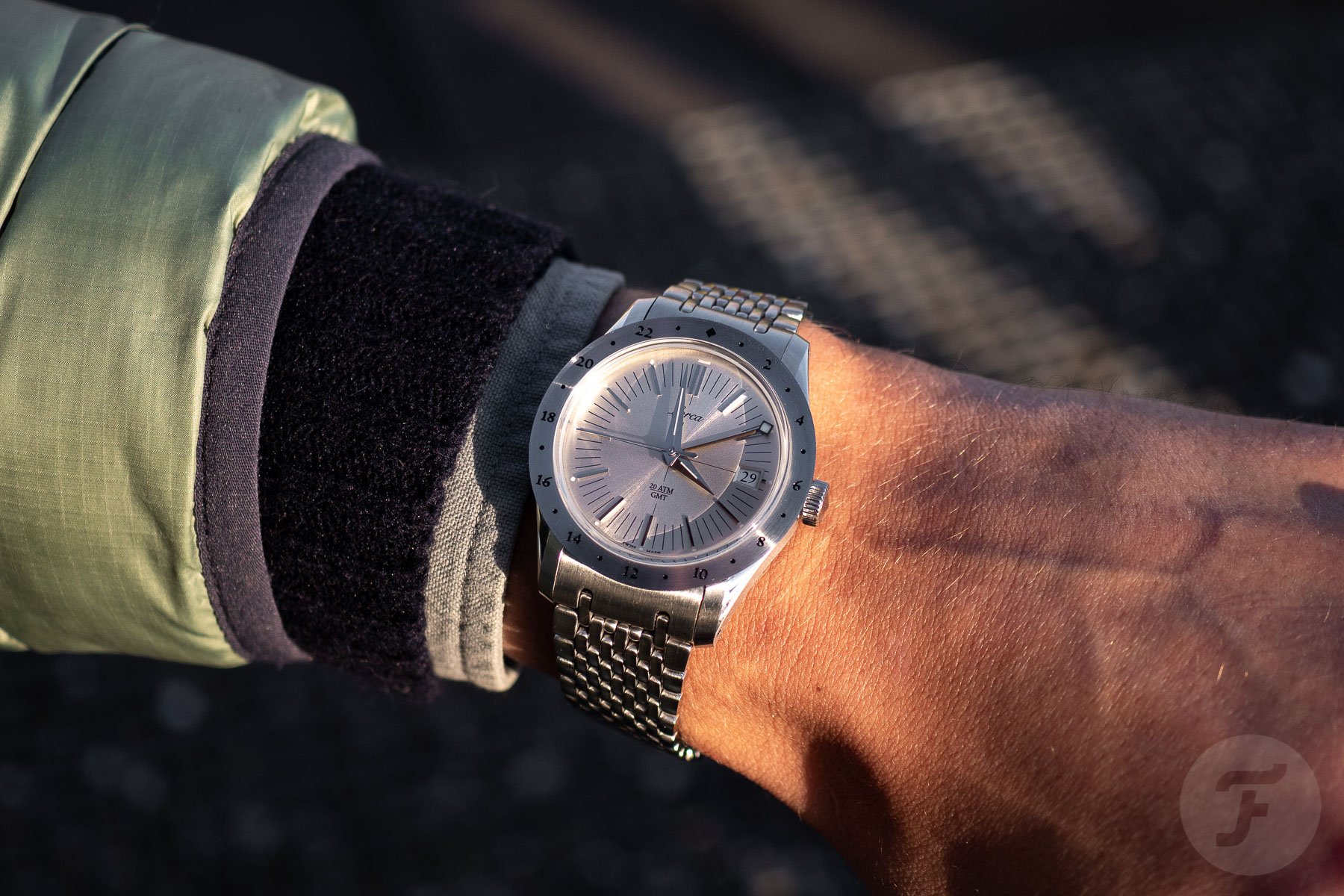 In my opinion, the watch ticks plenty of boxes. The design is undoubtedly timeless, leaning towards more of a vintage look. Sleek race-car curves with brushed and polished finishings highlighting their angles convene at the monolithic bezel, whose polished edge elegantly flanges out of the case. Its brushed sides, only interrupted by a pair of drilled lug holes, match the fully brushed beads-of-rice bracelet. A plain end link attaches to the bracelet with two bracelet links. It's quite a strong and unique look due to the abrupt shift from the bracelet's small blocky pattern to the minimalist end link — to me, it's reminiscent of another beautifully designed watch, the Serica 5303. Finishing off the bracelet is a traditional fold-over clasp with milled hardware that feels sturdy and safe on the wrist. The clasp features the Lorca "L" logo and a pair of engraved pinstripes.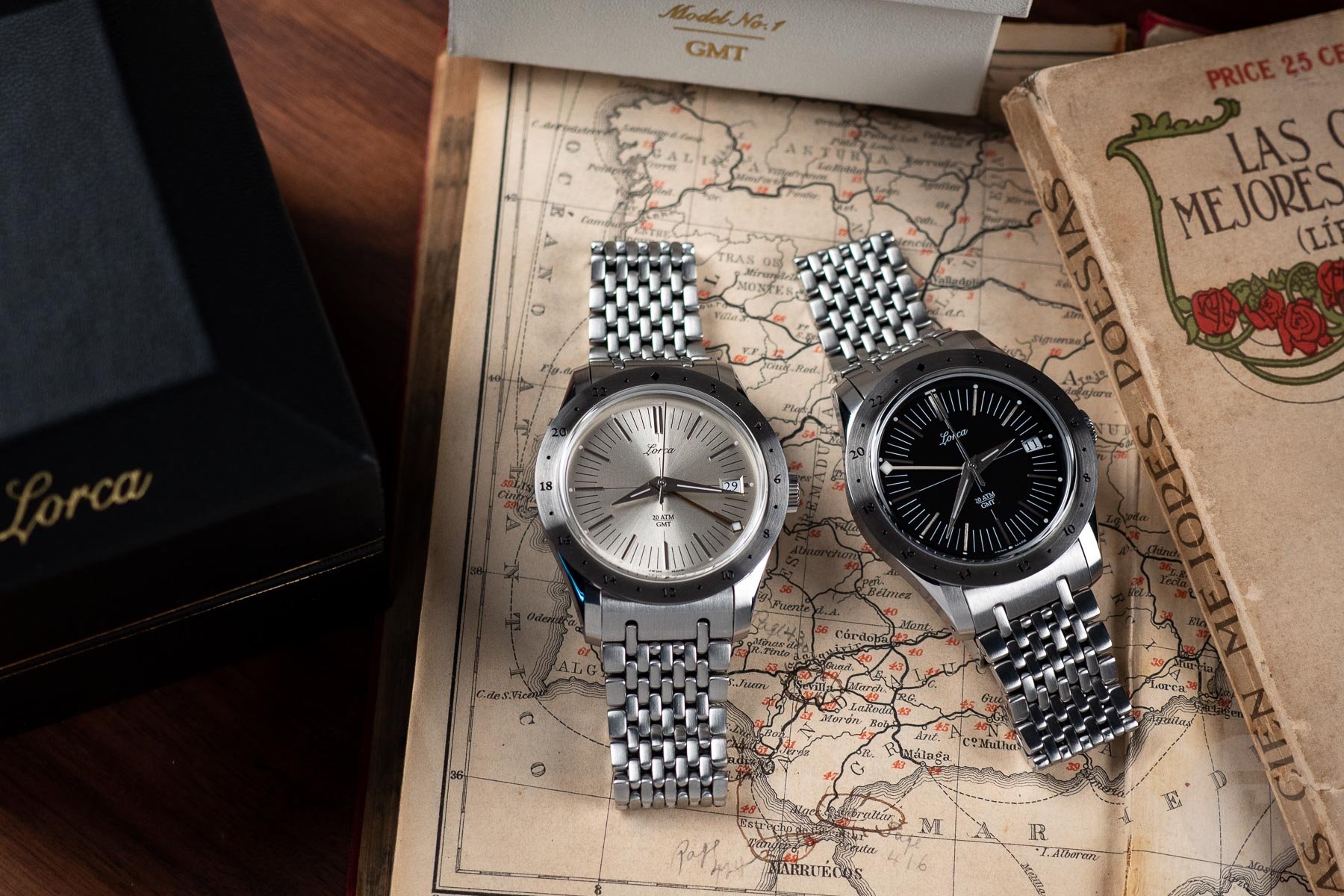 The Lorca Watches Model No.1 GMT
But how does the Lorca Watches Model No.1 GMT fare on the wrist? I'll do my best not to gush with enthusiasm the way I did during the week it was on mine. The steel case has a 36mm diameter but wears slightly larger thanks to the 37mm diameter of the fixed bezel. Furthermore, the integrated look of the bracelet also adds some visual bulk without actually adding any. On my 7″ (17.75cm) wrist, it was just about perfect. The bracelet's nine-row construction gives it an almost mesh-like feel on the wrist. This watch generally follows a less-is-more approach without crossing the line into boring territory. Everything is classy, subtle, and just as a skilled mid-century designer would have drawn it. That said, it's not lacking character and features lovely nods to classic watches without imitating anything in particular.
The swooping cursive font that Marchant chose for the logo contrasts nicely with the more sober, almost typewriter-like font for the "20 ATM GMT" text at 6 o'clock. This font is also present in the tastefully trapezoidal date window and the 24-hour scale on the bezel. At the top, a diamond matches the one found at the end of the GMT hand. Though it's similar to the one we find on the Tudor Black Bay GMT, it's a lot more subtle. The GMT hands — off-white on the black-dial version and olive/brown on the sunburst-silver-dial model — are subtle in color. The goal is to keep them handy yet unobtrusive. Jesse also opted for a sharp, lume-filled, dauphine handset with a classy and slim silver seconds hand. The hands and markers are brushed on the black model, and polished on the silver one.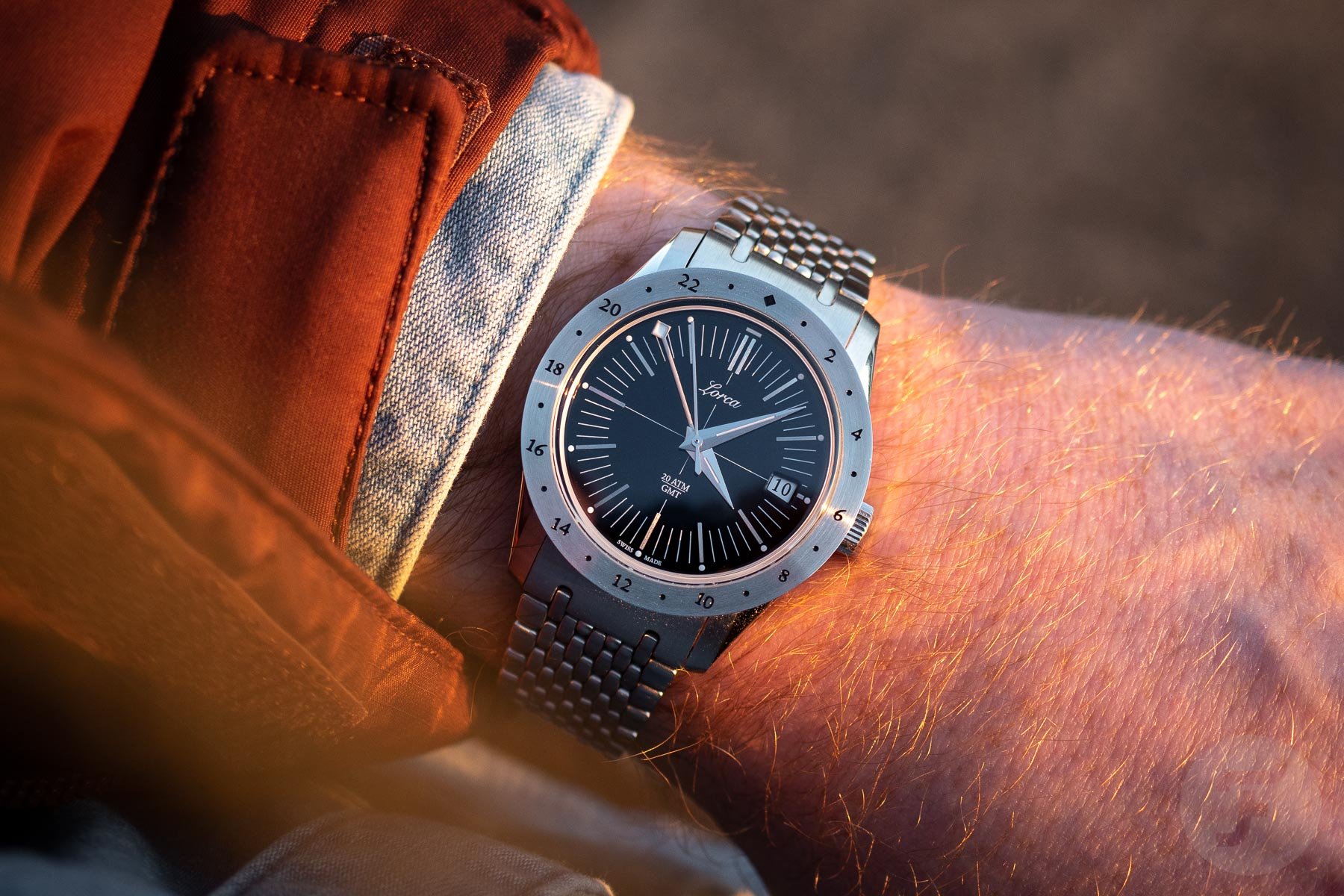 Full-featured and ready for adventure
So, it's clear that this is a great-looking watch with a carefully considered design that strikes a balance between classy and rugged. I imagine you're dying to hear the full specs by now, so let's get into them. As I mentioned, the Lorca Watches Model No.1 GMT features a 36mm 316L stainless steel case with a 37mm bezel. The case measures 11.2mm thick (including the AR-coated double-domed sapphire crystal), and a reasonable lug-to-lug of 44mm explains its wearability. It measures 19mm between the lugs, which I can understand, especially on smaller watches with a more elegant profile. However, as a strap-swapping addict, I will always prefer and stand by the go-to 20mm spacing. The bracelet is also stainless steel and tapers from 19mm to 16mm. Links can be removed with a small flat-head screwdriver.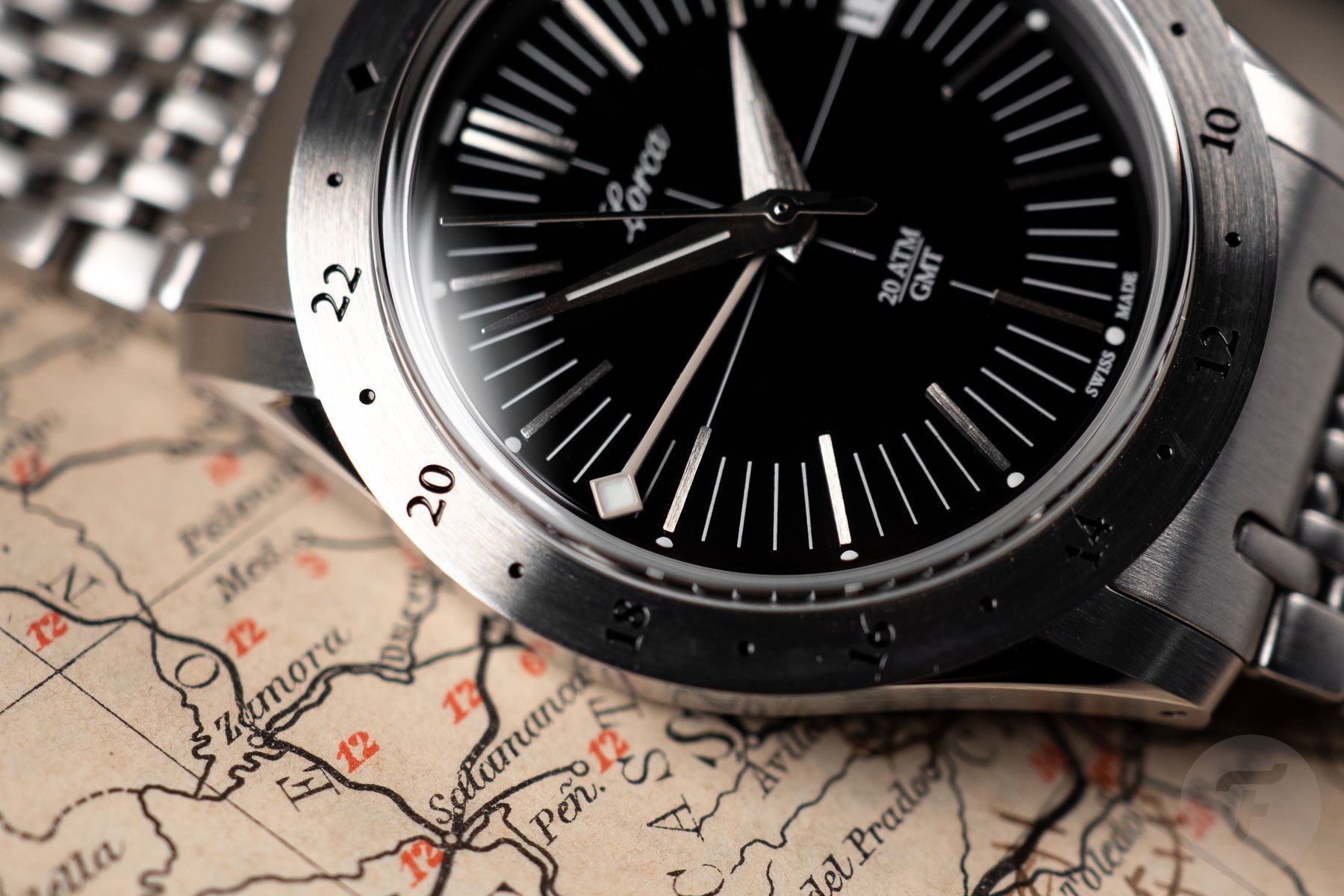 Both the case back and crown screw into the case, helping to give the watch a 200m water resistance rating. And though the lume pips on the dial are small, thankfully, they are nice and bright. This is thanks to several applied layers of Super-LumiNova BGW9, which is the same lume on the hands (including the GMT hand). On both the silver and black models, the applied markers are made of stainless steel and have a polished finish, just like the seconds hand. Inside the watch, an automatic Soprod caliber C125 beats away at ±4 seconds daily. This movement allows manual winding and hacks as well, which makes setting the time accurately a breeze. This is the same movement that Serica uses in the 8315 GMT, and it features an independently adjustable (caller-style) GMT hand and a date display.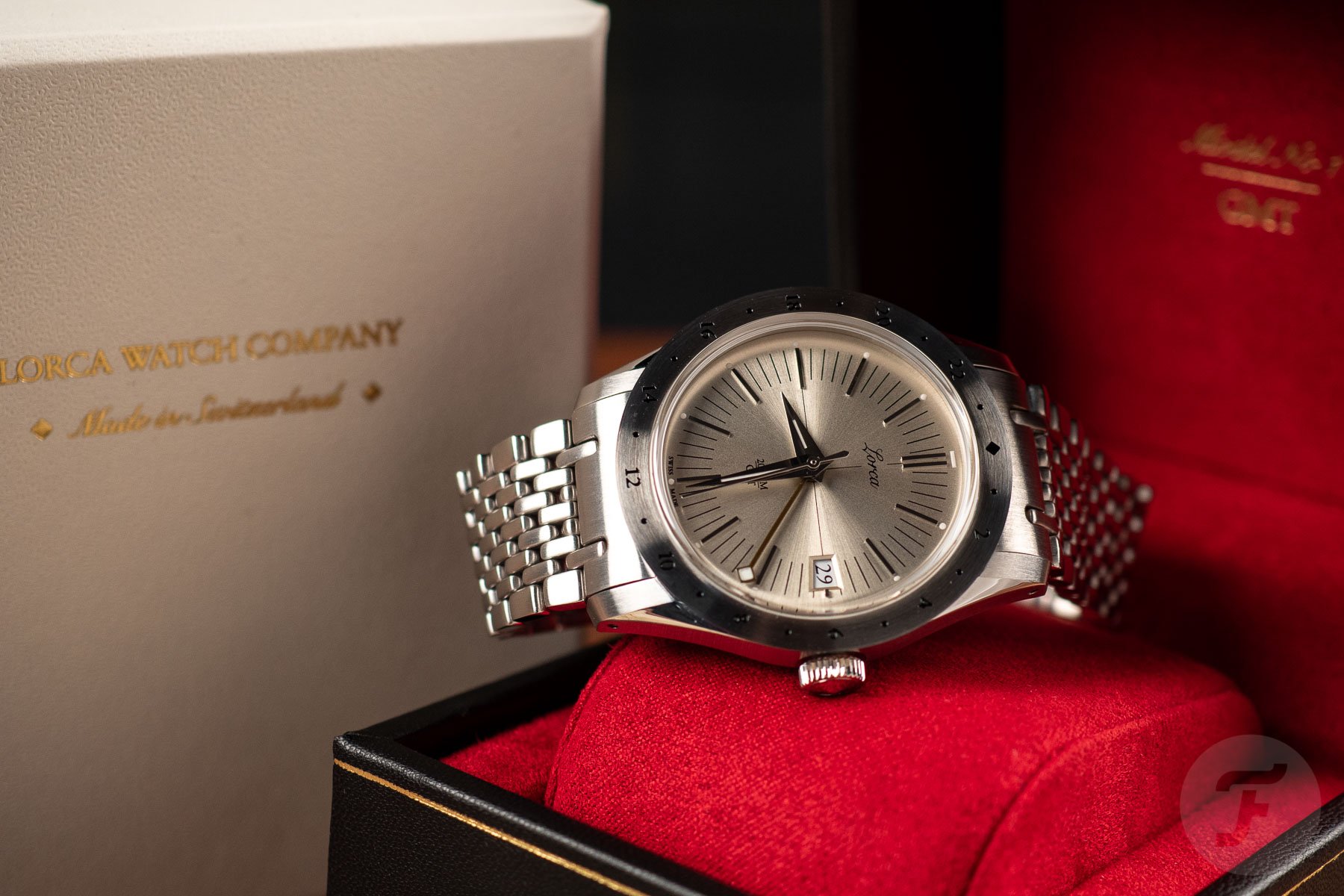 Final thoughts
The Lorca Watches Model No.1 GMT will launch on Tuesday, March 7th, at 9:00 AM EST (3:00 PM CET). It will be available on the Lorca website for a special pre-order price of US$1,450 (not including VAT and customs fees) until April 4th. From then on, the retail price will be US$1,750 (without VAT/customs). The pre-order process of the first 250 numbered units will end on the 4th of April (or when all pieces have sold out). Deliveries are expected to take place in November.
The leather pouch (not pictured) and leather straps are available separately, the latter in regular and short sizes.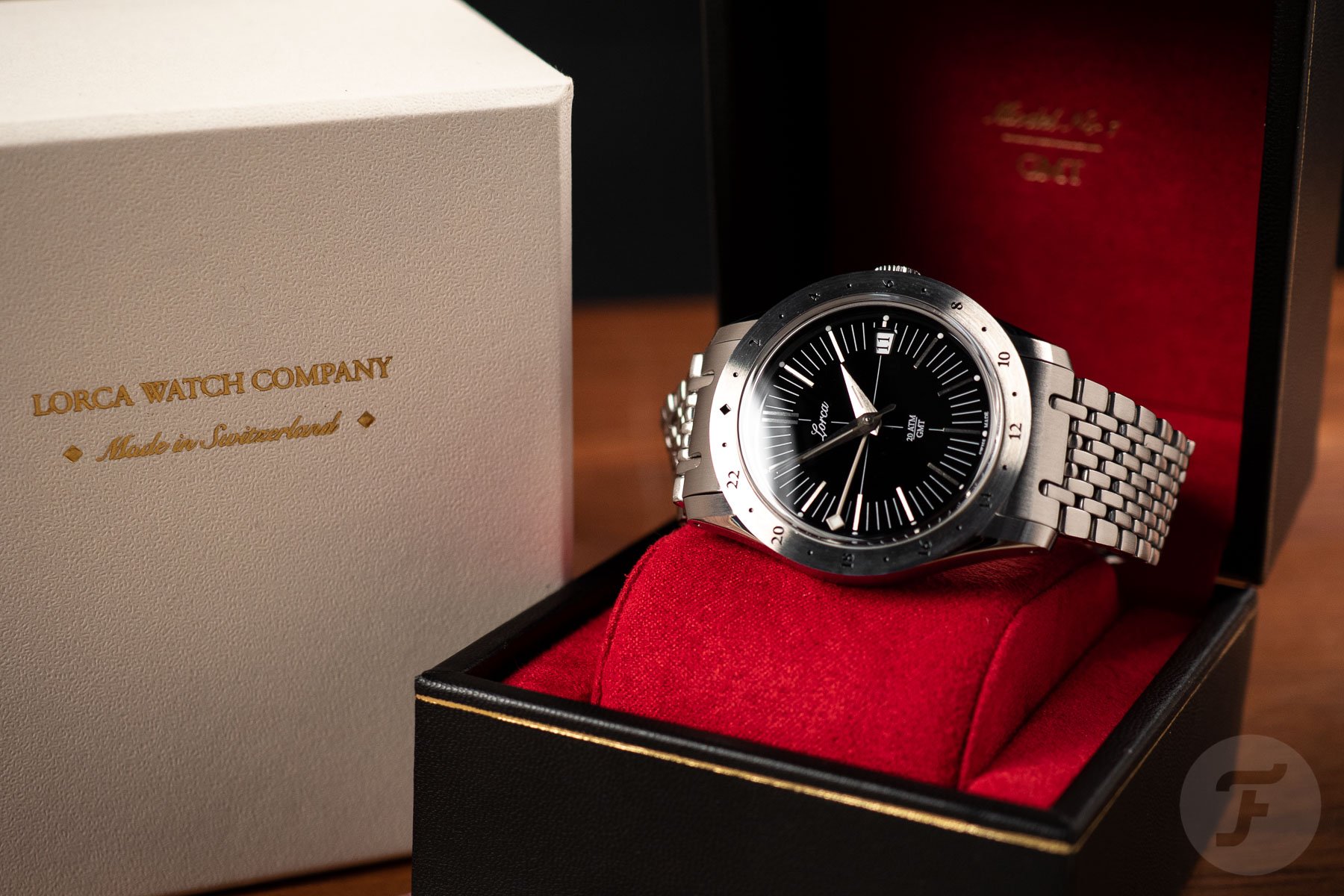 I struggle to think of another recently launched brand (other than the aforementioned Serica) to make such a promising debut. The Model No.1 GMT is a hauntingly charming watch. Not only is it a significant first step into the world of microbrands for Lorca, but it also whets our appetite for a series of similarly stunning sequels. I'm thrilled to have the privilege of welcoming and introducing the Lorca brand to you. What do you make of the lovely Lorca GMT? As always, I'd love to read your thoughts in the comments below.
Follow me on Instagram: @ncgwatches