Introducing: The Montblanc × Collective Horology 1858 Minerva Monopusher Chronograph "Blue Arrow" P.05
A stopwatch-inspired monopusher for the US specialist retailer
Did you find yourself waking up today with an aching desire for a watch that is just a little bit more special? Something with a historic movement, perhaps? Something very limited so you don't run into others wearing the same watch? Maybe even something equal parts vintage-looking and sporty? Well, if so, then today is a good day. Montblanc and Collective Horology have got you covered! Introducing the 1858 Minerva Monopusher Chronograph "Blue Arrow" P.05.
Limited to just 33 pieces and retailed exclusively in the US by Collective Horology, this should be plenty rare. Let's have a closer look at what this collaboration entails.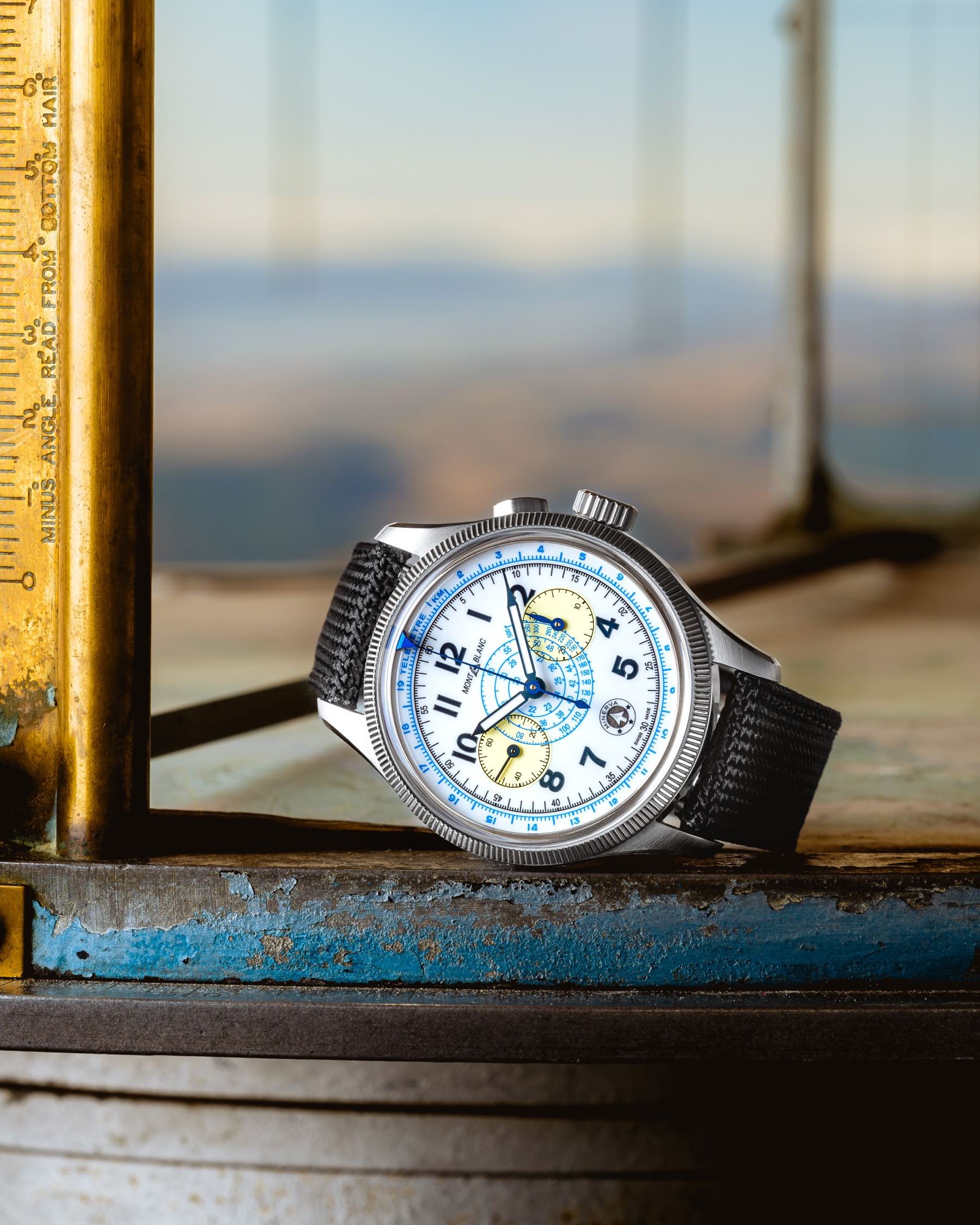 Collective Horology
Let me start with Collective Horology. The Southern California-based retailer specializes in independent watch brands. For example, Collective is an official dealer for Fears and Formex, to name two favorites of mine.
However, Collective Horology doesn't stop at merely selling watches. The company also partners with brands to release special editions quite regularly. The collab portfolio so far features an impressive array of brands, especially considering Collective's relatively short existence since 2018. For example, among the specials, you will find collabs with Czapek, Armin Strom, IWC, and Urwerk.
Today, Montblanc gets added to that impressive list — and in proper style, I might add.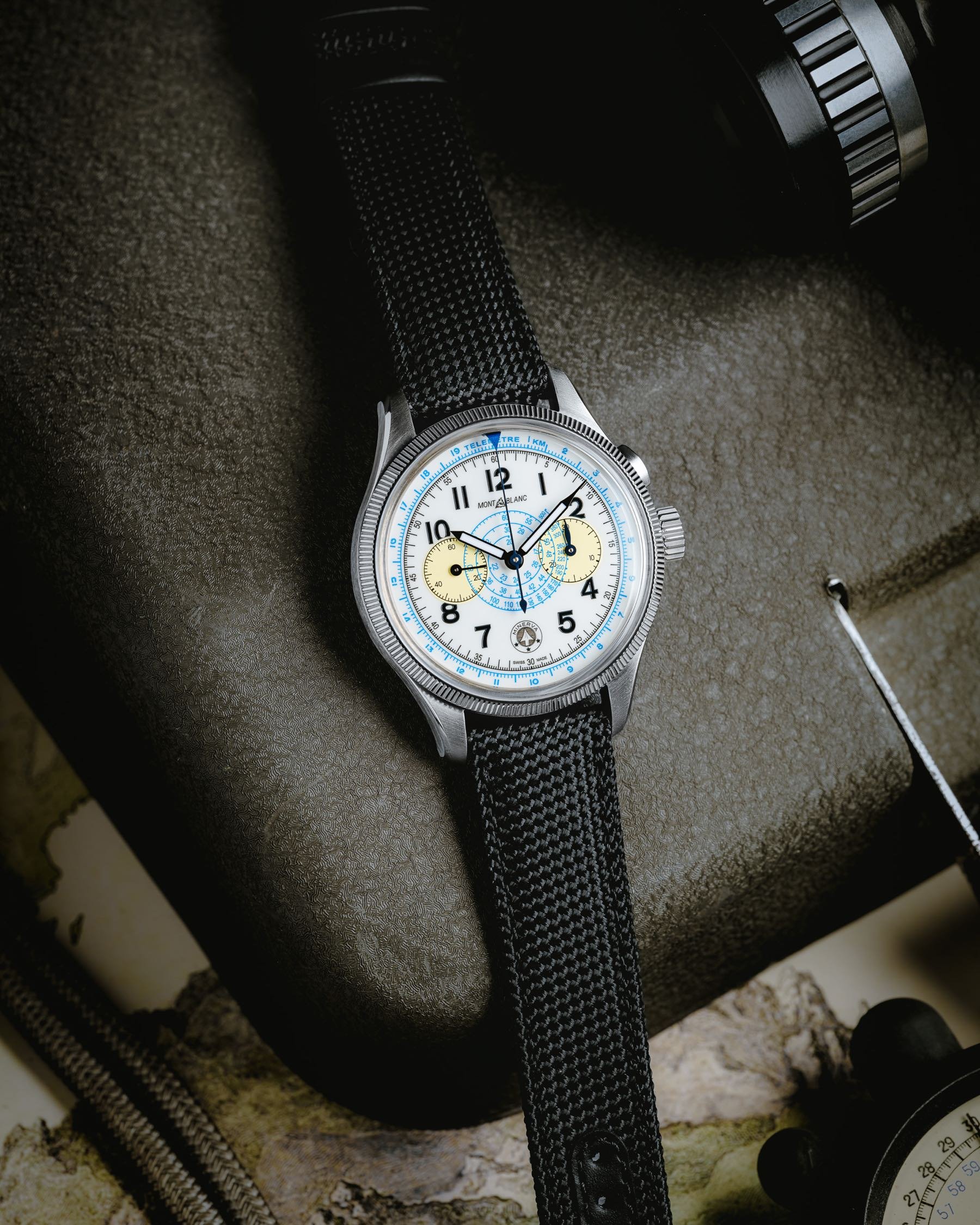 The Montblanc 1858 Minerva Monopusher Chronograph "Blue Arrow" P.05
The special edition launched today is a variation of the 1858 Minerva Monopusher Chronograph. The foundations for this collaboration were laid in 2021. However, things clicked when Gabe and Asher of Collective ran into Eric Wind at the Windup Watch Fair. Wind was offering a Minerva stopwatch with a white dial. The guys from Collective purchased it and used it as inspiration for today's limited Minerva Monopusher.
The first thing that will stand out is the eye-catching color scheme. You do not see a crisp white dial paired with cream sub-dials every day. In addition, the bright blue telemeter and tachymeter scales, and a secondary Minerva logo complete a very specific aesthetic. Lastly, the black textile strap is said to be inspired by typical stopwatch cords.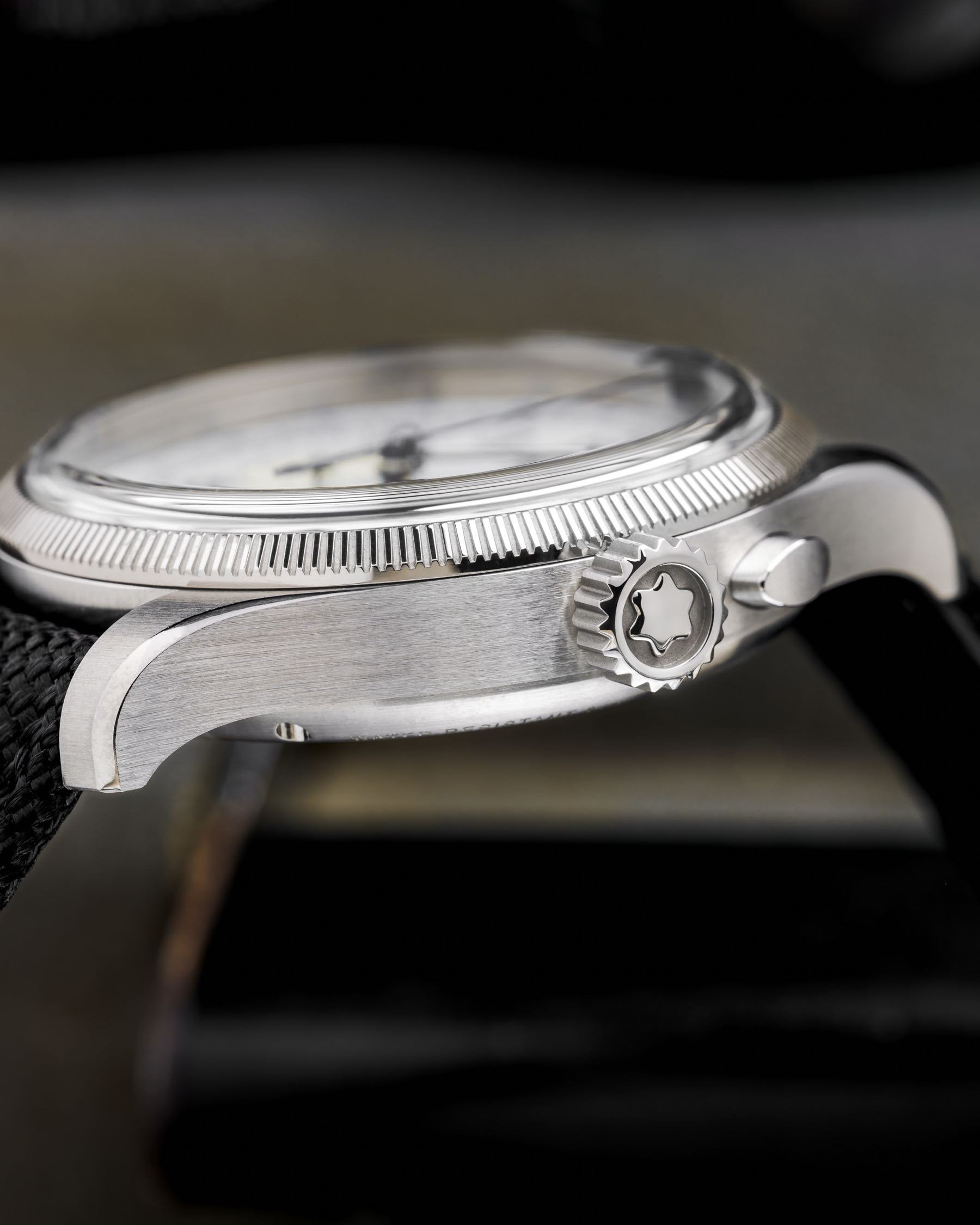 The stainless steel case measures 42mm across and is fitted with an 18K white gold reeded bezel. The "blue arrow" under the crystal can be operated via this bezel and used as a timing device. You could use it while navigating your biplane, but it works just as well for timing pizzas. Contrastingly, the arrow is red on the original Minerva Monopusher. The arrow carries special meaning for Minerva as the eponymous Roman deity carried a spear with an arrow-shaped tip.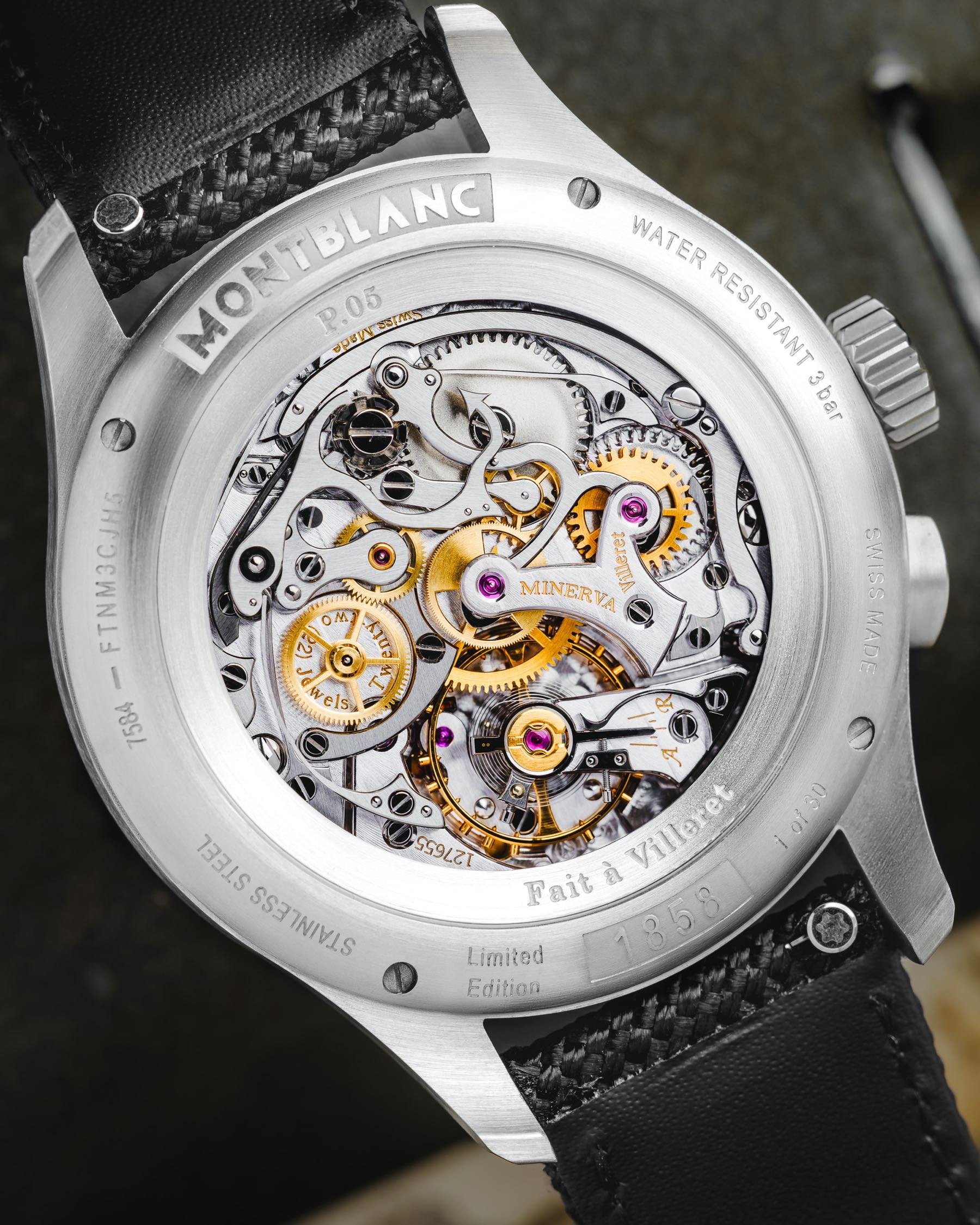 The MB M13.21 movement
The star of the show here is the caliber MB M13.21 inside. As you may know, Montblanc takes custodianship of Minerva's heritage very seriously. This movement is based on the historic 13.20 caliber from 1923.
With the exception of the jewels and certain screws, the entire thing is built in-house. The finishing alone takes two full days, although I find that rather quick considering the manual anglage here. Furthermore, you can find a little bicep flex from Minerva in the form of the "devil's tail" lateral clutch. This decoration puts the house's finishing of internal angles — a notoriously difficult task — on display. Additionally, the entire caliber gets assembled, disassembled, and reassembled by a single watchmaker before leaving the manufacture.
Specifications are of inferior importance in calibers such as these. However, let me quickly touch upon the fact that we are dealing with a manual chronograph caliber with a 60-hour power reserve. It is constructed out of rhodium-plated German silver and runs at 18,000vph (2.5Hz).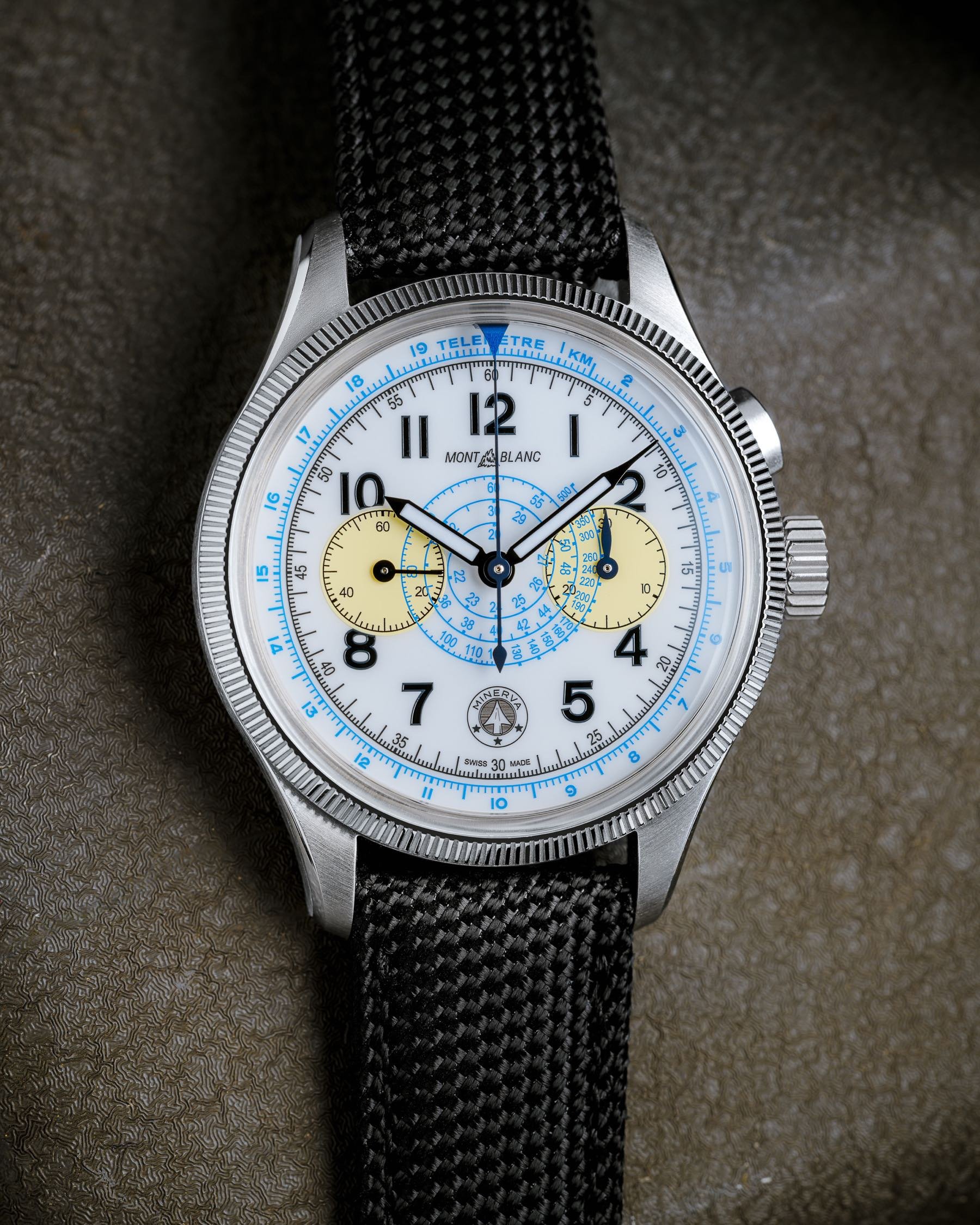 Pricing and availability of the Montblanc × Collective Horology 1858 Minerva Monopusher Chronograph "Blue Arrow" P.05
The Collective Minerva Monopusher is currently in production. All 33 pieces will be made available for delivery in December of this year, and as mentioned, they are exclusively sold through Collective Horology. The watch is priced at US$34,500, which is $3,000 more than Montblanc's black-dial version with the red arrow. Finally, the watches can be ordered from the Collective Horology website now.
What do you think of the new Montblanc × Collective Horology 1858 Minerva Monopusher Chronograph "Blue Arrow" P.05? Let us know in the comments below!
Watch specifications
Model
Collective Horology 1858 Minerva Monopusher Chronograph "Blue Arrow" P.05
Dial
White with cream sub-dials, printed black indices, and blue telemter and tachymeter scales
Case Material
Stainless steel with white gold bezel
Case Back
Stainless steel with sapphire display
Movement
Montblanc MB M13.21 — manual-winding monopusher chronograph, 18,000vph frequency, 60-hour power reserve, finished by hand
Strap
Black textile with leather lining
Functions
Time (hours, minutes, small seconds) and chronograph (30-minute counter, central seconds)
Special Note(s)
Limited to 33 pieces