Introducing The Ochs Und Junior Due Ore Titanium Dual Time Zone Watch
Minimalism at its finest
There is something truly charismatic about dual-time watches. They always make me think of jumping on a plane, off to a new and exciting destination. Not only that, but it's one of the most useful complications, whether you're tracking home time or keeping track of another time zone. The new Ochs und Junior Due Ore features a rather unique and clever dual-time indication. Following the signature minimalist style the brand is known for, you could almost be forgiven for not realizing at first glance that this is indeed a dual-time watch. Though most of us will have not traveled too often in the past two years, it's about time that a dual-time watch makes its way back to the rotation as the world begins to open up again. So will this fun new offering be your next travel companion?
Available in two different colorways, this laid-back titanium piece makes for a perfect daily wearer as well as an excellent travel watch. Most GMT and dual-time watches use an additional hand to indicate the time elsewhere. Ochs und Junior, however, has developed a special system that makes reading the time in the second time zone easier than ever. It consists of a rotating disk under the dial, which uses a two-piece module to adapt to the ETA movement inside. It's not just a clever bit of engineering. It also makes for a clean look on the dial side, without the need for an extra hand.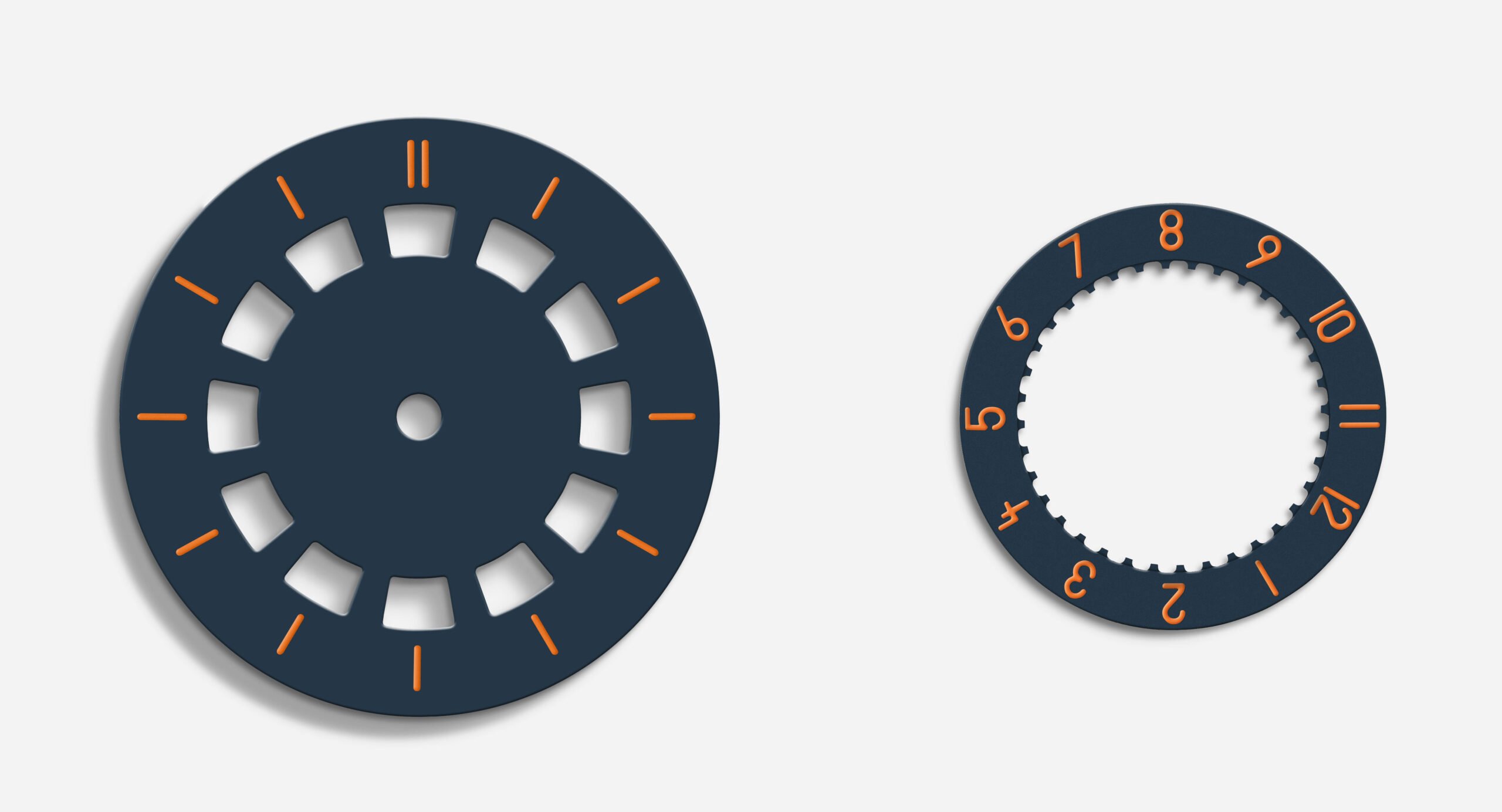 The Ochs und Junior Due Ore
At a glance, you may not realize that the new Ochs und Junior Due Ore is indeed a dual-time watch. Its beautifully minimalistic dial doesn't even feature the brand name or logo. Only a series of hash markings around the outer edge of the dial gives an indication of its time-telling ambitions. Three color-matched hands sprout from the center of the dial. Twelve windows surround the hands, each displaying a number between one and twelve in the same color as the hands and markings. This clever system allows you to quickly and easily visualize a second time zone. Reading the hands while ignoring the numbers gives you one. Reading the hands while looking at the numbers gives you the time in the second. All the colorful elements are coated in Super-LumiNova for low-light readability.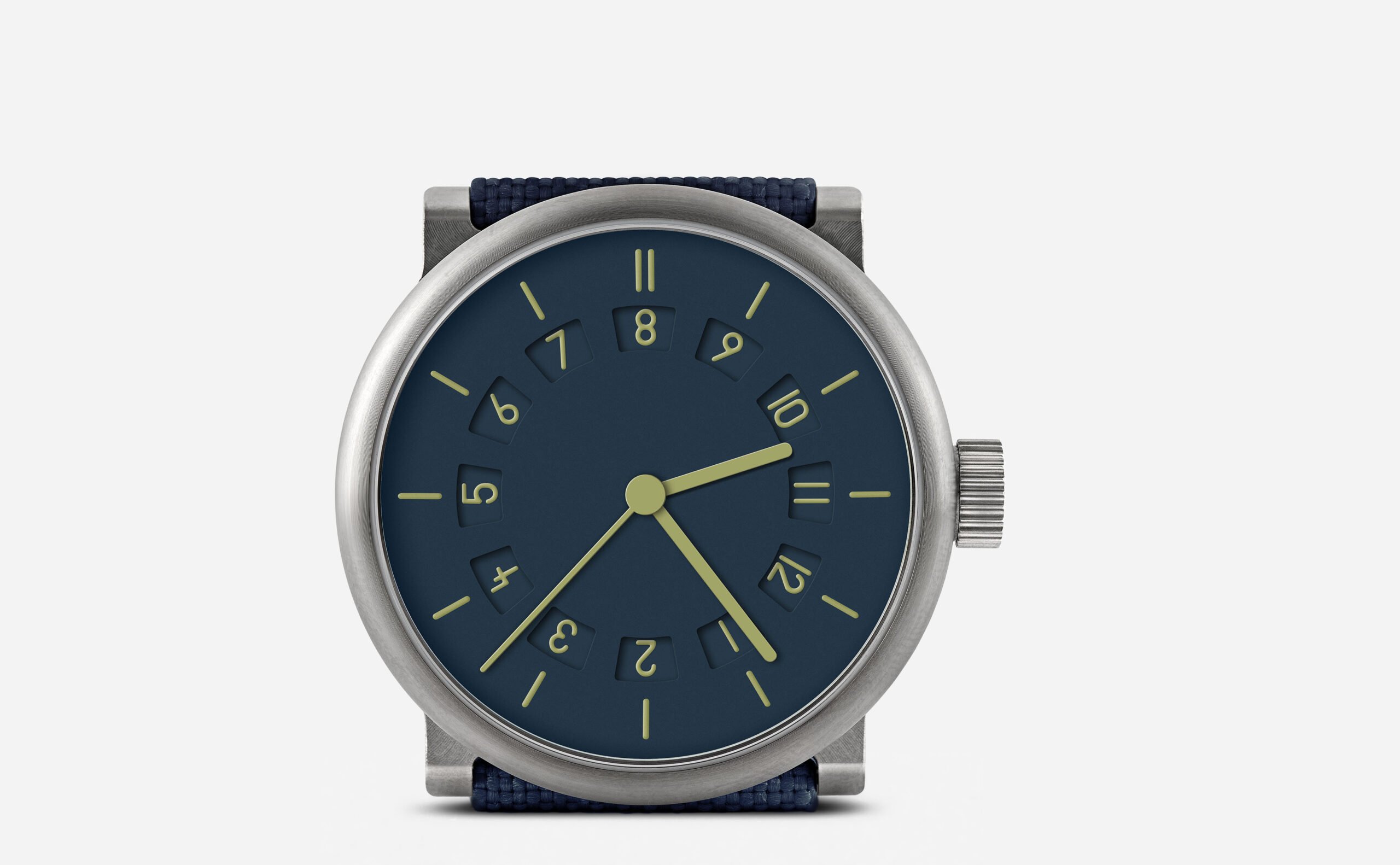 Setting a second time zone is simple. All you have to do is know the number of hours the second time zone is ahead of yours and set that number at the 12 o'clock position. Should the time zone be behind, you can simply subtract the number from 12 and set the resulting numeral at the top position. Clever, simple, and useful, yet not surprising from a brand that values design as much as Ochs und Junior. Inside the slim 39mm grade 5 titanium case, a Swiss ETA 2824-2 beats away. The second time zone display, via the 48-toothed ring and the 12 openings on the dial is made possible thanks to just two elements added to the movement. The watch's two-part case doesn't hide milling traces and other marks from machining. Rather, it wears them with pride as part of its industrial aesthetic.
Final thoughts
The Ochs und Junior Due Ore is certainly the perfect travel companion. No frills, no thrills, but feature-packed, lightweight (54g), and ready to tackle anything. With 100m of water resistance and a Cordura strap available in three sizes (handmade by Sabina Brägger) with a matching grade 5 titanium buckle, it offers a great alternative for those who want a GMT watch with a unique look and feel. International pricing starts at CHF 3,230 with local VAT coming on top of that. For more information, visit the Ochs und Junior website.
What do you think of this minimalist dual-time offering? Share your thoughts in the comments down below.