IWC Doppelchronograph Ref. 3713 — A Watch That's Double The Fun For Those Who Dare
A Flieger from an era I consider boring, but in a very good way
Sometimes it's nice to force yourself to like something. When you intuitively know something is good, but you can't see it or feel it right away. Sporadically, if you try long and hard enough, that feeling will eventually come. And when it does, it just feels so darn good! Back in the 90s and early 2000s, IWC made pilot's watches that looked like flight instruments. Almost a bit boring, even, but beneath that dull layer of functionality lay a world full of adventure waiting to be discovered by those who persevered. And I did just that. From the Zero's comes this IWC Doppelchronograph Ref. 3713 – a watch that's double the fun for those who dare.
Back in the 90s  I lusted over three IWC pilot's watches: the Fliegerchronograph Ref. 3741, the Fliegerchronograph Ref. 3706, and the Doppelchronograph Ref. 3711. Ref. 3741 was the smallest of the lot with its 36 × 10.2 mm case. Inside the brushed steel case beat an innovative Mecha-Quartz movement made by Jaeger-LeCoultre, which IWC dubbed Cal. 631. Though it was the steel Milanese bracelet on that particular model that was truly the star of the show (IMHO) — not the hybrid movement inside. The 39mm Ref. 3706 had a sturdy Valjoux 7750 beating away inside the case and was a solid-looking critter.
My biggest problem with the Doppelchronograph was its price. I quite simply couldn't afford it.
But it was the Doppelchronograph Ref. 3711 that really blew me away. At first sight, it looked simple and straightforward. A second glance revealed the extra pusher, and once I got to know about the mechanical wizardry behind it, I was hooked. My biggest problem with the Doppelchronograph was its price. It cost around 10,000 guilders at the time, and I quite simply couldn't afford it.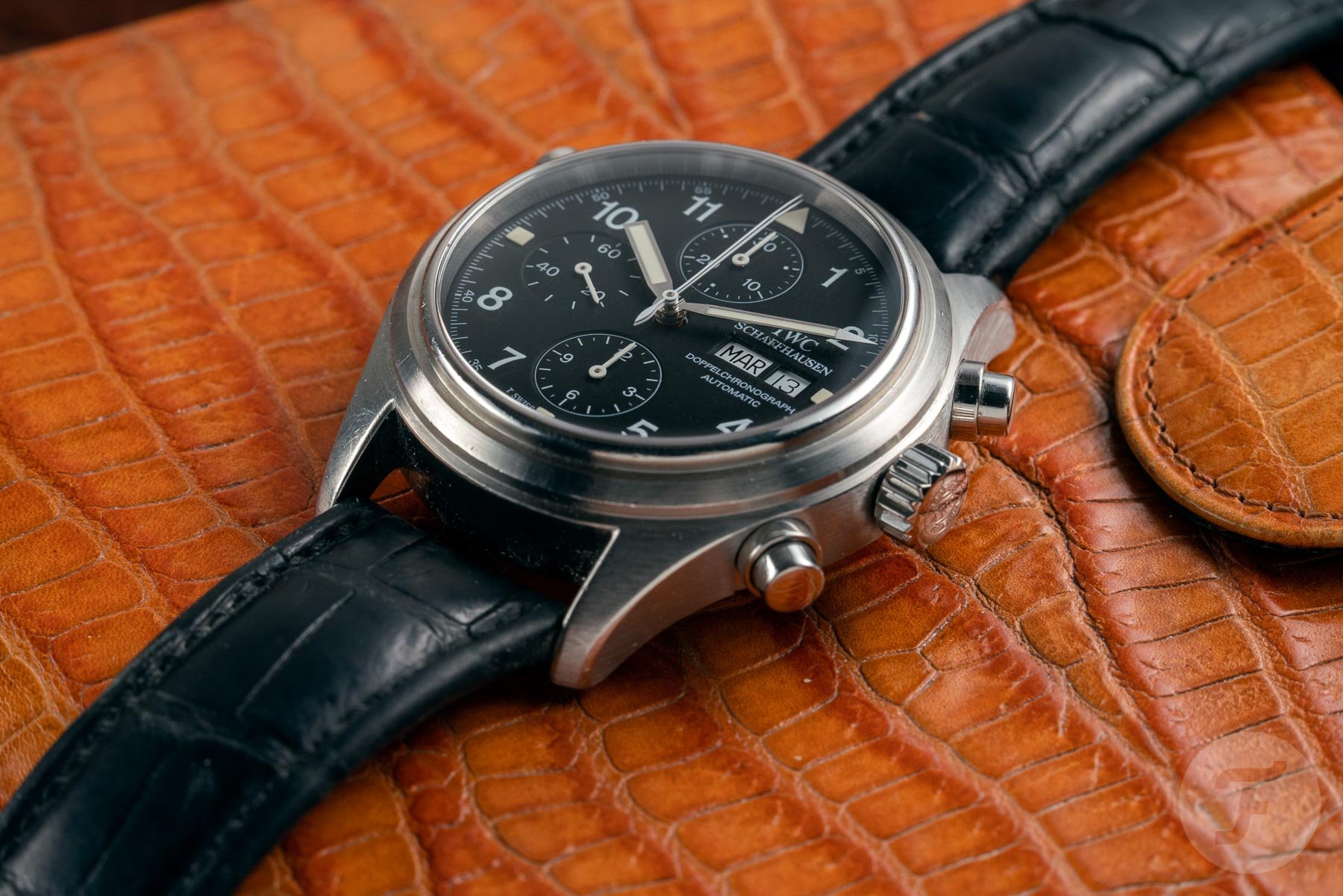 IWC Doppelchronograph Ref. 3713 – a watch that's double the fun for those who dare
Watchmaking and watch brands have changed a lot since the 90s, and IWC is no exception. The Schaffhausen-based brand is now a marketing powerhouse with ambassadors like Lewis Hamilton and Tom Brady. But it once was a value-oriented brand for connoisseurs. I once jokingly said to my fellow Fratello, Jorg, that back in the day, IWC was happy just to sell their watches to a few dentists and/or architects in sleepy provincial towns as long as they could continue to tinker away and build clever and robust watches.
And for some time, they did just that. The catalog featured a perpetual calendar and even a grand complication. The clever part was that IWC used the Valjoux 7750 as the foundation for their more complicated models. The movement used in the Doppelchronograph was no exception. Though the watch itself was indeed exceptional.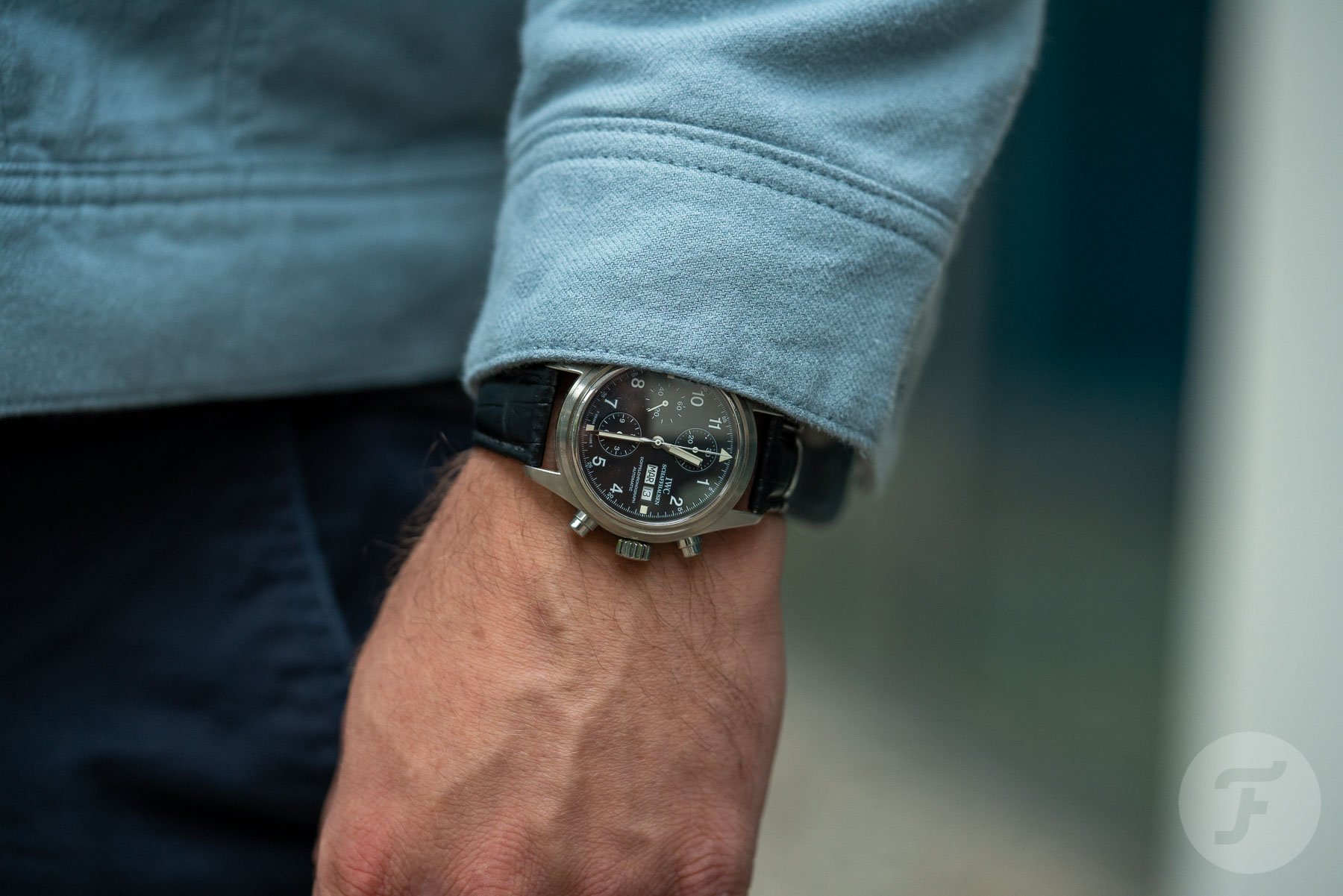 Habring's magic
The original Doppelchronograph, the Ref. 3711, came out in 1992. The movement uses the 7750 as the base and added to it is an innovative split-seconds chronograph designed by Richard Habring. He built the first double chronograph movement that uses a cam system for both the chronograph and for the rattrapante. Due to this design, the movement is relatively easy to produce, since a column wheel design requires more fine adjusting. Make no mistake, it's still complicated and quite delicate, but because of the Valjoux base, the final construction IWC called Cal. 79230 is durable and pretty shock resistant. Make a note of that for later.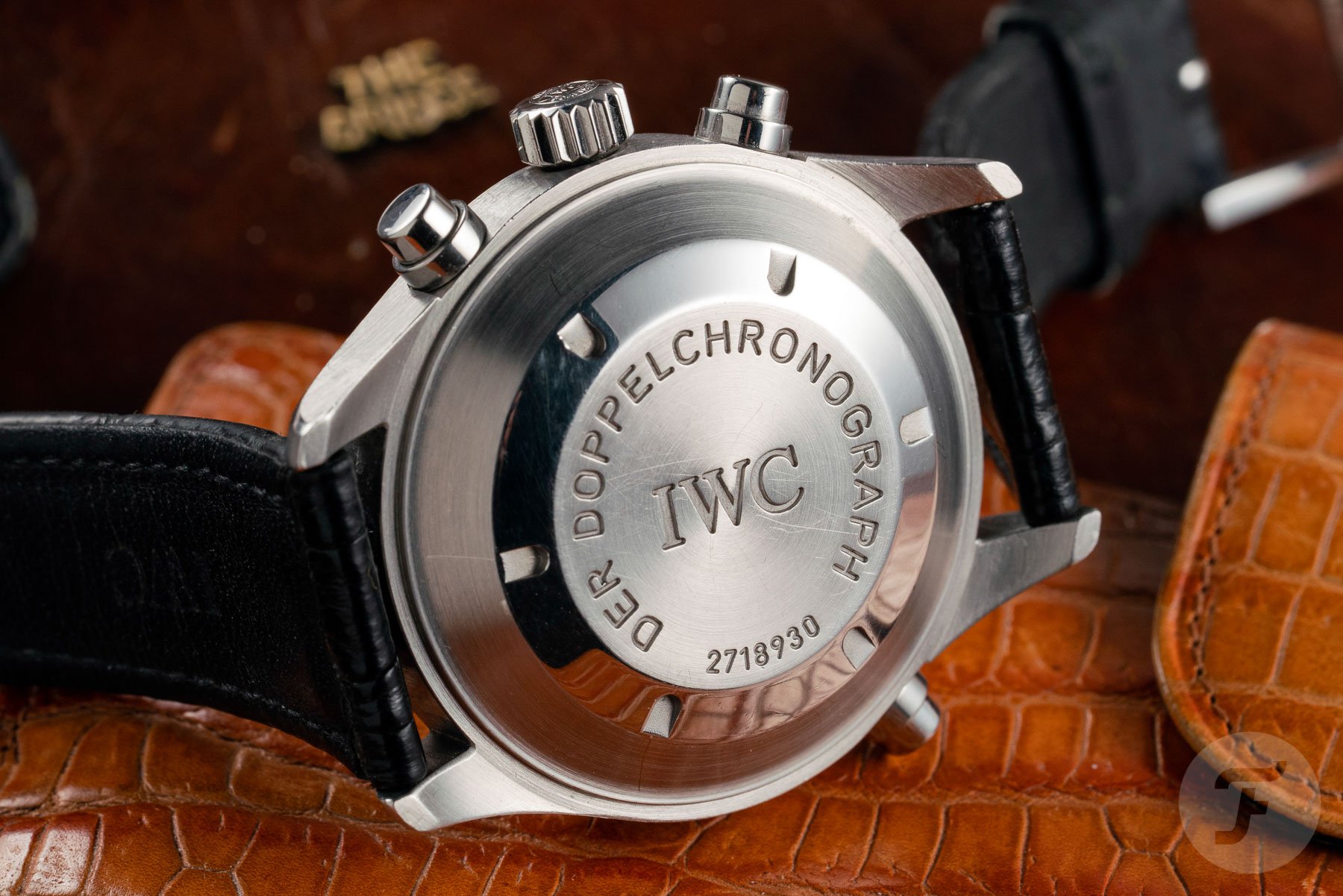 You don't see the fausses côtes decoration of the Cal. 79230 since the 29 jewel movement is hidden behind a closed case back. The same goes for the straight-line lever escapement, mono-metallic balance, shock-absorber, self-compensating flat balance-spring, and micrometer regulator.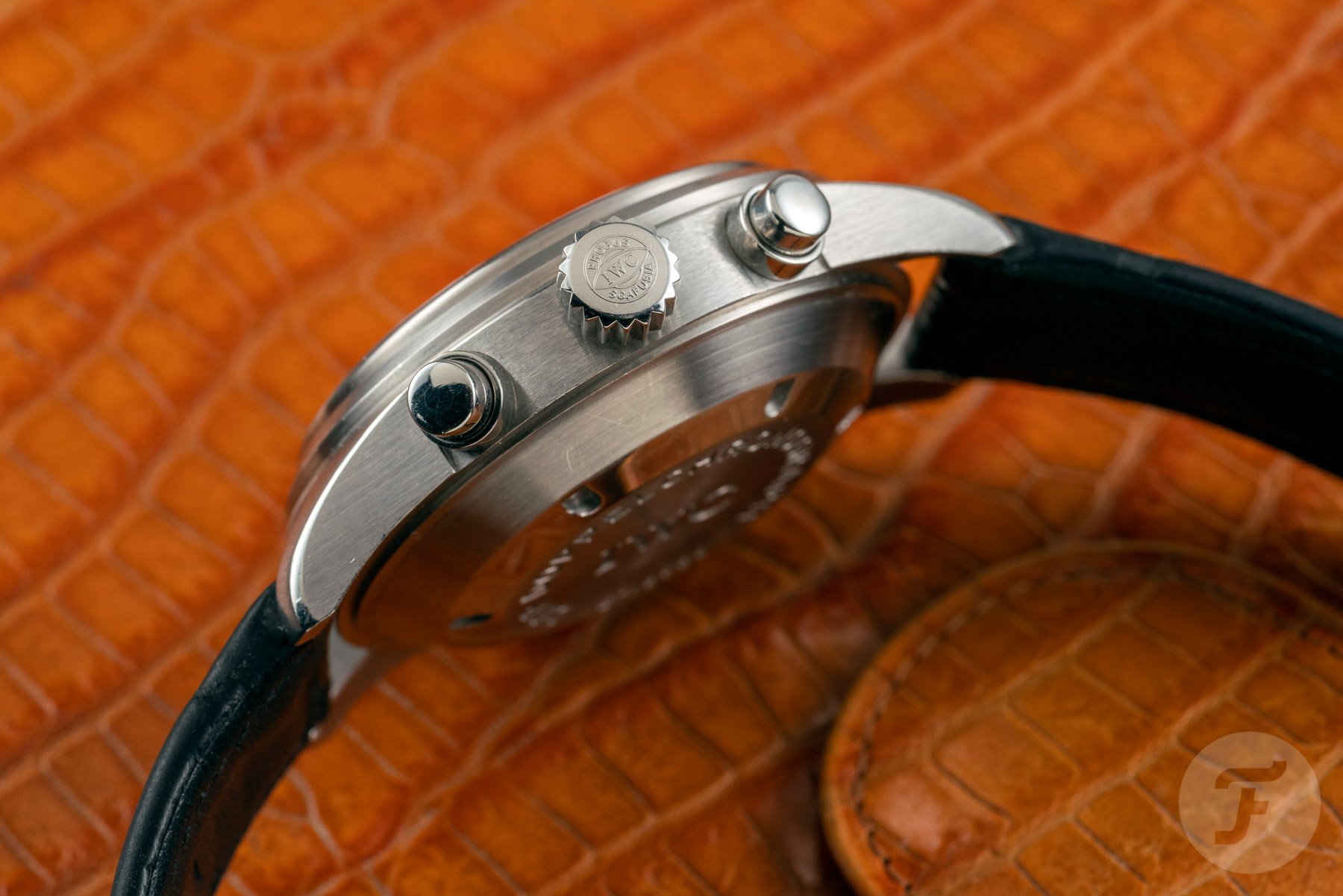 Flat instead of domed sapphire
The Ref. 3711 Doppelchronograph had a brushed steel 42 × 16.2mm case and on top was a highly domed sapphire. IWC produced around 3,200 Ref. 3711's until they switched over to making the Ref. 3713 in 1996. The Ref. 3713 is different in two ways: it has a flat sapphire crystal, and the tritium on the stick hands and markers makes way for SuperLuminova. But when you look closely at the Ref. 3713 in the pics, you will notice beige tritium. Some of our readers pointed out the existence of Ref. 3713 "transition" models without a domed crystal, but with tritium on the dial. The Doppelchronograph we have here is a "transition" model. IWC ceased production of the Ref. 3713 in 2005, but from 2003 onwards the watch was only available with a Spitfire-type dial.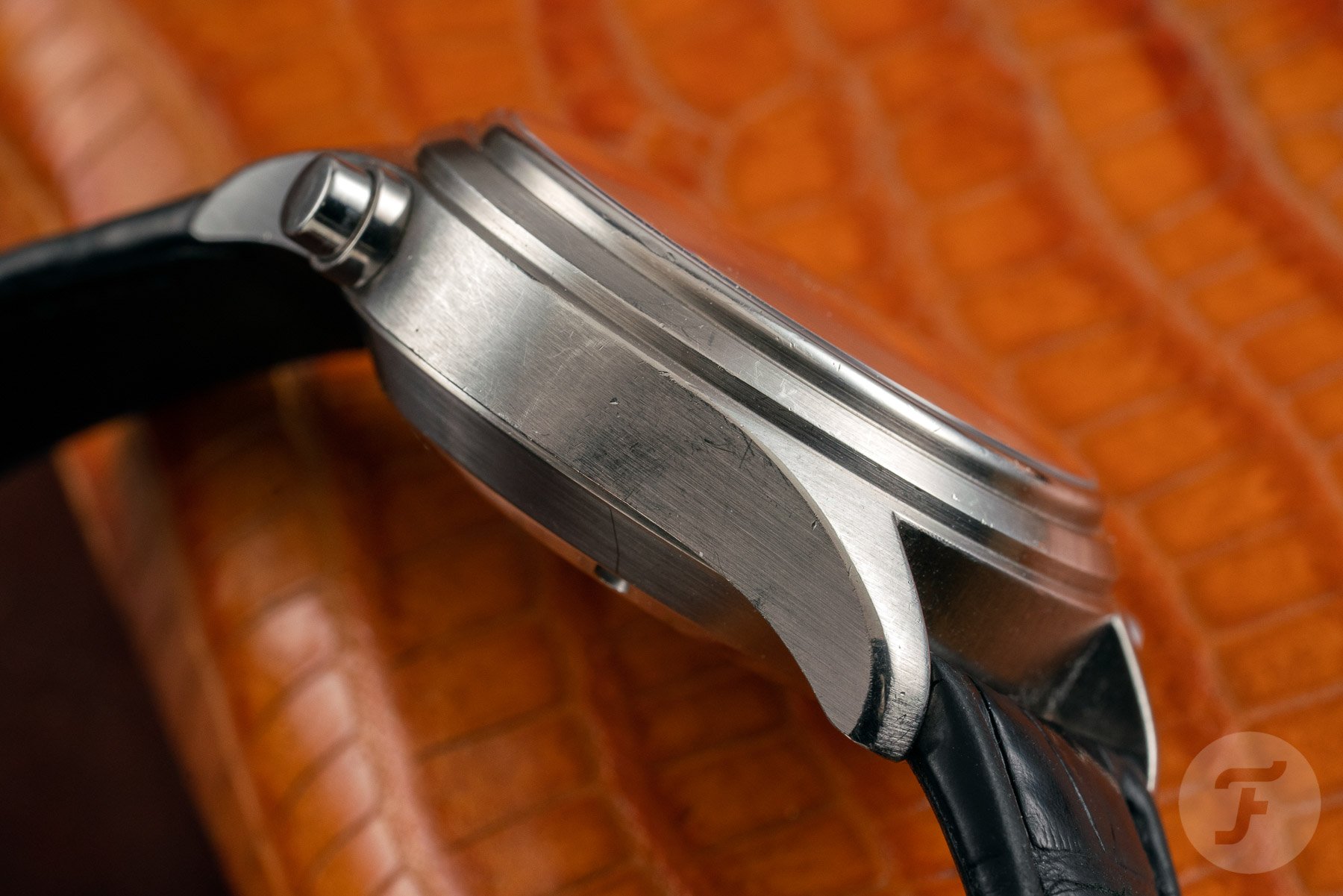 I want my Doppelchronograph black, white, and instrumental.
In production from circa 1996 to 2005, the IWC Pilot's Watch Doppelchronograph ref. 3713 is the second of IWC's pilot's watches to be fitted with a split-second chronograph. It was available in either stainless steel, yellow gold, or platinum with various dials and even day-discs in different languages. The stainless steel version was available on a strap or bracelet; five pieces of the platinum model were also produced with a bracelet. From 2003 onwards, the 3713 was exclusively available with the silvery Spitfire-type dials. Not the one to spring for if you ask me. I want my Doppelchronograph black, white, and instrumental. Just like the one we have at Fratello HQ.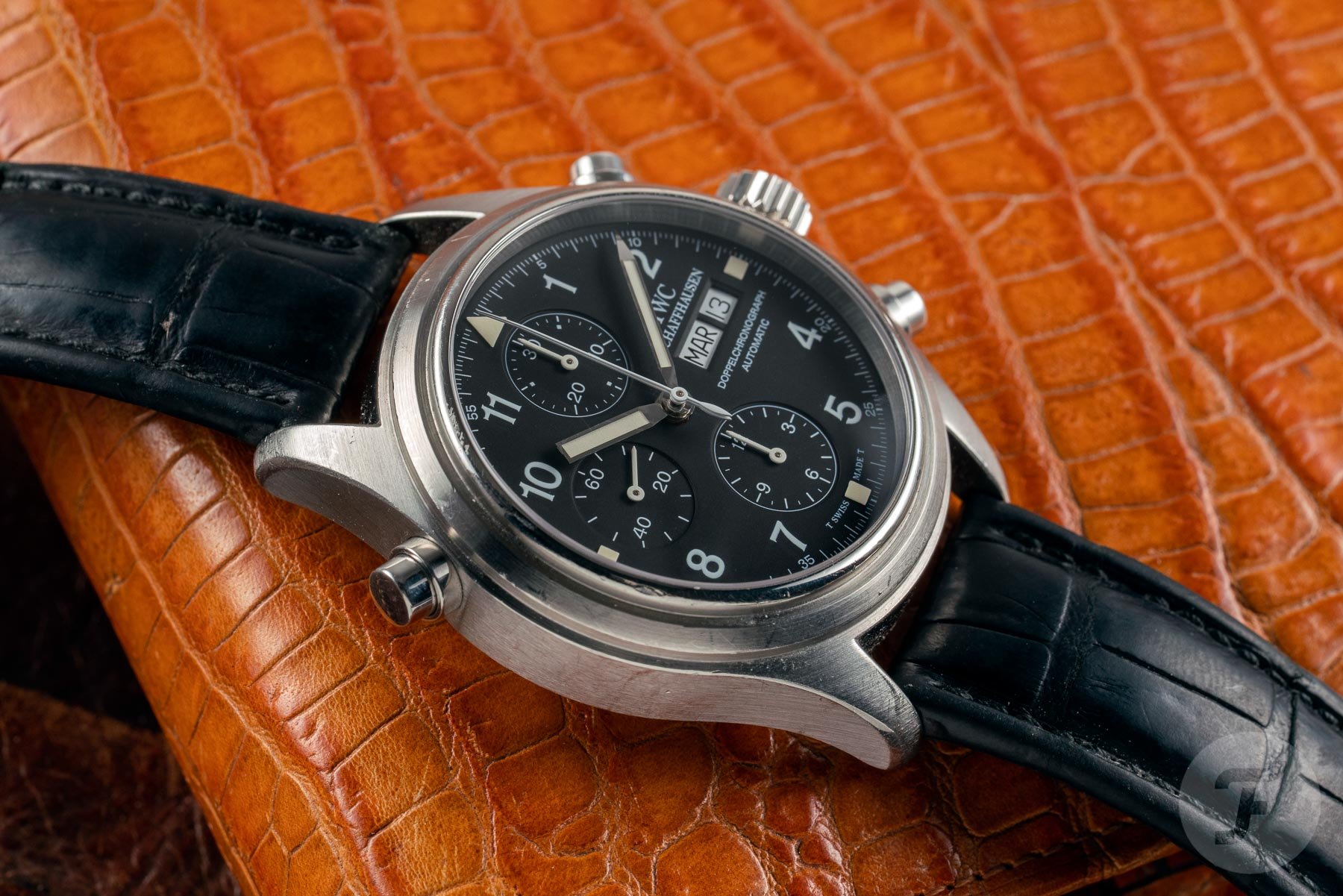 Che figata!
More interesting features of the Doppelchronograph are the screwed solid case back and screwed-down crown. Does it come as a surprise that it has a soft-iron inner case to fight off magnetism? I guess not, since it's a highly functional, purpose-built pilot's watch. The matte black dial is set with painted white indexes, Arabic numerals, and three subdials for the running seconds, the 12-hour and 30-minute registers. And let's not forget the day and date window at 3 o'clock – the watch at HQ is originally destined for the Italian market, hence the Italian day indication; che figata!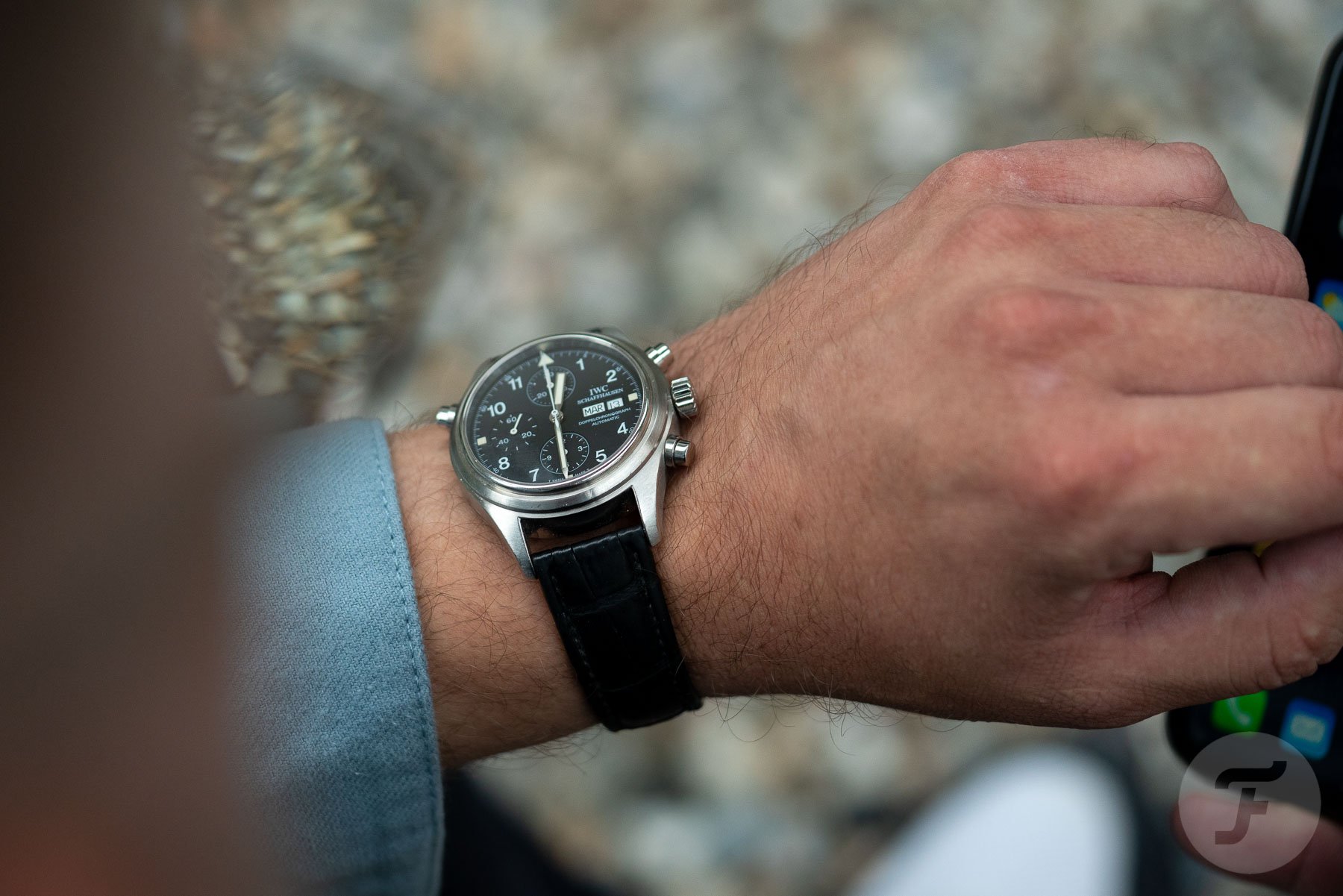 Why does the Doppelchronograph (still) look so good?
So why exactly does the Doppelchronograph from twenty-odd years ago still have a spell on me? It's quite simple really. On the one hand, it reminds me of a period when I started to go deeper and deeper into the world of watches. On the other, because of just how good it looks. It's straightforward and honest. The Doppelchronograph, along with its smaller "brothers", was the gold standard for the design language of IWC's modern Pilot's Watch. A language taking its roots from the 1948 Mark XI. A timeless watch that will always look clean and purposeful. In my memory of it, the Doppelchrongraph is a huge watch. But in truth, it's not. Times have changed, watches have grown, and 42mm is just not seen as big anymore (although now the times could be said to be a-changin' once again). Because of the 16.2mm-thick case, it's not a watch that quietly blends in. The colorway may be subdued, but the presence and the charisma of the Ref. 3713 are undeniable.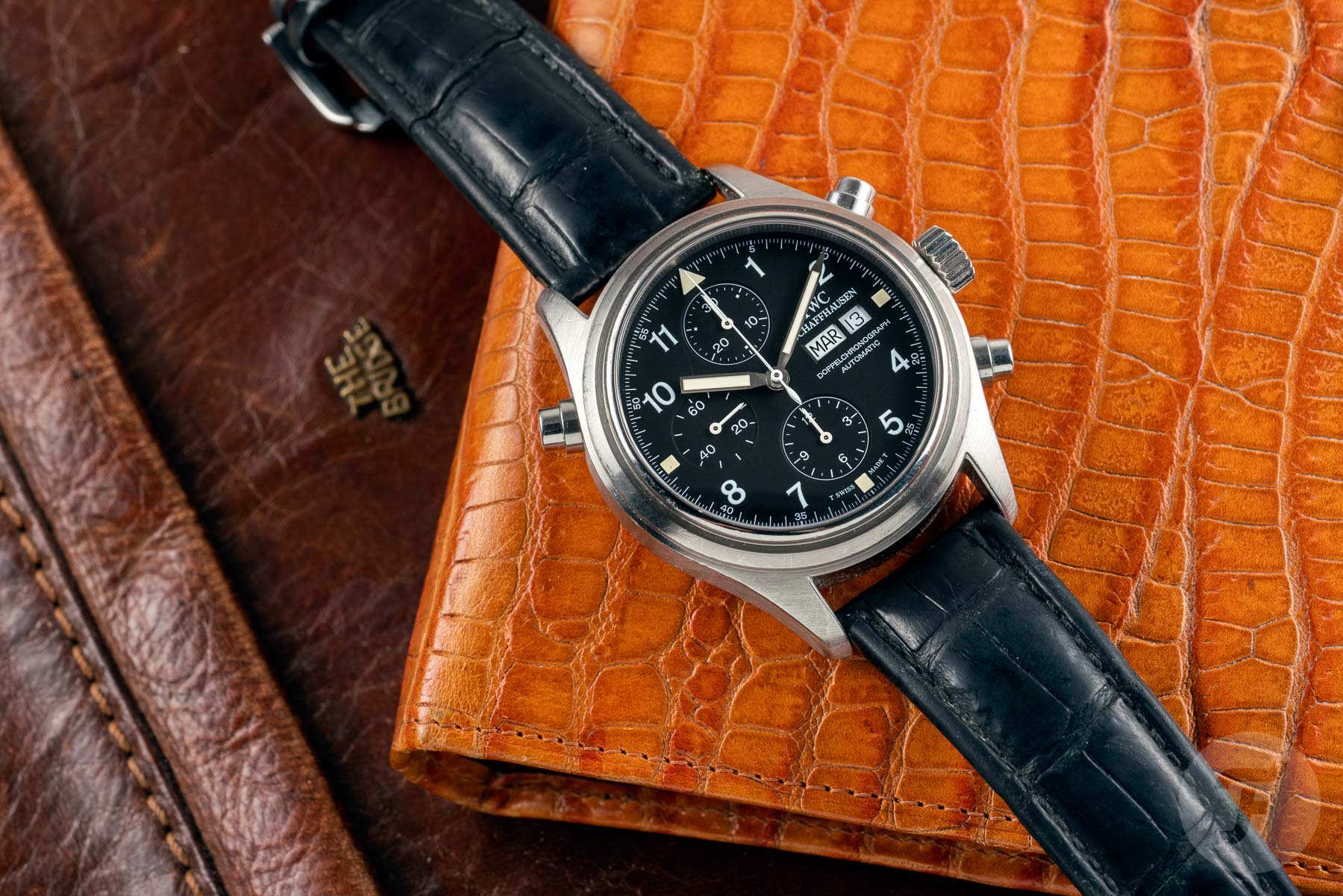 IWC Doppelchronograph Ref. 3713 – a complicated yet solid choice
The Ref. 3713 from the early 2000s I got to wear and play with at Fratello HQ is like a dream come true. Sure, the Ref. 3711 with its dome sapphire crystal is even more lust-worthy, but still, the Ref. 3713 does not disappoint. What is also good to know is that the Valjoux 7750-based double chronograph construction is a solid and durable one. Playing with the split-second mechanism, that allows recording two intervals at a time, is without risk of damage to the movement. And that is something that's good to know when you look at preowned pieces for sale.
… although it's a very complicated watch, Habring's design of the movement made it a proper tool watch …
The original Ref. 3711 and its successor, the Ref. 3713, are very approachable in terms of price. You can expect to pay around €6.000 euro for one in excellent condition. You get a lot of watch for the money. It's the first-ever double chronograph that used cams for both the split-second and for the chronograph. And although it's a very complicated watch, Habring's design of the movement made it a proper tool watch and a proper IWC for that matter.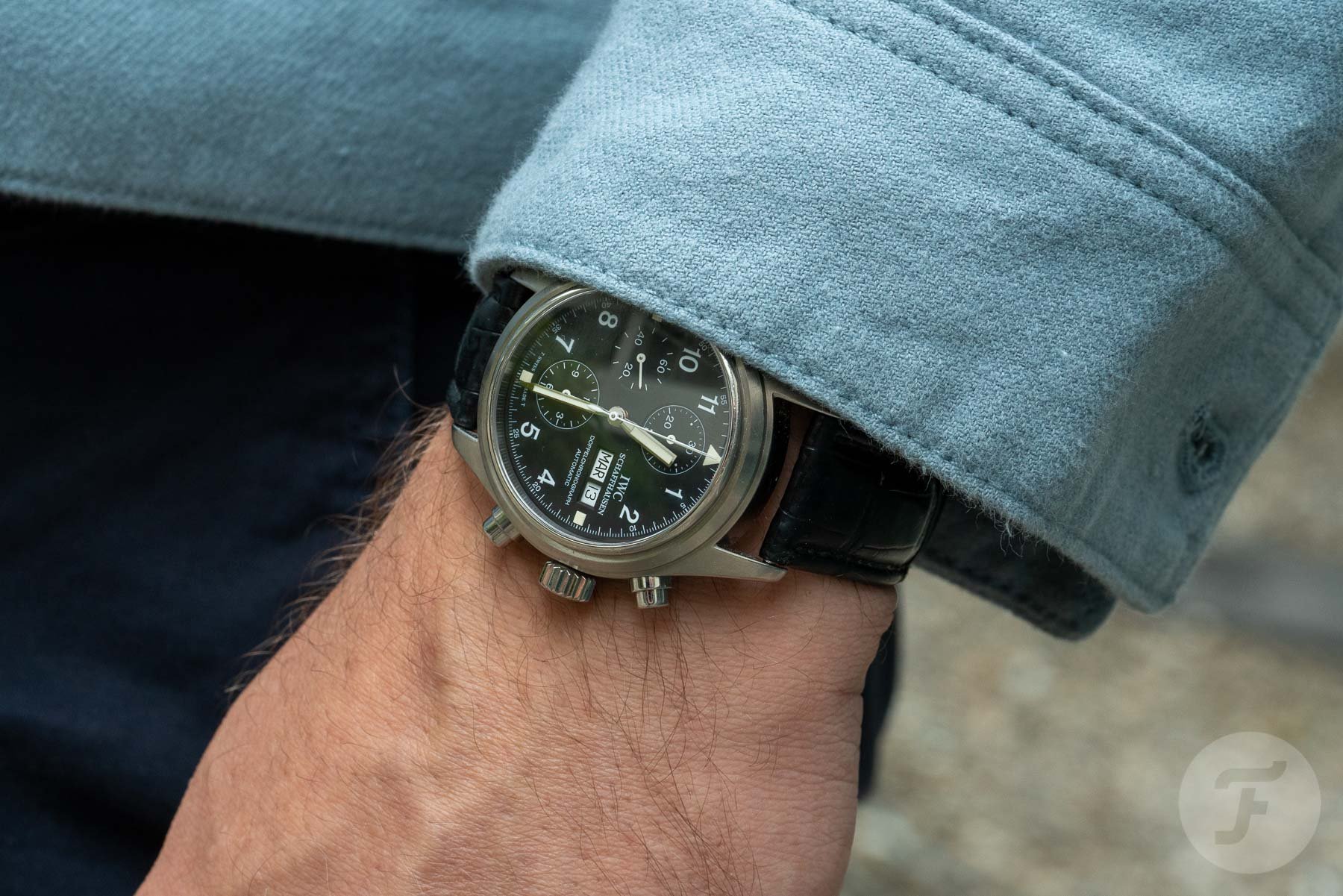 For the latest generation of IWC pilot's watches, have a look at the official website. The only "Doppelchronograph" currently available is the €13,500 Pilot's Watch Double Chronograph TOP GUN Ceratanium. This 44mm black ceramic creation uses the Cal. 79420, an updated Cal. 79230 that is still based on Habring's original invention. His brilliance has stood the test of time, and so has the original Doppelchronograph. As I said before, and I will say it again: IWC Doppelchronograph Ref. 3713 – a watch that's double the fun for those who dare.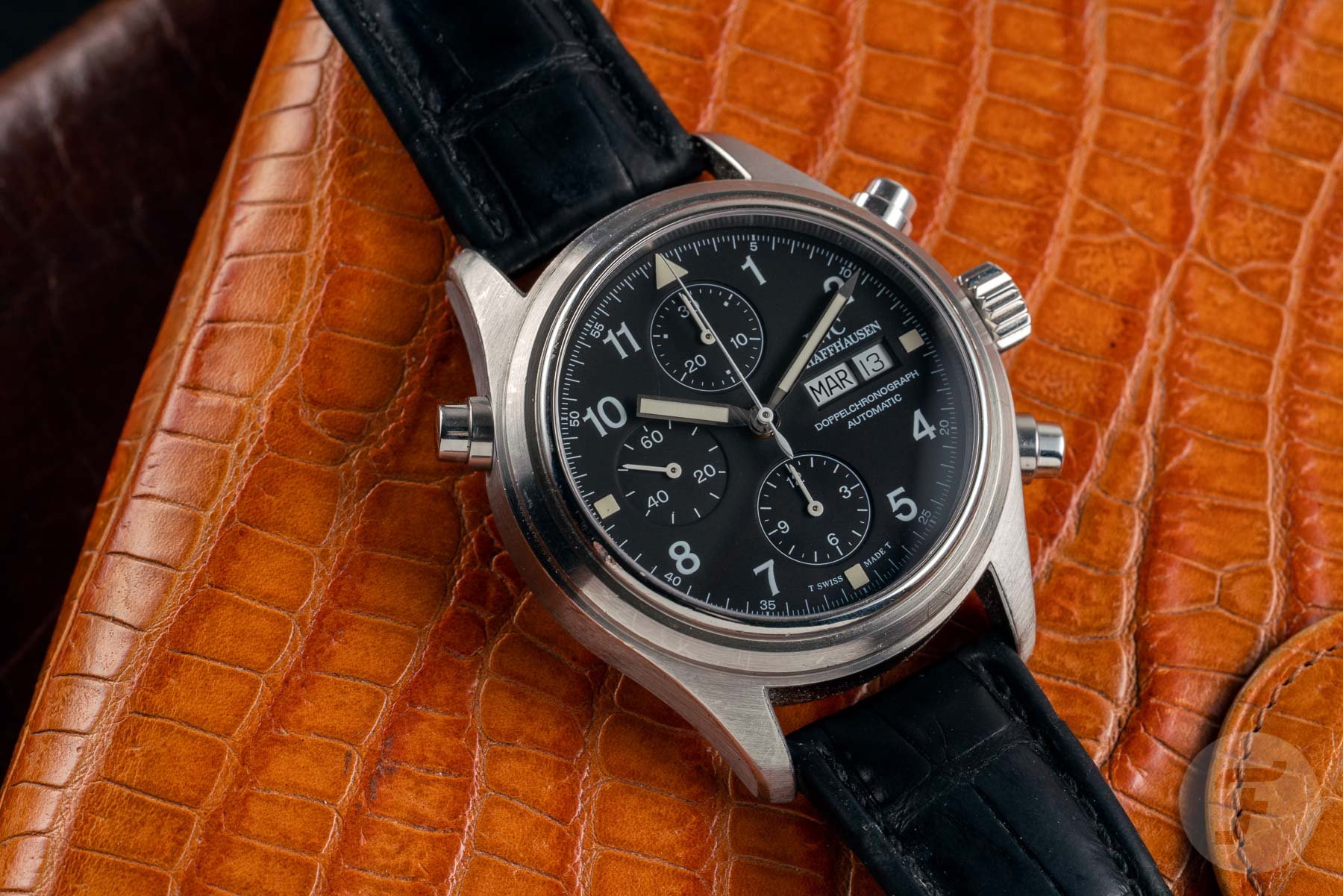 Afterthought on the IWC Doppelchronograph Ref. 3713
I said that back in the 90s, IWC was a boring brand. And when I said that I meant introvert, modest, functional, and value-oriented. When Georges Kern became IWC's CEO in 2002 he must have felt the same because he started a remarkable, and at that time very un-IWC marketing strategy. Remember the advertisements showing a close-up of a watch and the message "Engineered for MEN". Kern showed his machismo with lines like "Almost as complicated as a woman. Except it's on time", and "Often seen on stewardesses' bedside tables". It caused quite a stir, but it also piloted IWC to greater heights. It made IWC cooler than it ever was. Cooler than it is supposed to be?
Please find and follow me at Lex Stolk • Instagram