IWC Flieger Chronograph DLC – Hands On With The Classic Pilot Chrono With A Twist
Ask any watch collector to name a few classic chronographs and no doubt that there will be a IWC Flieger Chronograph between the Speedmasters and Daytonas. It is one of the chronographs with the most readable and clean dials available out there, and it has been for years. The only thing about this watch that changed 'recently', is the diameter of the watch case and the color of the small seconds hand, it turned red. The diameter was 39mm and has grown to 42mm, a bit more into the 'here and now' of watches.
Over the last few months, I had the opportunity to try and wear an IWC Flieger Chronograph (or Pilot Chronograph as you wish) that has been treated with the ever so popular Diamond Like Carbon finish. Besides the DLC finish, they also changed the color of the small seconds hand from red into blue and a matching black strap with blue stitches. Although the responses on this particular leather strap from fellow collectors who've seen this watch were quite variable, I really loved it.
The sapphire crystal of the IWC has this blue glare on these pictures, but that's because of the Anti-Reflective coating that IWC uses for (all) their crystals. With regards to the case of this watch, as you can see above, the DLC finish is not too dark, just enough to make the watch a bit more hard core tool watch than it already was. The blued small second hand doesn't add anything much, but I think I prefer it over the standard red one.
The size of 42mm sounds actually bigger than it is. I am not familiar with wearing their previous 39mm model, but this one suits me perfectly even though I am used to wearing watches smaller then this. The finish of the watch case is superb and reminds me how fond I was about my IWC Ingenieur ref.3227-1 a few years ago. IWC really does a magnificent job regarding the finish of their watch cases.
I clearly didn't follow-up the tips Ming Thein gave in his watch photography tutorial about cleaning watches before photographing them. One thing you'll notice on this picture and the one below, is that the DLC is quite sensitive to [greasy] finger prints and water stains. You will keep polishing the case with your cuff or shirt if you pay too much attention to them.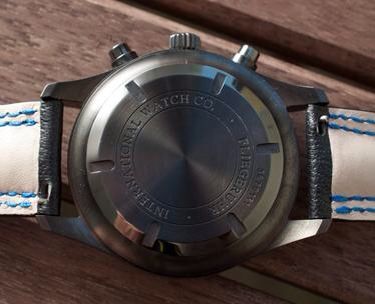 This is what I love about this Flieger, a clean and closed stainless steel case back. Although IWC really puts some effort in finishing their movements, I am not very interested in seeing the movement in a watch like this. It would be something different when discussing their 7-days Portguese automatic, but this movement is a work horse. IWC refers to it as their 79320-calibre, based on the famous ETA/Valjoux 7750 movement. When wearing this watch, you will immediately recognize it as a '7750' based watch because of the wobble. This wobble is being caused by the heavy spinning in its free direction, as the rotor of this calibre only winds when it is moving in one direction. Movements that have a rotor that winds the spring when turning into both directions, don't have this effect. Some people like to feel their watches wobbling a bit, others don't.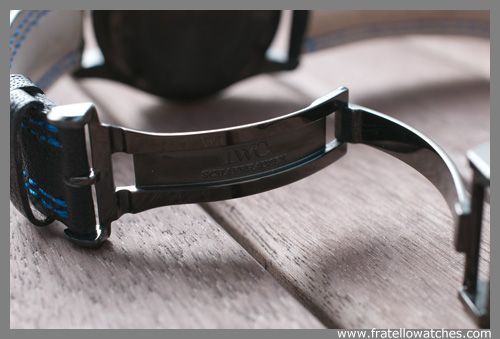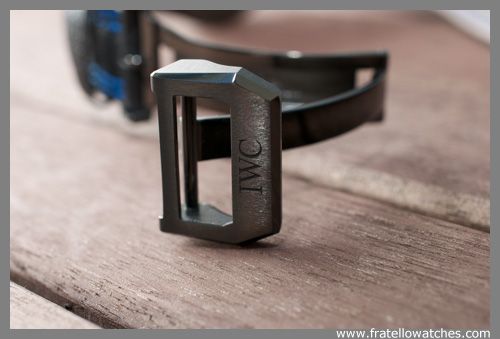 The folding clasp has also been finished with the DLC-procedure as you can see. It is one of the nicest and most comfortable folding clasps on a leather strap I've experienced so far. The length of the clasp is just fine for me, shorter clasps tend to stick into the backside of my wrist. The satin brushed finish and polished edges of the clasp perfectly match the watch case.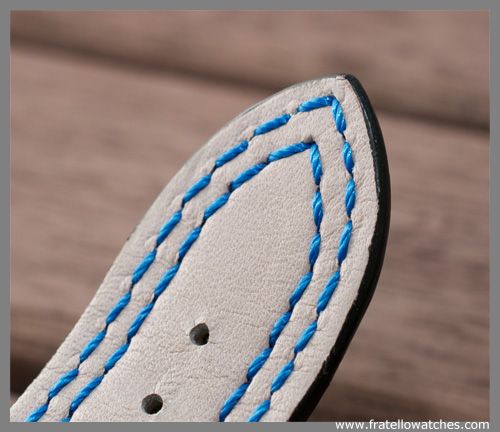 I also would like to pay some attention to the strap on this watch. A very soft and comfortable strap, perfectly suiting the sporty characteristics of the IWC Pilot Chronograph with DLC finish. Personally, I am also very fond of IWC's stainless steel bracelets, but I am not sure whether I would like it in 'DLC'.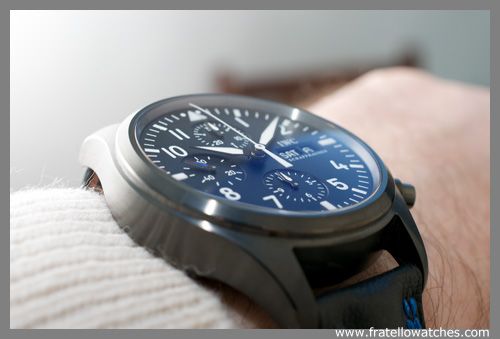 And here is the wrist shot of the Pilot's Chronograph. As I wrote earlier, it is one of the classic chronographs and certainly one of the most legible out there. That, combined with the DLC finish makes this particular watch a very pure and functional tool watch. The IWC Pilot Chronograph ref. IW371701 retails for 4.500,- Euro and comes [standard] with an alligator strap and a classic pin buckle. The owner of this watch had it modified by a third party and added a folding clasp to it as well.
More information: www.iwc.ch (the DLC finish is NOT performed by IWC)