IWC Introduces The Green Pilot's Watch Chronograph Top Gun Edition "Woodland" And White "Lake Tahoe"
Ceramic 44.5mm "Fliegers" with in-house movements and outdoorsy characteristics
At Watches and Wonders 2022, IWC dazzles your eyes with the snow-white ceramic Pilot's Watch Chronograph Top Gun Edition "Lake Tahoe" and calms you back down again with the camouflaged green "Woodland". Many people have told me that I have "gone beige" lately. And that's right, I like a bit of beige in a watch — IWC's "Mohave" models, for instance, but also the Omega Seamaster Aqua Terra Small Seconds I tried not too long ago. With that knowledge, you would expect me to prefer the blended-in "Woodland" over the blizzard-like "Lake Tahoe". But it's the black-and-white "Lake Tahoe" that stole my heart.
Love at first sight. It happened to me back in August 2021 in Geneva during a visit to the IWC boutique. It was a preview of things to come, and many new and pretty watches came to the table. But when the Pilot's Watch Chronograph Top Gun Edition "Lake Tahoe" came up, I forgot every watch I'd seen till that point. And come to think of it, I also have no recollection of anything that was shown after that snowstorm of a watch. Back at Fratello HQ, I told all the Fratelli about the sharpest pilot's chronograph I had ever seen. Several months passed, and only in February of this year did that watch and I get to see each other again. And only now, another couple of months later, can I finally share the feelings I have for this particular IWC with you. I will also say a few words about the "Woodland", but please, don't expect too much. I'm (snow)blinded by the "Lake Tahoe".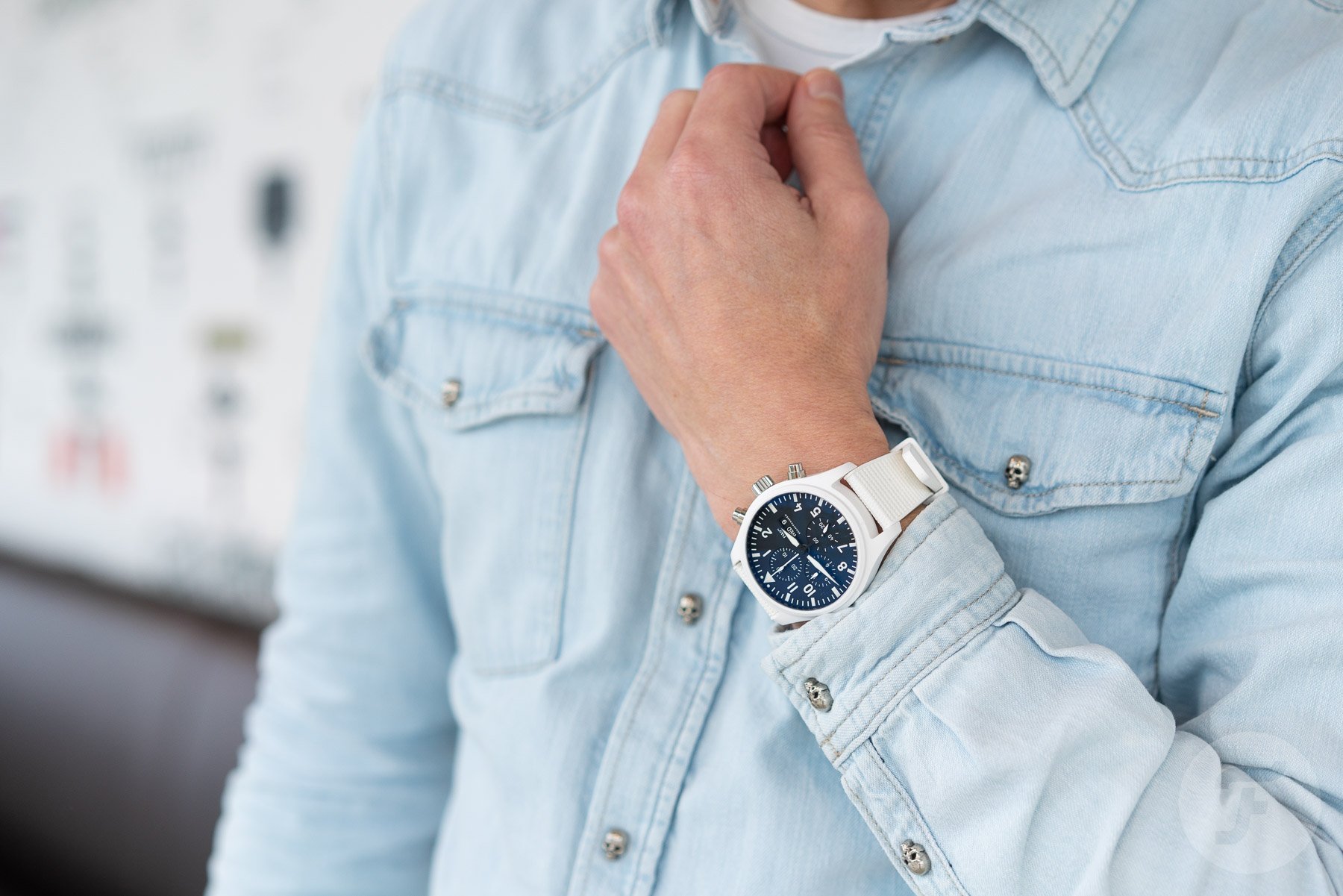 Pilot's Watch Chronograph Top Gun Edition "Lake Tahoe" — White but not cold
You might recognize the 44.5 × 15.7mm white ceramic case from something. Well, that something was the space-traveling Pilot's Watch Chronograph Edition "Inspiration4" (IW389110) with a blue dial depicting the galaxy, of which four were made and later auctioned for charity. You would suspect that a pitch-black dial is way less spectacular than one made to look like a starry night. But you'd be wrong. The ultimate contrast between black and white seals the deal. The combination is so powerful, so sharp, so crisp, it just leaves me speechless. This new IWC makes perfect sense too. Functionally, I mean. A pilot's watch is all about functionality. So it should wear comfortably, work flawlessly, and be both easy to operate and easy to read. Bingo! The Pilot's Watch Chronograph Top Gun Edition "Lake Tahoe" ticks all the boxes.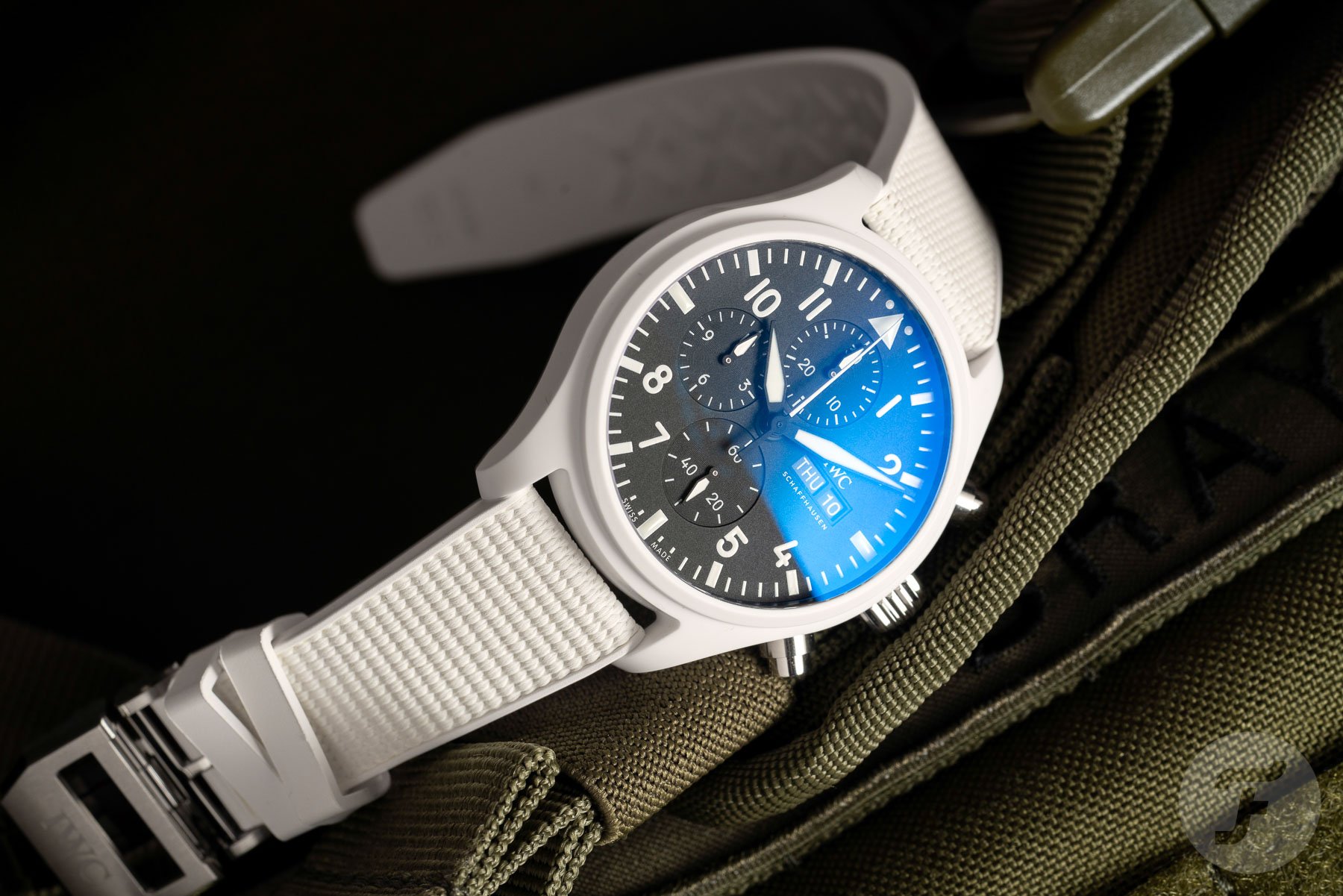 Ceramic experience
IWC's wealth of experience with ceramic cases is comforting. In 1986, IWC chose hard and scratch-resistant ceramic for the Da Vinci Perpetual Calendar Ref. 3755, which came in both a black and a mesmerizing white case. A black pilot's watch in ceramic debuted in 1994 with the Pilot's Chronograph Ceramic Ref. 3705. Nowadays, IWC produces Pilot's Watch models in a range of colors. There's the blue Pilot's Watch Chronograph Edition "Blue Angels", for instance, and the beige Big Pilot's Watch Top Gun Edition "Mojave Desert".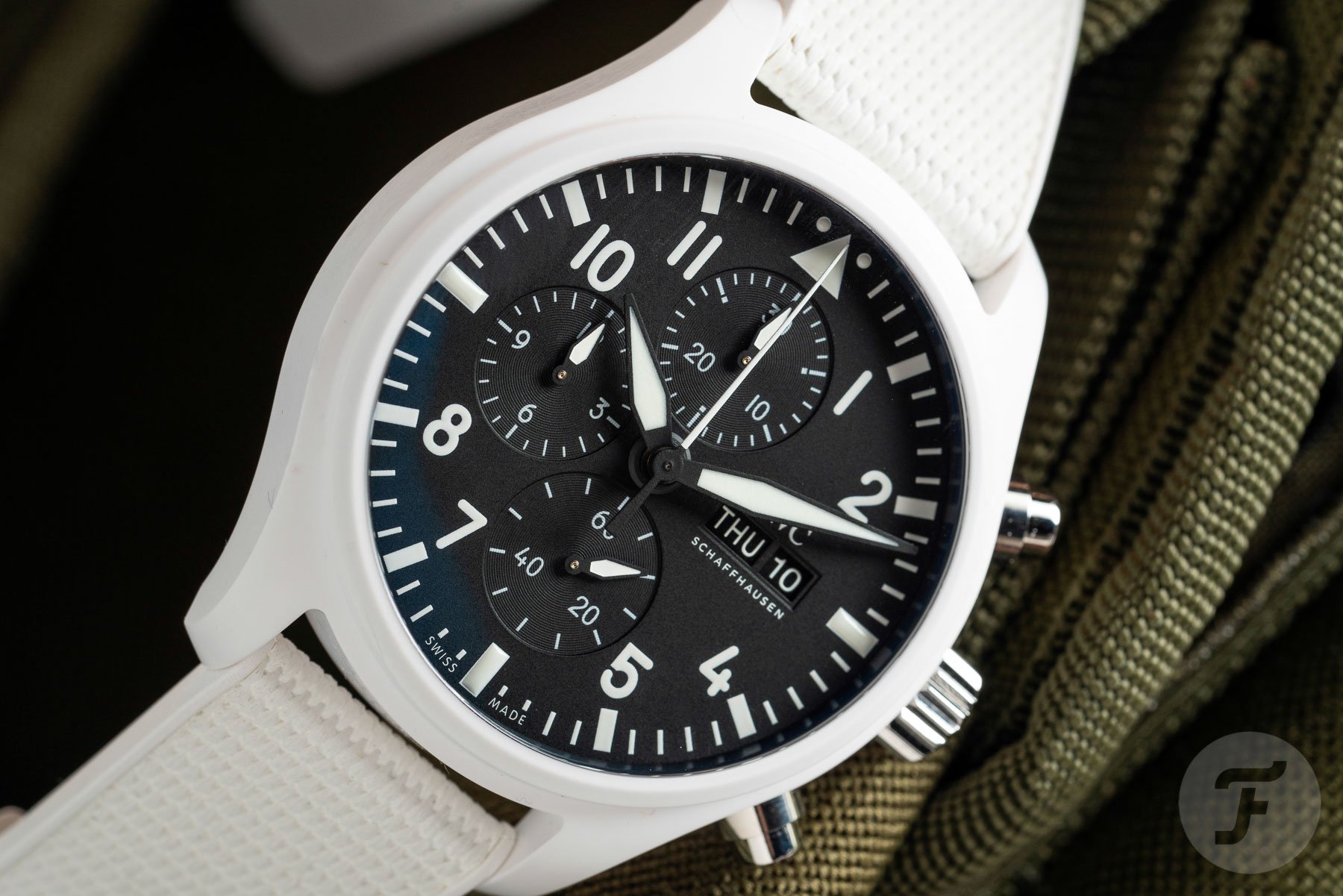 IWC and Pantone, the "color company" best known for its Pantone Matching System (PMS), have even named the specific color of the new white ceramic case "IWC Lake Tahoe". The pushers and crown are made of stainless steel, while the case back is executed in titanium. And the matching white rubber strap blends in with the case and stands out on your wrist. Unless, of course, you're wearing the polar-white flight suit that is standard gear when you're an X-Wing starfighter pilot stationed on the ice planet Hoth. In that case, the "Lake Tahoe" is a perfectly camouflaged piece of watch kit.
Strap and hands
I mentioned the white rubber strap, but I didn't tell you how comfortably it wears. Well, very comfortably indeed. I would prefer a simple pin buckle instead of a folding clasp — the "Woodland" has a rubber strap with a textile inlay and a pin buckle — but the one IWC put on the "Lake Tahoe" works and wears flawlessly. Once you find the right size, it's easy to put on and take off, and it holds the large watch firmly in place. And to round off the functionality part, the black hands of the "Lake Tahoe" — and the "Woodland", for that matter — are coated with luminescent material that glows light blue for good nighttime visibility.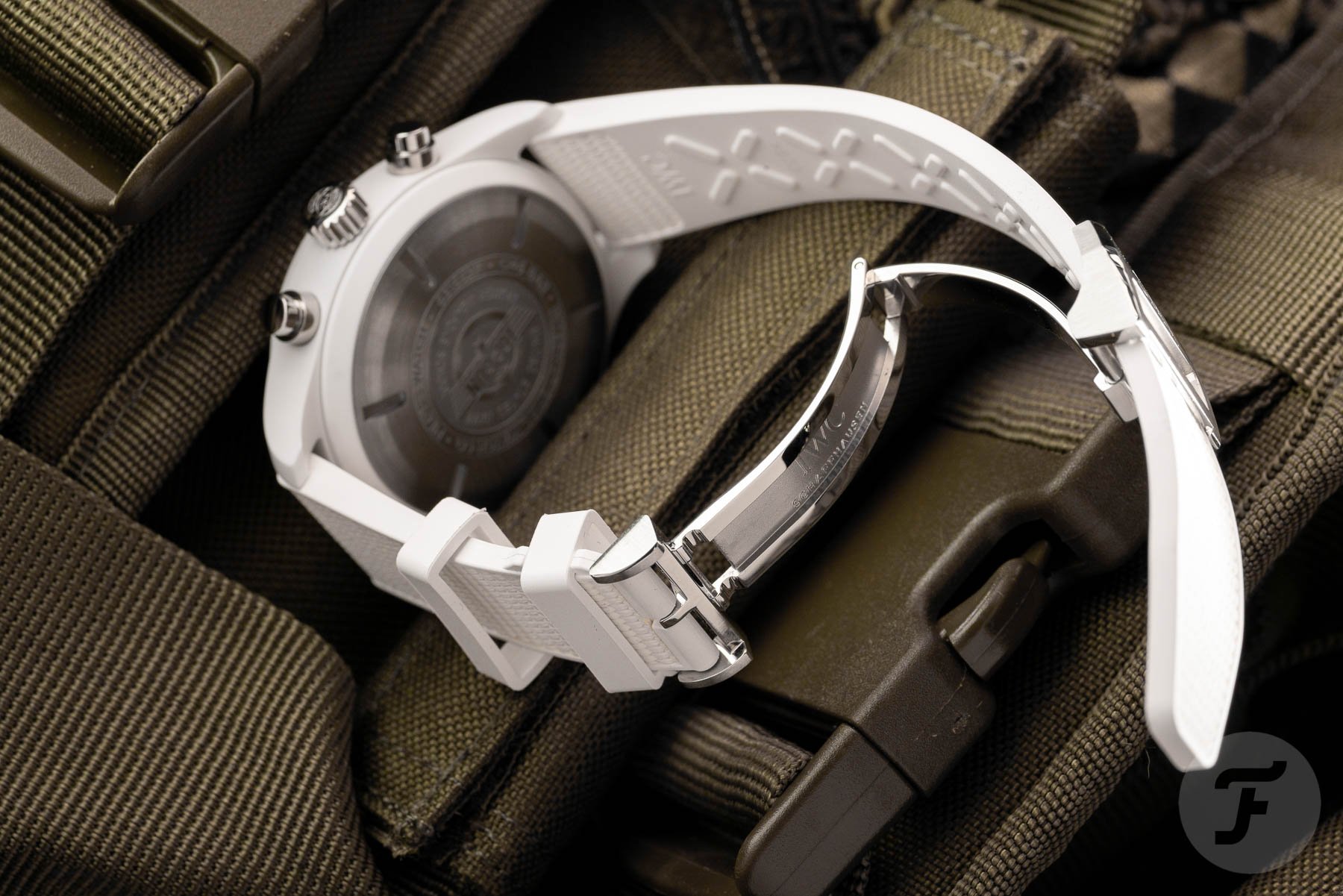 No view, but no worries
Want to know what's inside the ceramic case? Another case. It's a soft iron inner cage that protects the movement from magnetism up to at least 1,000 gauss. This inner case does prevent the use of a display case back to view the in-house caliber 69380. That's an automatic chronograph movement equipped with a column wheel for accurate and instant start/stop action.
But the Top Gun engraving on the case back is also not too bad to look at. The domed sapphire crystals on "Lake Tahoe" and "Woodland" can withstand sudden drops in pressure and have an anti-reflective coating on both sides. There's also a practical day-date function, which you will find at the trusted 3-o'clock position. Both watches are water-resistant to 60 meters.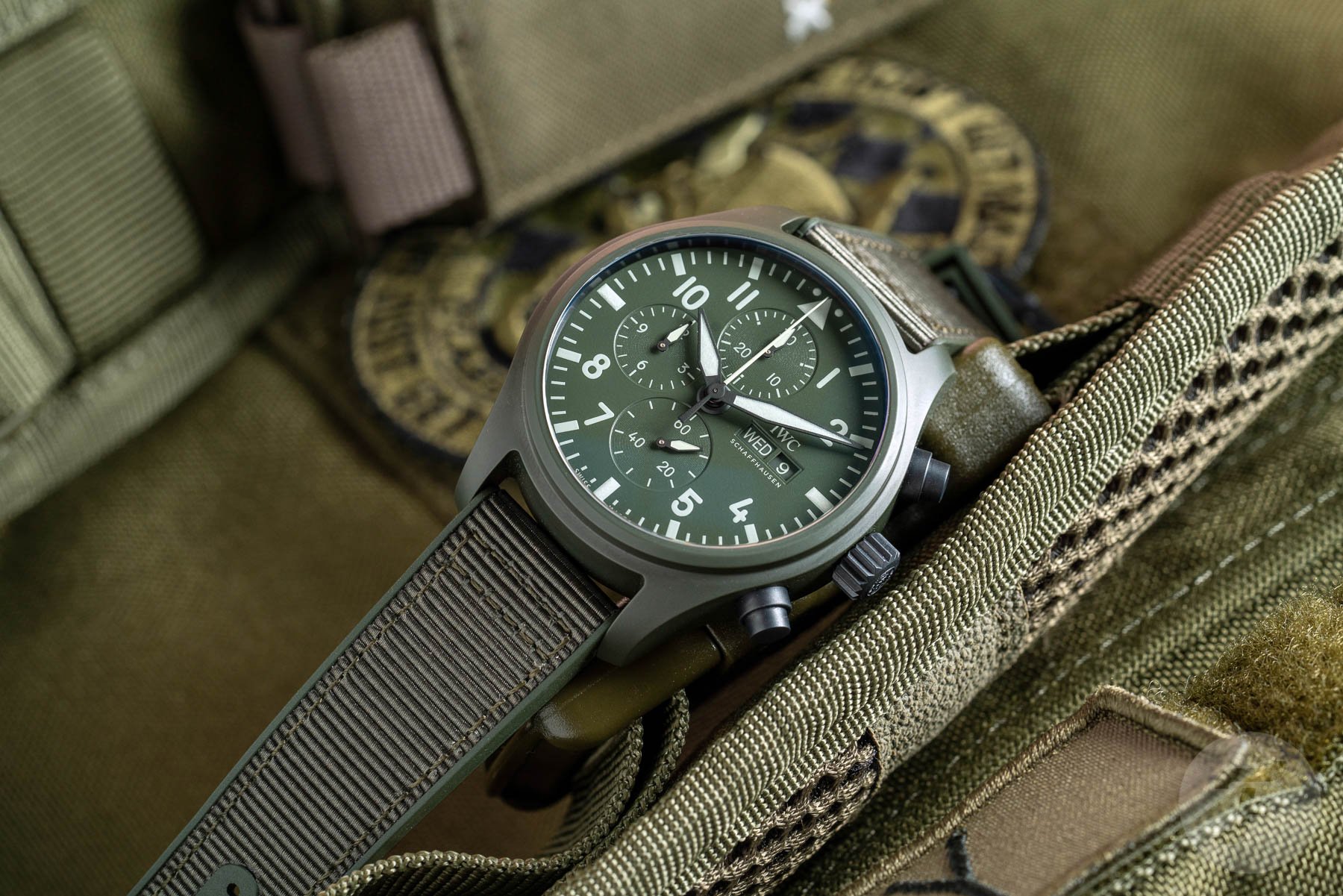 The "Woodland" finally comes into view
What more can I say about the "Lake Tahoe"? You know how I feel about it. What I can also say is that, although it's a chunky watch — a size of 44.5 × 15.7mm should be classified as XL — it doesn't wear that big. Although the color white doesn't slim it down visually, the weight of the materials used make it wear smaller than it actually is. The Pilot's Watch Chronograph Top Gun Edition "Woodland", however, appears to be even smaller. That's because of the subdued green ceramic case — also a Pantone-made color named "Woodland" — and dial in the same color. Even the numerals and hour markers are very introverted because they're printed in a slightly less vibrant hue.
No heavy steel was used in the creation of the "Woodland". The pushers are done in matte black Ceratanium. And whereas the "Lake Tahoe" has a titanium case back, the "Woodlands" has one done in — you might have guessed it — high-tech Ceratanium.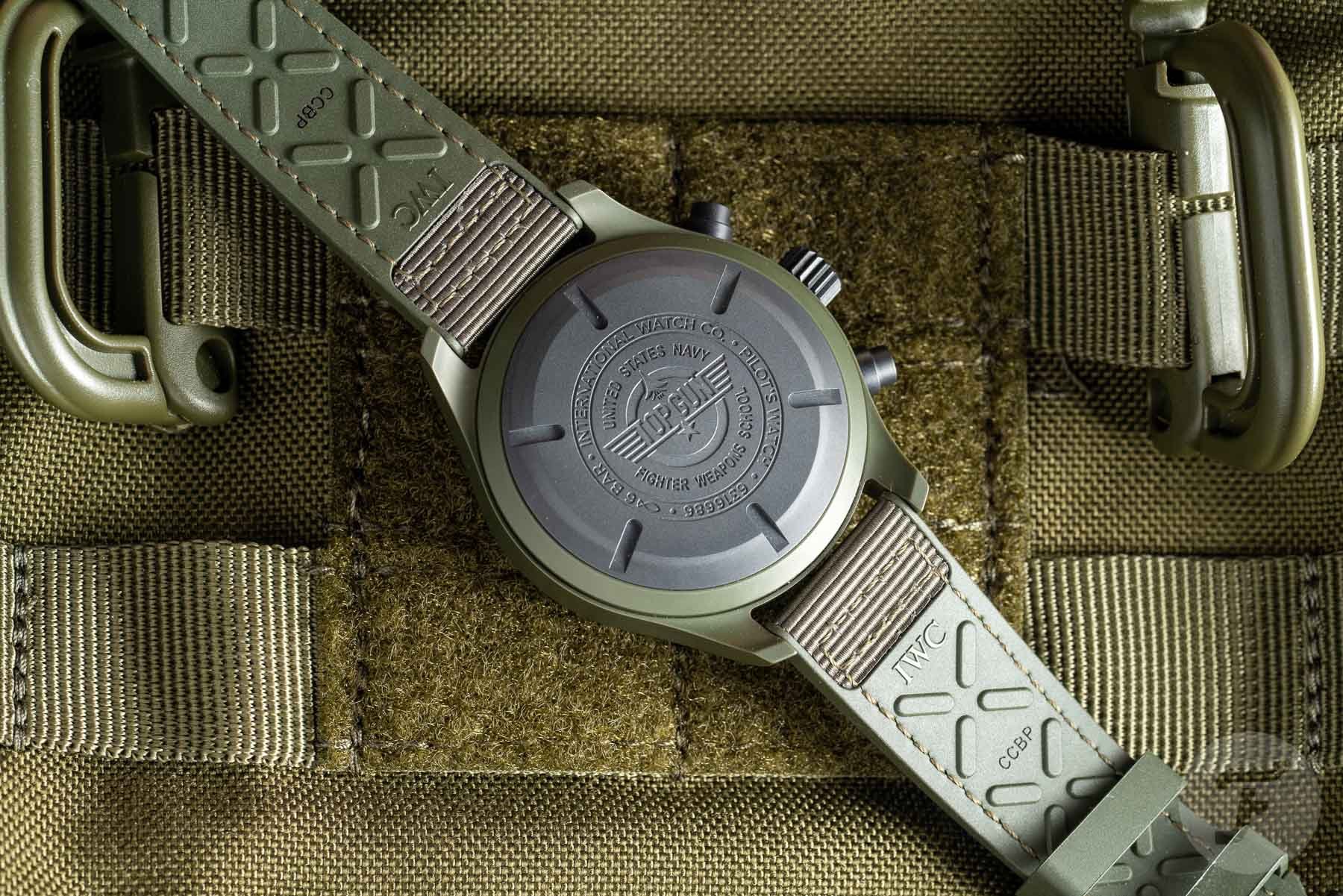 Beneficial Ceratanium
Not only does the grayish-black hue of Ceratanium blend right in with the dark green tone of the case and dial, but the material also provides functional benefits. That's because Ceratanium combines the lightness and structural integrity of titanium with a hardness and scratch-resistance that is similar to ceramic. I already mentioned it previously, but the "Woodland" is outfitted with a green rubber strap with a textile inlay, as well as a simple, sturdy, effective, and no-nonsense fighter-pilot-like pin buckle. The textile inlay is a subtle, luxurious touch. It would look great on the "Lake Tahoe" too, but it would also be impossible to keep clean and fresh-looking.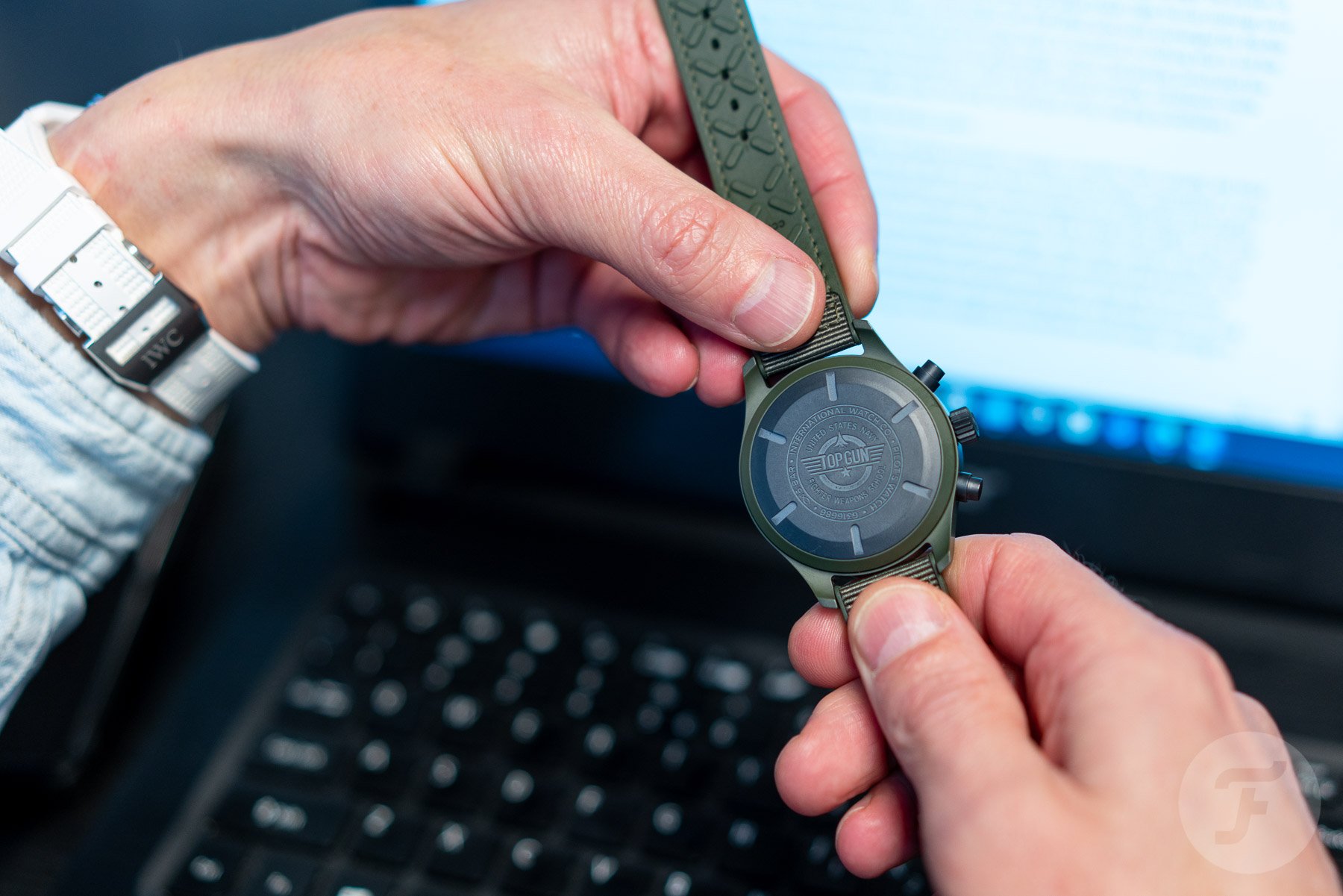 Estimated time of arrival and pricing
The price of the Pilot's Watch Chronograph Top Gun Edition "Lake Tahoe" (IW389105) is CHF 9,900. The Pilot's Watch Chronograph Top Gun Edition "Woodland" (IW389106) is a bit more expensive. I'm guessing because of its extra Ceratanium components, it comes in at CHF 10,900. Neither watch is a limited edition, but IWC has set an annual production limit of 1,000 pieces each.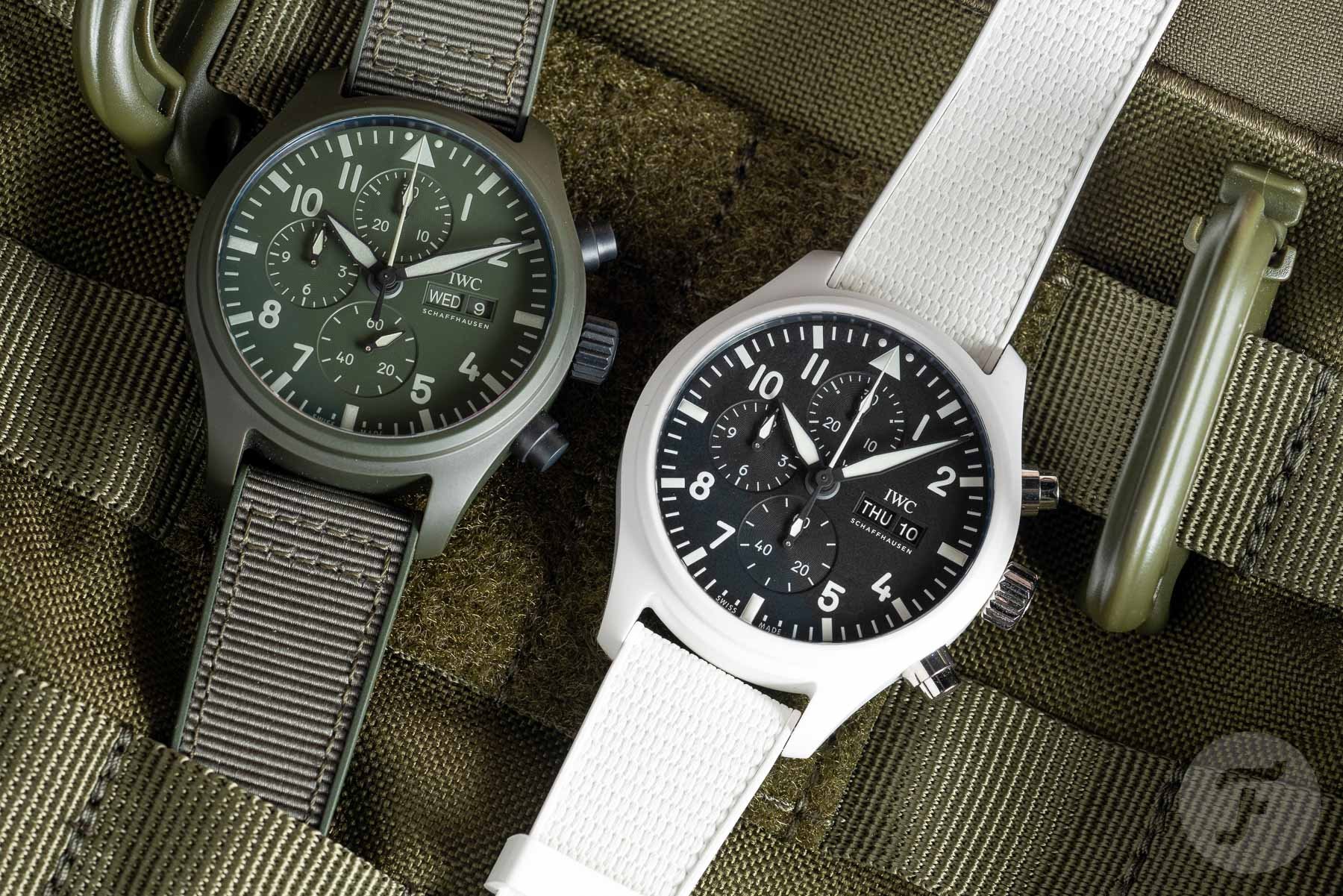 The "Lake Tahoe" is the one for me. It takes the basic looks of a steel pilot's watch with a black dial to the next level. Who would have guessed that white ceramic is steel 2.0? The "Lake Tahoe" is an avant-garde creation that stays true to the effective simplicity of the original pilot's watch.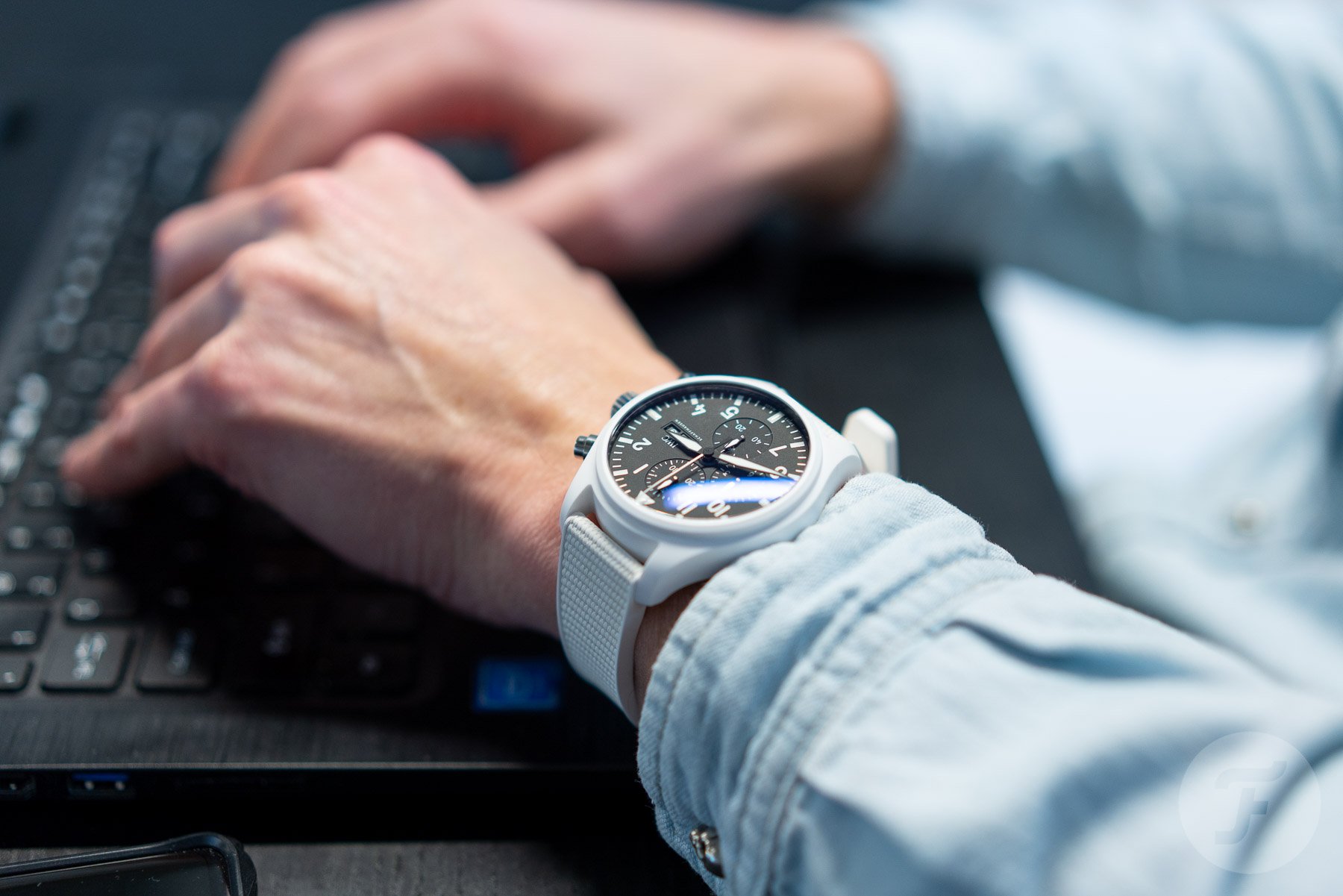 The estimated time of arrival of both ceramic chronographs is soon. Real soon. Check out your local IWC boutique or authorized dealer to try them on. You can also head over to the IWC website for more info or place your order online.
Please find and follow me at Lex Stolk • Instagram