IWC Portuguese Tourbillon Hand-Wound
Me and Mr Jones…….we got a thing goin'on
The song, "Me and Mrs. Jones", was a song originally performed by Billy Paul back in 1972. It alludes to the extramarital relationship between a man and his lover Mrs Jones.
My relationship with F.A. Jones is more wholesome. Florentine Ariosto Jones was the American entrepreneur who founded the International Watch Company back in 1868. IWC have produced many beguiling timepieces since its inception.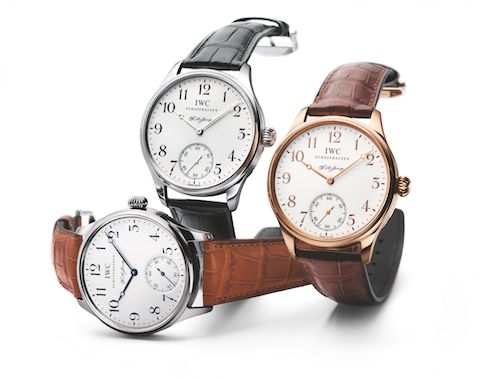 However, one that got away, was a limited edition hand-wound Portuguese F.A. Jones I saw a few years ago. The watch was available in different metals, but my favourite had a white dial and blued Breguet hands. It reminded me of my innocent youth as an angelic choir boy, suitably attired in blue cassock and white surplice.
The watch had a purity, an honest steel case and sapphire caseback openly bearing its soul. My deliberations outside the window of a jewellers shop in Leeds and the inner turmoil of parting with my hard-earned promissory notes is indelibly etched on my psyche. I foolishly walked away, regretting the moment ever since.
My curiosity aroused, I wanted to know the origin of the F.A. Jones soubriquet detailed on the dial of my deserted love. And, so began my romance with Mr Jones. Occasionally, I catch a glimpse of hem as I see another horological delight from the atelier in Schaffhausen.
This brings me to threshold of another gem bearing the nomenclature of Florentine Ariosto Jones, the IWC Portuguese Tourbillon Hand-Wound, a handsome timepiece featuring a regal complication.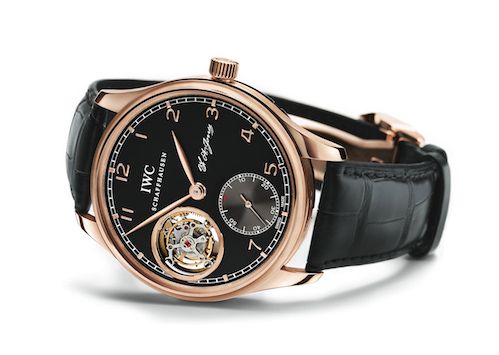 Tourbillons present a technical challenge to the most accomplished watchmakers. Supply is limited and pricing justifiably high. However, IWC have produced a tourbillon in this instance which is relatively accessible whilst conferring the craftsmanship the cognoscenti crave.
The Dial
The black dial provides charming contrast with the 18-carat red gold case.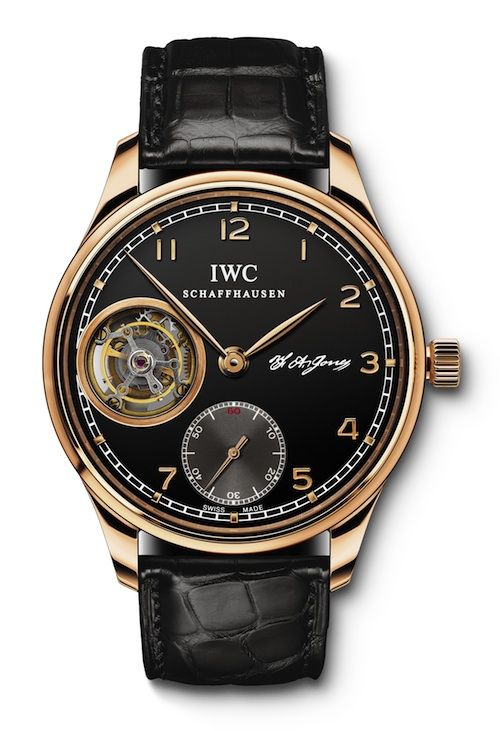 A minute rail presented in white, circumnavigates the dial. Each hourly integer is delicately marked with an applied gold baton.
Arabic numerals in a contemporary font feature on the dial except where other details usurp their importance. The modernity of the font, sans serif, is in contrast to some of the traditional styling details. Yet, it all works wonderfully in alluring accord.
The hour and minute hands are majestically handsome, constructed of 18-carat red gold.
At 6 o'clock, subsidiary seconds are presented on a grey subdial. The judiciously contrasting hue is lovely.
The tourbillon cage resides at 9 o'clock resplendent and proud. The ultimate expression of the watchmaker's skill, it will stir the soul of any mortal being. A highly polished circlet of red gold frames the whirlwind paying due reverence to this horological work of art.
The Case
The case diameter of 43.1 mm suits the architecture of the timepiece perfectly. All proportions work harmoniously, nothing seems unduly large or small.
A prominent crown, neatly knurled, bestows user-friendly operation for large fingers.
Highly polished surfaces bask in the sun's rays and provide an alter ego to the quietly spoken satin brushed caseband. The resultant form works in concert like a well-rehearsed choir.
The caseback is see-through courtesy of sapphire crystal. It affords a view of the finely finished movement, emoting every nuance of the movement's personality.
The Movement
Abraham-Louis Breguet was the inventor of the tourbillon back in the 18th century. His invention countered the negative effects gravity had on the rate of the balance. It had a tangible benefit when used in a pocket watch, held vertically in the waistcoat. However, it could be argued that its benefit in a wristwatch is negligible.
The raison d'etre for purchasing a watch with a tourbillon regulator or "whirlwind" is the exquisite expression of the watchmaker's craft.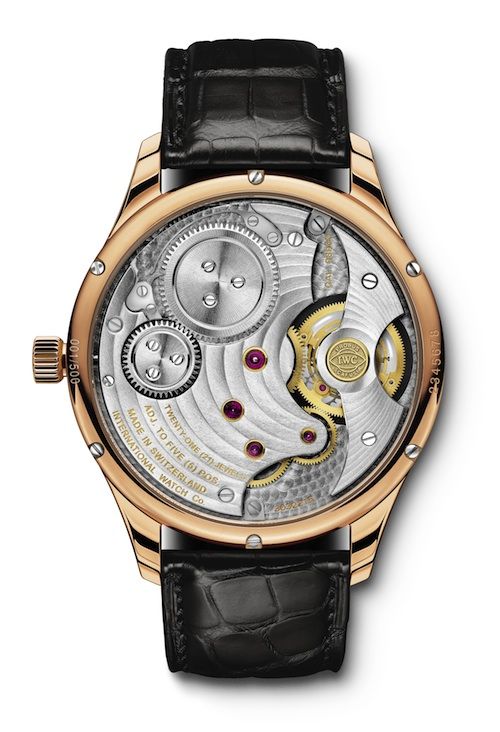 Watchmaking is a hierarchical profession. Initially a watchmaker on completing their apprenticeship may lubricate simple two handed watches. As their career evolves and skills develop they may one day reach the highest echelons of horology, working on complex watches such as tourbillons and minute repeaters. The limited number of artisans at this level, means numbers of tourbillons are limited and by default attract elevated pricing. This particularly tourbillon is priced very attractively yet does not shortchange the would-be purchaser. Matchless mechanical prowess resides within this handsome watch.
The three-quarter bridge reminds me of fine German watchmaking and is no worse for that. A motif of arcing, brushed parallel lines, adorn the bridge. Sunray brushing is visible on the reverse of the spring barrel.
The bevelling on the tourbillon bridge is excellent and distinguishes this movement as a fine example of haute horology.
The mainplate is flawlessly finished with petit perlage.
Conclusion
The signature at 3 o'clock has adorned beautiful dials in the past. In my mind's eye it has graced the ticking love letters bestowed by wife. However, sadly my inert digital alarm clock awakes me from deep slumber and horological dreams evaporate into the ether.
IWC have engineered a masculine watch with handsome lines. Adjacent its chiseled jaw resides the captivating mind of the whirlwind. Mysterious and beguiling, it never fails to delight. Sadly for many watch collectors, this complication has proved financially elusive, but maybe this model provides an opportunity to access its delights courtesy of competitive pricing.
My affection for this watch is profound. My love for Florentine is not tinged with cerise like motives but a fondness for the watches which bear his name. In summary, me and the watch bearing Mr Jones's name subscribe to the final lyrics of the song, "But it's much too strong, To let it go now".
Technical Specification
• Model: IWC Portuguese Tourbillon Hand-Wound
• Reference: IW544705
• Case: 18-carat red gold; diameter 43.1 mm; height 11 mm; water resistant to 3 bar (30 m); sapphire crystal to front and case back.
• Functions: Hours; minutes; small seconds; tourbillon.
• Movement: 98900 Calibre, manual-winding; frequency 28,800 vph (4 Hz); 21 jewels; power reserve 54 hours.
• Strap: Black alligator leather strap with 18-carat redgold deployant (pin buckle available on request).
Official website: www.iwc.ch