klokers KLOK-01
When I grew up, I didn't have to use slide rules in school to do math. However, I also remember the white cupboard we had at home, with old calculators, a caliper, a pair of compasses and a slide rule. All stuff that belonged to my father. Things he used in school and some times still used some of it to do calculations. Ask a kid now, and he probably will know the pair of compasses, but won't have a clue about a slide rule.
Slide Rule
A slide rule is an analogue device that can be used to do multiplication and division. You had more complex slide rules that help you with other calculations as well, such as square roots, exponentials, logarithms etc. You have them as standard linear rules, but also as circular slide rules. The advantage of a circular slide rule is that it is somewhat more compact (almost a Pi-factor, you could say) than a linear one.
klokers
klokers (officially written without a capital) decided to use the circular slide rule, as pictured above, as design for their watch. According to the official website, klokers like to use items from the past, "whose emblematic uses are still buried away in the collective subconscious". I realize that the watch immediately reminded me of the contents of that drawer of our white cupboard, when I was a kid. I wonder what will happen if I show this watch to my dad. He loves this kind of stuff.
Not For Calculations
klokers is of course not the first watch brand to use a slide rule, as you are probably familiar with the Breitling Navitimer. These watches use a working slide rule, meant for pilots, to do calculations regarding fuel consumption, airspeed etc. However, that is not what the klokers KLOK-01 is about. It wants to give you that flashback to items from the past, not to actually use the watch as slide rule.
klokers KLOK-01 Review
Let's have a look at the watch. I've had it for a while now, as we had some delays here and there, but that gave me some time to actually give it proper wear. klokers started producing these watches earlier this year, after they had a successful funding program using Kickstarter.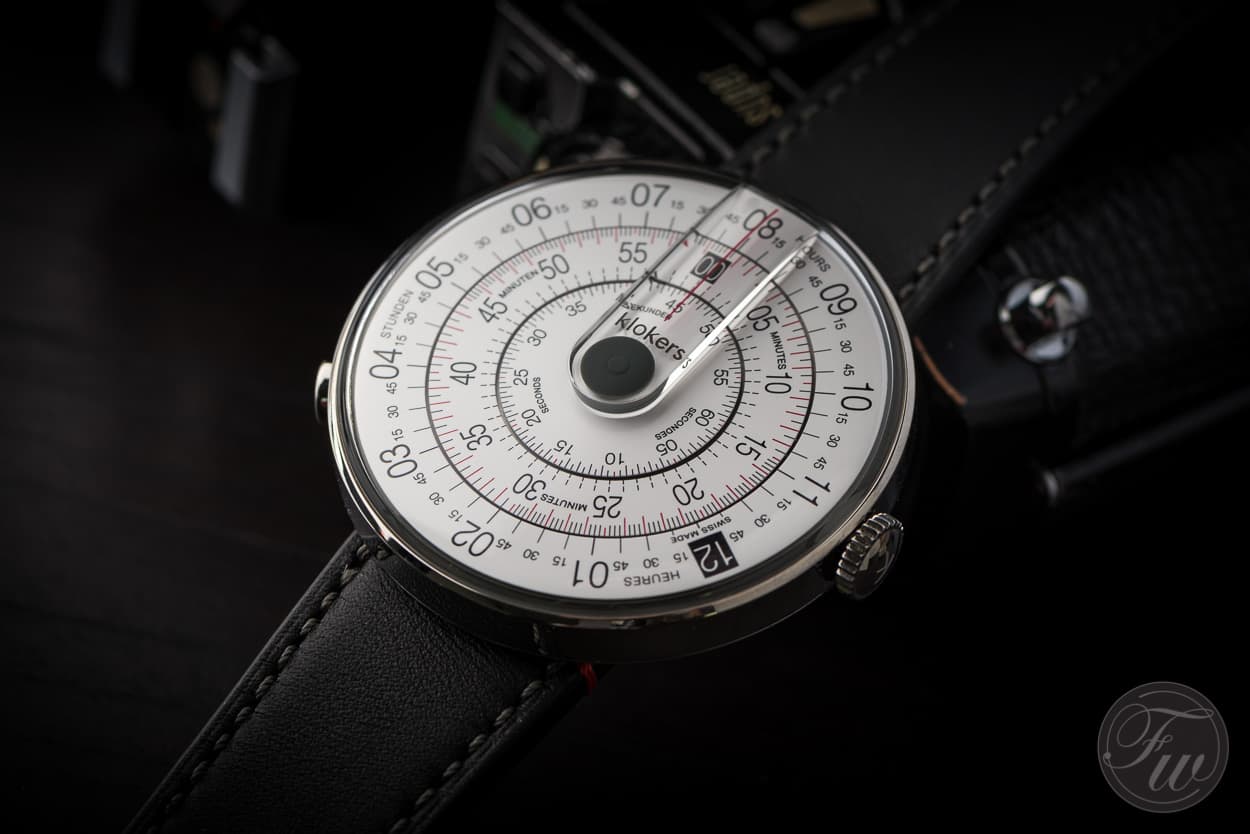 Polymer
The first thing to notice is the relatively large case and the fact that all of it is being used for the watch. A crystal made of polymer, also known as acrylic glass. Or as most of us call it, plexi. This crystal somewhat magnifies the dial a bit. As you can see, there is another crystal below, from the center to 12 o'clock. This magnifier is used to read the actual time from the three discs.
Circular Slide Rule Dial
The klokers KLOK-01 has three moving dials and clearly look like a circular slide rule at first. But it is for time indication only, of course. The outer scale is for indicating the hours (and minutes). Basically, you can do with this scale only. It is like a MeisterSinger watch with only 1 hand, except for the fact that the dial moves instead of the hand. The second scale indicates the minutes. The smallest and third scale, indicates the running seconds.
Reading Time
If you look at the image below, the watch indicates it is 08:03:28. However, the alignment from the discs isn't perfect. It was also the issue with the original circular slide rules, less important scales were closer to the center and had lower precisions. That is not entirely the case here. However, when I align the watch to exactly 12 o'clock for example, based on the outer (hour) scale, the 2nd scale, indicating the minutes, is a few minutes off. A tad bit frustrating if you really want to measure the exact time.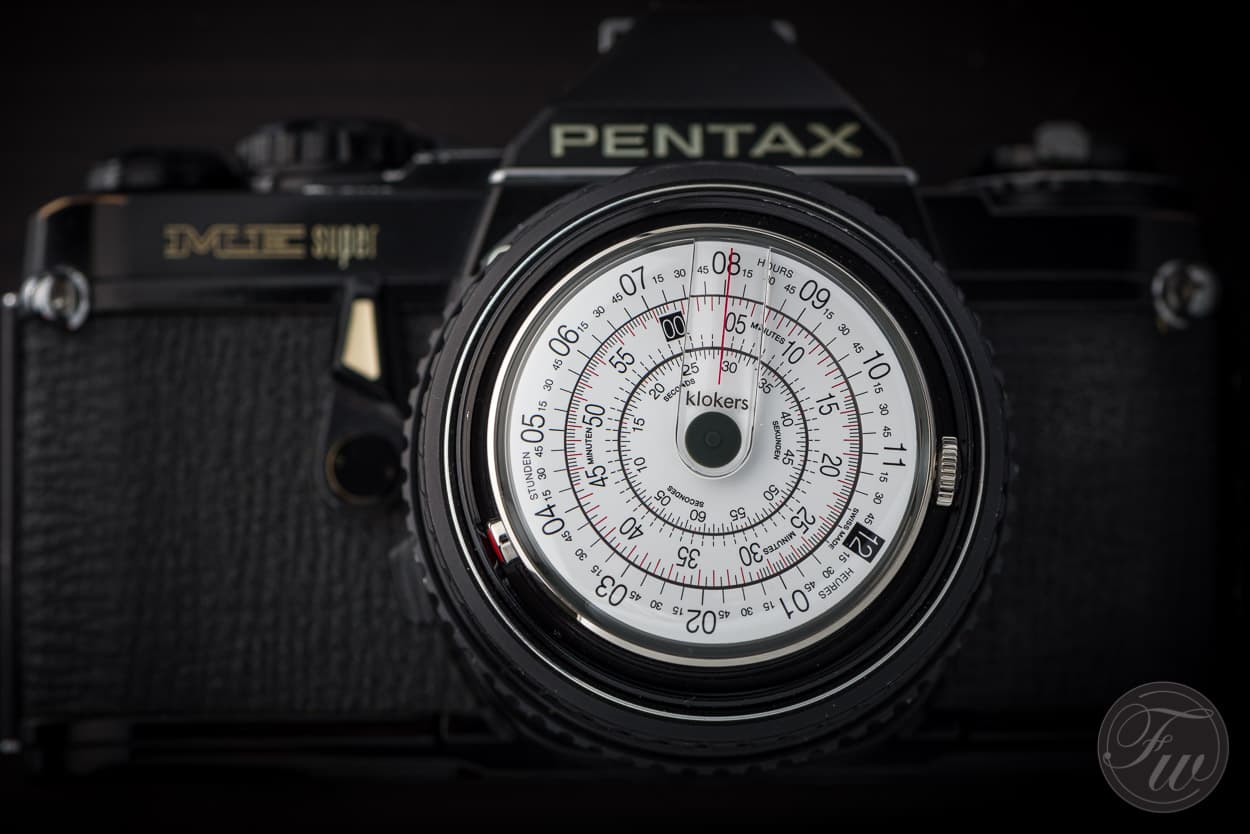 44mm Light-weight Case
It doesn't happen very often that a 44mm watch is very light-weight. Assuming it is made out of steel (I see no indication of such), at least it feels and looks like stainless steel, it is very light. The watch is not that thick of course, and the crystal is polymer. A sapphire crystal would definitely add substantial weight to the watch. On the right side, there is the crown that can be pulled out to set the time. On the left side, at 8 o'clock, there is a red pusher that you will need to press to unlock the mechanism that connects the watch case to the strap. The case is connected (slided) on top of the strap, so it is quite high on the wrist.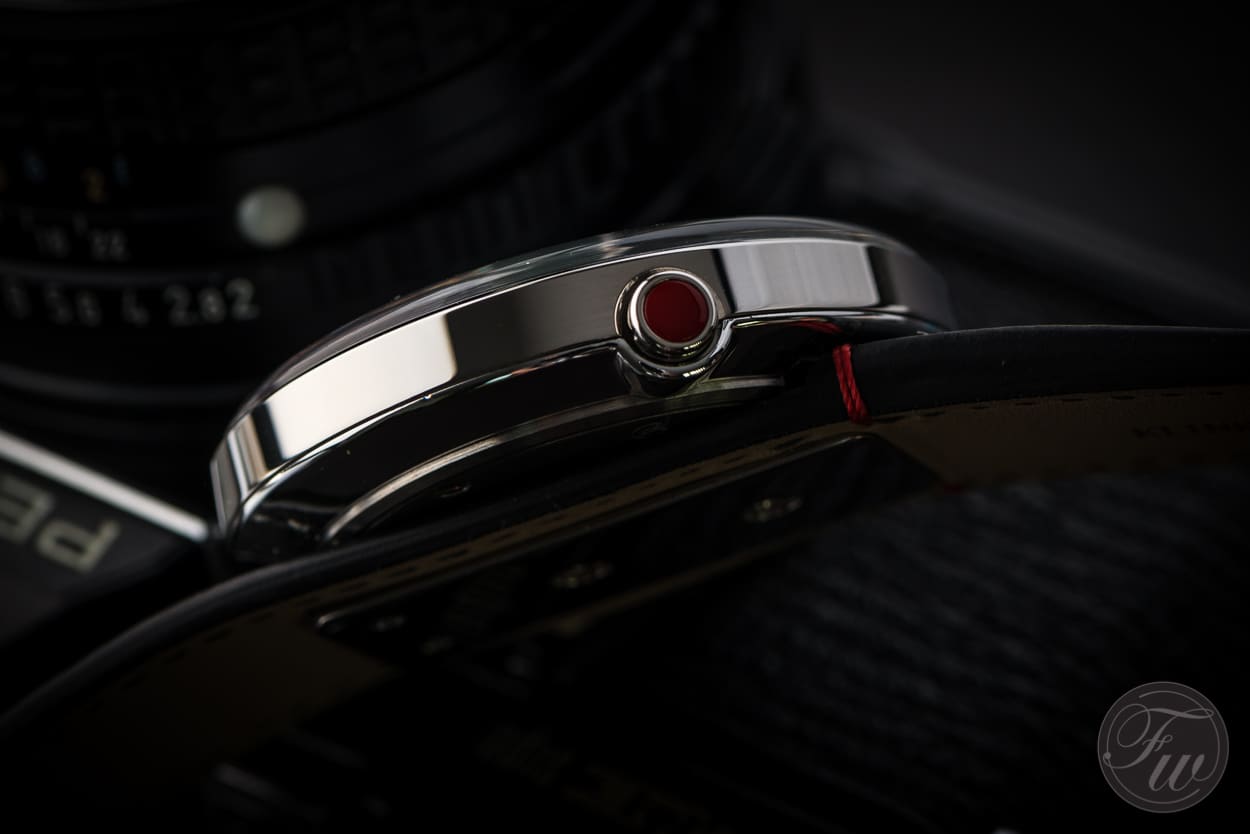 Colors and Strap System (KLINK-01)
klokers makes you choose between blue, gray and yellow for the dial. Each of them have different colors on the dial. The yellow version is combined with red numerals, while the blue version also has blue numerals. The gray version can be seen here. Besides the color scheme for the dial, you can also choose a strap. klokers call them bracelets, as you can also wear them without a watch. These are available in the following colors: satin black, matte black, indigo blue, brown, yellow Newport, orange alcantara, and gray alcantara. The bracelets can also be ordered separately, for €119.-.
The watch can be attached to the bracelet with a sliding system. It locks with a firm click. Releasing is done with the red button as described before.
KLINK-02
Besides the bracelet pictured below, klokers also has a long strap than can be worn 'double' on the wrist. A bit Hermes like, if you want. klokers calls this bracelet the KLINK-02 and comes in four different colors. Here you can also choose the size of the strap, 'S' or 'M'. The 'S' is 380mm in length while the 'M' is 420mm. In comparison, the single KLINK-01 strap is 245mm. To me, the double KLINK-02 strap is a bit for ladies to be honest. But you are reading the opinion of a guy here that also never wears any leather bracelets (without a watch attached to it).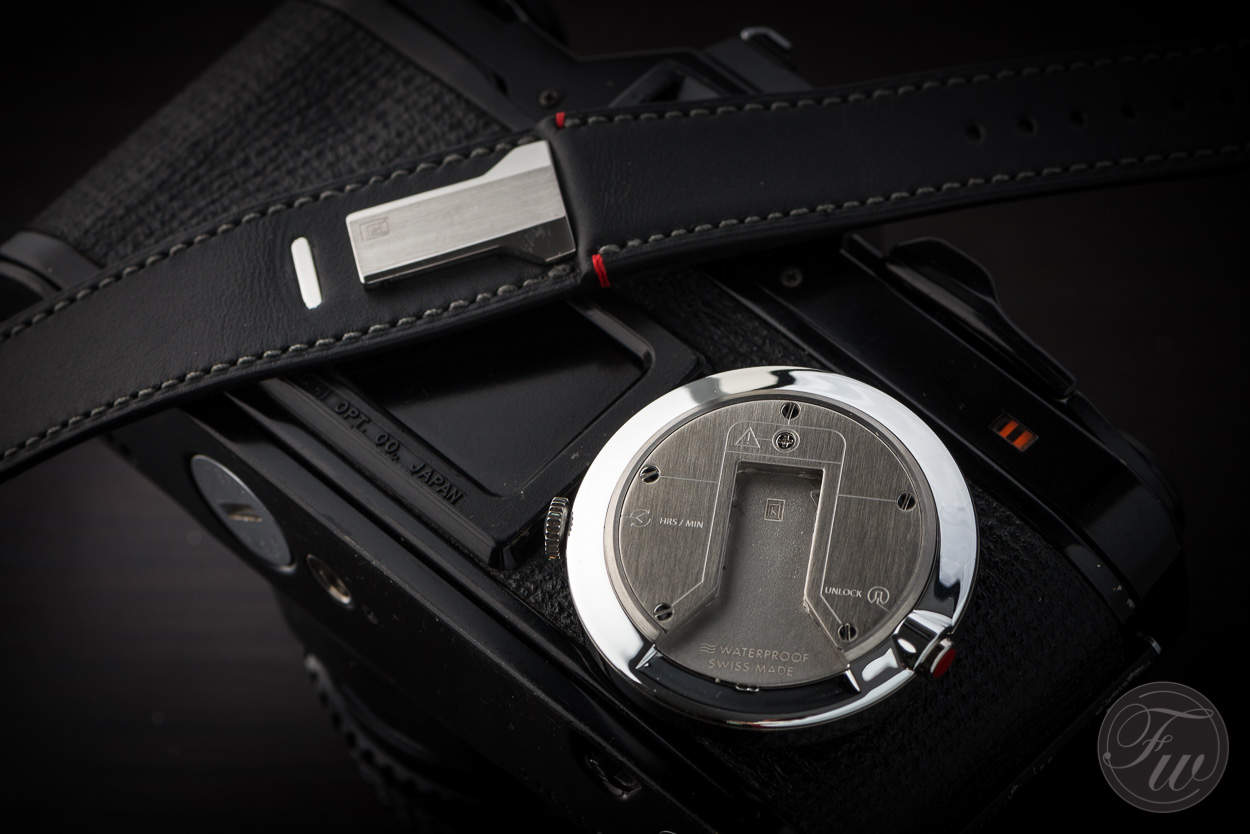 KLOK-01 Movement
The movement inside the klokers KLOK-01 is a quartz movement, 'Swiss Made'. Little motors make sure the discs turn of course. Although quartz equals precision, reading the time from the scales make it less precise. It seems the hours disc and minutes disc isn't perfectly aligned, but that is not the fault of the movement I guess. It isn't clear who developed this movement, but our friends from Worn & Wound mentioned it was supplied by Ronda. That would make sense.
Some Thoughts, Availability and Events
As soon as I saw this watch in the flesh, during Baselworld, I loved it. Despite being a quartz watch (I love all sorts of watches), it is something that draws attention in a positive way. The circular slide rule 'heritage' is a very neat idea and the execution is very nice. The fact that it is not very precise in showing time is something you either have to deal with, or simply not buy the watch if it bothers you too much.
Pricing
The price of €399,- is in the same league as a lot of other quartz watches and the occasional (quality) mechanical watch. It is identical to the price of a Seiko SRP777 for example. However, I am convinced that it doesn't bite each other and someone who is buying this klokers piece either already has his share of watches or is someone who is not particularly interested in mechanical watches or specific brand names, but more into the (original) design of a watch.
Availability
The klokers KLOK-01 is available through the official klokers website. It seems that klokers is delivering these watches based on pre-order, where the next batch is expected to be there as of now (mid-October). The configuration tool works very nicely and ordering is an easy job.
Events
Together with Worn & Wound, klokers will be in NYC at the Wind Up watch fair on October 20th. Between 6:30pm and 8:30pm, the two founders of klokers will be there to show you the actual klokers timepieces. You are invited to come and see klokers!
It well be held on October 20th 2016 at Revel, 10 Little West 12th St., New York, N.Y. 10014. Make sure to RSVP at contact@klokers.com

Robert-Jan Broer, born in 1977, watch collector and author on watches for over a decade. Founder of Fratello Watches in 2004.

Latest posts by Robert-Jan Broer (see all)