Klokers Novelties Baselworld 2018: KLOK-08 And New Accessories
Visiting Klokers is always a pleasant surprise. They have a different approach towards watches. Releases are somewhere between watches, design, and fashion. This year Klokers has several novelties. Let's look at the four new watches and two accessories.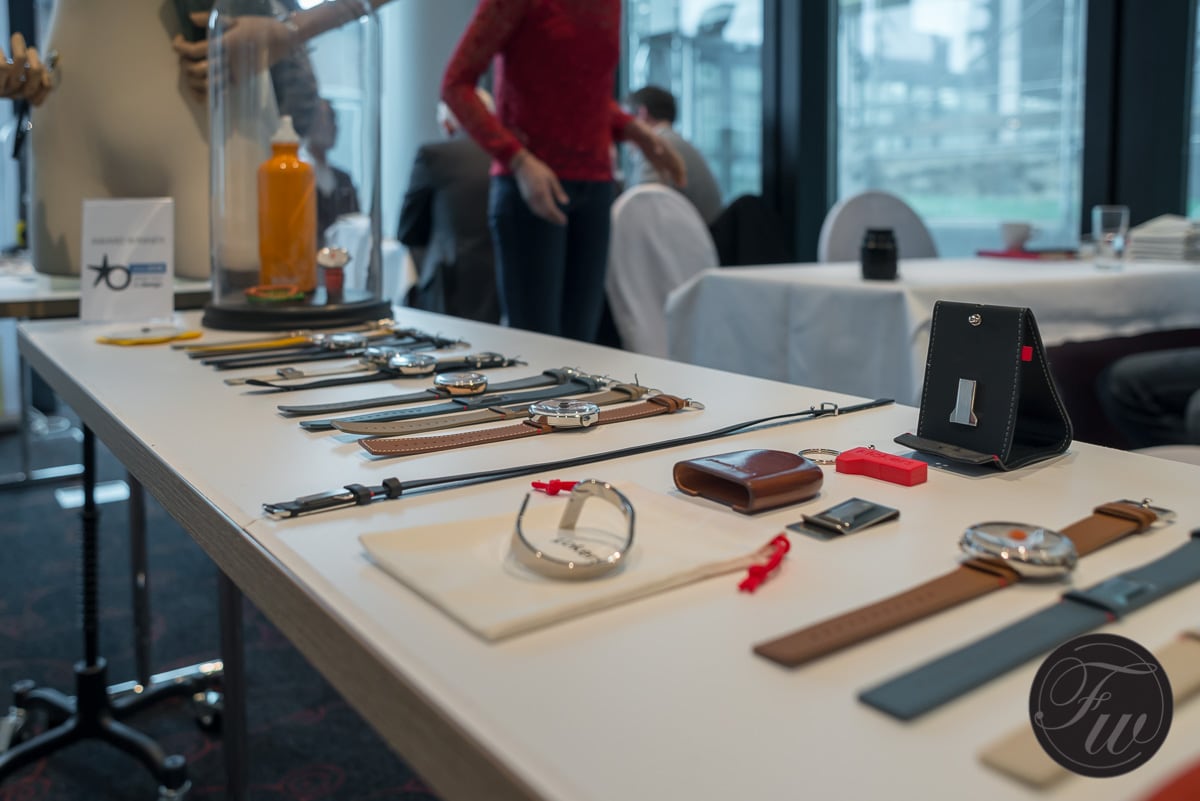 KLOK-01 in Midnight Blue
The KLOK-01 has already been covered by us a while back (review here). It displays time by counter-clockwise rotating discs and slide rules. This year Klokers expands this series with a new color variation in midnight blue. It is more subtle and accents are not that extreme like on the white version. As with all the Klokers watches the watch head is interchangeable with the accessories via the patented interchangeable system. It will be available in fall 2018.
KLOK-08 series
The new model (we covered it here in the past) is a bit smaller than the KLOK-01. With a diameter of 39mm, it is sold as a cross gender watch. It fits smaller wrists fine and is overall very comfortable. It displays time in a different way if you compare it to the KLOK-01: two discs (instead of three) are displaying time in a circular motion. The outer for the hours and minutes, the inner one for seconds.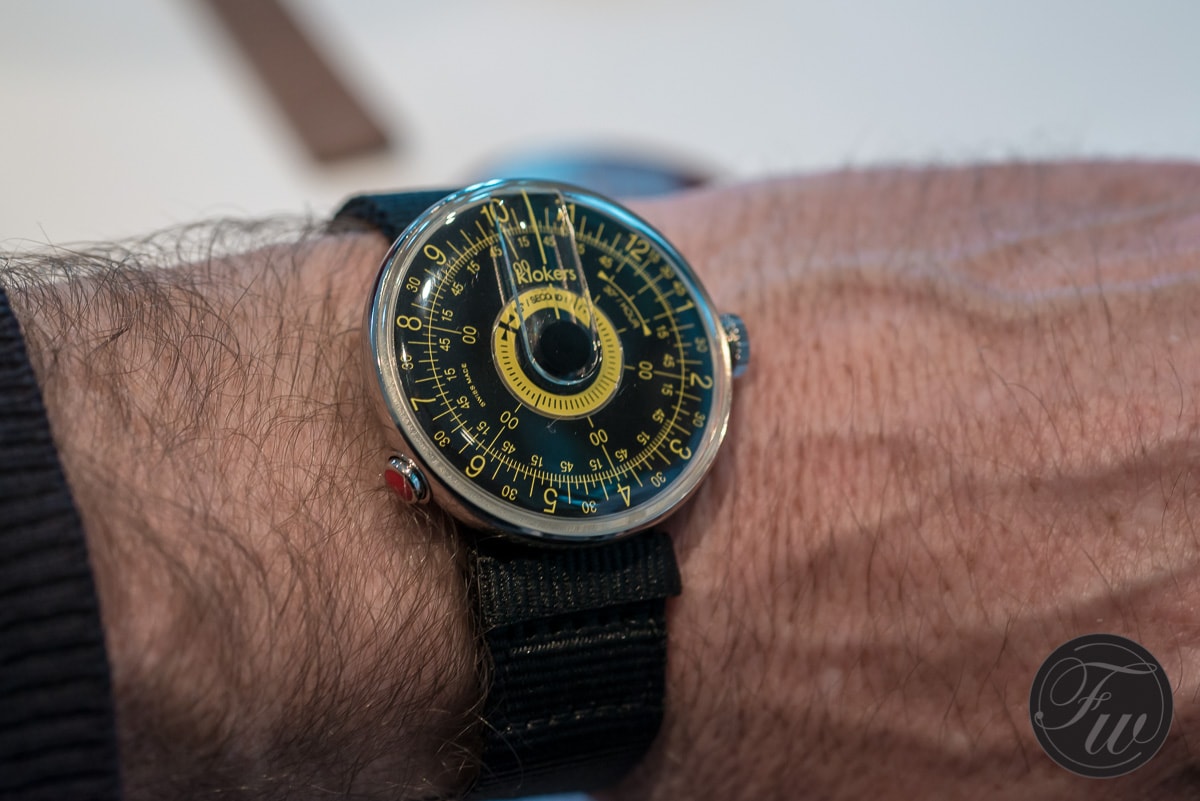 As with the KLOK-01, you can read the time through the vertical line at the top towards the center. KLOK-08 comes in three distinctive color variations, creating a variety of choice:
a white dial with rose gold plated stainless steel case
a black and absinthe yellow dial with stainless steel case
a warm gray and orange dial with stainless steel case
The KLOK-08 model also has the patented 'clip on and off system', so all accessories are interchangeable. The package comes as head only. More on this later on. Prices are not confirmed yet.
Design-wise the watch has an improved legibility and there are some other elements that are different compared to the KLOK-01, for example:
The hours are not displayed with a leading zero.
Every whole hour is indicated accented by two zero's ('00') on the minute track.
A nice detail: they indicated the angle for 1 hour (30 degrees) and 1 second (6 degrees).
The case sides of the KLOK-08 are also rounded instead of flat like on the KLOK-01. Combined with the downsizing this does give the watch a more elegant look. It breaths the 1960's with its size and color schemes, especially the one with absinthe yellow dial.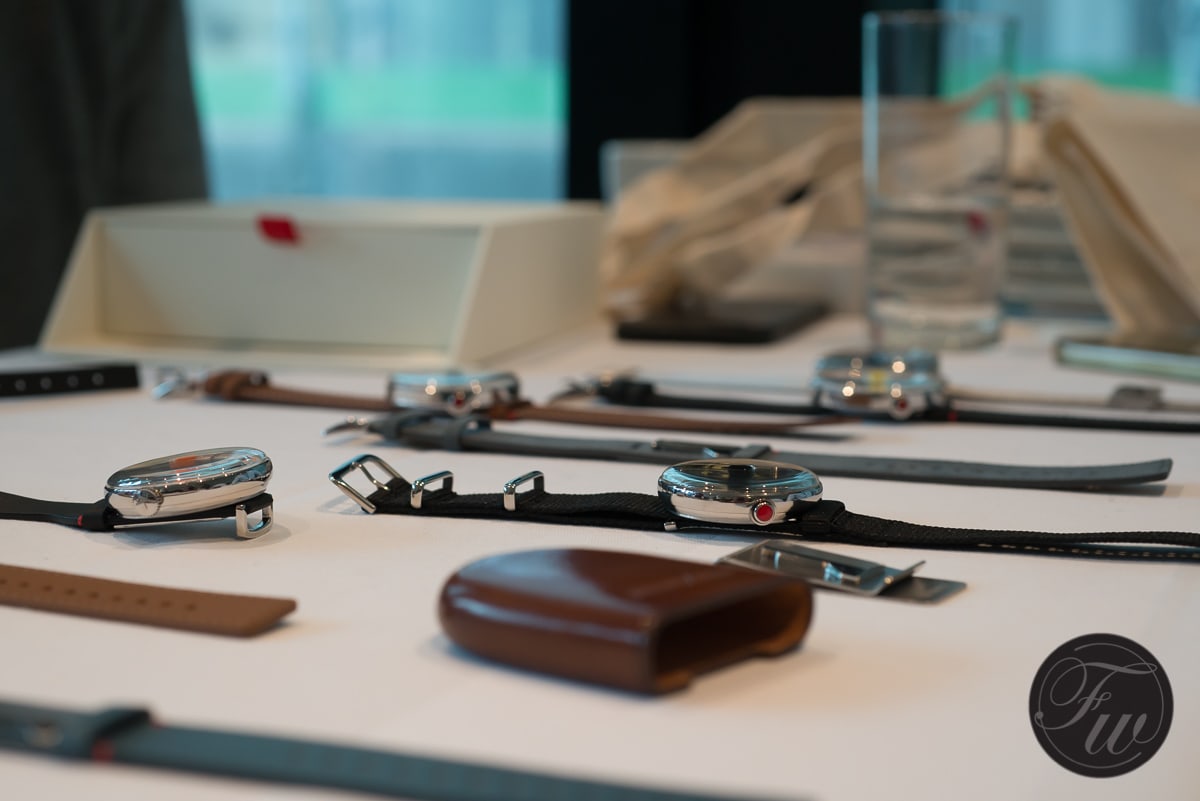 New Accessories
In collaboration with the Italian Il Bussetto, Klokers developed a leather bell which can be used as a watch protector. It makes a Klokers watch look like a modern pocket watch. With the clip-on system you can safely put it in your pocket. The leather bell also has a loop to attach a cord to it.
The other accessory is a silver colored bracelet/bangle. It is designed to carry the Klokers watch with you in a very elegant way. You can also wear it as standalone. It will come in two sizes.
Both accessories will be available in fall 2018.
Head Only
Klokers want to make clear that their watches are not like most other traditional watches: only for on the wrist. Also, the Klokers accessories list keeps growing and every accessory is interchangeable. So they decided to separate watch heads from the straps and other accessories. Starting from April 2018 Klokers will sell watches as head only. This underlines their vision in being different and teases the buyer to make creative choices in terms of accessories.
Keep following us for more updates or in-depth reviews of this years Klokers novelties. We thank Klokers for their hospitality and showing us the novelties during Baselworld 2018.
More information via Klokers on-line.