Introducing: The New Kurono Tokyo Chronograph 3 Hisui Brings A Minty-Fresh Look
A perfectly sized sports watch with a dressy touch
Kurono has released various watches this year, with the signature mid-century style seeping through in the details. This included Hajime Asaoka's first GMT for his fledgling brand, a watch nominated for last week's GPHG. That's still a big thing for a small Japanese brand, and it's not the first time. Now, with the annual stopwatch-featuring release, the new Kurono Tokyo Chronograph 3 Hisui brings a fresh new look.
This year, two Kurono Tokyo releases are stuck in my memory. The first is the dark burgundy flavor of the Calendrier 1 "Azuki," a watch of which I own the khaki-green version. The second was the brand's special quartet of 34mm watches with a distinct '50s flavor. The Calendrier has a design of its own, while the 34mm models have a Kurono calling card in their complementary two-tone dials. The Chronograph 3 Hisui also follows suit, featuring a sparkly green and off-white visage.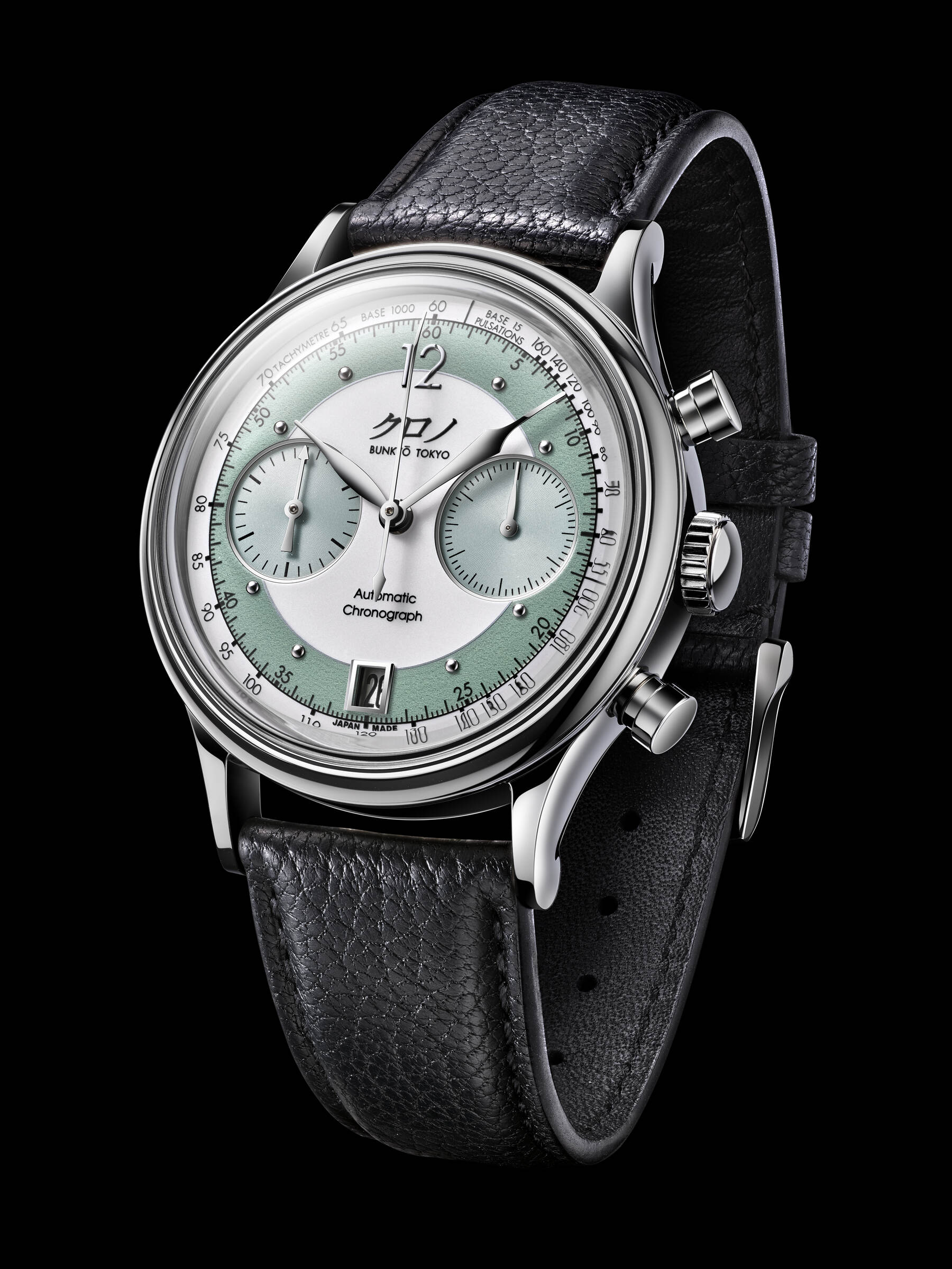 First impressions of the Chronograph 3 Hisui
Asaoka-san's yearly Chronograph releases err on the side of restrained elegance. An exception would be the delightful inclusion of red in the 2022 Chronograph II White. However, last year's Chronograph 1 MK.2, with its copper-toned, more open panda-dial design, was right on the money. This year, we see two shades of green and a dial design like that of the Chronograph 1 MK.2 but transformed.
I try not to put too much personal taste into articles, but that's not always easy. Small-brand Japanese horology is something I have the utmost respect for, especially the friendly club-like feeling of Kurono Tokyo. Instead of a VIP vibe, there is a warm sense of inclusion, making owners feel like part of a real Japan in a way that bigger brands don't.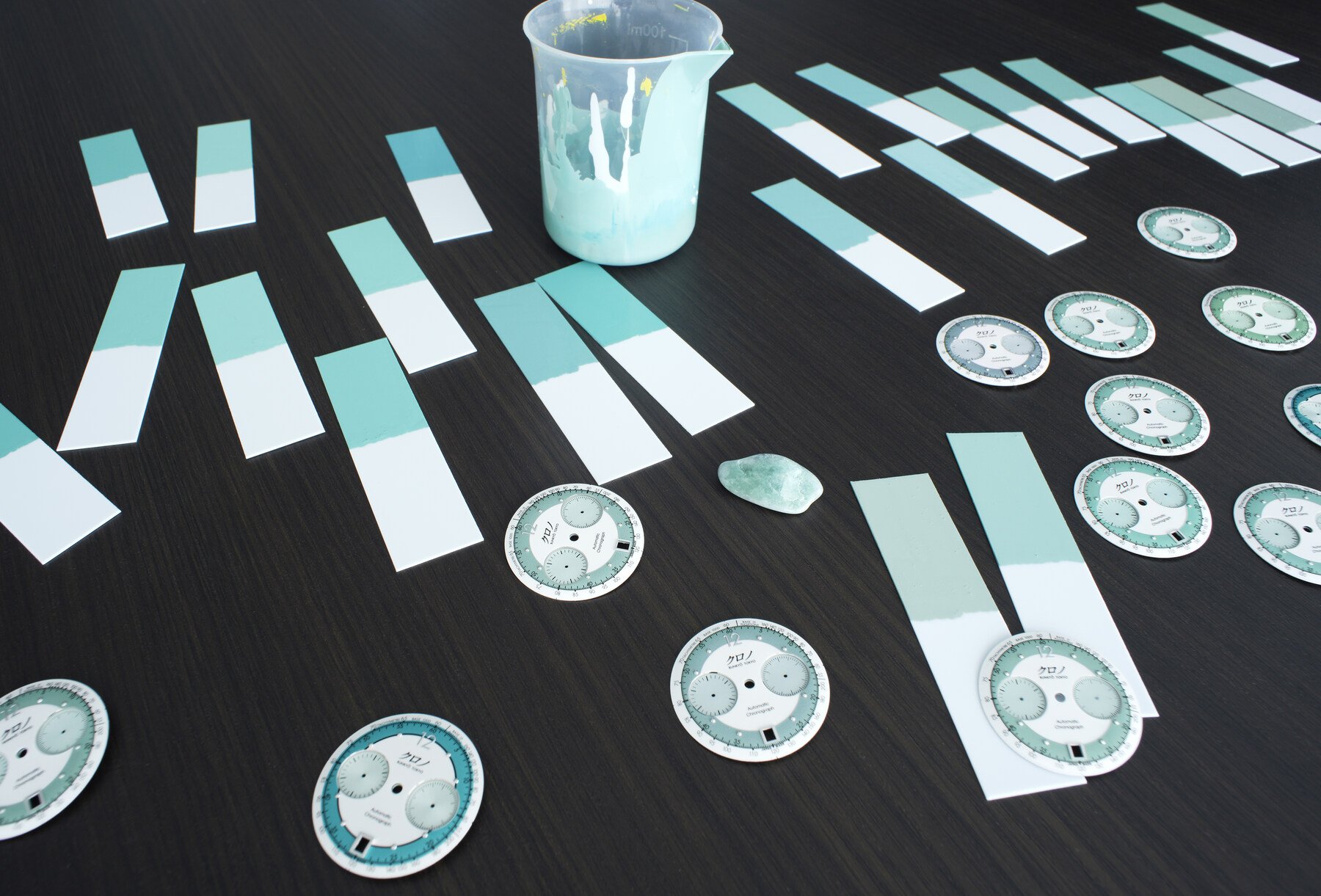 The Japanese have a way of admitting to poetic inspiration behind their watch designs. And perhaps this reflects a more spiritual view of design and aesthetics in general. Hajime Asaoka picked up a piece of natural jadeite a few years ago on the Itoigawa coast. This light green hisui (翡翠) is native to Japan, constituting all jade used in the country in the last 7,000 years. Mining is now banned, and the white-green Itoigawa jade can now only be found as stones washed down from the mountains to the pebble beaches of the Jade Coast. The tones of green in this watch mimic the jade pebble that Asaoka-san picked up that day. They are also a result of a new multi-layered dial-painting technique by Asaoka-san's artisans, making its debut in this Chronograph 3 Hisui. And I must say that the unusual light shades work very well with the complementary off-white lacquer, bringing a vibrancy to the symmetrical dial.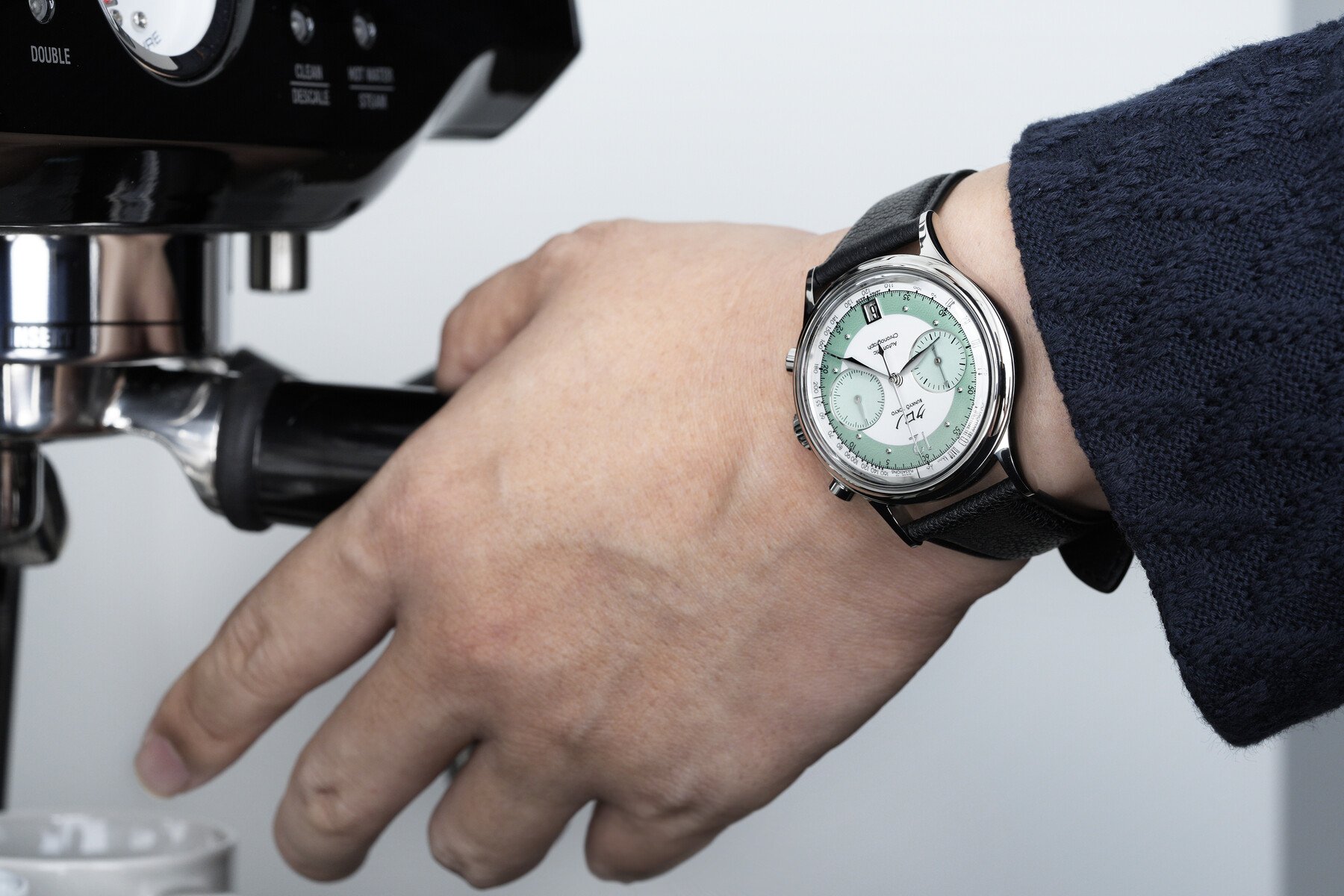 A smooth case of pleasing proportions
This is the fifth iteration of the Kurono Chronograph and is the model closest to the pure Art Deco of Hajime Asaoka's high horology. And that also gives you a sense of value, with one of Asaoka-san's Project T Tourbillons having gone for HK$1,905,000 (about €226,500) at a Phillips auction this year. A Tsunami reference in the same auction went for HK$1,460,500, more than doubling its estimate. This is a whole other kettle of fish. But the lines and smooth 38mm size of this case are very similar, and the family traits are as apparent as they are singular in their focus.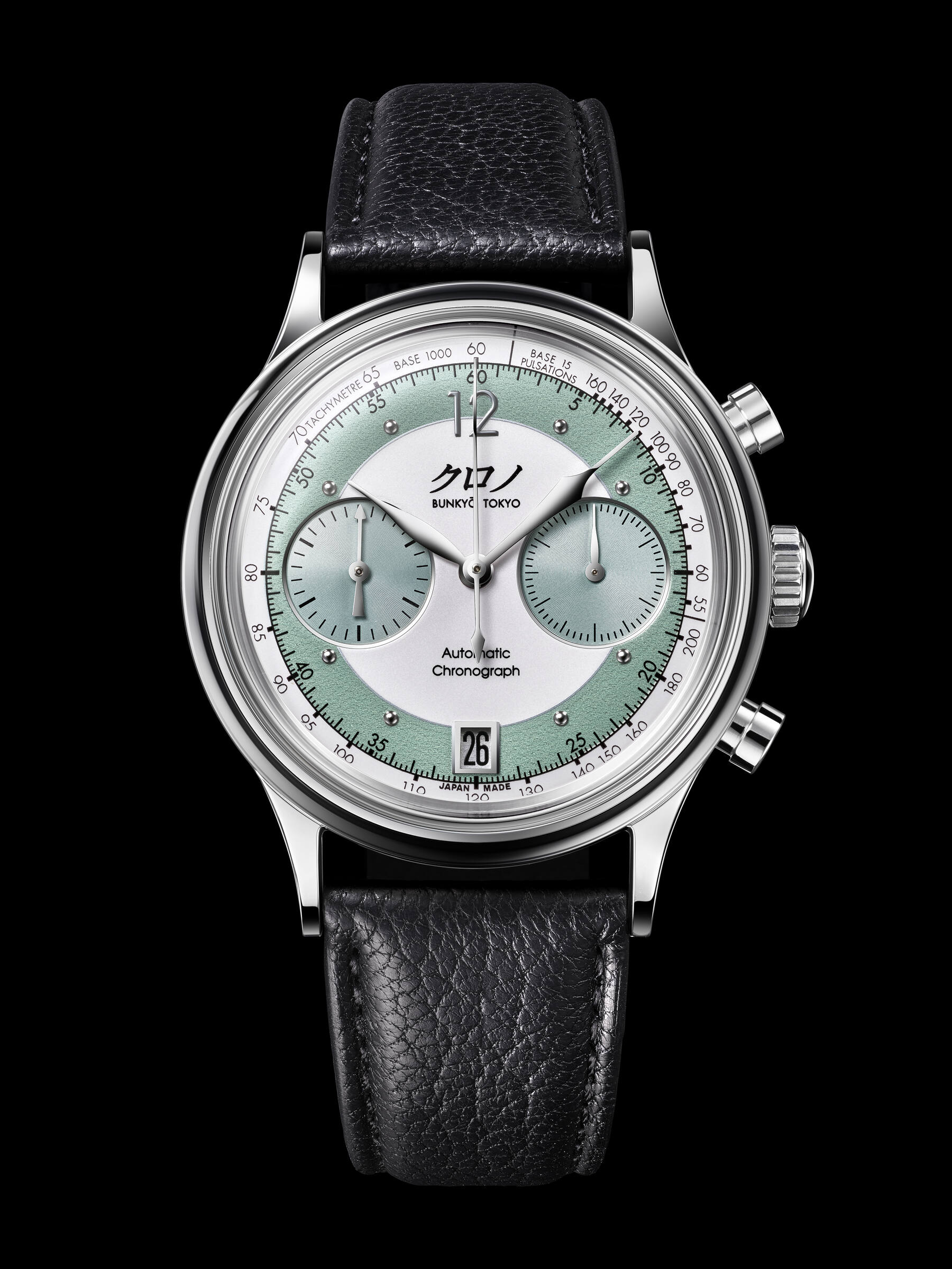 With a sub-€4,000 price, the Chronograph 3 Hisui speaks volumes about Asaoka-san's aim for the brand. And his concept is still pretty unique. Rolex has family ties to Tudor, and MB&F has its quasi-annual release of the similarly priced fun M.A.D.1. But this is more like F.P.Journe creating a sub-€5K brand for enthusiasts with regular releases. It remains a bold move for sure. The Chronograph 3's three-part case is based on the Mk.2 case from last year. This has made it slimmer (11.7mm excluding the crystal), a complex job when housing the substantial 7.86mm-thick Seiko NE86 caliber. Would I like to see a Swiss movement in a Kurono Tokyo release? No, certainly not. I appreciate the purely Japanese approach. It reminds me of ordering a Bianchi road bike from Italy to get the all-Italian Campagnolo gear set. Plus, with its column wheel and vertical clutch, the NE86 caliber is also rather good.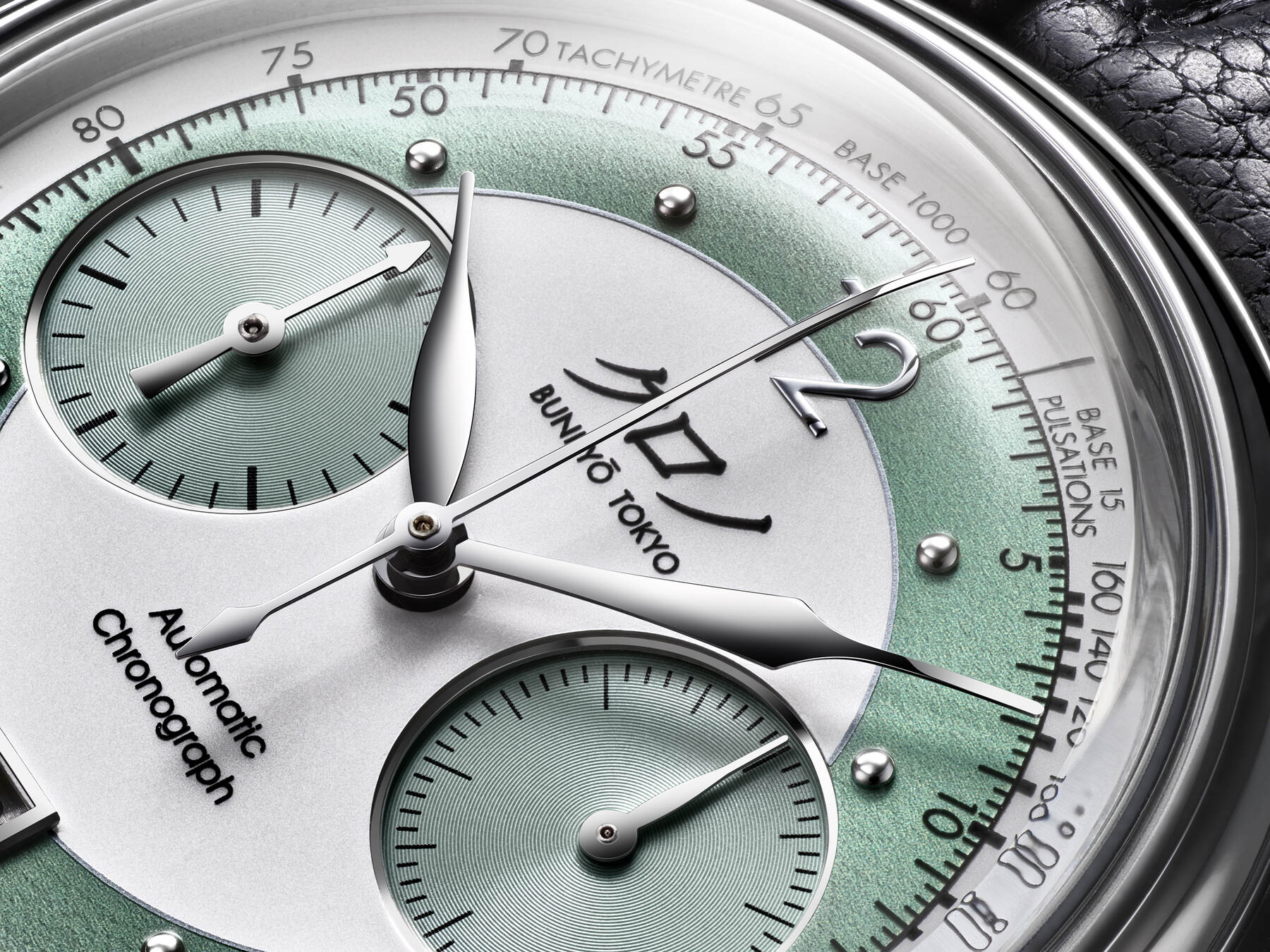 A jade infusion of green details
Judging from the photos, which Hajime Asaoka himself is known to shoot himself, "crisp" is the word. The Chronograph 3 Hisui has a tidy dial with its big "12" in Arabic numerals. This is encircled by a dual-purpose tachymeter/pulsations scale. Don't get me wrong, this is a busy dial. But if you love 1940s chronographs, you'll recognize its period-perfect charm. The light color gives it a clean look, accentuated by the print quality of the logo and numerals. The rest of the layout is recognizable with its framed date at 6 o'clock, charming polished dots for the hours, the lucid green halo, and two large lighter green sub-dials. The green dial sector has been painted with a pointillism technique for texture and infused with micro-metallic particles to invoke the Japanese green jade better. Finally, a coat of clear lacquer gives it a lively sheen.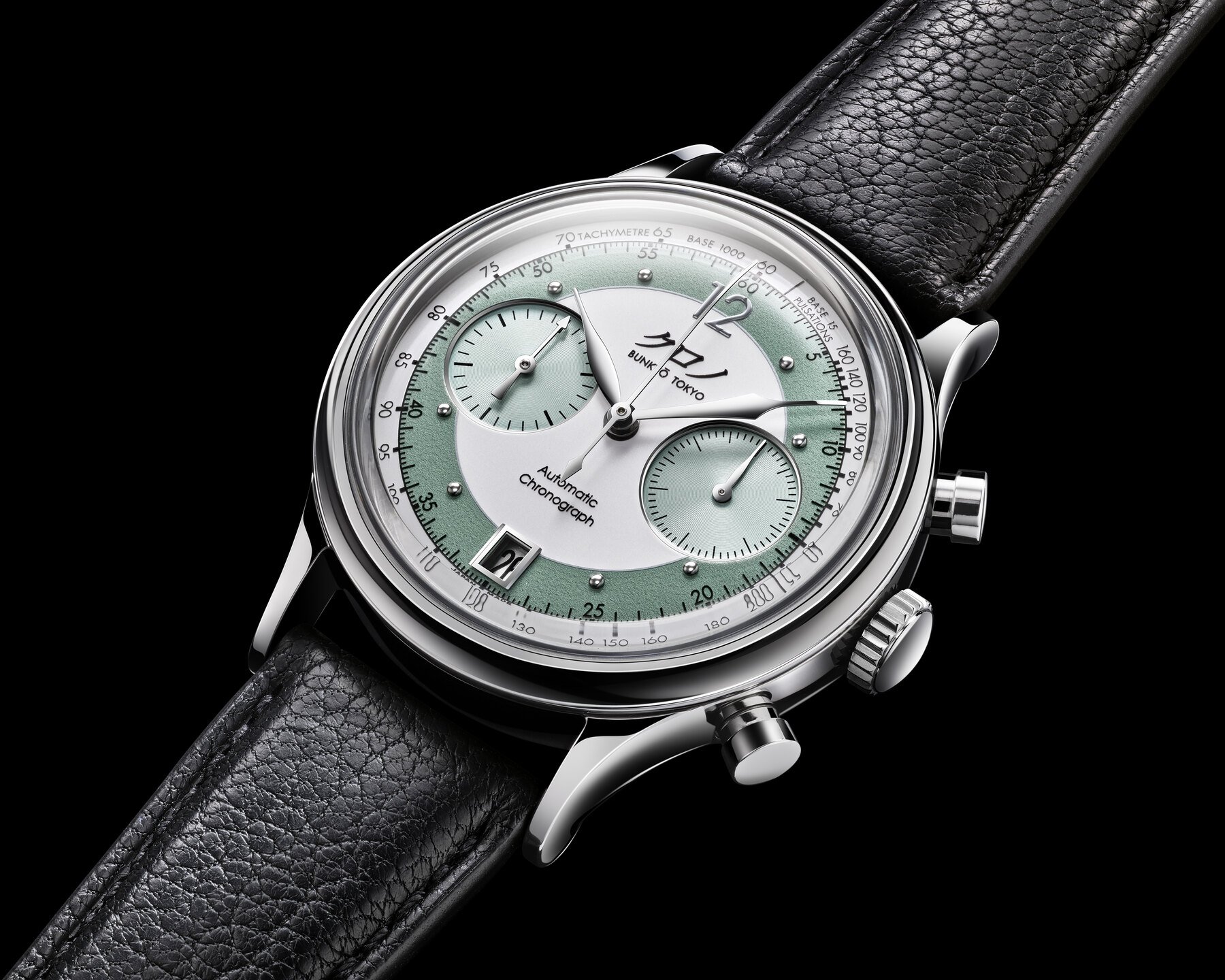 The dial has a two-part construction in which the guilloché registers are fitted separately and recessed. They have a lighter green-turquoise hue than the radial band with its glittery, sandblasted texture. The registers' diamond-cut rims match the polished handset and framed date window, giving this watch a late-'40s/early '50s look. And remember, this was a time when sports watches looked like this, even if we now find their vibe somewhat dressy. And that's exactly what I would consider this Chronograph 3 Hisui — a good sports watch in the classic sense. It is paired well with a neutral, no-nonsense textured black calfskin strap and an easily serviceable Seiko caliber.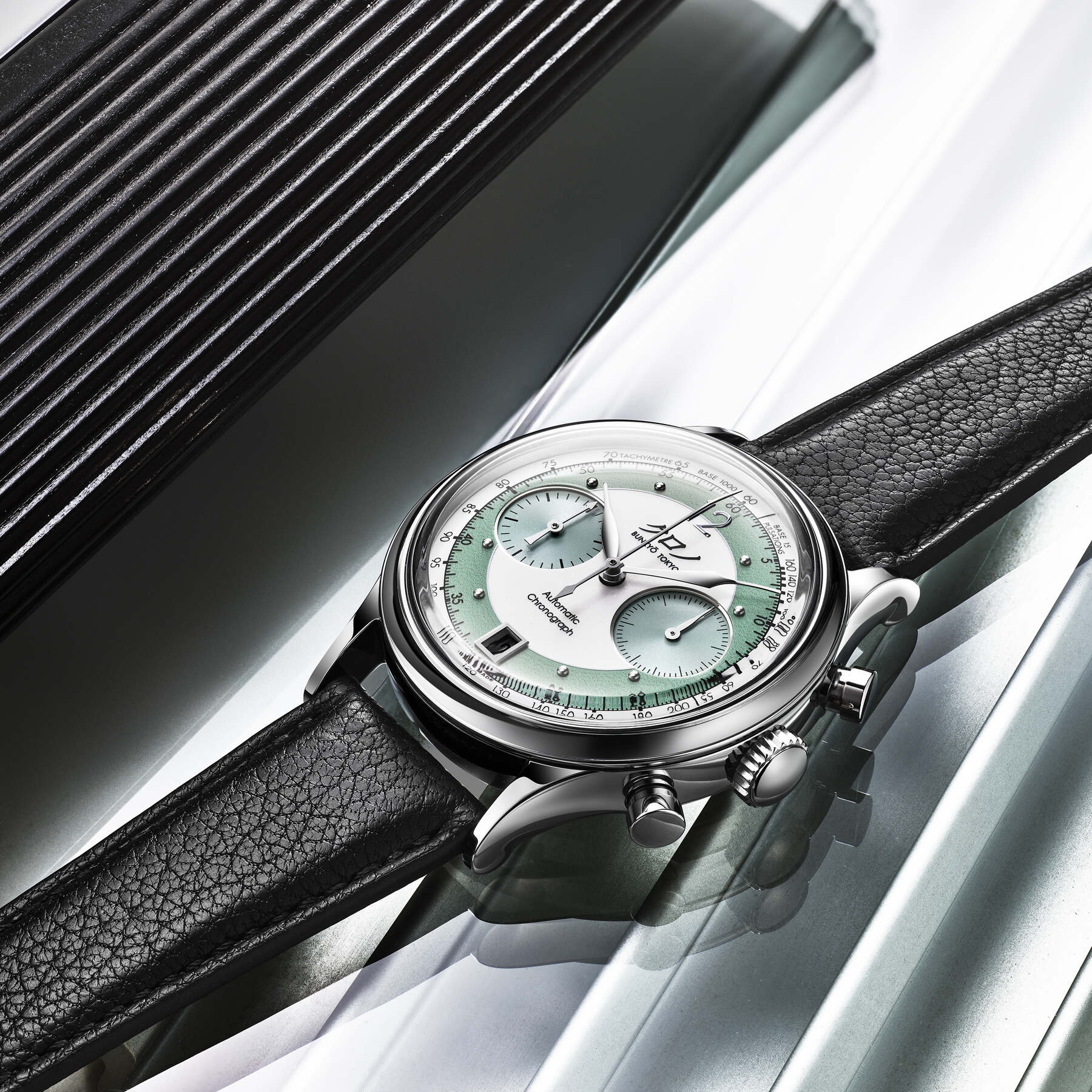 In conclusion
Is this a rare collectors' piece or an everyday wrist buddy? That depends on you and your budget. For some, this is a mid-priced grail. With its gloss-dialed luster, you wouldn't bring the exquisitely polished case on an extreme bike ride. But with the easy wearability of a 38mm chronograph, it's a dependable watch with a big presence. It feels special. And that small piece of everyday pick-me-up is something we can all use in this grayest, dullest part of the European year. As the Chronograph 3 Hisui is limited to hundreds and will not be remade, you will need to try your luck in two sales windows. Those who have bought previous models from the brand are being made part of a friendly club by being given a small head start. However, even they are not guaranteed an allotment.
I would consider it if I hadn't recently already invested in a dark brown piece of minimal elegance by Asaoka-san. This is easily one of my favorite Kurono Tokyo Chronographs, and it will be available for US$3,460 (excluding taxes) in two pre-order windows (from 11:00 JST and 23:00 JST) on November 21st. For more details, visit the Kurono Tokyo website.
I don't know about you, Fratelli, but I find the new Chronograph 3 Hisui to be a mid-century-inspired chronograph with a fresh difference. Are you feeling the small-cased vibe? And would you consider this dressy or a sports watch with a twist? Let me know in the comments.
Watch specifications
Model
Chronograph 3 Hisui
Dial
Jade-green and white lacquer, two jade-green sub-dials, and a date window
Case Material
Polished 316L stainless steel
Case Dimensions
38mm (diameter) × 46.8mm (lug-to-lug) 13.5mm (thickness)
Crystal
Box-style sapphire
Case Back
Stainless steel, screw-in
Movement
Seiko NE86 — automatic chronograph with column wheel and vertical clutch, 28,800vph frequency, 45-hour power reserve, 34 jewels
Strap
Textured black calf leather (20mm width)
Functions
Time (hours, minutes, small seconds), date, and chronograph (30-minute counter, central seconds)
Price
US$3,460 (excluding taxes, including worldwide shipping)
Special Note(s)
Limited release