Lange & Berkeley — The Ultimate Watch Roll For All Wrist Sizes
Because not all wrists or watch-storage solutions are created equal...
As watch enthusiasts, we all know and understand that transporting our precious watches can be logistically challenging. Watches are generally tougher than we give them credit for. Nevertheless, they can easily sustain aesthetic or superficial damage if not properly protected. Most of us wouldn't just throw a watch into our backpack unprotected; keys, pens, coins, and other objects could potentially scratch it or cause greater damage. Luxury watches are expensive, and as expensive objects, we tend to treat them with a little more care. Luckily for us, there are about as many accessories for watch transportation as there are watches, including pouches, clamshell cases, boxes, and rolls. Perhaps the most popular and safest method of transporting and storing watches is the ubiquitous watch roll. Whether it's the more traditional flat leather multi-pouch that rolls up or the semi-rigid watch roll, it's a perfect solution.
Or is it? Well, not for everyone, especially not for people with smaller wrists. The standard-sized cushions that are provided with most watch rolls may work well for watches sized to wrists of 18cm and above. But this can be an issue for people with smaller wrists, especially when it comes to watches on bracelets. You don't want to force the bracelet shut over a watch roll pillow that is too big. This can lead to a damaged clasp or premature stretching of the bracelet links. In the worst-case scenario, it might mean that you can't even close the clasp over the pillow, causing your watch to move around inside the roll. Finding a solution to this issue is what ultimately would lead Lange & Berkeley's creator (@Suissemate) to create this watch roll and start his own brand.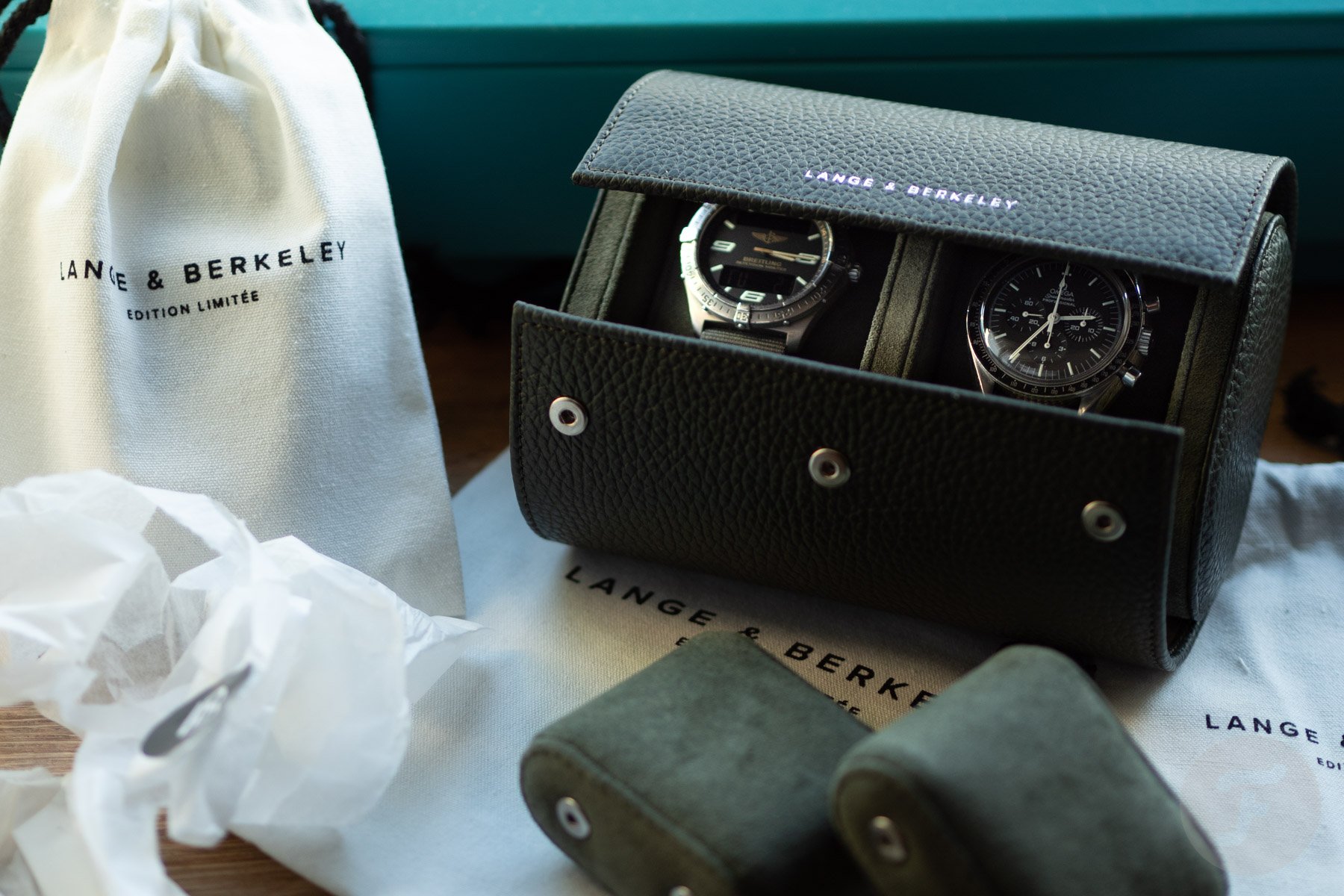 Lange & Berkeley
What began as a project to create a custom watch roll to fit one smaller-wristed collector's personal watches resulted in the product I am reviewing here today. In building the Lange & Berkeley brand, its creator wanted to base everything around a philosophy of appreciation for fine craftsmanship and quality materials. Rather than looking East for cheaply manufactured products with a significant profit margin, he opted to source both materials and labor in Europe. He then combined this principle with an awareness of the importance of sustainability. The result is described rather elegantly in this extract from the brand's website:
Ethically-minded, all products are made from sustainable sources and crafted in small batches, packaged using recycled materials to reduce the carbon footprint. Lange & Berkeley's mission is to produce timeless elevated essentials using the finest natural leathers, fused with time-honored quality craftsmanship.
Lange & Berkeley's first collection includes its Deux leather travel case for two watches and the Monsieur cardholder. Both of these beautiful leather accessories come in three matching colors. There's Tawny, a rich caramel brown color, and Royal, an elegant and bright shade of blue. And last but certainly not least, there's my personal favorite, Juniper, a subtle shade of dark khaki green. These watch rolls are crafted in Europe using lovely grained Italian leather, and they feature a color-matched natural suede interior. This material is perfect for keeping your watches in place while protecting them from scratches.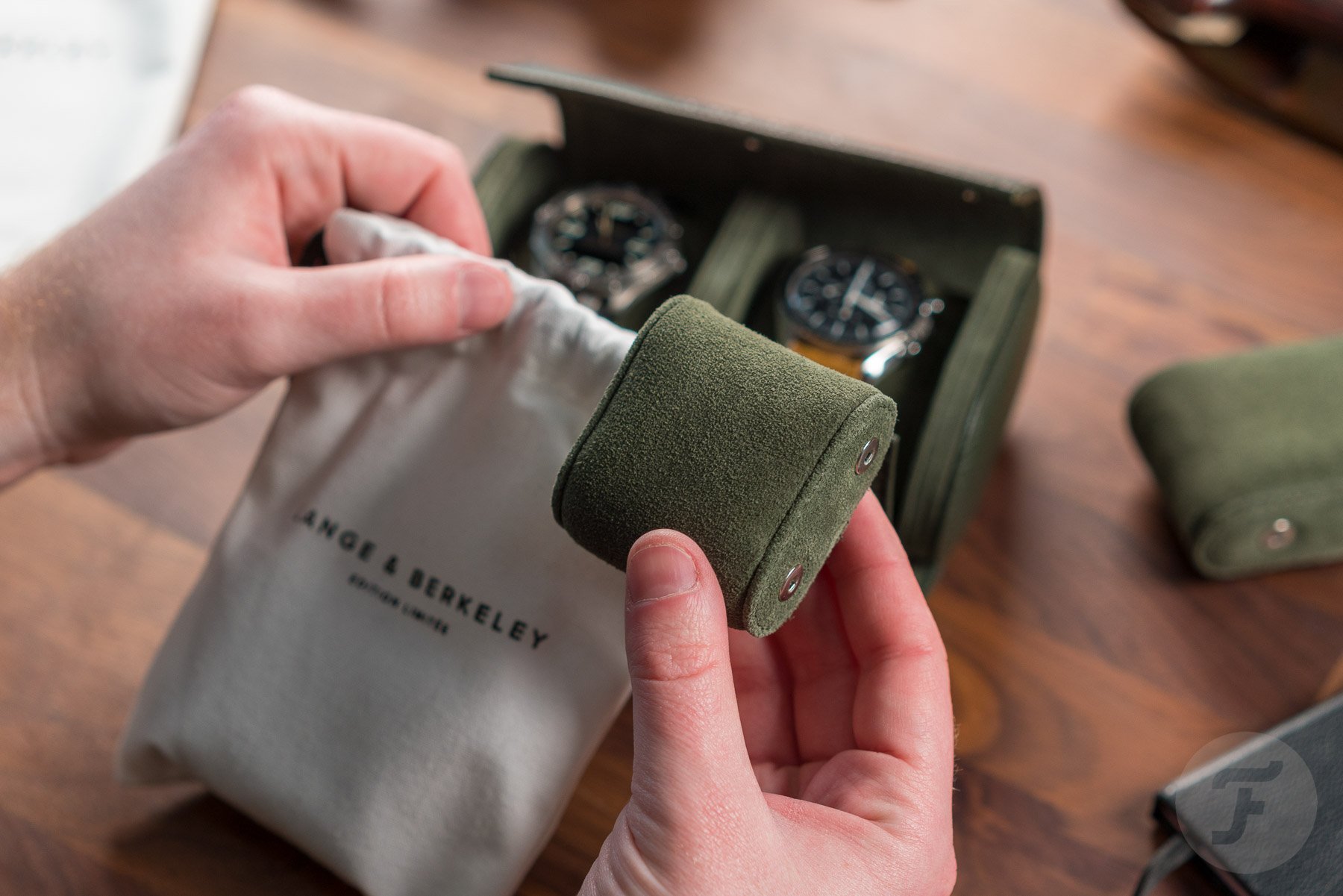 Designing a better product
When creating the Lange & Berkeley watch roll, two elements became the key points of focus. The first was the quality of materials and craftsmanship. The second, and perhaps the more interesting one, was the practicality and watch-friendliness. Now, when a watch is on a leather strap, or even on a NATO, putting it into a watch roll is not an issue. Those straps have a number of holes that allow for easy adjustment either to your wrist or to the pillow inside. However, a bracelet (or strap with a deployant clasp) is a different matter. Whether you get all of the pillows or just one size is optional when ordering. However, I'd recommend getting all three, just in case.
Yes, that's right; there are three different cushion sizes, and they fit watches with bracelets sized anywhere between 14–22cm. You might be thinking that simply making the pillows softer to accommodate different sizes would work as well. While you wouldn't be wrong, I can definitely tell you that nothing beats a correctly sized pillow. No matter the weight of the watches, the suede keeps them securely in place. They won't rotate or come loose in the roll. And though my wrist is only one size (not taking into account fluctuations due to heat) I found that for some of my bracelets I needed the middle size, and for others, the smaller was more suitable. For example, my Cartier Tank fits the mid-sized pillow, but only with some strain to the clasp and spring bars. Therefore, whenever I need to place that watch in the roll, I simply take the small pillow out of one of the storage pouches and use it instead.
Final thoughts
There you have it, folks — a brilliant first effort from a young brand! Bringing you a watch roll that goes beyond the basic, offering a unique solution for all wrist sizes. When it comes to quality, it's hard to beat, especially when you consider the €149 price. As of writing, the blue watch roll is currently out of stock. However, the brown and green ones, which I may be somewhat biased toward, can still be had on the Lange & Berkeley site. This watch roll is for those who are looking for a better way to store their watches or keep them safe while traveling. It's also for those who don't want to pay several hundred euros but still want a beautifully designed product made of the finest materials. If that sounds like you, consider giving the Lange & Berkeley roll a chance.
What's your go-to method for storing or transporting your watches? Are you a fan of watch rolls? Or do you have another method for keeping your timepieces safe? As always, let me know your thoughts in the comments below!
For now, stay tuned — I have it on good authority that the brand's product line will continue to expand, releasing new accessories following the brand ethos. And if this first attempt is anything to judge by, there's a bright future ahead for Lange & Berkeley.
Follow me on Instagram @ncgwatches