Let's Put Some Spring Vibes On The 33mm Hublot Big Bang One Click King Gold
The new ladies' Hublot One Click and its Instagram-worthy strap.
Hublot is a brand that emphasizes new materials and, of course, Instagram-worthy colors. Now female collectors can play with the new 33mm Hublot Big Bang One Click which in addition to its eye-catching gold-and-diamond-case, also has a vivid pink strap! 
Hublot has kicked off its 2021 release calendar with a new diamond pavé watch created especially for women. The 33mm Big Bang One Click feels like a fresh addition to any wardrobe and fits with the spring/summer trends we're expecting to see. Best of all, there are multiple colors to choose from. I chose pink as it's a strap like no other. But how did I find this petite but far-from-quiet Hublot after a few days on the wrist?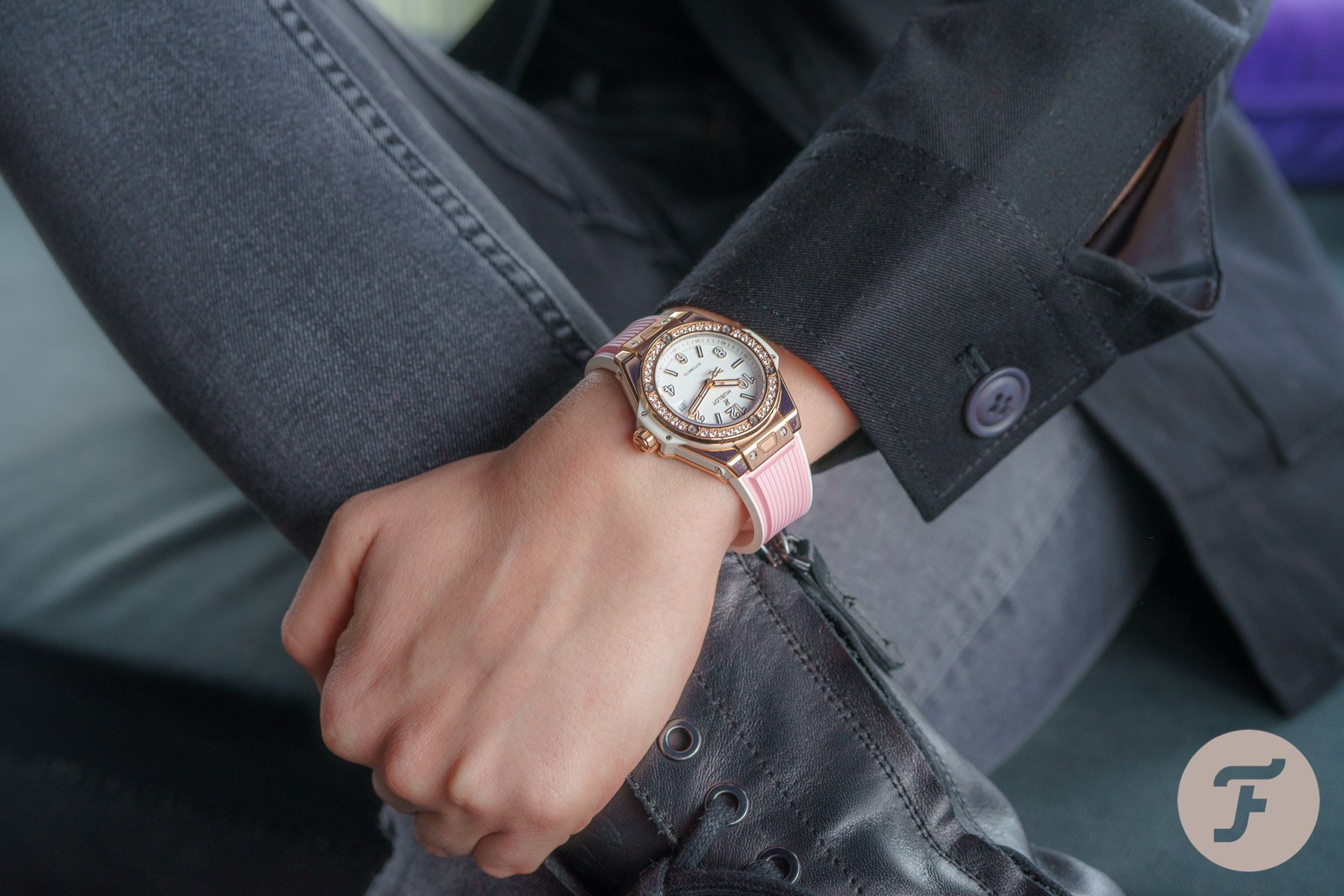 The New 33mm Hublot Big Bang One Click
The new Big Bang One Click is bold, dazzling, and pink. And yet the biggest news is not its color but rather its size. Here we have a new case size — 33mm. This is the first time the One-Click system has been available in this diameter. It seems that Hublot has been studying social media and has been affected by Instagram trends had an effect on what Hublot came up with.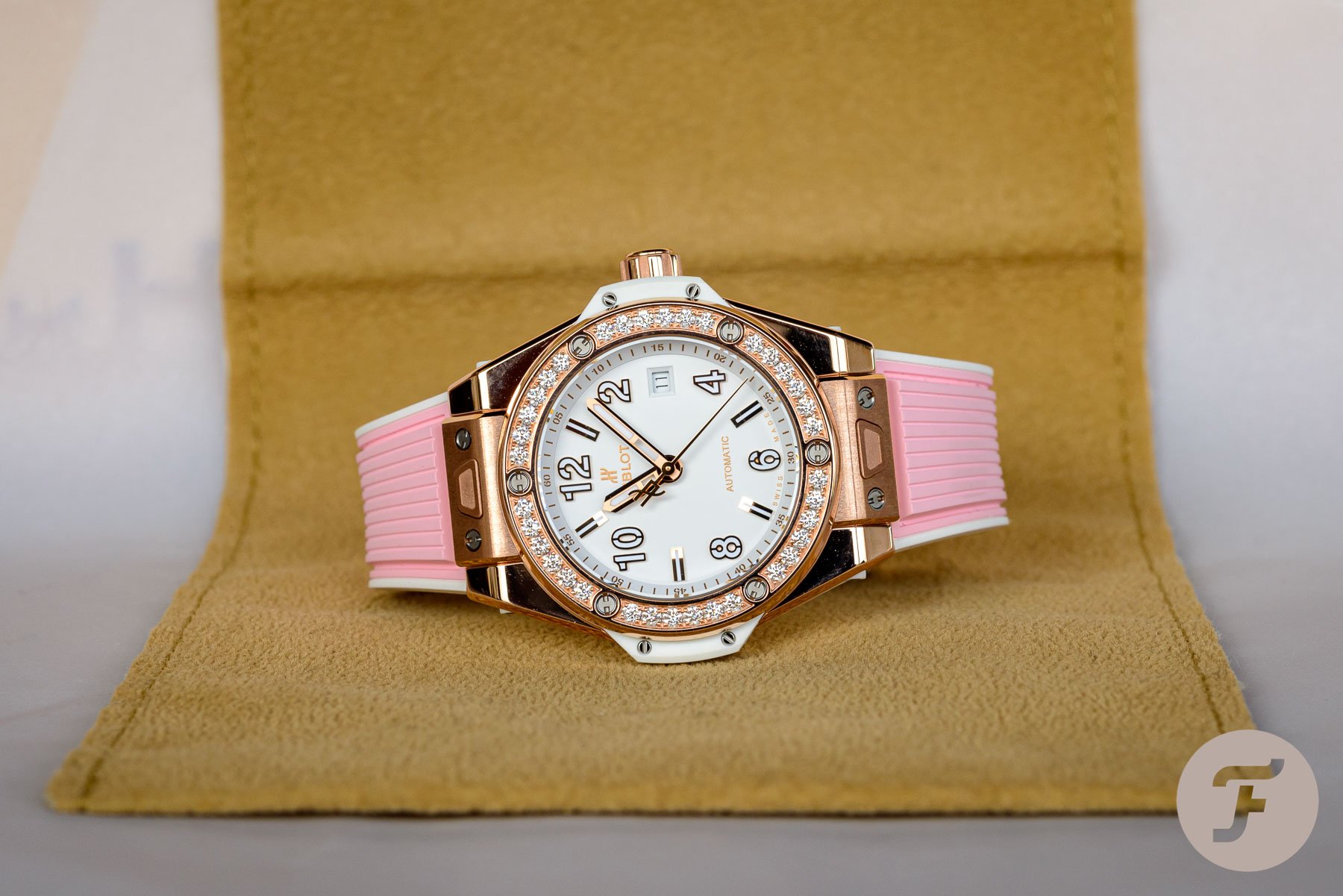 First of all, smaller watches are back. Secondly, colorful, princess-inspired jewelry seems to be spring/summer's hottest accessory. So why not translate it into watches? I think that bringing this trend into the luxury world is not only fun but also an interesting move on Hublot's part. The futuristic case, made of King Gold, white rubber, and diamonds — 36 of them — is classic Hublot. The butter-wouldn't-melt color scheme? That is decidedly less so…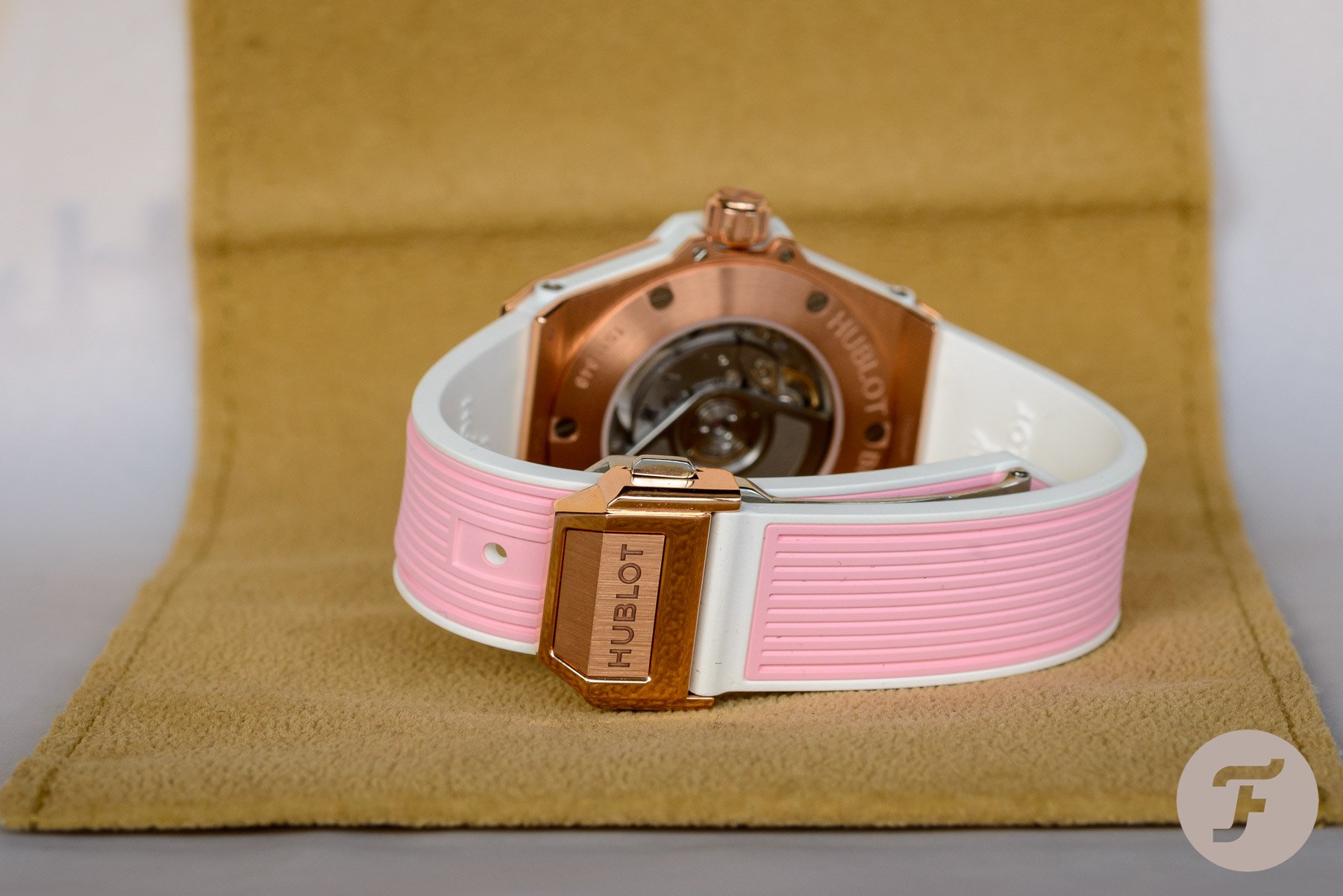 Every Watch-Girl Needs Some Straps
Hublot is capitalizing on current trends. That much we can see. But underneath the syrupy sweetness of the new pink strap, this is a really nice addition to the catalog. The 33mm Hublot Big Bang One Click features an interchangeable strap system, which is a blessing for watch collectors that like to flip their straps to match their threads. There are several options: structured lined rubber straps in black, green, red, orange, pink, white, sky blue, and royal blue, or calfskin straps in terracotta orange. raspberry pink, and electric blue. What's your flavor?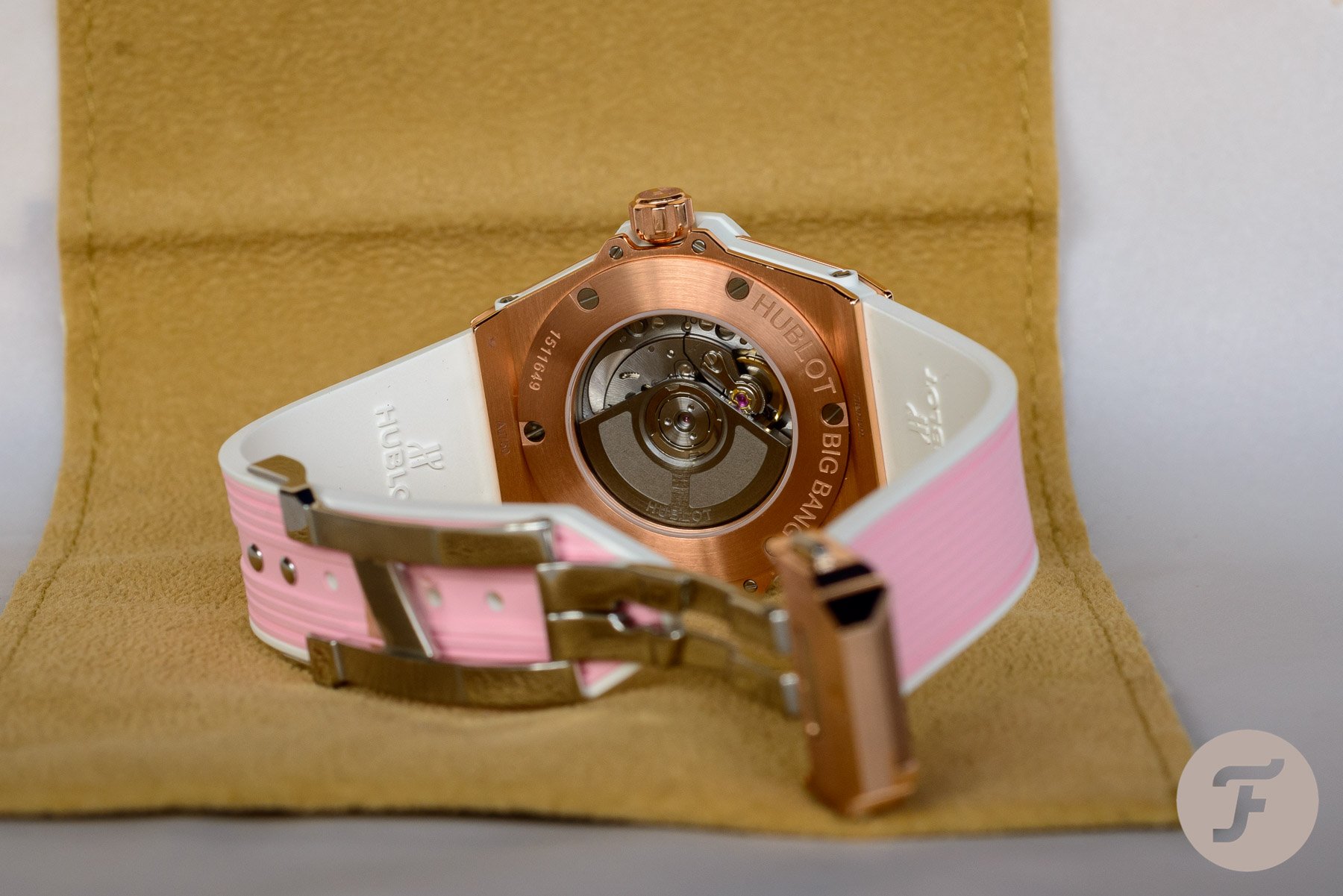 The HUB1120 
Inside this watch, we find the in-house self-winding movement HUB1120 which offers a 40-hour power reserve. Moreover, it features hours, minutes, seconds, and a date window blacked at 3 o'clock. The HUB1120 is exquisitely finished with a signature Hublot's rotor.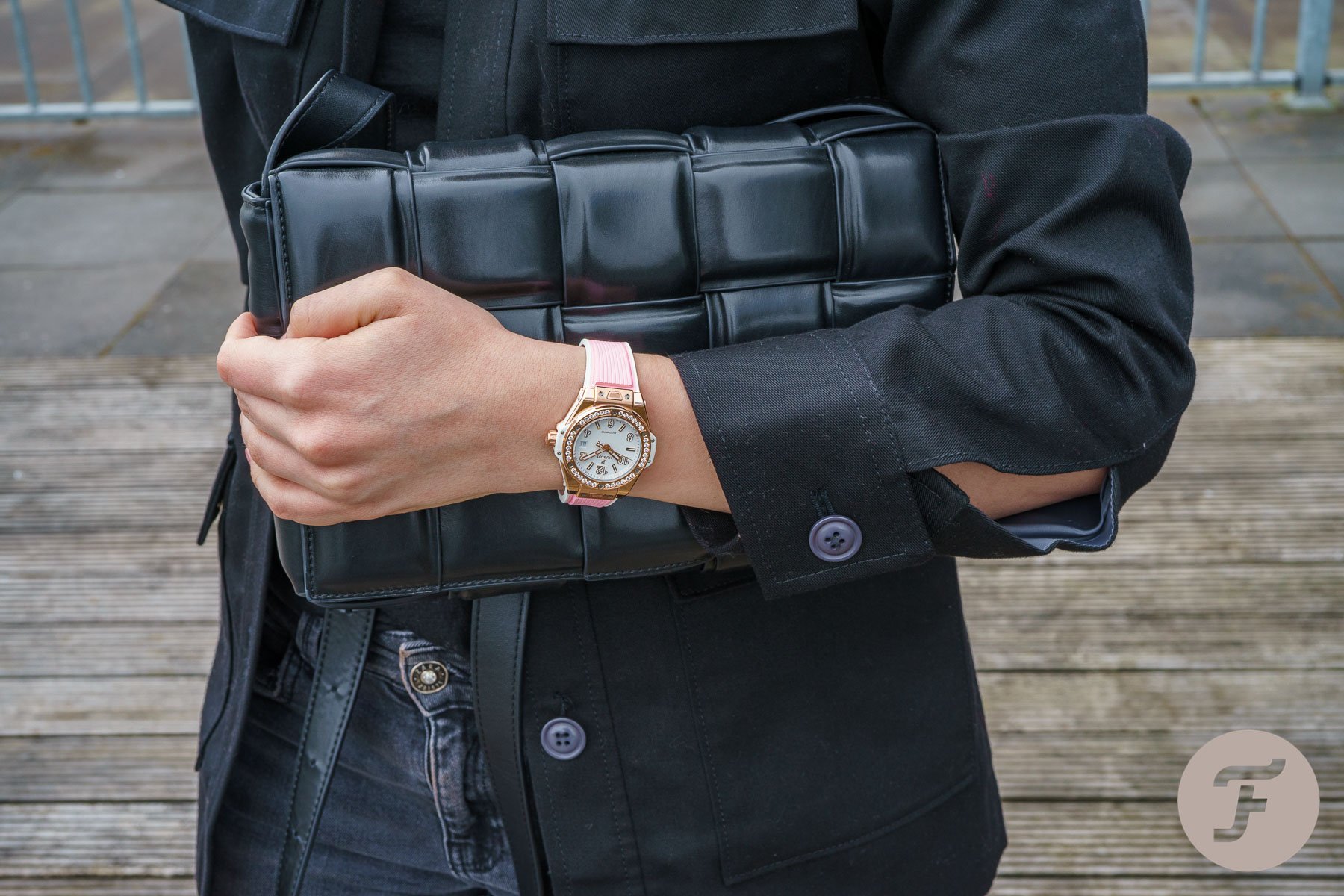 Price and Availability
I think especially during the lockdown we became more sensitive towards new trends. We don't consume as much as we did and, of course, our shopping behavior has changed. I wonder if this smaller Big Bang concept will attract more women into the watch game. It certainly made me give the brand a second look, but what are your thoughts on that matter? Let us know in the comments below. One more thing: the retail price of this specific model is €22,700. While the prices for other models vary from €12,400 to €29,000. For more information visit the Hublot website.