Our Favorite Swatch Watches: Lex Rediscovers His Long-Forgotten Sir Swatch
A practical attempt to feel the love for a preppy plastic watch again and remember 1986 while I'm at it
If only I could recall what I was thinking back in 1986. I honestly don't know what made me buy the Sir Swatch (SUOB169) that year. Unfortunately, my memory is not as good as that of Bret Easton Ellis. The author's most recent book The Shards, an autofiction novel about a group of privileged Los Angeles high school friends set in 1981, reads like he experienced everything yesterday. Back in 1986, I was in high school too, but my situation differed from Ellis's quite a bit. First, I didn't drive a Mercedes convertible, and second, there was no serial killer nicknamed "The Trawler" roaming the town I lived in. I did like preppy stuff, though. I wore polo shirts and Top-Siders, for instance, just like Bret did. And the color-crazy Swatch Sir Swatch with its fantasy coat of arms somehow matched my style.
What do 17-year-old kids do? Well, in my case, I bought a wildly colorful Swatch Sir Swatch. I was also doing as little as was humanly possible to make it through to the next grade in high school. School was a nice place to meet friends, but I had zero interest in the classes I went to. But it's not that I didn't have any interests at all. On the contrary, I was heavily involved in playing the saxophone, listening to as many bands as possible, reading about historical airplanes, finding my style, and soul-searching, of course. And all that happened in the décor of a Soviet nuclear reactor at Chornobyl exploding, spreading radioactive material across much of Europe and with "Word Up" by Cameo blasting on the cassette player.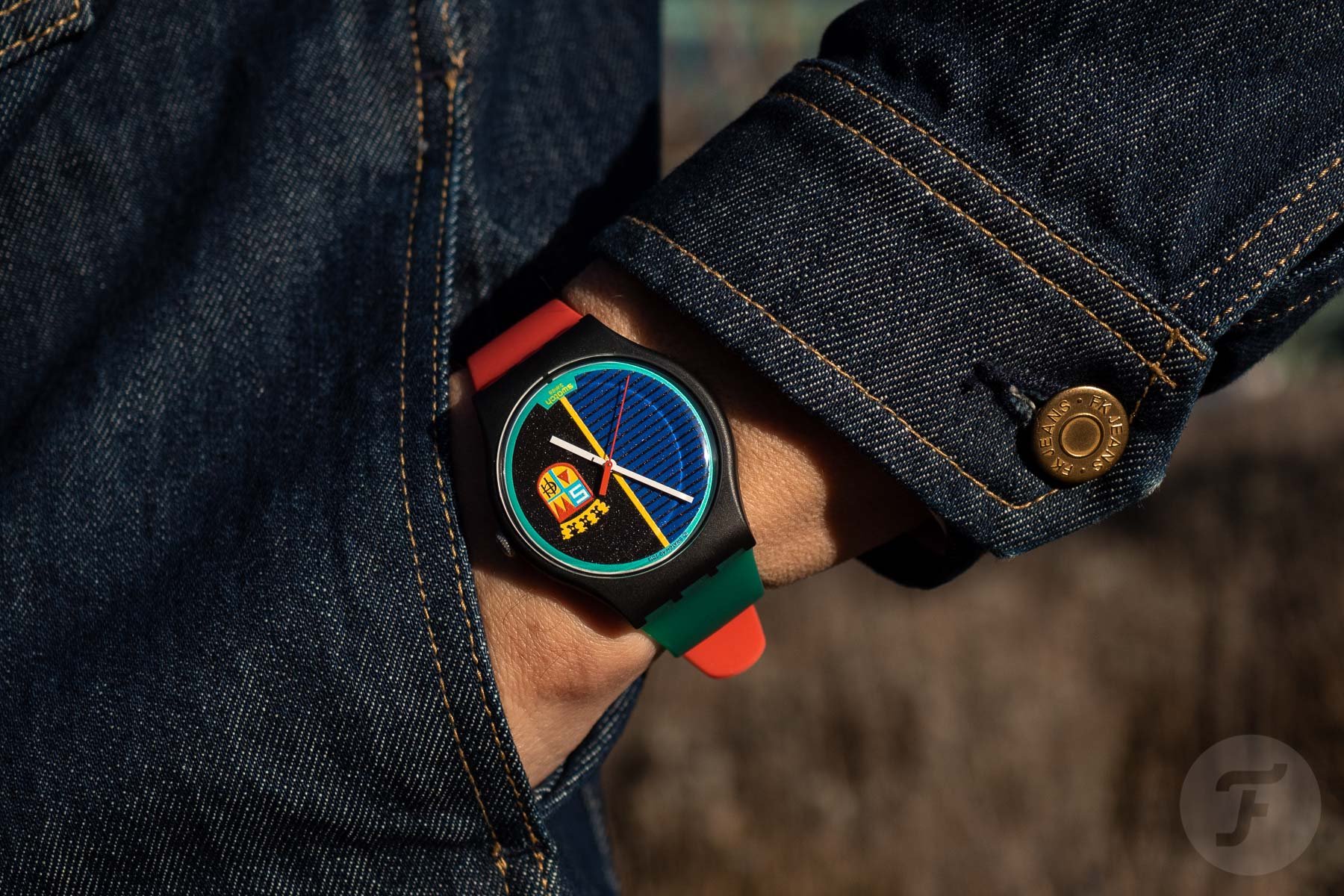 How to wear Sir Swatch
Three favorite pieces of clothing come to mind when I try to remember 1986. First, my Levi's 501 jeans. The commercial showed a guy who had to take a bath with his jeans to get the perfect fit. He did that to the velvety voice of Sam Cooke singing "Wonderful World." I didn't notice it back then, but there's also a rectangular watch on a leather strap in the commercial to create a relaxed yet brooding atmosphere that I also wanted to experience.
I remember that back in the mid-'80s, everybody, including me, was wearing very tight Ball jeans. The 501s, on the other hand, were way looser, so I had to get used to the fit. I did, and way before my classmates too, so for a while, they looked at me in disbelief. I didn't mind; I had "Wonderful World" in my head when I wore them (almost every day) and felt too cool for school and broody as well. That was also because of my Sir Swatch, but first, there's the story of the raincoat.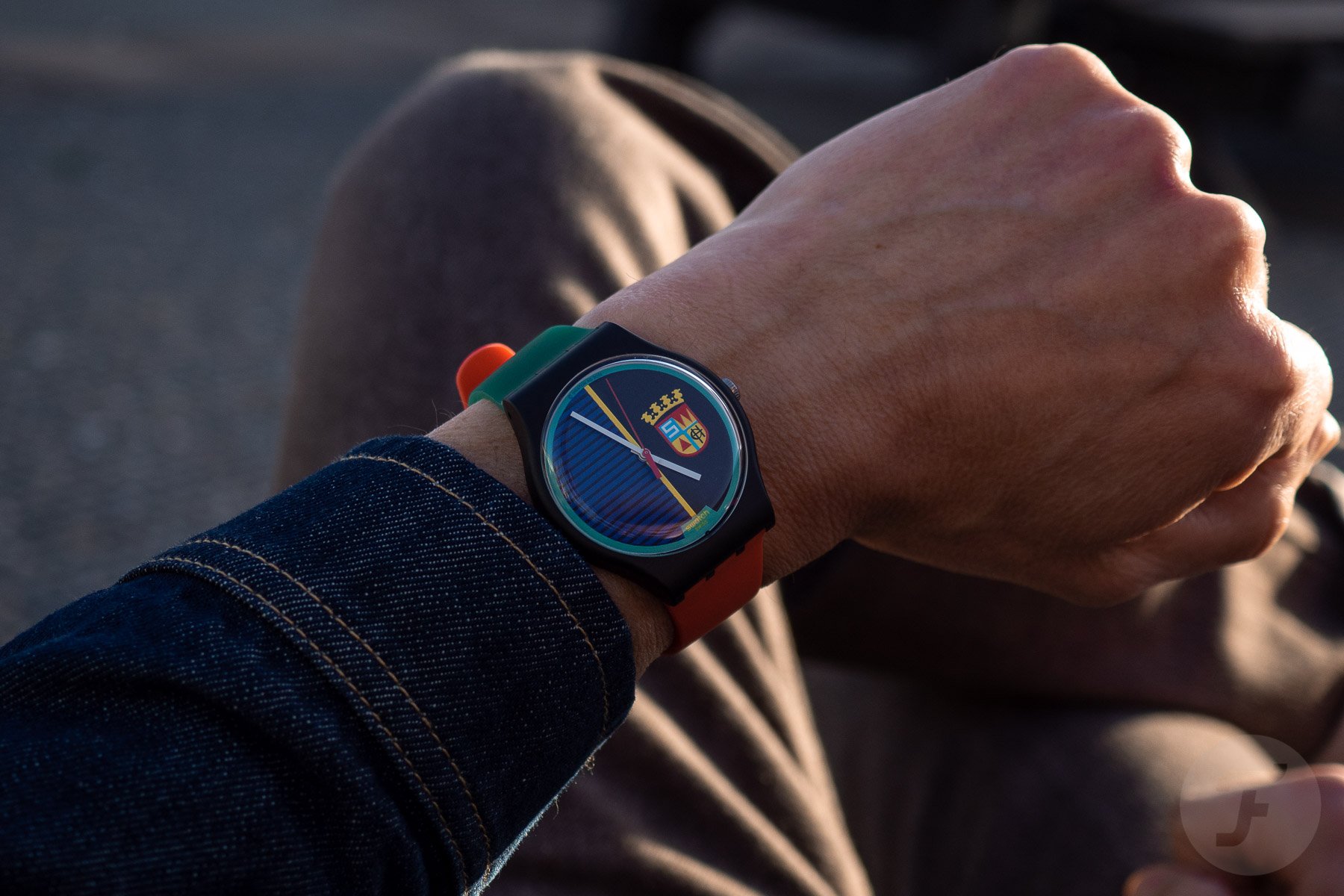 A late 1960s gem
In 1990, Nicolas Cage's character Sailor in the David Lynch motion picture Wild at Heart said something meaningful about the striking jacket he was wearing. "This is a snakeskin jacket! And for me, it's a symbol of my individuality, and my belief… in personal freedom," he said when he got into trouble with someone during a Powermad show in a bar. But I was four years ahead of Sailor. I wore my dad's late-1960s beige semi-long raincoat because it expressed my individuality and my belief in personal freedom. I wore it for many, many years until it, quite literally, came apart at the seams.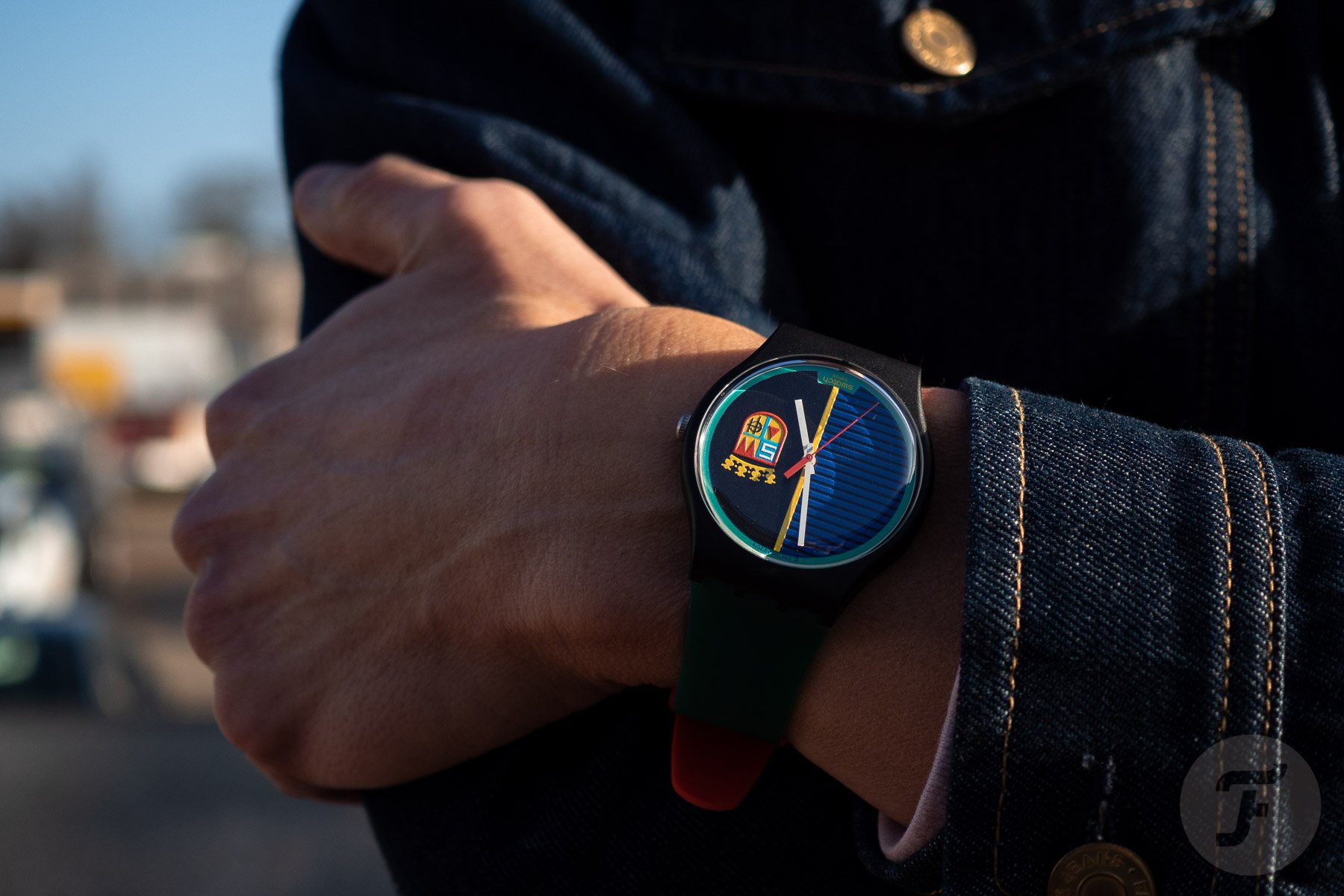 The third item I could not do without was my pair of Ray-Ban Outdoorsman sunglasses — no, not the shades Tom Cruise was wearing in the 1986 movie Top Gun, but the Outdoorsman model. That one is based on the classic Aviator pilot sunglasses that Maverick wore, but it has an added "brow bar" and is, in my humble opinion, the superior pair of sunglasses.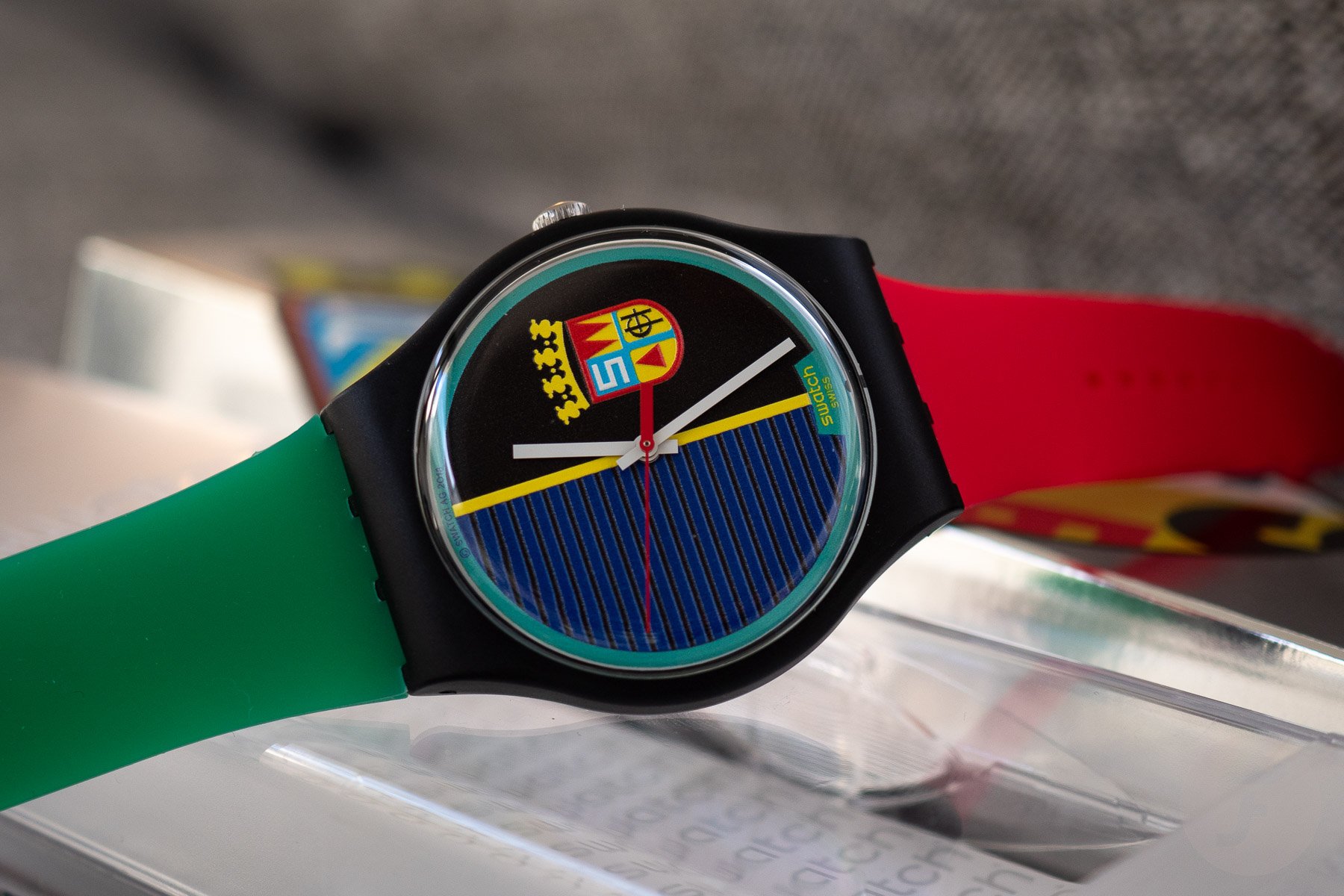 Meeting the fantastic Sir Swatch
The Sir Swatch (GB111) I bought in 1986 wasn't my first Swatch. I had a 1985 Swatch Jellyfish (GK100), but I broke that watch — no idea what or how it happened, but I remember that the thing broke where the case met the strap. The Sir Swatch was my second Swatch, and I guess I picked it for two reasons. The first one is similar to the reason behind the semi-long raincoat. And the second is that it matched my style.
Fast forward to the second-to-last week of 2022 and a visit to the nearly deserted Swatch Museum on the second floor of Cité du Temps in Biel. I got a personal tour of the exposition and spotted my 34mm Sir Swatch, and a wave of 1980s melancholy hit me. Until that moment, I had no active memories of that colorful watch, but seeing it again stirred something in me. And a few moments/decades later, the reissue version, the much larger 41mm Sir Swatch (SUOB169) was right in front of me in the display.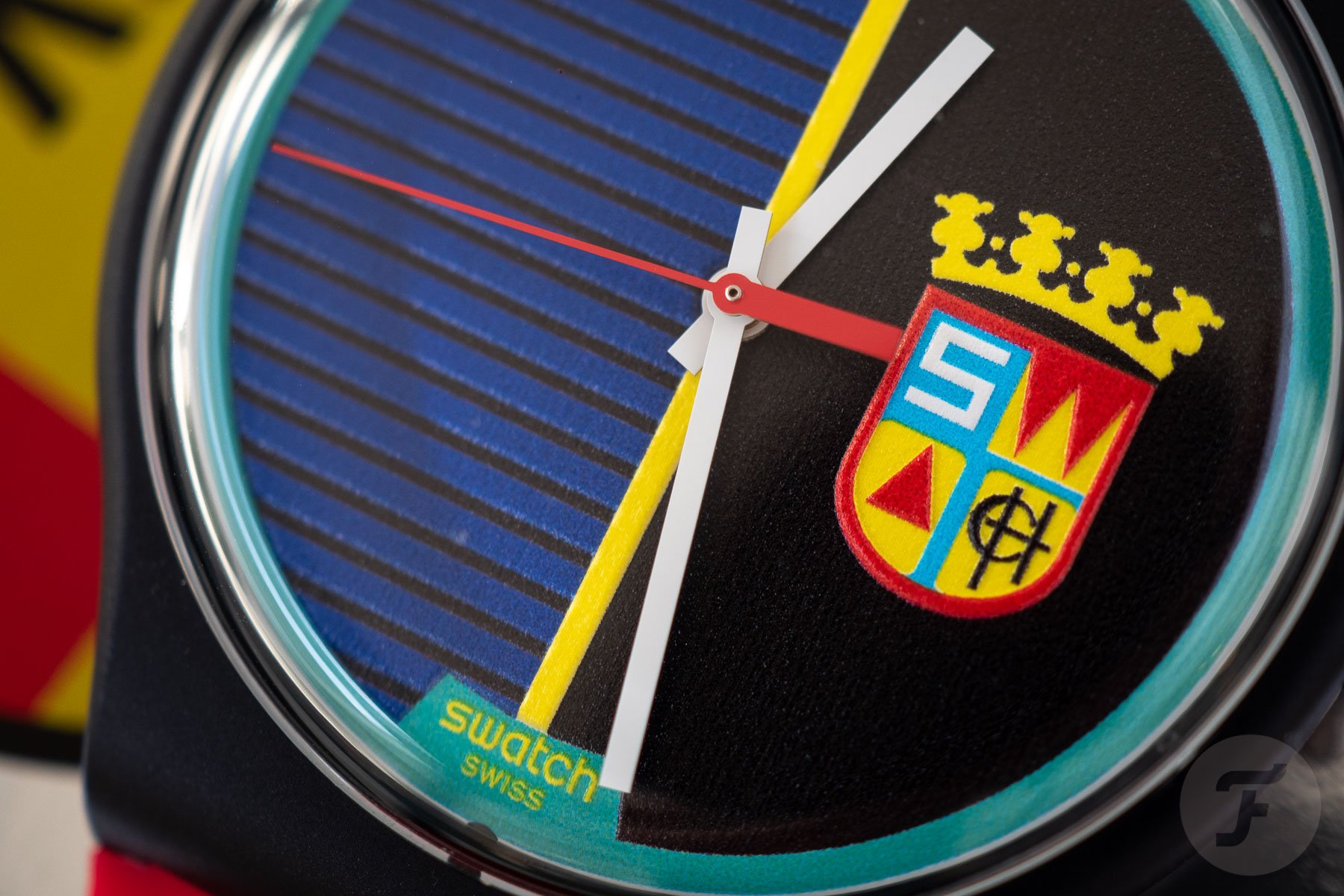 The 34mm Sir Swatch vs. the 41mm Sir Swatch
Did I go online right away to buy either of them? Nope. It wasn't until I came eye to eye with RJ's big bag of colorful Swatch watches in February that undertook action to retrieve good ol' Sir Swatch. I decided to look for the larger reissue, maybe because of the adage "bigger is better" and also because I thought the updated version would wear nicer in this day and age and on my adult wrist. I quickly found one in Germany for €70 and ordered it without hesitation. Was it a good choice to go for the 41 instead of the classic 34mm version?
When I put the original 34 × 8.75mm GB111 and the younger 41 × 9.85mm SSUOB169 against each other in the virtual arena, which one wins? I base my critique on the size and feel of the materials used in the updated version. The straps that Swatch uses nowadays are such a leap forward in terms of feel and comfort, but the 41mm New Gent size is quite massive. As soon as I put the watch on, it felt big. It must have been my awakened wrist memory that sent that feeling to my brain. In the New Gent size, both the green and red ends of the strap are extremely prominent. And the same goes for the enlarged dial with its special Swatch "coat of arms" on the right side and blue stripes on the left.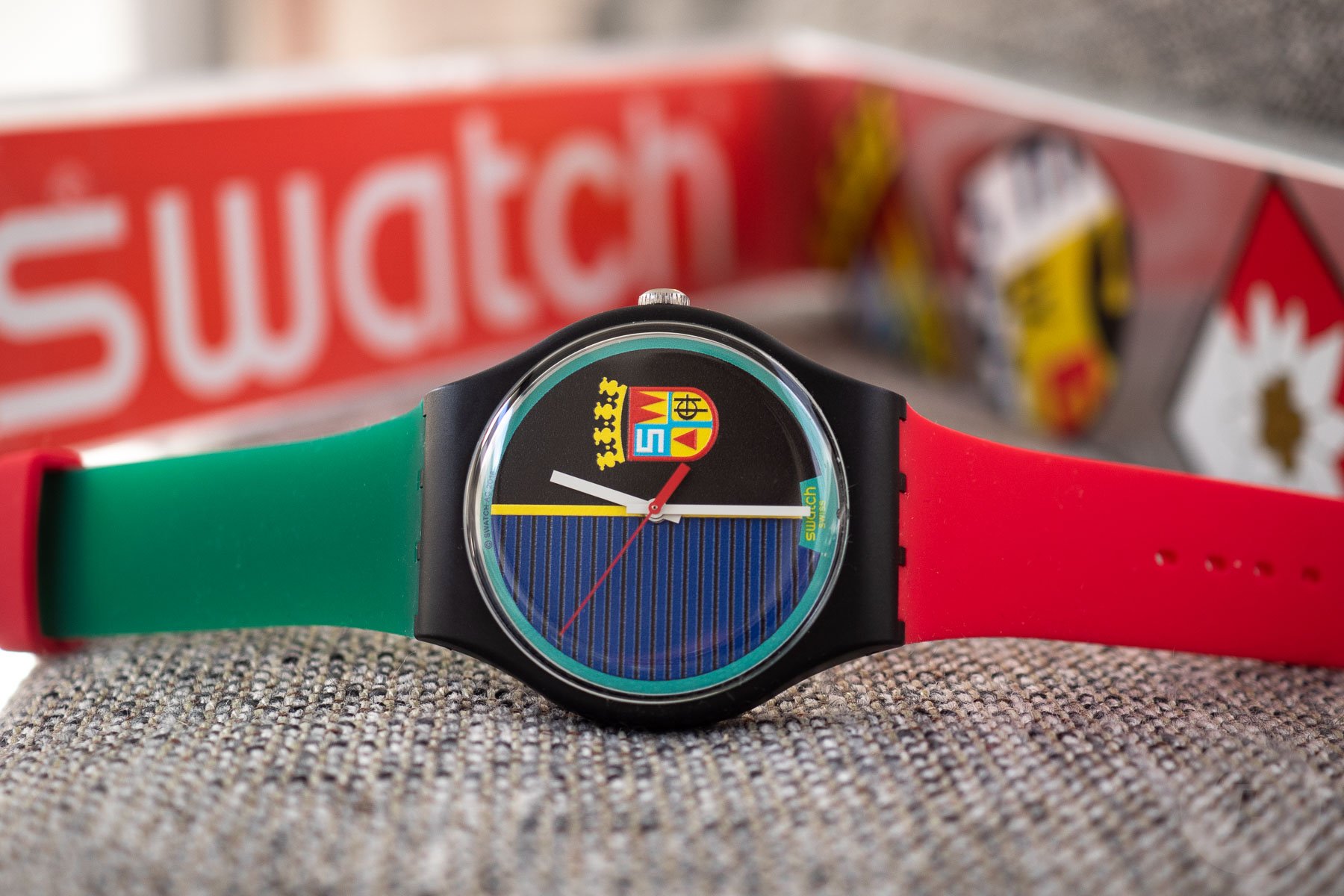 Is Sir Swatch here to stay?
The trip down memory lane in the Swatch Museum was most definitely a fun experience, and I did get bitten by the Swatch bug once again. The MoonSwatch bug is a different animal, but I do remember wanting the Sistem51 badly when it came out in 2014. And I wore that noisy mechanical watch quite often. The noise that Sir Swatch makes is the loud, steady ticking of the quartz movement, and that sounds comfortingly familiar. Maybe the loudness of the movement speaks to me even more than the watch's "loud" looks. But I do have to say that its preppy appearance goes very well with some stuff that I wear nowadays. I won't dismiss Sir Swatch anytime soon, and I'm glad "he" allowed me to find the 17-year-old kid hiding inside of me. Too bad I lost my boyish good looks.
Find and follow me at Lex Stolk • Instagram.