Hands-On Longines HydroConquest L3.642.4.56.6 Review
When you have around 1000 Euro to spend on a watch, you can go Japanese with Seiko or Citizen, you can find your way in the numerous Kickstarter projects or microbrands, but is there also still something from the established Swiss brands for you?
Longines HydroConquest
Why talk about a watch that has been on the market for 10 years? Well, some times a watch is interesting enough to give it some (new) coverage for a couple of reasons. One is that this watch has become so well-known and a best seller from Longines, we want to know & see  'why'. In this case, we thought it would be interesting to focus on this watch due to its interesting price point (for such a large Swiss brand) and see what it has to offer.
A lot of watch enthusiasts love to muse about the good old days when tool watches were still tool watches and had a price tag that was relatively high, but still affordable. A lot of those watches are still on the market, but now marketed as a luxury watch with a price tag that will cost you an arm and a leg. Watches that are technically probably perfectly capable to behave like a real tool watch, but do you want to exposure your expensive timepiece to – for instance – salty water, shocks and hard surfaces where a watch is almost bound to get scratched.
But have no fear, as there are still brands out there who deliver – or try to deliver – tool watches that are also up to the task and have a very friendly price tag. If you want to have a good watch for daily (ab)use, one that will probably outlive you, there is no need to spend over € 5000.- Euro. However, the challenge for watch enthusiasts is to find such a good mechanical watch with an attractive price tag and still be impressed with all of its characteristics.
Although we love to ramble about haute horlogerie pieces, expensive vintage finds or similar topics, the quest for a good and affordable watch is perhaps a more important one for many of our readers.
The Longines HydroConquest L3.642.4.56.6 retails for just over 1000 Euro and is that's an interesting proposition.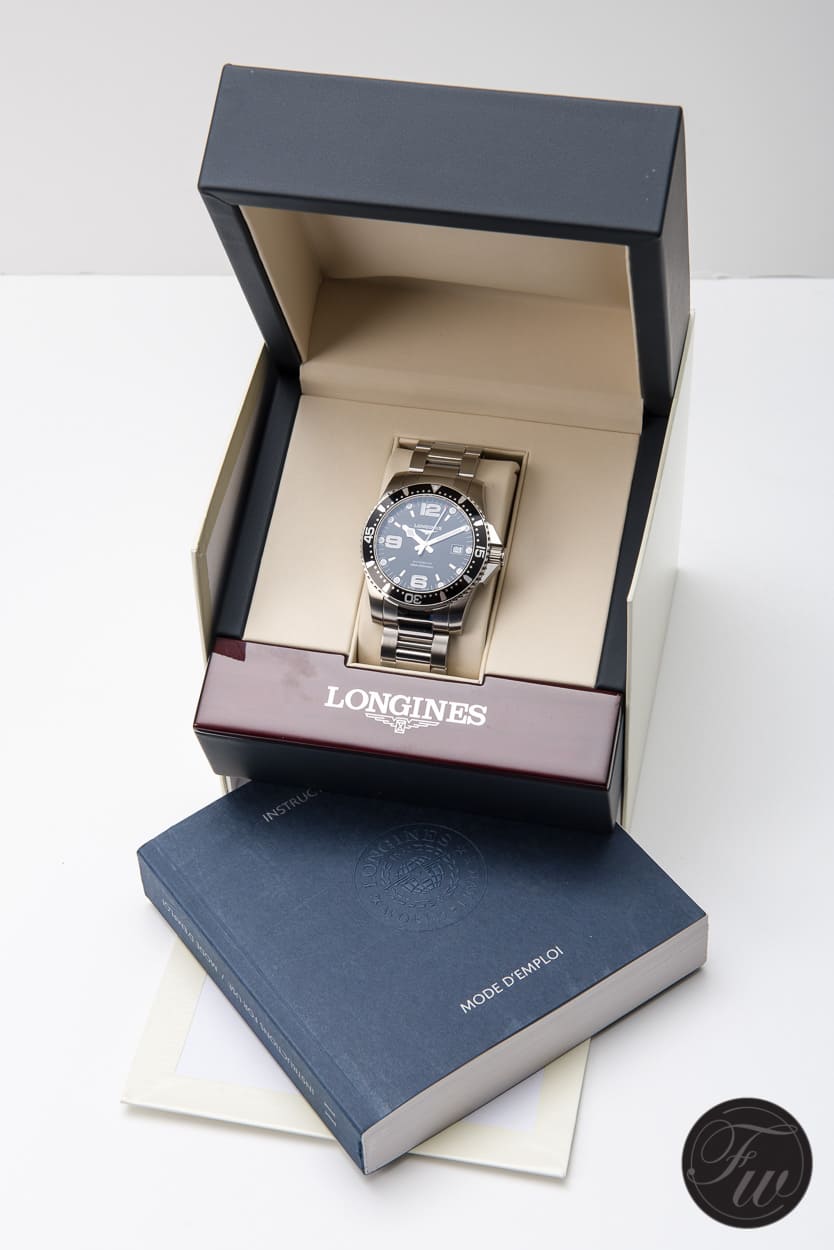 10 Years of HydroConquest
Picture this: a 41mm diameter stainless steel case, water resistant up to 300 meters (30ATM), stainless steel bracelet with double security folding clasp and integrated diving extension, a mechanical Longines caliber 633 movement (based on ETA's caliber 2824), unidirectional rotating (aluminium) bezel, screw-in crown and a sapphire crystal. Longines offers this HydroConquest for € 1070 Euro (~ $1230 USD) in their catalogue (including VAT).
The Longines HydroConquest is already 10 years old, as it was introduced in 2007. At a time where colleague Swatch Group brand Omega decided to increase the list prices (due to the in-house Co-Axial movements) of their watches. Although the Omega Seamaster Pro 300M 2531.80 was always a bit more expensive than this €1070 Euro, Longines filled the [sudden] gap in the Swatch Group gamma with their new HydroConquest diving collection.
Specifications are one way to impress people, but how does the watch wear in the flesh? We received this Longines HydroConquest for review and we would like to share our thoughts about it after wearing it for a while.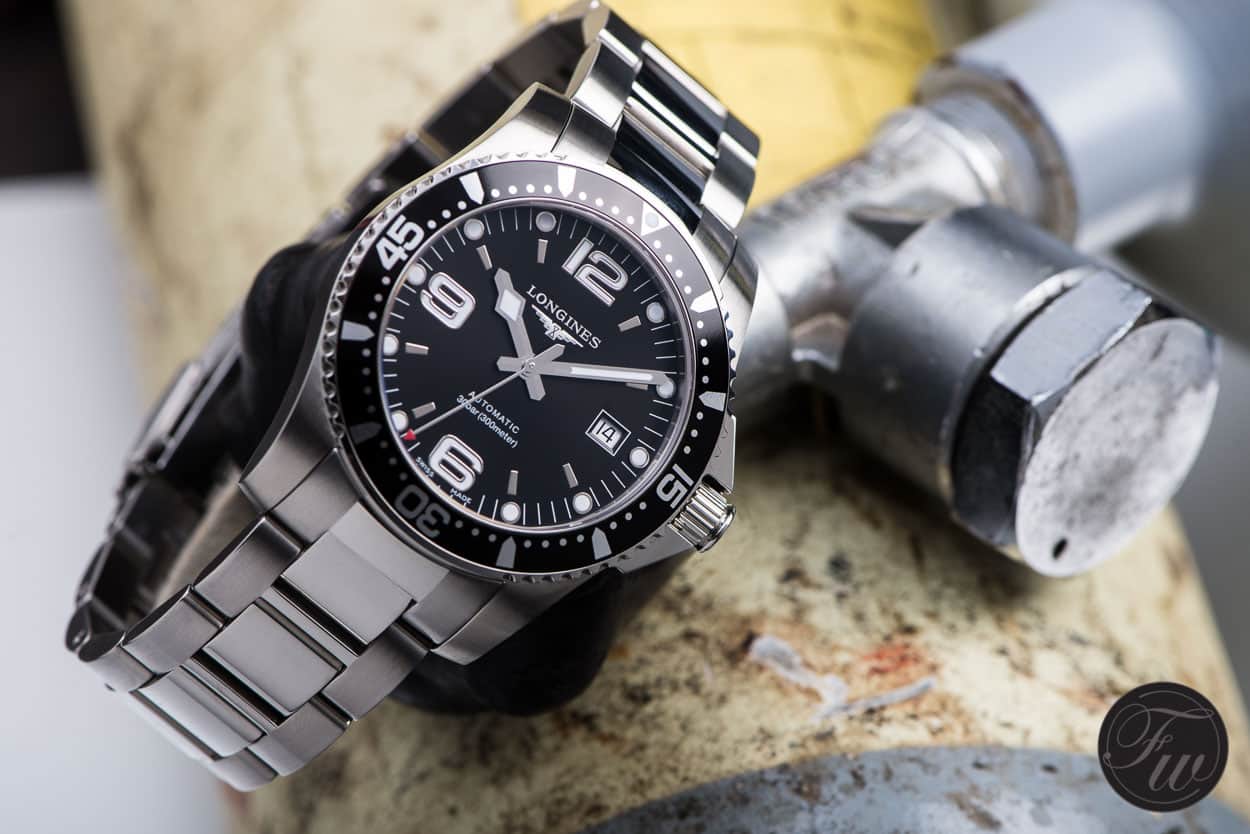 Let me start by saying that I am by no means a diver. Some of the Fratello Watches team have their diving certificate from the PADI (Professional Association of Diving Instructors) but I have not. I only go for the occasional recreational swim and most of the time take off my watch anyway. However, a diving watch does not only mean that it is suitable for use in water, to me a diving watch represent a solid and sporty watches that can be – also due to its water and dust resistance – used as a daily watch.
The Longines HydroConquest watch is handsome enough to go with a suit as well as with more casual clothing. Especially when wearing short sleeves, a watch should be prepared to face some everyday dangers such as shopping carts, water (shower, washing hands, rain (snow with long sleeves), car wash etc.), edges of desks, children etc.
The 41mm stainless steel case looks well built and fits perfectly on my wrist. There is also a smaller version, that measures 39mm, for those with slim wrists and a 30mm for women. The quartz version adds a 25mm version to the HydroConquest collection as well.
The case has a satin brush finish as well as some polished parts which plays nicely with the Sun rays. The dial is super legible and uses Super Luminova for the indexes, Arabic numerals and the wide Silvered polished hands. A sports watch should have a very readable dial, especially diving watches. This Longines HydroConquest shows how it should be done. Although I personally don't care about a date function myself, this model has a date aperture at 3 o'clock. All necessary functions are on the watch you could say. For those interested in a chronograph, there is good news, as there are also HydroConquest Chronograph versions. The chronograph version costs around €500 Euro more.
Below you will see two pictures, one with normal light conditions (well, studio light) and one where we shut down the light to show you the powerful Super-LumiNova dial of this Longines HydroConquest timepiece. I think this will do perfectly on the night stand, right? Don't underestimate the usefulness of a luminous dial. I never paid too much attention to it myself other then for reviews, but as of lately I am wearing a watch that has no luminous dial and it annoys me when I am in the dark. It seems now that it isn't there, I am missing it on almost a daily basis (perhaps this needs some explanation: when I bring my little daughter to bed there is absolutely no light in her bedroom, she requires me to be with her for a short while until she falls asleep. I have no clue how long I am sitting there and can't check the time in the dark with a luminous-less dial on my watch).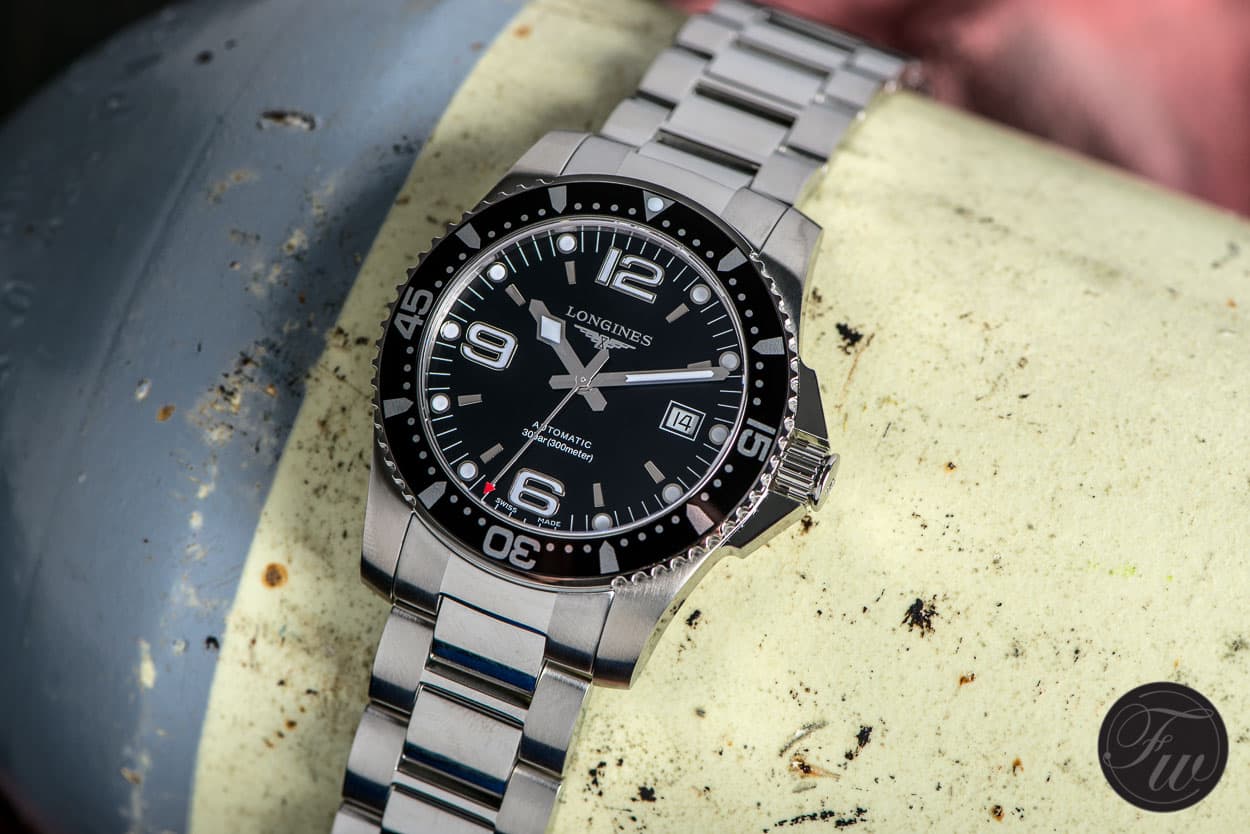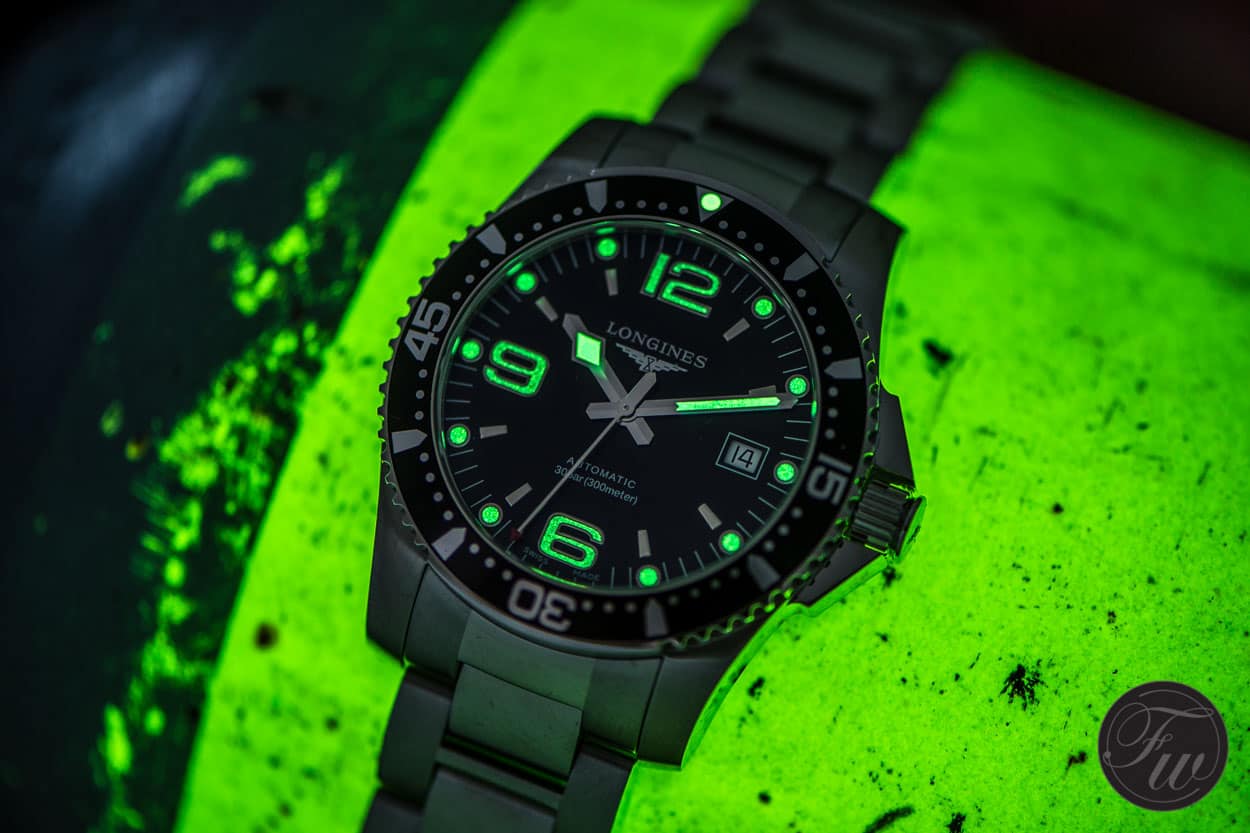 Furthermore, the dial has only the necessary printing on there. You could debate whether it is useful to state that it is an automatic movement, but in terms of design and having a well-balanced dial, it surely has its function.
The uni-directional bezel works perfectly and has no real play. Solid clicks and it has a luminous pearl to indicate the 0 (or 60). The aluminium uni-directional bezel is a necessity on a real diving watch but can also be used to keep track of a specific time frame.
Another typical diving watch feature is the screw-in crown. Longines has a nice signed crown that is easy to grasp and operate. A pair of crown-guards will ensure sufficient protection from door posts, shopping carts and so on. Or should I say rocks below the surface? In any case, in order to prevent bumping it off, there are these nicely shaped and polished crown guards that will do their job perfectly.
The picture below also shows the nice polished facets on the case. Longines really did a nice job on designing this tool watch and give it a finish that also makes it a perfect every day watch or even a classy watch to go with a suit.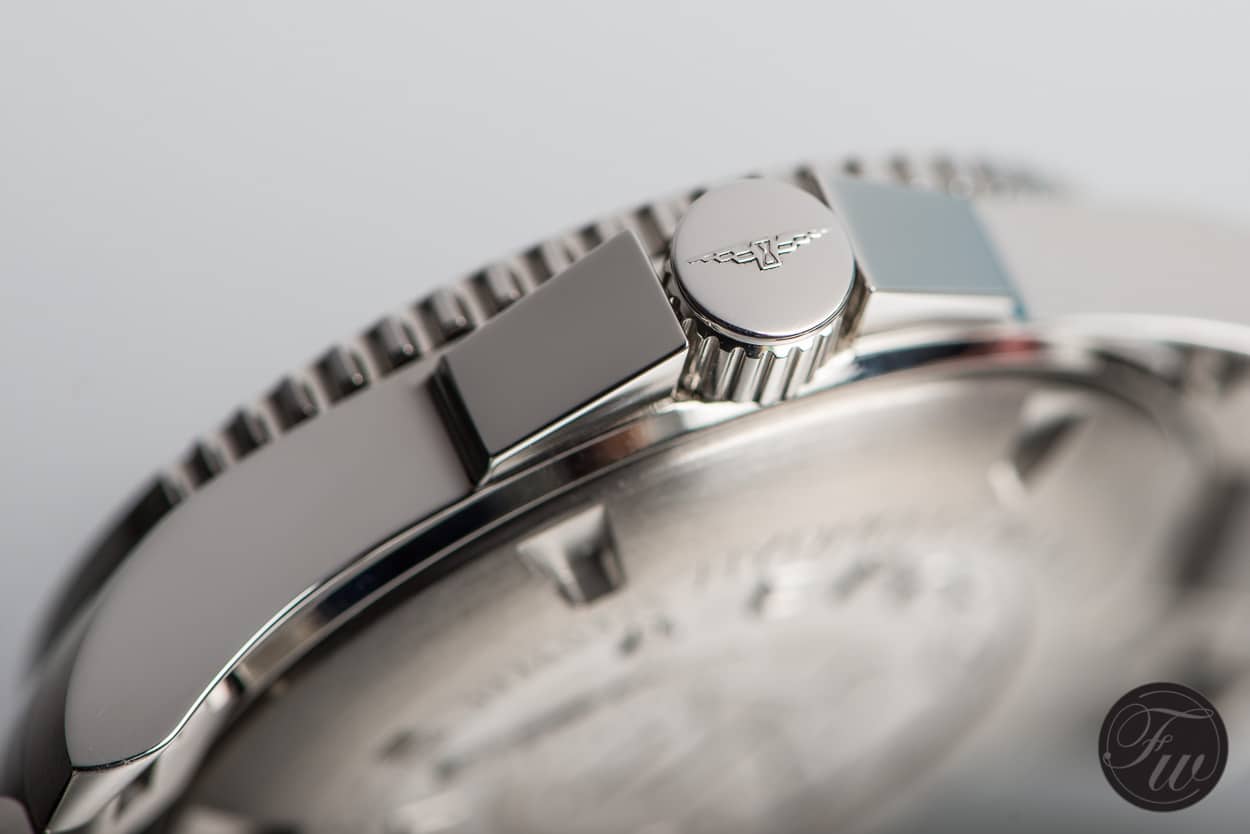 As you already noticed, we received the Longines HydroConquest on a stainless steel bracelet (there are also rubber strap versions available) and we requested that on purpose. The finish of a bracelet is very important for a watch and tells us much about the effort that a company is willing to put into designing and developing a good solid timepiece. Although a rubber strap is very comfortable and easy-to-use, we were more curious about their stainless steel bracelet.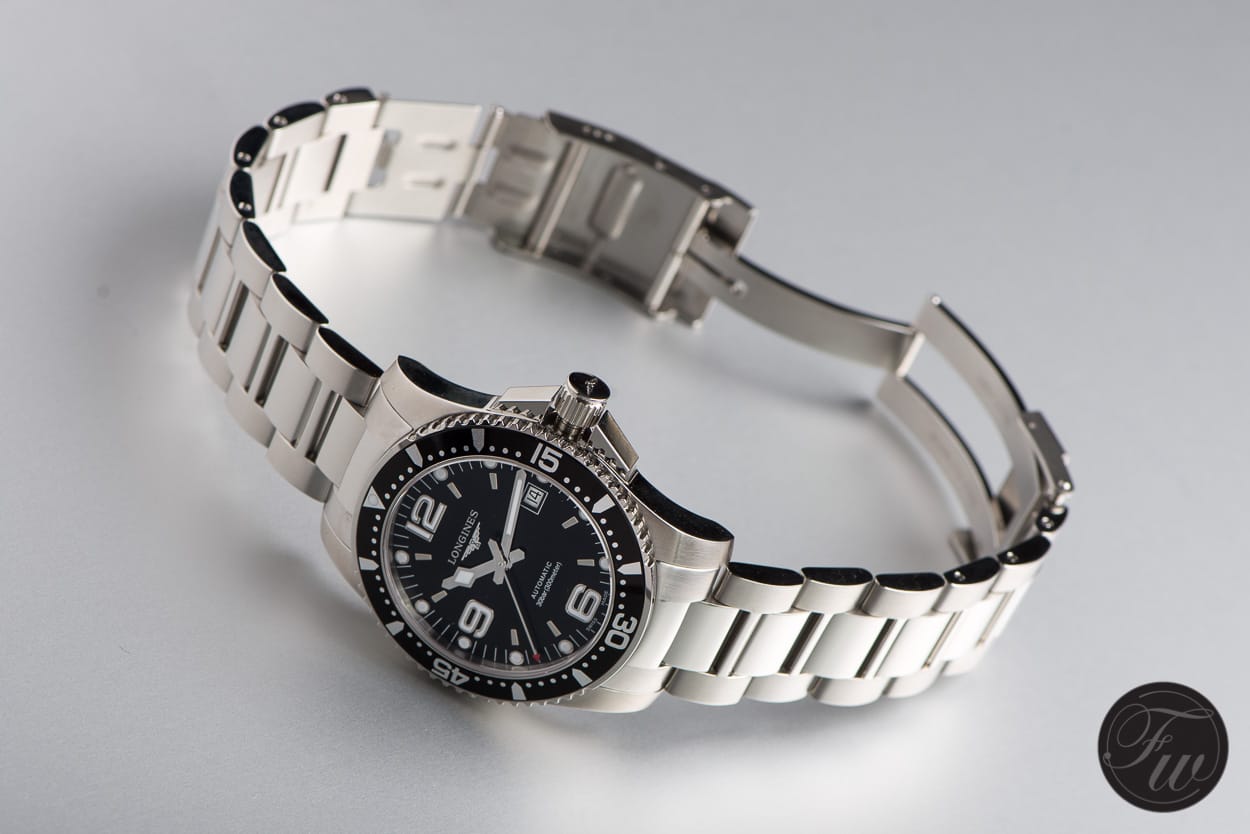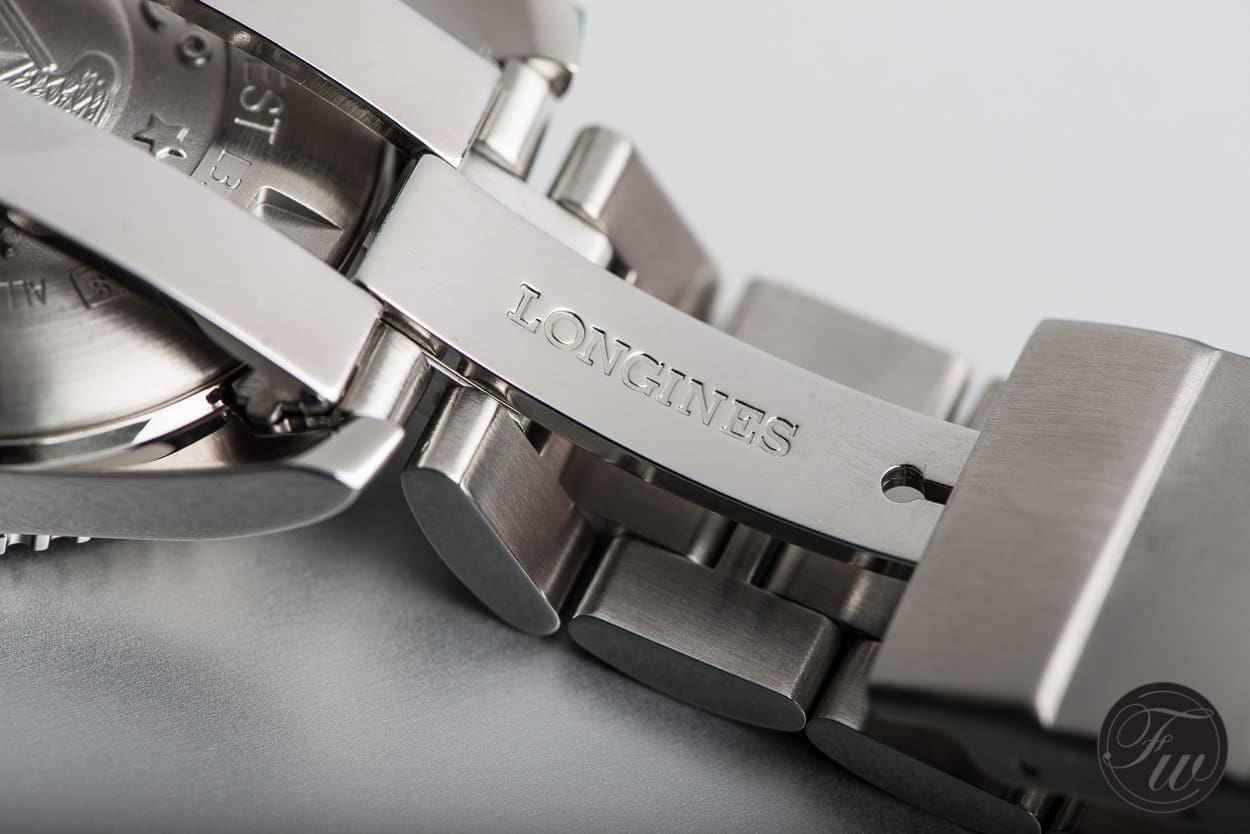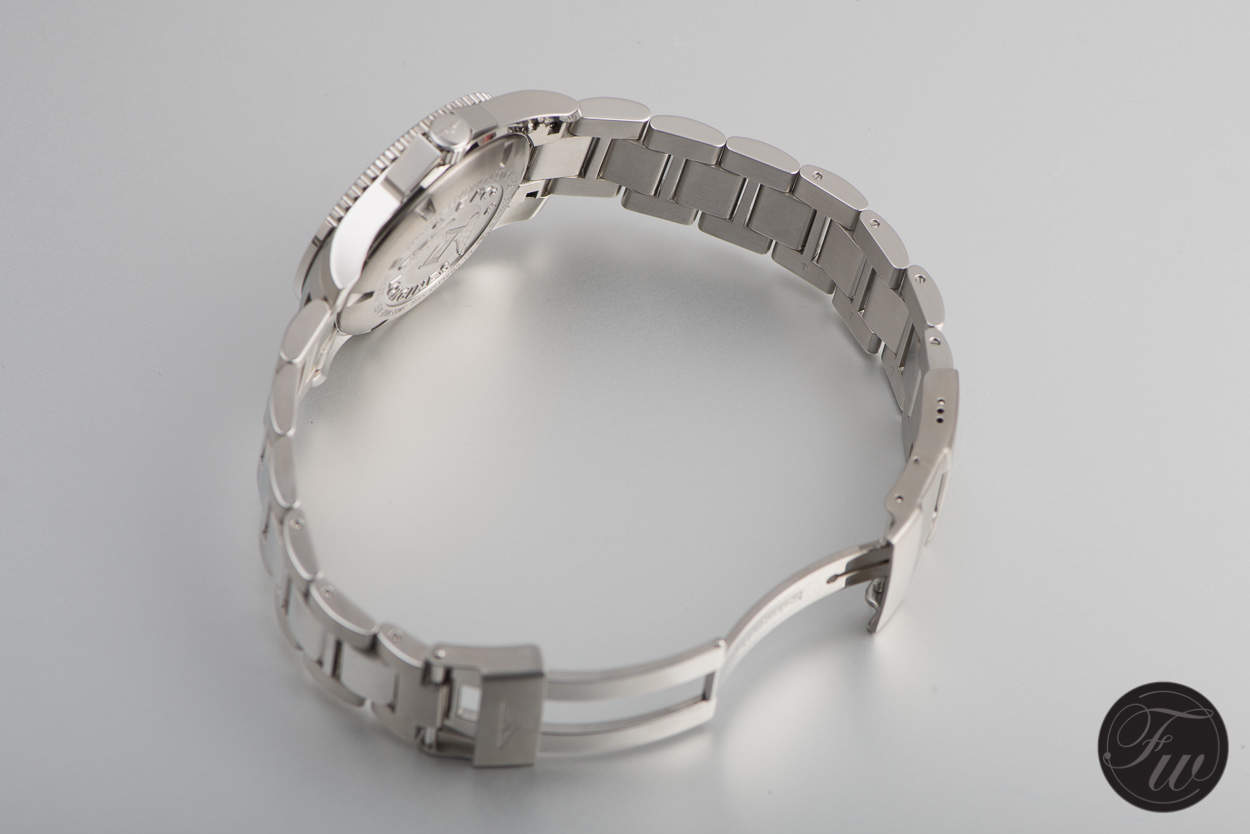 The big Oyster-like bracelet is a typical diving bracelet, similar design used by many other brands. It is all about the details in this case though.The links are connected using screws and the center link has a nice polished finish.The finish of the bracelet perfectly matches the polished and brushed finish of the HydroConquest watch case.
The clasp of the watch – as you can see – is solid and well designed. Another thing I noticed during wearing is that it is still quite flat on the back of your wrist. It has 'Longines' engraved in it – as you can see – and it looks and feels very sturdy. It appeared to me that it looked a bit more solid than the diving extension. Although I didn't use it, the bracelet also has this diving extension so you will be able to wear the Longines HydroConquest over your Neoprene wet suit. Although the diving extension appears to be a bit thin, it did feel solid and even after twisting the watch on the wrist a bit I didn't get a feeling that it would snap soon. Since it is a relative short piece, it probably needs quite a bit of force to bend or break it anyway.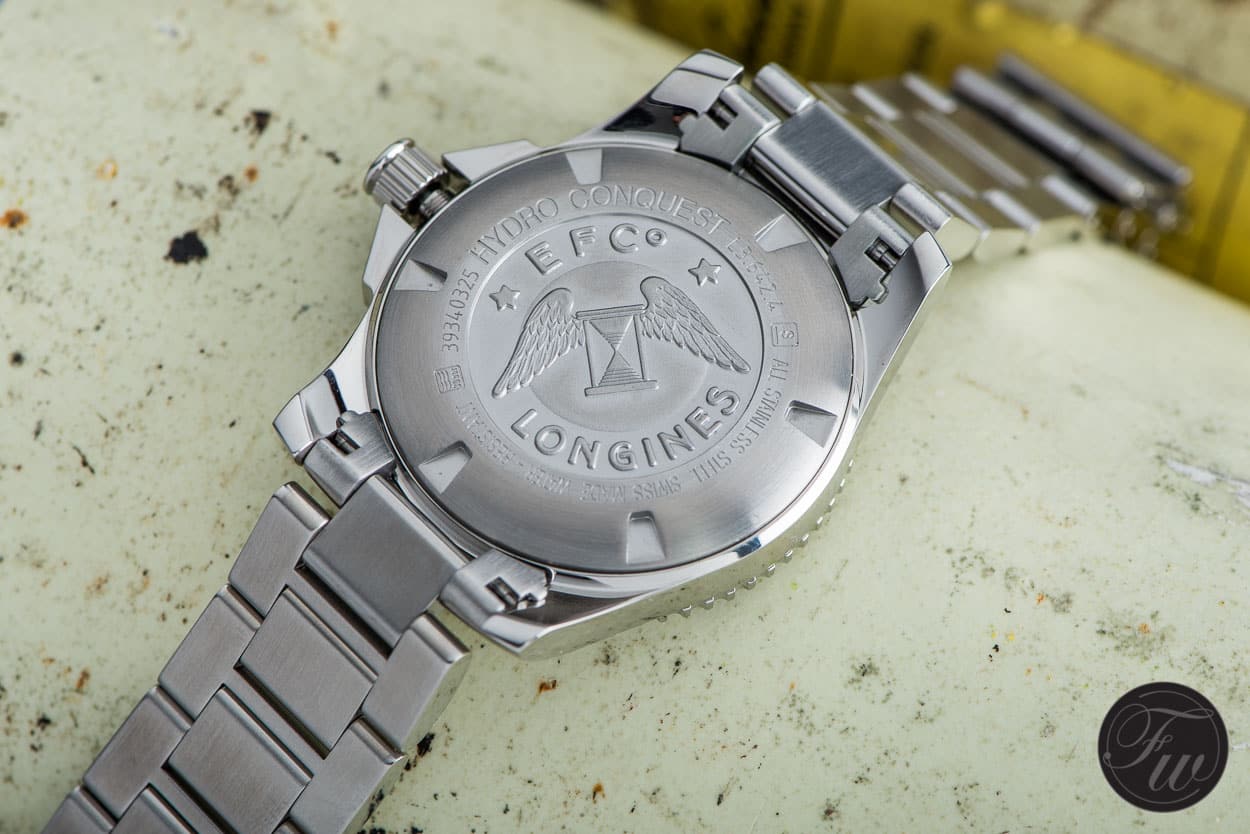 Some people might perceive a solid case back a bit as a let down, perhaps especially those people who buy a mechanical watch for the first time. However, in my opinion it doesn't make much sense for two reasons.
The first reason is that it is a diving watch (or tool watch), it needs a solid screw-down caseback that will ensure the water resistance of the watch. While there are certain brands that does offer a transparent or display back for a diving watch, think about the extra effort (and thus cost perhaps) that will need to go into it making sure it stays water proof at great depths.
My other reason might sound snobbish, but is in no way meant to be like that. I have great admiration for ETA movements which seldomly break down and to be honest I rather have a proven ETA movement that having an in-house movement just for the sake of having one with the additional price tag. However, I do not need to have a display back with a regular ETA movement. It would be a nice feature, but there are other movements that I rather enjoy looking at. This ETA is a workhorse, a diesel, and perhaps you can agree with me that looking at a current BMW 530D engine is less fun than looking at the V8 or V12 engine of a Ferrari or other (super) sports car. The work horse does its job though, and pretty damn well.
In short, for around €1000,- Euro list price, you will receive a solid performing watch that will last forever. It also is the one watch that might sparkle your interest in mechanical watches and before you know you will end-up with a collection of them. Dangerous stuff. As you can see on one of the pictures above, the watch is delivered in a pretty presentation (or storage) box and comes with a big manual which is basically not really a necessity to wear this timepiece. Unscrew the crown, set the time and date and you are ready to go forever.
It might seem we are über enthusiastic about this watch and we definitely are. But aren't there any cons regarding this Longines HydroConquest? Well, not really and especially not at this price point. However, if you want us to nitpick then you might prepare yourself having a discussion with other watch enthusiasts that it does look a bit similar to a Rolex Submariner watch. Perhaps it does, but it is the typical divers look & feel these watches have with their large luminous hands, readable contrasting dial and uni-directional bezel.
This is a value for money piece that is – and will be – hard to beat (we will continue looking though). Just like the Legend Diver that we reviewed, or the Master Moonphase that we also reviewed, Longines is definitely a very interesting brand to consider if you are in the market for a new & good mechanical timepiece to own (and wear).
Technical Specifications
Case
Material: Stainless steel
Specificities: Unidirectional rotating bezel, Screw-in crown
Crystal: Scratch-resistant sapphire crystal with anti-reflective coating on the underside
Case back: Screw-down case back
Dimension: Ø 41.00 mm
Water resistance: Water-resistant to 30 bar
Movement and Functions
Caliber: L633, Self winding mechanical movement beating at 28'800 vibrations per hours and providing 38 hours of power reserve
Function: Hours, minutes, seconds and date.
Dial and Hands
Hours markers: Applied Arabic numerals and indexes, with Super-LumiNova ®
Hands: Silvered polished hands, with Super-LumiNova ®
Bracelet
Material: Stainless steel
Buckle: With double security folding clasp and integrated diving extension.
Price
€ 1070,- Euro (including VAT).
*This article appeared first on November 28th, 2014. We updated the pricing information and made some editorial changes/updates.