The Longines Legend Diver In Bronze — A Timeless Dive Watch
The legendary "no date" is back
When Longines introduced their Legend Diver a few years ago, it came in two flavors. A date and a non-date. At some point, Longines decided to only continue with the date version.
Sure, Longines has its Skin Diver without a date, but that's not the same. I was very happy — and a little bit surprised — to see that the Longines Legend Diver in bronze has no date. I am not really in favor of date windows on a watch (exceptions exist of course), so I am biased anyway. We did a Wrist Game Crying Shame article on a Legend Diver No Date and you were brutal as well though, 78% voted for the Legend Diver without a date. Now, they make one again! And it is in bronze!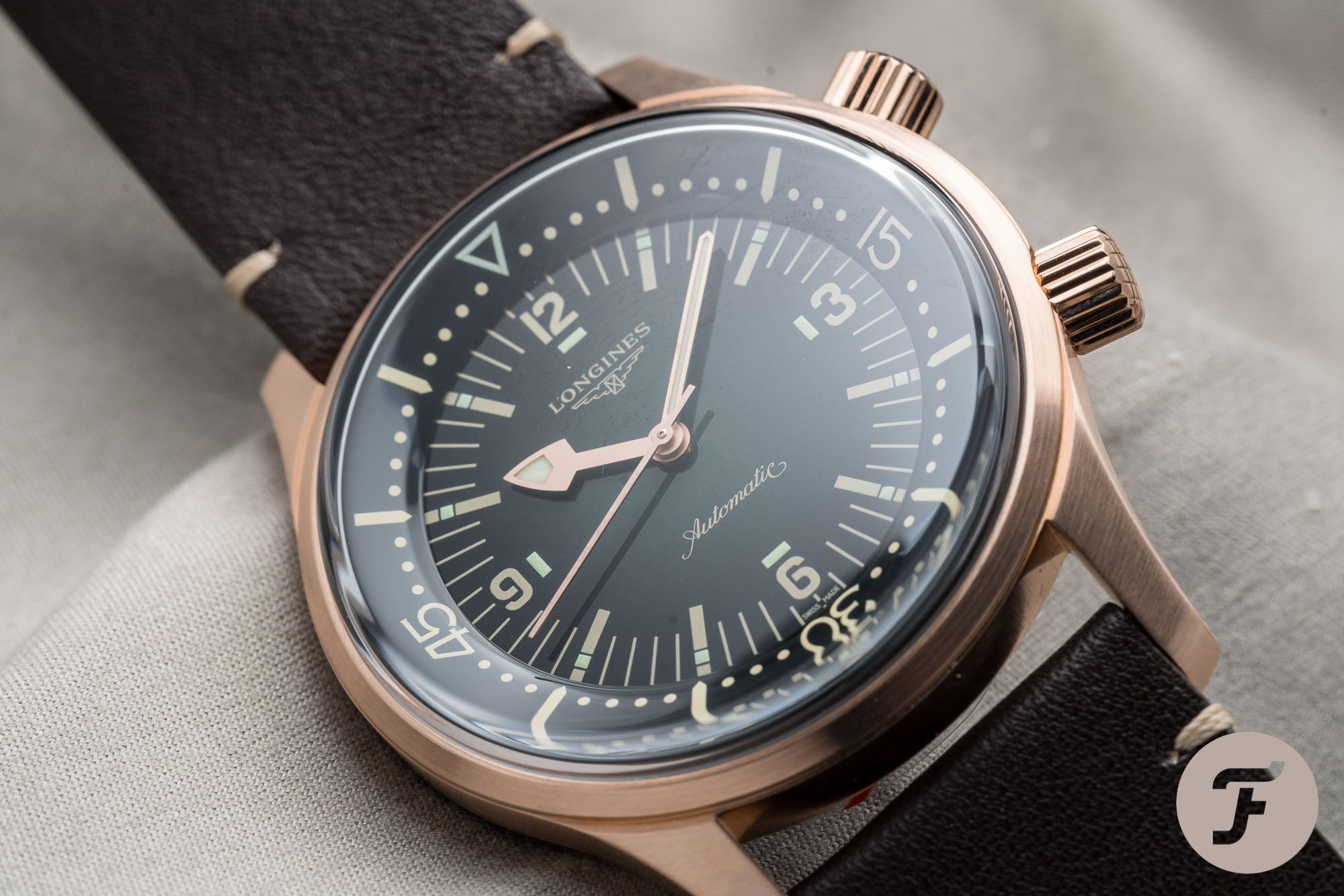 Longines Legend Diver Bronze
What we have here is the reference L3.774.1.50.2, the Longines Legend Diver with a bronze case on a leather strap (a green nylon alternative is also included in the box, along with a handy strap-change tool). This Ø42mm bronze case has a titanium case back, to ensure you'll have no irritated skin due to the bronze. That's actually the reason why (almost) all bronze watches have a steel (or titanium) case back, as bronze might result in an allergic reaction when worn on the wrist. But in this case, with a titanium case back, there's no problem.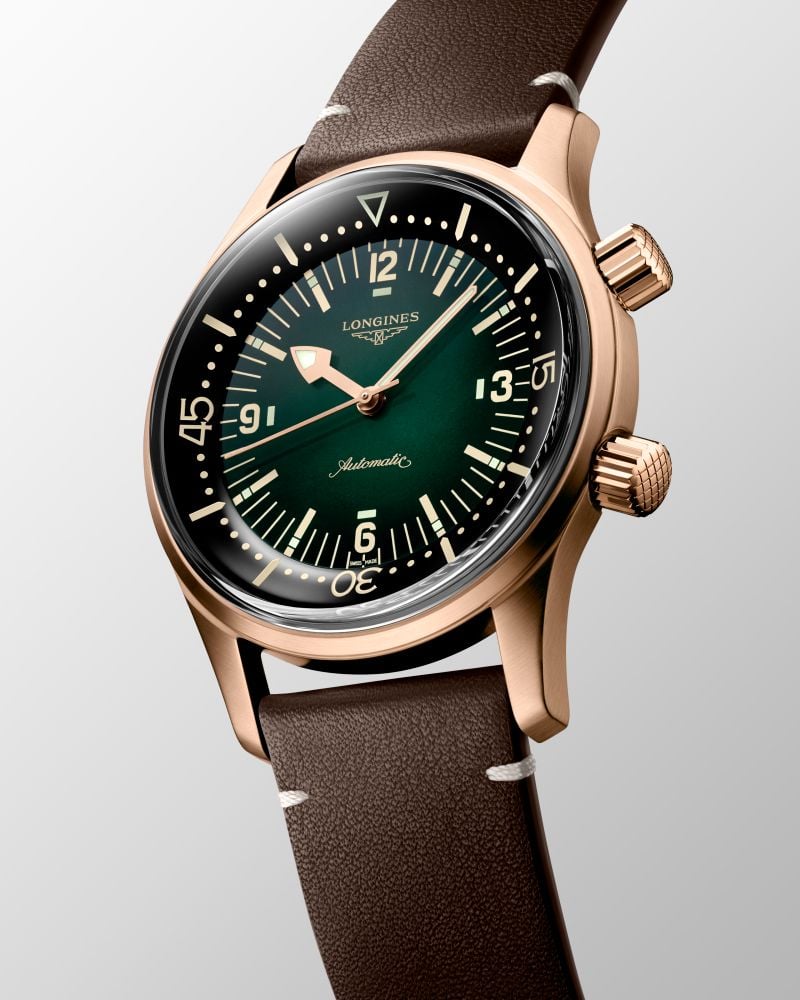 Green Dial
Bronze watches aren't a hype, they are here to stay and every major watch brand seems to have at least one in their collection. It is a wonderful material, that has a warm gold-like tone, and the tendency to develop some nice patina after wearing it for some time. It creates a bit of a unique appearance to each (bronze) watch. This Longines Legend Diver comes with a beautiful smokey green dial. Green is a color that seems to match with bronze very well, especially in this smokey version that almost turns into black.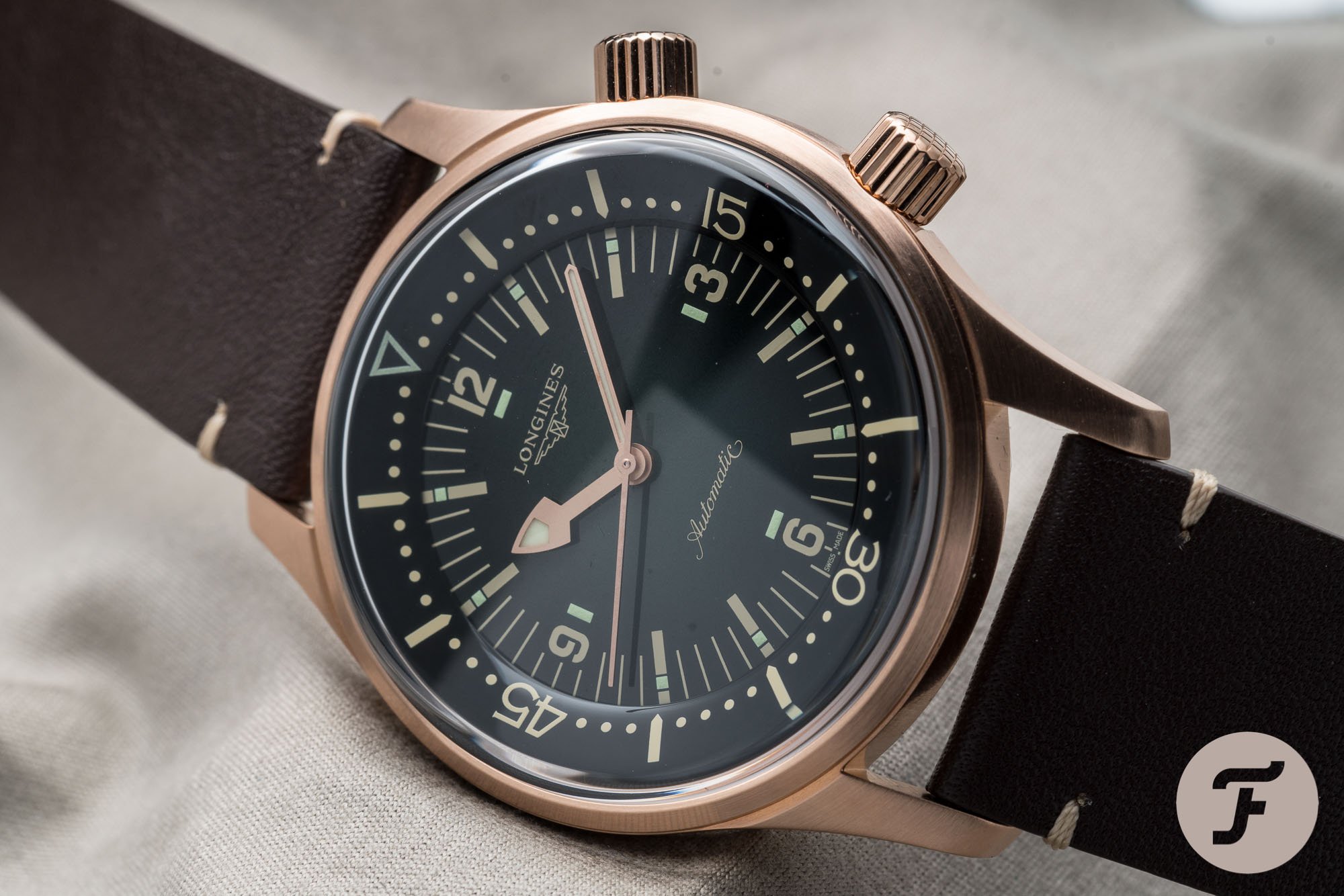 Vintage look
On the dial, you'll find the numerals, indices, and text printed in this nice brown-ish tone, reminding me of the crema on my espresso. It all matches so well together. Somehow, you get the feeling — perhaps sensation is a better word — of looking at a vintage watch. But it is not. The large diameter gives it away, as does the sapphire crystal and L888 self-winding movement. The compressor case has two crowns, of course. One for setting time and the other one to rotate the inner diving bezel. Both are screw-down.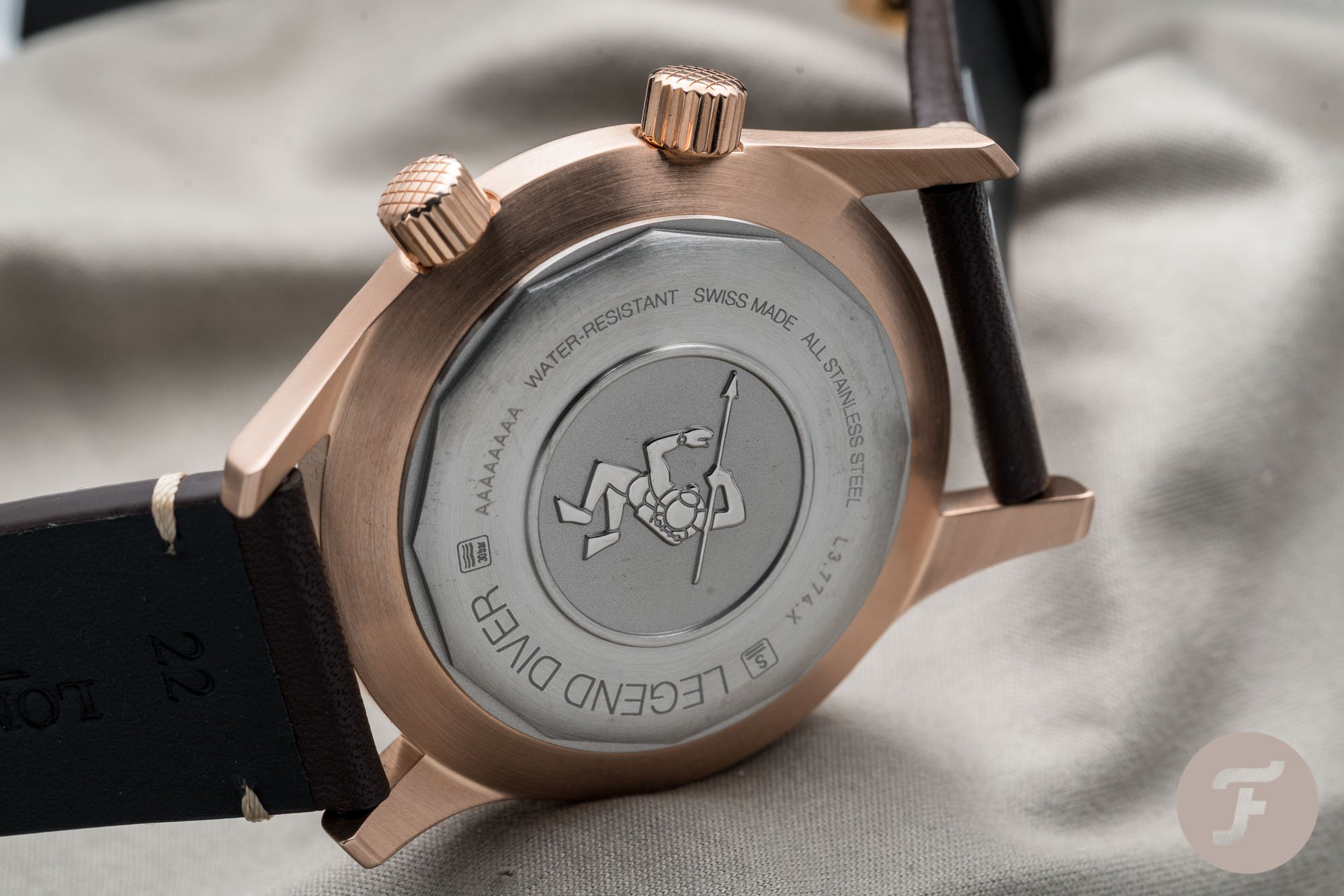 64 hours of power reserve
This Longines Legend Diver in bronze offers a power reserve of 64 hours. The L888(.5) movement is based on the ETA caliber A31.L11. Essentially a movement based on the famous and renowned ETA2892-A2 with some tweaks. Tweaks? Yes, a silicon balance spring and a down-tuned ticking number. Normally, these movements have a ticking speed of 28800vph, but in this case, it is 25200vph. This way, the power reserve is a bit longer than the regular 42 hours of the original ETA2892-A2.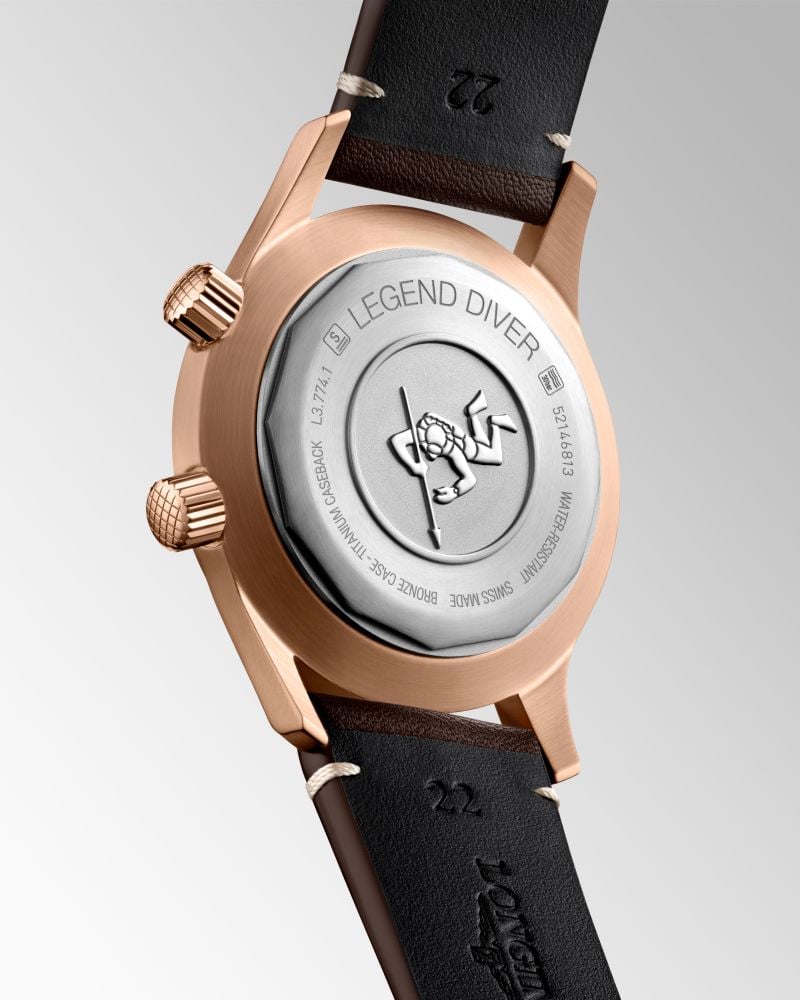 Titanium case back
I already touched upon the titanium case back of the bronze Longines Legend Diver, but I think it is good to know that even more than steel, titanium is a great choice. Less than 0.6% of people are allergic to titanium, as it won't even irritate the most sensitive skin. On the case back, you will find the medallion with a diver (with a harpoon!). In our possession was one of the early prototypes, which still had a stainless steel case back. The production model of the Longines Legend Diver in bronze has the titanium back, with the engraving "Bronze case – titanium case back".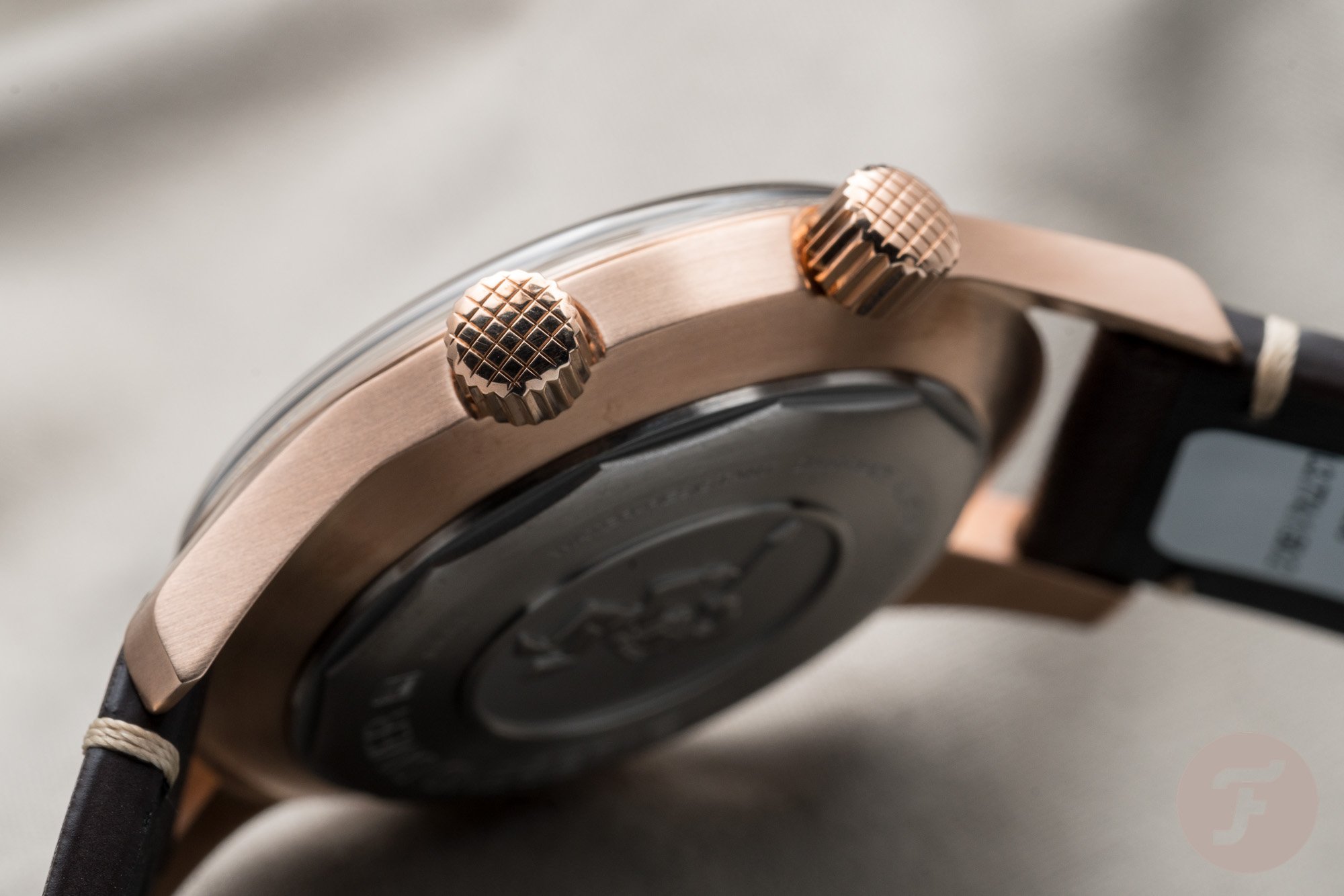 Strap and buckle
Longines fitted a nice vintage looking brown leather strap to this watch, with a tang type buckle. The watch is water-resistant to 300 meters, but if you want to actually use it in the water, make sure to replace the leather strap with something else. Rubber or NATO would do the trick.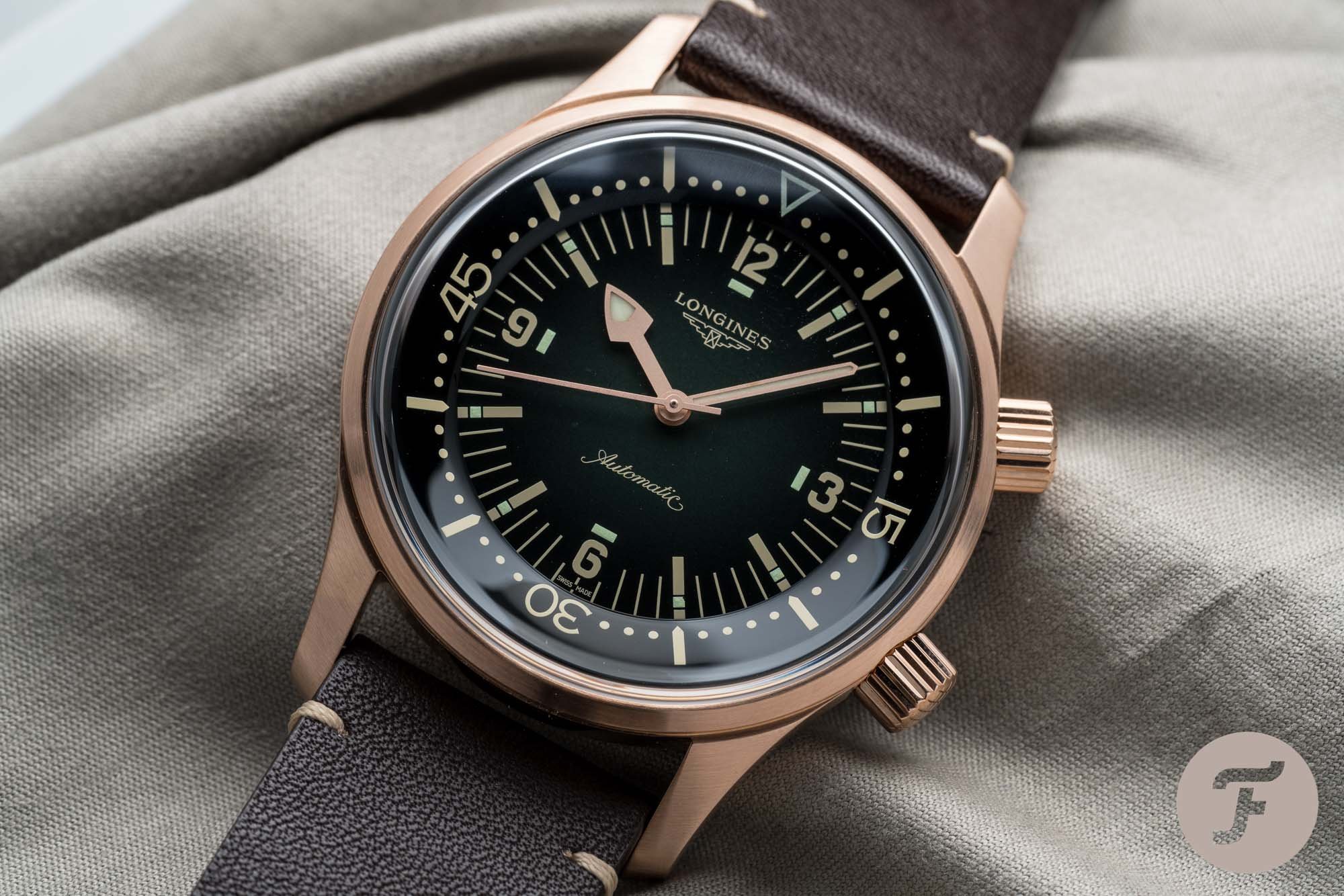 Legend Diver availability and price
On the Longines website, depending on where you live, you can order the Legend Diver in bronze with reference L3.774.1.50.2 directly, for €2,800 (including VAT). If not, visit your (local) Longines dealer. Longines came a long way since 2007 with their Legend Diver models, and I am happy that they found a way to come up with new variations without harming the model as such. In fact, this might be my favorite variation, besides the discontinued no date Legend Diver. This version of The Longines Legend Diver watch benefits from a five-year warranty.
More information via Longines online.