Look Ma, No Hands! — Digital Grails From Girard-Perregaux, MB&F, Urwerk, Chanel, And Hamilton
Digital cool is a lot more than Casio...
You don't need pointing hands or hundreds of tiny gears to show off your horological street cred. This summer, your wristwear flex can play it by numbers and still lap up the compliments. If your impression of digital wristwear is based on Casio and Timex, prepare to have your mind boggled by these digital grails. From slender, weird-angled LED displays to mechanical satellites, the future is yours for the taking.
Let's also make a point: digital watches are numeral-based time tellers with no traditional hands. Their displays can range from jump-hour windows to a dark future inhabited by the twisting, rotating satellites of an alien wrist-craft. Playing it by numbers has never been as cool as this year, whether you're a retro lover or a wrist futurist. In fact, digital watches can be traced back to the 1800s and had their heyday in the 1930s with watches like the delectable Cartier Tank à Guichets.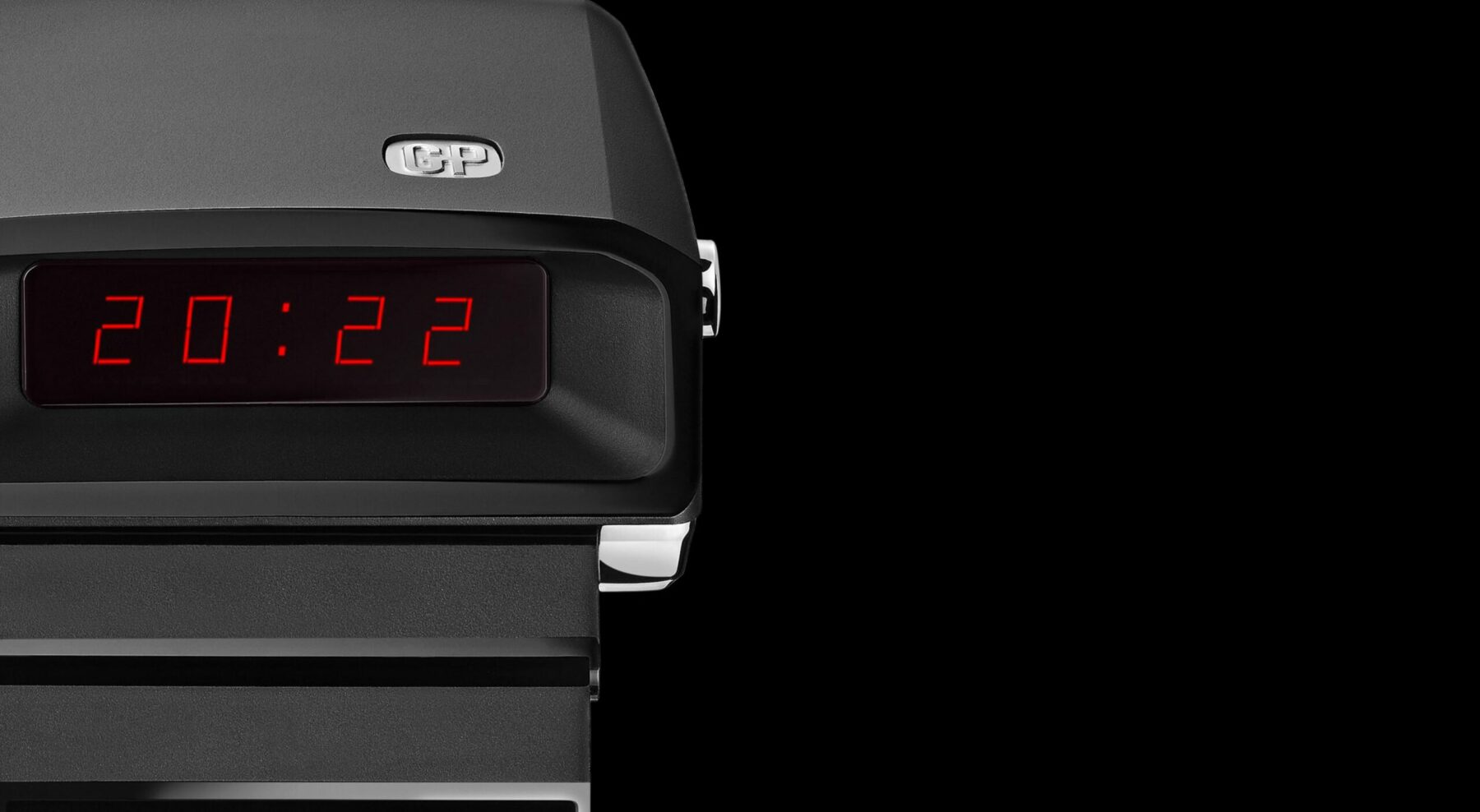 Girard-Perregaux Casquette 2.0
With the Girard-Perregaux Casquette, Darth Vader similies are inevitable (is that "The Imperial March" that I hear?). The first Casquette, produced from 1976 to 1978, was one of the original species of LED-powered, future-gazing timepieces. This ceramic and Grade 5 titanium Casquette 2.0 was revived from its decades-long slumber, presumably aboard the Death Star, and offers a wrist presence like no other. The caliber GP3980 preserves battery life by only showing the time, day, and date when the right-side titanium pusher is prompted. This movement also provides the month, year, an additional time zone, a chronograph, and a secret date. That final Easter egg function allows wearers to bookmark an important date, month, and year and display it at a time of their choosing.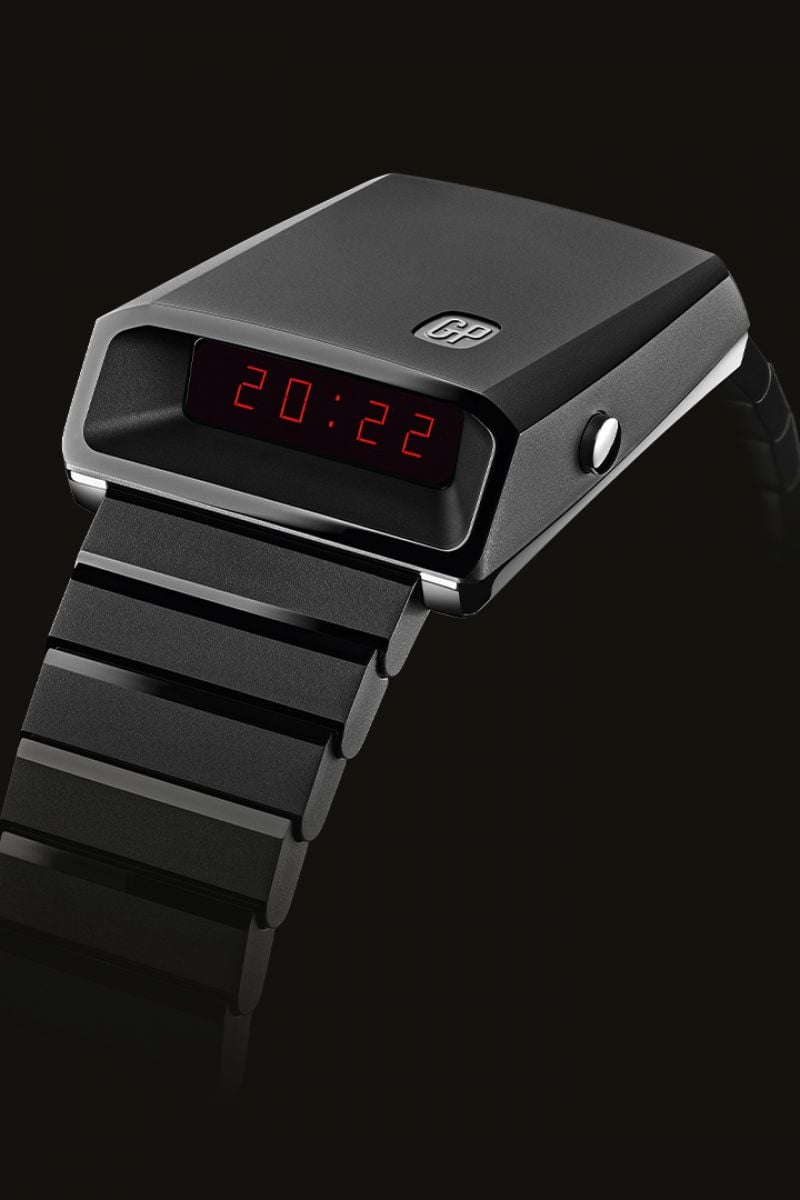 With its unapologetic stealth, the geek grail of the '70s hugs you like an alien armadillo with glowing eyes inside its shell-like head. This is sci-fi made real, and I applaud Girard-Perregaux for reissuing such a quirky timepiece. Like any of the brand's more well-known Laureatos, it remains Swiss and handcrafted but with a look like no other watch and a vintage LED display. Its wearer-only angle is akin to a driver's watch, or should that be piloting an alien craft? The Casquette wears like nothing else, and it's a digital, ceramic 107g grail for a decent price. Unfortunately, it has sold out, but you'll find it on Chrono24 for right around its original €4,500 retail price.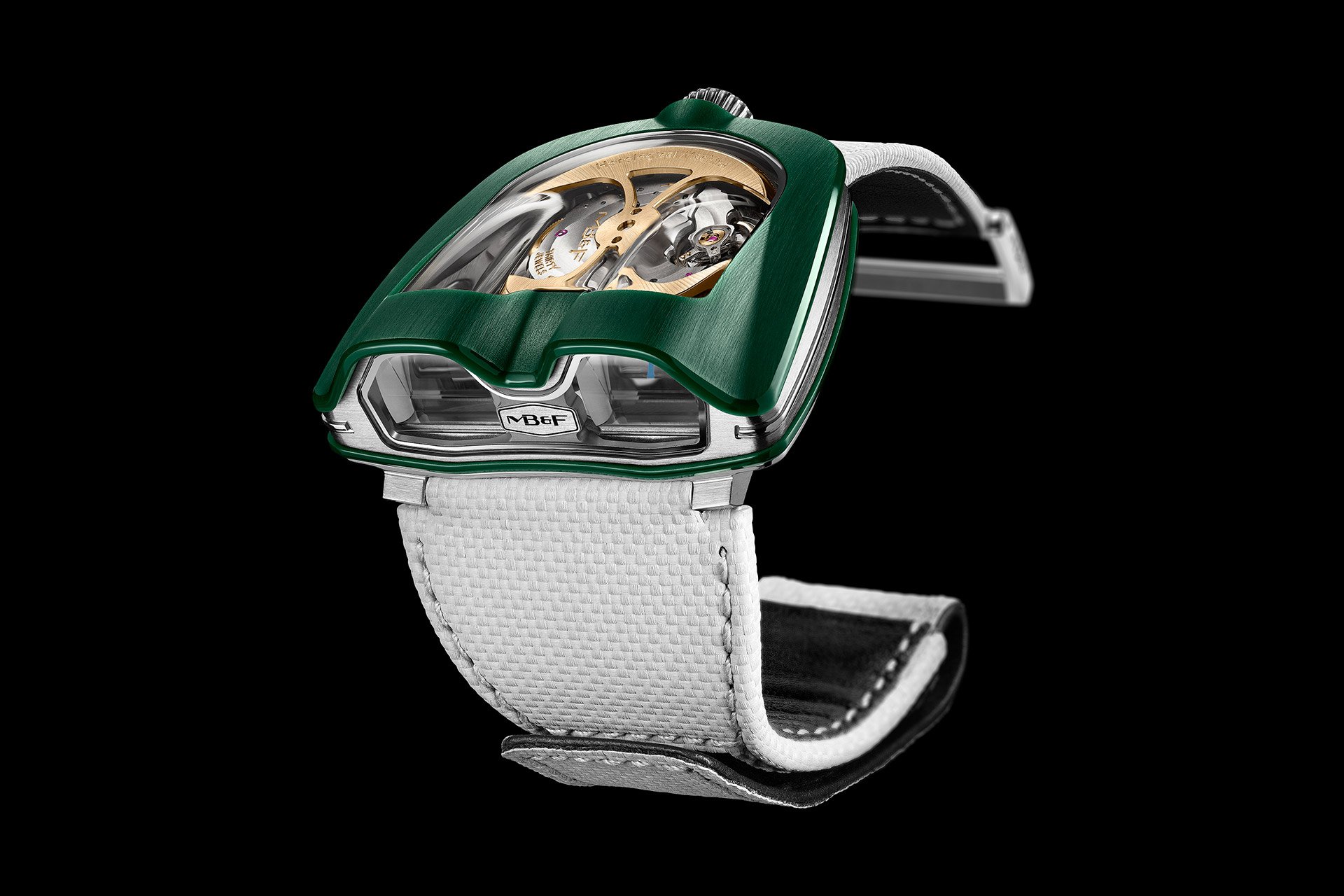 MB&F HM8 Mark 2
As a cutting-edge brand in the Swiss indie world, Max Büsser and his collaborators (F = friends) have an enigmatic image. And while I feel they have been leaning more on their Legacy series lately, they do some awesome versions on digi-cool. The smooth HM8 Mark 2 has all the traits of a mecha-digi grail, in a curvy body of CarbonMacrolon. Like the quirky Bulldog series, there is an emphasis on how far MB&F can stretch the boundaries of watchmaking, incorporating traditionally crafted details while looking like nothing else on the planet. But for many of us nodding in approval, there is the unmistakable MB&F allure but in a compact, wearable 47 × 41.5mm guise. Granted, at 19mm thick, it's not slim, but it's worth it for the showmanship of it all.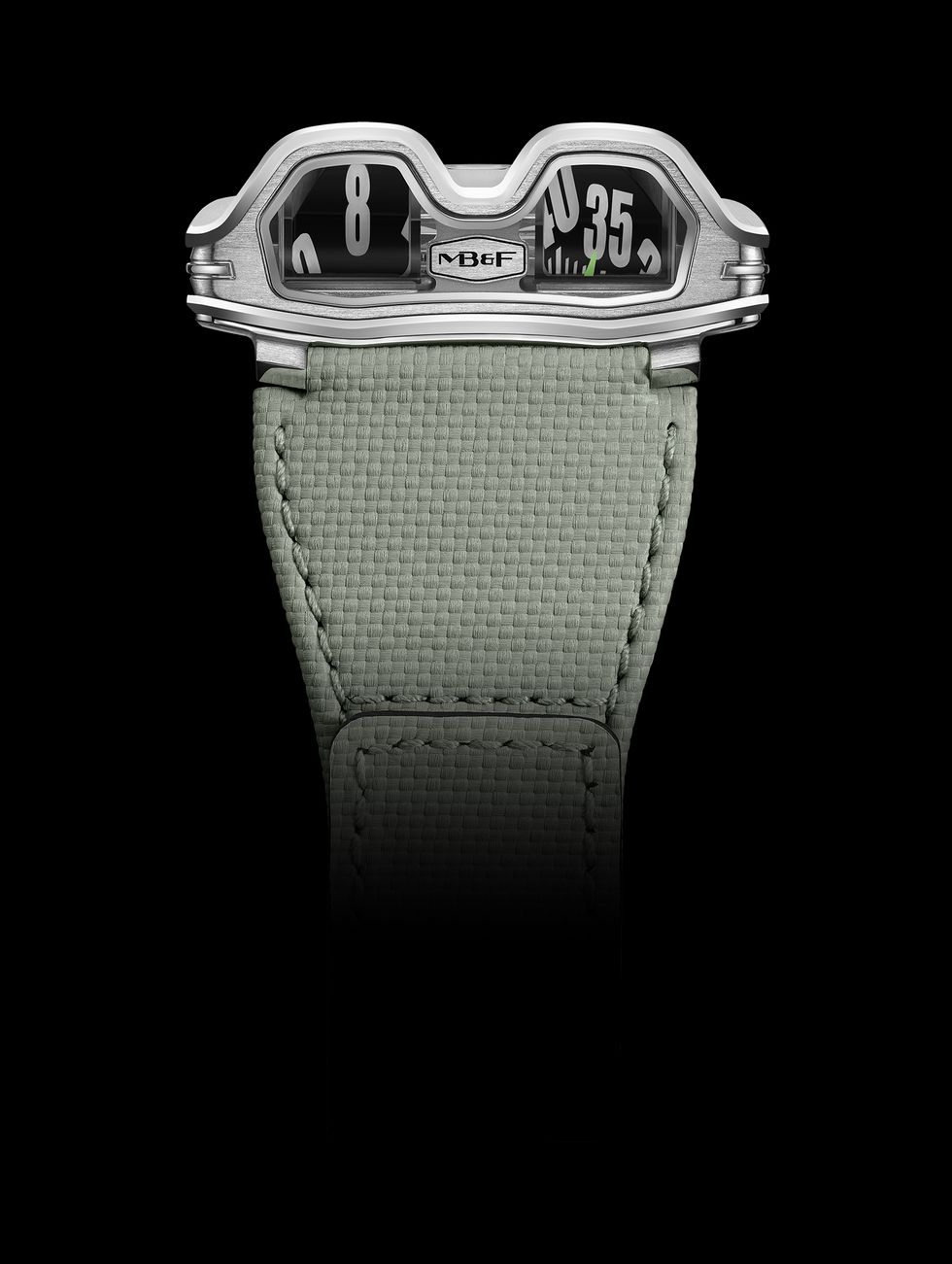 Compared to earlier works like the HM5, the body of the HM8 Mark 2 resembles a supercar or alien spacecraft, showcasing a complex, topsy-turvy architecture. On what would usually be the dial side, there is a window onto the kinetic fascination of the super-modified Girard-Perregaux base caliber. It boasts an MB&F-developed module with a jumping hour and trailing minutes, a 22K gold rotor, and an ingenious time display. The hour and minute discs rotate out of view, and their numbers are optically magnified through sapphire prisms and projected 90 degrees to the vertical display. That display is where the bottom lug on a normal watch would be, and it's at a similarly perfect angle for driving as the G-P Casquette. You can order the HM8 Mark 2 White Edition for CHF 73,000 on MB&F's website.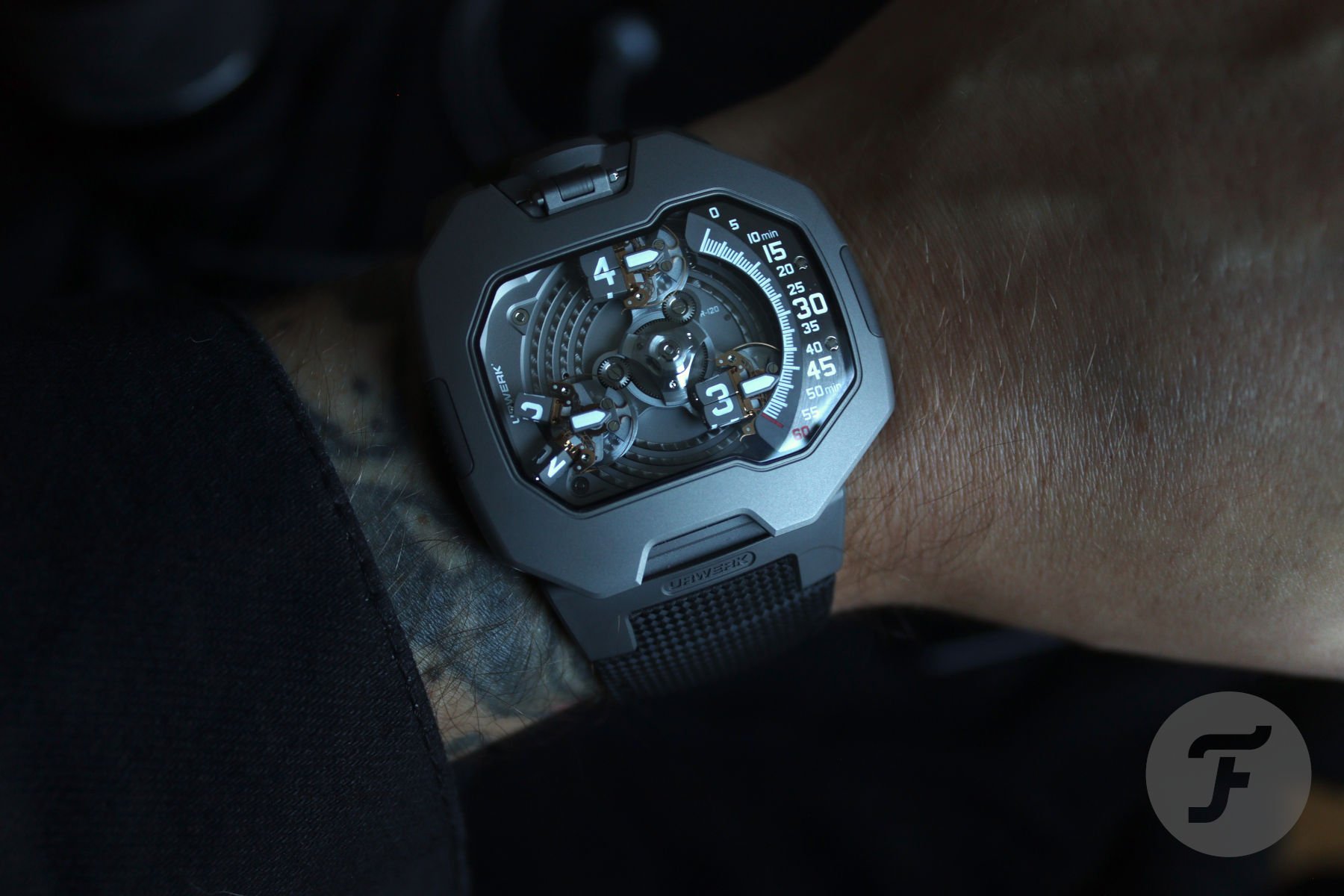 Urwerk UR-120
As Haute Horlogerie goes, the UR-120 is unique. Felix Baumgartner and Martin Frei's Urwerk brand has eked out a specific niche of industrial chic. In a world where we're guilty of adoration for fauxtina and touches of mid-century glamour, the UR-120 shows watchmaking's future. It might seem large, but trying it on will make you recalibrate most of your watch-fascinated senses. With the UR-120's mind-boggling digital display of mechanical twisting, rotating satellites, it is impossible not to get wildly distracted from even the most important of daily tasks. For a deeper dive into my intense fascination with this beast, read my full story here. It might seem overpoweringly complex, even bewildering at first. But to be fair, this alien spacecraft for the wrist is surprisingly legible. This glimpse into the future with high-tech, dark mastery of micro-mechanics is a "bargain" at CHF 110,000.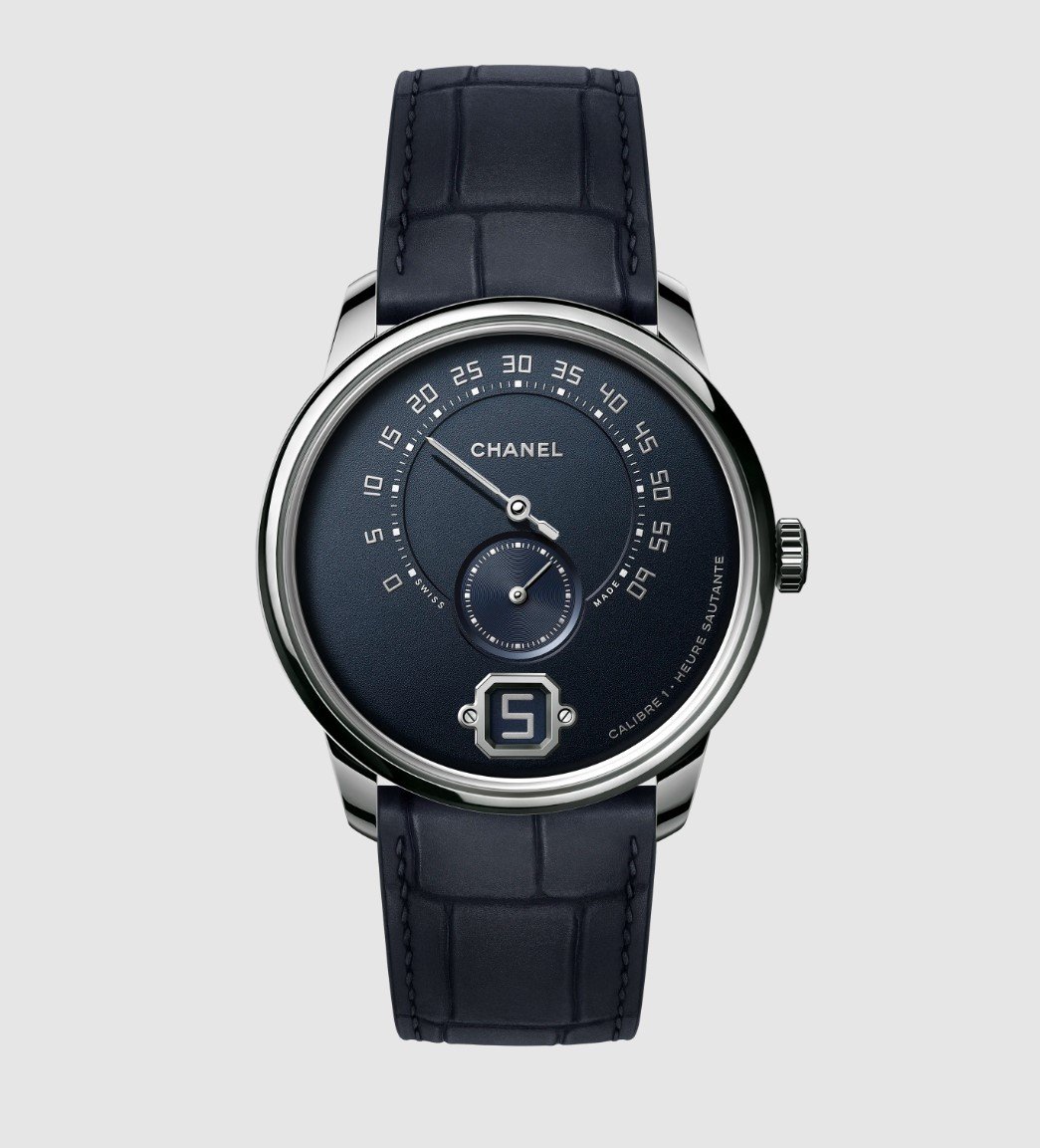 Chanel Monsieur Blue Edition
OK, this isn't strictly a digital watch as there are two hands on this dial too. Yes, I'm taking some liberty here, but there is a scholarly purpose. The first digital watches were jump-hour watches like this deeply desirable Chanel Monsieur. And although this is more like a jump-hour regulator with its minute and seconds sub-dials, that framed window at 6 o'clock indicates history. The most famous jump-hour watches, such as the nugget-like Cartier Tank à Guichets, showed the hours through an aperture, more like a date window today. And so does this blue-dialed grail in understated white gold, in which an indigo disc with 12-hour numerals revolves, proclaiming the hour. Chanel might still have the fashion-brand associations, but for me, the Monsieur Blue Edition is a real contender for €44,000.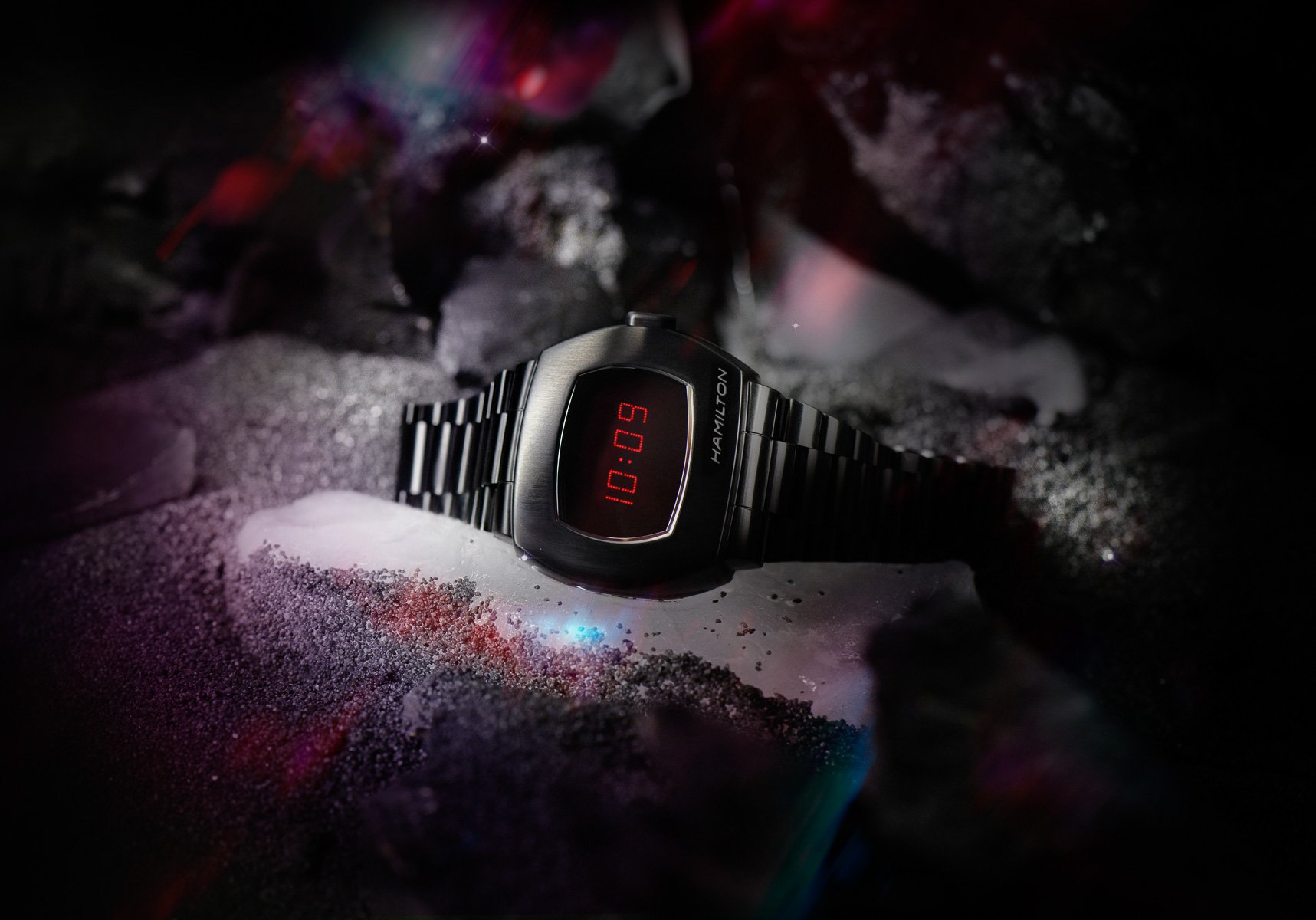 Hamilton American Classic PSR
A grail at less than €1K? For collectors of affordable watches, €1,000 can make a mini-grail, it also bookends this story nicely. You might associate digital wristwear with big Japanese brands like Casio, but the first taste of glowing sci-fi numerals came from the US of A with the Hamilton Pulsar. The fabled watch was once powered by the glow of energy-zapping LEDs. Today, a hybrid LCD-OLED display makes the magic happen. This now-Swiss chunk of steel will make you an extra in a retro sci-fi movie and is a weighty piece of vintage-feeling tech. I'd be tempted to get the black PVD version, which maintains a stealthy presence until you fire up the hybrid display. But you can take your pick from €845 to €1,095 on Hamilton's website. If you enjoy the hunt, search Chrono24 for the rather tempting gold PVD version.
So how about it, Fratelli? Did I manage to twist your perceptions of "digital" as a term, or are you already eyeing up the Urwerk UR-120 as an end-game watch? Let me know in the comments.