Auction Report: A Vintage Omega PloProf In Titanium, A Patek Philippe 1518, A Cartier Tank À Guichets, And More Important Watches
Our November 2021 Geneva Auctions Preview
Thank you for tuning in to the Fratello Auction Report. As some of you may know, auctions have continued to boast strong results this year. This coming after a surprisingly bullish run in 2020 amidst pandemic issues that reshaped the landscape of the watch business. World record prices have been set by online buyers, watch dealer trade shows have transformed into WhatsApp groups, Baselworld is pretty much dead, and modern/new watches have taken a firm position at the forefront of dazzling record auction prices.
Since most buyers are more comfortable pulling the trigger on a new or recent watch online versus a vintage watch, it can, in part, explain why watches from the 1990s to new ones among the top brands keep getting stronger prices. The trends keep deepening and it seems like the top brands like Rolex, Omega, Patek Philippe, Audemars Piguet, Cartier, and Richard Mille continue to strengthen. Additionally, a handful of the more niche or independent brands, the likes of FP Journe and Philippe Dufour, have also had a meteoric year.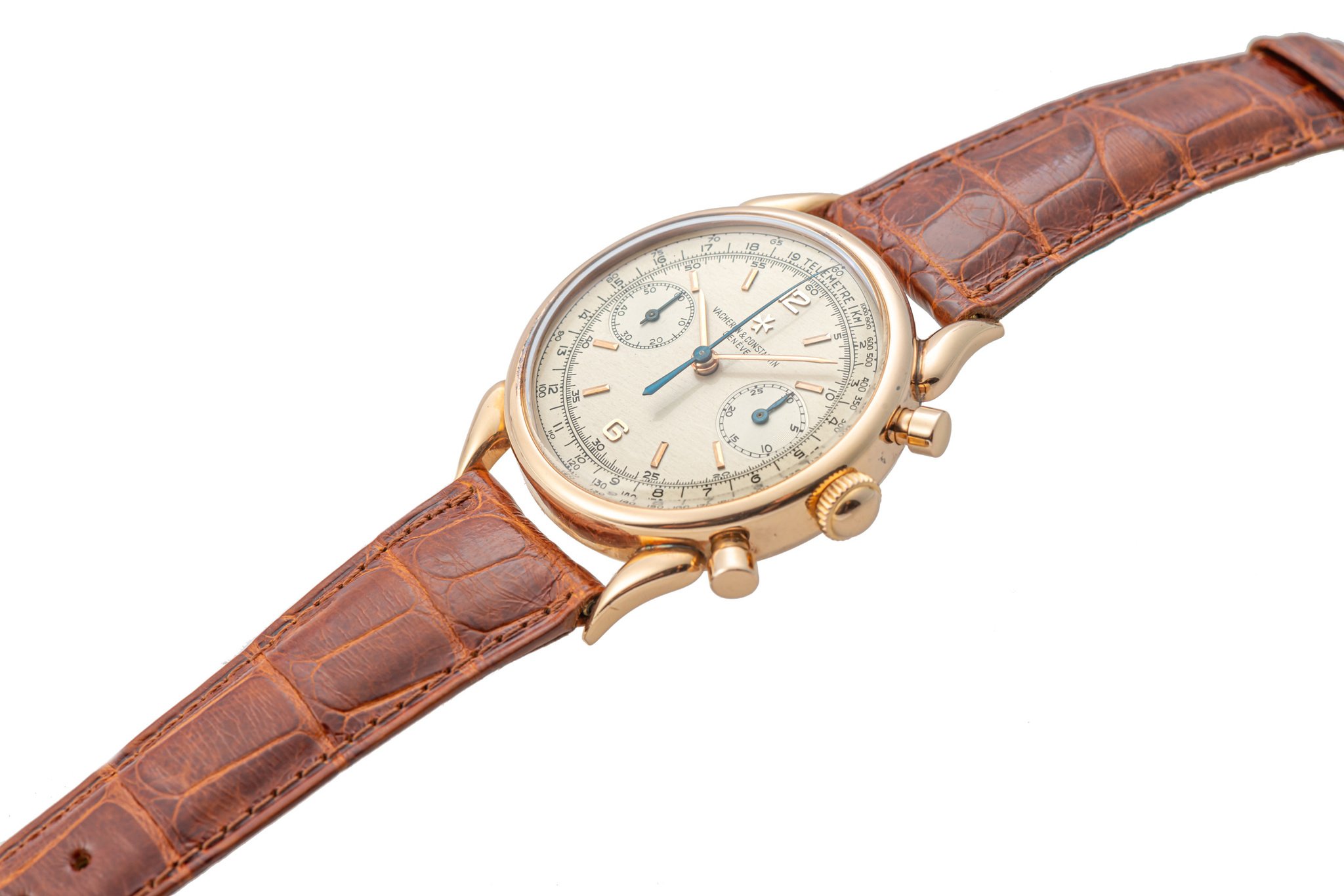 Auction Report: the Antiquorum Watch Auction Of November 2021
Now, back to the matter at hand: the upcoming Geneva watch auctions. Antiquorum, Phillips, Christie's, and Sotheby's usually pack a big punch twice a year (May & November) at their Geneva watch sales. Usually, over 1,000 watches hammer over the long weekend and although it's a lot to process, I always see this is the fashion week for watch geeks! This Antiquorum watch auction, which takes place over two days, will be held on Saturday, November 6th, and Sunday the 7th in Geneva. It is comprised of 563 lots and has a total estimated value of about CHF 8.5 million at the low estimate. It would be reasonable to assume they will reach their target of CHF 10 million+ all-in.
The catalog is one of the most interesting I have seen from them in a while. It has many highlights, and this is due, in part, thanks to a large collection of 147 watches consigned from the succession of a long-time and avid Swiss collector. There are so many interesting watches for all budgets and tastes that I personally tend to be more active at this auction versus others. I still put in the work and inspect every watch diligently bringing the CSI kit with me. Before that, I look through the catalog and pick some watches I find interesting to research and share with you.
For the full catalog of the upcoming Antiquorum Geneva auction, you can click directly here.
So, with all that in mind, here are the lots I chose to talk about and, coincidentally, every watch I chose has something special about or on the back, not just the front: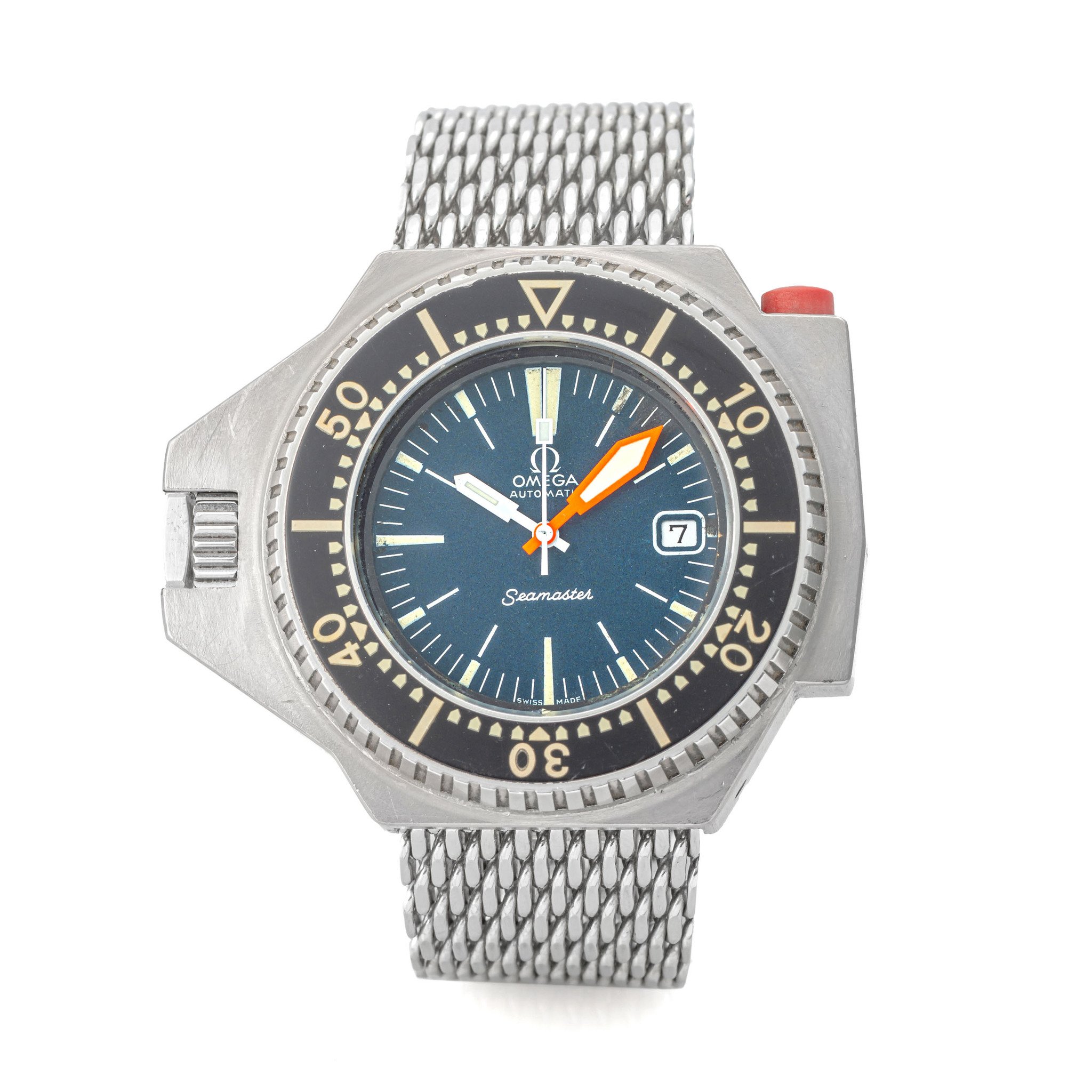 LOT # 31 Omega Seamaster 'Ploprof' with a Titanium Prototype case
Let's get through the gritty of it first… this watch was put together…there, I said it. It was first sold at Christie's auction in May 2005 for CHF 26,400 and already was accompanied by a letter from Marco Richon, the then head of the Omega Museum. Omega today can't delve into this piece as a whole watch because this movement was not born in the case and it is safe to assume the early MK0 dial with Seamaster only and no depth rating was added for effect (even if it is worth good money on its own). Regardless, the idea of a titanium case in the late 60's was pretty much science fiction. This was a material that was not commonly being used in watchmaking, but rather space exploration.
It was more expensive to craft than gold. Omega did make the original Alaska Project Speedmaster in titanium. So, the technology existed, but it was probably not commercially viable yet. Although it was launched publicly in 1971, the Omega Seamaster 600 'Ploprof' case was patented back in 1967. It was developed and tested along with the Seamaster 1000 through the feedback of COMEX divers and their submersible projects. COMEX stands for Companie Maritime d'Expertises, a famous deep diving and research company based in Marseilles, France. The nickname Ploprof for this watch model is also French and is short for plongeur professionnel, which means professional diver.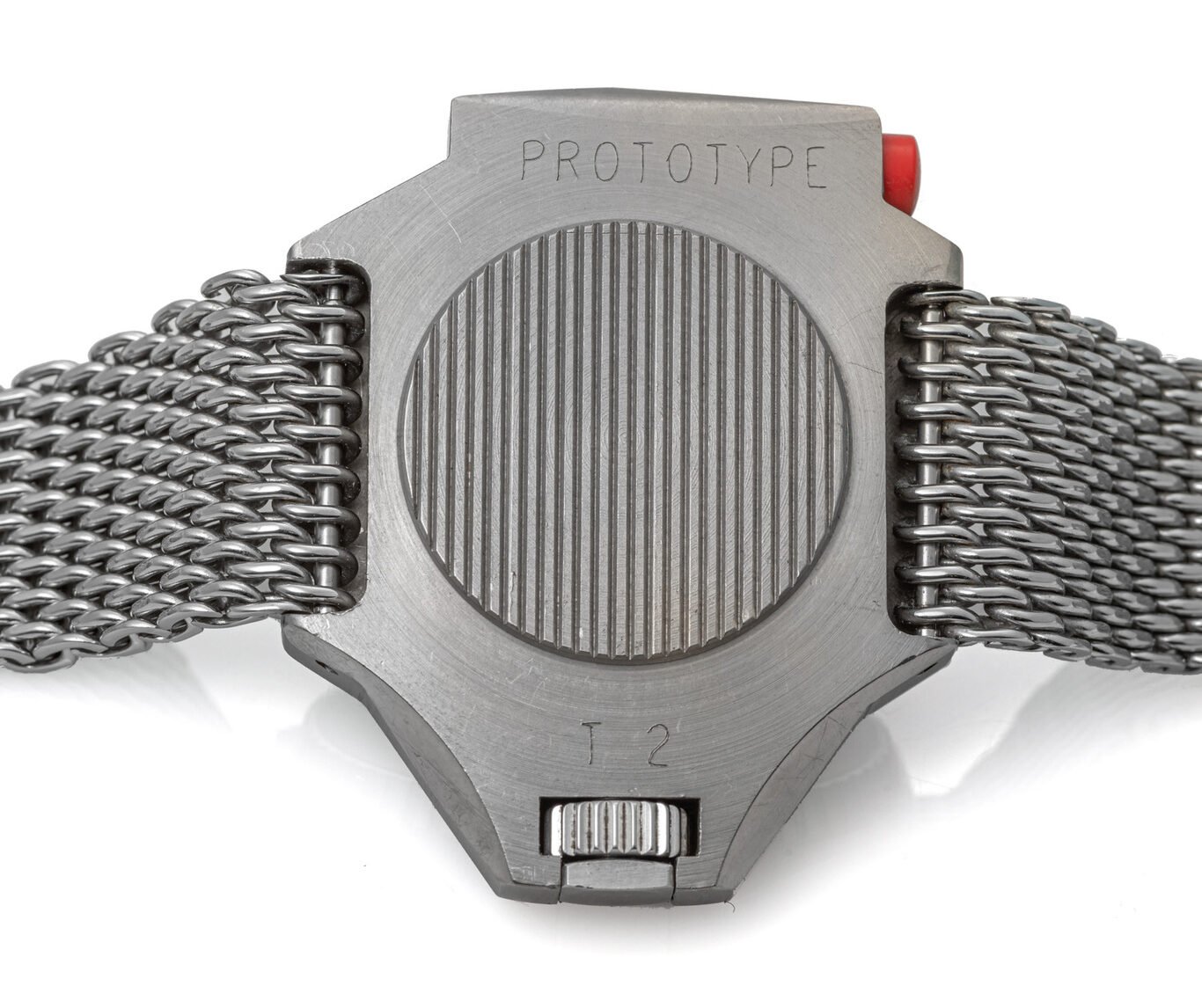 A mysterious past
This watch looks like the definition of what a tool watch from the late '60s or early '70s should look like. Personally, I find the design rough, unrefined, bulky, impractical, difficult to operate… basically, I love it.
And speaking of heavy, as far as I can remember, the legend of a small batch of prototype Ploprof titanium cases has been speculated on, debated, argued, debunked, and undebunked. Today, we finally see one at auction! We also got some insight from the Omega Museum and Antiquorum did some serious investigating too.
There is a mysterious 'T2' engraving on the case, and we would speculate, taking into consideration an old letter from Omega about this piece, that it most likely and logically stands for Titanium Grade 2. Grade 2 Titanium is a pure alpha titanium (whatever that means) and is the most widely used titanium alloy in all product forms for industrial service because of its moderate strength, excellent corrosion resistance, and formability.
Antiquorum sourced a regular steel Ploprof for comparison's sake and took it apart and weighed the case, which came in at a whopping 85.4 grams. Then, they took the titanium prototype apart and weighed that case alone and it weighs about half the steel at 48.1 grams.
The inside of the Titanium case does not have the usual branding or any markings mentioning the titanium. It is safe to assume that Omega made these cases as prototypes for testing use. This is probably why the Museum has no record of any watch movement being fitted into these cases at the production level. Either way, it's an astounding piece of history and a humble estimate making it an exciting one to follow.
If you would like more information about this lot, you can find it here.
Estimate CHF 15,000–25,000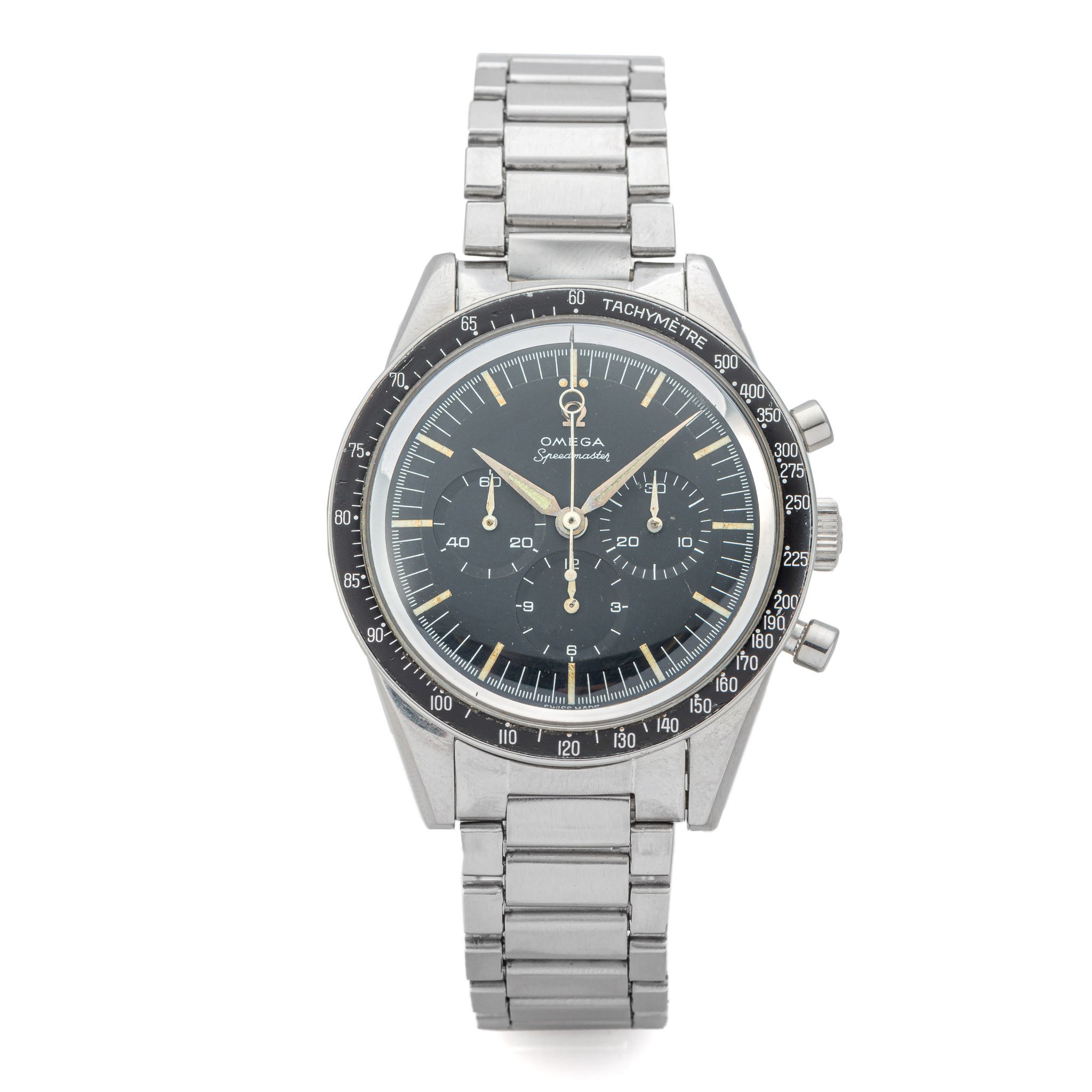 LOT # 33  Omega Speedmaster CK 2998-3 Fuerza Aerea del Peru (F.A.P.)
This particular CK 2998-3 with lollipop configuration was issued to the Peruvian Air Force (F.A.P. = Fuerza Aérea del Perú). My brother and I sold one a few years ago and I haven't seen one in this exact configuration since. There was a small batch of CK 2915-2 broad arrow delivered to the F.A.P. in the late 1950s and then in the early 60's different versions of CK 2998 as well. I've tracked a few different versions of the CK 2998 issued between CK 2998-3 until CK 2998-62, but not more than a handful of each reference has appeared. It is unclear how the military order was placed and why it was spread over several of these sub references. In any case, the rarest of these F.A.P. issued watches is the CK 2998-3 with lollipop chronograph hand, but they are all rare.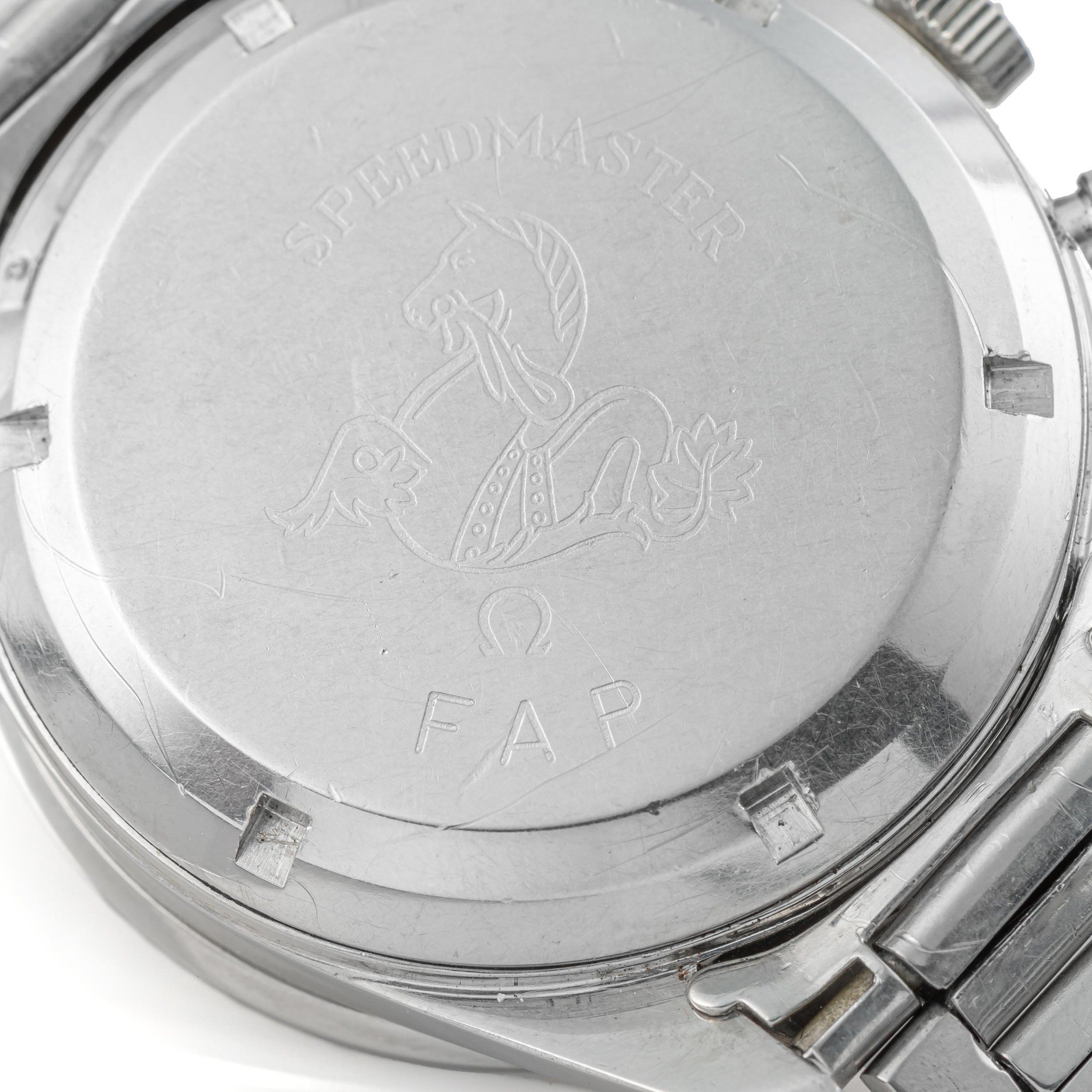 The condition isn't great. However, you see the estimate below is still very attractive (understatement) and we should be more open-minded for a military-issued watch.
For more information about this lot, you can find it here.
Estimate CHF 4,000–6,000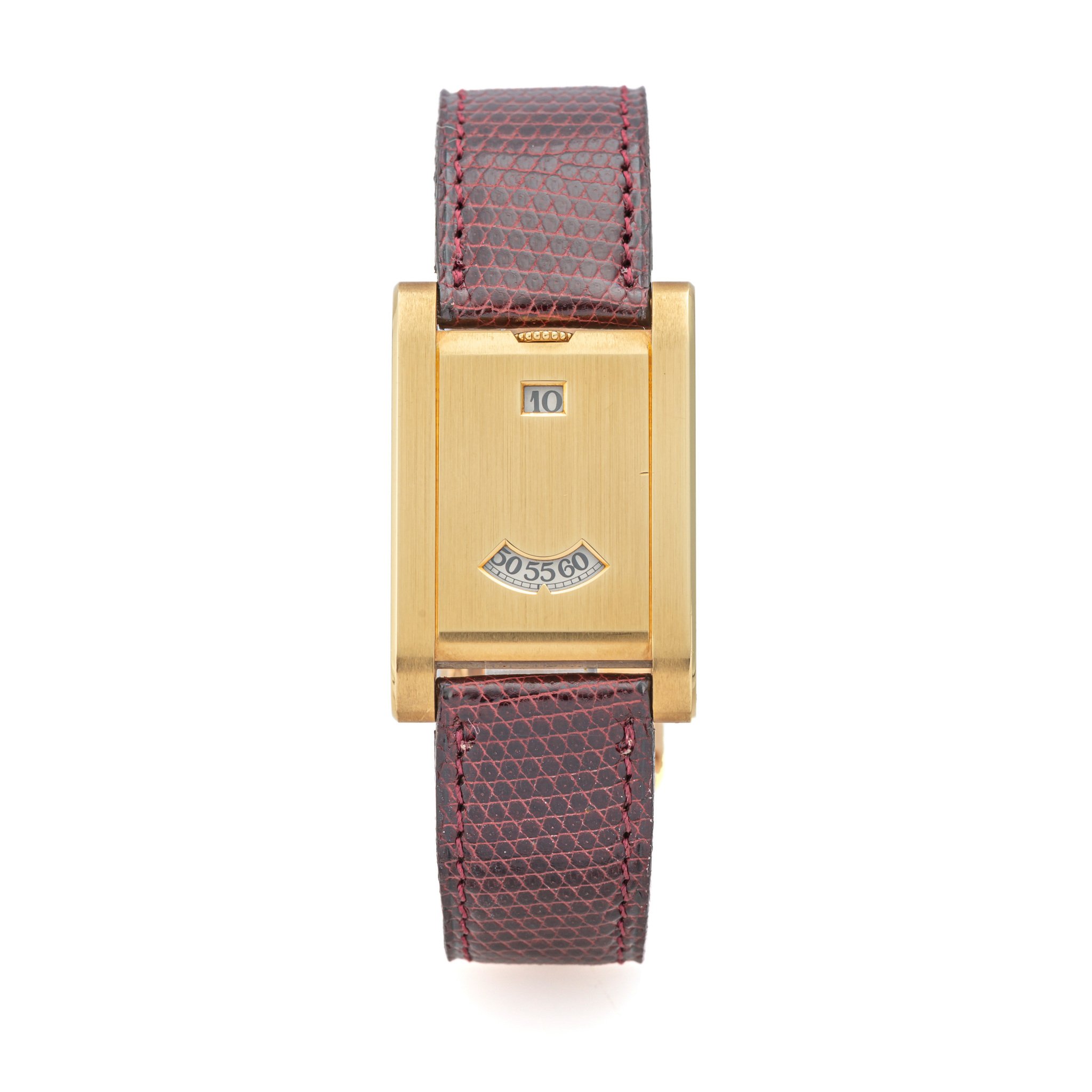 LOT # 59 Cartier Tank a Guichet, yellow gold, limited 1/3, 1996
Next up in the auction report is a lovely "digital" Cartier watch. The Cartier Tank à Guichet was launched in 1928 with its somewhat futuristic modern design. In spite of its modest size, the watch is eye-catching due to its unusual design and display. With its mostly closed front, its WWI tank design is even more apparent than other Cartier Tanks. Guichet is French and loosely translates to window display as applied here to the design of the apertures on the watch. These small windows display the time digitally, without the use of hands: the top window reveals a jumping hour and the bottom indicates the rotating minutes.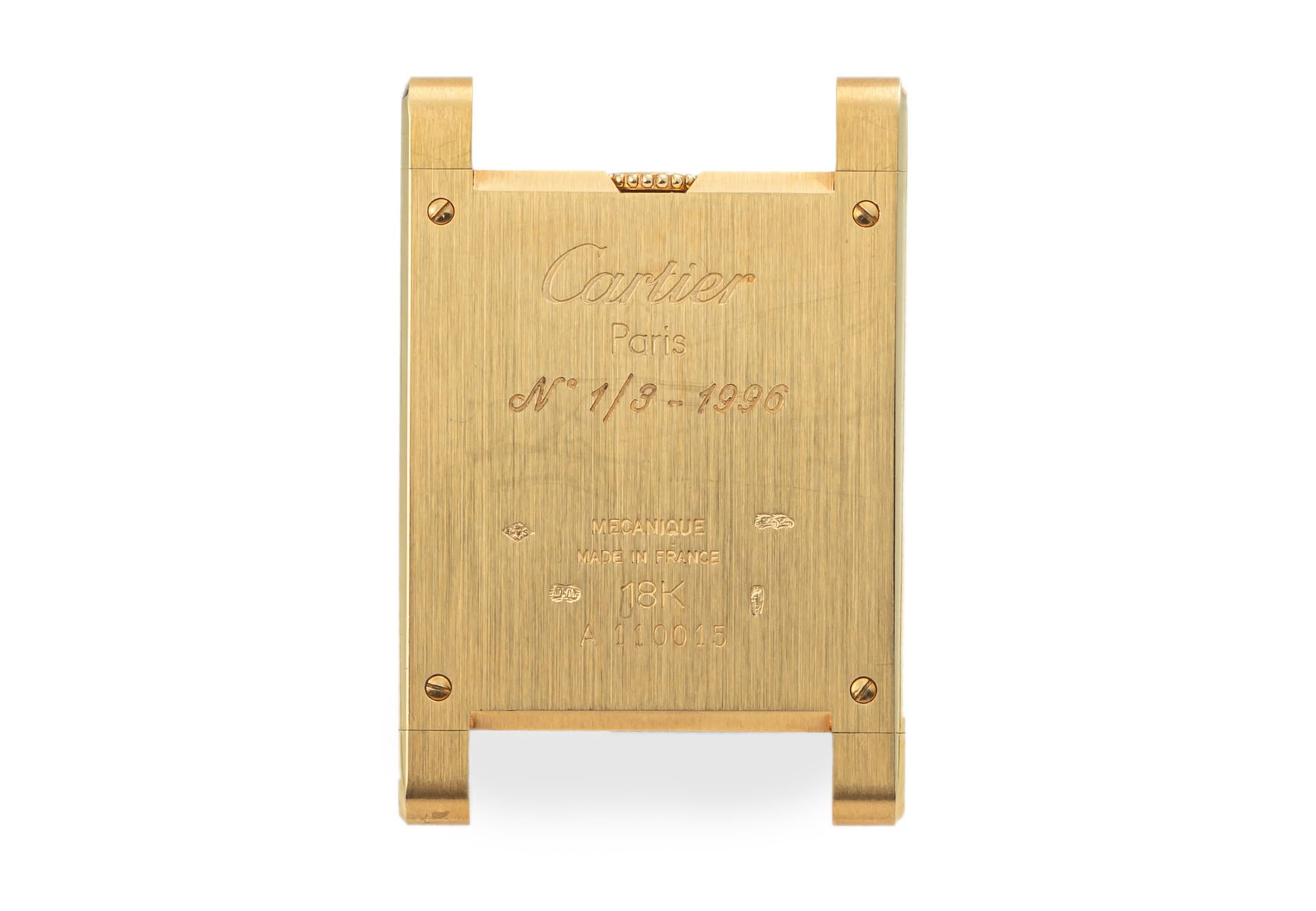 In 1996, three pieces in yellow gold were specially made for Antiquorum's thematic auction: Magical Art of Cartier. This is number one of those three pieces. Three pieces were also made in pink gold and another three in platinum. The yellow gold looks most like the original in my opinion.
The following year, in 1997, Cartier relaunched the model and again in 2005. However, both those later versions had the crown at 3 o'clock. Meanwhile, the original 1928 model and the 1996 limited editions had the crown integrated at 12 o'clock.
The number 3/3 of the same edition just sold at auction in Monaco in October of this year for €78,000 all-in (Estimated at €30,000–€60,000).
For more information about this lot, you can find it here.
Estimate CHF 20,000–40,000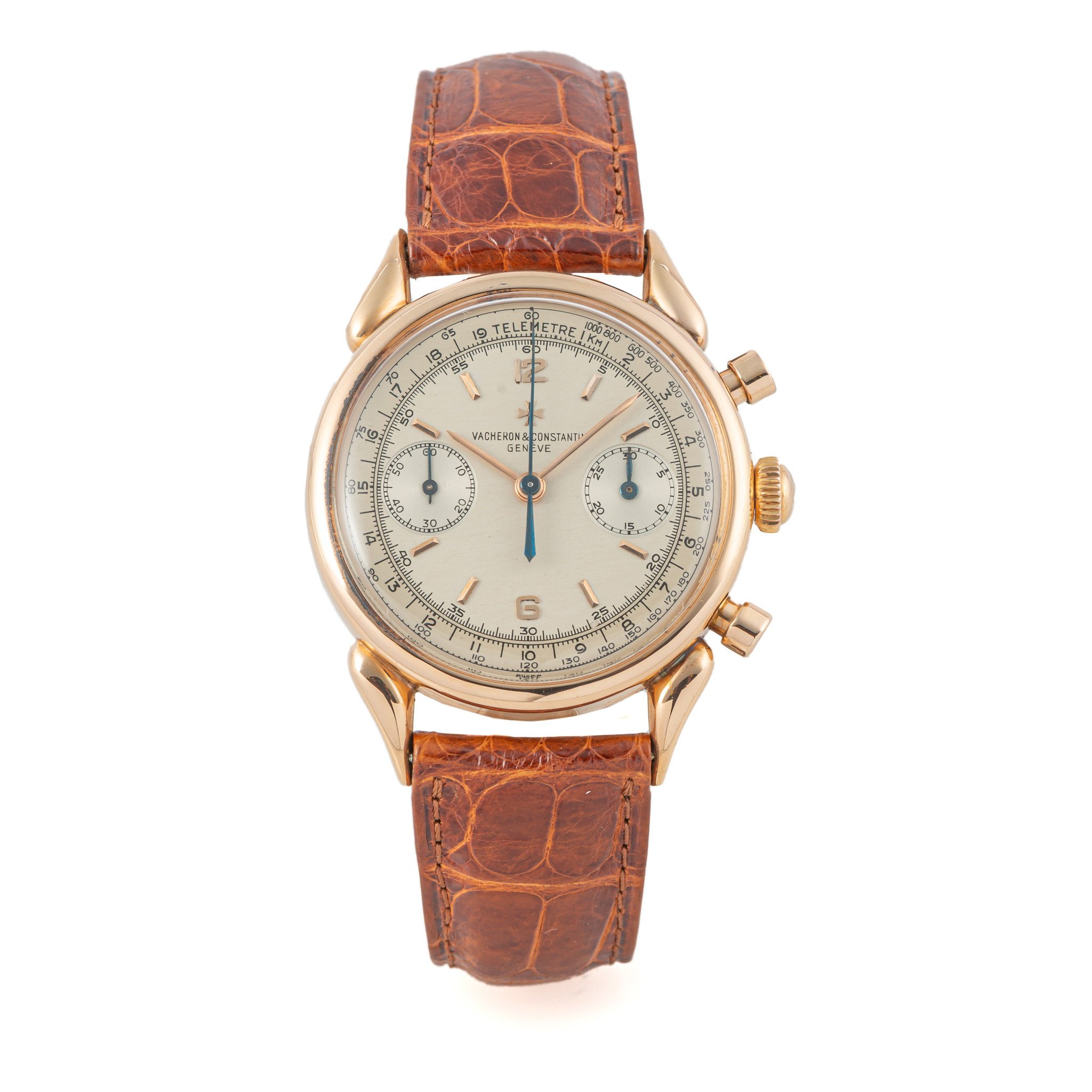 LOT # 91 Vacheron Constantin 6087 Cornes de Vache pink gold
This reference 6087 adorned with cornes de vache lugs (cornes de vache means cow horns in French) is a historically important manual-winding chronograph. It was the first water-resistant and anti-magnetic chronograph manufactured by Vacheron Constantin. A pretty impressive milestone for the brand and additionally marked by its striking design. This reference, although officially launched in 1955, was produced between 1954 and 1959. The brand re-released this design and dubbed it Historiques Cornes de Vache.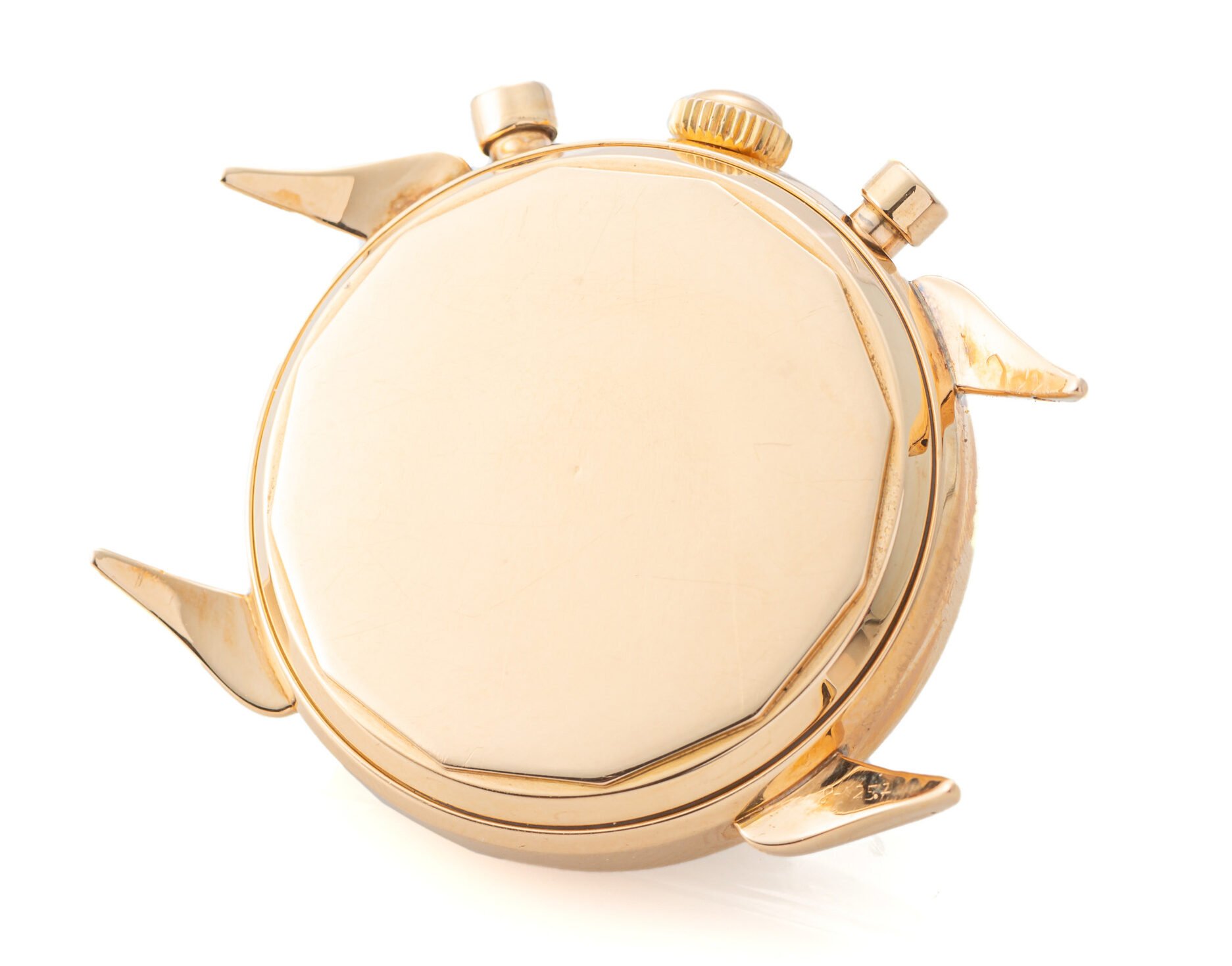 As popular and well known as this model is today, it is astounding that only 36 pieces were ever made in its brief 5-year history in the 1950s. Out of the 36 pieces, 26 pieces were made of yellow gold. Eight pieces in pink gold (like this one) and two pieces in platinum. At a humble 35mm, with the pronounced shape of its lugs and rich hue of the pink gold case, I was taken at back with how impressive this watch is on the wrist. It was the first watch that stood out to me to write about among the hundreds I scanned over.
For more information about this lot, you can find it here.
Estimate CHF 50,000–80,000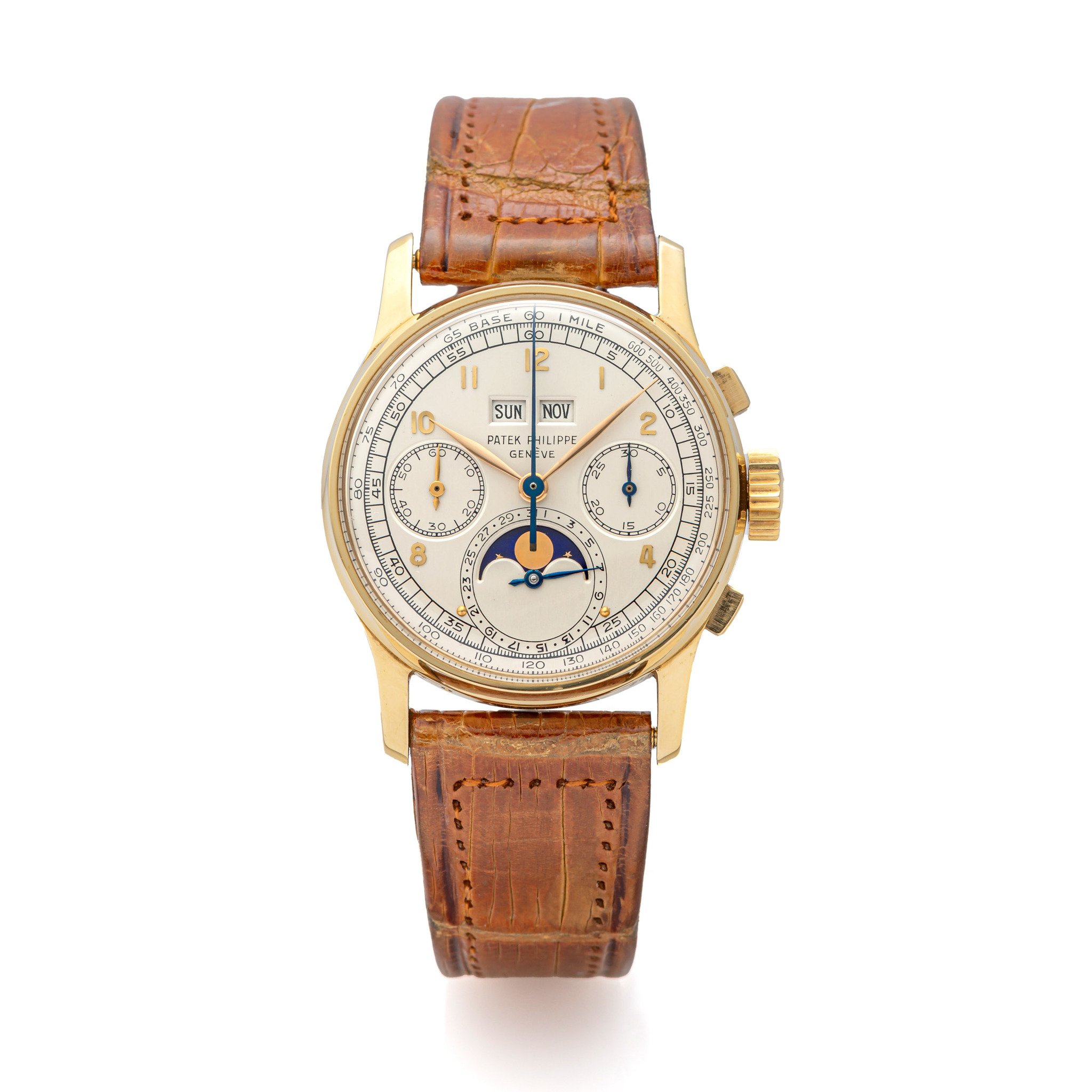 LOT # 144 Patek Philippe 1518 perpetual calendar chronograph
The reference 1518 is probably one of the most important, if not the most important, Patek Philippe reference and it is widely known to have revolutionized the high-end watchmaking industry. It is the first serially produced perpetual calendar chronograph wristwatch. Only 281 examples were made between 1941-1954 and mostly in yellow gold, while it is estimated about 55 were made in pink gold and 4 in stainless steel. One of the stainless steel examples set the record for a wristwatch at auction in 2016.
We seldom see fresh to market, meaning not having been offered publicly at auction before, examples at this point. But Antiquorum has not only one but two 'fresh to market' reference 1518's in this sale. I chose this example not only because of its excellent condition but the interesting history. A real highlight of our auction report.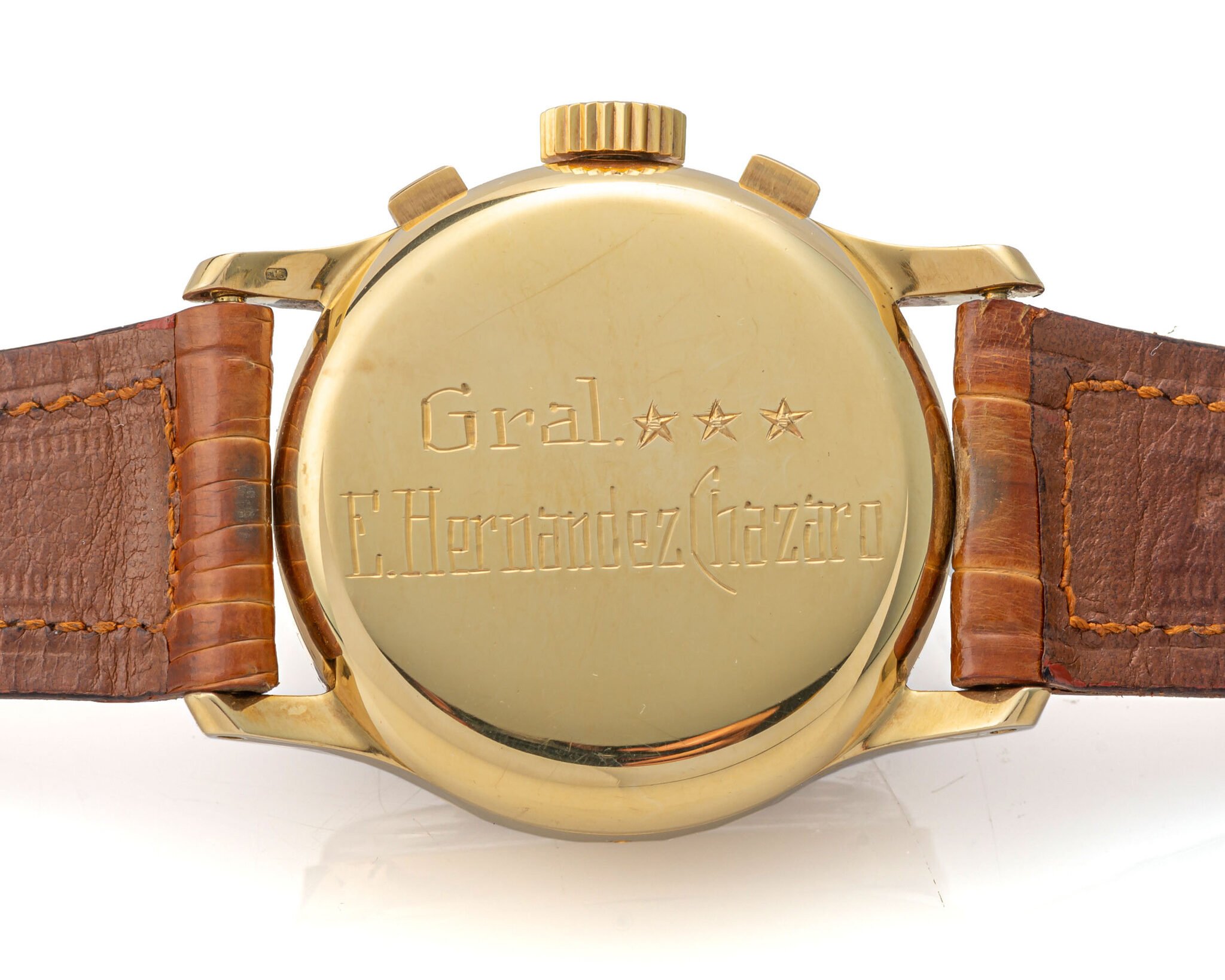 Military roots
Besides the condition of this watch, with crisp hallmarks and well-preserved dial, albeit lightly washed, there is also an interesting engraving on the back of the case: Gral. E. Hernandez Chazaro & 3 stars. This engraving corresponds to an important 3-star general, Eduardo Hernandez Chazaro, who served in the Mexican military with an important political career. This included being chief of staff under Pasqual Ortiz Rubio in the early 1930s. He was born in Tlacotalpan in 1898 and died in Mexico City in 1957. Time magazine featured an article about an earlier attempt on his life in April 1936. While traveling by train from Veracruz, where he was seeking the governor position, on its way to Mexico City.
The train track was bombed, but he survived the attack. The likely culprit was dictator Plutarco Elias Calles, an opponent in his bid for the governorship of Veracruz. According to Patek Philippe, it manufactured this watch in 1950 and sold it in 1952. So it stands to reason that he bought or received the watch when he was 54, five years before he died at 59. A truly interesting piece of history and watchmaking history as well. I am very much looking forward to following this one at auction.
For more information about this lot, you can find it here.
Estimate CHF 200,000–400,000
Which one is your favorite watch from this auction? The very rare titanium PloProf or rather have the rare Patek 1518? Let us know in the comments!