Making Sense Of The Genius Madness That Is The Louis Moinet Space Revolution Watch
The watch's creator Jean-Marie Schaller talks about it and we will show you some educational videos too
When we first saw the Louis Moinet Space Revolution watch for the first time a while back, most of us at Fratello thought the brand's driving force, Jean-Marie Schaller had lost his mind. We thought it was a stunning piece of Haute Horlogerie and a micromechanical marvel, but we also thought the man has lost his marbles. Earlier this year the Space Revolution watch got a well-deserved GPHG nomination. We got in touch with Jean-Marie to talk about the watch, further explain it, and reveal the origins and workings of what must be one of the most original complications out there. But to be honest, the videos explain more than a thousand words.
For Jean-Marie Schaller, it's all about the spirit of creation. And he sure likes his tourbillons. "A tourbillon is a visual wonder," Jean-Marie says. "It's the most striking and dynamic complication, although strictly speaking it's not a complication of course. At Louis Moinet we have two pillars: Mechanical Wonders and Cosmic Art. And the Space Revolution is based on both. I want to be innovative, push limits. Just like Louis Moinet did. He invented the chronograph, remember? And what I wanted to do with the Space Revolution is to create the wildest show possible on the wrist." He could have done just that.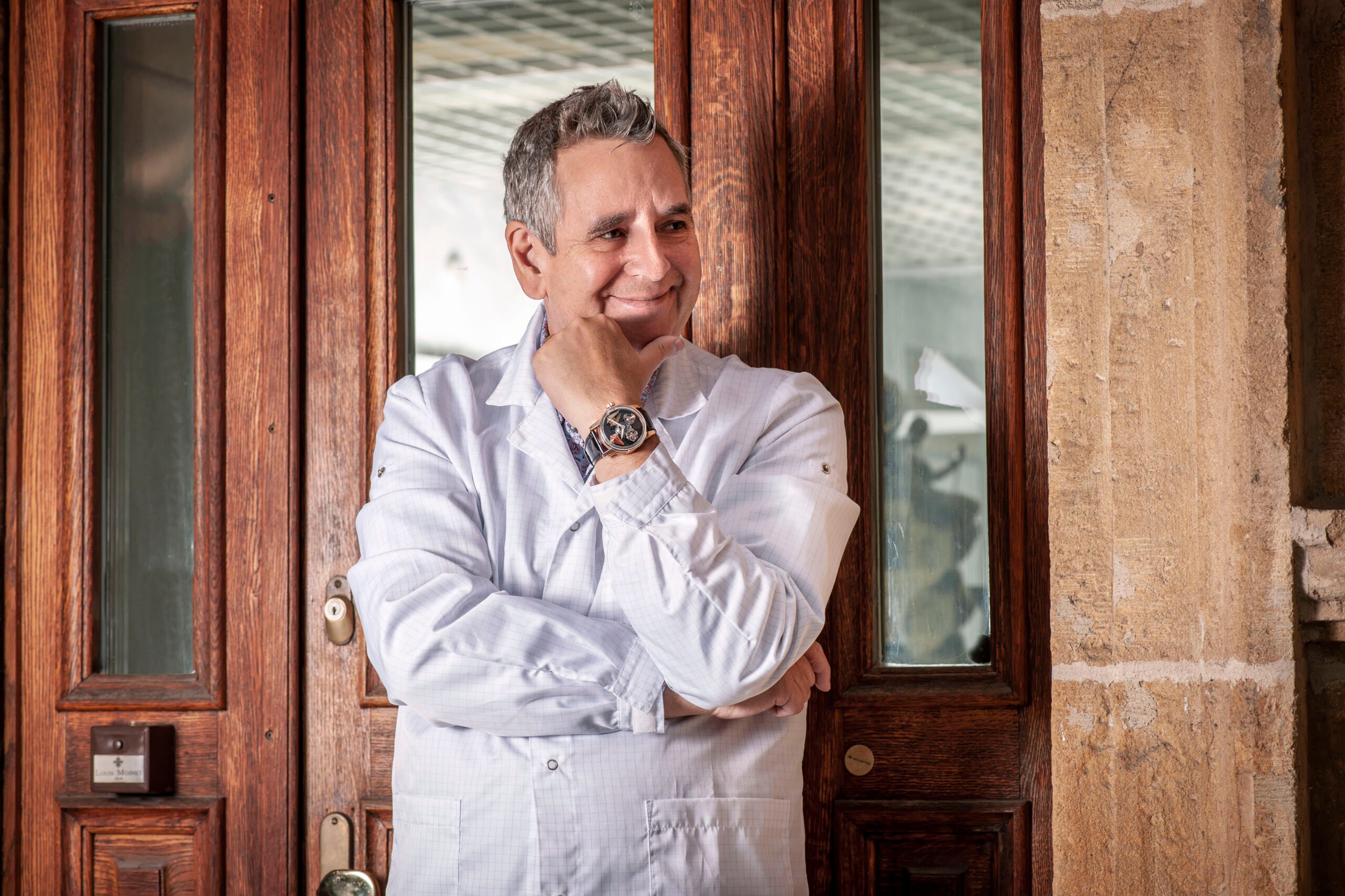 The idea behind the Louis Moinet Space Revolution watch
In the creation of the Space Revolution, science fiction plays a big part. Not the obvious sci-fi, like Star Trek and Star Wars — although admittedly the ultra-light titanium Black Force and Red Force spaceships look like they could fly in either one of the franchises — but more the philosophical kind like the 1968-movie 2001: A Space Odyssey.
Schaller just wouldn't let go of his idea and pushed and persuaded, end inspired the people involved in the project …
But no matter how theoretically profound the Space Revolution is in essence, in the end, it's all about the execution, the hardware, the way it looks. Well, Schaller and his team certainly delivered. The spectacular mechanism required over three years of research. At first, it was deemed impossible to make, but Schaller just wouldn't let go of his idea and pushed, persuaded, and inspired the people involved in the project to make the Space Revolution come to life.
Watching spacecraft and satellites fly by
Let me help you understand what you see hurling above the galaxy-like aventurine dial. The Space Revolution debuts the horological construction of two satellite-like tourbillons whirling at high speed in opposite directions. The first one revolves around the dial every five minutes (clockwise), and the other every ten (counter-clockwise). Schaller wanted to create the greatest show on the wrist, and he succeeded.
The two tourbillons and space fighters cross paths 18 times per hour — that is every three minutes and twenty seconds.
You might expect things to circle slowly — it probably has to do with the conservative image we have of traditional Haute Horlogerie — but the Space Revolution is an action-packed tour de force. The two tourbillons and space fighters cross paths 18 times per hour — that is, every three minutes and twenty seconds. That's top-notch and non-stop live entertainment if you ask me. The geometrically shaped tourbillon cages each weigh only 0.24 grams; lightness is of the essence to reach light speed you see.
Commanding tourbillons in space
When you look past the whizzing spacecraft and satellites and focus on how it actually works, you might have found the large central pillar. The mechanism is hidden in the base of the chassis, with a height of just 3.75 mm, "commands" the tourbillons, spaceships, and hands. Having this central construction leaves a lot of space for the three-dimensional spectacle. The whole construction is carefully balanced too. The black and red lacquered spaceships are not just entertainment though, these 0.5-gram vessels serve a technical function by acting as a counterweight to the opposite tourbillon.
The Space Revolution is smooth as possible
The caliber LM104 is a machine that consists of 470 components. There are two barrels, each supplying energy to their own tourbillon. There are also two oscillators with a differential gear mechanism. And just like you would think with all the spinning going on, there are a lot of ball bearings in the Space Revolution. There are five ball bearings containing 7 minuscule ceramic balls, and one with 9 ceramic balls inside; 44 balls in total to make things run as smooth and "fuel-efficient" as possible. It won't come to you as a surprise that building the movement is time-consuming. And that's why it's restricted to one per month and the number of watches to just eight.
No matter how outer-worldly the Space Revolution is, you will still find a traditional winding crown on the watch. But to switch between winding and time-setting, you need to switch a selector placed on the case-back, while the crown stays in a fixed position.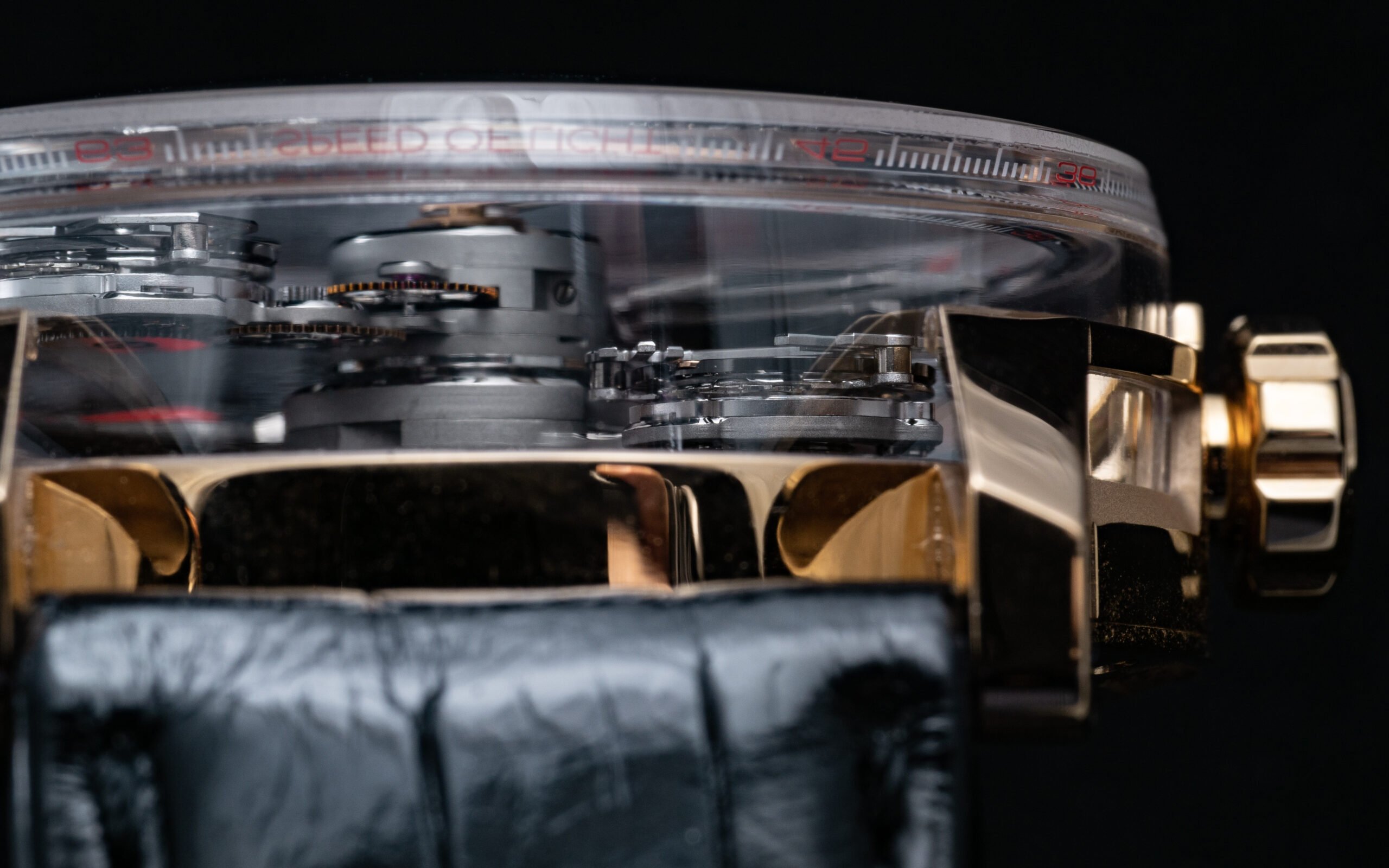 Full transparency
Surprisingly the Space Revolution is not an XL watch, the pink gold case with large box crystal's measurements are quite moderate. The rose gold base measures 43.5mm, at the top of the crystal the diameter is 41.6 mm and the height of the watch is 18.3mm. It's all about maximum transparency from all angles. And to make that happen, the case is a complex construction. A sapphire container is mounted on an 18K gold chassis. What you also see are open-worked lugs and case middle, plus a welded inner bezel ring. The result is not too big, not too heavy — the sapphire comes in at 9.33 grams and there are 60.11 grams of gold — and the perfect theater to watch on ongoing dogfight in space.
Louis Moinet Space Revolution Watch — the future of Haute Horlogerie?
With a sticker price of $380,000 the Louis Moinet Space Revolution watch is not a revolution in the sense that it brings Haute Horlogerie to the people. But it still does something else. It educates, pushes the world of horology forward, and makes people dream.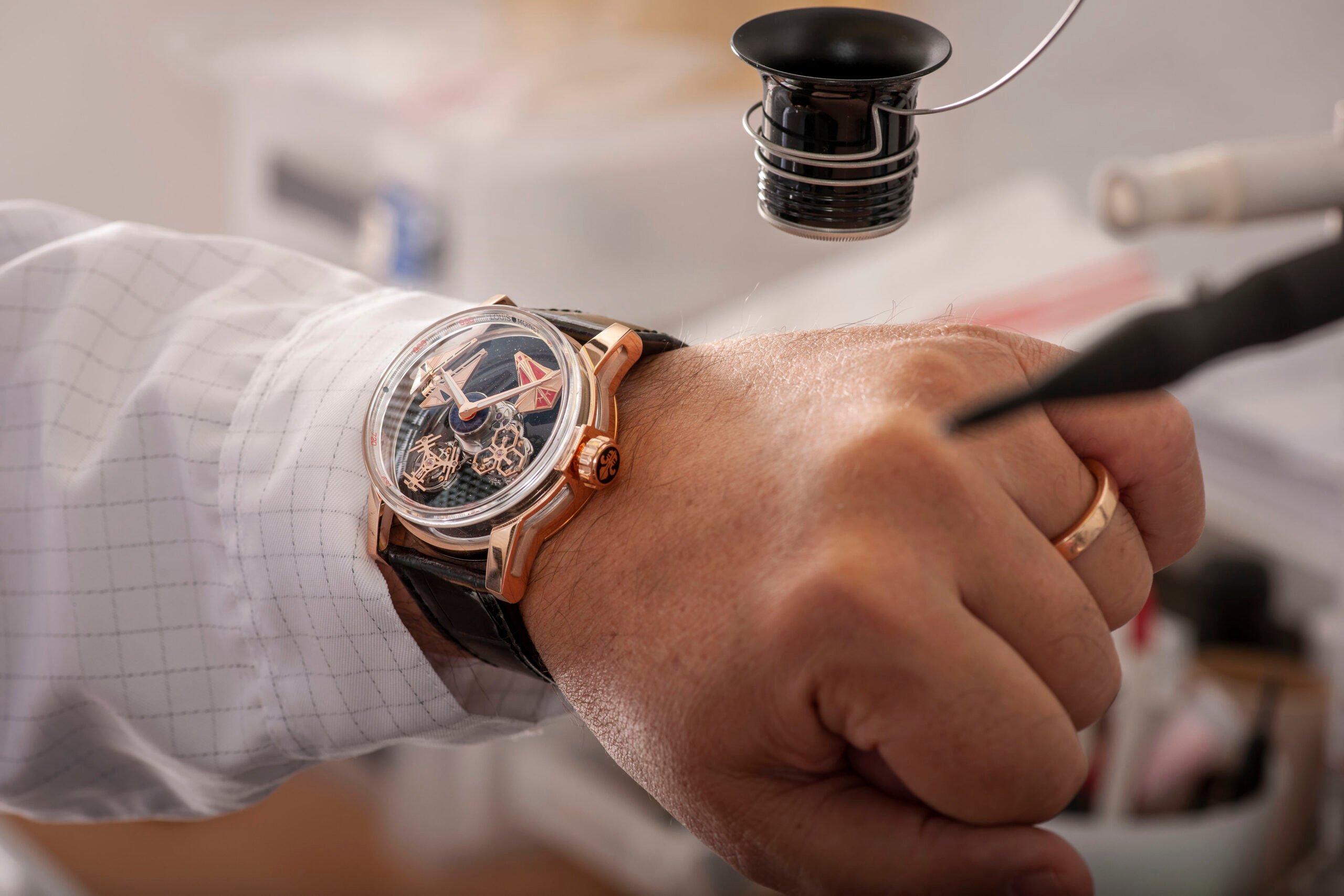 Allow me a comparison. When I was young I adored the De Tomaso Pantera GTS and had a poster of that brutal sports car above my bed. That car is the Louis Moinet Space Revolution. This watch is the kind of watch you dream of, lust after even, and broadens your horizon. With all due respect, I didn't have a poster of a Mercedes E-class diesel above my bed; that's the same as having a poster in your bedroom of a relatively affordable watch from any Swiss brand. You have to dream big and keep dreaming! Because it's fun. And the fact that just eight people in the whole world can actually make that dream come true is a fact of life. Deal with it. I know I can. Much like how I (still) don't have a De Tomaso Pantera GTS on my driveway, but I'm doing just fine.
Crossing boundaries: it's the way to go
And regarding pushing the world of watches to explore new boundaries. I wrote something on that subject a while back. In that article I wonder why everything is about vintage watches nowadays and recreated retro stuff, and the fascination for complications and experiments in style and complexity are valued less. It's brands like Louis Moinet and the kindred spirits I mentioned in my article, that follow in the footsteps of pioneering watchmakers of yesteryear. They bring a new élan that is both intoxicating and fascinating. These brands introduce new stuff that hasn't been done before. You just need to try a little harder to understand how it looks and works. I hope this article helped make that a bit clearer.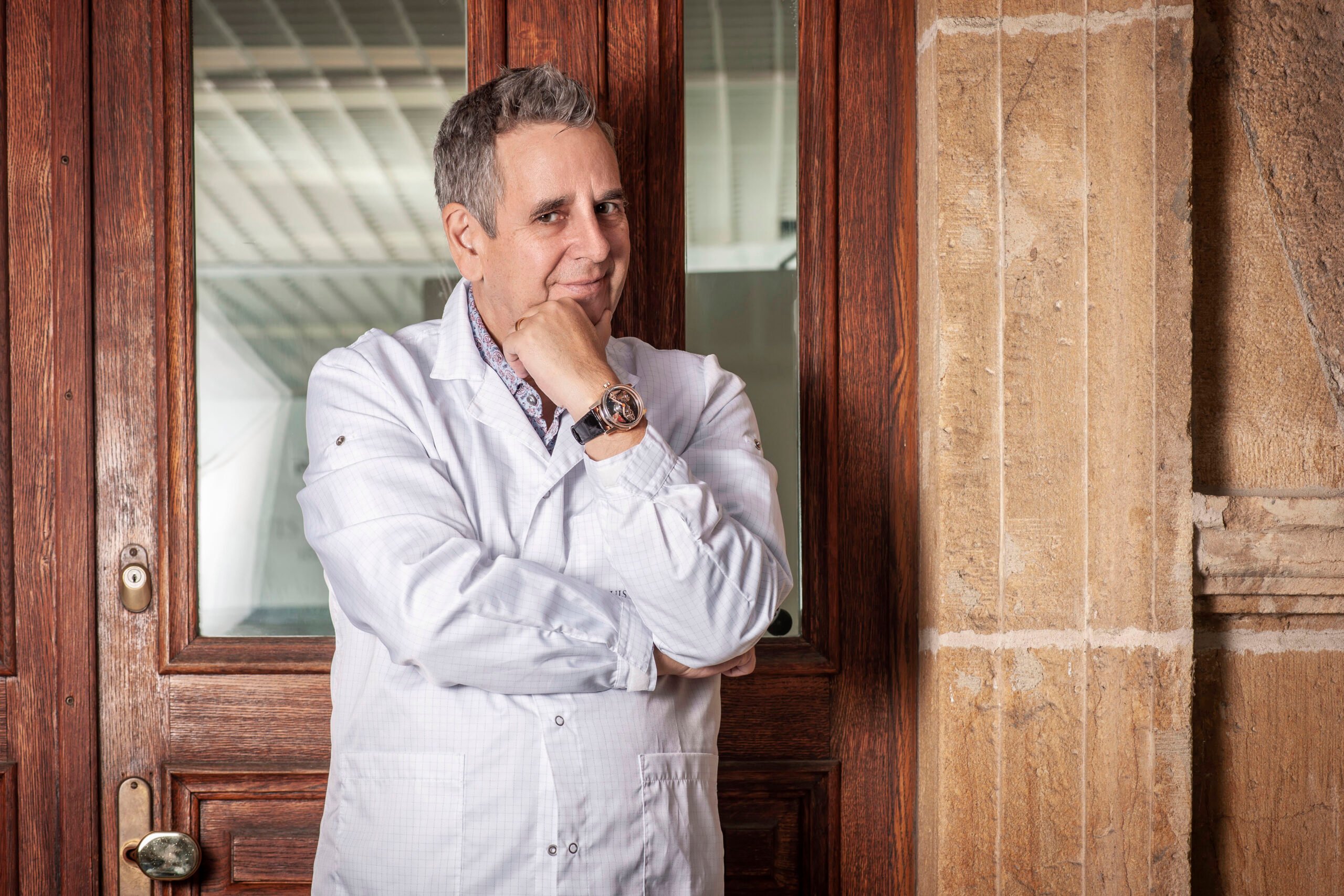 Want to know more about the Space Revolution or find out what else Haute Horlogerie "alchemist" Jean-Marie Schaller has "cooked up"? Please visit the official website of Louis Moinet.
Please find and follow me at Lex Stolk • Instagram