The Louis Moinet Super Moon Contains An Actual Part Of The Moon!
And you can wear it on your wrist...
When John Fogerty of Creedence Clearwater Revival said, "I see the bad moon a-risin'", he was singing about an apocalypse, the end of days. Thankfully, there's no apocalypse in sight in the watch industry right now. The lyric, however, is still appropriate for today, albeit with a slight tweak. I'm going with, "I see the badass moon a-risin'". What on earth am I on about? Well, it's only the Louis Moinet Super Moon, part of the brand's Cosmic Art collection. And "badass" is undoubtedly the right word to describe it.
I'm sure this is not the first time I have described a watch as badass. It's likely not going to be the last, either. But what makes this specific watch deserving of such a moniker? Do we really need another Moon-themed watch? The answer to that question is no. We don't need another Moon-themed watch. Tenuous links to the Moon are overdone; however, that's not the real question here. Do we need a watch that contains an actual piece of the Moon? Yeah, I thought that might grab your attention.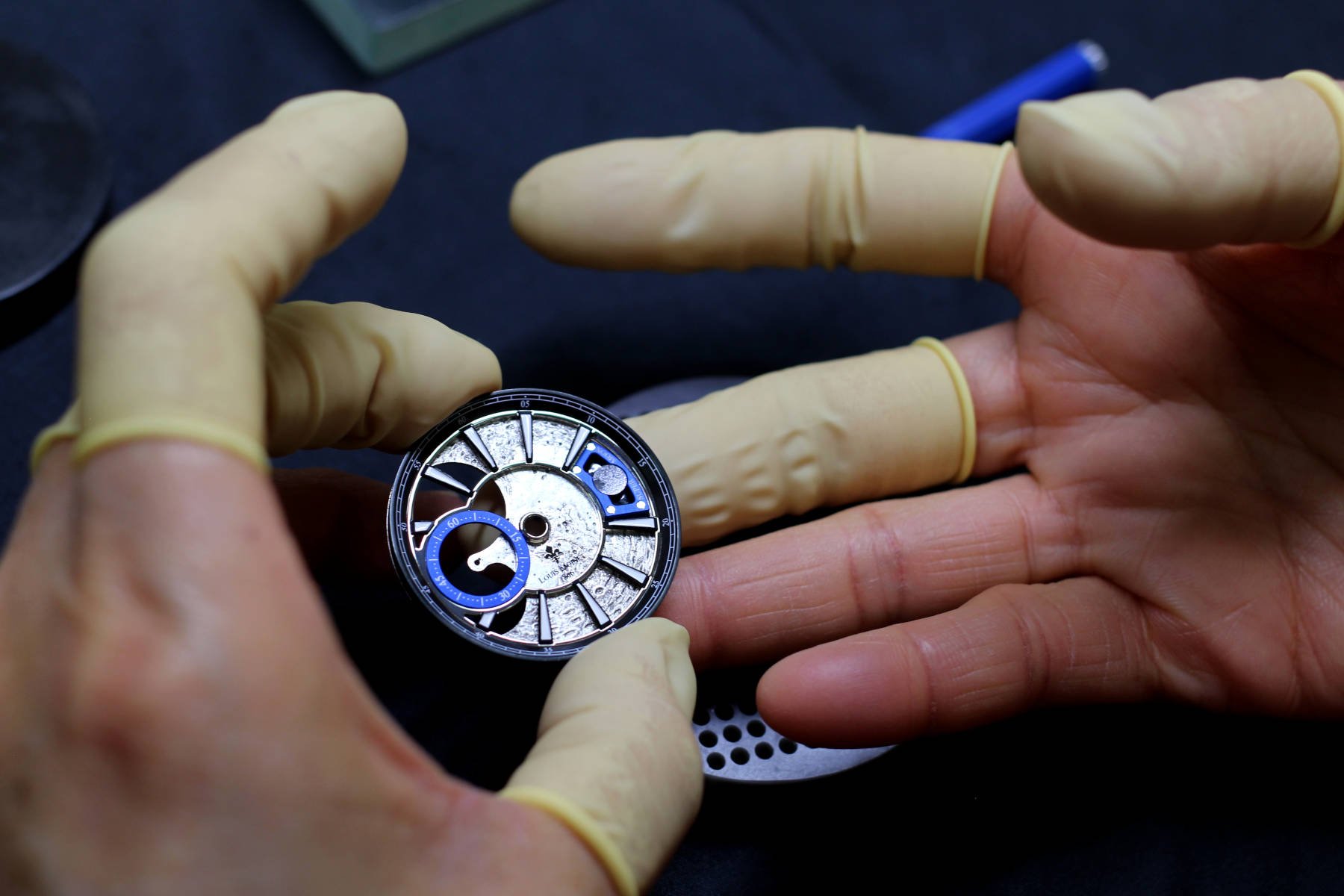 I was fortunate to visit the Louis Moinet Atelier back in March with Rob. While there, we sat down with Louis Moinet CEO and all-around industry legend, Jean-Marie Schaller, for lunch. After lunch, and setting the world to rights about non-watch-related topics (predominantly sports), he asked us to follow him if we wanted to see something cool with a wry smile on his face. Knowing Schaller, this was going to be good…
Moonrocks and other worldly goodies
Hidden away in the depths of the Louis Moinet atelier in an old bank vault (literally), Schaller has a host of fantastic objects. If you ever meet the man behind the brand, you'll quickly come to realize that he is a character who simply loves what he does, and his love is what guides the brand and the creative direction. It's not a business with 100% focus on profits above genuineness. As such, when he showed us some of the items in his collection, it was the childlike look of awe on his face that helped me understand him and his brand a little more.
…fossils, meteorites, and other extraterrestrial curios.
I don't have the time or the column space to dedicate to describing each and every item in this vault of wonders. And that's precisely what it was: a vault containing wonders — fossils, meteorites, and other extraterrestrial curios. The standout item was an asteroidal achondrite, a piece of igneous rock that was part of the crust of a pre-Earth protoplanet. It's believed that the rock was ejected from its parent body decades after the protoplanet's crust cooled and crystallized. Given that the Earth is estimated to be 4.54 billion years old, give or take about 50 million years, it is pretty damn old. This magical vault also contained pieces of an extremely rare lunar meteorite, a fragment of the Moon itself.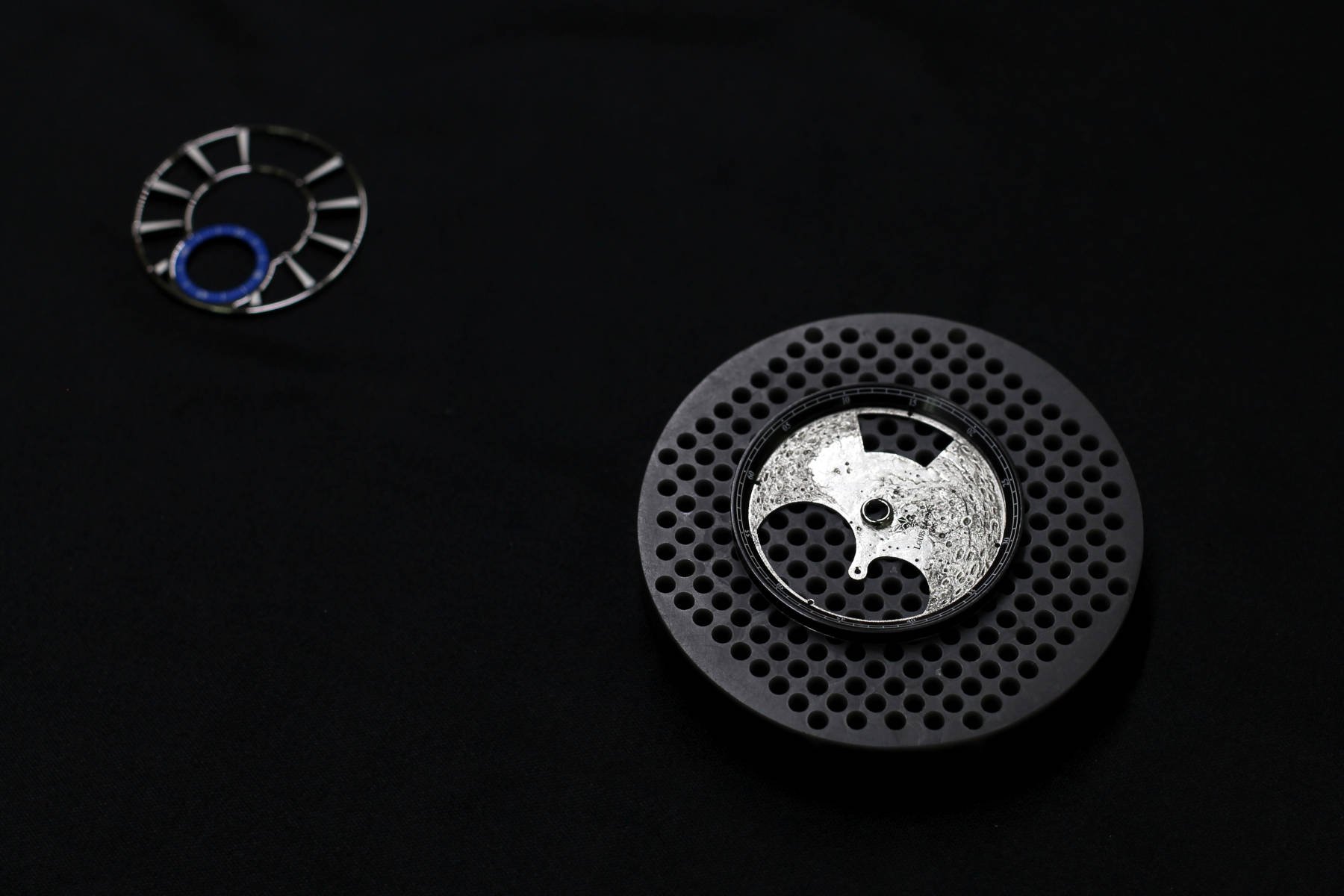 So, what is a supermoon?
A supermoon is not some kind of otherworldly lunar superhero. Alas, you won't be reading about "The Adventures of Super Moon" any time soon. That said, Schaller has recently published a fiction novel, so perhaps a segue into comics is in the cards? A supermoon is a full or new moon corresponding to the moment when its orbit is closest to Earth. This rare phenomenon last occurred on November 14th, 2016 with the Moon only 356,511km from the center of the Earth — the closest occurrence since 1948. It will not pass by as close again until 2034.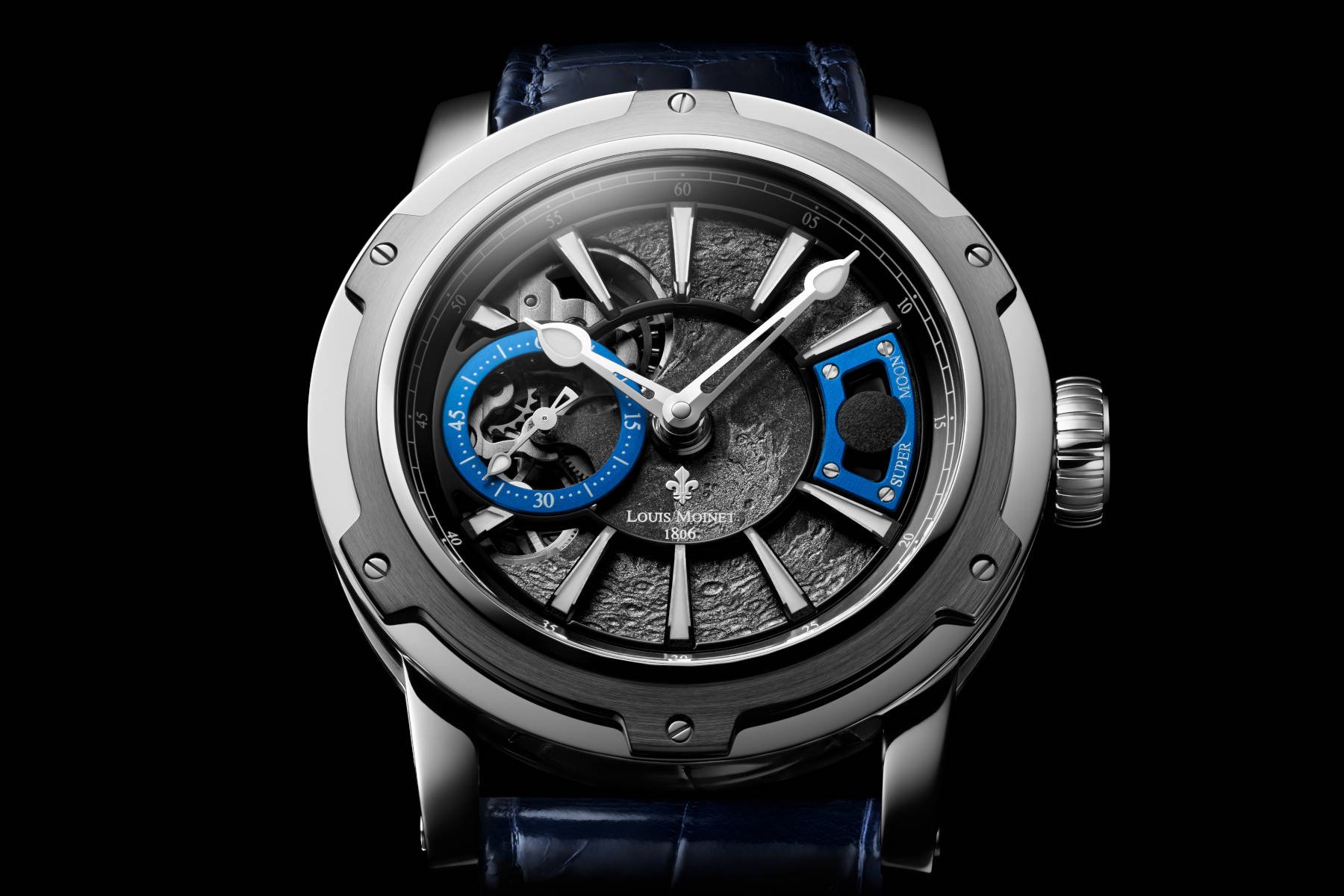 Why the Super Moon watch?
Louis Moinet has dedicated more than one watch to the extraterrestrial. The brand's namesake was fascinated with the stars, which led him to create the world's first chronograph in 1816. Moinet used his new-fangled instrument in association with an archaic unit of measurement, the tierce, which corresponds to 1/60th of a second. The unit comes from the Latin word terce, meaning "third". This unit is rarely used today, and a millisecond specifies measurements of less than a second. One tierce is equal to 16.6 milliseconds. One minute is 3,600 tierces, and one hour is 216,000 tierces. As a point of reference, a blink of the eye lasts between 18 and 24 tierces.
…it reminds me of the Cupola observatory from the ISS.
In 2022, Louis Moinet aims to combine the visionary talent of the chronograph's inventor with contemporary architectural work with the Super Moon watch. The dial depicts Apollo 8's first view of the surface of the Moon as in the 1968 mission. The picture truly opened our minds to the incredible vastness of outer space. Coupled with the extended hour markers, which meet a central ring, it reminds me of the Cupola observatory from the ISS. I know that's mixing two very different ears of space exploration, but I say what I see. The textured lunar dial surface is the result of delicate hand-hammered finishing. The finish features a duo of light and dark tones from light brushing performed after nickel-plating the dial.
Between 8 and 12 o'clock, you can see a view into the watch's heart, literally. Around the ten-thirty mark, you see the revealing balance wheel, which beats away at a rate of 28,800 vibrations per hour. Just below it, at 9 o'clock, is the small seconds sub-dial.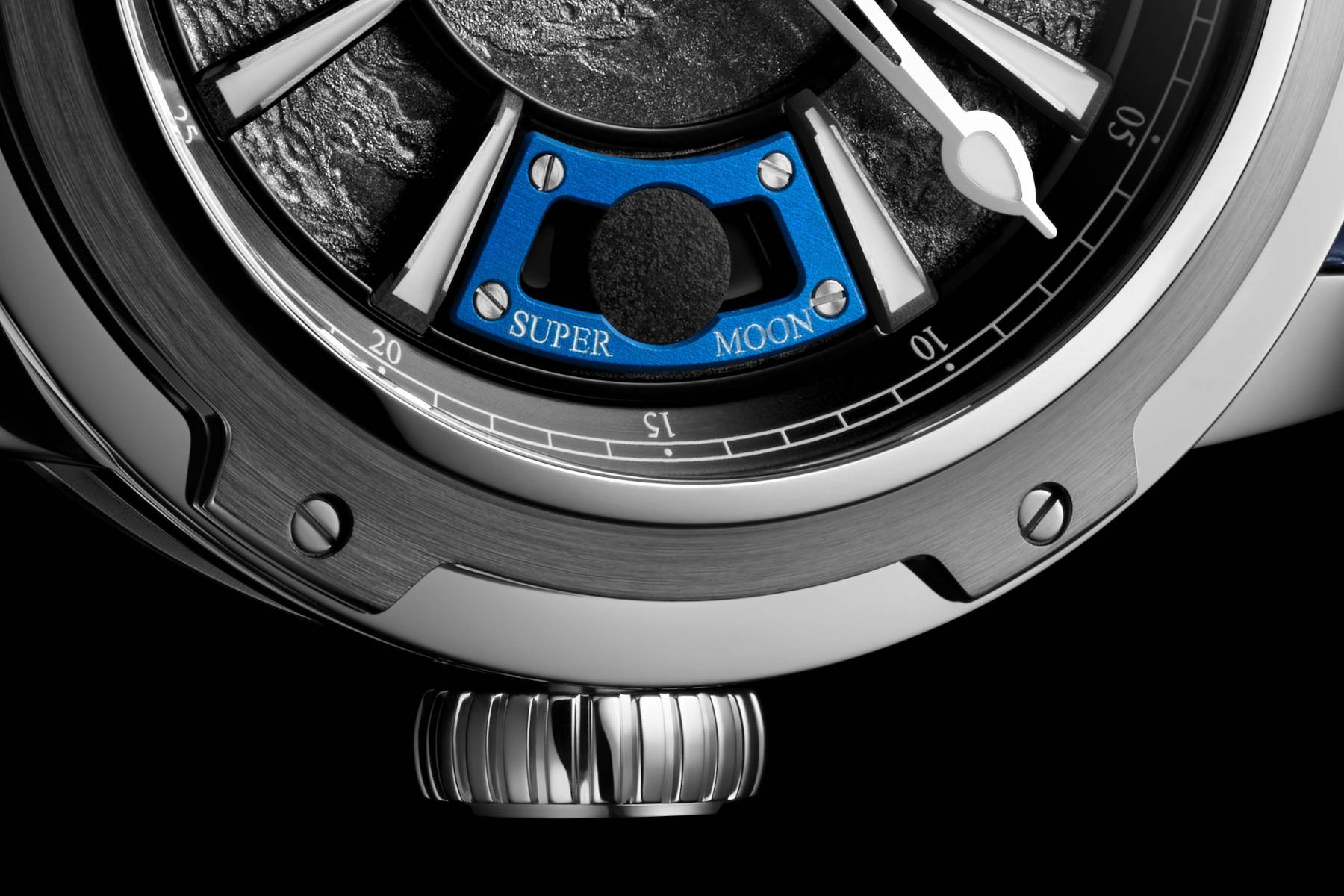 Warning: contains real Moon
The real talking point of Louis Moinet's Super Moon watch is those exclusive fragments of the Moon in the special capsule at 3 o'clock. Moon fragments are exceedingly rare. First and foremost, this is because they're from a place nearly 400,000km away. Things from that far away don't often end up on Earth, not just because of the distance but because they have the navigate their way through the atmosphere without being vaporized en route. As a result of this somewhat tricky journey, only 371 lunar meteorites are known to exist worldwide. Inside the Louis Moinet Super Moon is a small piece from one of these meteorites, which traveled intersidereal space before crashing down in the Dhofar Desert in Oman. If that doesn't fascinate you and get the imaginative juices flowing, then you must be as cold and dead inside as the far reaches of outer space.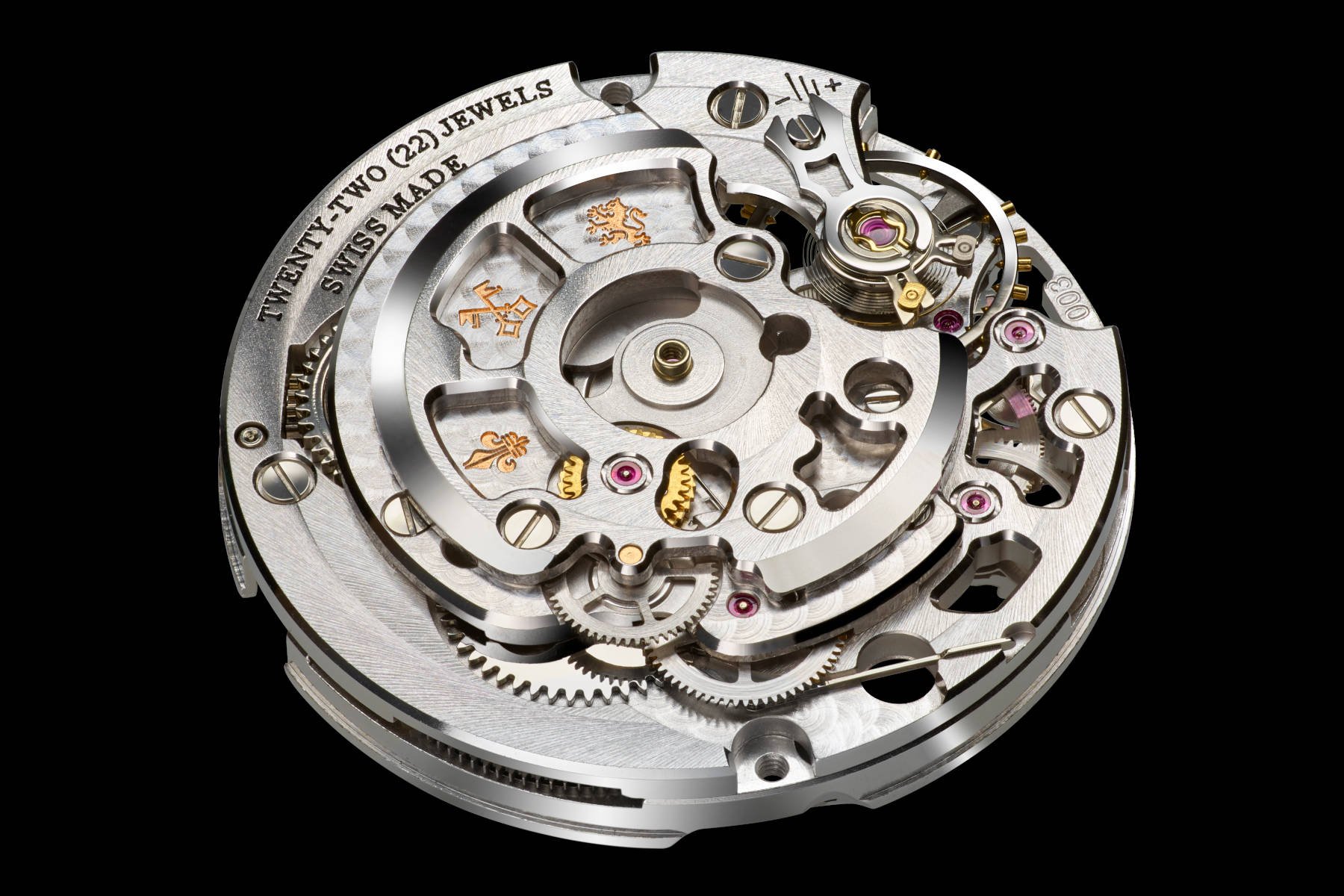 The impressive LM45 movement
As one would expect from any high-horology watchmaker, the Super Moon movement is just as beautiful and technically impressive as the rest of the watch. Louis Moinet's Calibre LM45 has featured in a few different Cosmic Art watches, each celebrating different space themes.
The movement is every bit as impressive as the watch it powers.
Calibre LM45 is a three-hand movement operating at a frequency of 28,800vph with a power reserve of 48 hours. The movement delivers all the classic Swiss decorations we'd expect from a Louis Moinet caliber. It features an out-of-this-world combination of horological decoration, including Clous de Paris hobnail patterns, Fleur de Lis engraving, circular satin-finished gear trains, and diamond-polished sinks. The movement is every bit as impressive as the watch it powers.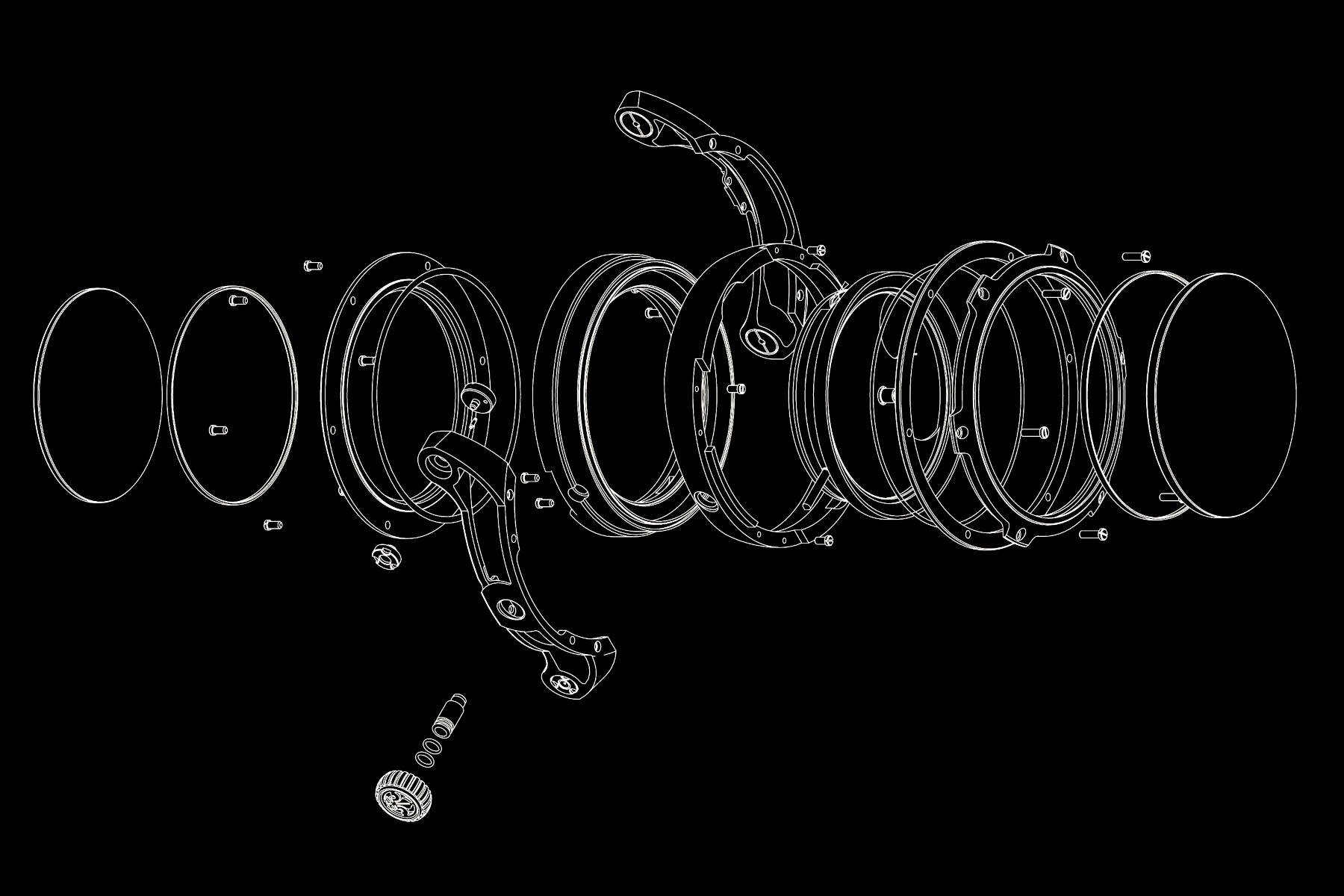 Complex architecture
The Super Moon case is also worth mentioning for its sheer architectural complexity. Comprised of 55 individual pieces, everything is built around two vertical side bridges. These then accommodate the strap at each end of their open-worked lugs. The six-screw bezel, one of Louis Moinet's trademarks, dominates these bridges, which enclose the movement container.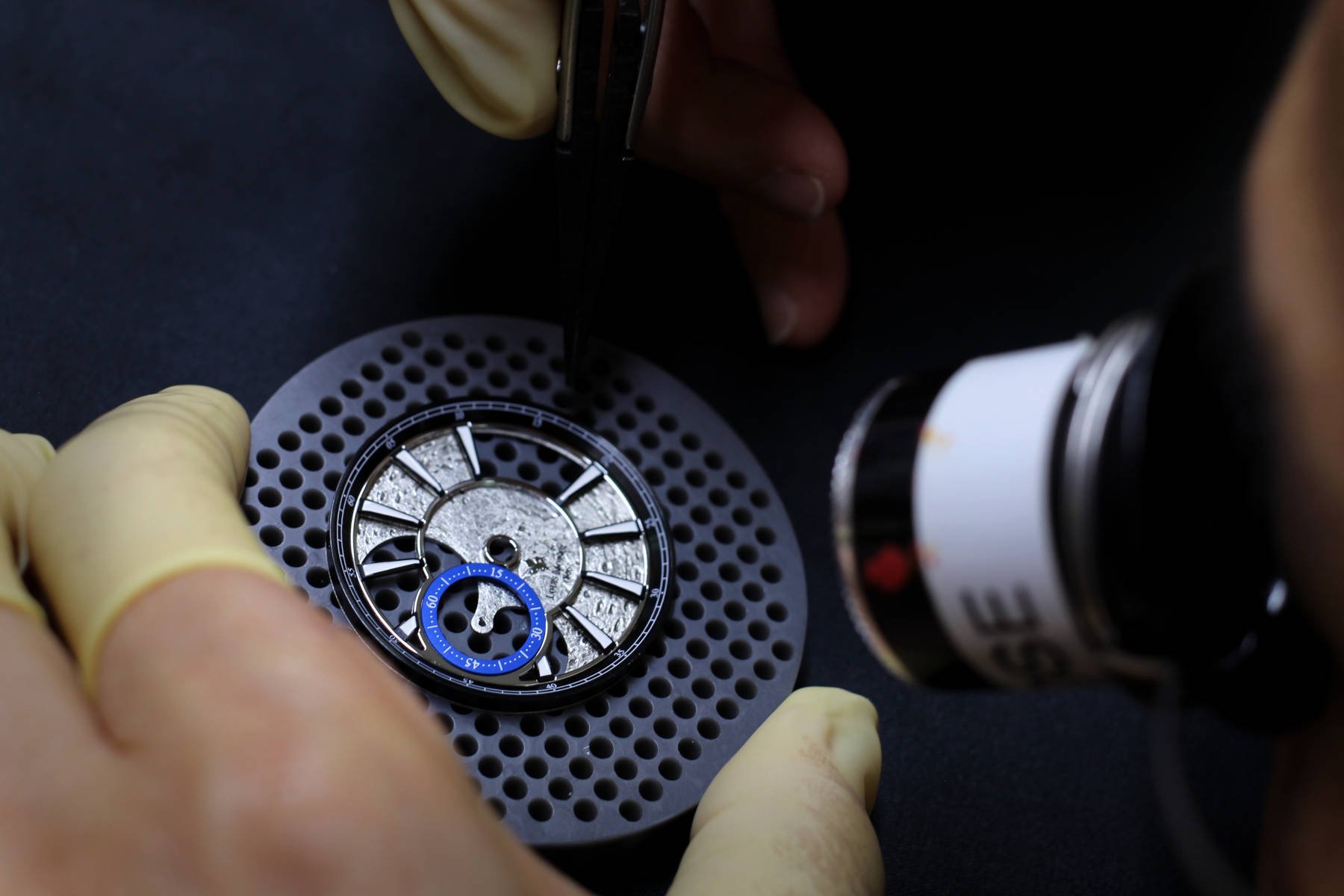 Louis Moinet Super Moon price and availability
The Louis Moinet Super Moon is limited to just 100 pieces, each containing a unique fragment of a lunar meteorite. Priced at CHF 17,000, the Super Moon will fill a unique spot in any collector's watch box. You can find out more about the Super Moon on the official Louis Moinet website.
If you liked the Louis Moinet Super Moon, then be sure to take a look at the recent Louis Moinet Time To Race collection as well, a unique series of unique pieces with personalization in mind.
Follow me on Instagram: @davesergeant | @fratellowatches
Watch specifications
Case Material
316L Stainless Steel
Case Dimensions
Diameter: 45.4mm
Case Back
Sapphire display
Water Resistance
50m (5ATM)
Strap
Calf leather with folding deployant clasp
Functions
Hours, minute, small seconds