#LUME: The Brightest Watches And Gear To Light Up Your Winter Nights — Including A. Lange & Söhne, TAG Heuer, And Linde Werdelin
Your winter excursions will never be the same
There is nothing like a flash of #LUME to brighten up those gloomy winter days. And it's no longer a gimmick; it has been embraced by the big hitters of horology and fashion. Who would have thought that we would see bright lume on a Lange dial or the fabric of a high-tech sports jacket?
I get seriously frustrated by weak lume. I stay off-grid while I'm sleeping, with my cell phone left downstairs and a watch on my wrist. While we have a digital clock radio on the night table, I prefer peering sleepily at my wrist to ask myself why I'm awake at 5:00 AM. I'd love the full effect of a lume dial while having a late-night walk, or for the more adventurous among us, while hiking or camping. The last thing you want is your phone buzzing notifications from that cooking app or work emails, so make sure your watch is up to the job. As for exploring the dark woods with an A. Lange & Söhne, that would take a braver man than me. But read on and check out the infinite cool of Vollebak's Solar Charged Jacket and the cool lume weave of Nacho's NATO strap for that full lumenicious effect.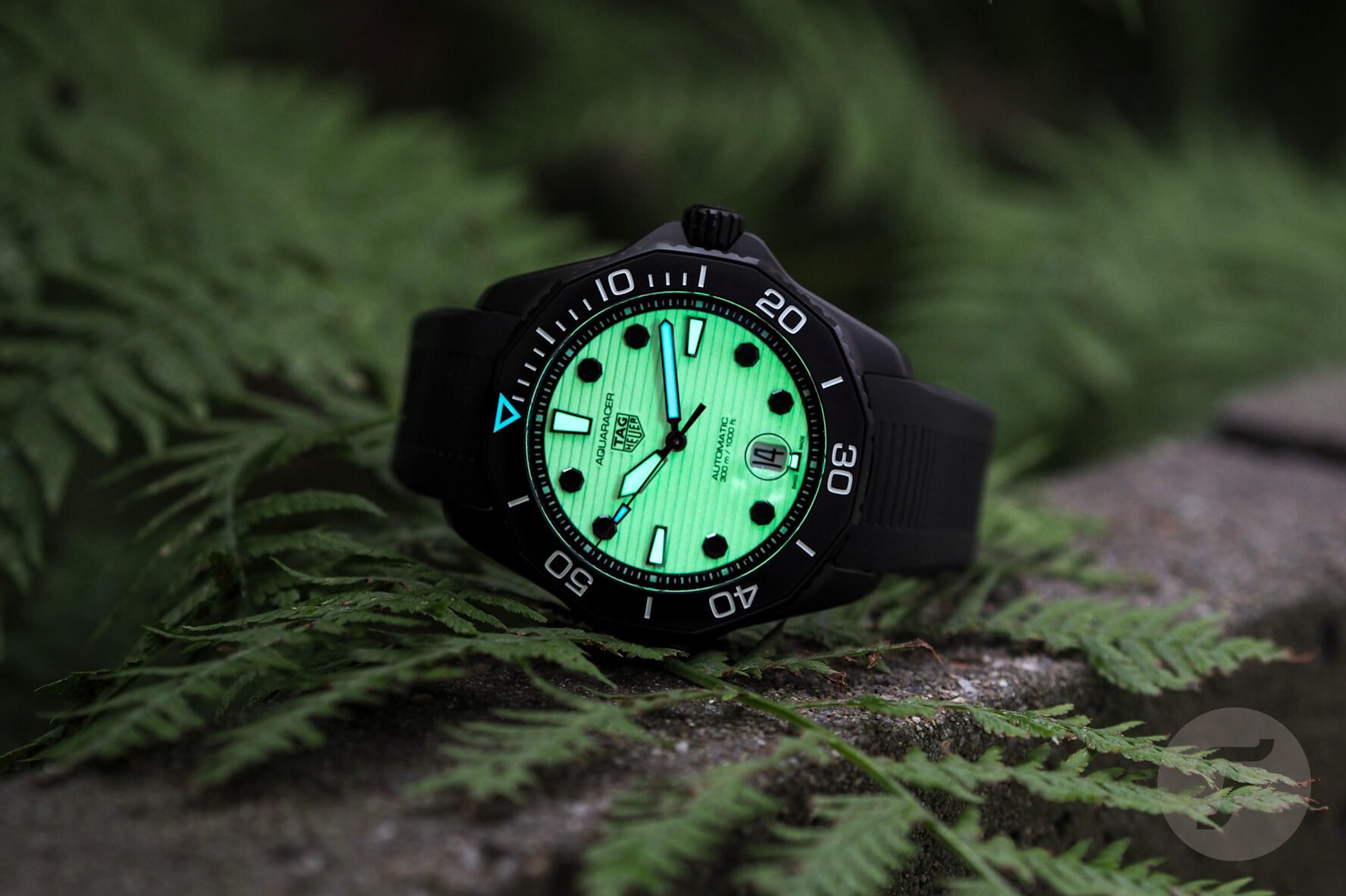 TAG Heuer Aquaracer Professional 300M "Night Diver"
TAG Heuer surprised me in 2021 with the sharper-than-expected reworking of the Aquaracer series. As a great entry point into Swiss sports watch ownership, the Aquaracer series was a commercial success. But the #watchfam tends to overlook this line, dismissing it as too ubiquitous. From the decagonal bezel to its prominent octagonal indices, the new Aquaracer was a step up on the ladder of cool. But the one that stood out for me was the greeny tinge of the legendary Night Diver name, resurrected from the brand's 1980s catalog. The Dark Lord himself, Mr. Vader, would definitely consider this as his 300-meter diver of choice. From the soft rubber strap to the silky black case, this looks mission-ready, and wow, does that dial light up. Get me my wetsuit now — I'm off! The Night Diver is available for €3,150.
Vollebak Solar Charged Jacket
All fashion brands love to throw around terms like "sustainable", "cutting edge", and "disruptive". But more often than not, they ring quite hollow. This is definitely not the case with Vollebak, run by two brothers so adventurous that their idea of a Sunday stroll would involve a sheer 1000-foot drop and no safety lines. The Solar Charged Jacket is a prime example of their prodigious output of high-tech clothes. The term "fashion" seems misplaced — Vollebak is the MB&F or Urwerk of the clothing industry with a strong eco-conscience.
Made from a highly responsive layered material, the Solar Charged Jacket is instantly charged by any light source, and it will glow for up to 12 hours after a day in the sun. Or take it into a dark room and "draw" on it with a flashlight to create your own wearable art. Every detail is laser-cut and welded, and it's waterproof, stretchy, and soft enough to roll up and stash in a bag. Check it out here at Vollebak for €445.
Linde Werdelin Oktopus MoonLite
A moonphase indicator on an ultra-tough diver's tool surprised me. It's a charming addition to a traditional dial, but seeing it through the lens of Linde Werdelin transforms it. The reason for this delicious tool-twist is observing the changing tides dictated by our Moon — more logical than it seems. This is housed in the weirdly comfortable large and light case, made from Alloy Linde Werdelin. In this light-the-night story, the Oktopus MoonLite shines through the judicious use of bi-colored #LUME making the skeletonized dial supremely legible. The phase of the moon might not be your first consideration before a dive. It does, however, make for an astounding dial design. The butch and angular case design might be more than ten years old, but it still looks as modern as it is immediately recognizable. At €16,173 direct from Linde Werdelin, you'll have a bullet-proof, unique piece of Nordic wrist weaponry at your disposal.
Nacho's lumed NATO
Our Managing Editor and sharpshooter Ignacio reminded me of the fact that you can actually get a fully lumed fabric NATO to up your night game. The superb Swedish online shop Cheapest NATO Straps does its name justice, but the quality is great for the money.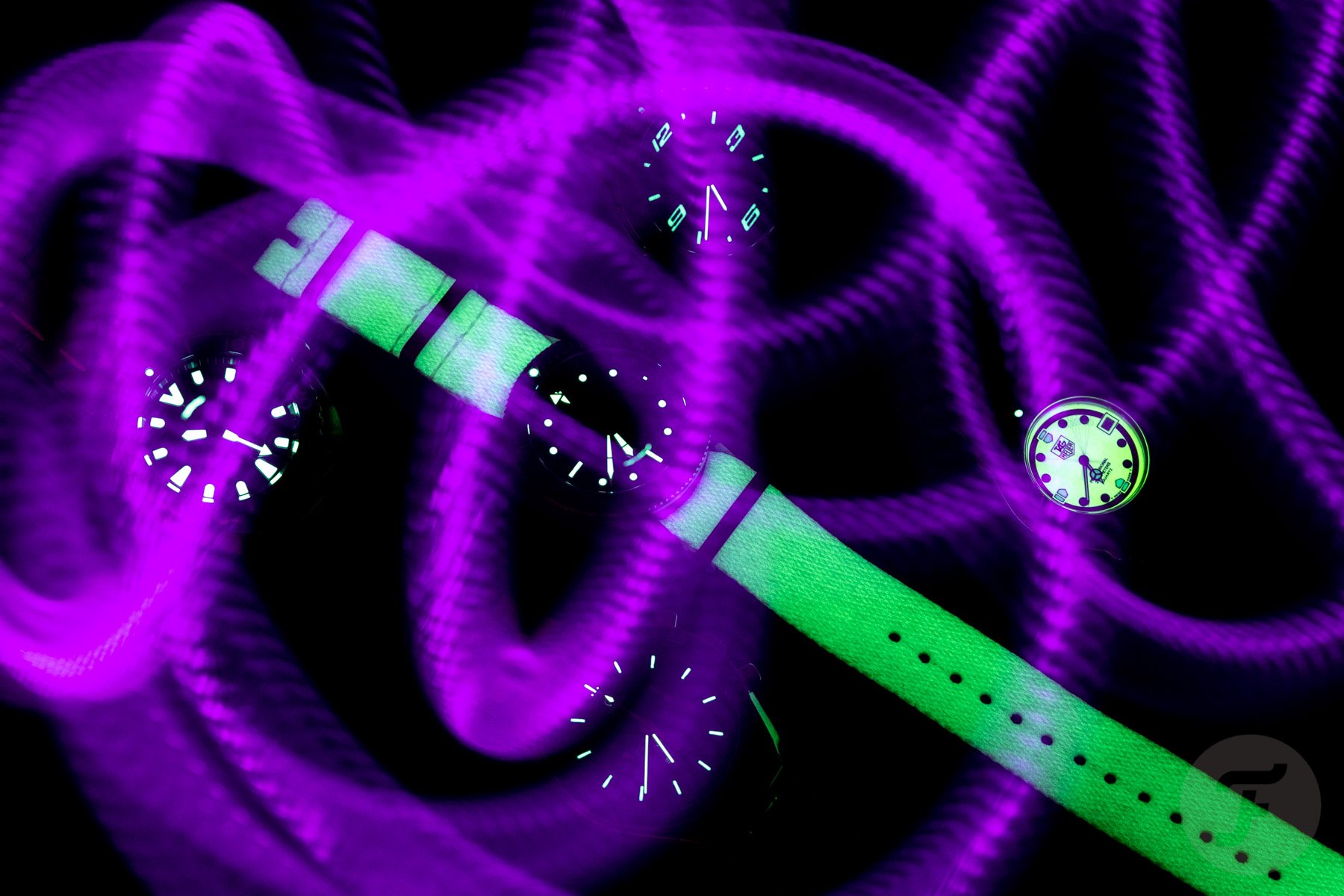 CNS does a fine nylon weave strap with brushed hardware for the big-value price of $12.95. I can attest to having several of the company's straps in my bulging strap box. As a strap-a-holic, I'll happily recommend Cheapest NATO Straps' colorful wares. Team this #LUME strap up with the TAG Aquaracer and you'll be lighting up the room as Nacho's last shot can attest to.
A. Lange & Söhne Datograph Up/Down "Lumen"
Simply the ultimate incarnation of a lume-focused watch, and even after a few years since the first Lumen model, it's still jawdropping. It was so unexpected that it seemed close to madness from the venerable Lange atelier, but what a result! The German answer to Patek Philippe dropped the mic with this one. I do love A. Lange & Söhne for its traditional output, and I'm one of the fans of the divisive Odysseus sports watch. But this? Holy Super-LumiNova, how it completely throws you the second you see an after-dark shot. Sold out it might be, but check Chrono24 for the ultimate incarnation of wristwatch #LUME. But as charming as the glow is, it's but a futile distraction, as each function of the Up/Down, each turn of the crown, or prod of a pusher is an experience to savor. Pre-owned, these pieces of luminescent wrist art start at around €100,000.
Nike Air Jordan 13 Low "Singles Day"
These Air Jordan 13 sneakers, a futurist's delight, are made from soft, diamond-stitched white leather uppers on a black base. They offer one of the most organic shapes in the Air Jordan catalog with a cheeky twist to a monochrome look. The soft white parts of the squishy and comfortable bi-color soles emanate a warm green glow in the dark. What a perfect match for your lumenicious watch. One great thing about these is the ultimate soft comfort of the Air Jordan 13s, and another is the unusual twist to the versatile colorway. Even at $200, they might already be gone, but check out Sneakernews for retailers, and you might get lucky.
So, what do you think, did we tickle your #LUME fancy? Or do you enjoy your smartwatch pestering you with notifications in the middle of the deep, dark woods? And if, by chance, you happen to be Europe's pre-eminent collector of lume-dialed watches, please let us know in the comments.
Follow me at @thorsvaboe