MB&F Introduces Tiger Eye To The LM FlyingT 38.5mm Collection
Is this watch selling to men or women?
MB&F is adding a "Tiger Eye" version to the LM FlyingT collection. Love the name. What is tiger eye? It is a golden brown gemstone. According to MB&F, "…in some parts of the world, it is believed to ward off the evil eye. Roman soldiers wore engraved tiger eye to protect them in battle." Here, the stone takes the form of the dial plate and sub-dial of the latest Legacy Machine FlyingT (T stands for Tourbillon) in an 18K yellow gold case set with diamonds.
Sounds fancy. Well, it is a Legacy Machine, so shouldn't it be? MB&F says, "We don't craft yellow gold cases very often…but we think it works particularly well with the silky luster of tiger eye, with its undulating bands of color varying from gold to deep brown."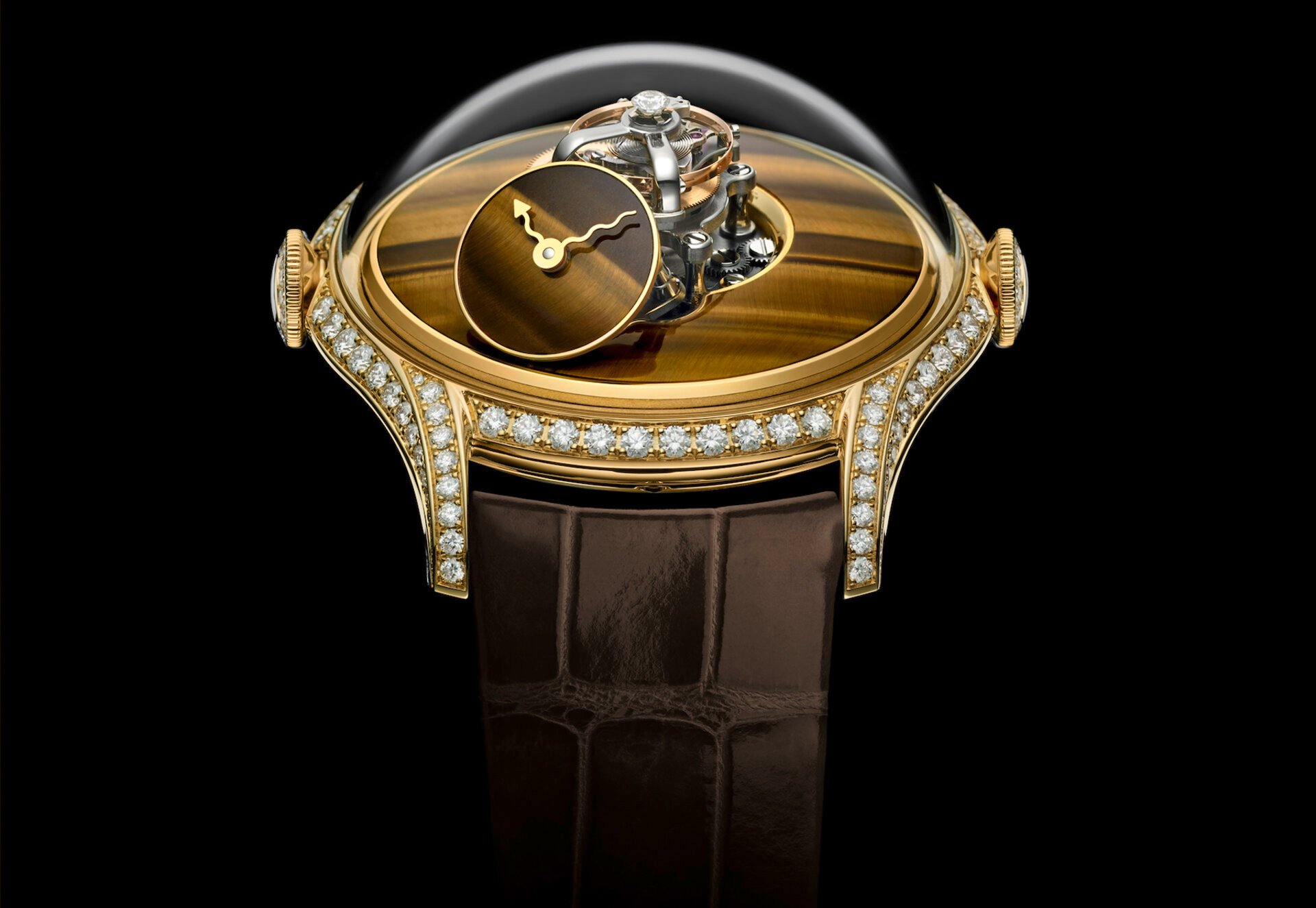 Make no mistake, it is still a tourbillon. A flying tourbillon, no less. Interestingly, it is also one of the independent brand's most wearable timepieces, measuring 38.5mm in diameter and 20mm in height. Granted, it may not go under your cuff, but no one would wear an MB&F and worry about that. I assume you already know the theatrical creations that MB&F is renowned for. If not, click the name hyperlink to our past features for a quick browse. Those time machines are typically quite substantial.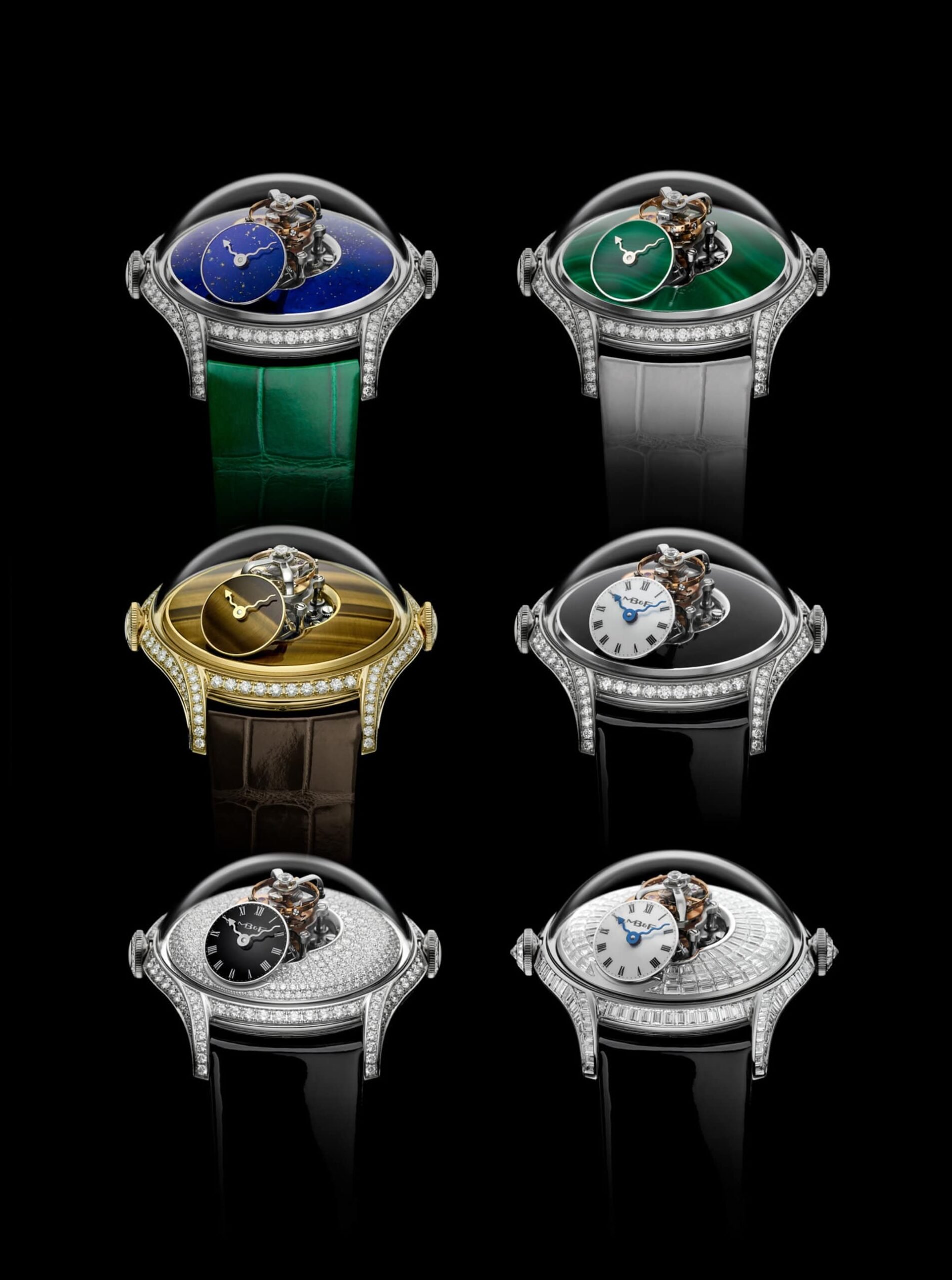 Then came the Legacy Machine FlyingT. It debuted back in 2019 as MB&F's first-ever Machine "dedicated to women". It garnered the GPHG prize for Best Ladies' Complication the same year. The collection continues to expand with diamond-set versions in white gold, guilloché-dial editions in red gold and platinum, and last year's FlyingT Allegra collaboration with Bvlgari. As for the gemstone editions, there has been Lapis Lazuli in 2020, Malachite in 2021, and Tiger Eye today.
"The last thing I wanted to do, was to take a masculine timepiece, resize it, put a different color on it and call it a ladies' watch." ~ Maximilian Büsser
Intriguingly, the LM FlyingT does appear to be a smaller and diamond-studded version of the Legacy Machine. References abound that this is a watch "for" women. With all due respect, given the all-male crew of Friends responsible for this creation, I think we'll park the marketing babble for now, and dive straight in to see the watch for what it is.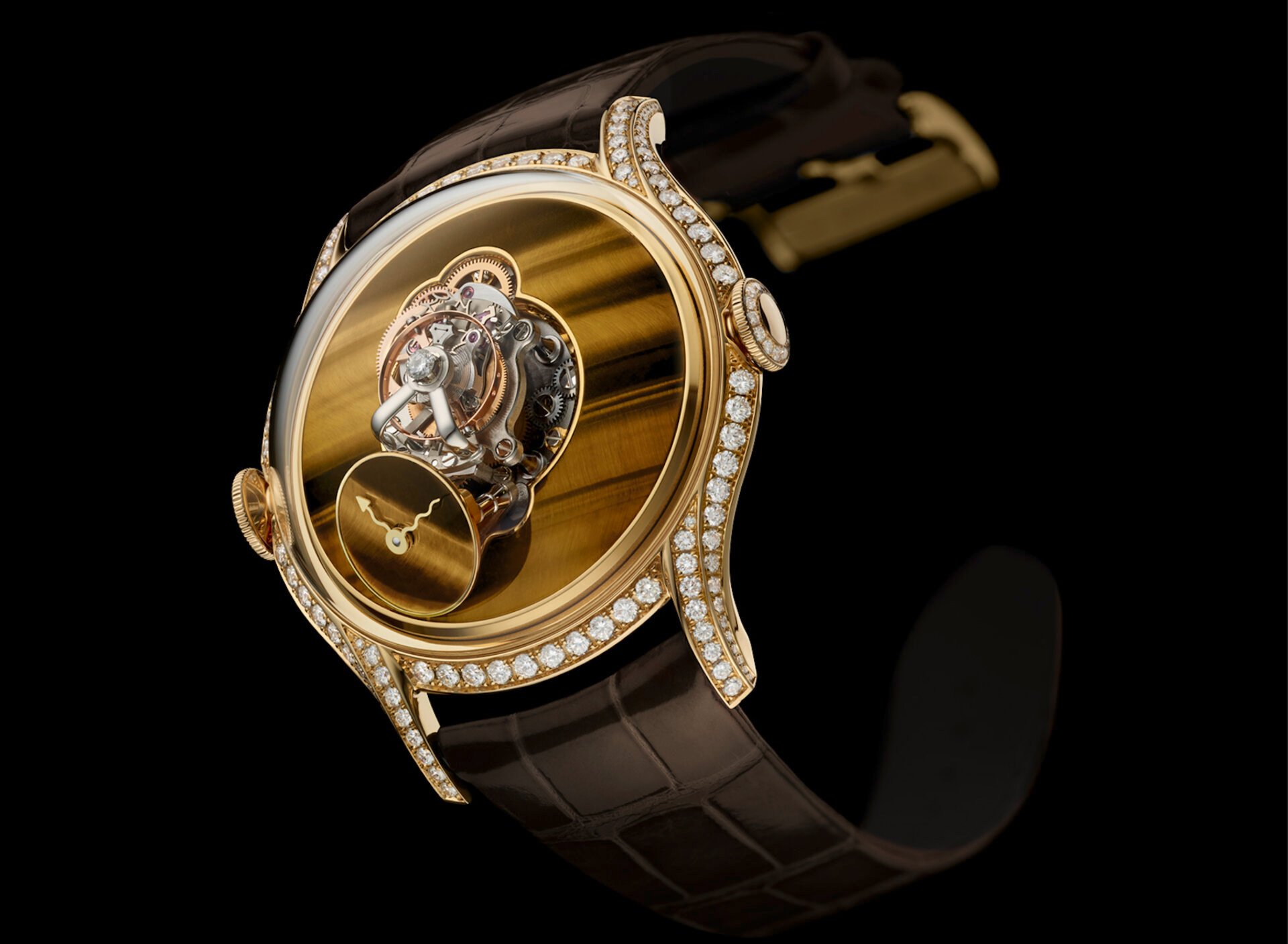 The engine
From a mechanical standpoint, the Tiger Eye is identical to its predecessors. The dramatic FlyingT movement with its vertical architecture features a central flying 60-second tourbillon at the top and the train components in a column. Unlike other MB&F tourbillons, the FlyingT dons a cantilevered double-arch upper bridge, topped off with a single large diamond. Such novel engineering not only leaves the elevation free of constraining bridges (thus, the name "Flying"), but it also makes this complex movement look super-clean and neat.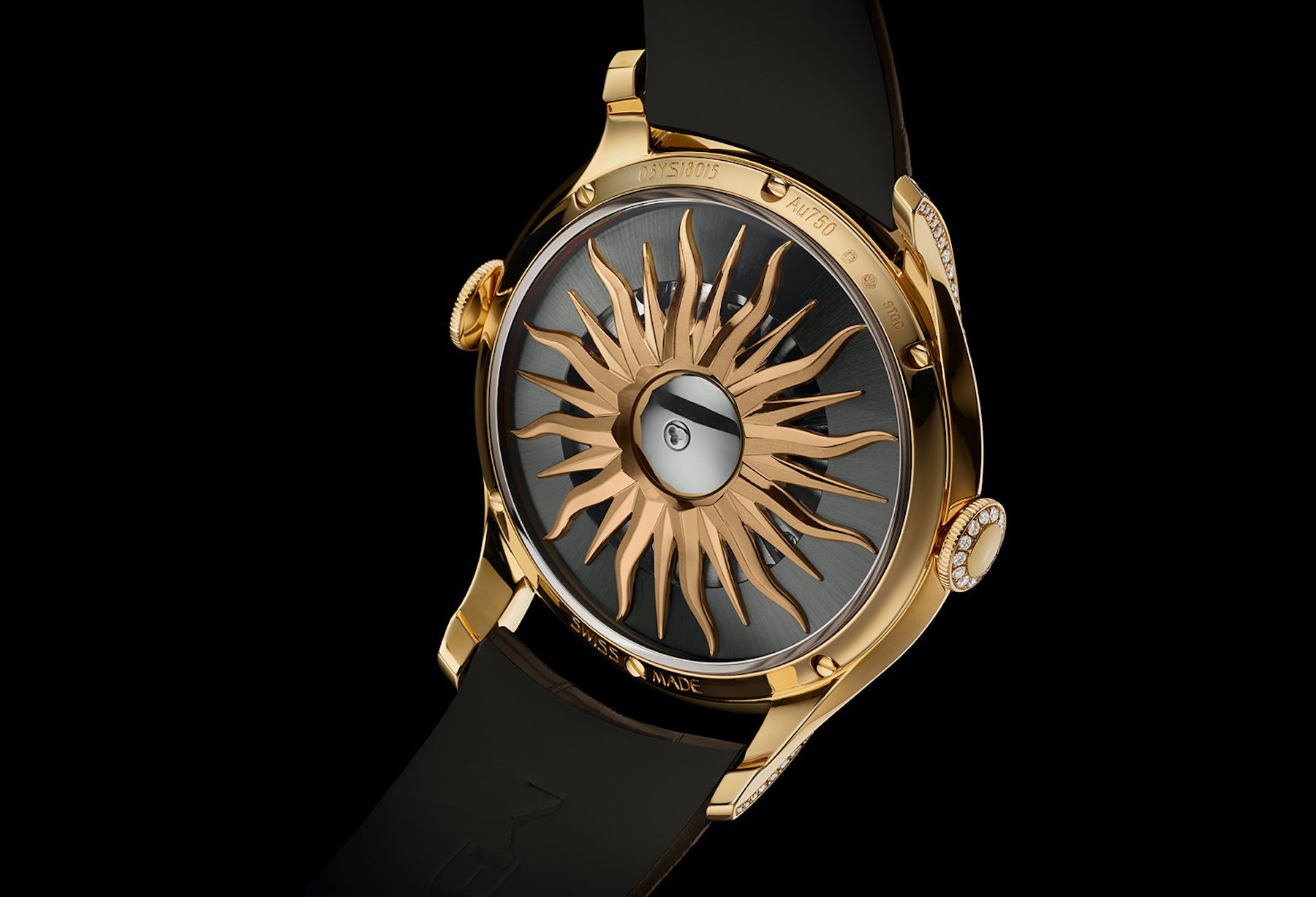 The FlyingT is a towering structure of 280 parts containing 30 jewels and allowing room for a Breguet overcoil. This automatic movement has a languid 18,000vph (2.5Hz) operating speed and a generous 100-hour (four-day) power reserve. Its full-diameter winding rotor is visible through the sapphire caseback. It has a sculpted sunburst motif and an 18K 5N+ red gold, titanium, and platinum construction.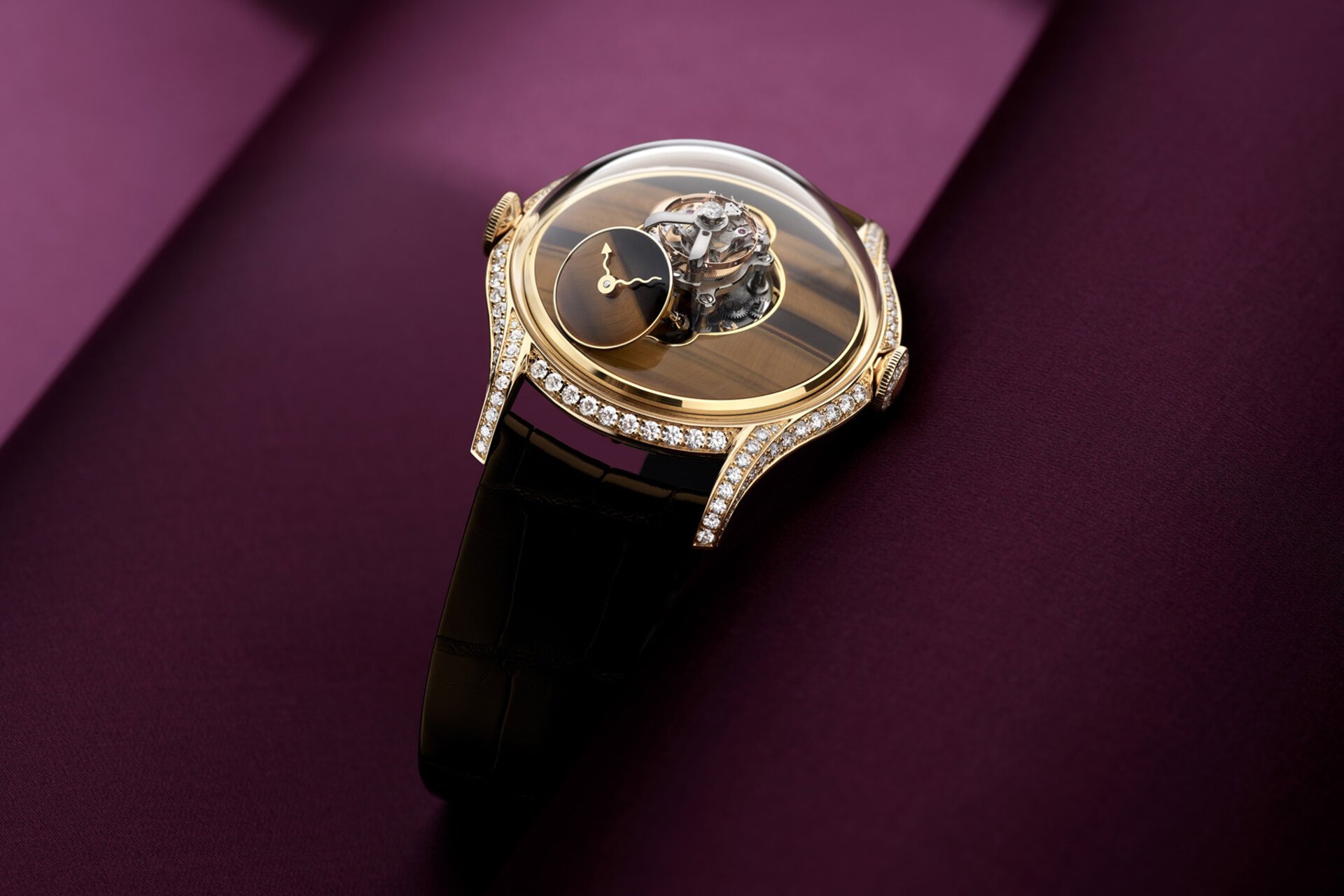 The dial
The tiger eye dial plate has what MB&F calls a "ventricular opening" with a gold trim. It exhibits the flying tourbillon mechanism that gives the FlyingT its name. At the foot of the column, located at 7 o'clock, is a 50°-angled sub-dial that indicates the hours and minutes with a pair of serpentine hands. And though you might think that its positioning is rather unusual, it is, in fact, quite deliberate. Firstly, the tilted dial is a hint at discretion — only the wearer can read the time. Secondly, it commemorates the birth of LM FlyingT in 2019, seven years after MB&F released the first Legacy Machine. That followed the Legacy Machine's own debut seven years into the brand's existence.
The whole spatial balance is on point – you don't need to be a designer to see that. A sloped gold bezel frames the dial itself, while a gold rim surrounds the sub-dial. In order to operate the unusual time display, MB&F specially developed conical gears to transmit enough torque to drive the hands. Unlike some other FlyingT models, the sub-dial here is plain without any markings. Naturally, a minimalist design complements the theatrical showcase, also suggesting that you would not be wearing this watch simply for the time.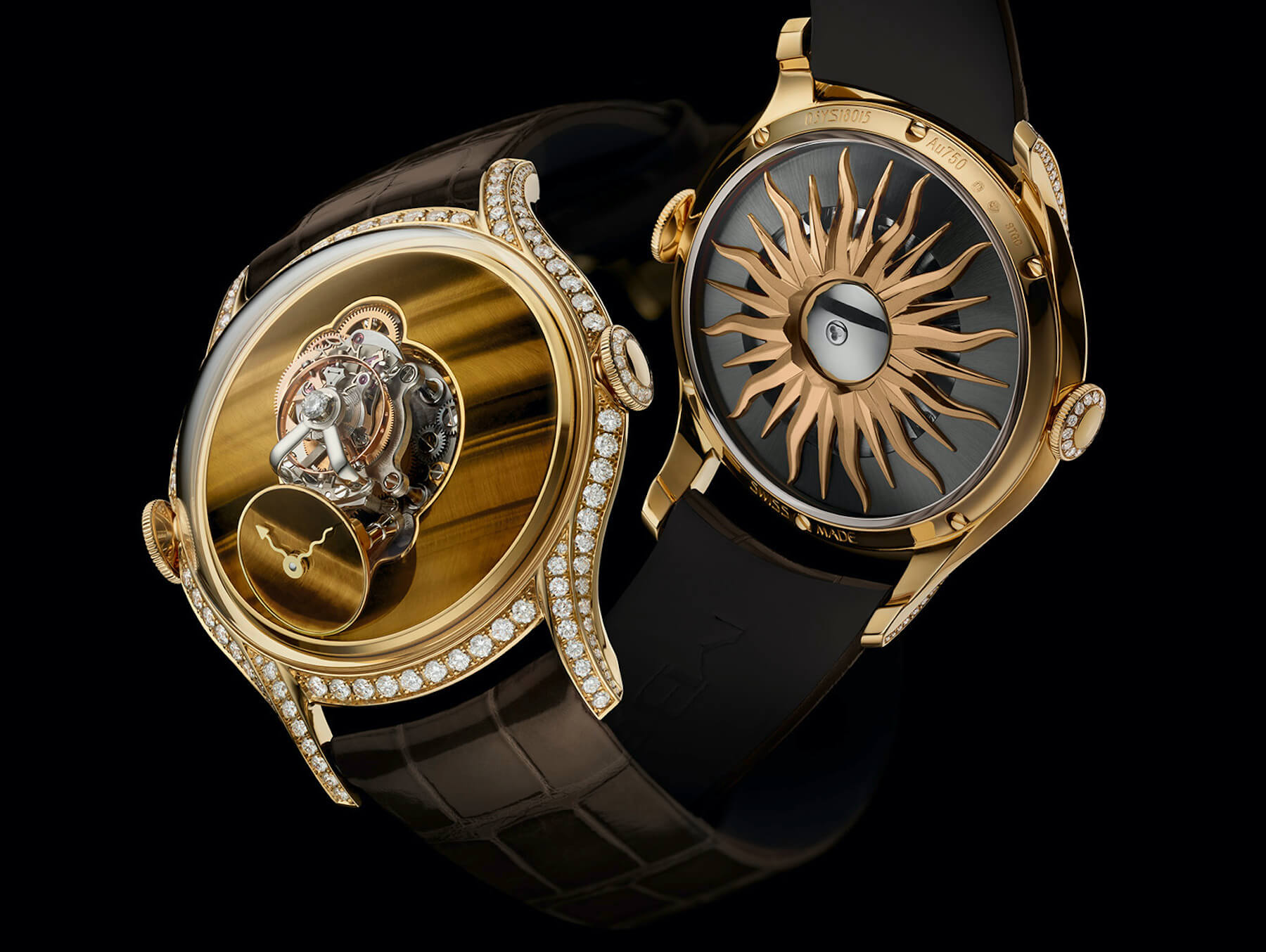 The case
The round 38.5mm gold case with elongated lugs is fully set with diamonds. An extravagantly convex dome of sapphire crystal steeply rises from the widely flaring case. The 20mm total height provides enough space for the column-like flying tourbillon mechanism to fit, but it also draws attention to the anti-reflective sapphire. For symmetry, MB&F has included two functional crowns — one at 3 o'clock and one at 9 o'clock. The crown on the left is for winding the watch, while the crown on the right is for setting it. The crowns and buckle are also set with diamonds (120 on the case, 21 on the buckle, one on top of the tourbillon cage, and 26 for the crowns), making 168 stones with a total weight of 1.7 carats.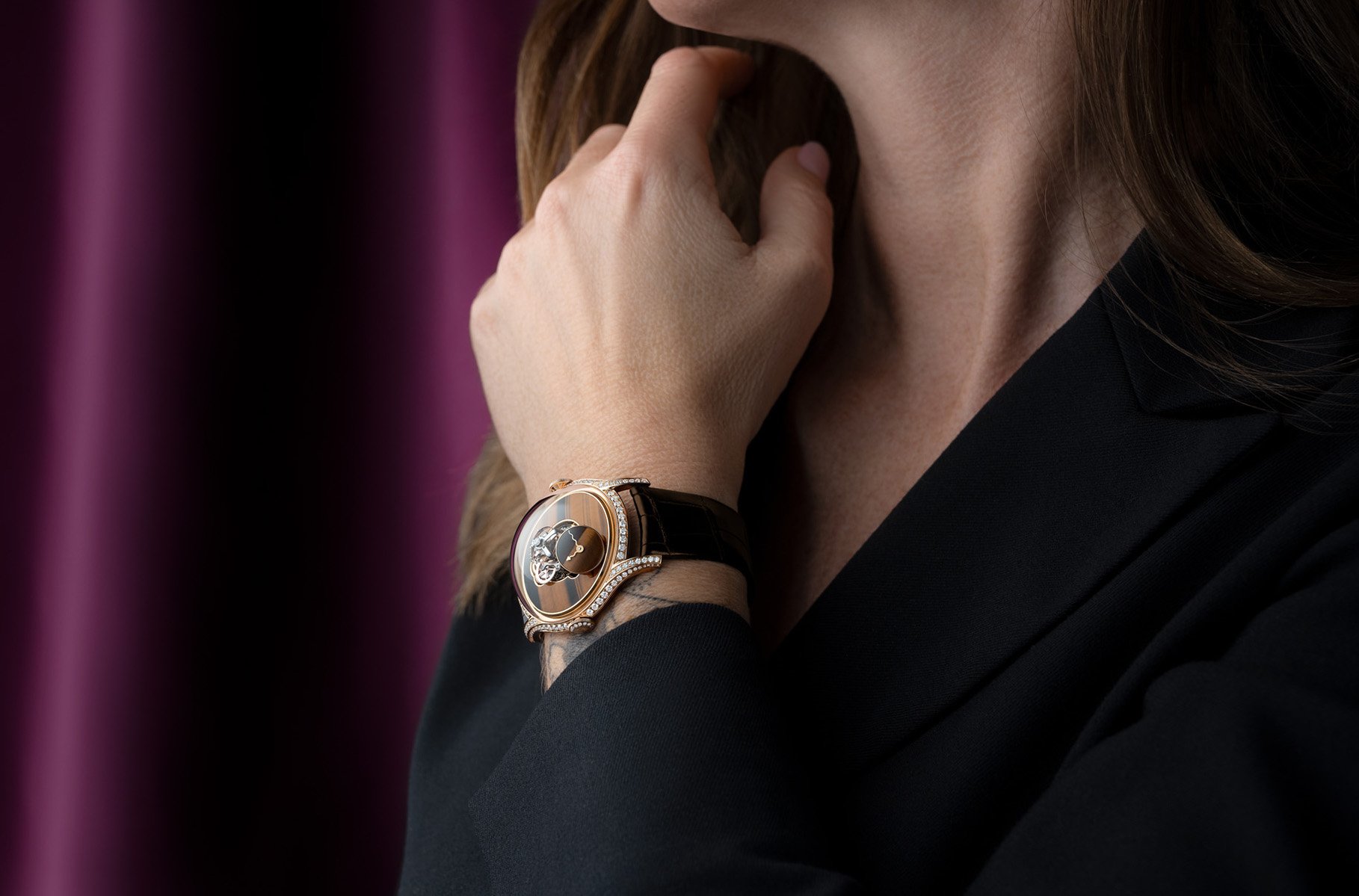 Closing thoughts
To be honest, as a horological masterpiece, the LM FlyingT is off-the-chart intelligent and extraordinary. On further inspection, it is clear that a total redesign has taken place. I love that MB&F decided to go all-out to design a watch as a tribute to women. With a technical upgrade to a new flying tourbillon, it deserves all the respect and accolades it has commanded.
That said, I've gotten so used to MB&F theatrical creations that it's easy to forget the LM FlyingT is a very dramatic machine "for women". How can a crew with not a single woman involved create a watch for women? Calling it "a timepiece for women" is pure PR garbage. Those who do that either do not know watches very well or do not care what "watches for women" means and just jump on the label. That, as we know, only perpetuates the status quo.
The point is, the LM FlyingT is a watch that's "dedicated to women". It says so in MB&F's own literature, and it makes perfect sense when you hear how Max Büsser talks about it. I actually love his concept to make a watch inspired by the women in his life. And if you go along with that, it means that watch would be talking to men too. Now, who would be buying it for the woman of his life, and who would be buying it for himself?
No matter which way it you see it, it is a striking piece that would fit a lot of wrists, albeit not a lot of wallets. The MB&F Legacy Machine FlyingT Tiger Eye is not a limited edition and is priced at €132,000 excluding VAT. Let us know what you think of it in the comments below!
Visit MB&F's website for more information.