The New MB&F Legacy Machine Perpetual EVO In Titanium Has Me Revisit A Traumatic 2020 In The Best Possible Way
Has MB&F taken a sporty step too far?
The first time I laid my eyes on these images I was reminded of last year's shell-shock from MB&F, and am still suffering from horological PTSD. Let me explain the reason for my personal angst. I have a fairly constant desire and respect for MB&F and their creations, as mad as they are hypnotic. Comparing a $100,000+ creation from Max Busser & Friends with anything else on the market is a MENSA challenge in itself. A Rubber strap says sport, it is not groundbreaking, so why would a mere strap choice shock me? Well, last year this was introduced by MB&F, but not on a new diver or chronograph. Whoever suggested the uber-complex Legacy Machine Perpetual as the rubber-strapped MB&F should have his head examined, surely.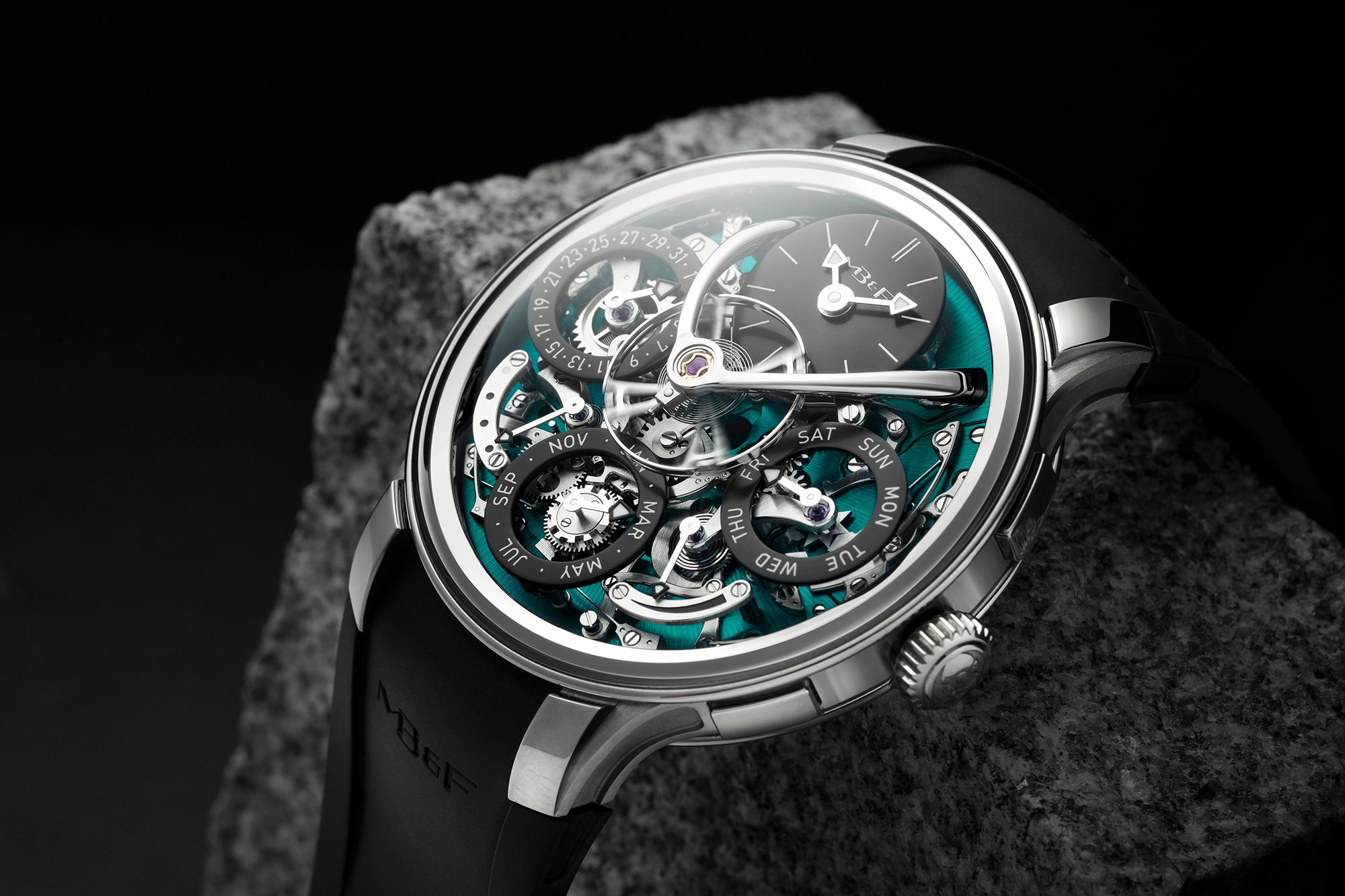 My Traumatic infatuation
The complexity is tangible, the feeling is tingly yet disturbing. This was my opening line in a story on the EVO a year ago. But what did my traumatic experience stem from? The fact that one of the images in the press pack was of the MB&F Legacy Machine Perpetual EVO on a bare wrist, about to go downhill mountain biking. With a $167,000 large and complex Perpetual Calendar. Never had I had such a bizarre feeling of shock and infatuation. I mean, mountain biking or hiking with a highly strung piece of horological art on your wrist?  Surely not. I would rather be juggling three million dollar Ming Dynasty vases while unicycling blindfolded.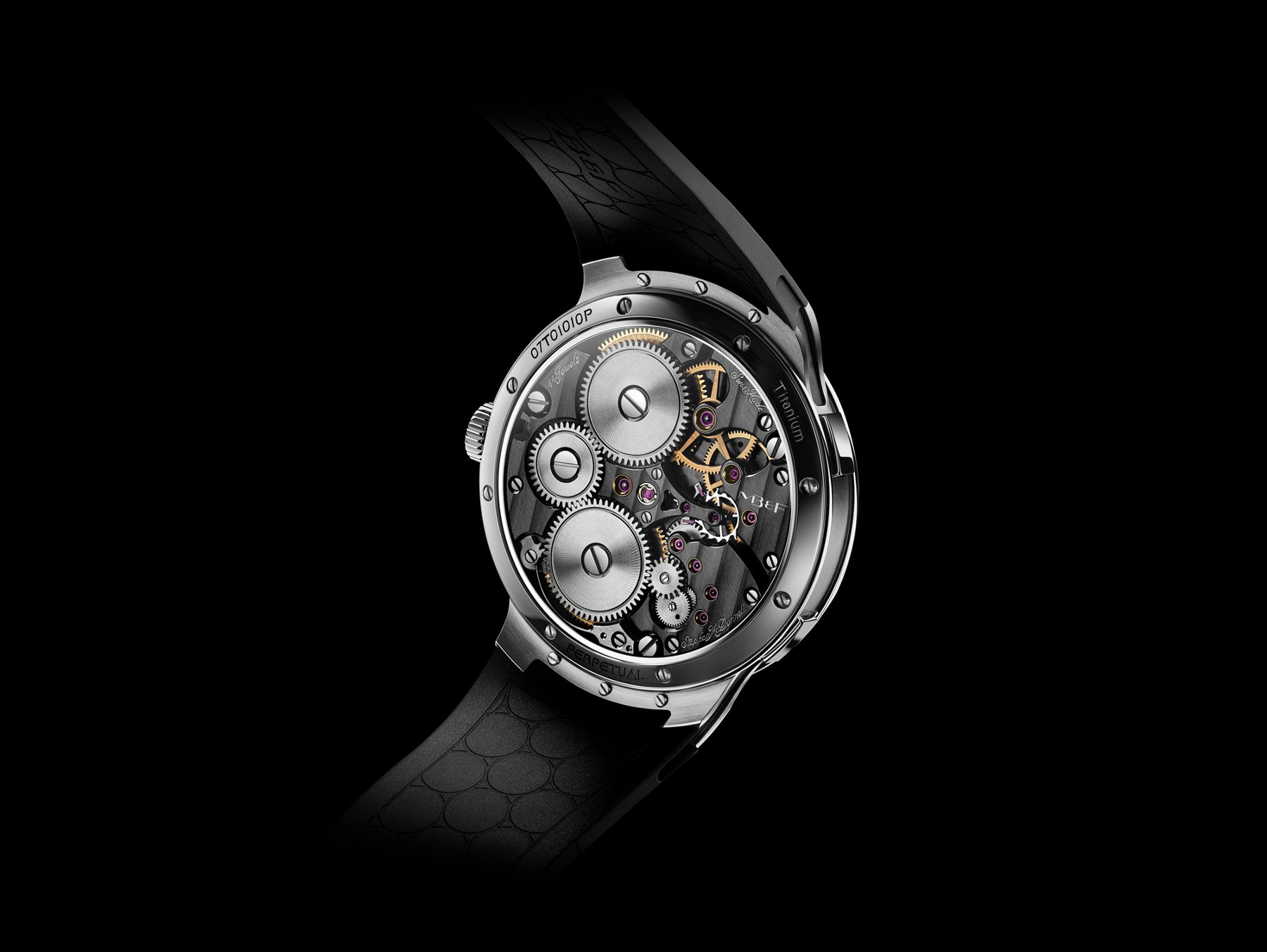 MB&F turns up the volume with Titanium
After my introductory ramble, I'm sure there are a fair few nodding heads out there. When will this madness end? But no, instead MB&F fans the flame with a new model, this time in Grade five Titanium. An even lighter case and a viscerally bright sea-green dial only reignite my odd mix of fear and passion-laden crush. One thing is the value of the watch itself, the other factor is the tangible risk of personal injury while staring goggle-eyed into the vast complexity of the open-worked hypnotism within the tall domed sapphire. But then again, I'm wearing a Marinemaster 300 as I type this, so feel free to wear this even if you're not a fan of physical sports or rambling through the woods, in which case I'd wear long sleeves.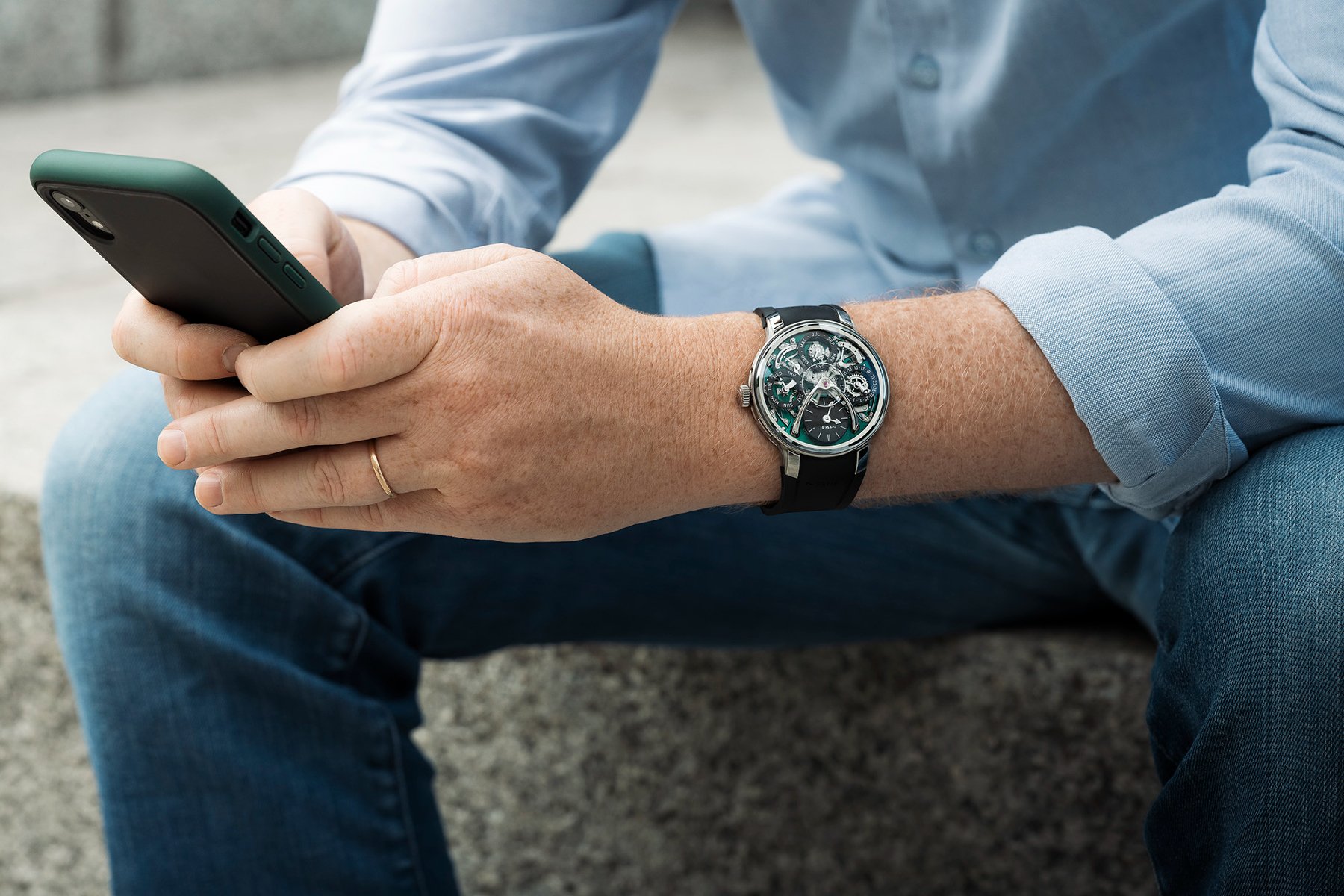 The next step on the EVO-lutionary ladder
The first flash-colored EVOs sold out rather quickly, and their Zirconium cases adorn many a mountain biker's wrists today. Sorry for the lame joke, though the image is beguiling. Unlike the original LMP, the EVO comes with a new bezel-less design and a screw-down crown, ensuring an 80m depth rating. One sports watch box ticked. The tougher rationale is underlined by the shock-absorbing FlexRing. This is an annular damper fitted between case and movement exclusive to the MB&F Legacy Machine Perpetual EVO. This makes the EVO the most robust Machine ever to emerge from Max Busser's laboratory. The mountain biking image is starting to actually make sense.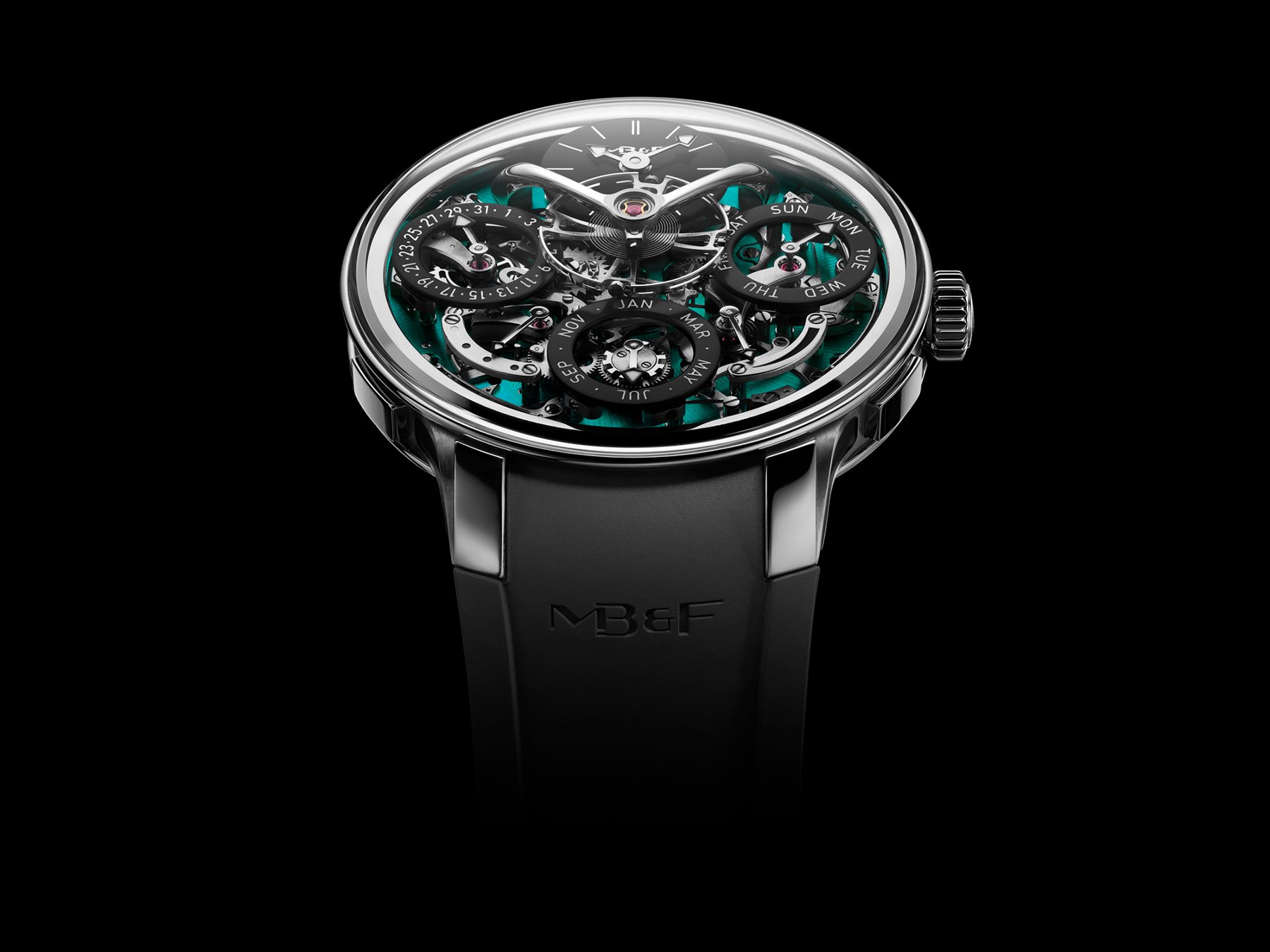 When a dial is not a dial
The Zirconium of the previous model might have brought a bright zing to the proceedings, but here we have strong and exceptional lightness. This time the MB&F Legacy Machine Perpetual EVO comes in Grade 5 Titanium, and the zing is taken care of through exemplary finissage. The matt blasted and polished sections of the Titanium case are an art in itself, and it shows. The large domed sapphire offers nothing but a distraction from anything, so if you're running late for a flight just don't look. A barrage of complexity is made to pop out at you by the flash of sea green in the background. The seemingly irrelevant passage of time is shown on a small, elevated sub-dial at 12, but do you care? Skeletonised registers are vying for your attention, in vain, as there is something hovering above the micro-architecture.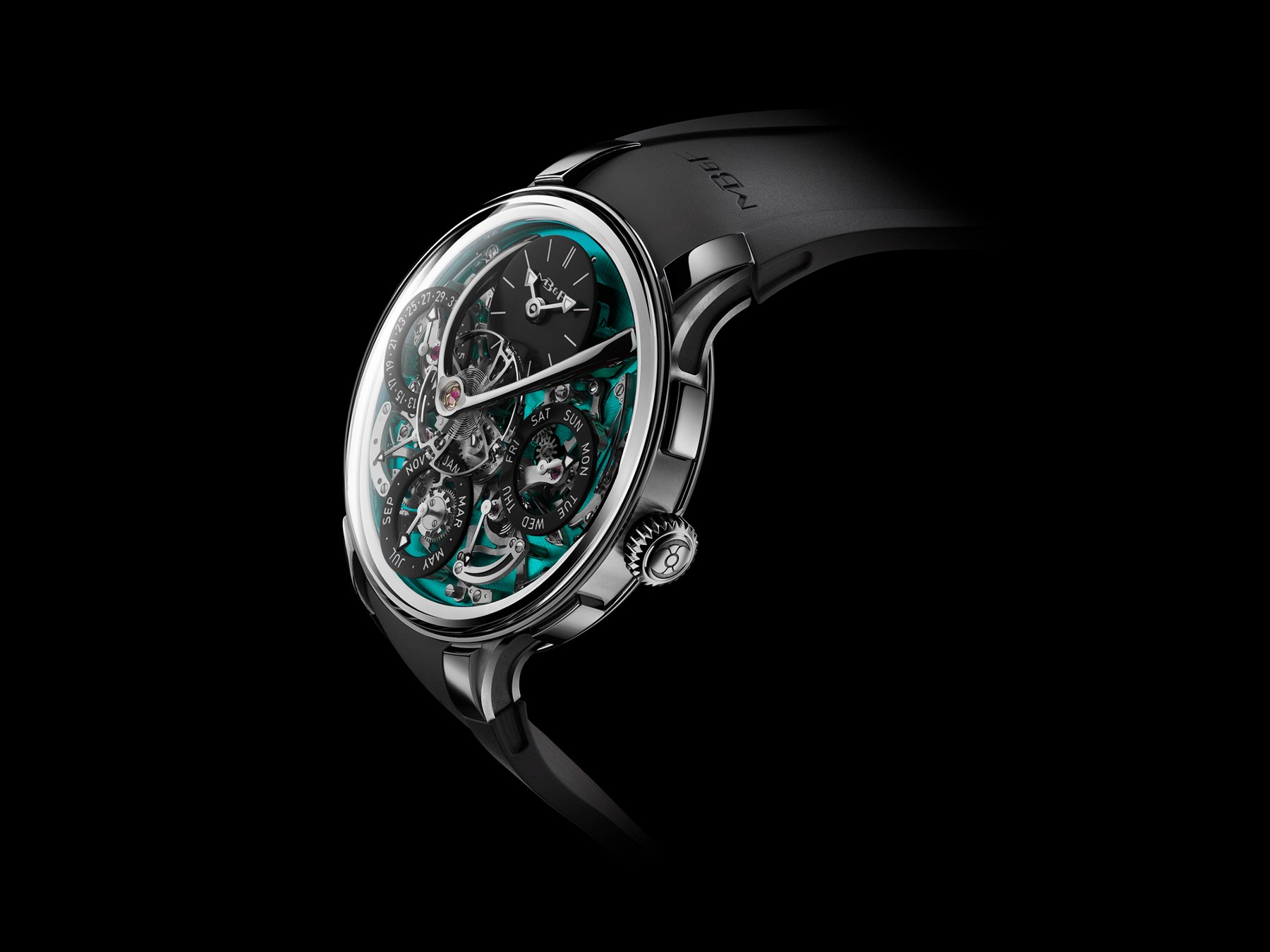 The balance wheel that dreams are made of
The still alien-looking madness of the arched and polished balance bridge with its large hypnotizing wheel is still present. Forget the highly legible calendar functions for a brief moment and become spellbound by the slow rhythm of the central balance wheel. I dare you to even contemplate telling the time or timing your eggs, you will be stopped dead in your tracks. Yes, I did actually try this on at the Geneva Watch Days only 6 weeks ago. While I wouldn't call a 44mm case svelte, the short lugs make for great wearability, and never have I tried on such a splendid debut rubber strap, it was supple yet solid.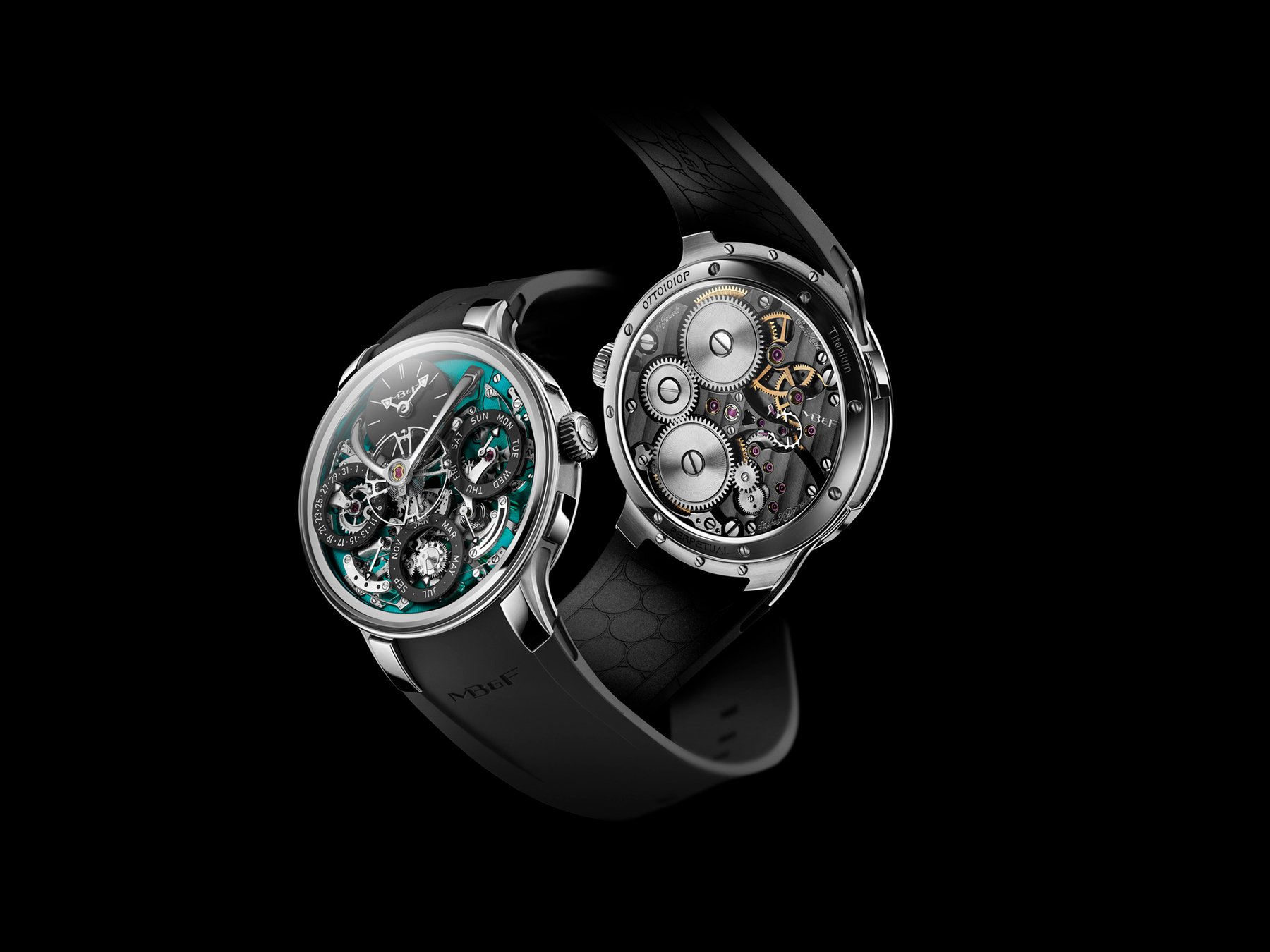 Comfort on the wrist and complexity within
The strong 72-hour power reserve comes from the dark movement within the open case back. Here we have an 18,000vph caliber with a dizzying 581 components and 41 jewels. So while the party is around the front, the complex modernity within the case back is equally fascinating, and in its semi-symmetrical design a textbook example of functional yet beautiful movement design. At $176,000 / €142,000 + tax, the new MB&F Legacy Machine Perpetual EVO is not for everyone, probably not for mountain bikers, but for me? It deserves a place on my list of rather unattainable grails, if only for its raison d'etre. The sheer guts of Max Busser and Friends to stick with the EVO concept is a sign that the future of horology is indeed bright. And that bright future comes on a rubber strap!
The first pieces are on their way to MB&F retail partners, while a few are saved for the MB&F website here.