A Special Watch For A Special Talent — Erling Haaland's Custom Micromilspec "GoldenBoy"
Rather than just another hype watch, Haaland comissioned a fully custom watch
Last year, in one of my Independent Insights articles, I covered a rather exciting watch project. Borussia Dortmund striker, Erling Haaland, had commissioned a custom timepiece from Norwegian independent brand, Micromilspec. I hadn't heard of the brand at that time, but I was intrigued, so I got in touch with the folks behind the brand to find out more about the Micromilspec "GoldenBoy". Earlier this year, I saw the finished watch in hand before it was presented to the player himself!
For any watch fans who use Instagram, I have no doubt you're inundated with posts about the latest flashy and unobtainable watches celebrity sports stars have on their wrists. It's essentially the same watches over and over again. Think Rolex, Patek, Audemars Piguet, and Richard Mille. While I have no doubt some of these athletes are serious watch collectors and do know what marvelous horology they have adorning their wrists, I'm pretty sure that many bought those watches as a display of wealth and don't really have a clue what they have. You only have to look at accounts like @celebwatchspotter to see what I mean. I always enjoy a quick look now and then to see who is wearing what, but it's largely the same watches. I was interested when I heard that Erling Haaland had commissioned a custom watch. For someone that could have any watch he wanted, he decided to go for something custom and incredibly personal. Sure, Haaland's been papped wearing all manner of the aforementioned hype watches, but his choice to go entirely custom is not one we see or hear of very often.
When Haaland met the GoldenBoy
Sadly, he was out injured for much of February and could not play for Borussia Dortmund during that time. His club kindly afforded him some time to visit home during his recovery. With Micromilspec also being a Norwegian brand, it made sense to complete the handover in their mutual nation, and the presentation happened at Haaland's family home. People may think of the footballers as ethereal beings, but Haaland is just like every other Norwegian person of his age. He loves nothing more than visiting his family and indulging in tacos when work is done. Apparently, in Norway, #tacofriday is a thing! Fine by me — I'm all for tacos every day of the week, not just on a Tuesday (or Friday). Please, give me all the tacos.
For a man that can have pretty much whatever he wants, it was good to see him smile with genuine enthusiasm when he saw the watch. He said, "I am delighted with the watch. The way it looks, with the carbon case, and personal details, is very good". Just remember, that's coming from a guy who wears AP and Rolex on the regular. Now, before anyone chimes in with "he's not a watch expert", you don't need to be an expert to know what you like. Only the individual can attest to their tastes and opinion. The fact that Haaland was just as impressed by his Micromilspec GoldenBoy as he was with his other watches says a lot, in my mind.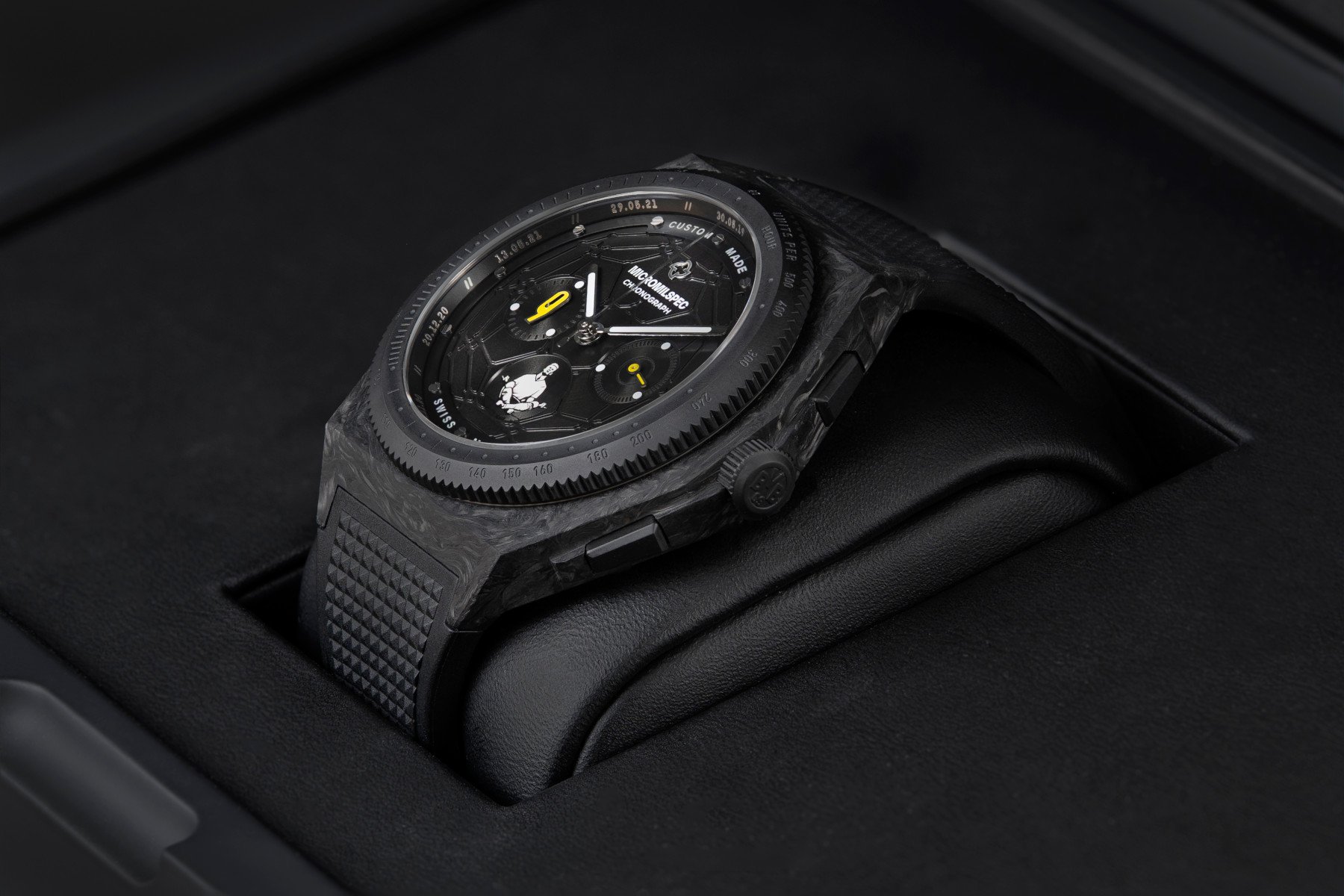 The Micromilspec GoldenBoy: A high-tech mix of forged carbon and titanium
The Micromilspec GoldenBoy case is made of forged carbon. Not all forged carbon is made equally, but this watch uses some of the best-forged carbon I have seen. The pattern is consistent, and the case is very well machined. One common complaint with forged carbon is that case edges can sometimes be a little "rounded" and not as sharp as steel. While that's a fair comment, the GoldenBoy case's lines are as sharp as I have seen from forged carbon cases before. The case shape itself is subtly familiar but also unique. There are inspirations of Zenith and Audemars Piguet peeking through, but yet, the combination or overall execution is refined and not as "in-your-face" as Zenith's Defy Extreme or AP's Royal Oak Offshore.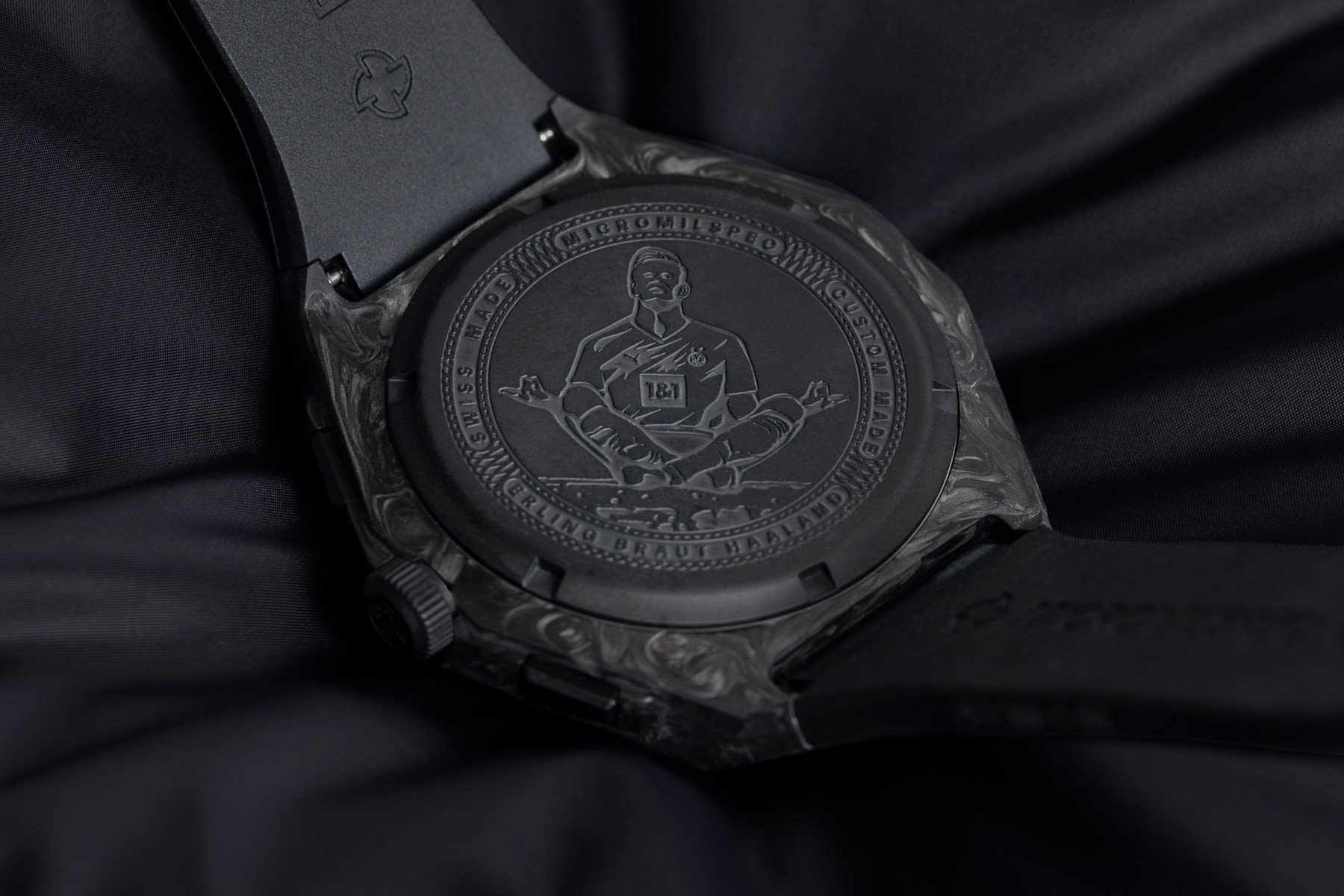 The case measures 42mm in diameter. From my brief hands-on with the watch, it wore nicely on the wrist, and the 50mm lug-to-lug felt shorter than the on-paper specs. This is because the underside of the watch is only 45mm which largely contributes to why it wears so snugly. The watch is also only 12.7mm thick, which is impressive for a sports chronograph watch. That said, the superb movement is definitely a contributing factor here! The case is topped off by 100m of water resistance. The titanium case back is quite cool and one of the more personal elements of the watch for Haaland. Anyone familiar with him as a player will be aware of his "Lotus" celebration, made iconic during the Champion's League game versus Paris Saint Germain. He elected to use this for the case back decoration.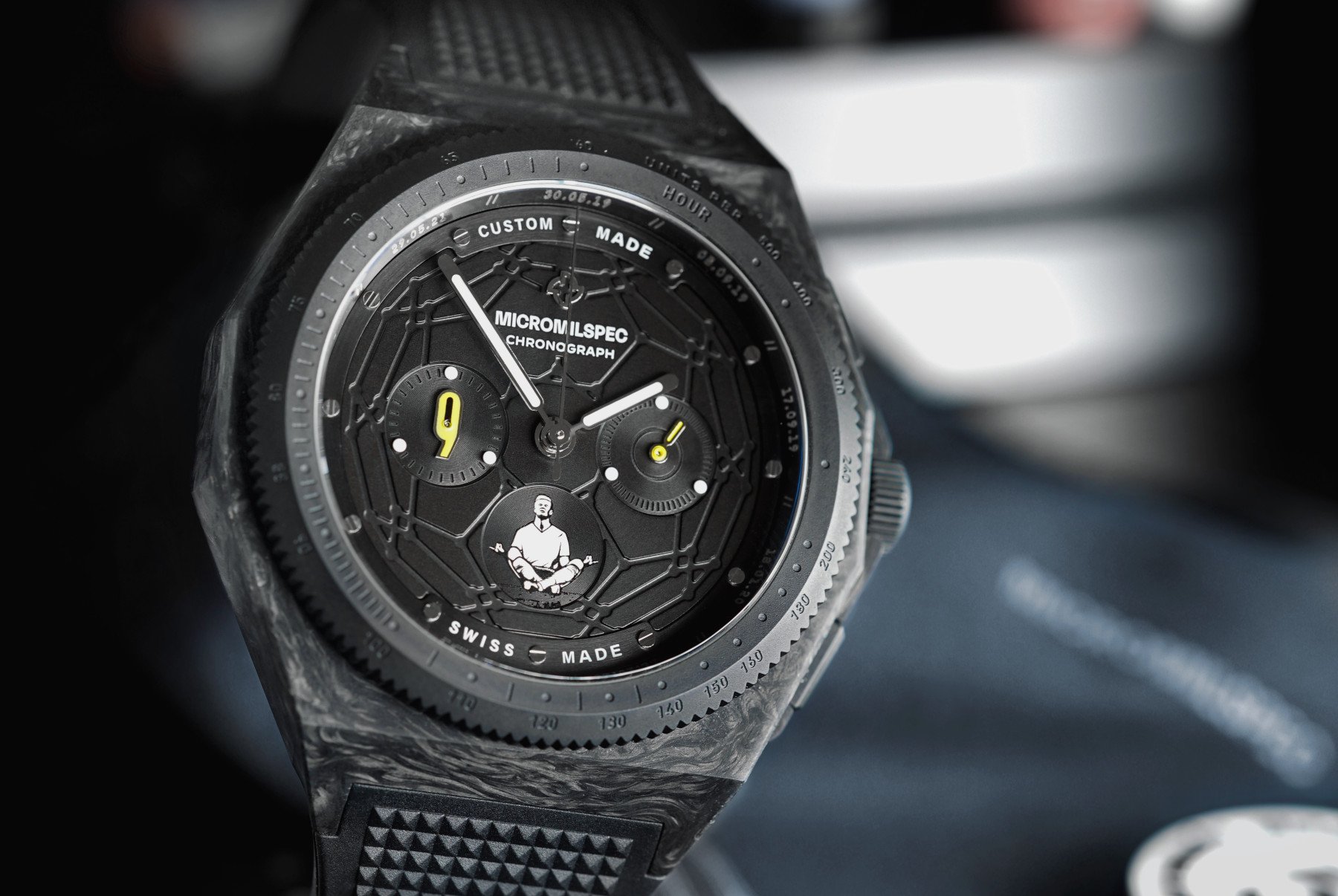 The GoldenBoy dial is a trip through Erling Haaland's career
The dial is where things get even more personal, starting with the subtle details. If you look at the dial rehaut, you'll spot ten different dates engraved onto it. These dates all have specific meanings for Haaland. For example, if you look at the date between the two- and three-o'clock markers, you'll see 17.09.19. Haaland made his debut in the UEFA Champions League against Genk on that date. He scored three goals in the first half of that game, eventually winning a 6–2 victory. You can see why it's a moment he'd want to remember. I rather like the incorporation of the dates. They're so critical to the personal factor of the watch, yet their inclusion is pretty discreet.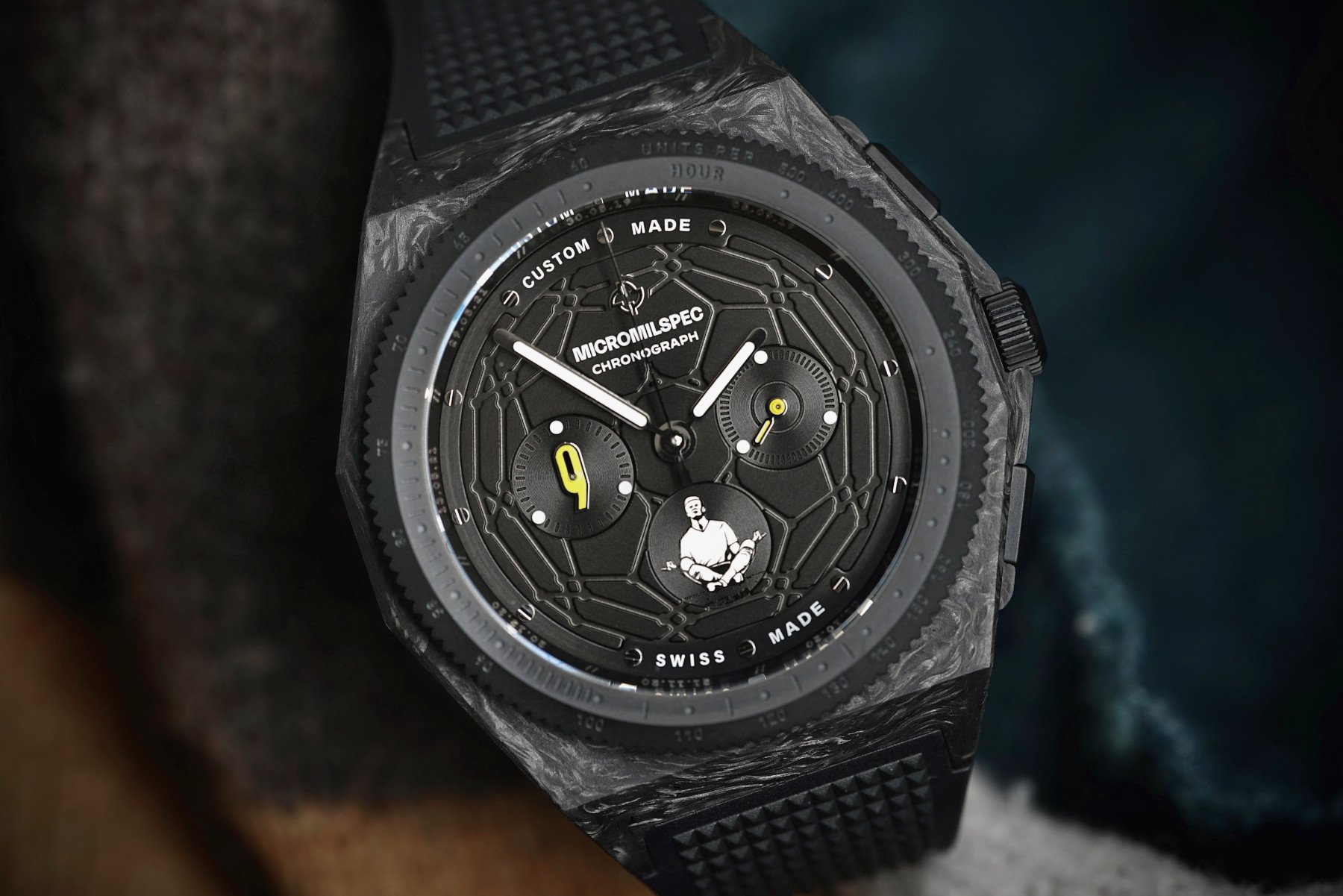 The dial itself is matte black, with a unique, geometric football motíf (also known as a truncated icosahedron pattern) that adds some depth and detail. While the design incorporates three sub-dials, the chronograph only uses two of them. The running seconds at three o'clock features a regular hand in "Dortmund" yellow. Opposite, at nine o'clock, the number "9" takes the place of a traditional hand. Of course, Haaland's squad number for Dortmund is, you guessed it, nine. The final sub-dial at six o'clock features Haaland in his famous Lotus celebration, just like the case back. The hour and minute hands are the only parts that feature any lume application.
A high-powered movement for a high-end watch
Micromilspec spared no expense when it came to the movement for Haaland's watch. This watch had to be able to hold its own against the other pieces in his collection. For that reason, Micromilspec chose one of the best chronograph movements available. Vaucher Fleurier's movements power some of the best watches around. Urwerk and Richard Mille are just two examples of brands that use or have used Vaucher movements in their watches. That's pretty good company, in my opinion! The exact movement is the Vaucher Seed VMF 3022. At just over 6mm thick, that's pretty impressive for an integrated automatic chronograph caliber. A power reserve of 45-50 hours ensures that it'll last for a few days should Haaland wear one of his many other impressive watches. I'd imagine that the GoldenBoy will be a "special occasion" watch, given its immense personal nature.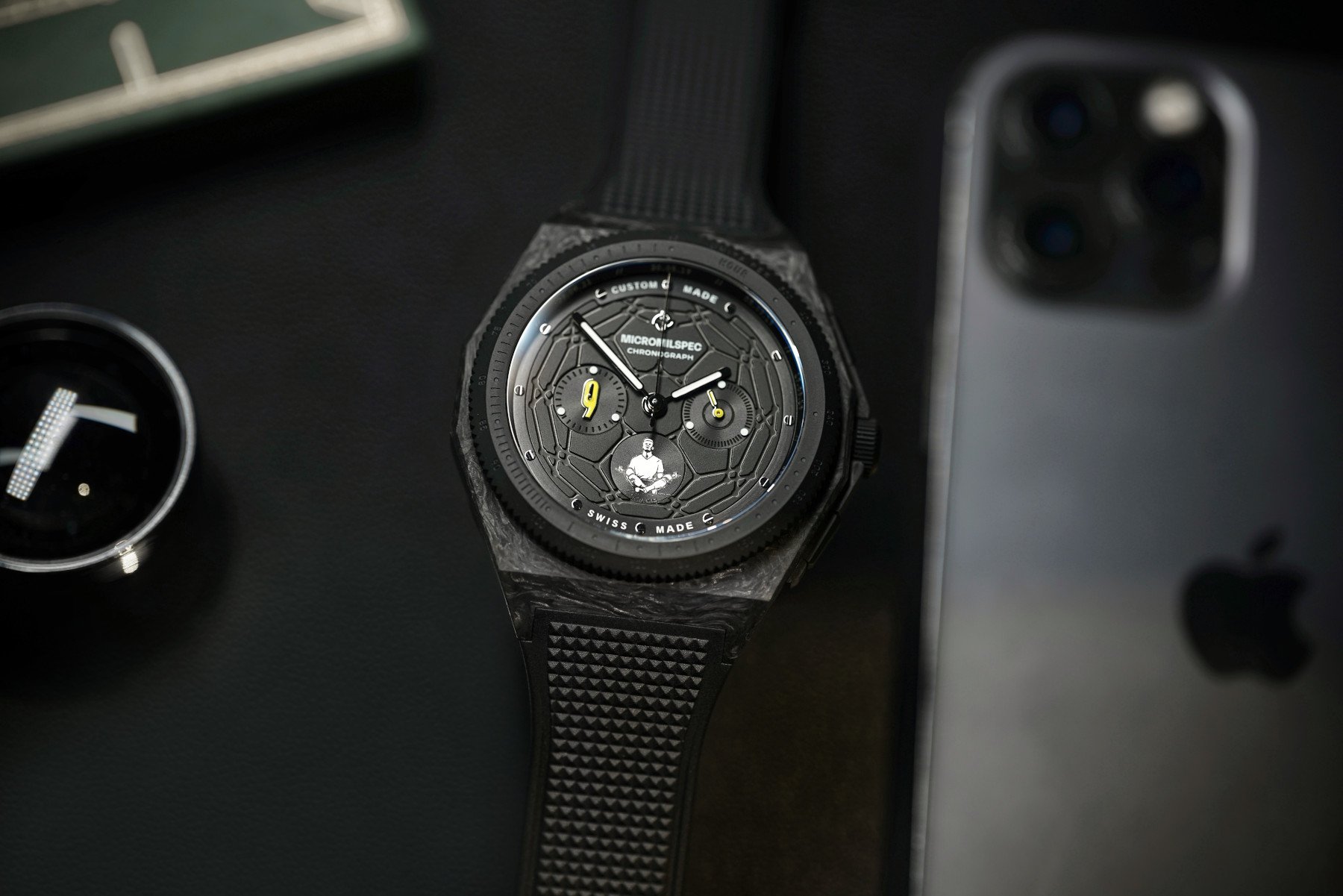 A sporty rubber strap is the obvious choice
Haaland chose to receive his watch on a simple rubber strap. While "simple" may not sound flattering, that's not the case — it's simple with just the right amount of details. At the end of the day, what better option is there for an athlete than a sporty rubber strap? While a forged carbon bracelet would not have been out of the realms of possibility, I have yet to see one that does the watch justice. Rubber is the best choice. I can attest to the quality of the Micromilspec rubber watch straps. They're incredibly comfortable, and they're thick, but not too thick. Genuinely, it's one of the best natural rubber straps I've ever worn! I also want to point out how much I love the flow of the lugs into the rubber strap. This kind of integration always looks and feels much more premium. It's tough to do well, as the tolerances are low to create the perfect fit. Get it wrong, and it's nigh-on impossible to hide a poor fit. As you'd expect, the fit was spot on. A custom-made black butterfly clasp secures the watch to the wrist.
Final thoughts on the Micromilspec GoldenBoy
Now, I am pretty sure that many people reading this article are not exactly the biggest fans of the final design. It's worth remembering that this is a personal watch for the individual. I know I wouldn't wear it, but that's because it wasn't designed by me or for me. I can, however, attest to the quality of the watch from my brief time with it earlier this year. The machining, the finishing, every element was as high quality as you'd expect from a watch designed for someone like Haaland.
I found particularly interesting how this watch essentially gave us a peek behind the curtain of Haaland's mind. It gives us a glimpse into what he finds important and values in his career to date, as well as the value he places on his roots. An individual with the status he holds could have gone to pretty much any brand and gotten a custom watch to celebrate his career to date. Instead, he chose to work with a brand from his homeland, Norway.
Are custom watches the way forwards?
While not all of us care what celebrities choose to wear on their wrists, I found this project genuinely fascinating! Lex wrote an article recently on customizing watches. A host of high-end brands offer customization options to individuals looking to personalize their watches. Other footballers have been spotted wearing watches from Artisans de Genève and Skeleton Concept, but I have never seen or heard of anyone commissioning an entirely custom watch. It would seem that perhaps Haaland is the trendsetter in this regard?!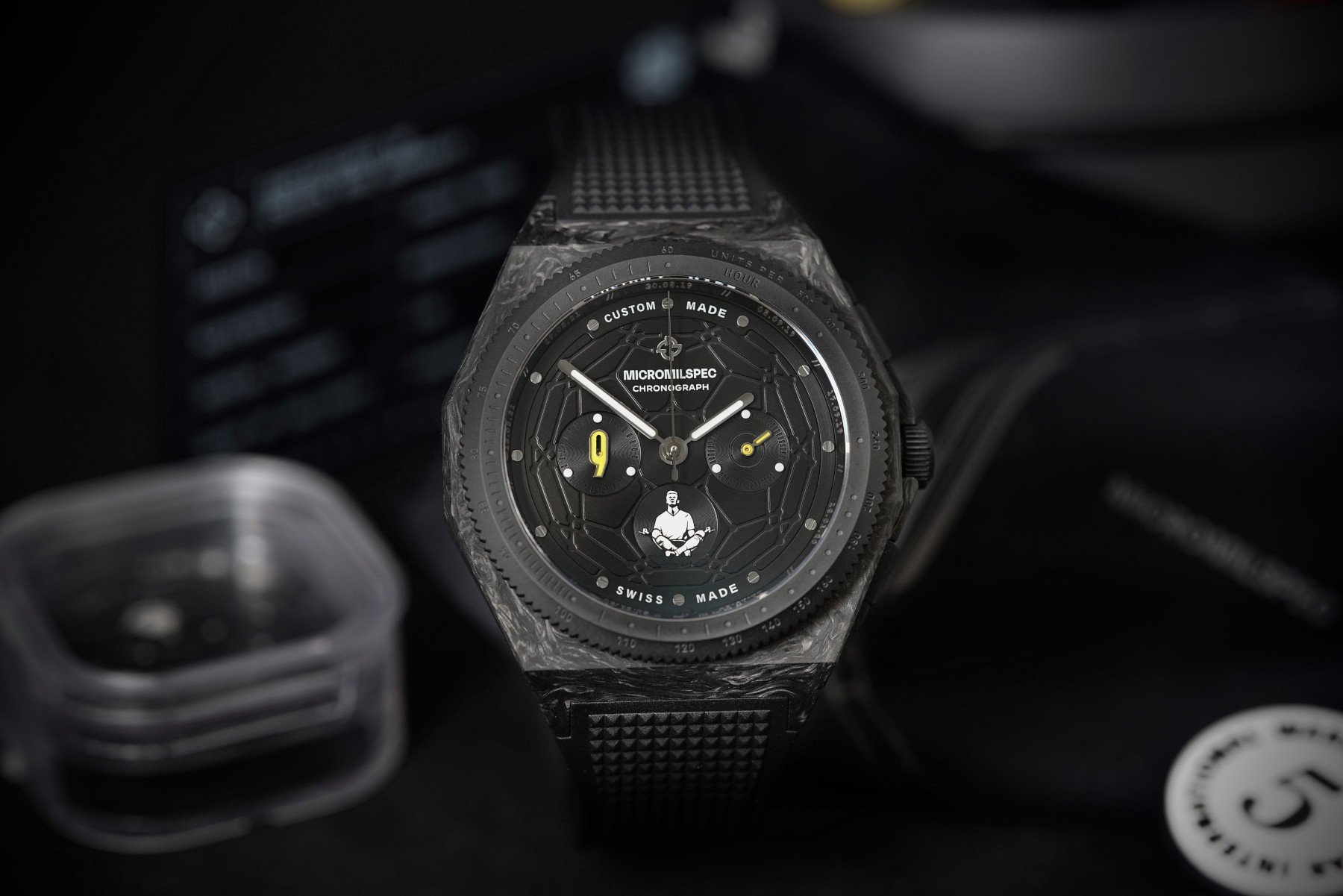 Want one of your own?
Now for any Haaland superfans out there hoping to get their hands on one of these watches for their collection, sadly, this watch is not available to buy. It's one-of-one, a pièce unique. But, by all means, get in touch with Micromilspec, and I'm sure the folks there could help you design your ideal homage to the Norwegian phenom. If you want to learn more about Micromilspec, visit the official website here. You can also follow them on Instagram here.
Follow me on Instagram: @davesergeant | @fratellowatches