To Mod Or Not To Mod Watches — Customizing Rolex, Seiko, G-Shock, Omega, And Even Patek Philippe
Is customizing sacrilege or freedom of (watch) speech? That is the question
Everybody wants to be unique. That's why everybody wants to wear a Rolex. With an annual production of close to one million watches, Rolex is a paradox of luxury. Yes, the brand produces exclusive watches, but it does so in very large numbers. They're not enough to satisfy the market, but we've touched upon that subject in many other stories already. And to use a trusty cliché, all Rolex watches look the same. But that can literally be changed. You can change the Jubilee bracelet for a NATO strap, but you can also have a professional "watch tuner" make your Rolex into a unique piece. Customizing Seiko watches and G-Shock models is way less controversial, and altering Omega watches is also a thing. Even Patek Philippe's coveted and desired Nautilus sometimes undergoes third-party modifications. To mod or not to mod watches — that is the question.
When you buy something, you can do with it what you want. You can rip your jeans, for instance, or put a big sticker on the hood of your car. You can also put a different strap on your watch. The only consequence of cutting your new jeans is that you can't return them to the store. A large sticker and even aftermarket wheels on your car also won't have big consequences. And neither does the temporary change from bracelet to NATO strap.
Rolex sees it like this: a customized Rolex is a fake watch.
It's when structural and technical integrity gets altered that things get tricky. You can have your car chip tuned, but only by a brand-approved company. Watch brands, with Rolex leading the troop, are way stricter. Change your watch, lose your warranty. It's very simple. Rolex sees it like this: a customized Rolex is a fake watch.
To mod or not to mod watches ­— Face the consequences
The consequence of Rolex perceiving the altered watch as a fake is that the brand itself won't service it any longer. Luckily, a Submariner is not the most complicated watch in the world, so you will still be able to find a watchmaker to service your personalized watch. But there are other obstacles to overcome when it comes to customizing watches from respected brands. The traditional high-horology brands strive to create perfect watches. Altering something perfect is not only blasphemy in the brands' perception, but purists also have nothing but disdain for customized watches. A watch needs to be original from conception to its final moments. Some "fundamentalists" even don't want scratches removed during a scheduled service, and even factory replacement parts are taboo.
Unique in a subtle or outrageous way
The dogmatic approach of watch purists smothers creativity. I admit, personalized stuff isn't always to everyone's liking, but in the end, it's a question of personal taste. Yesterday, I saw a Hamann-tuned BMW X5 on the highway, and that car with its more-than-massive wheels didn't look half bad. Before I continue with a few examples of watch tuning done right, a word of warning might be in order. For those who put luxury watches on a pedestal, stop reading now. What you will see next are alterations of your functional yet untouchable art. For those still here, open your mind, and have a look at unique pieces that range from subtle to outrageous.
Non-permanent watch tuning
Let's start with the easiest and least disruptive way of making a striking difference to your watch, and that is by simply changing the bracelet or strap. The possibilities are endless, and the number of companies that produce straps is too high to count.
Think made-to-order leather straps in all possible colors, leather types, sizes, and stitching from Genteel Handmade, for instance. But there are also steel Forstner bracelets, high-quality NATO straps from Artem, and supple rubber straps from RubberB, Crafter Blue, Everest, or Vanguard.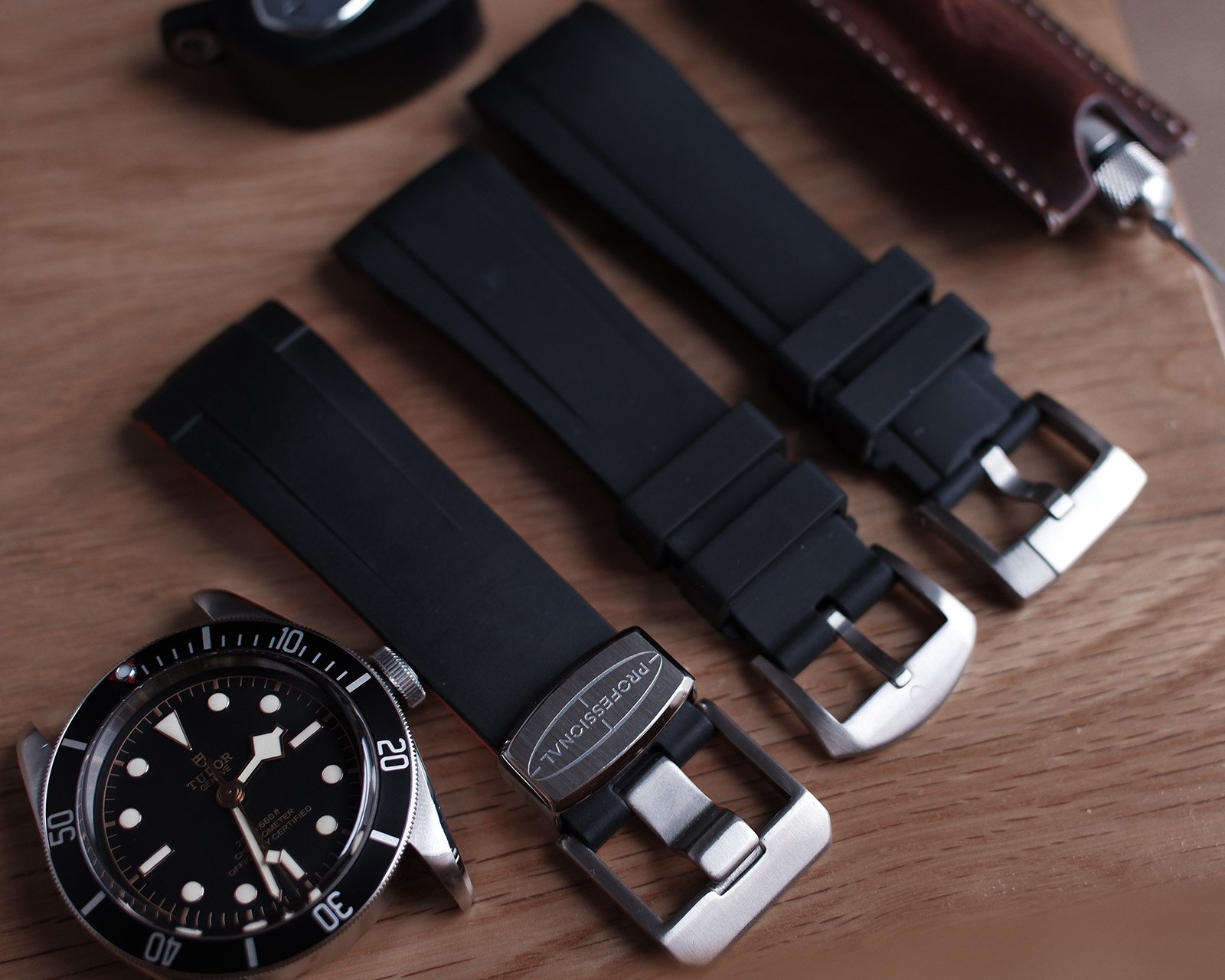 What's next? Let's change the dial or the back of the watch
What do you think of the 2004 Omega Speedmaster Professional Mitsukoshi? Nice, right? It's pretty rare too. Only 300 pieces of the reference 3570.31.00 were made for a Japanese retailer. For some, this watch is a grail watch. And as is the case with 99% of grail watches, it is out of reach. But not for those with a creative mind.
When you put — or have a watchmaker put — the "Panda" dial in a regular Speedmaster and change the hands to polished steel ones, you get the "Modsukoshi". You get the looks of the Mitsukoshi for a fraction of the price. And because you can always put the original dial and hands back in your Speedmaster, this non-permanent modification has no consequences in case of service or resale.
Changing a solid case back to a see-through aftermarket one is also an option, and so is getting a decorated case back. This Omega Speedmaster Snoopy Schumacher is an impressive example. A nice detail is the customized clasp for the bracelet.
But it's way more rigorous to change the dial, the hands, and the bezel to create a completely new look. The Speedmaster Paramedic is the result of mixing and matching different Speedmasters with aftermarket parts and a lot of creativity.
To mod or not to mod watches ­— What if black is your favorite color?
As you know, Rolex doesn't make black watches. But a lot of people like black watches. And a black Submariner is the ultimate in commando chic. Luckily, there are quite a few companies that will take your shiny steel Rolex and turn it into an all-black timepiece. When I think of customized Rolexes, I think of Bamford Watch Department, founded in 2003 by George Bamford.
Bamford is to Zenith what AMG is to Mercedes.
For a long time, he was the uncrowned king of Rolex custom pieces, but a few years ago, he quit modifying them. Why? Because LVMH's Jean-Claude Biver came in and Bamford became the official "tuner" for TAG Heuer and Zenith. Now, Bamford is to Zenith what AMG is to Mercedes. With Bamford out of the picture, companies like Blaken stepped into the Rolex-modding game. By using either Physical Vapor Deposition (PVD) or Diamond-Like Carbon (DLC), your Rolex can be "painted" black semi-permanently.
Black is the favorite tuning color, but a customizer can also turn your watch white, pastel pink, or any gold hue that you like. That has led to creations like the Bamford Polar Edition Daytona, for instance. But before you get carried away, let me quickly remind you that Rolex considers an altered watch from its catalog a breach of its intellectual property. As such, Rolex considers it well within its rights to confiscate your watch and switch modified parts with genuine ones… at your expense, of course. Just stay away from your official Rolex AD. On watch customizer Blaken's website, it reads, "Blaken is an independent company and is in no way affiliated with Rolex S.A. or other watch manufacturers nor licensed by them." And that disclaimer isn't there for no reason.
To mod or not to mod watches — The extremes
What's more extreme in every sense is adding gemstones. As you would expect, if you or a non-authorized dealer give your watch a full workup of diamonds, sending it back to the brand for service is out of the question. But since money can buy you almost everything, when you ask an Haute Horlogerie brand for a watch with a dial, bezel, front and back of the case, bracelet, clasp, and crown adorned with diamonds, it will gladly take your order and money. I've once held in my hands a complicated Audemars Piguet Royal Oak Offshore with baguette-cut diamonds on every possible surface — a factory custom.
Engraved cases and bracelets are on the more extreme side of modification. And so are the skeletonized versions of the Patek Philippe Nautilus and Rolex Daytona created by Artisans de Genève. The carbon-bezel Nautilus got the name The Pearl Project. The Daytona was named after the man who participated in the making of the fifty La Montoya chronographs, the Colombian former Formula 1 driver, Juan Pablo Montoya. At Artisans de Genève, they have no problem with going to work on a movement.
And the same goes for Label Noir that went so far as to equip a Milgauss with a tourbillon movement on special request. As long as your pockets are deep enough, anything is possible. This goes for Artisans de Genève, Label Noir, and every other customizer.
By now, your blood might be boiling after seeing all these wild mods. You thought you could handle it, but the La Montoya was the last straw. You are now also a hardcore traditionalist who loudly and clearly says that no high-horology creation should be messed with. I agree that some classics should never be meddled with. But I'm talking vintage watches that are no longer in production. I see no problem in buying a new, regular-production model and having it modified to your unique taste. Having something high-end modified may be frowned upon because it is only affordable for the fortunate few.
To mod or not to mod watches ­— The more relaxed approach to Seiko and G-Shock
Perhaps that explains why modified Seiko and G-Shock watches are much more accepted. Maybe it's because these watches are perceived more like jeans you can cut a hole in than as artisanal masterpieces that should be preserved in their original state. Casio G-Shock models are so easy to alter at your own kitchen table using mod parts you bought online. There are so many colorful kits to choose from. And you can even change your G-Shock into a Royal Oak lookalike with an integrated case-and-bracelet kit.
But not everything on the more affordable end is DIY. You can also buy a ready-made creation from MHD Watches, for example. MHD is a company run by Matthew Humphries, an automotive designer who has come up with a limited series of racing-inspired Seiko watches. This is a relatively affordable custom option, but you can also go for a true, bespoke piece. In that case, you can choose everything yourself from the case to the hands, resulting in a one-of-a-kind creation.
To mod or not to mod ­watches — Final thoughts and watches
With steel sports watches from leading manufacturers being virtually unavailable and their prices skyrocketing on the parallel market, customizing these watches is only an option for a select few. Going custom is a very costly choice these days, and I feel it has changed the way we perceive customized watches. Take a Rolex with Popeye's arms for hands, for example. I always felt that watch was a fun and quirky one. Sure, even when sports Rolexes were still readily available, it was very possibly a tad extravagant and hedonistic. But hey, you also pay extra to have Hamann work on your X5. However, when you want a black Sub from, let's say, MAD Paris, you pay extra and then some — €35,260 to be precise. And I expect that the Popeye-handed Label Noir Explorer II comes in at an even higher price.
Here's one last word of advice and a question. Please remember that if you decide to sell your modified watch in the future, it may not fetch as high a price as an untouched, factory-original, and less-than-pristine example of the same model.
… do you think you can stand looking at Popeye on the dial of your black Rolex for the next decade or so?
That's especially true when it comes to luxury timepieces with a crown on the dial. And my question is this: do you think you can stand looking at Popeye on the dial of your black Rolex for the next decade or so? Popeye or even that spotless, snow-white Daytona could very well be a temporary infatuation. It's not a problem when that infatuation is a G-Shock "Square". But with a Rolex, I think it's an entirely different matter.
For your viewing pleasure
So, is customizing sacrilege or freedom of (watch) speech? It varies from watch to watch, I think. And while you're trying to answer that question yourself, please enjoy this (wild) gallery of modified watches, ranging from subtle to exuberantly contemporary. May it help you find the answer to the "to mod or not to mod" condundrum
Please find and follow me at Lex Stolk • Instagram