Speedy Tuesday – Customized Omega Speedmaster Snoopy Schumacher
Customization of watches isn't new. Also not on Speedmaster watches. We reported about a modified Speedmaster some years ago (here), including an article about a company that specializes in customizing dials. Just recently even, we showed you a customized Speedmaster that was done for Hackett.
Today, we have another customized Speedmaster for you, but this time we feel it is something really special. Where the other modifications mainly consisted of using parts from different Speedmaster references, or painting dials, the Speedmaster we have today has some real craftsmanship applied to it.
Speedmaster Snoopy Schumacher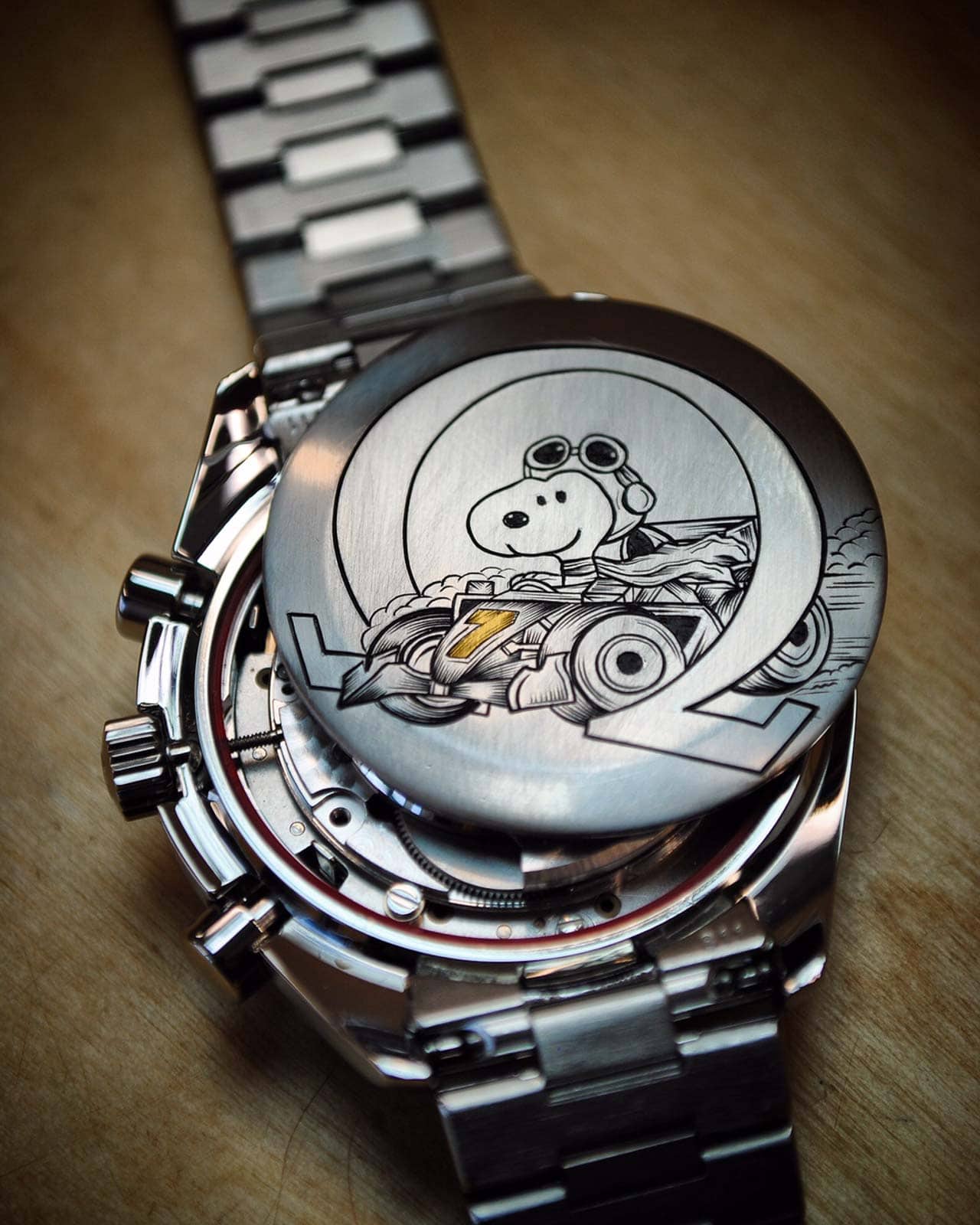 Snoopy has a special connection with Omega. The most famous beagle in the world was used by NASA as a "watchdog" since 1968. Pins of Snoopy were given as a sign of appreciation to NASA employees and contractors who did something special for them, together with a more official 'Snoopy' certificate. Click below for an in-depth story on Snoopy and Speedmaster watches.
https://www.fratellowatches.com/snoopy-on-the-dial/
Johnny 'King Nerd' Dowell (King Nerd is his instagram name) is an engraver, trained by James Purdey & Sons, and has worked on several watch projects. This includes work for brands like Jaeger-LeCoultre, Officine Panerai, Linde Werdelin, Bamford Watch Department and a couple of others.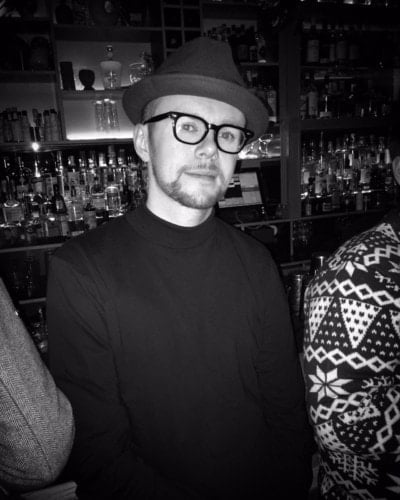 However, the project we see today is his personal watch. A custom job on his trusty yellow dialed Omega Speedmaster Racing Schumacher. Below, an image of the Speedmaster Racing Schumacher yellow dial (pictured here with yellow leather strap).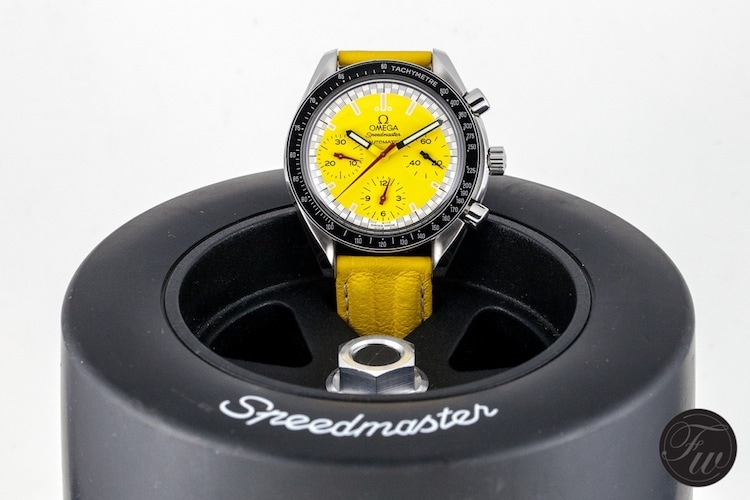 Only for once, Johnny decided to engrave his own Omega Speedmaster Schumacher. It took him a while to find the right theme, but in the end he settled for the famous beagle: Snoopy. Of course, there already have been two official Speedmaster Snoopy watches, but Johnny thought about making it a F1 Snoopy instead of an astronaut Snoopy. Snoopy in a F1 Ferrari.
The case back was completely filed down by hand, using different grades of file and a micrometer. The micrometer was used to measure thickness while slowly filing down the Speedmaster's case back. The gold that has been inlaid was a painstaking process according to Johnny. The case back should be thick enough to have the 24 carat gold inside, and not pierce through the case back when doing the inlaying.
The result is amazing. The Snoopy driving the Formula One Ferrari through the Omega logo. On the car, you will find No.7. This stands for the number of World Championships that Michael Schumacher has achieved during his career. Everything is hand-engraved.
The same goes for the clasp of the Speedmaster Schumacher's bracelet. It shows Snoopy holding the driver's Formula One world championship cup.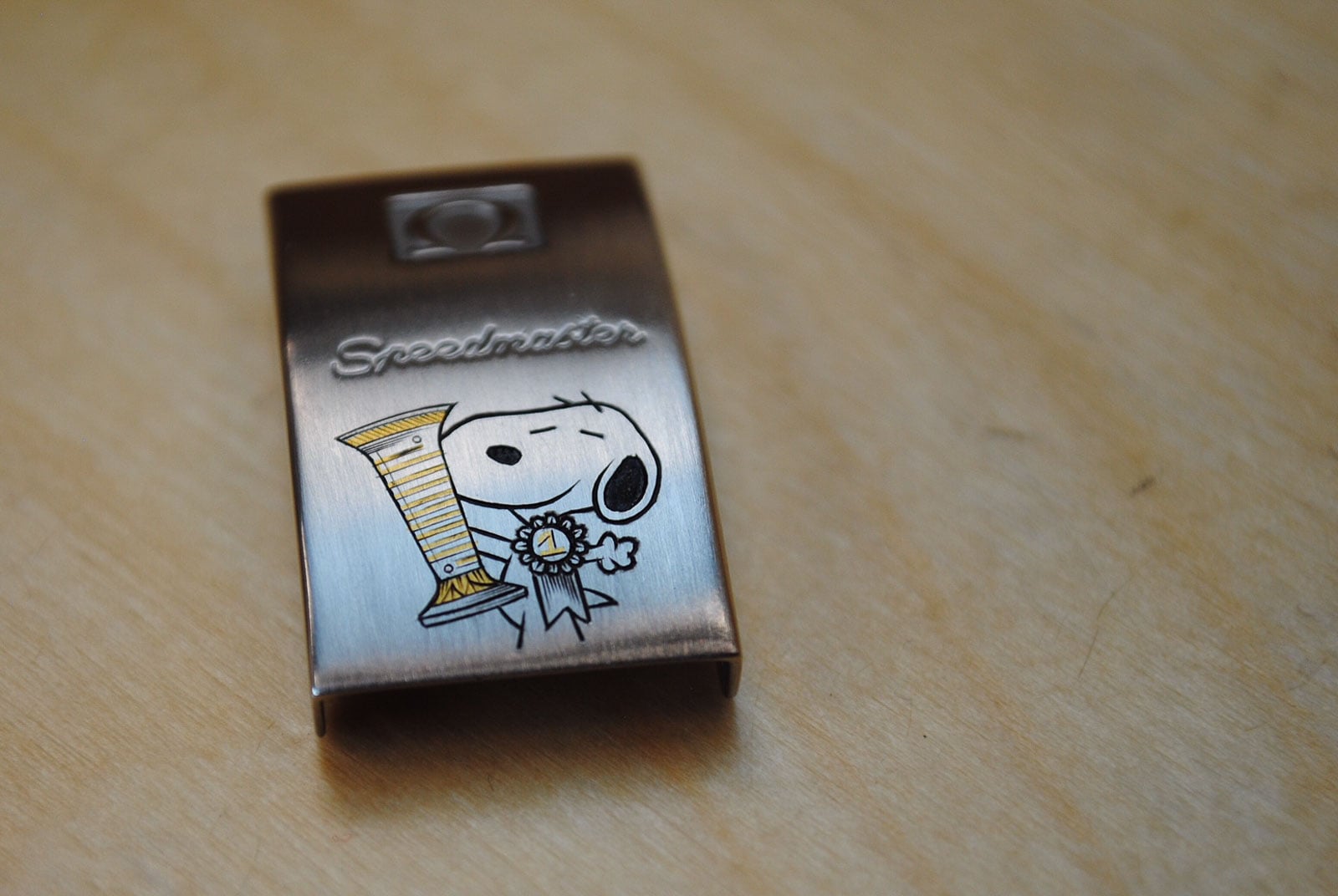 Johnny shared his work with us and you, the Speedmaster fans, to enjoy this customized Speedmaster Snoopy Schumacher edition. He did this watch out of love for Omega, a brand he admires. He is overwhelmed by the responses so far, including that from Omega. The art of engraving is his job, so he merely looked at it as a fun project. However, now that it is done and he's wearing this watch, he feels it is definitely something special. Truly one of a kind Speedmaster Snoopy Schumacher.
We would like to thank Johnny for his work and his willingness to share it with us here on Fratello Watches for our weekly Speedy Tuesday feature. Make sure to follow him on Instagram, it is worth it.