Hands-on With The New Mido Ocean Star Decompression Timer 1961 — A Unique Dive Watch With Plenty Of Vintage Appeal
A refined version of last year's limited heritage release
All this commotion because of a different dial and bezel color? Absolutely! Because when it comes to this new Mido, it's the color that plays quite a different tune. Let's take a look at the updated Decompression Timer 1961. 
I was a bit sad that I missed last year's Mido Ocean Star Decompression Timer 1961. Mido piloted it slightly under the radar. Before I managed to get my hands on the press sample, the entire limited batch was already long gone. All 1961 pieces disappeared sooner than they reached shops, which only confirms just how hot the offering was. It wasn't just the provocatively daring decompression "rainbow" dial from Mido's vintage grail watch that we know and love, but also the riveting price tag. Buying such a striking vintage-inspired re-edition in a contemporary 40,5mm diameter for only CHF 1,050 was one of the best watch acquisitions you could make last year.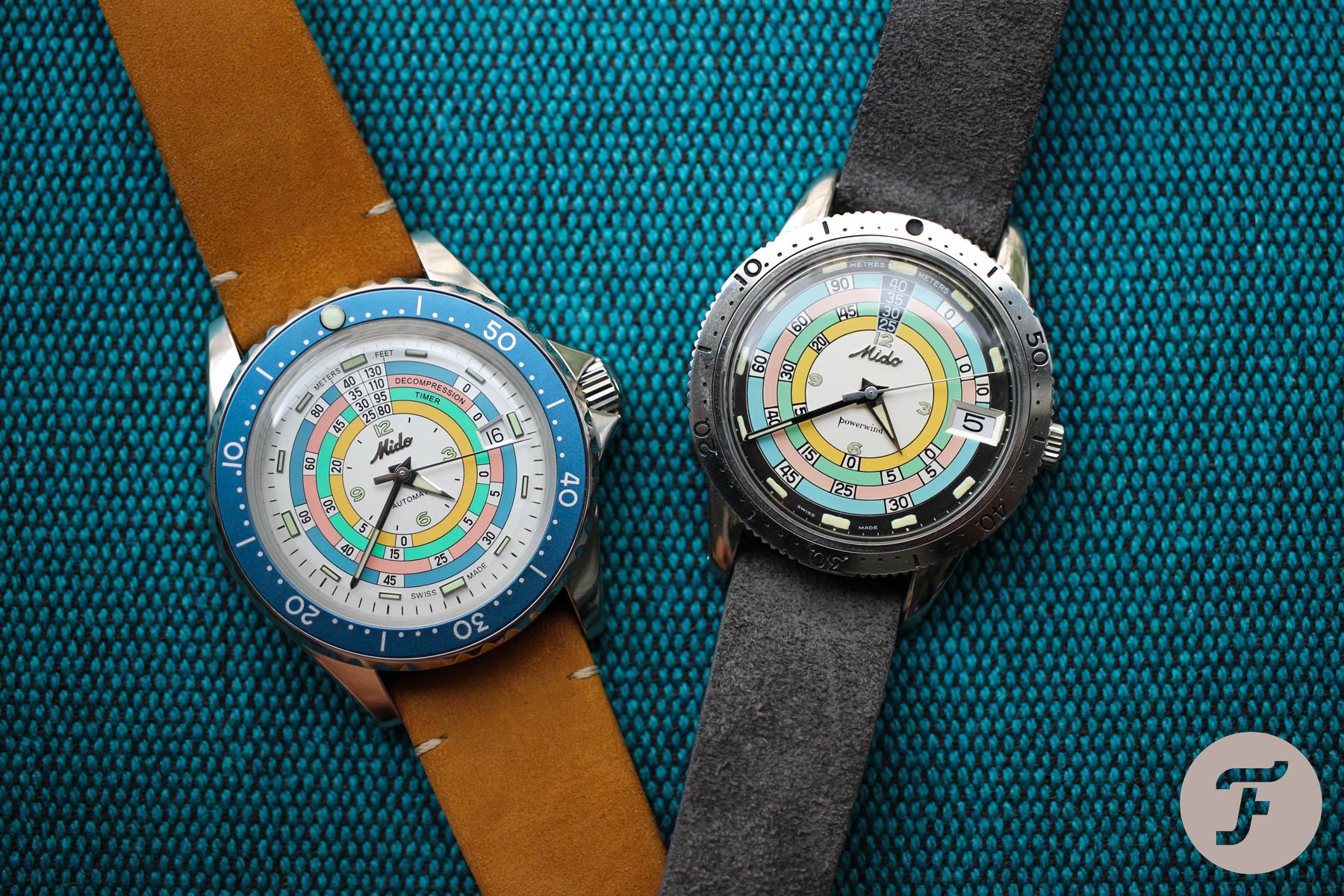 2021 Mido Ocean Star Decompression Timer 1961
Honestly, I didn't expect Mido to come up with another Decompression model just a year after the initial limited re-release. I don't even know why it surprised me, as it makes sense to ride the wave of success from last year's release and to add a white model to the black one. This way the original black and white dial offering from 1961 is also more faithfully recreated.
I happen to have the original "Rainbow" ref. 5907 in mint condition and I got to spend some quality time with last year's black dial model. So I do dare to say that I can truly compare them, especially the details that you can't see in the pictures. The changes Mido made with regard to the previous model are really small and careful but definitely make quite a difference. And it's that difference which makes me quite glad I missed last year's launch. Why?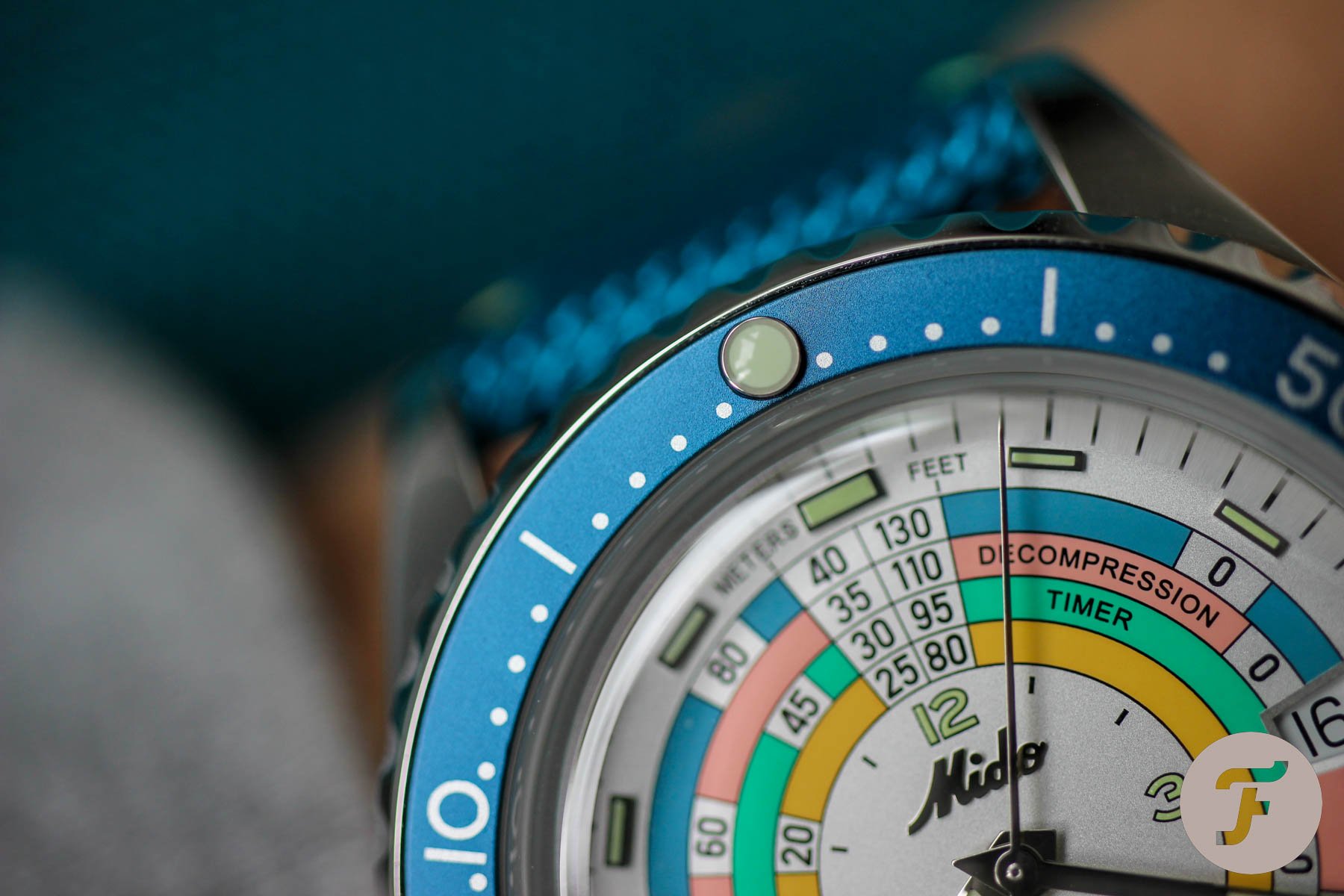 Top points for the new white/blue model
The freshly released Mido Ocean Star Decompression Timer 1961 for 2021 has a turquoise bezel insert and white dial. When I looked at the watch specs, it says silver-white matt dial. If it was me, I would leave the "silver" part out and leave the dial a plain white. The silver has a bit of a pearl-like shine, giving the watch a fancy vibe. I just found it harder to read in darker light conditions or artificial lighting. On the other hand, the silver-white dial with all its colors loves the outdoors and direct sunlight. The way in which it comes alive is almost hard to describe. Each splash of color strikes you with its richness, and you feel you are looking at the most energic dial around.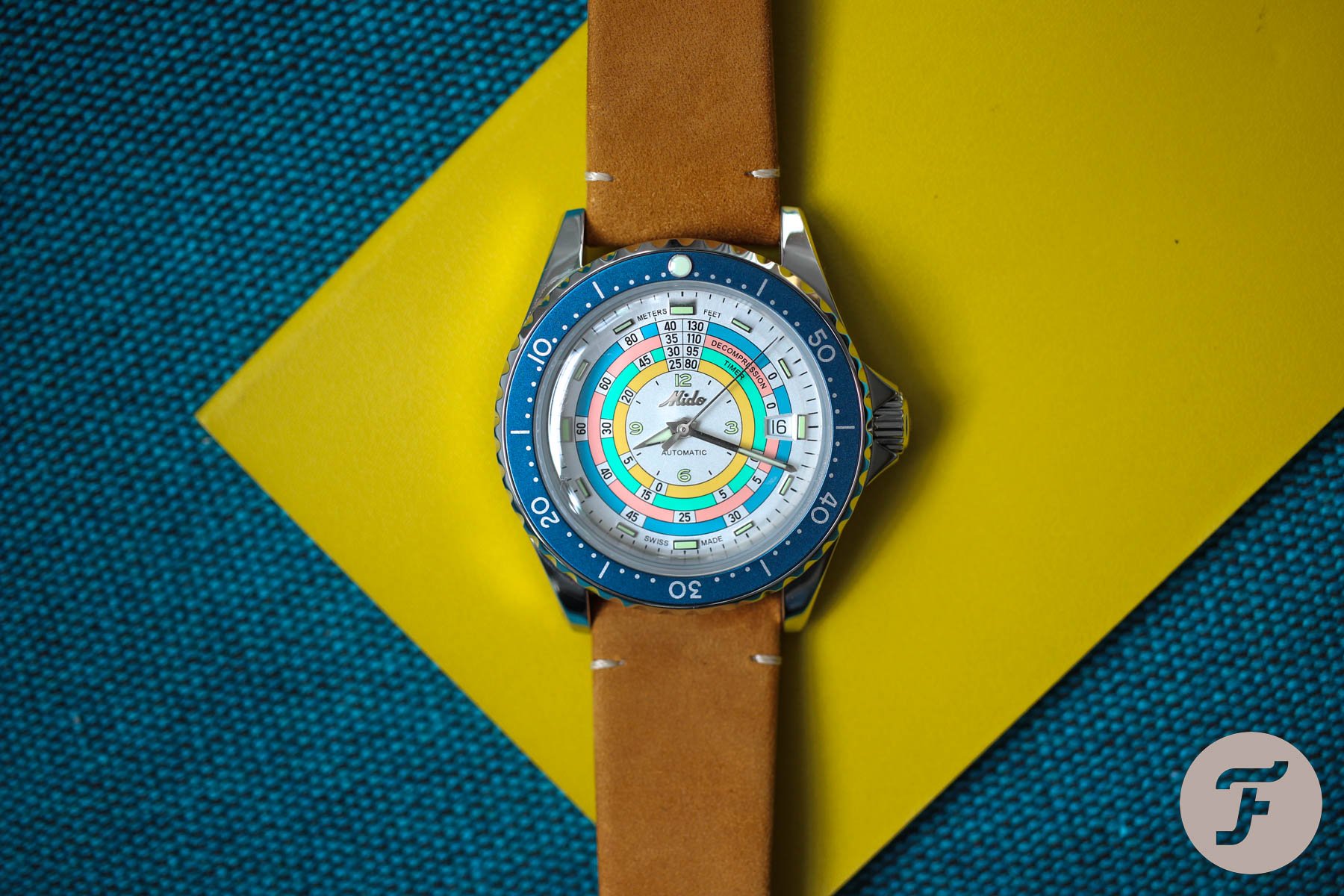 I am not sure if I nailed it in the review of last year's model and I won't read it again so I'm not biased by the old me. After a few days of looking at the new version, I opened up a folder with last year's pictures. It hit me instantly. There was just too much black. Even the central part, the background under the decompression time intervals, and the date disc were black. The 1961 original had the black ring only for the minute track. It probably didn't bother me that much last year, as I saw the watch as a vintage-inspired release, not an exact re-edition of the 1961 original. But with this year's addition to the lineup, I can't help but compare the two. And visually, I vote for the brighter one with a double thumbs-up.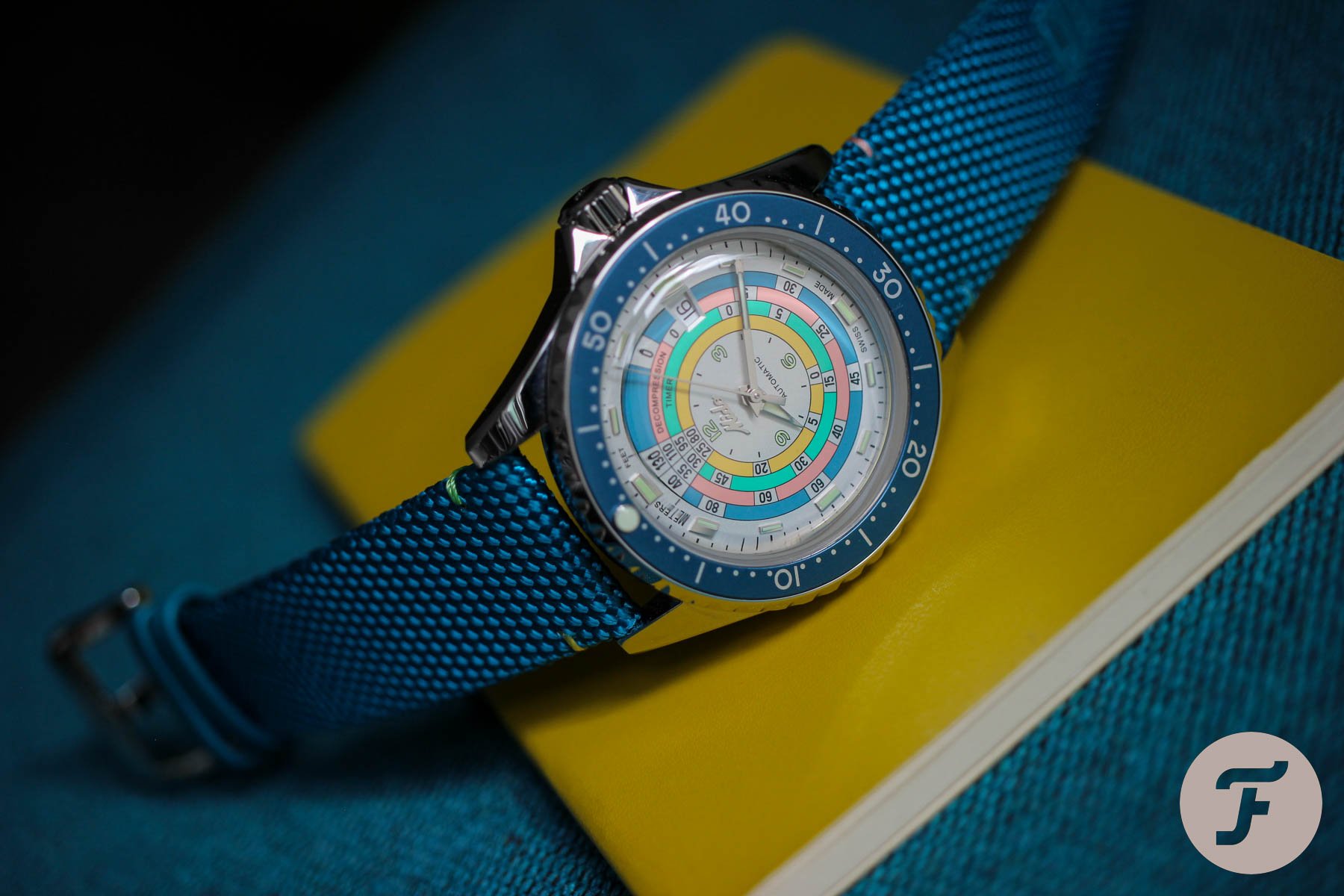 Singing blues
The biggest liberty in terms of design on the Mido Ocean Star Decompression Timer 1961 fell on the bezel. The original ref. 5907 had a thin bi-directional sliding steel bezel with black engraved markings on it. The new models have a rather thick, clicking, uni-directional bezel that is a pain to operate. Sadly, this year's model didn't improve its usability, and even operating it with two fingers can prove difficult. Maybe it gets better after some breaking-in, but in the time I've had it so far, it has been cumbersome at best. We will have to re-assess it in my 5-years-later review. Yes, it's irritating, but it wouldn't stop me from a purchase.
I guess it's the vividness of the fresh turquoise blue aluminum bezel insert that allows me to forget its painful operation. The tech parameters of the bezel rank it as modern, but the old-school countdown track style is true to the original. The font for the numbers with round zeros is beyond classy and puts it in my imaginary selection of top 5 bezels. Sticking out the high round pip is unusually majestic and gets your sympathy from the very first day.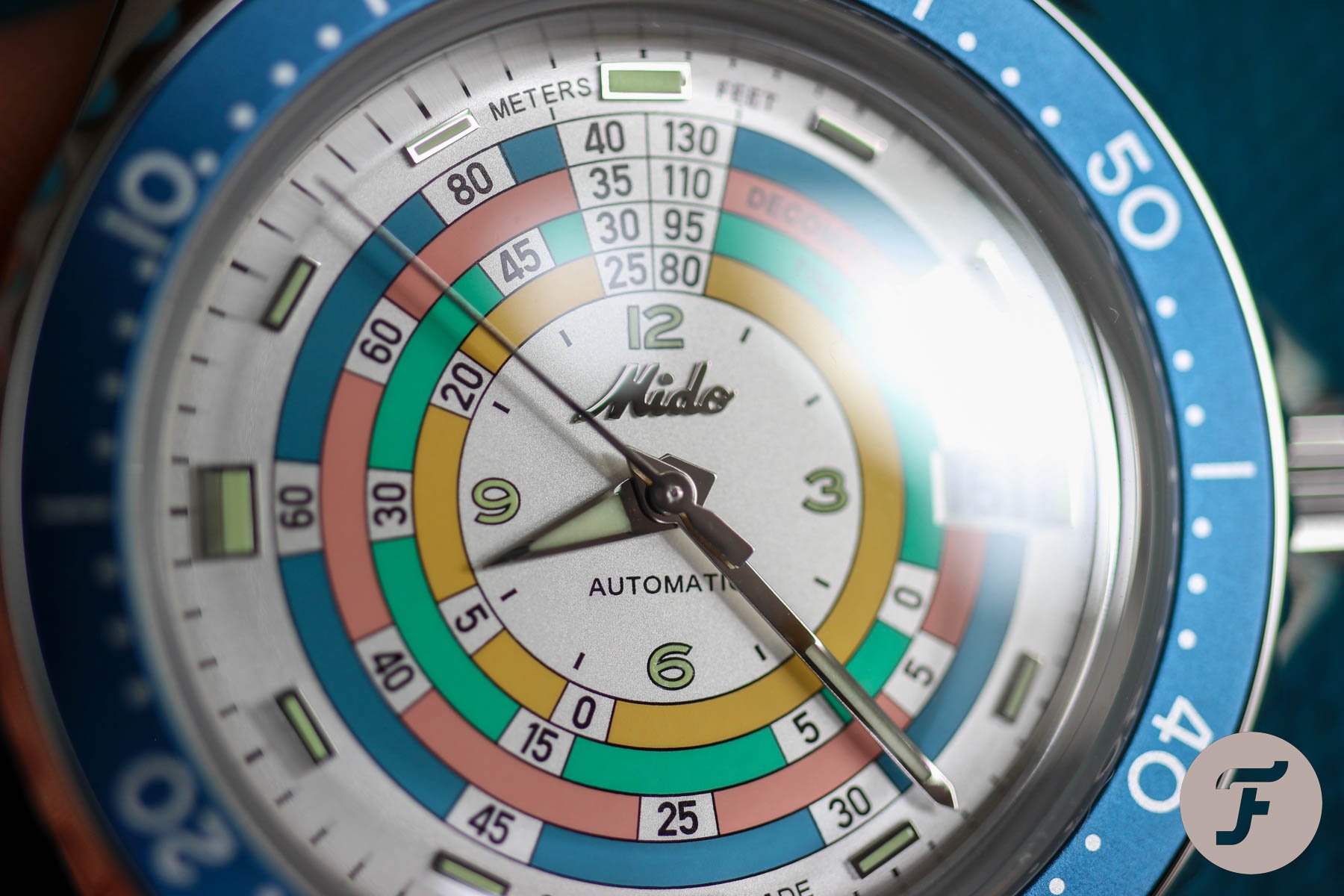 Comments on the dial
I am sure I already explained how to read this particular decompression dial, so feel free to read about it along with the entire story on how I landed my original ref. 5907 Decompression Timer. In that article, you will also find out why it is the dearest watch in my collection. I also urge you to study what other divers in 1961 looked like. There were different takes on the dial styles, but they were all pretty standard, just playing with the indexes or hands. Only after such due diligence can one fully appreciate just how daring Mido was to release this crazy circular rainbow diver.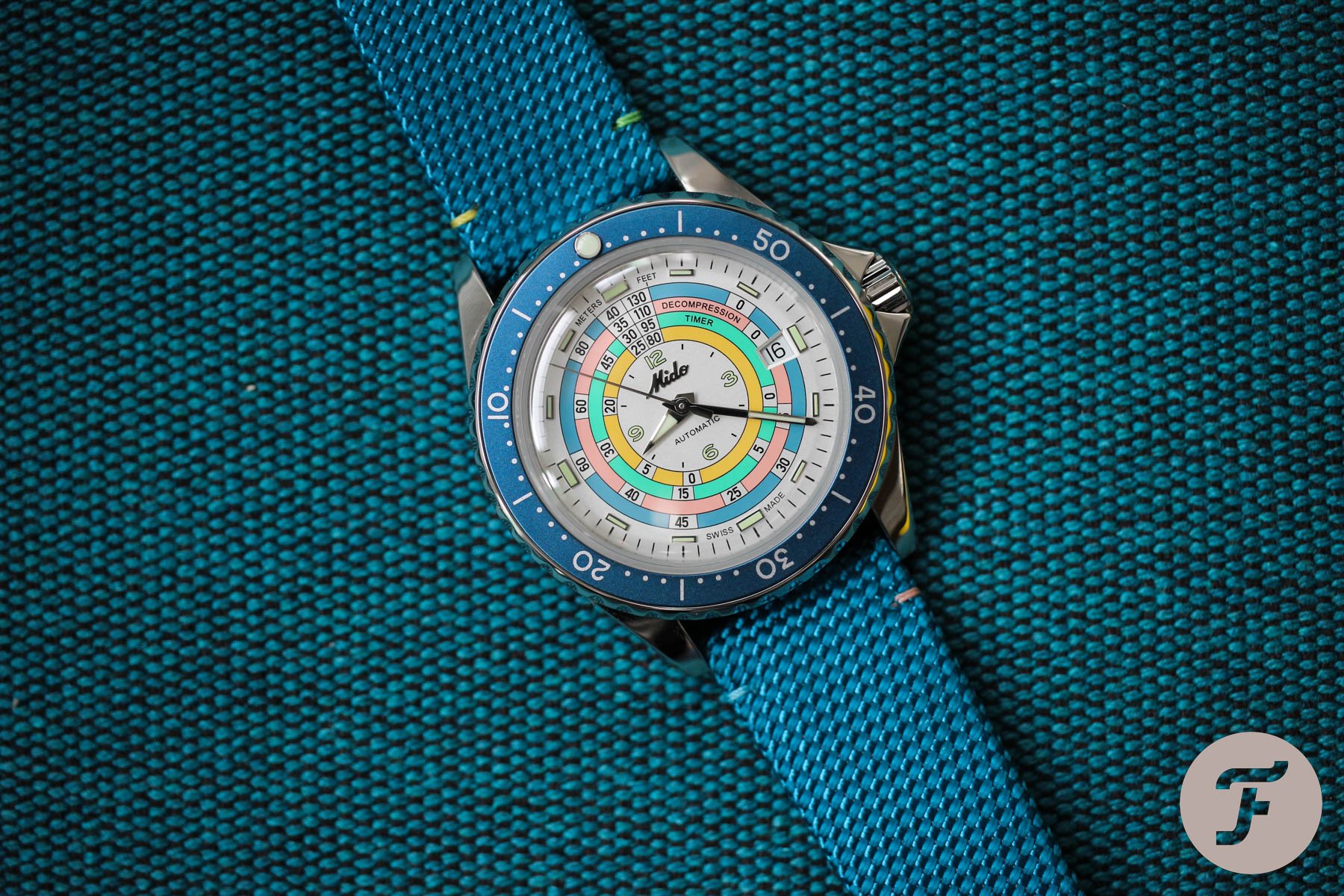 I want to clearly state that I have no intention to write an in-depth comparison of the 1961 watch to the new release. Besides growing in diameter by a few millimeters, the hands-on re-edition seems to be slightly shorter and the decompression rings a hair thinner. The modern model features both meters and feet next to each other. Sixty years ago Mido didn't take such shortcuts and printed the feet and meter dials separately. Function-wise, I find the original model unbeatable, but that's also what its price tag reflects. The current market value of a minty original ref. 5907 will easily buy you 15 new re-editions. Looking at it from that perspective, a new re-edition limited to 1961 pieces will almost certainly be a hit.

Back to the 2021 Decompression Timer
The fully polished case with short lugs represents a nice balance between modern and vintage. I won't ask Mido representatives about the crown guards, as I am scared they won't confirm that they were designed to mimic a fish-head swallowing its prey: the beefy Mido signed crown. So I decided to just go on believing it without official confirmation. It's a very characteristic detail. Inside, the ETA-based Caliber 80 underlines the 80 hours of power reserve, which comes in handy if you plan to put the Mido Ocean Star Decompression Timer 1961 into rotation with another watch. The sapphire crystal and 200m water resistance make it a pretty universal watch for whatever you decide to do. Forget an exhibition case, Mido put in a beautiful screw-down case back with a deeply stamped seastar emblem. I am really glad Mido paid so much attention to it, it's often a missed opportunity. The case back is really nice and underlines both the heritage and durable construction.

Shotgun notes
To see the old curly Mido logo on a dial of a modern Mido watch feels almost therapeutical. Though I miss the black minute hand. I found myself enjoying the thin and short hour indexes added to the central dial.  The applied brick-like indexes around the outer edge aren't bad either. I assume it's the one and only watch where that particular style of setting indexes looks natural and non-disturbing.
Two holes in the lugs allow for some micro-adjustment upon strap mounting. A strapping choice! Speaking of straps, you get three interesting choices with quick-release pin bars for painless swaps. I know there is a big polished mesh community, but I'd much prefer watching M.A.S.H. than meshing this particular watch. That being said, I really like the turquoise-blue fabric strap with the stainless steel pin buckle, signed with the old Mido logo too. It felt a bit stiff to me, but after a few days, it started to fit my wrist nicely. The light brown leather isn't bad either, but the blue attire matching the bezel is my ultimate choice.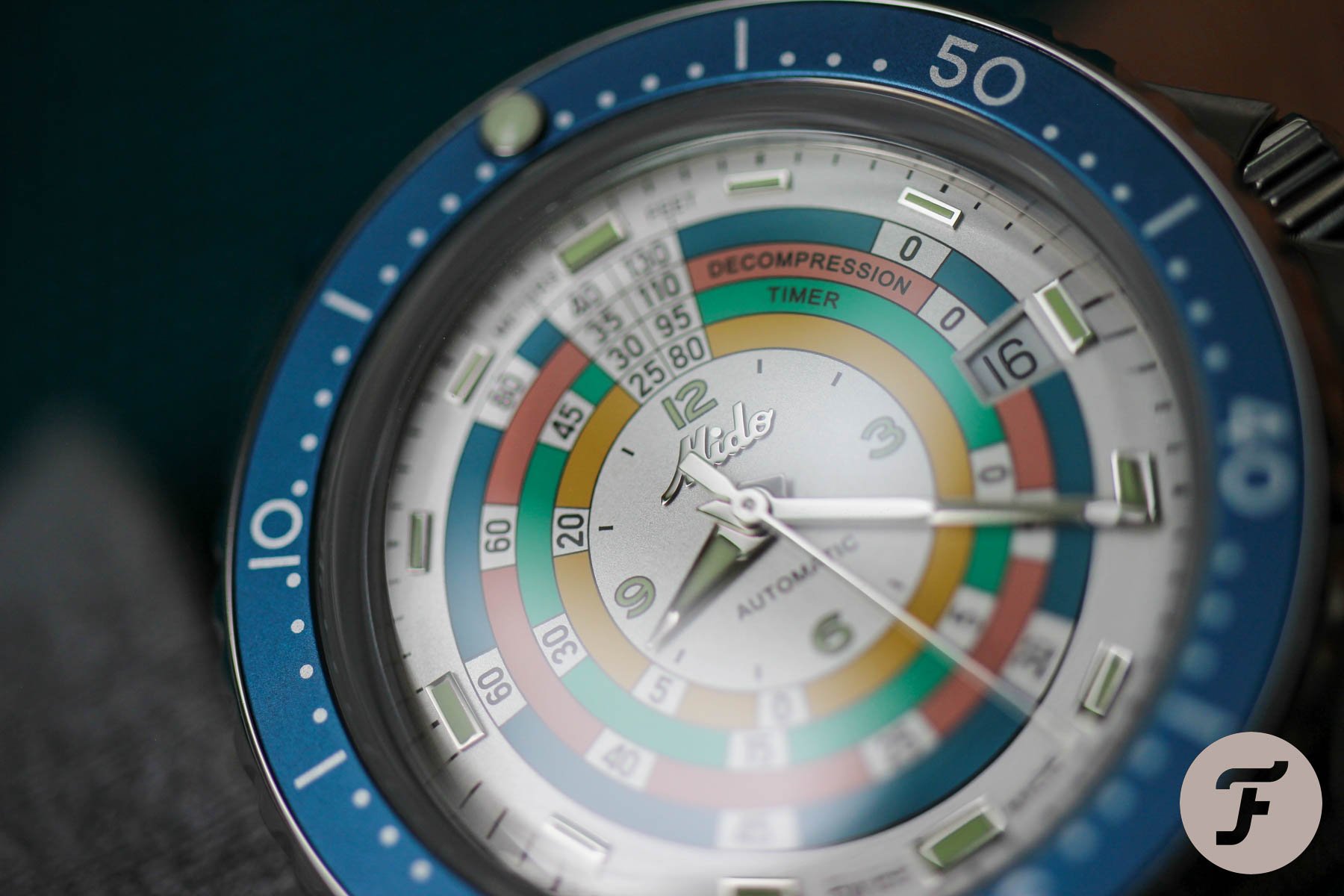 Final thoughts
I think everyone is glad that Mido decided to follow up on what they started last year. I know the colors are a matter of acquired taste, but this time I would rather offer it as a fact that the silver-white dial is way more balanced and natural for the 60-year-old functional design concept compared to last year's black model. On the contrary to my 1961 ref. 5907 original it feels more chunky, but the comfortable case makes it more ready for an active lifestyle. I would freely jump into the sea with it. In fact, with a bit of luck, later this year I will do just that!
Mido Ocean Star Decompression Timer 1961 will hit the market in November. For more information go here.
Watch specifications
Model
Ocean Star Decompression Timer 1961
Dial
Silvered white with polished applied indexes adorned with neutral Super LumiNova ®, date at 3 o'clock. Polished applied original Mido logo, decompression scale represented by 4 colored circles (yellow, green, pink, and blue)
Case Material
Polished stainless steel, unidirectional rotating bezel with turquoise aluminium ring
Case Back
Screwed case back with polished starfish in relief, engraved serial number and limited edition number
Movement
Automatic Mido Caliber 80 (ETA C 07 621 base)
Water Resistance
20 bar / 200m / 660ft
Strap
Mesh, fabric, light brown leather