MING 17.01 Watch – Excite Seasoned Collectors And Accessible To New Ones
A few years ago, we had a contributor that was particularly strong in photography and knew his watches. I am talking about Ming Thein. Ming decided to focus more on photography and became a very successful one. He also reviews photography gear and became an official Hasselblad ambassador in 2016. In the meanwhile, he never lost touch with the watch industry and collecting watches. Now, in 2017, Ming Thein is here to introduce his brainchild, the MING 17.01 watch.
MING 17.01 Watch
Ming Thein and his team worked on the Ming 17.01 watch to come up with an answer to all the watches released today that lack so much inspiration and differentiation. In the last years, the number of re-issues, uninspired designs yet prices that are being 're-indexed' every year (increasing, almost never decreasing), has become a frustration for many seasoned collectors. MING wants to revive that sensation collectors used to have when picking up a watch. Besides that, they also want to be (and stay) interesting and accessible to those who are new to collecting watches and those who have a certain budget. Of course, you will find a lot of new initiatives that jump into this gap (Kickstarter funded projects included), but MING also wants to differentiate by coming up with a design that will still be interesting after many years.
Enough introduction, if you want to learn more about MING, Ming Thein and team behind this 17.01 watch, click here for their Q&A page. It will give you an in-depth view on the reasons for Ming Thein and his team starting the MING watch brand.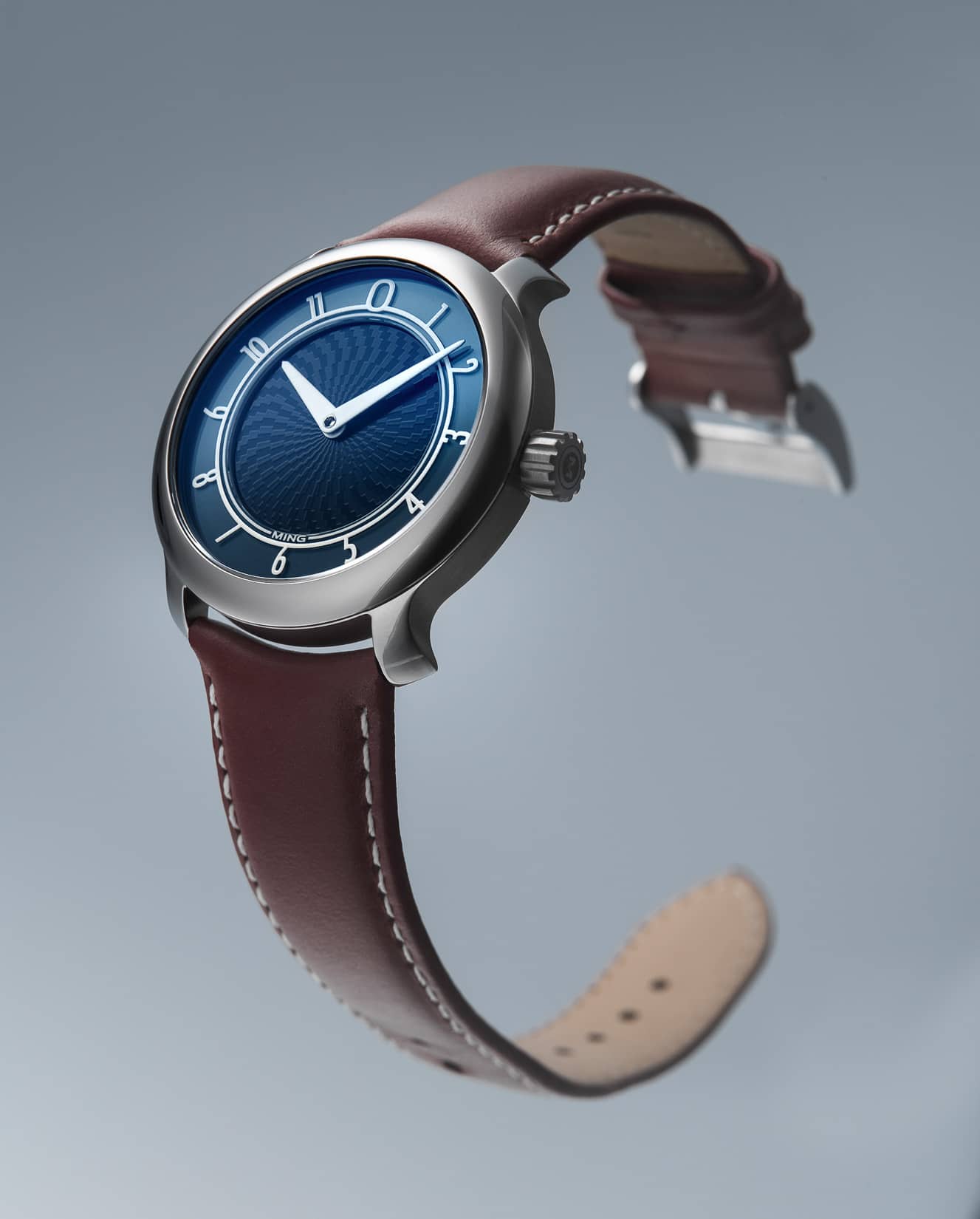 38mm Is Back!
Finally. We are looking at smaller diameters again since a while. Although some brands are still on the rise, I am also happy to see that there are still brands that keep it small(er). I don't feel large watches are a fad, like many journalists thought (or had hoped), but I think there are just more options today for customers. Rolex is a good example, they have been 'updating' their collection a bit (from 36mm to 39mm, 40mm and 41mm) but still keep it reasonable. Anyway, the MING 17.01 watch is 38mm. A diameter that will fit most wrists out there, from wherever you are and regardless gender. The MING 17.01 watch measures 9.3mm in height. Interesting is that MING decided to go with (Grade 5) titanium for their first watch.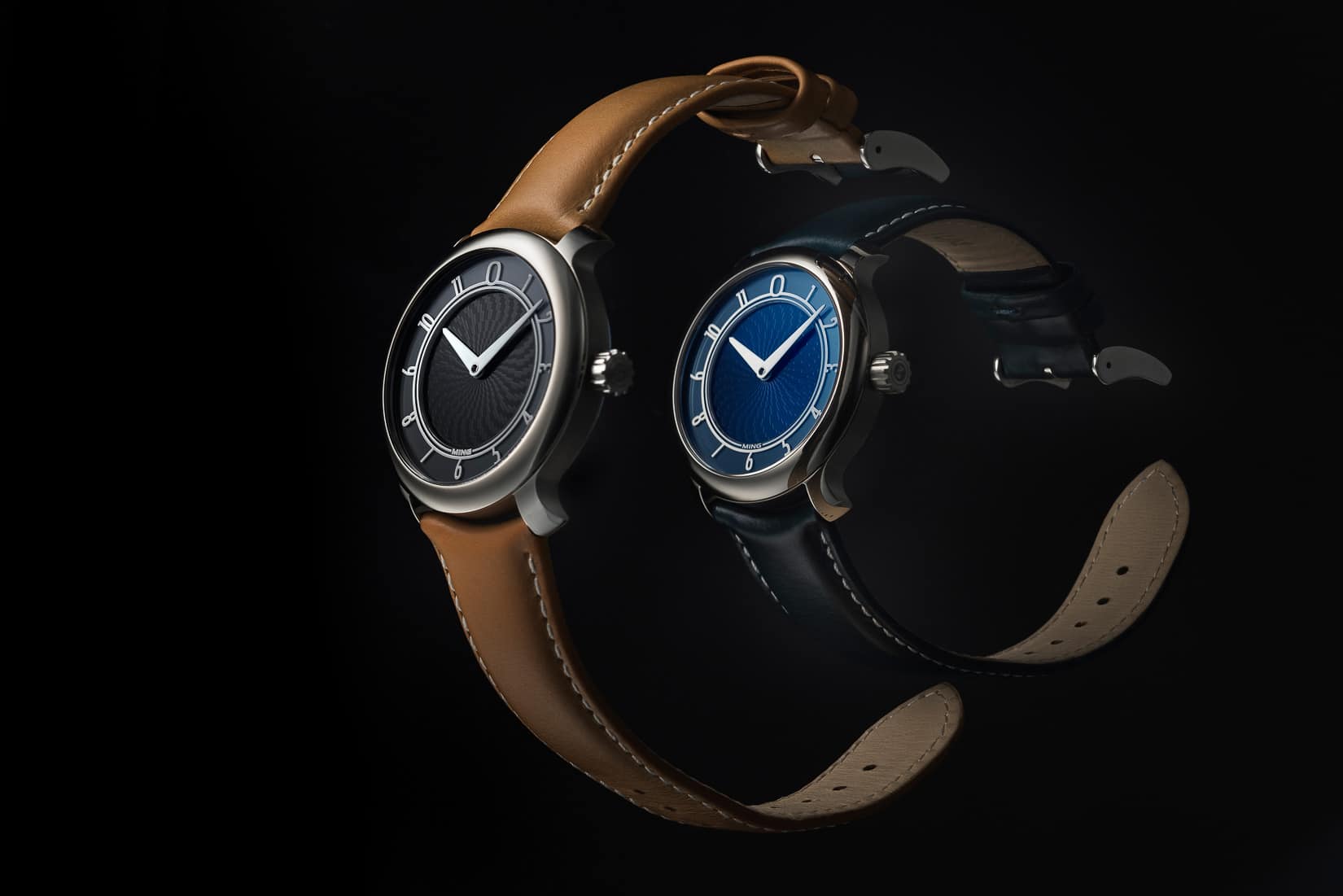 MING Design
The fact that Ming Thein has designed a watch is not falling out of the sky. He has been designing watches for a long time and did many designs (I vaguely remember mailing with Ming about designing watches in 2005 or so). This MING 17.01 watch has a design that – for me – makes it immediately clear that it is an independent brand. Why? The design looks like if no – or at least little – compromises have been made. The watch is well-proportioned and the sleek design has this 'organic' touch to it. The polished bezel and lugs in combination with the brushed case band give it a very nice 'play' with light. The polished lugs have this modern interpretation of a tear-drop case if I might say so. The solid case back doesn't reveal the (Sellita SW210-1) movement, but an engraving instead, with the MING logo and a couple of specifications.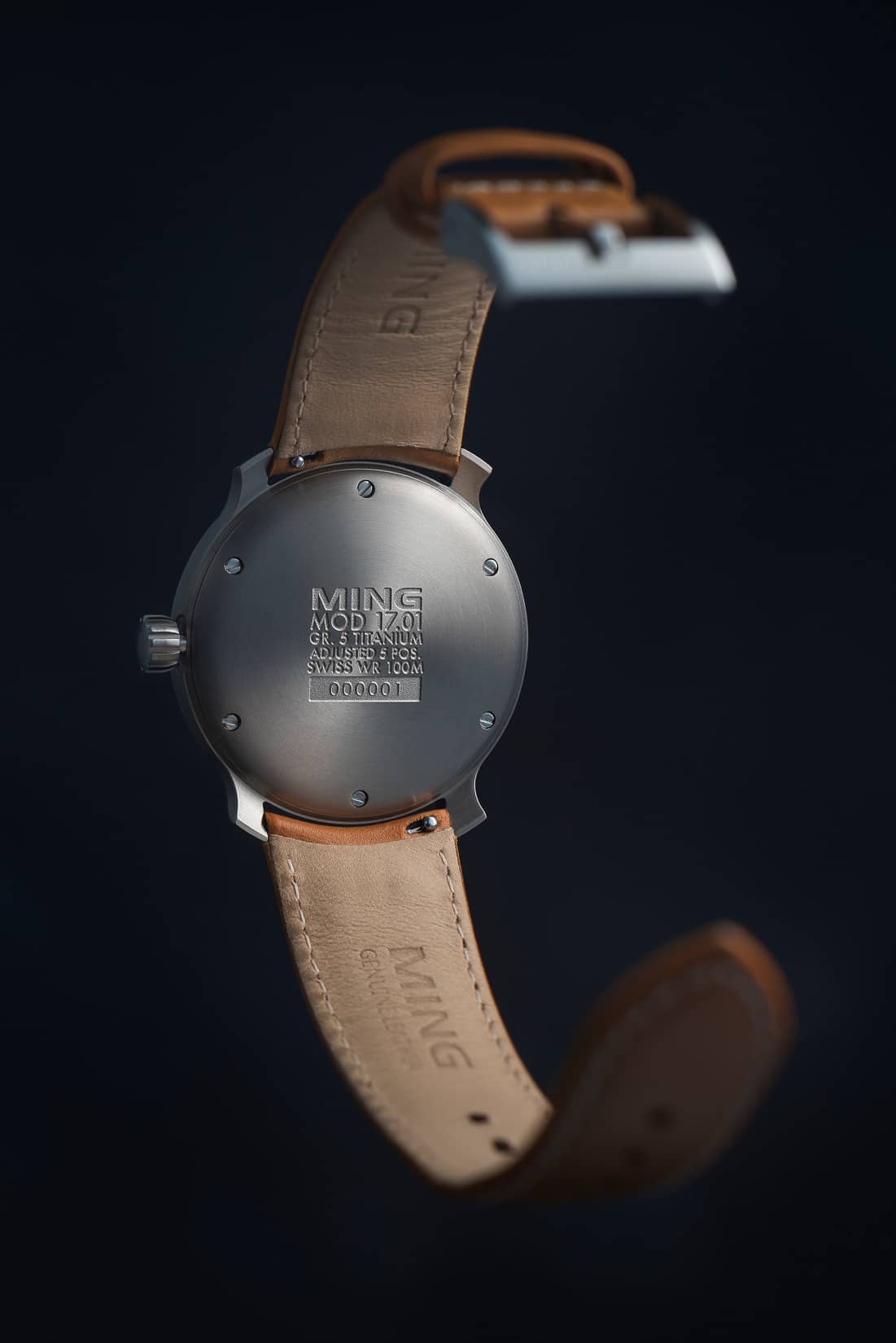 The layered dial is very clean, yet enough is happening there. A sapphire disc for the hour markers has been installed, on the same 'height' as the hour hand. The center of the dial has this sunburst brush and a transparent lacquered 'digital guilloché' on top of that. At the top, you won't find a "12" o'clock marker but instead a "0". The MING 17.01 watch has a very clean but complex dial, one that is unlikely to bore you over time.
Give the price tag of this watch, it is a quite amazing and unique design that can be offered for this kind of money.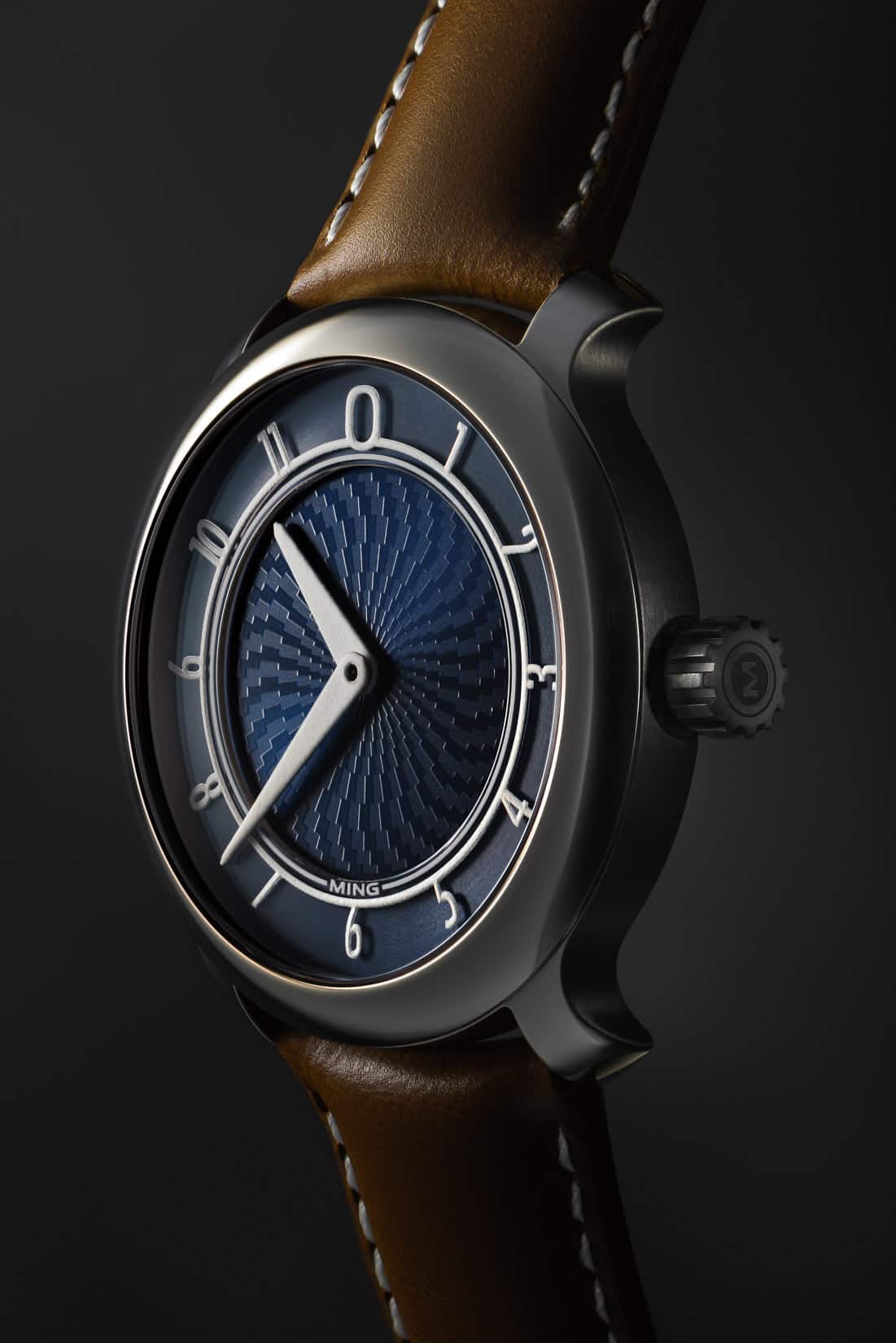 Only Available On-Line
The MING 17.01 watch has a hand-wound movement with 42 hours of power reserve and has been adjusted to 5-positions. The MING 17.01 comes in a presentation case that also contains two extra leather straps. Also included is this leather travel pouch. Very useful!
You can only order the MING 17.01 watch via their on-line shop. The price tag of the MING 17.01 watch is $900 USD and currently comes with two different dial colors. Limited to 150 pieces each.
Ming 17.01 Watch Specifications
Case, dial & hands:
38×9.3mm, grade 5 titanium, with solid caseback
Polished bezel and lugs; finely brushed caseband
Sapphire crystal with internal antireflective coating
Rigid case without spacer rings
100m water resistance with triple crown gaskets and nitrogen filling o Composite, multi-layer, three-part sapphire dial
Dial available in blue or anthracite colour; limited to 150 pieces each o Straps with 20mm lug width and curved case attachment
Movement:
Hand-winding mechanical movement Sellita SW210-1
42 hour power reserve
28,800 bph (4Hz)
Hacking function
Movement adjusted to five positions with a 250-hour test program
The MING 17.01 has a 1-year warranty against defects
Made in Switzerland
Delivery package includes three calf leather straps (tan/dark blue/burgundy colour, curved case attachment, quick release pins, buckles fitted), a presentation case and a leather travel pouch