Montblanc Timepieces – The New Vintage Pulsographe
Just recently, Montblanc held a watch event in The Hague, The Netherlands. Just a week after the SIHH2011 exhibition in Geneva, Montblanc showed us some of their new models. As established as this company from Hamburg is with regards to writing instruments, their timepieces did not get much attention from collectors until Montblanc took over the Minerva factory. With Montblanc's Villeret and Rieussec collection, they stole the hearts of many collectors of haute horlogerie timepieces. I examined their collection carefully, and picked a favorite that I could see myself wearing at some point in the future. The new Vintage Pulsographe.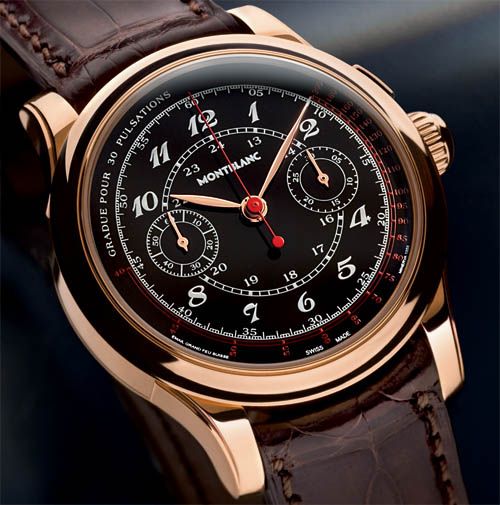 The Vintage Pulsographe with its black dial and rose gold case measures only 39mm in size, which is very modest for a chronograph. Due to the size (12mm in height) it looks fabulous and does justice to the 'vintage' part in its name. The Arabic numerals on the enamel dial and the pulsations scale really reminds us of the 1930s. Only 58 pieces of each Vintage Pulsographe model (available in white and red gold) will be produced, referring to the year 1858. In 1858, the Minerva watch factory was found.
Inside, Montblanc in-house manufactured caliber MB13.21 movement ticks at 18.000 beats per hour, just as they did during the 1930s. I really love these 18.000bph movements, and like to listen to them as they gently tick away our time. The column-wheel control and horizontal wheel coupling are signs of true chronograph craftsmanship of this monopusher timepiece. The operator of the chronograph uses a single button to start, stop and reset the chronograph.
During the event in The Hague, besides gazing at this marvelous collection of watches, visitors were also invited to a little contest to demonstrate their (possible) watch making skills. Below, you see one of the contesters trying to pick-up and place a hairspring.