A Brief History Of Time: Montblanc's Complete Brand History
From famous manufacturer of writing instruments to highly respected watch manufacturer
It wasn't an easy path for Montblanc to get past the image of the luxury pen maker who tries to make the watch world believe that its watches would be anything else but decorative accessories to accompany its writing instruments. Let me guide you along through this deep dive into Montblanc's complete brand history.
It could be said that the name Montblanc as a synonym for luxury pens was too deeply established. But the increasing integration of Minerva's heritage and craftsmanship finally made the necessary impact. Also, bringing Grande Complication watches to market at very competitive prices caused appropriate attention and recognition to the penmaker's horological offerings.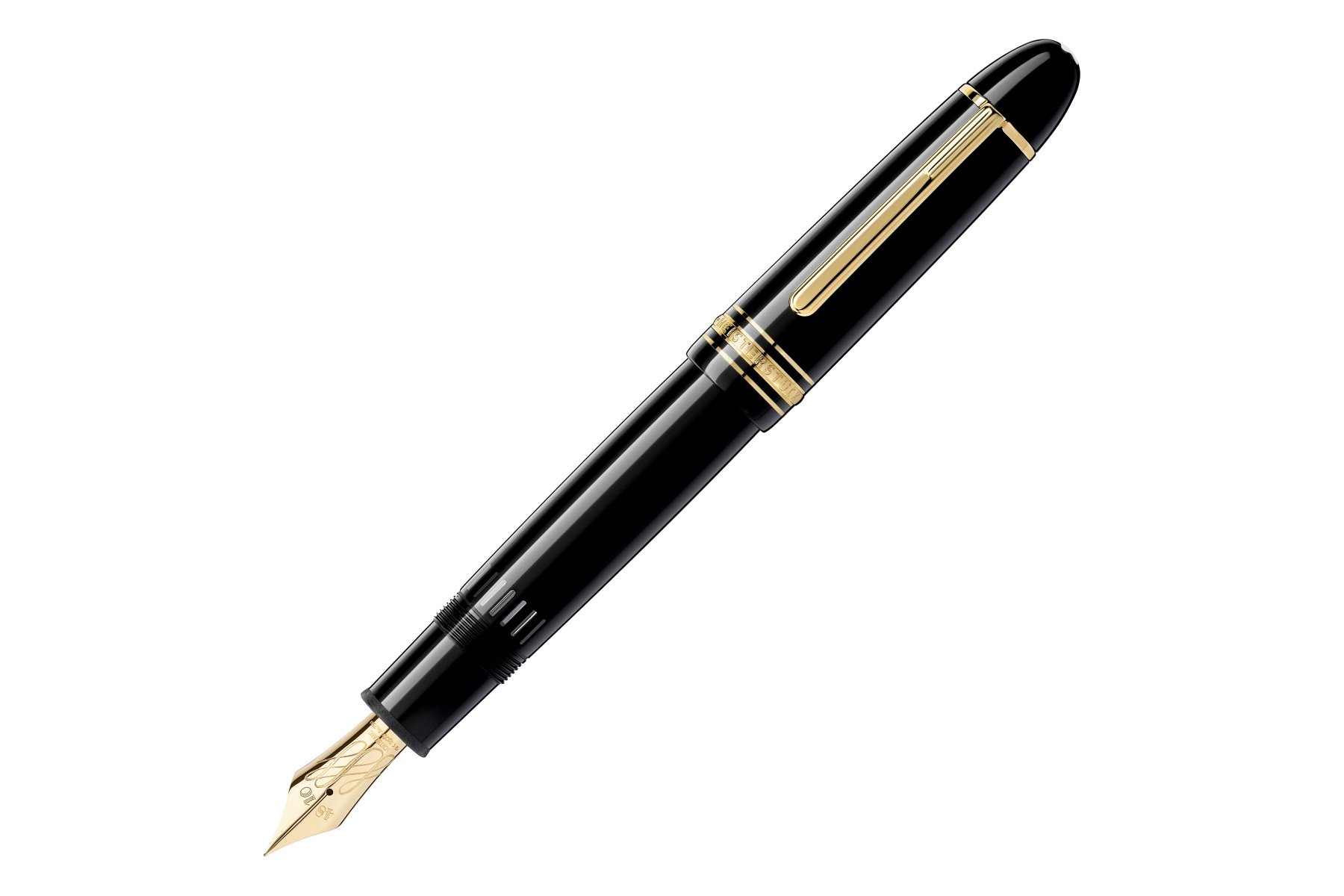 In the beginning, there were pens
The history of Montblanc starts in the early 20th century. in 1906 to be precise. The company was only formally registered in 1908 under the name SIMPLO in Hamburg, Germany. SIMPLO soon became a respected producer of fountain pens, and even other established brands had their fountain pens made in its facilities. Montblanc, in the beginning, was a product of SIMPLO. SIMPLO produced the first fountain pen carrying the Montblanc name in 1909. In 1913 the brand officially registered the white Montblanc logo, which can look almost like a star but actually represents the snow-covered peak of the Montblanc mountain with its six valleys. The first store selling Montblanc products exclusively opened in 1919 in Hamburg. In 1934 the company was renamed Montblanc Simplo GmbH, which is the official name to this day. The headquarters of Montblanc, including its pen production facility, are still located in Hamburg.
The most famous product of Montblanc is the Meisterstück (masterpiece) fountain pen that the brand introduced in 1924. In addition to writing instruments, the brand from 1935 also produced its own leather goods. This is relevant as Montblanc manufactures all leather straps for its watches. Montblanc became part of the Dunhill Group in 1985. In 1993 the Dunhill Group merged with Cartier and was renamed Groupe Vendôme, which Richemont bought in 1998. Today Richemont also owns the watch brands A. Lange & Söhne, Baume & Mercier, Buccellati, Cartier, IWC, Jaeger-LeCoultre, Panerai, Piaget, Roger Dubuis, Vacheron Constantin, and Van Cleef & Arpels.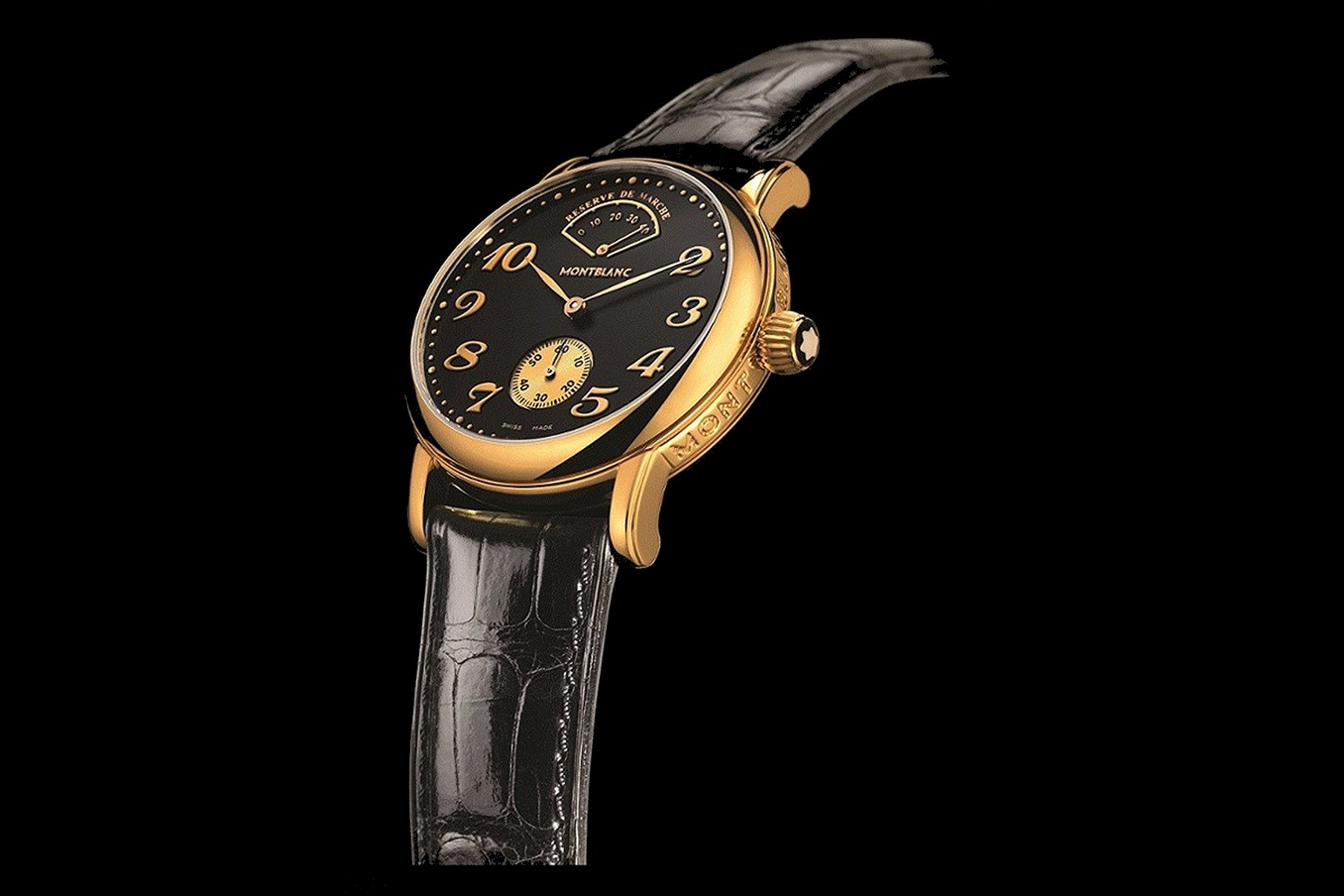 Becoming a watch brand
In 1997, Montblanc revealed its first watch collection. The brand intended the style of these watches to reflect the aesthetic of Montblanc's writing instruments, namely the Meisterstück fountain pen, which also provided its name for this first collection.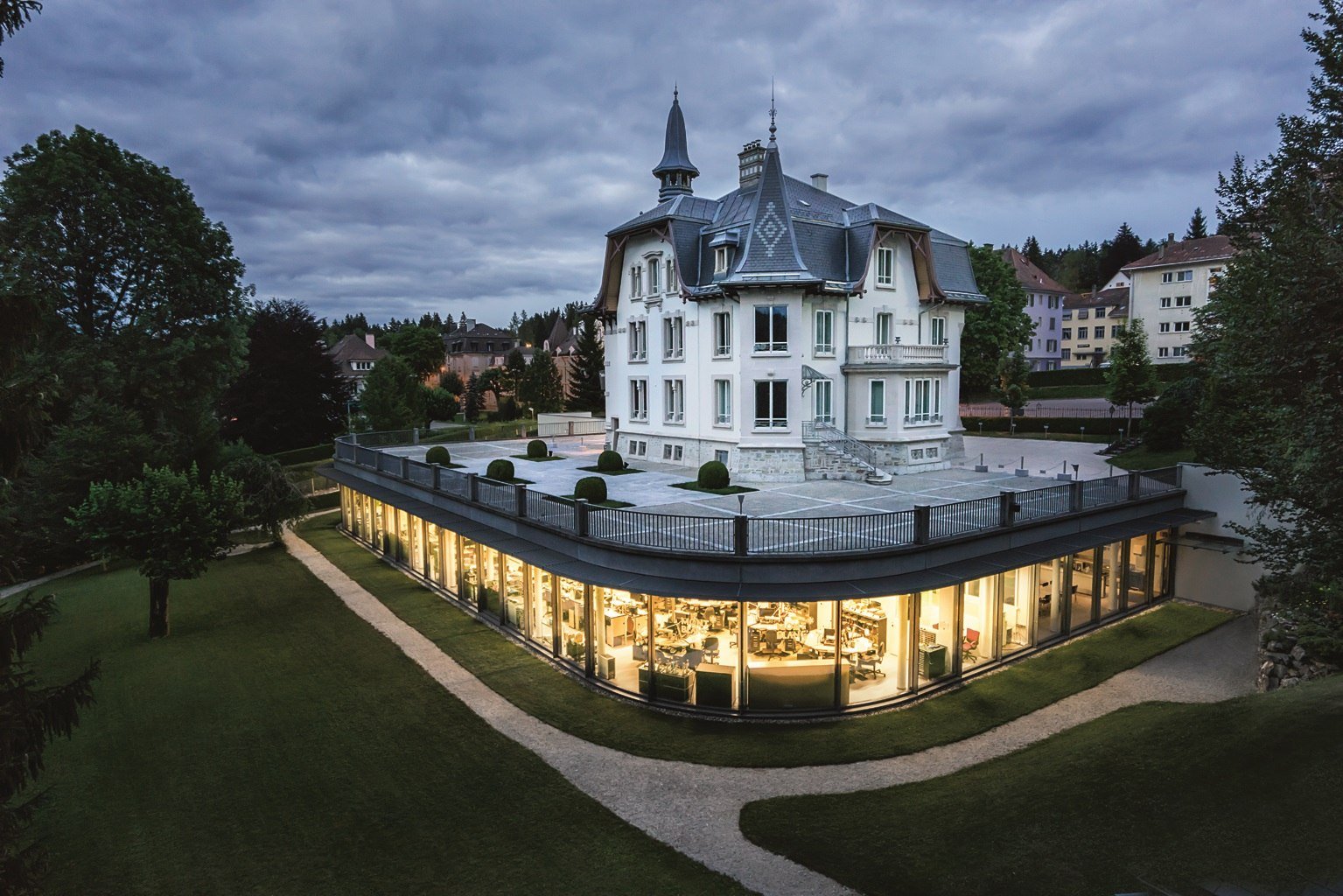 Montblanc chose an old villa located in Le Locle as its production site. That villa had been built in 1906, the same year that Montblanc's history started. The workshop space expanded room by room as the demand for Montblanc watches increased. It was clear that the limited space in the villa soon would no longer suffice. To solve this problem, the brand chose an adventurous architectural solution. Since 2003 a complete additional floor housing its workshop resides below the villa. Enclosed by large glass windows, it resembles a modern atrium.
To approach a younger, less conservative clientele, Montblanc launched its TimeWalker Collection in 2003. This collection includes more sporty watches with bold numerals as hour indexes in a distinctive Bauhaus style. These watches often carry strong hands filled with luminous material. There are many different chronographs but also simpler three-hand watches. At times, Montblanc has created more complicated watches in the TimeWalker style like 2016's ExoTourbillon Minute Chronograph. In 2006, Montblanc celebrated its 100th anniversary by presenting the Star Chrono GMT Perpetual Calendar. This was Montblanc's first Grande Complication. As the name indicates, it offered a chronograph, a second time zone, and a perpetual calendar.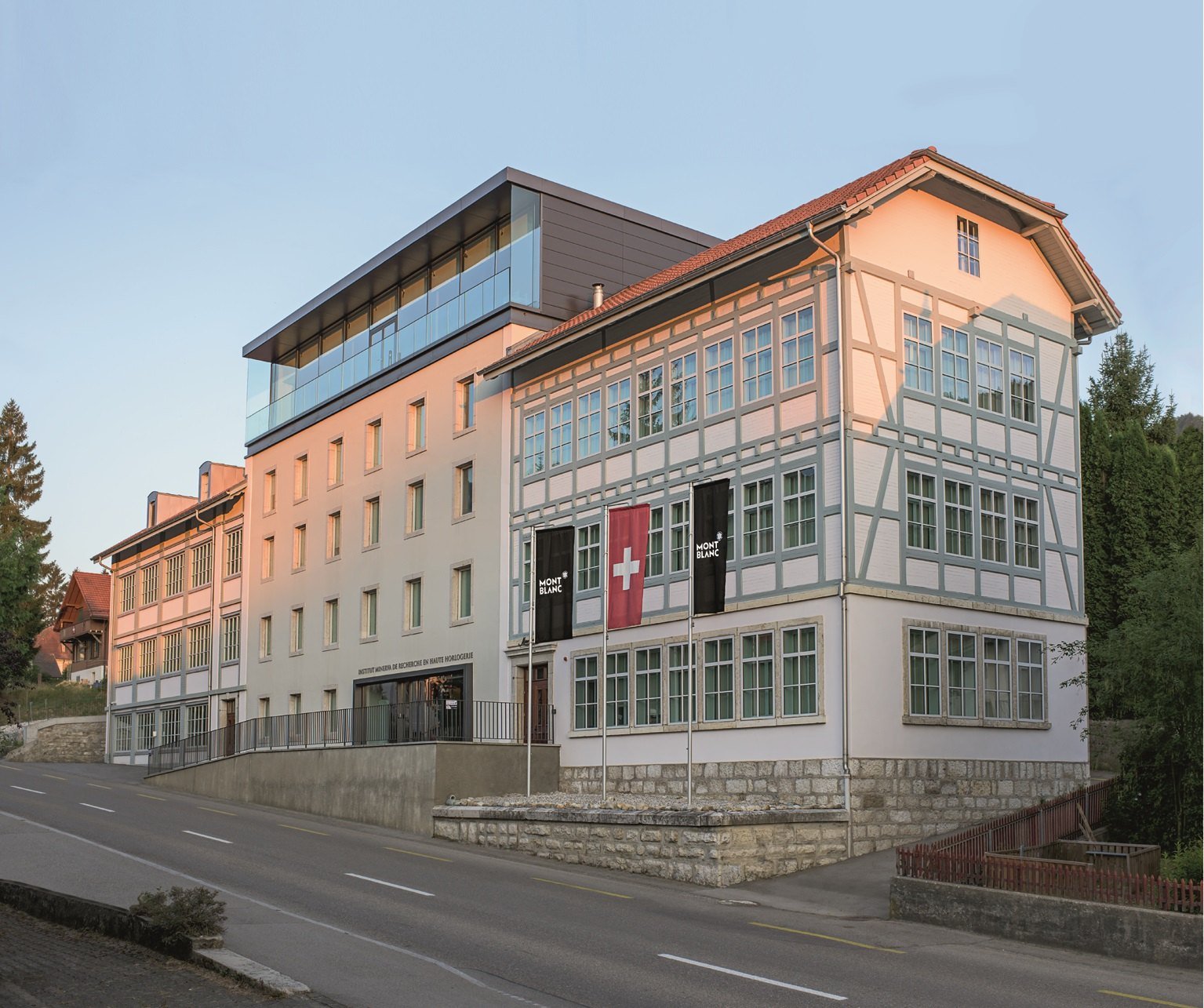 An outstanding birthday present — Minerva
Additionally, in 2006, the Richemont Group made Montblanc an outstanding birthday present — the Fabrique d'Horlogerie Minerva SA — which the Group had just bought and turned into a subsidiary of Montblanc. Founded in 1858 in Villeret, Minerva still resides there today. From the 1910s to the 1930s, Minerva gained significant recognition as a producer of innovative professional chronographs.
The first watches that Minerva manufactured under the name Montblanc the brand marketed as the Villeret Collection. Those were complicated high-end watches with a design corresponding to the watches Minerva had offered before the acquisition by Richemont. Those watches had in common an exceptionally high degree of hand finishing. This came for a reason: Minerva today carries the full name "Institut Minerva de Recherche en Haute Horlogerie". It is a living museum. Many of the machines that were used there a hundred years ago are still in use today. This results in a level of manual work in the production of watches you rarely find anywhere else in the watch industry today.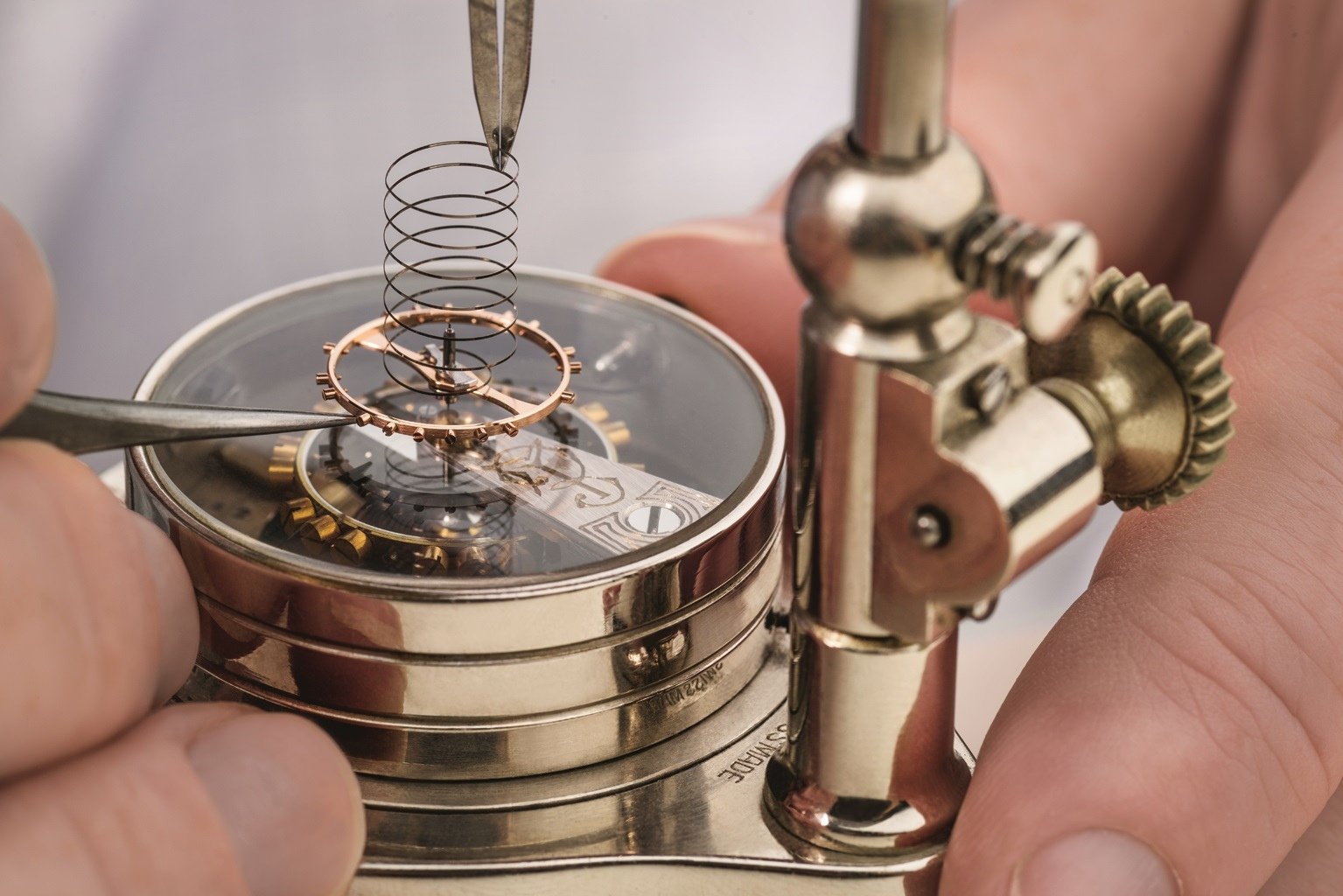 Another crucial aspect of Minerva is that it can produce hairsprings. Very few manufacturers possess the capability to make this part of a watch movement themselves. It is the key driver for a watch's accuracy. All other producers of watch movements heavily depend on these few. The most important producer of hairsprings is Nivarox-FAR S.A., which belongs to the Swatch Group. However, Minerva's production capacity for hairsprings is low. Therefore Minerva uses these hairsprings exclusively for the movements it produces in Villeret.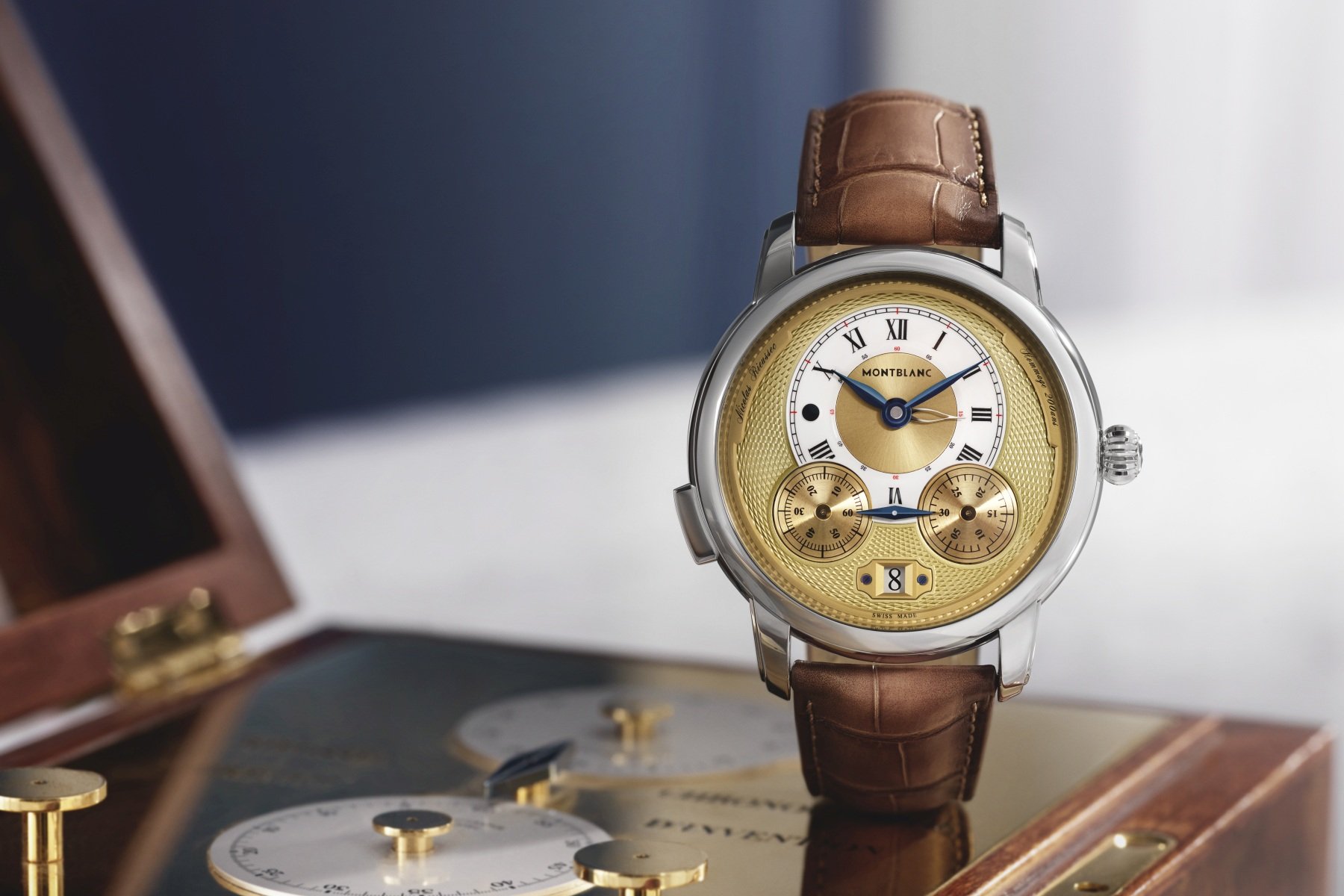 A signature chronograph
In 2008 Montblanc's Nicolas Rieussec Chronograph saw the light of the day in the form of the Star Legacy Nicolas Rieussec Chronograph. Nicolas Mathieu Rieussec had invented one of the first chronographs in 1821, and Rieussec essentially created the term chronograph. Rieussec's invention displayed elapsed time in a quite particular way. By pressing down a mount containing a nib, you could mark a rotating ceramic disk that completed one full revolution within 60 seconds with a spot of ink. This way, an operator could mark several events on the rotating disk. You could read the duration of these events from the disk's scale to an impressive accuracy of a fifth of a second. So this apparatus, which initially was used to measure the times in a horse race, effectively wrote time, hence establishing the term chronograph.
For Montblanc, the famous manufacturer of writing instruments, this design naturally was quite attractive and built an obvious connection between its pens and its watches. In Montblanc's Rieussec Chronograph no chronograph hands move around a dial. Instead, disks that indicate elapsed seconds and minutes rotate underneath a fixed index. This watch model, in addition, offers the indication of a second time zone. The Nicolas Rieussec Chronograph has become a constant member of Montblanc's watch collection, and the brand has presented it in various executions.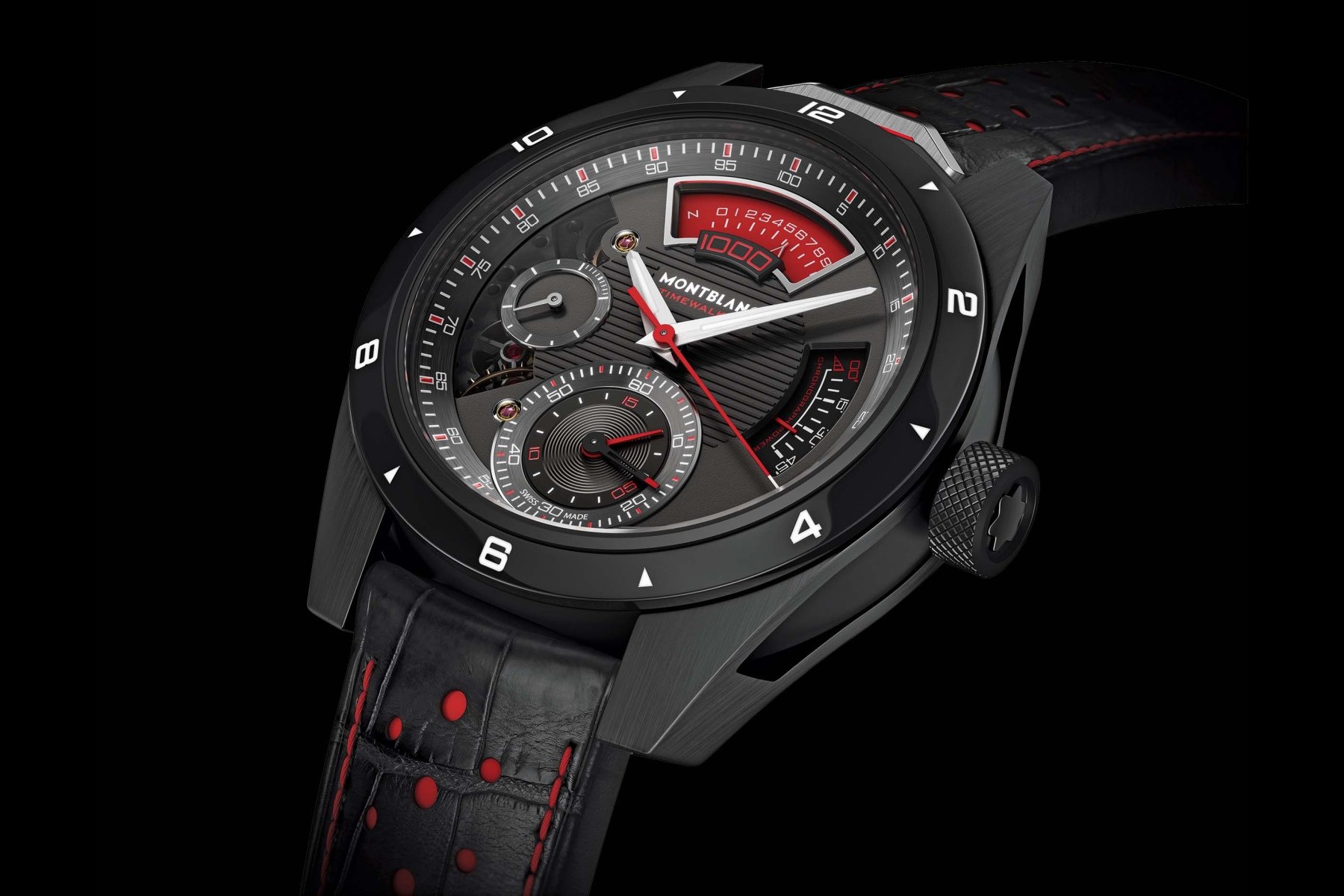 The TimeWriter project
In its role as "Institut Minerva de Recherche en Haute Horlogerie", Minerva had established a project called "TimeWriter" to support young creative watchmakers in realizing revolutionary concepts in watchmaking.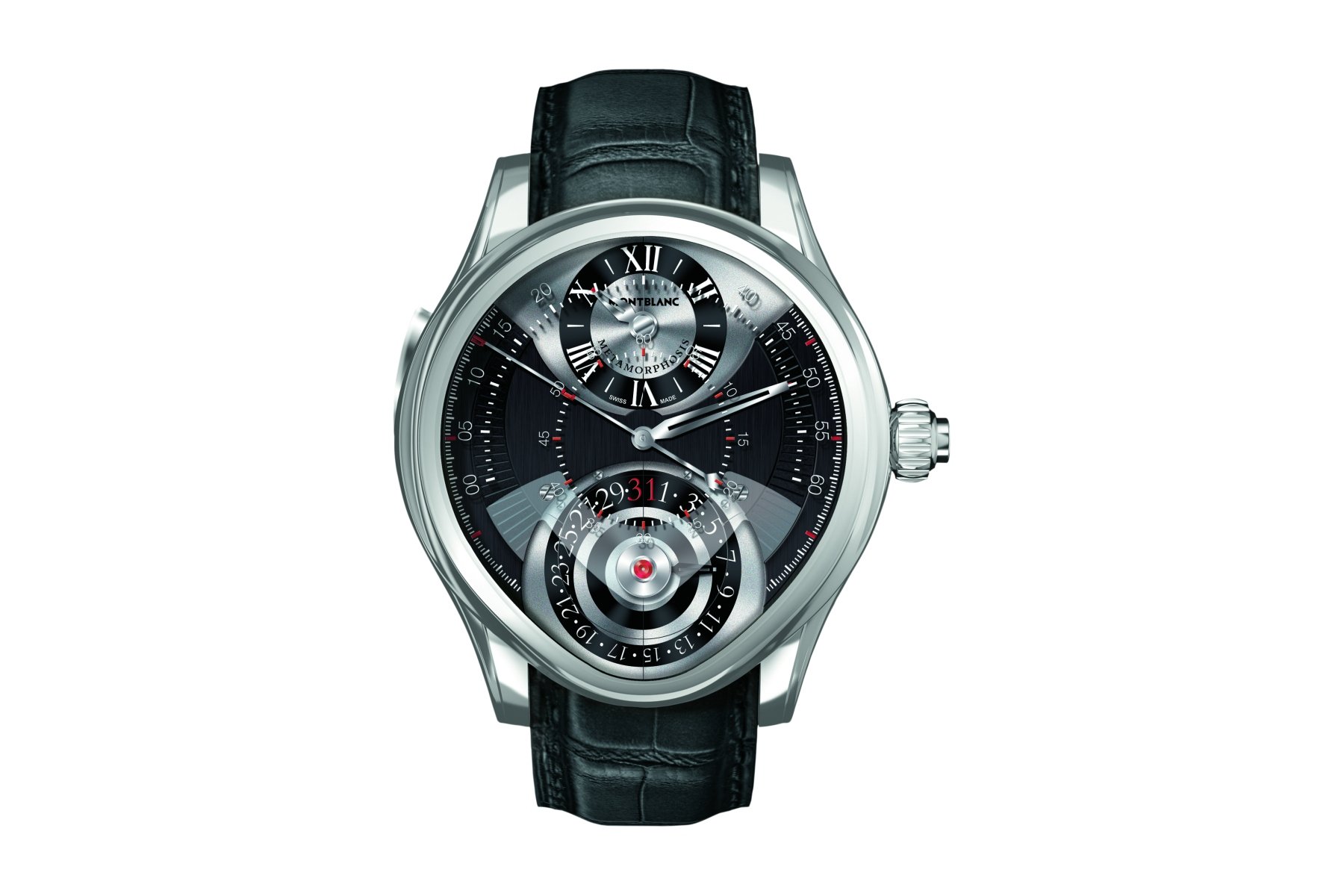 Metamorphosis
Montblanc presented the first outcome of this project in 2010. The TimeWriter 1 Metamorphosis is a watch that can change not only its appearance but also its functionality. The owner can switch between two modes by a lever like the one you find on a minute repeater watch. In the first mode, the watch presents a small regulator hour hand, a retrograde minute hand, a central seconds hand, and a pointer date at 6 o'clock. In the second mode, the Metamorphosis transforms into a chronograph with a central chronograph hand and a 30-minute counter at 6 o'clock. The transformation between the two modes is a morph that happens across 15 seconds. The dial slowly opens up its wings, other wings close, and the minute counter slowly rises. That's an impressive level of animation!
A different execution of the same concept is the Metamorphosis 2 that Montblanc presented in 2014. The slow morph between mechanical operating modes has been transferred to a worldtimer and moon phase indication in 2019's Star Legacy Metamorphosis, relaunched in a different color scheme in 2021.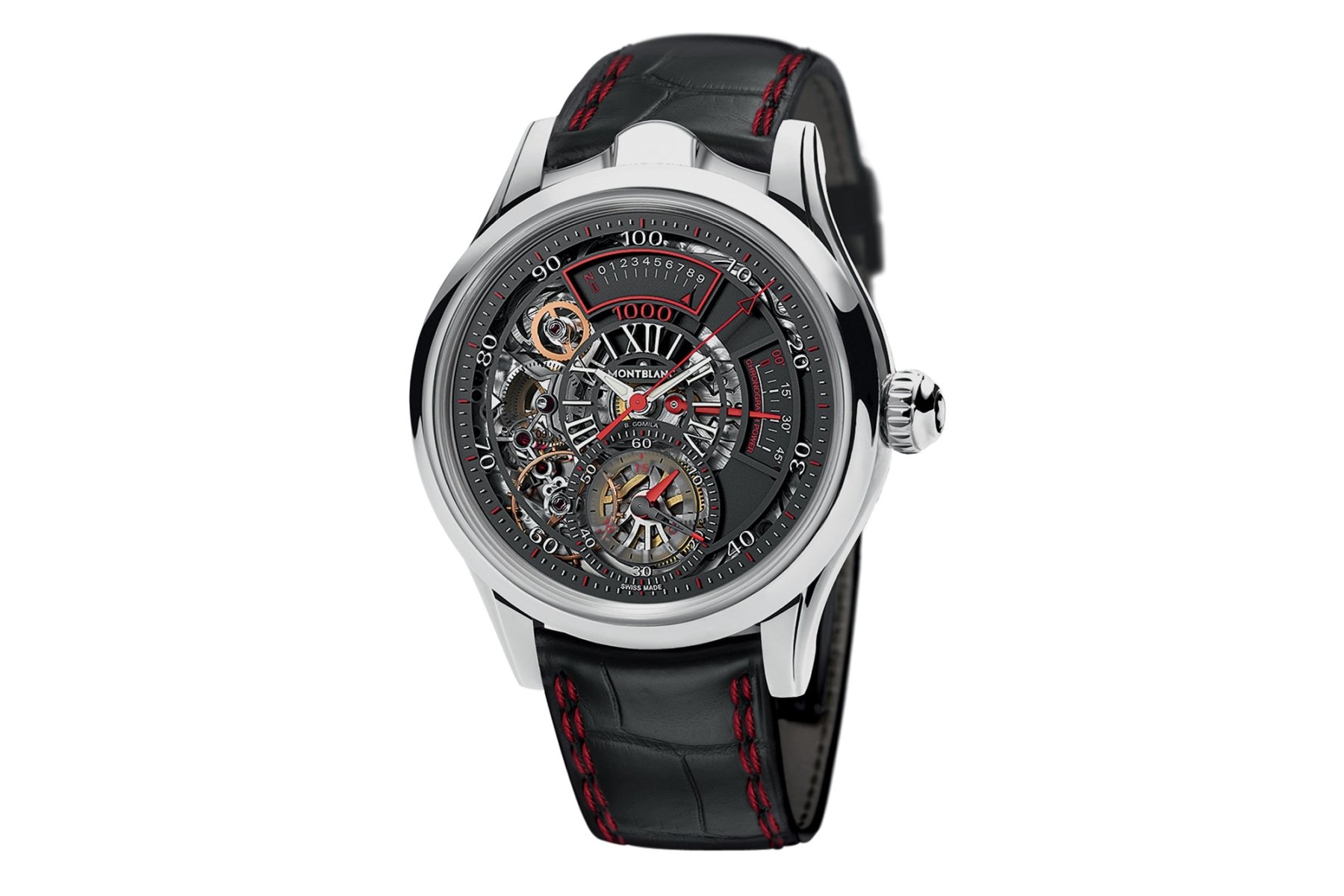 Chronographe Bi-Frequence 1,000
The second watch emerging from the TimeWriter project is the Chronographe Bi-Frequence 1,000 from 2012. This mechanical chronograph allows measuring time intervals with an accuracy of the 1000th of a second. In a straightforward design, this feature would necessitate a balance frequency of 500Hz (3.6 million vph). To avoid the enormous energy consumption and the strain and wear for the gear train that such a solution would implicate, the Chronographe Bi-Frequence 1,000 applies an entirely different approach that only requires a balance frequency of 50Hz. Impulses from the balance are transmitted to an additional "thousandth" wheel rotating at 10Hz, multiplying the impulses by 10 to indicate elapsed milliseconds. Montblanc reintroduced this concept again in 2017 as part of its sportier TimeWalker collection.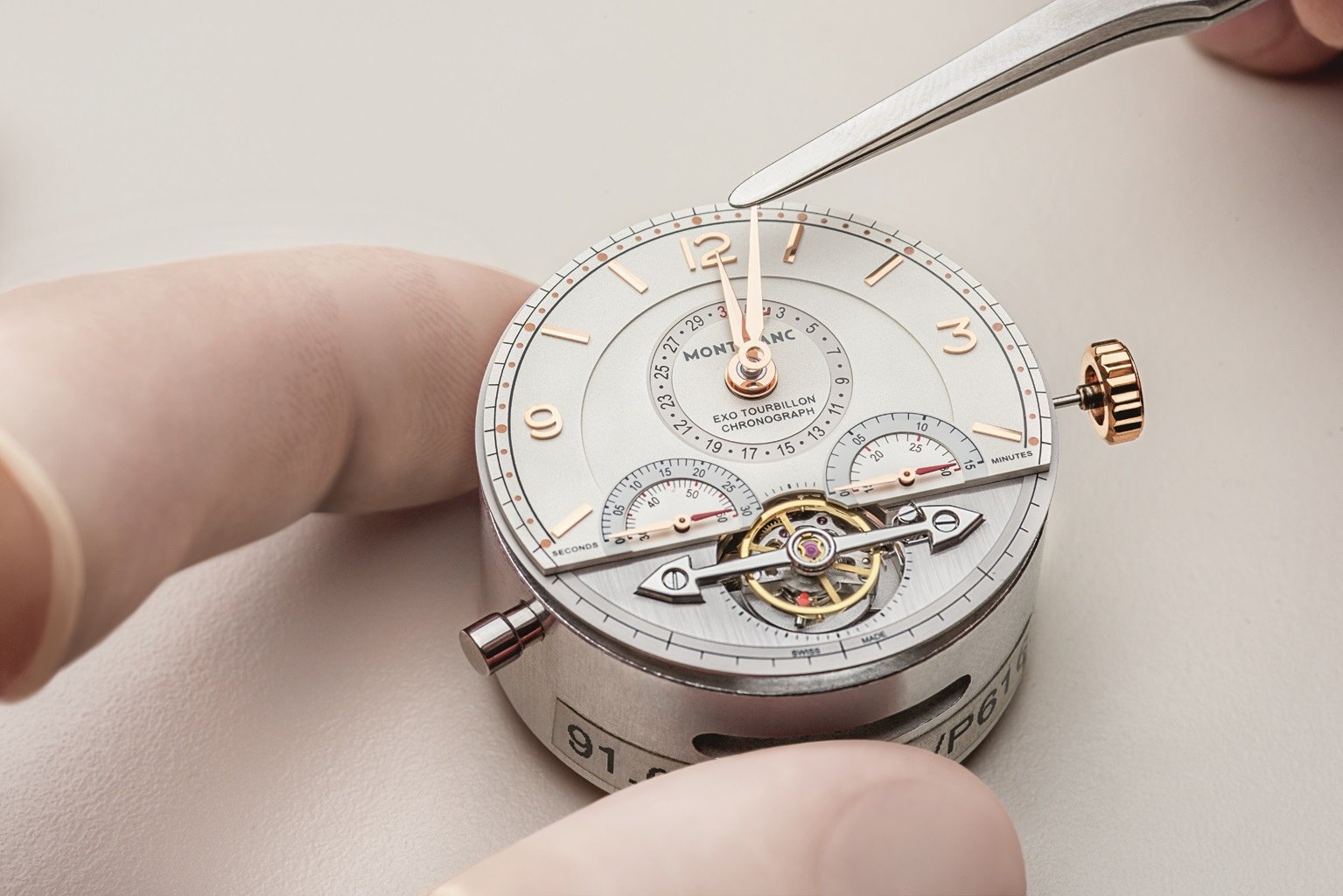 Exo-Tourbillon
There is a special mechanism that only Montblanc offers, which Minerva invented in 2010 for a watch of the Villeret Collection. It is the Exo-Tourbillon. The difference between a regular tourbillon and the Exo-Tourbillon is that in the Exo-Tourbillon, the balance is not located inside the tourbillon cage but outside of it. No longer limited by the dimensions of a surrounding tourbillon cage, the balance can be larger, and the cage can be smaller. A larger balance provides better precision. A smaller tourbillon cage provides less mass for the tourbillon, which results in lower energy consumption. The Exo-Tourbillon has become a permanent member of Montblanc's collection. The brand has frequently combined it with an added chronograph function.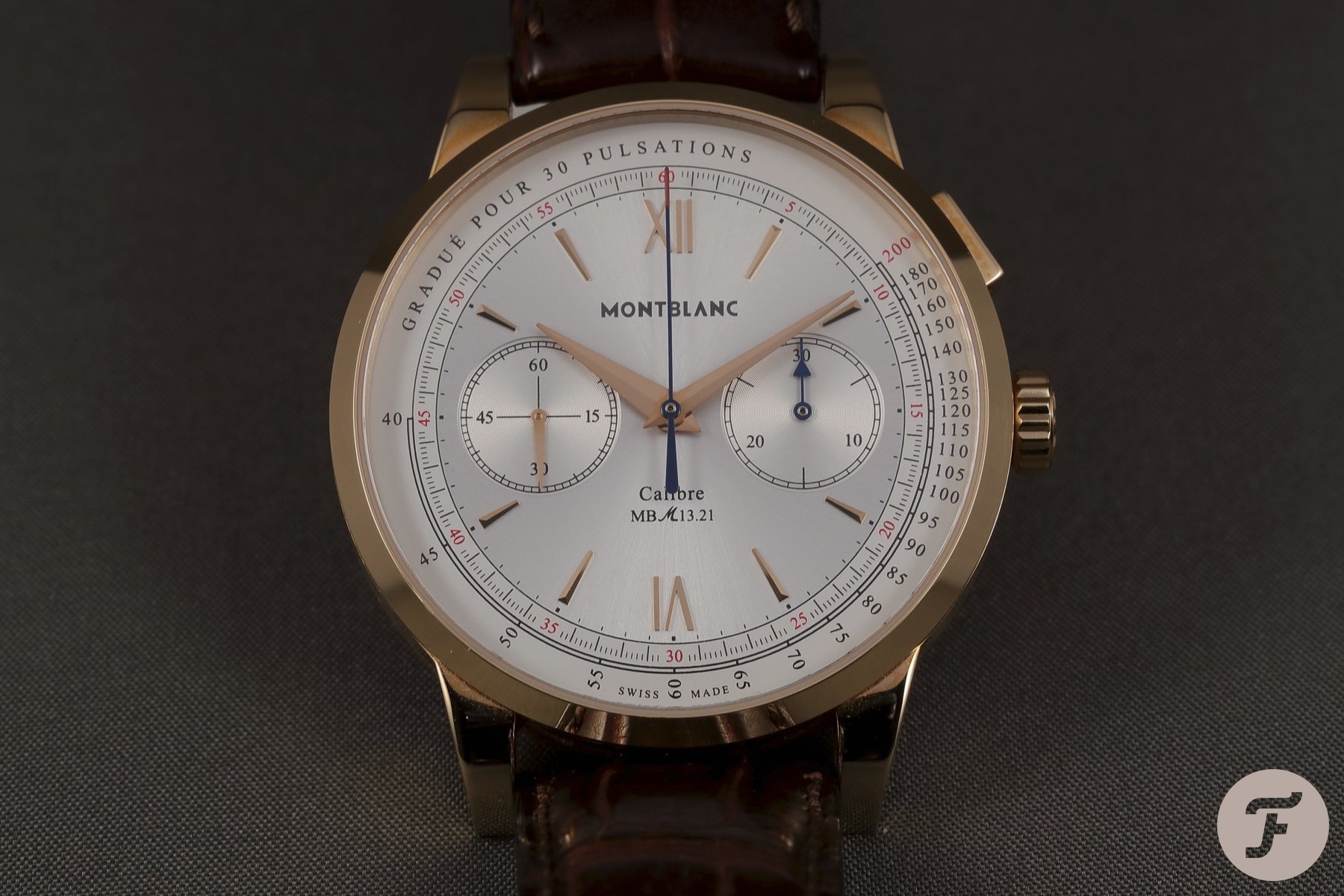 Reorientation
The first watch that integrated Minerva's craftsmanship into a Montblanc design was the Meisterstück Heritage Pulsograph from 2014. It had a modern case, a classic dial, and contained the modern Minerva 13.21 caliber. With a pink gold case and the exquisitely finished movement, this watch was well worth its retail price of over $30,000.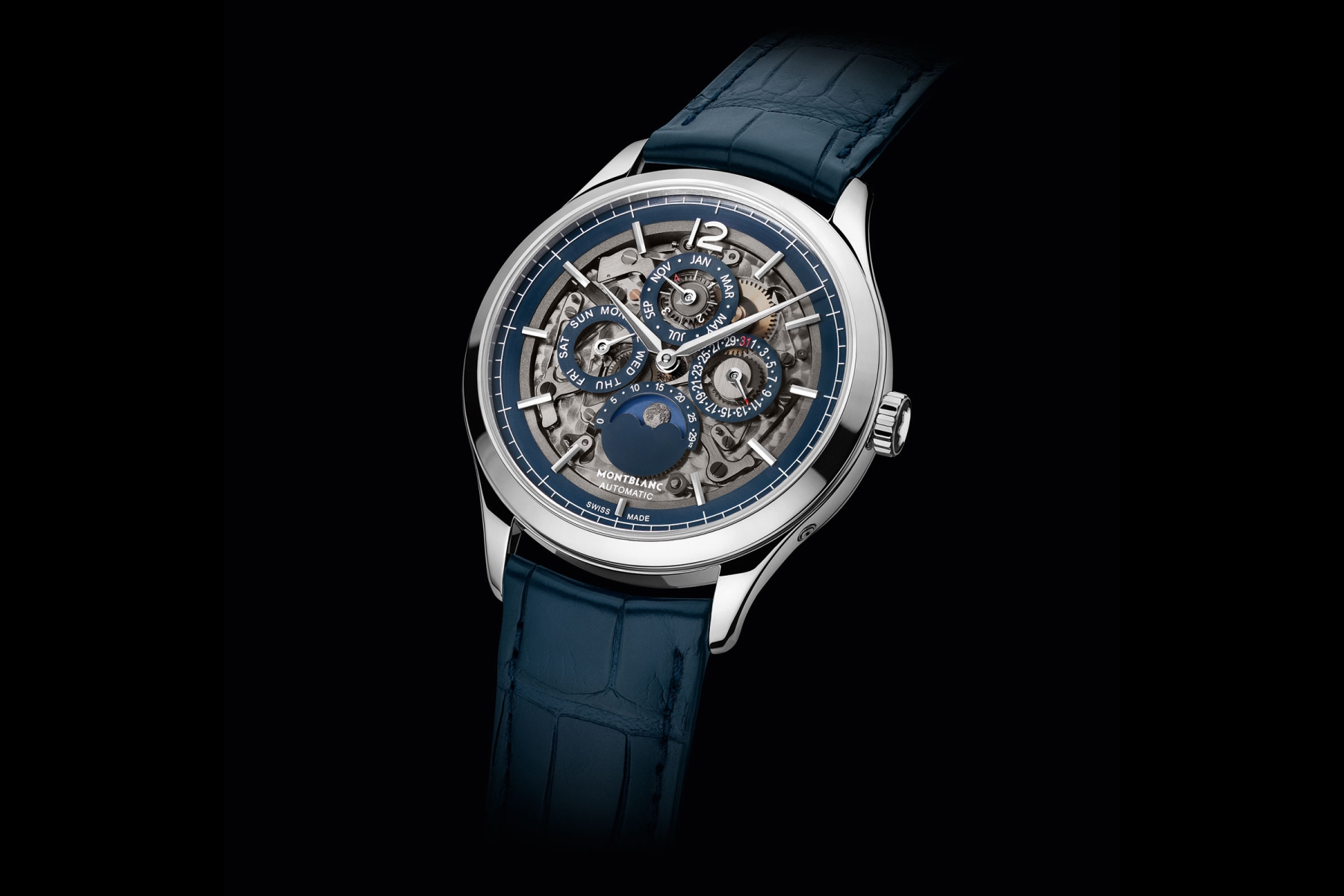 Also, in 2014 Montblanc presented its first perpetual calendar watch. The movement inside was a combination of an ETA base movement and a perpetual calendar module by Dubois-Dépraz. For the version with a steel case, Montblanc asked the lowest price that you could pay for a perpetual calendar watch at that time. Even the version in rose gold cost less than the least expensive competitor in steel by Jaeger-LeCoultre.
Another first for Montblanc in 2014 was the presentation of its Bohème watch collection for women. As you would expect, you find a lot of Joaillerie (meaning gemstones, mainly diamonds) in this collection. But Montblanc did not reduce female watch enthusiasts to wearers of blingy jewelry. Instead, the brand offered true watchmaking in this collection. Offering mechanical end even hand-wound movements, there are even a number of models featuring complications, all enhanced with a dose of femininity.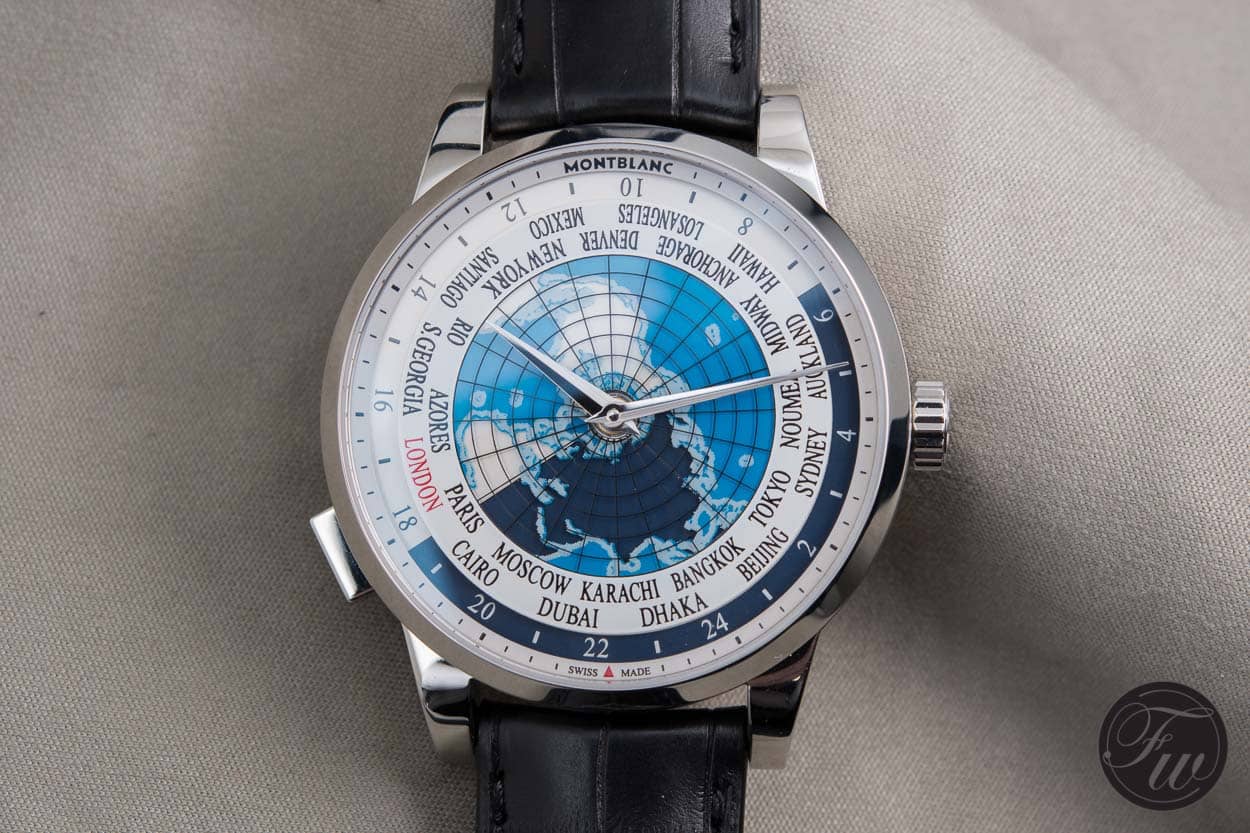 Worldtimers
2015 bestowed a lot of attention on Montblanc through the Heritage Spirit Orbis Terrarum. This worldtimer offers a beautiful complication realized by a module developed by Montblanc on top of a standard movement. The center of the dial displays a representation of our world viewed from above the north pole. The continents are painted on a transparent disc. Below this disc, a second disc with a dark half revolves once in 24 hours to shade those parts of the world where it is night.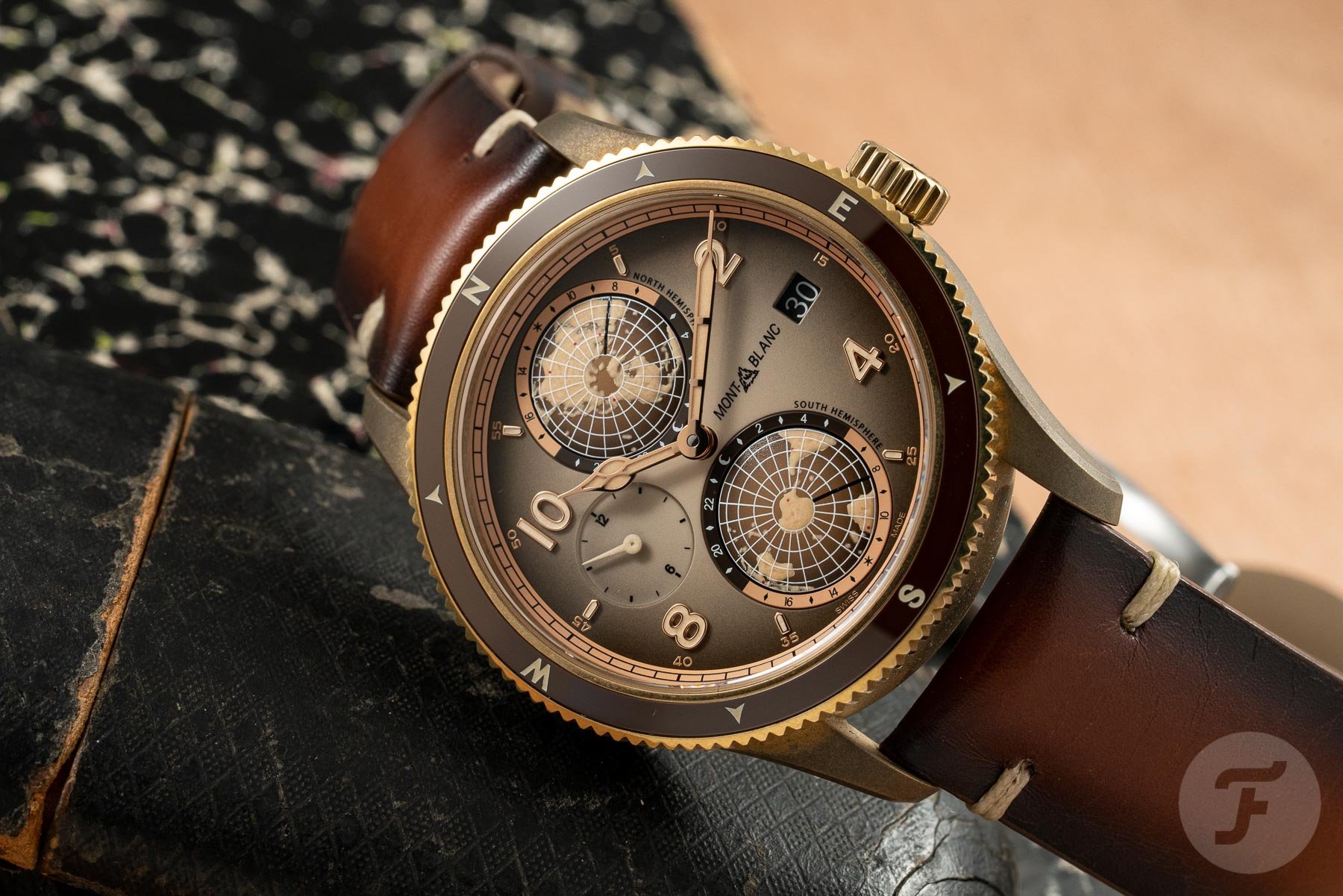 In the same year, Montblanc also presented another watch that approached the worldtimer complication from a different and new perspective: the Tourbillon Cylindrique Geosphères. This was an expensive high-end watch with a tourbillon housing a cylindrical hairspring and a breathtaking overall finishing. But the main attraction was the two rotating domed globes depicting the northern and southern hemispheres to indicate the current time in each part of the world. Starting in 2018, Montblanc offered this concept in a much more affordable execution. Instead of horizontally, the designers arranged the domed globes vertically in these more recent watches. In the new version, an ETA 2892 is the base caliber that drives a module specifically developed by Montblanc in Villeret.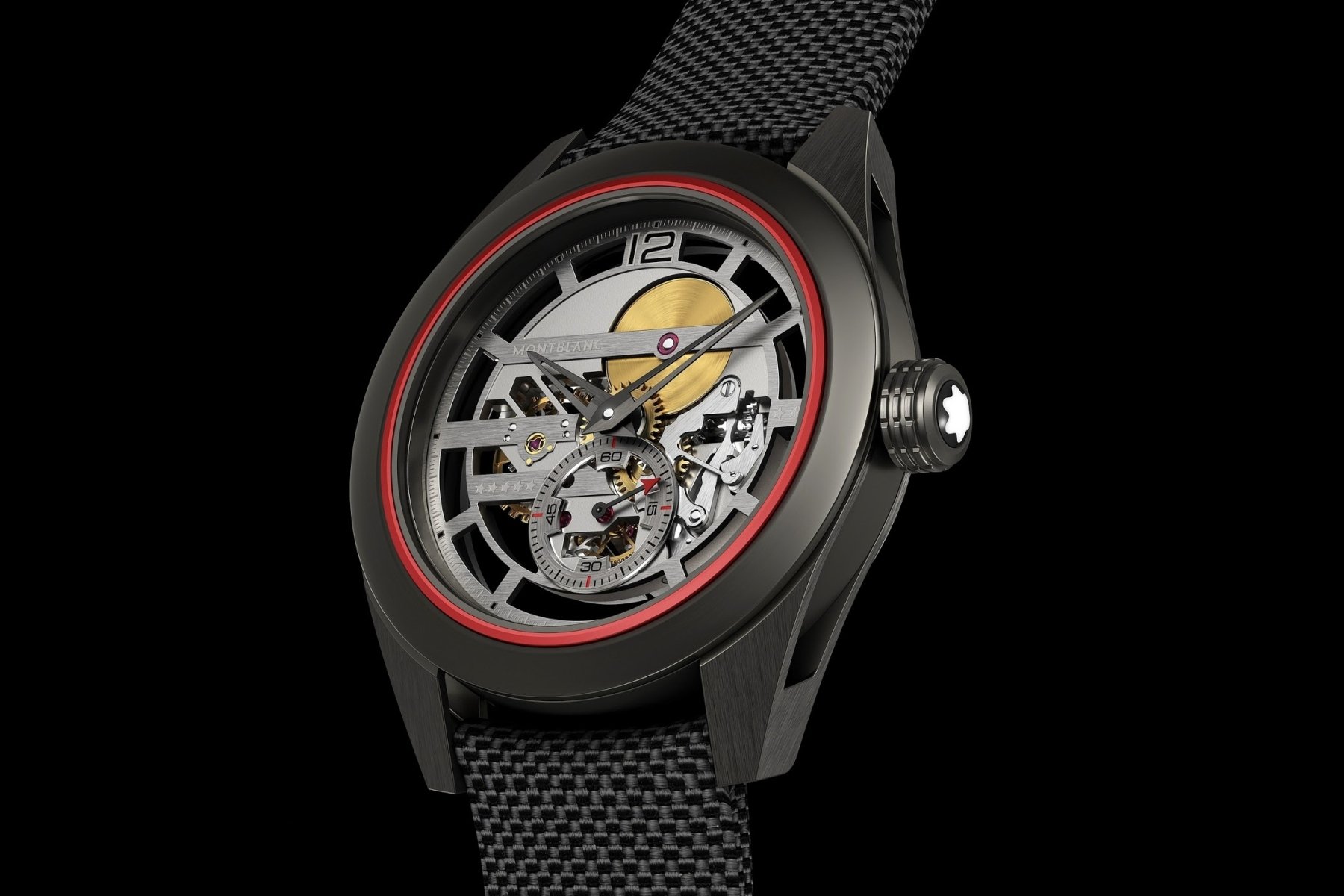 The lightest watch ever
Montblanc is not only setting records with remarkably low prices for high complications. In 2016 the brand surprised the watch world with the lightest watch on the market. To its ambassador Lin Dan, undoubtedly the world's best badminton player, Montblanc created the TimeWalker Pythagore Ultra-Light Concept as a piece unique.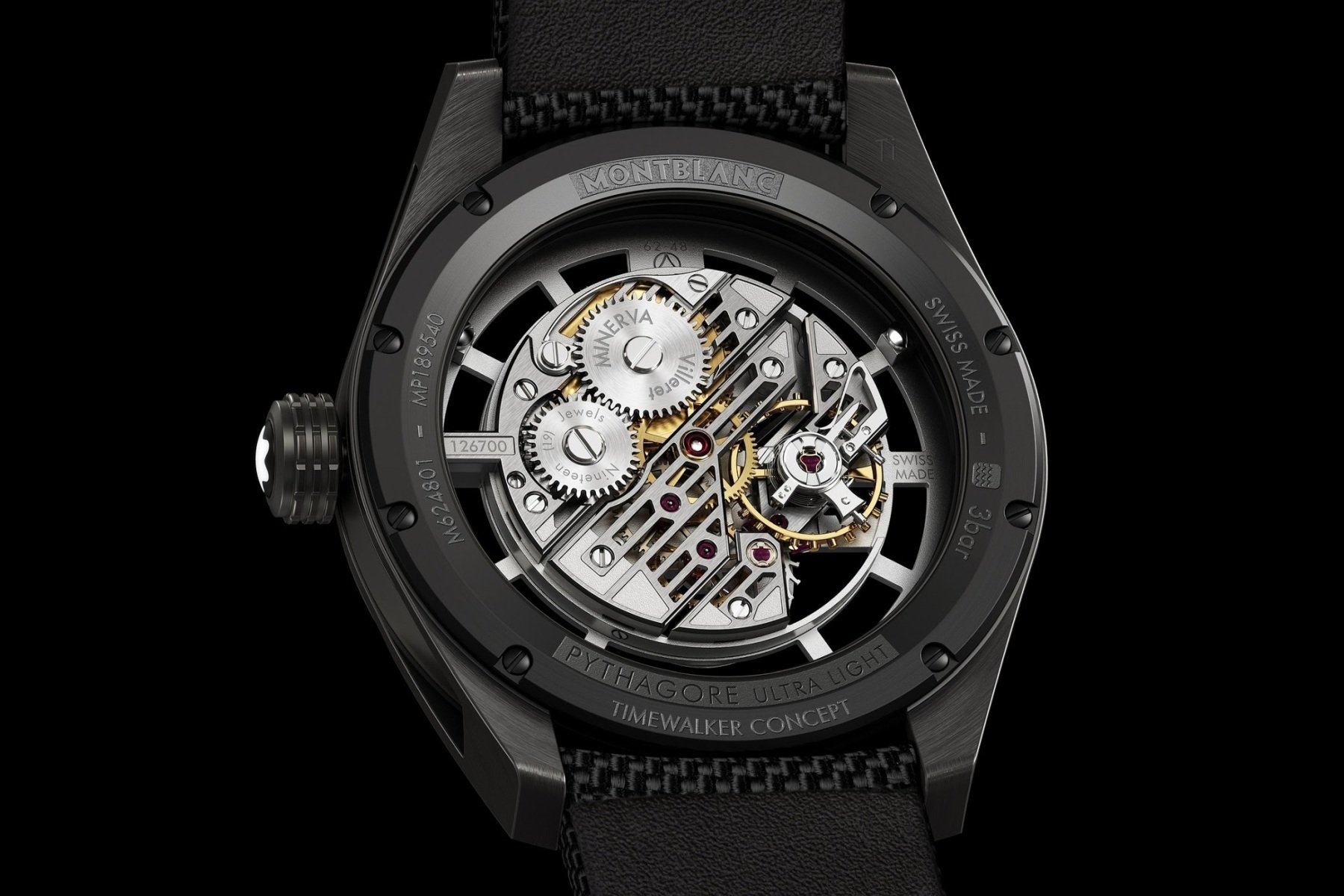 This watch weighs only 14.88 grams. Montblanc achieved this extremely low weight by using an extraordinary material for the case called ITR2. A resin filled with carbon nanotube particles. The movement, a modern interpretation of Minerva's Pythagore caliber, is made of titanium and skeletonized to a maximum degree, meaning that the watch ditches the ballast and maintains only the bare minimum material.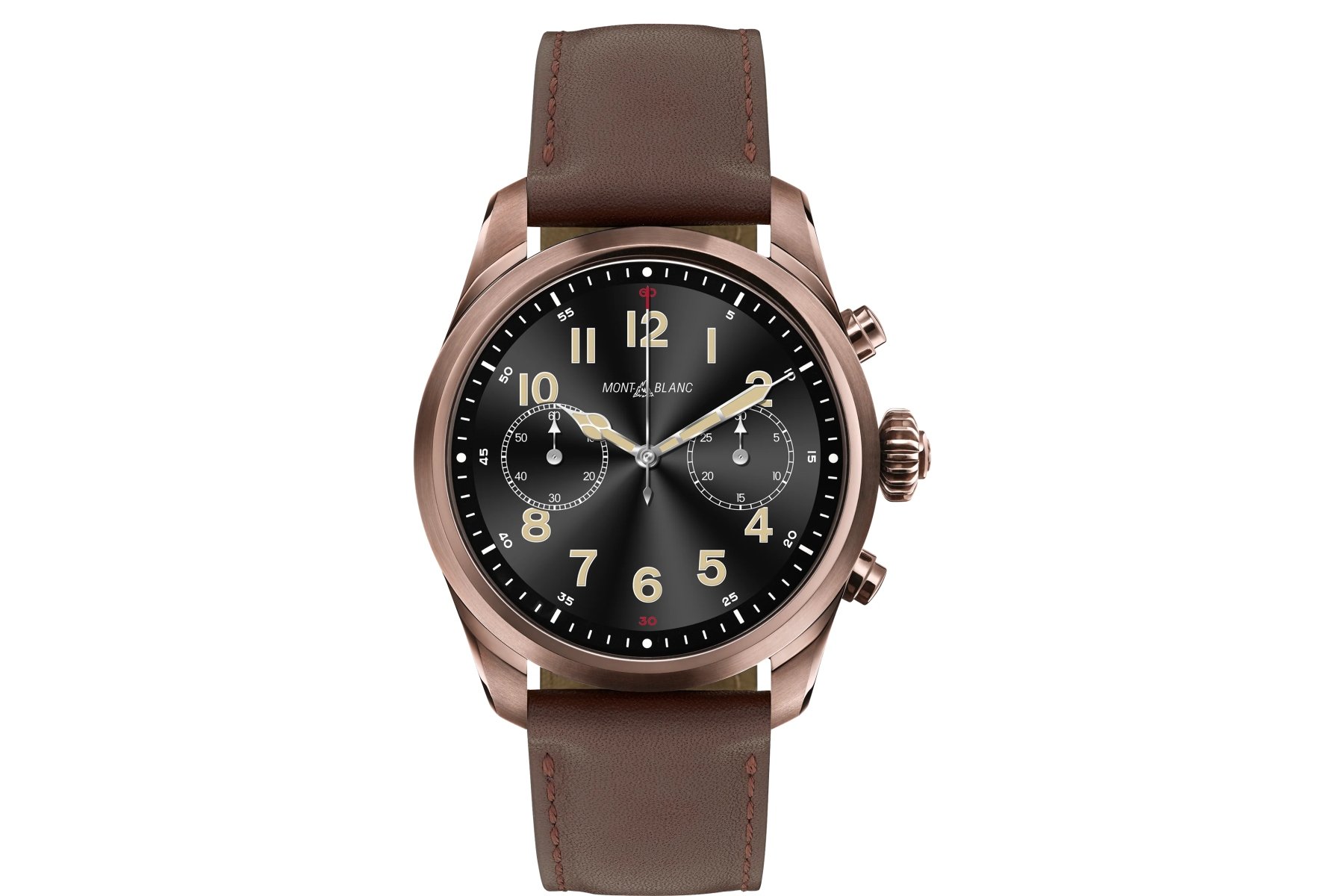 A smartwatch
With the Summit model, Montblanc introduced its first smartwatch in 2017. It runs Android Wear as the operating system and came in a steel case (with or without black coating) as well as in a titanium case. One year later, the brand presented the Summit 2 with technical improvements and a smaller case (42mm instead of 46mm). In its latest iteration, the watch comes in a case made of recycled aluminum. Additionally, in 2015, Montblanc had presented the e-strap. A smart module worn on the inner side of the wrist while the strap it was connected to held a normal watch in place on the other side of the wrist. An elegant solution for those who want to use their mechanical watch with the added functionality of a smartwatch.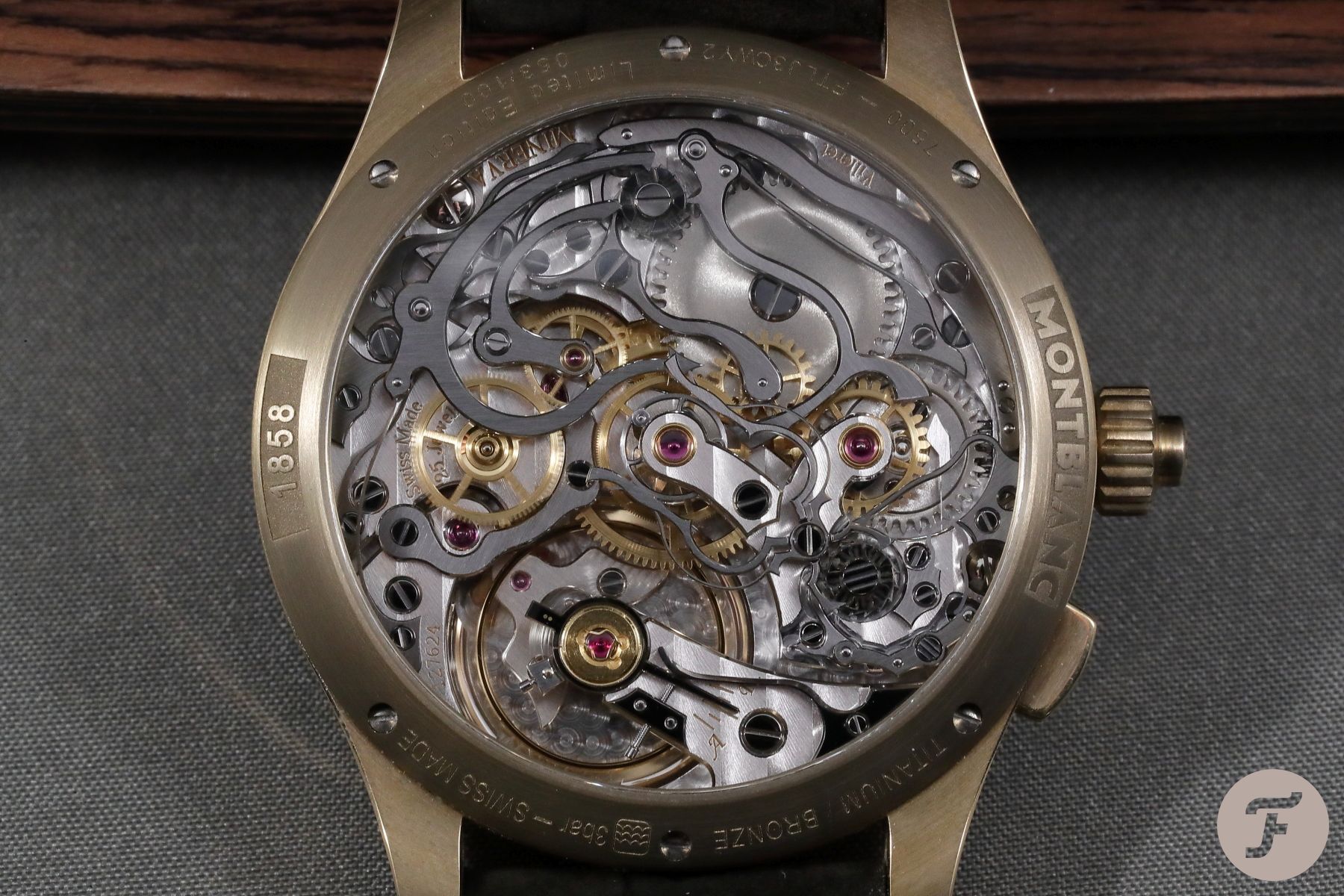 A disruptively priced Rattrapante
In 2019 Montblanc presented the first edition of a classic split-second chronograph. The newly developed Minerva 16.31 caliber does its work inside this watch. Like all modern Minerva calibers, the watchmakers in Villeret decorate the M16.31 by hand to the highest level you find in serially produced watches today. If you look at it this way, the price of this watch is even more disruptive than the prices of the Grand Complications Montblanc had presented before. This first edition had a black dial and a bronze case. Several other case material and dial color combinations have appeared since then.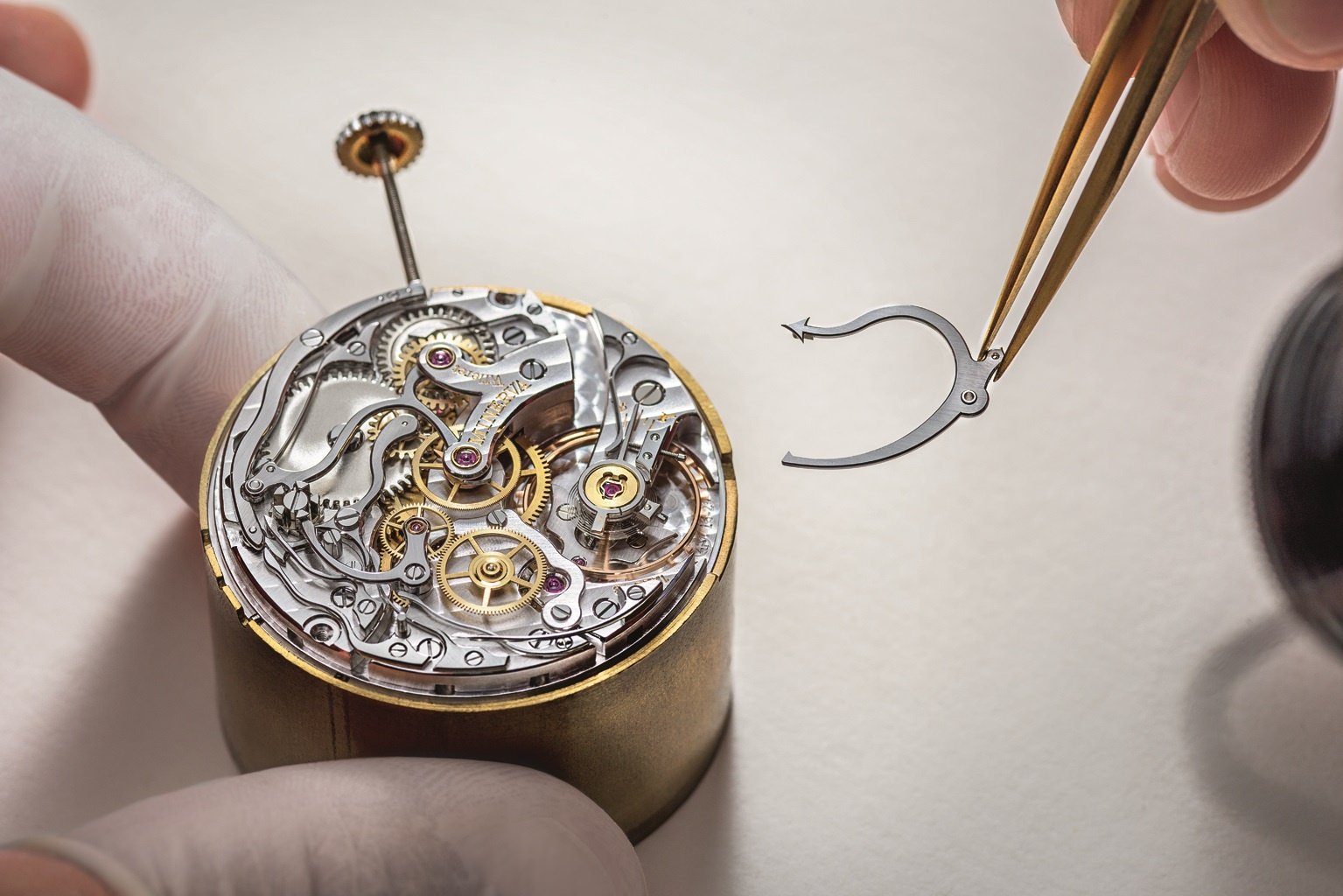 Conclusion
We can finally conclude that Montblanc truly has mastered the art of merging tradition with modernity through the extremely various offerings in its watch collection. The brand offers movements built and decorated in the most significant traditional way as well as entirely novel realizations of established complications. The selection ranges from entry-level to complicated high-end watches. Montblanc has opened high-end watchmaking to a new audience by offering grand complications and exquisitely finished movements at extremely competitive prices.
Today, Montblanc integrates Minerva's historical legacy in several of its collections. The sustained demand for vintage-style timepieces certainly facilitates this. Montblanc has managed to merge Minerva's heritage and craftsmanship into its own relatively young watchmaking history without derogating Minerva's reputation. Even if you still mainly regard Montblanc as the pen maker, you have to concede this brand's remarkable footprint in watchmaking history.
To explore Montblanc's current offerings, visit the brand's website.