NEW RELEASE: The Blancpain Air Command Flyback Chronograph In Grade 23 Titanium
The second titanium Blancpain in a week confuses me, but in such a good way
Let me spill the beans. Did you read my articles on the Oslo Watch Fair and last week's tough new Bathyscaphe in grade 23 titanium? If so, then you might have picked up on a hint about this blue baby from Blancpain. Yes, these wrist shots are mine.
Philippe Conte from Blancpain almost had to pry the watch off my arm at the Oslo Watch Fair, as I enjoyed the pure juxtaposition of its concept almost too much. What watch am I rambling on about? This new Blancpain Air Command Flyback Chronograph, of course. While it looks like a blue-dial version of the rather delicious 500-piece 2019 limited run of the Air Command, it sure feels different.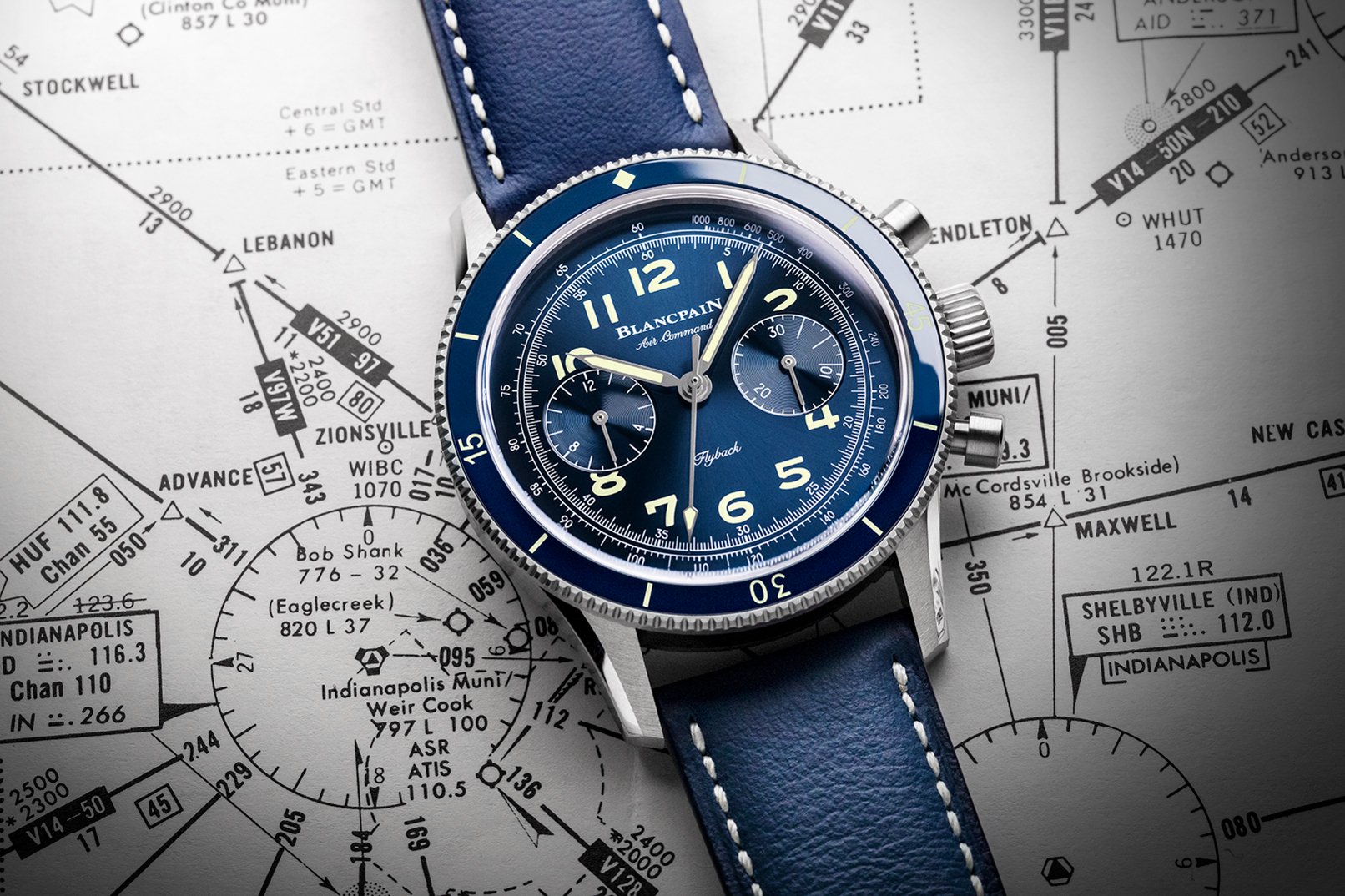 Vintage cool re-imagined in titanium
This heading neatly sums up my fascination, and the images speak for themselves, right? Well, if not, let me explain myself. The Blancpain Air Command has been firmly placed on my radar ever since the release of the very limited black-dialed model in 2019. The piece is balanced, lumed in beige, and oh-so-cool. This modern-day Air Command is an accurate representation of its 1950s namesake. "But surely," you may be thinking, "it must be larger?" Well, if you're guessing that its 42.5mm diameter is an alteration to suit our modern tastes, it isn't. The original late '50s pilot's chronograph was massive in the mid-century at 42mm. Except for a slightly larger dial opening, this is homage perfection, where the philosophy of "form follows function" is reflected in balanced legibility. In terms of thickness, the Air Command measures in at a medium 13.77mm.
The standard model is a picture-perfect pilot's chronograph, and I love a good uni-compax. But to put it bluntly, I am an aesthete with a background in design. As such, I find that the Air Command is balanced, with more than one likeness to the Fifty Fathoms family.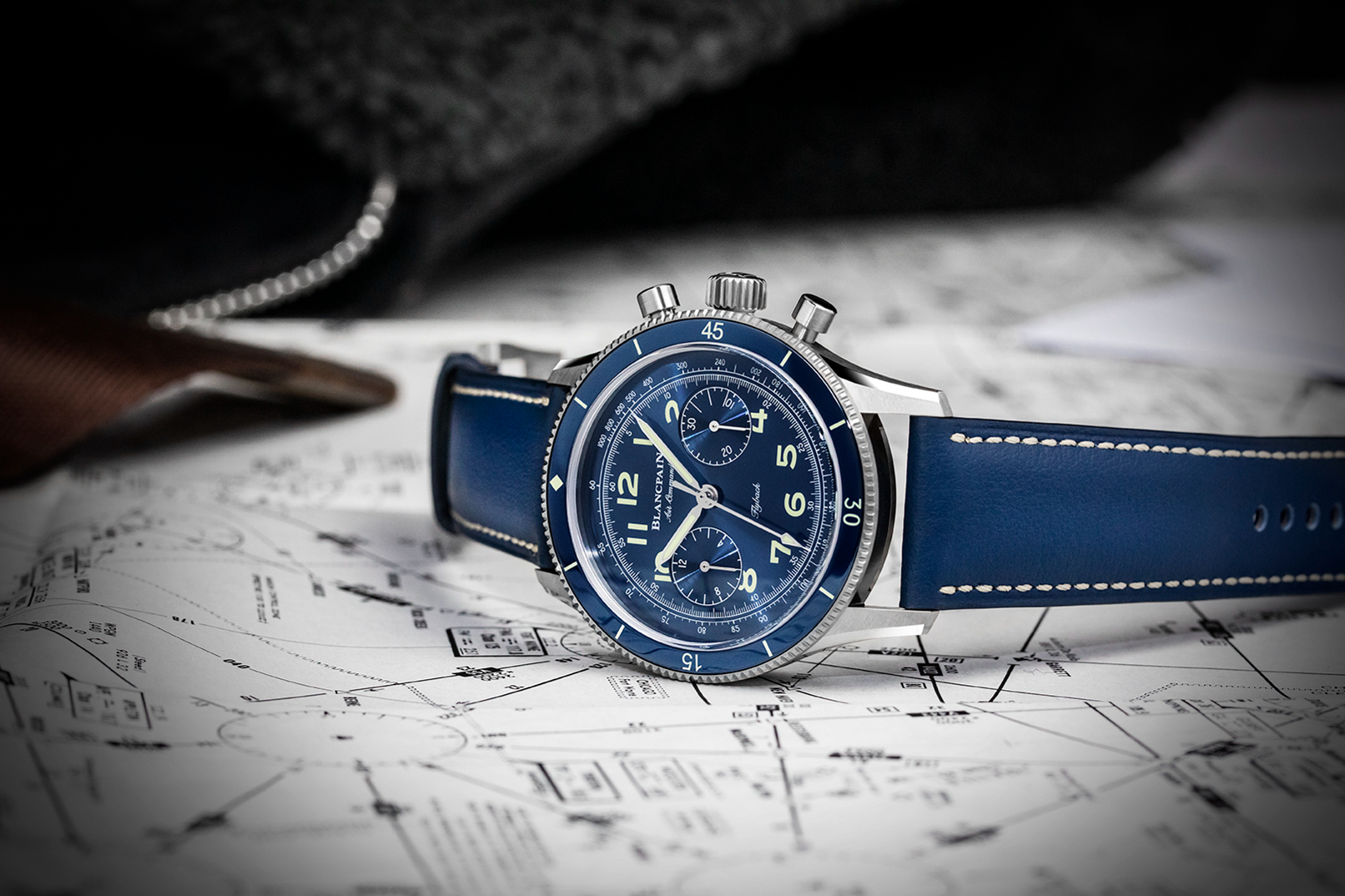 Tricked by metallurgy
The Air Command is pure, succinct, and balanced with the only two registers that, at least in my mind, you need. But my wrists are usually too puny for a 42.5mm watch. In my head, a smaller 38-40mm case would be perfection. This is why I didn't understand the comfort. When I tried on the Blancpain Air Command Flyback Chronograph at the Oslo Watch Fair, it fit me amazingly. Not only that, it left me confused and smitten.
The main reason for this was the exhibition stand lighting, which made me notice the ever-so-sharp bevel on the outside of the lugs, but not the darker tinge of titanium. Grade 23 titanium, a high-end variety rarely used in watchmaking, is insanely hard to polish. The dynamic sweep of the polished bevel says a lot about the craftsmanship within the manufacture, and it made me think the watch was steel. Distinct striations in the brushed areas make for noticeable twinkles in the meticulously sharp angles, adding a rakish elegance to what is supposedly a tool watch. This is more refined than titanium has any right to be, and a lack of weight makes you forget the size.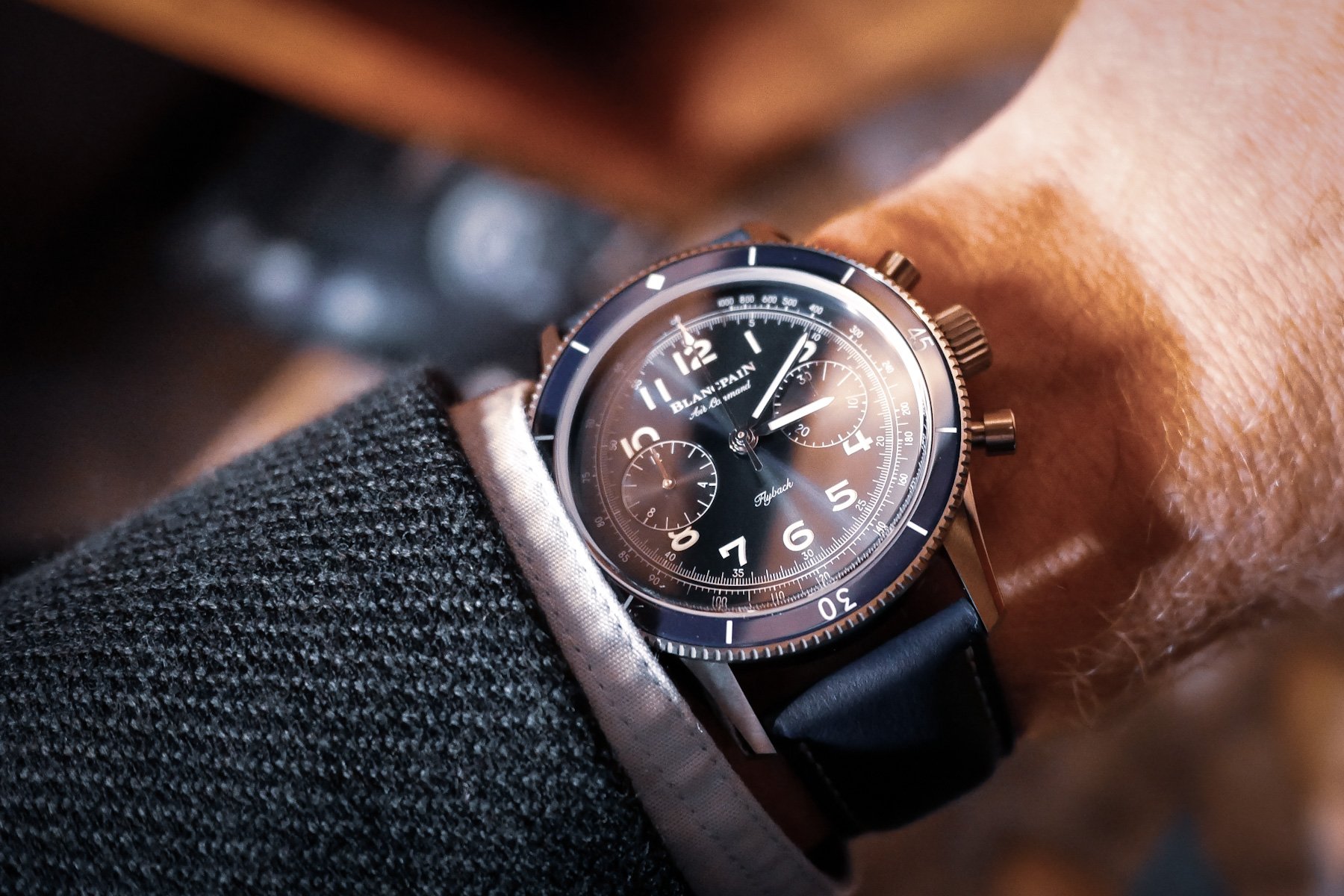 Futurist retro functionality
OK, so while the Air Command is a pure '50s design, it has nevertheless received refreshing updates in both size and materials. Thankfully, we're not all built with thin wrists, and 42.5mm will be a perfectly happy medium for many. Surprisingly for me too, the lack of weight in titanium changes things. Seriously. Visually, the classic design of the Air Command will make it look smaller than a 40mm watch with a thin bezel and minimalist dial would. Its maximalist and true-to-vintage dial is packed with information and made almost too pretty in blue. I will not tell lies if I claim that a good 70% of owners will never time anything worthwhile. Neverthless, the function and legibility are there for the taking. Perhaps an obligatory course should be a prerequisite, as the flyback function alone deserves it.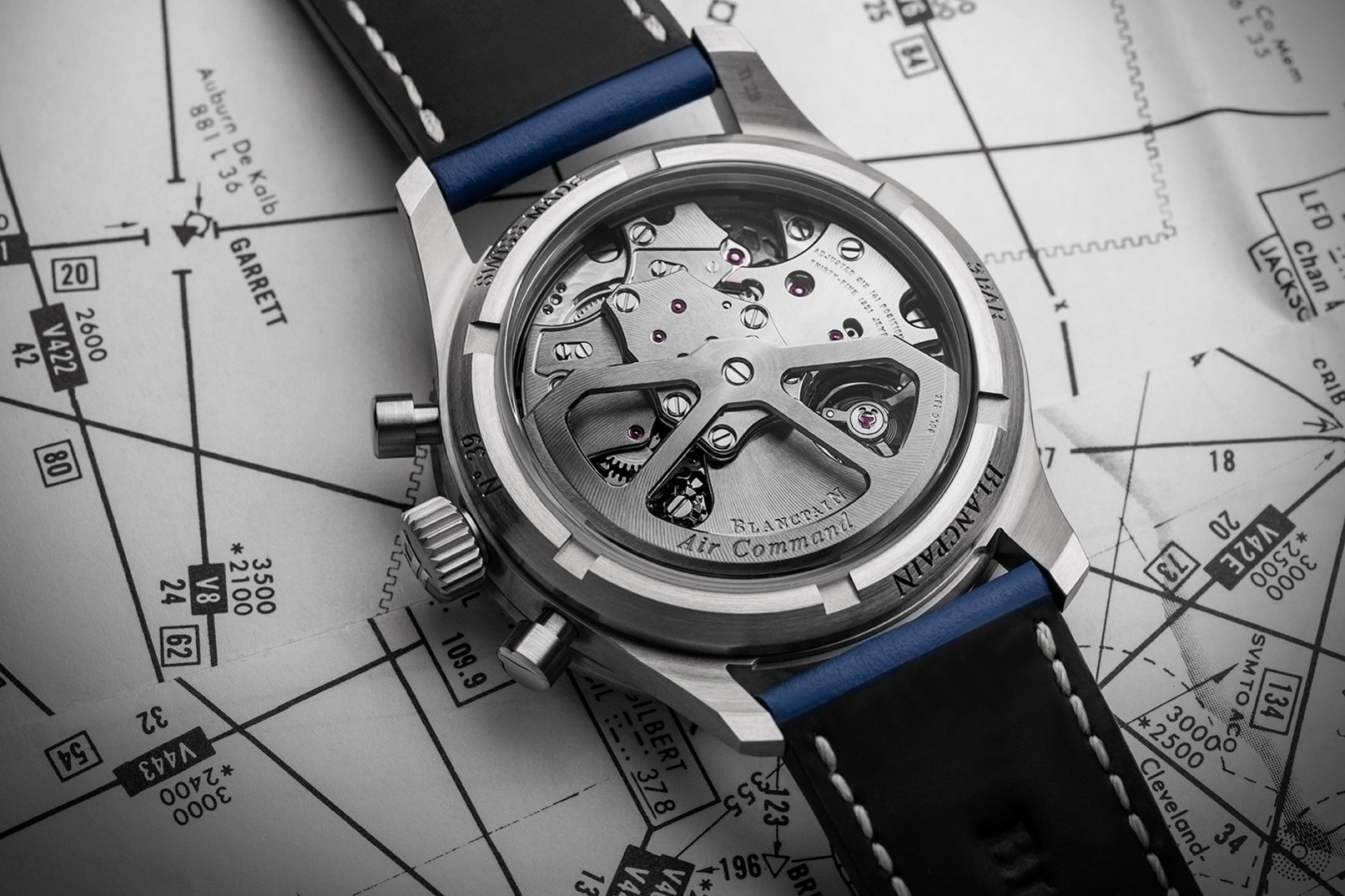 The movement, and perhaps one temptation too far?

Unlike the 2019 edition, the rotor is congruent with the futuristic feel of a vintage aesthetic in grade 23 titanium. Unlike its predecessor's propeller, the F388B caliber gets a new, gold, open-worked rotor through which to enjoy the 5Hz movement. Its 30m water resistance seems rather low in 2021, but this is a very elegant tool. And at CHF 17,900, you're not taking it to the beach, are you?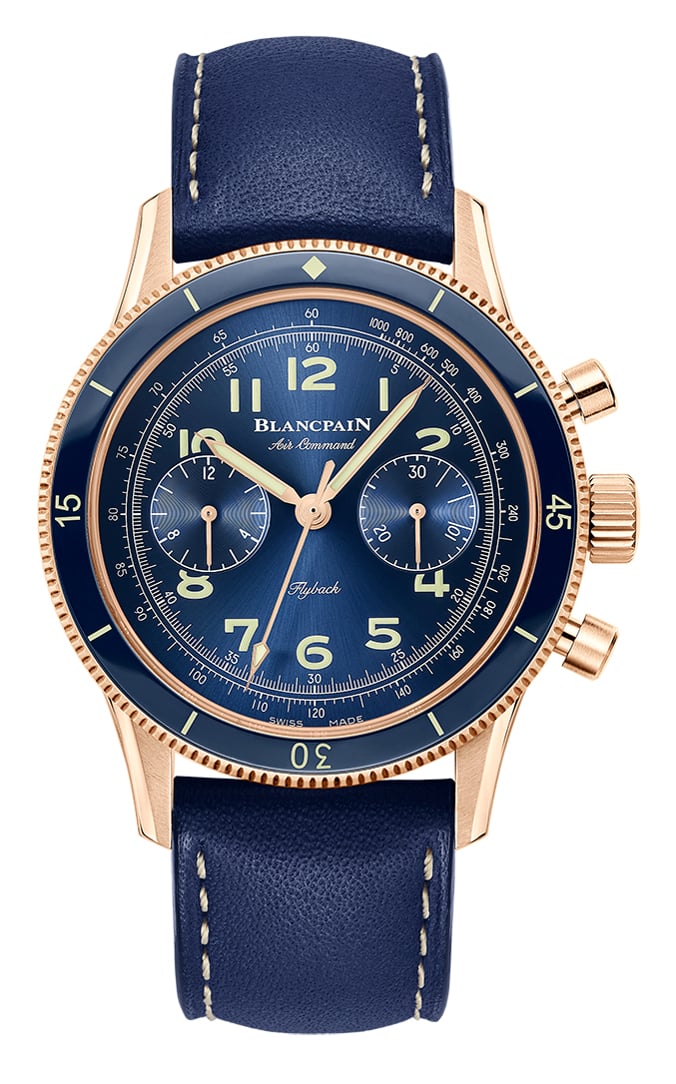 But for me, I would sacrifice the sporty feel and flyweight comfort for something more substantial. Against most of my "small is perfection" principles, I just discovered the red gold variant at CHF 28,800. The rich warmth of the gold against the sunray brushed blue dial is too sensual to ignore. Is it a dressy touch too far for a pilot's chronograph? Maybe so. But one thing is certain — one brief look at the twinkle of the polished chamfer on a gold lug, and you're done for.
Follow me at: @thorsvaboe