We Attended The Oslo Watch Fair — Northern Europe's Largest Autumn Event
And I'm dizzy from the sheer enthusiasm of the World opening up
That's right, no masks, no Covid Pass, and all the top-tier brands gathered in one arena. And this includes a rather large stand from Rolex, a strong move in this non-Baselworld year. WOW, how much I missed this, even after attending the Geneva Watch Days. The Oslo Watch Fair is not perfect, with many brands missing due to an AD hosting the fair, but impressively so. This is nothing but welcome and says a lot about the strong market in Northern Europe. Many attendees were actually from central Europe and even the UK. So here's a big thanks to my Fratello colleague Lex for reminding me that I live 10 minutes away from the event, and Jaeger-LeCoultre for the invite.
The Event
I am still buzzing from the fact that this actually happened, and might have come across as rather intense (sorry brands), and this is reflected in my photography. I got hypnotically captivated by the mere fact that I could wrist check an A.Lange und Söhne, then take a mere ten steps to Jaeger-LeCoultre. Thankfully my good friend Morten Paulsen had the clear head to take some great ambiance shots of the event and audience at large while I obsessed over a secret something from Blancpain… Yes, Geneva Watch Days was a superb event with the best on offer, but bring the wrong shoes and you will get rather tired from the distances between suites, hotels, and showrooms.
Scandinavia is a stronger market than expected
Don't get me wrong, I love GWD. But maybe seeing top-tier brands like Greubel Forsey and Ferdinand Berthoud within the space of an hour caused my brain synapses to overload. Here's a curated event with a good mix of medium and high-end, plus some surprises. So, while there was Longines, TAG Heuer, and Breitling, some brands were up there on the grail-scale, including H.Moser&Cie and Vacheron Constantin. I wasn't the only one in high spirits, as I have not seen so many champagne flutes in one room for a while. Unsurprisingly for such a narrow and affluent market, the largest stand was the central feature of Rolex. Fighting the baying crowd, I had the delight of actually trying on a few. And the fresh pops of 36mm O.P references? Still fresh! Actually getting on the order list is still akin to tripping over the lost tomb of a pharao or two while on holiday, but there you go.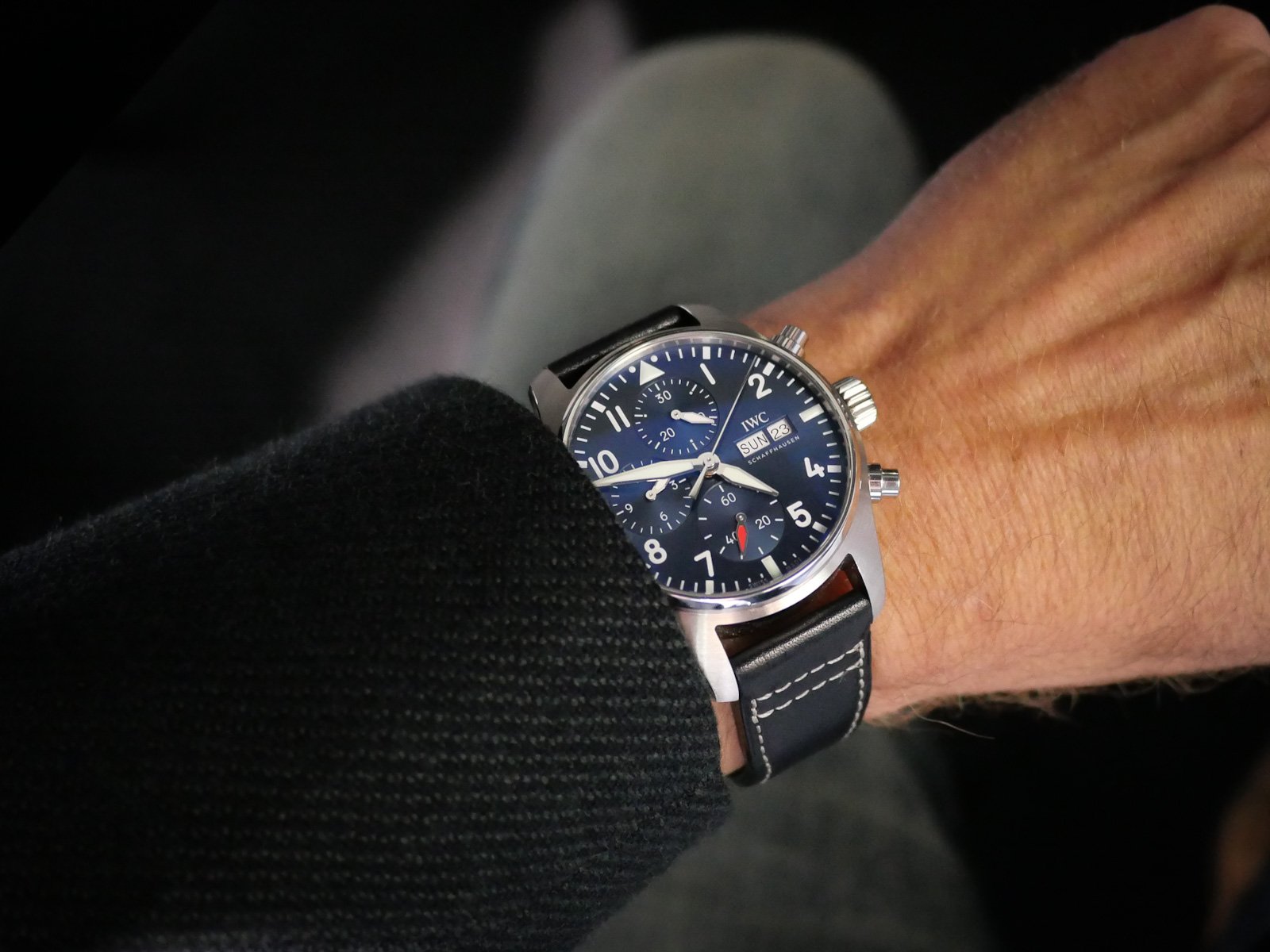 Who stood out in the crowd?
From a mix of old hits and new releases at the fair, I would say that IWC had an advantage with the newest models on show. Especially the acclaimed Big Pilot's Watch Top Gun Edition "Mojave Desert" duo had a throng of eager would-be customers. Despite the Oslo Watch Fair having each day divided into two or three sections of attendees to keep numbers manageable, the sand-colored ceramic was a queue-inducing crowd pleaser.
Me, I was rather enamored by the new Big Pilot's Watch Chronograph 41mm, especially with the new strap-changing versatility of the EasyX-Change system. Honorable mentions to the new dark blue dial 43mm Big Pilot's Watch, but for comfort? The new 41 is as unbeatable as that single pop of red cheers up the dial, and on the bracelet it's sublime. Another notable mention was the fact that even with the Scandinavian reserved taste for minimalism, the Hublot stand was packed to the point of any thoughts of 1-meter Covid19 distancing rules being thrown out of the window. A sapphire crystal cased-Big Bang, Sir?
A feeding frenzy
While I wouldn't call the crowd ferocious, I did feel a pang of hunger in the air. Several of the sales managers, many of them Dutch (my people!), were visibly taken aback by a rather eager pack of watch lovers. I very much enjoyed some good conversations with the less mainstream brands like Breguet and H.Moser, set apart by their non-conformity and less hyped wrist-wear, and the strong presence of Blancpain.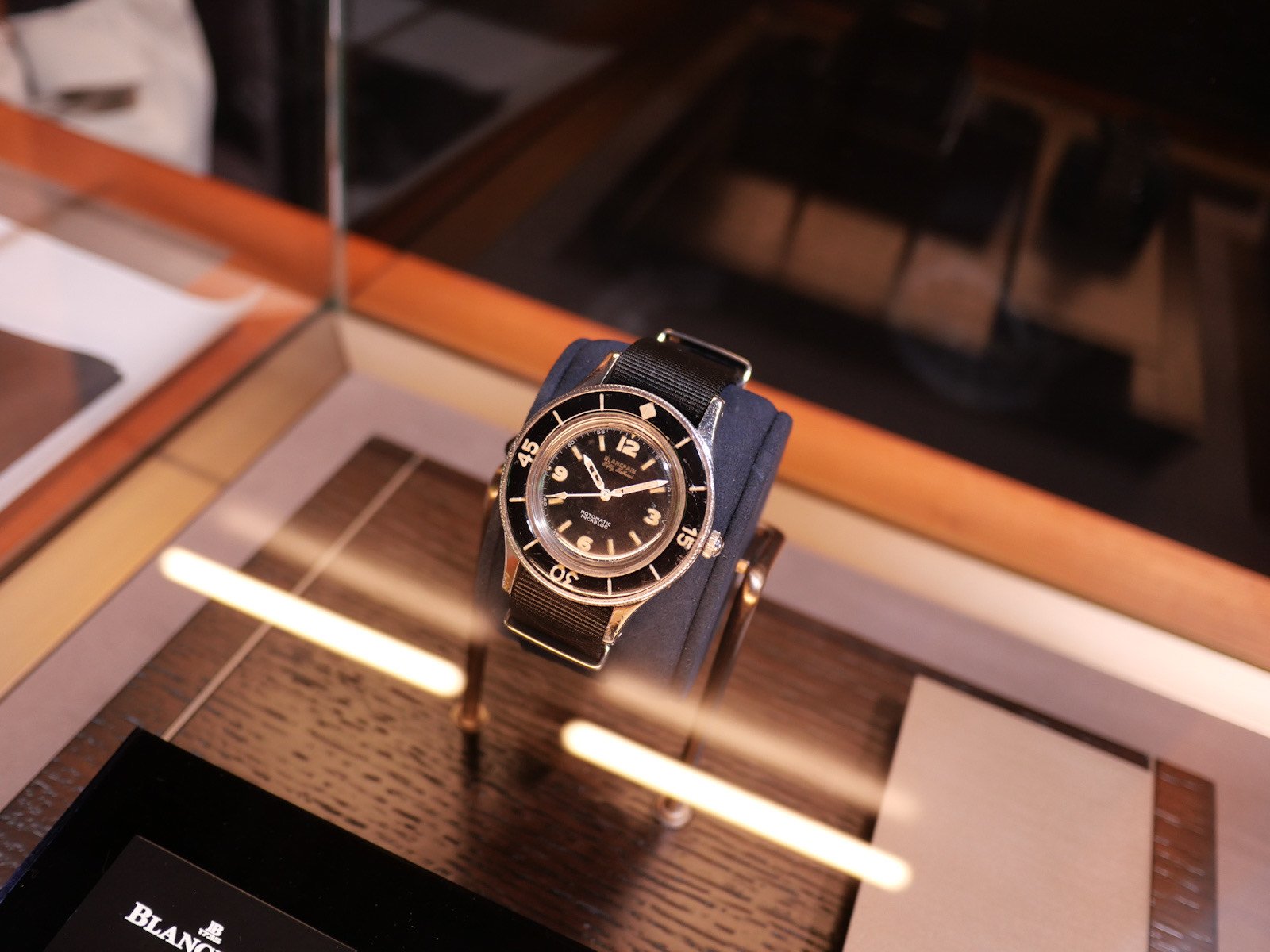 Blancpain showed a prototype of a brand new Air Command model, and it is cool. I am itching to get the press release for this killer piece of retro with a modern twist. Though I was eagerly hogging this, Philippe did his best to distract me with a display of three original '50s icons including the real McCoy first edition Fifty Fathoms complete with delicious patina.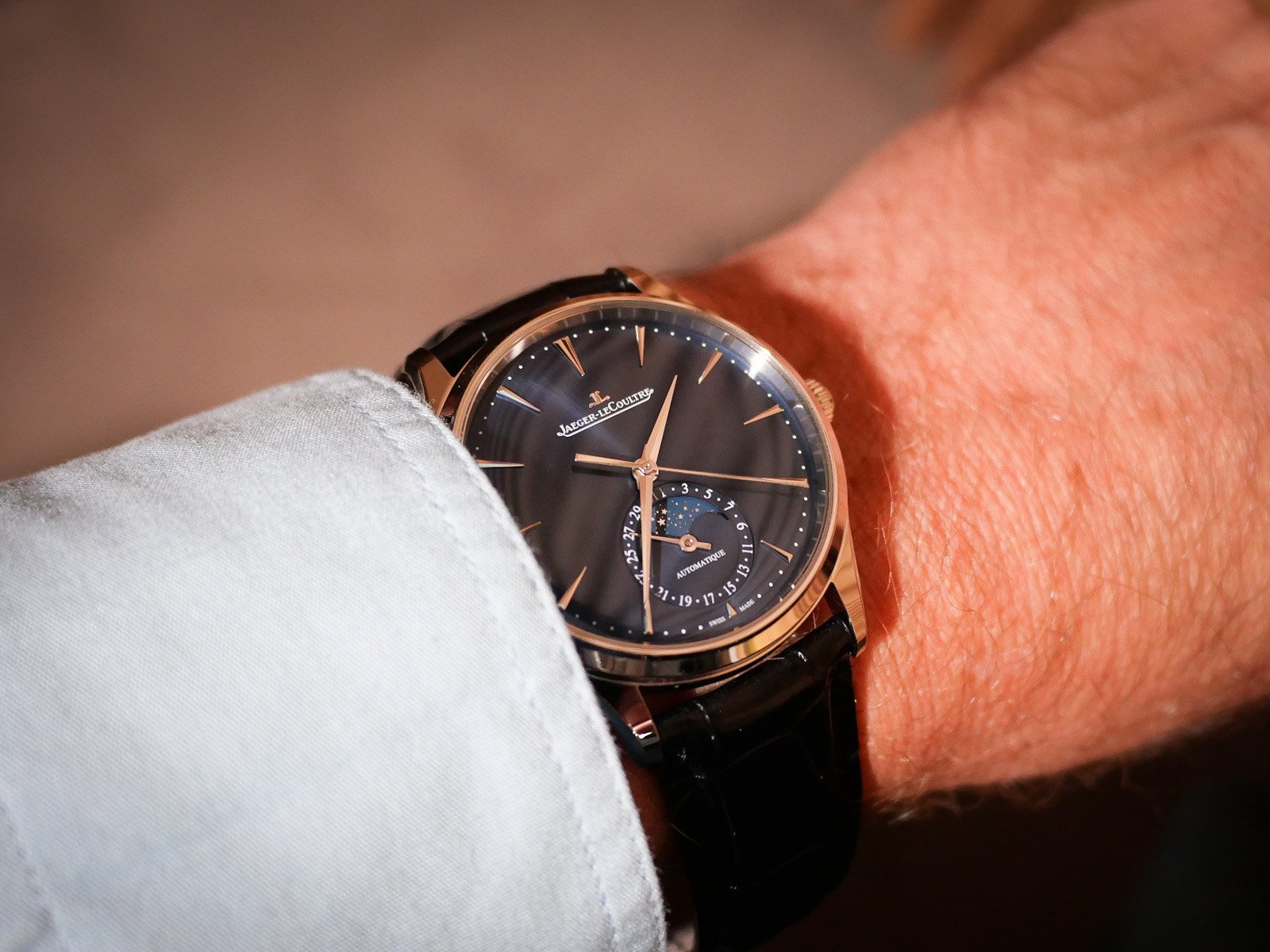 Jaeger-LeCoultre and the renaissance of the Reverso
One of my three favorite pieces at the Oslo Watch Fair was deep blue. The new JLC Master Ultra Thin Moon dark blue dial has a new air of raffishness. A slightly twisted lug design emphasizes the value of faultless proportions, while smoothly comfortable. The sunray brushed dial is an elegant indigo blue, veering towards black at night. A larger date and moon phase at 6 pops visibly with a subtly lighter shade. The most interesting aspect of my conversation with Erwin Sies of JLC was about the Reverso. And the fact that the storied rectangle is on a roll (well, more like tumbling perhaps?). Yes, the vibrant colors of the Tribute series have younger buyers hooked. There is actually a five-to-six month production wait for a blue small seconds Tribute, while the green version is even more sought after. This rectangular renaissance was also plainly evident at the Cartier stand, with me getting hands-on with a tank a difficult task.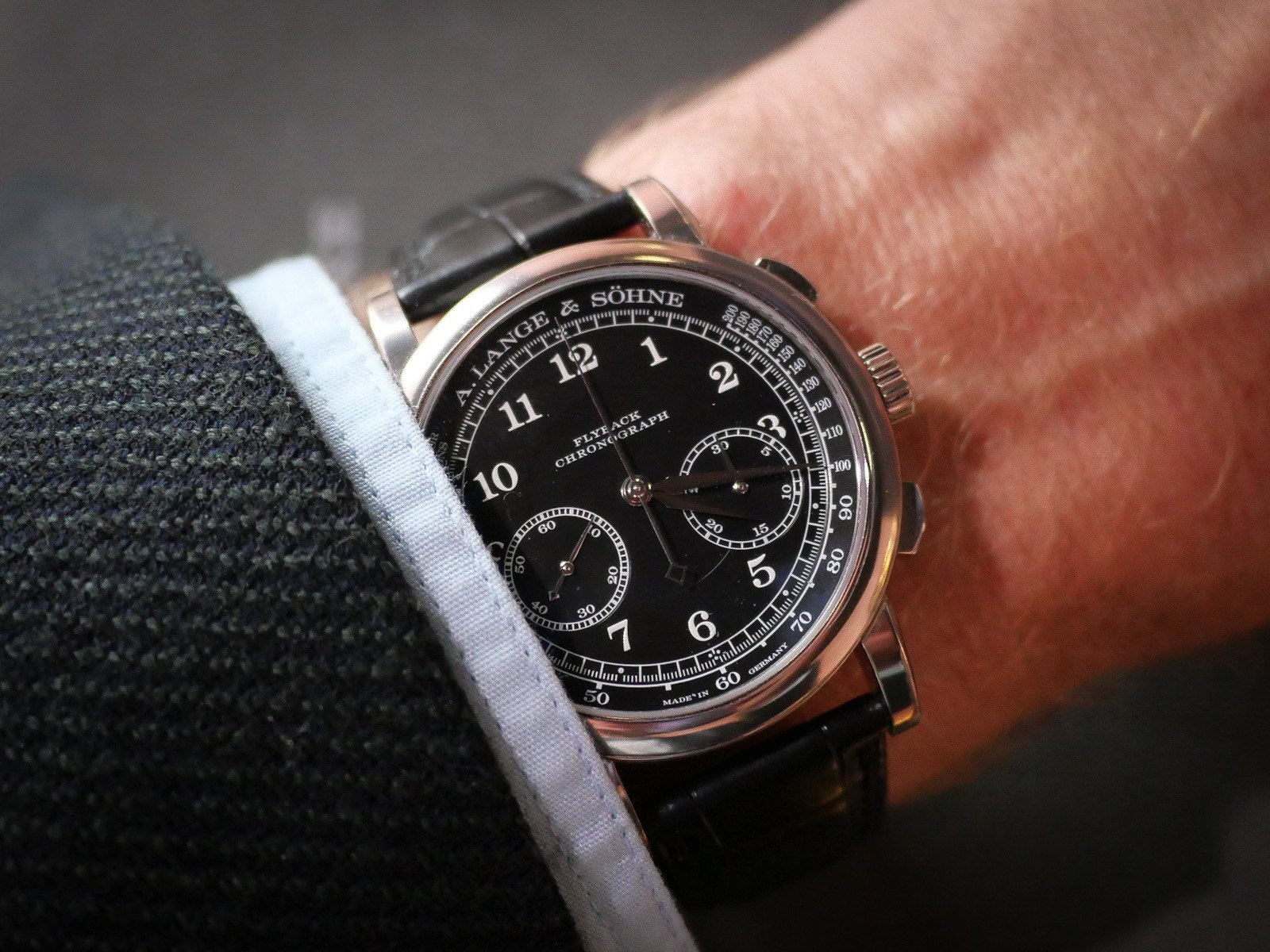 The delayed Bond, Lange, and Vacheron
Never before have I seen an almost two-year model get so much attention as the delectable Bond Watch. The Seamaster 300M Titanium, is a model I have lusted over for a few years. The VERY late premiere of the Bond Film has made the watch brand new again. and well, it deserves it. With its cool lightness and best Milanese bracelet around, it's my fave Bond Watch by far. And the new Speedmaster Professional with that unmistakable yet new bracelet and tweaked case? The Hesalite has my vote every time, and yes I did have to wait in line. A.Lange und Söhne was not a brand I expected to meet here, but they brought a solid offering. I'd happily admit that trying on the suave 41.5mm of matte black Flyback Chronograph got me good. But what was probably my favorite wrist shot and hands-on of the entire day? It wasn't a new watch, but an under-the-radar piece from Vacheron Constantin.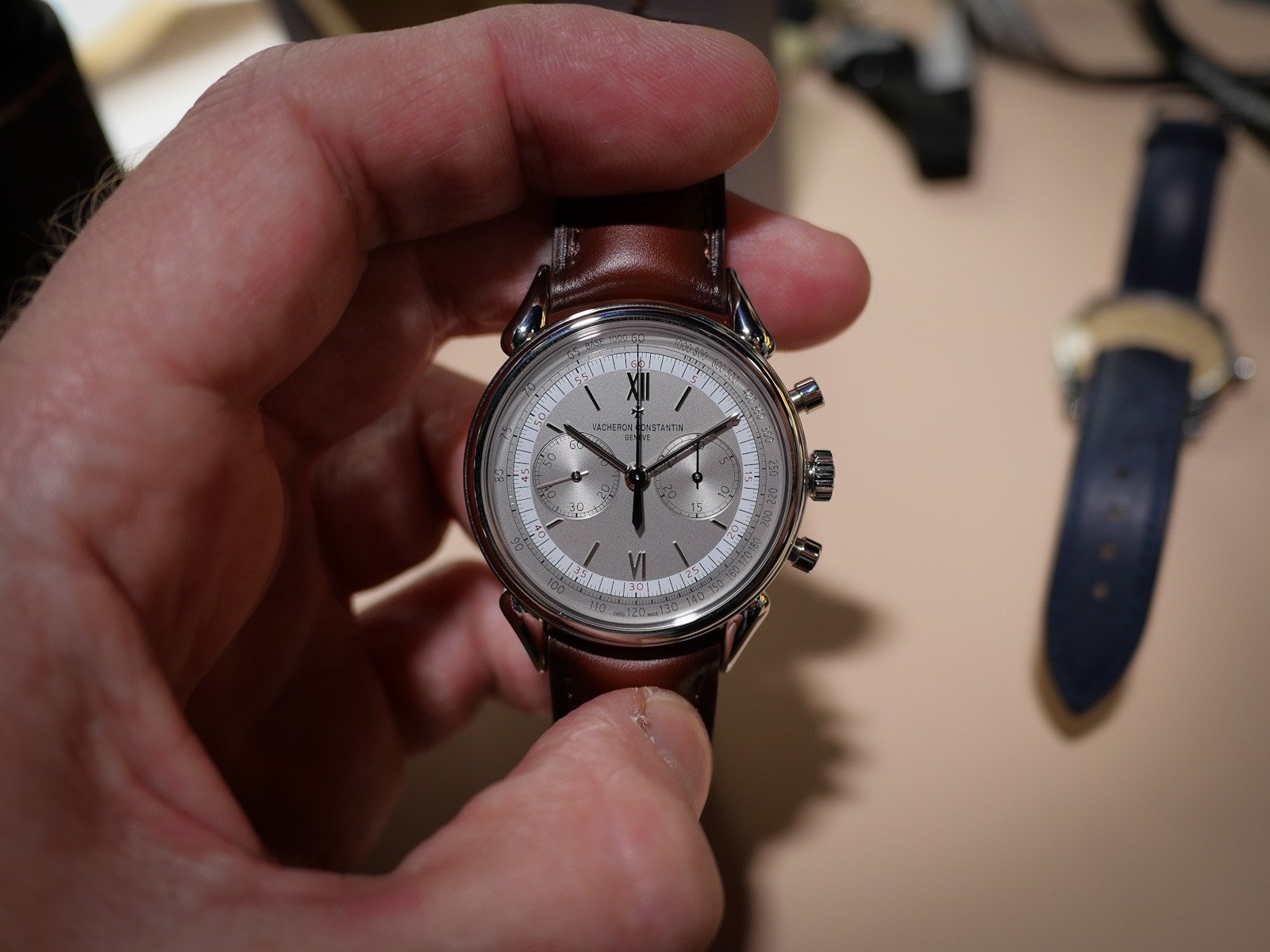 The best lugs on any chronograph, hands down
This is where I end this story by being resolutely subjective, call it a love letter. One watch has me feeling giddy like a 15-year old schoolboy with a crush. Yes, I'm at the Vacheron Constantin stand talking to Susanne Rolf, and not about the obvious piece of panache. A small group of champagne-sipping gentlemen was ogling the flashy blue Overseas Chronograph, but me, I was in love. I waited patiently before the charming Susanne clipped the 1955 Historique Cornes De Vache onto my wrist with finesse. Solemnly winding the Lemania-based movement, how did it make me feel? Well, if there was a moment I felt like making a run for it this was it. Unfortunately, I had introduced myself as a Fratello team member, inspiring a smile in the very patient Sales Manager. To me, this 38.5mm chronograph is simply metal-made perfection. And damn, if those lugs are as voluptuous as things you can't write in these times of political correctness.
On its Serapian antique fume-treated brown soft leather, this $44,000 watch for me is proper end-game material. From the perfect pop of a blued needle seconds hand, I can't fault a thing. Turn it around and you'll find the Poincon de Geneve Cal1142 caliber. Vacheron's take on the Lemania 2310 movement is sumptuous. Assiduously high-end as expected, with the requisite level of finishing demanded by VC. Add the certification criteria of the Geneva Seal and you get the picture. This deserves a story on its own, and it has Easter Eggs aplenty within its micro-architecture. Like the Maltese Cross on the pinion wheel, and delicate anglage vying for your attention. The wrist presence of the Historiques Cornes De Vache 1955 alone made the day worth it.
Now pass me that Champagne flute, please!
Follow me at @thorsvaboe