The New Forstner Flat Link For Pre-2018 Omega Seamaster Arrives Just In Time For Fans Of James Bond
As advanced screenings of No Time To Die begin, we have a new combo to celebrate...
Navigating the world of luxury watches as a young and up-and-coming brand with products priced well below the radar of many luxury enthusiasts is tough. What makes things decidedly easier, though, is listening to the community that has propelled your small business to a position few could dream of reaching in such a short space of time. Forstner has done just that. The release of the new Forstner Flat Link with end-pieces specially tailored to fit the pre-2018 Omega Seamaster is a triumph of public relations. Ask and we shall deliver, cries the god of Forstner to the rapturous cheers of his followers!
You all know I like Forstner. I have my favorites within the collection and the Flat Link is not, I must say, one of the bracelets I wear as often as the Komfit "JB" Mesh and the Ladder bracelet. I imagine it might get bumped even further down the rotation when the new "president" 1450 recreation hits my collection, but this latest development might have saved its bacon. Why? Because I was one of those "time dorks" calling for end-pieces that worked with the pre-2018 Omega Seamaster. Why? Because I own one and wanted to see it on a much lighter-weight and more elegant bracelet than the hulking chunk of non-tapering steel it comes on. Now, I'm pleased to say, I got my wish.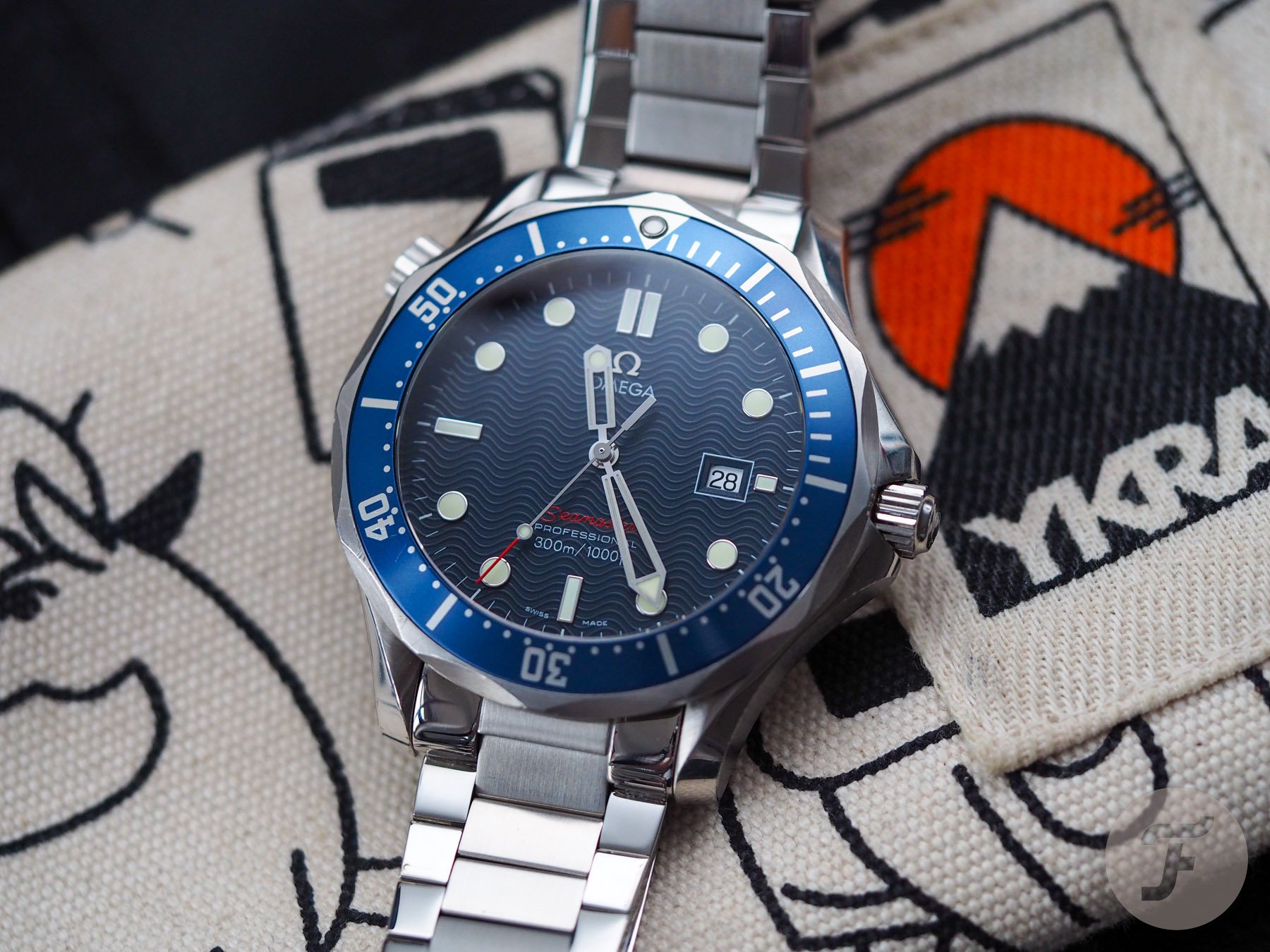 Pre-2018 Seamasters deserve more love
So I mentioned in the sub-title of this article that this is good news to Bond fans. The Seamaster I have here (reference 2221.80) is the quartz version of reference 2220.80 from Daniel Craig's debut as Britain's best-loved super spy (in 2006's Casino Royale). Bond's obsession with Omega began with Brosnan's first turn in the role when he wore the Omega Seamaster 300M reference 2541.80. He wore that model in Goldeneye (1995) and then replaced it with reference 2531.80 for the next three films that saw out his regrettably nosediving tenure. It seems oddly quaint in our modern, product-placement-obsessed world that Omega would have casually allowed Bond to rock the same beater for three films on the bounce, but there you go.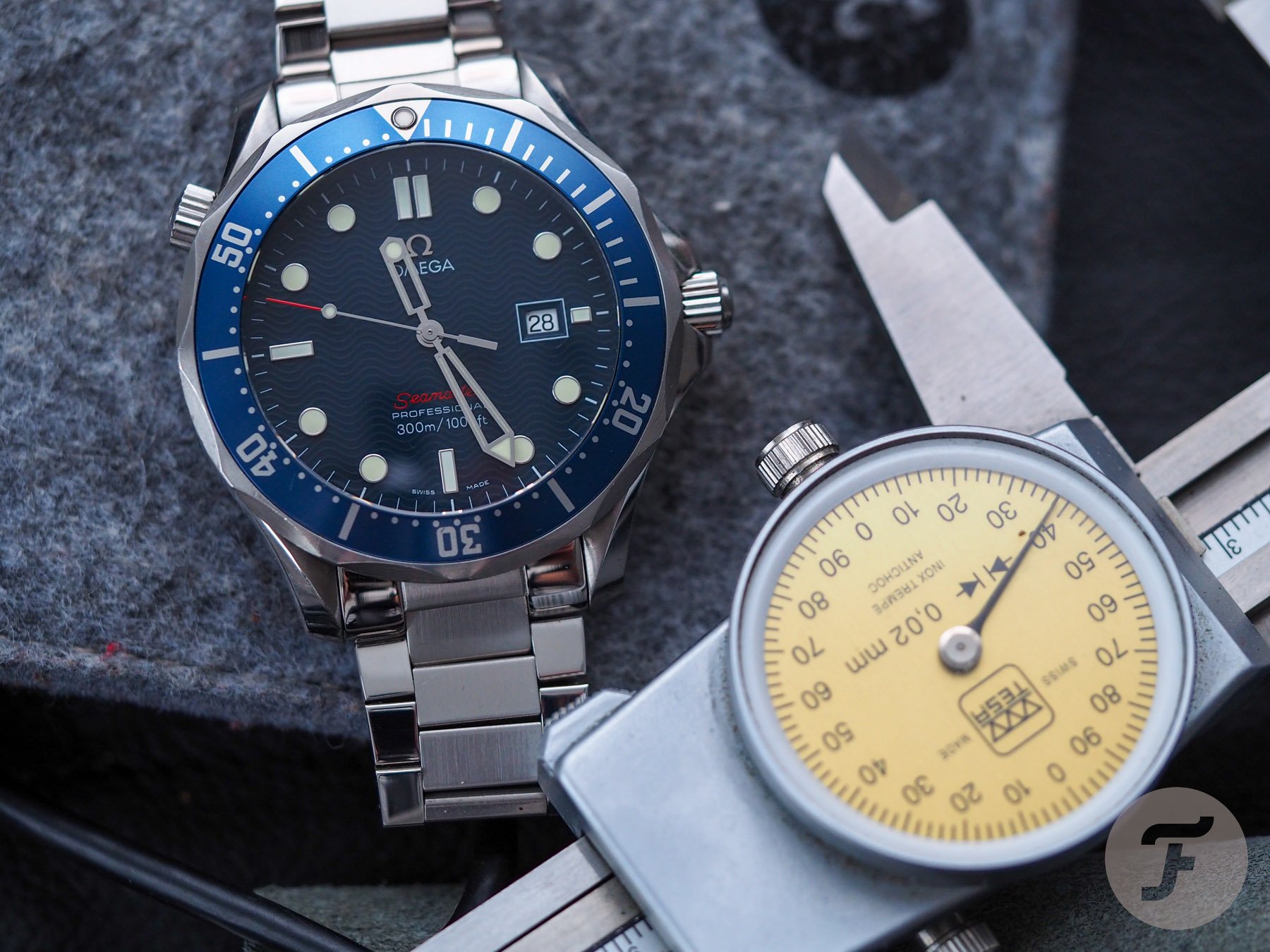 As you can see from the pictures, the watch head sits really nicely on this new, updated version of the Forstner Flat Link. I am really impressed with the way the bracelet drapes and how it doesn't threaten to remove any of my wrist hair. The slight expandability on the 12 o'clock side of the clasp (thanks to two "stretch" links) is a dream for those days that careen up and down the thermometer.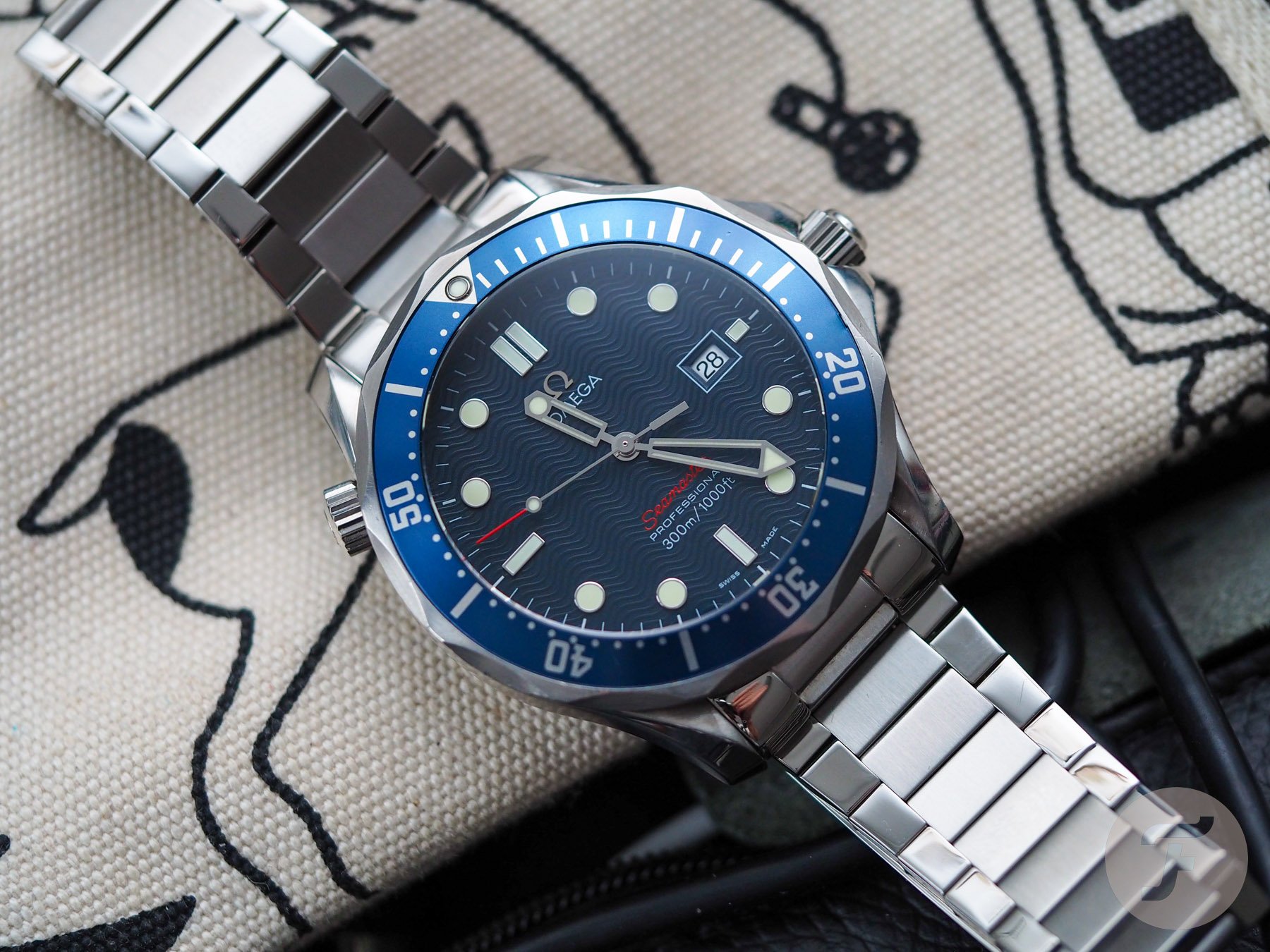 This Flat Link works with most styles
What I like most about the whole Forstner thing is that Forstner has achieved an unusual, possibly unprecedented position in my mind and that is that it is such an identifiable brand in its own right, it becomes "acceptable" to sub out any brand's bracelet in favor of a Forstner. I've spoken before about my discomfort with shirking the original designer's vision in favor of a controversial aftermarket alternative. Now, though, in my watch box, the Forstner brand is better represented than any other single brand.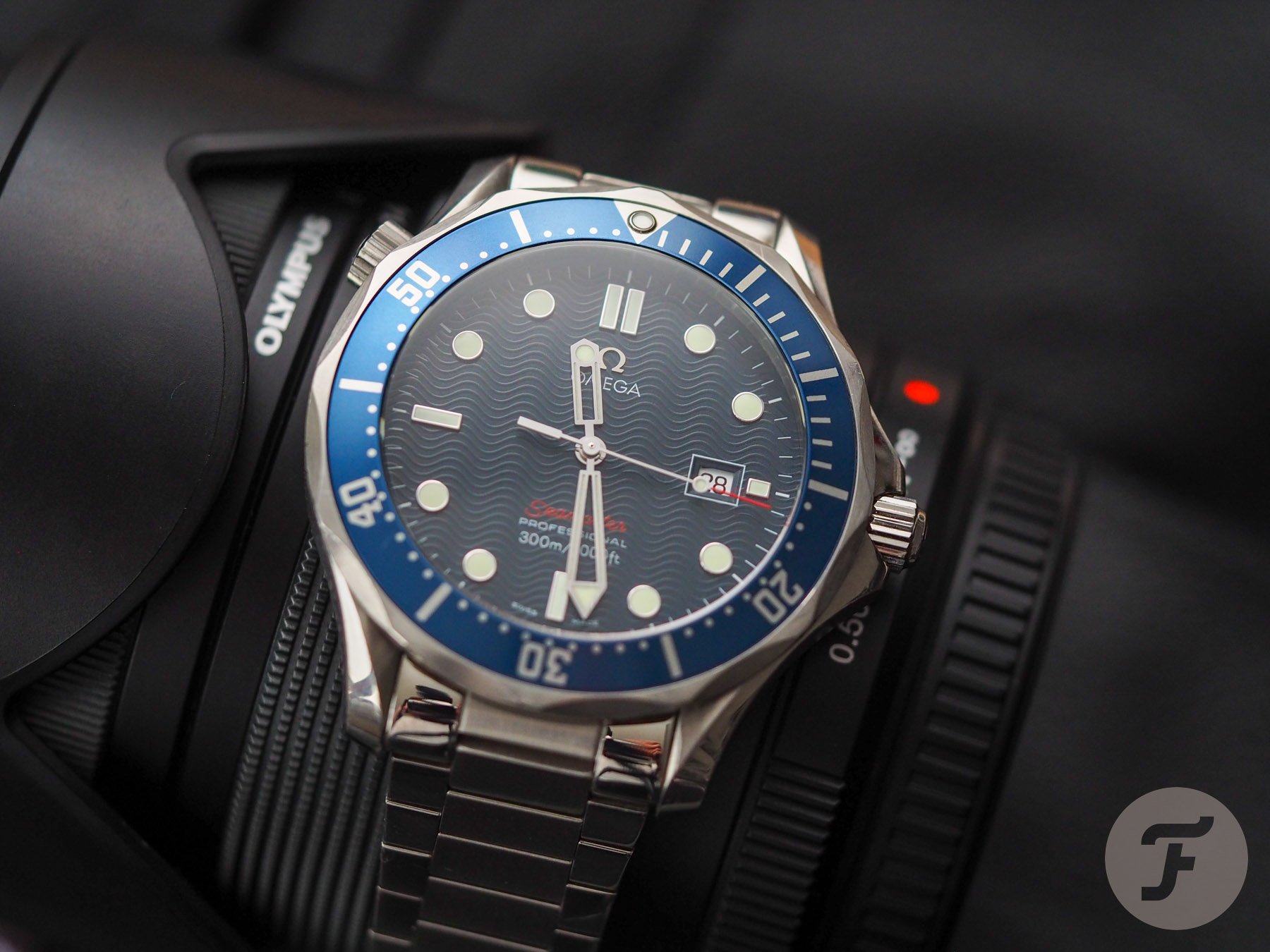 I've always loved the Seamaster. I see my reference 2221.80 as a perfect embodiment of a slightly more innocent time. A quartz Seamaster was, at one point, very cool, then very uncool (to the point at which Omega stopped making them), and now, in my opinion, starting to be pretty neat once more. I love how light it is and, in comparison to its original bracelet, the new Flat Link is a fair better match.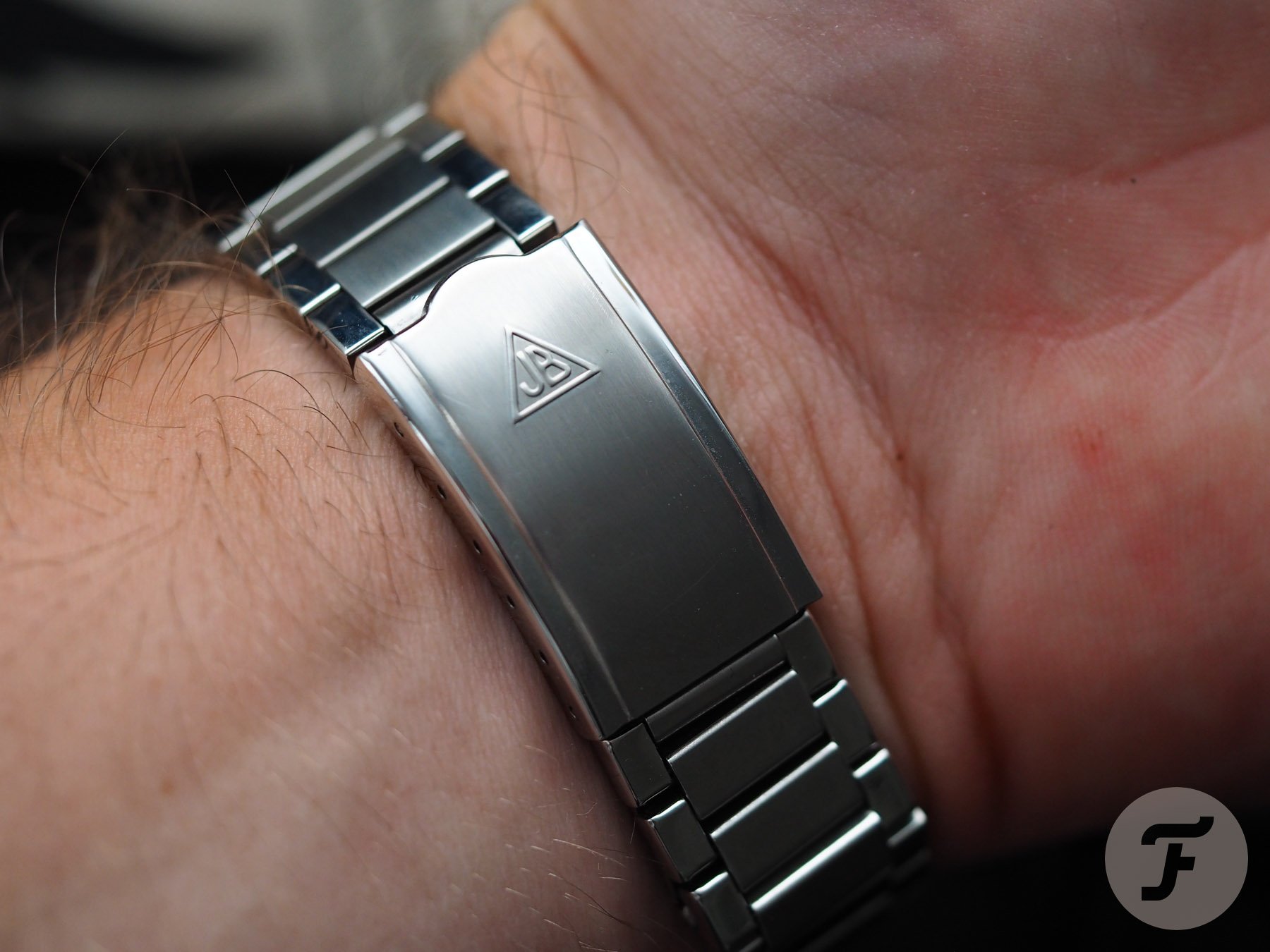 I think the new Flat Link works with most styles because it is such a neutral bracelet. It isn't as divisive as the Komfit, or as obviously retro as the Ladder or the Rivet bracelets. It is deferential to the past, yes, but the brushed and polished version especially looks just as modern as it does old. The all-brushed version, if anything, looks like something from the future, more in line with Bvlgari's incredible Octo Finissimo bracelet than its own heritage stretching back decades.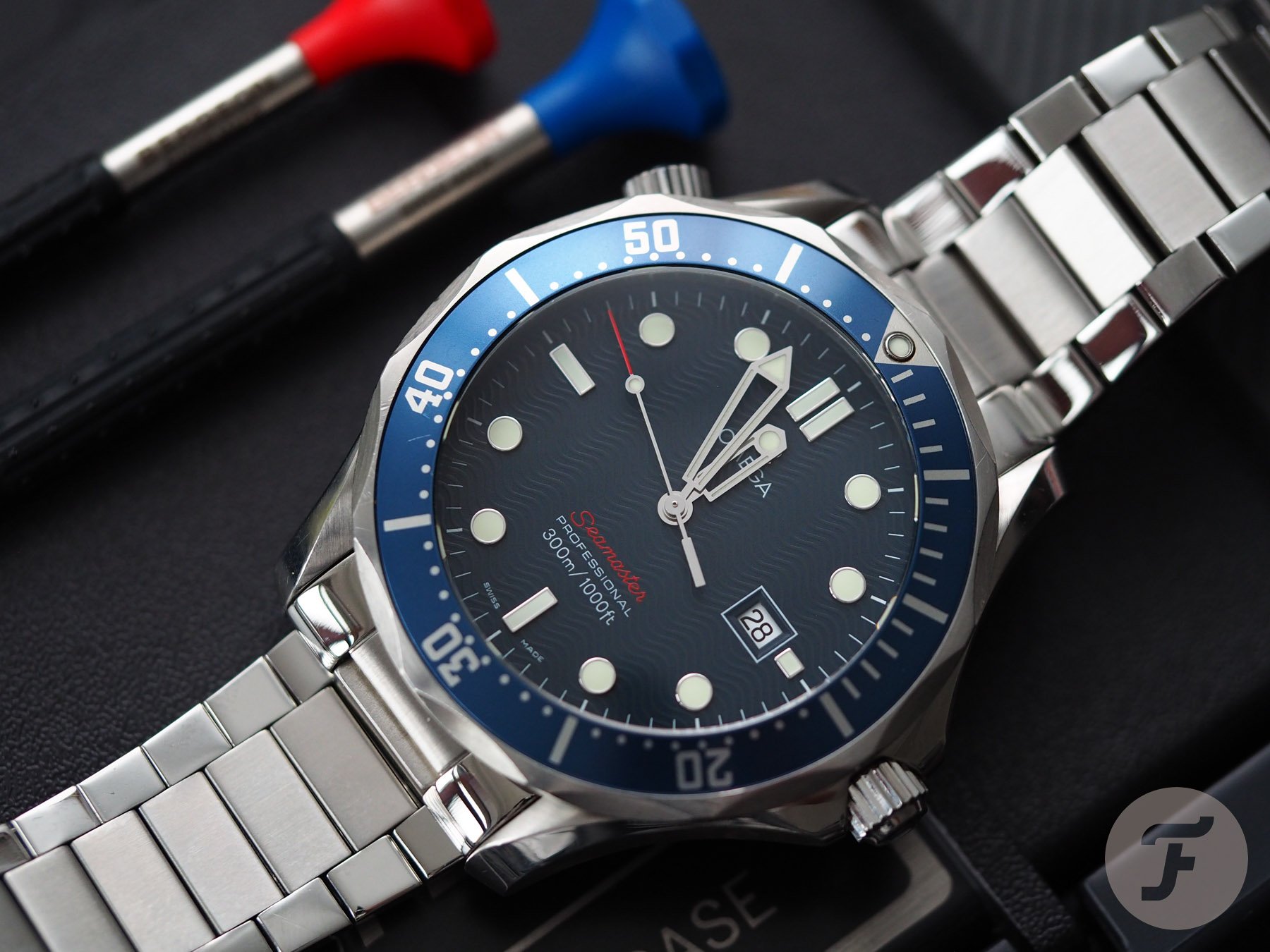 The range continues to grow
Forstner is really pulling out all the stops now. The brand has a simple business model that is proving very effective. The wealth of great bracelets in the past is a huge source of inspiration. It is truly heartening to see the brand continue to make good choices and excellent design decisions. The industry needed a company like Forstner to fill a gaping void. Thankfully, we've been treated to a brand that handles that responsibility with a velvet touch.
This bracelet is 20mm at the lugs and tapers to a delicate 16mm at the clasp. The construction, however, is incredibly solid. The screwed links are robust and give a feeling of real security on the wrist. It can be adjusted to fit wrists from roughly six inches, all the way up to eight. As mentioned, the two "stretch" links and micro-adjustable clasp mean a sure fit can be achieved assuming your wrist falls within the upper and lower limits. It comes with spring bars that are guaranteed to work with this bracelet in place of standard OEM Omega spring bars that might not.
It has been specially designed to work with pre-2018 Seamasters and Forstner makes no guarantee that this particular bracelet will fit other models. If you're hoping to fit your Flat Link to another type of watch, it is worth reaching out to the brand first to check. Of course, the original Flat Link remains in the collection, offering another option. If you'd like to read more about this bracelet, check out Forstner's official website here.