Introducing: The New Le Triptyque Louis Erard × Alain Silberstein In Contemporary Khaki
More wearable field-watch-like versions of the colorful timepiece with a suspended case
Let's face it: most watches aren't very eclectic. Yes, there are exceptions, but probably over 90% of wrist-worn timepieces are somewhat predictable, serious-looking items. They might feature a colored dial and a few accents, but the rest is business as usual. Then there are watches designed by Alain Silberstein. His novel-looking creations often feature visually magnetic red, yellow, and blue elements. The use of those primary colors in combination with bold, atypical shapes often reminds me of Keith Haring's style of street art. And now, after both the black Le Triptyque and white Le Diptyque series, the designer is back with Louis Erard, bringing a khaki trio of the partners' striking watch with its suspended case.
Just like with those black and white versions, this khaki series will also feature different complications. Of course, there are the mandatory Le Régulateur and La Semaine options. But this time, completing the Triptyque series is another regulator model with a tourbillon mechanism from Olivier Mory's workshop in La Chaux-de-Fonds. Let's take a look at this colorful yet also more toned-down matte khaki trio.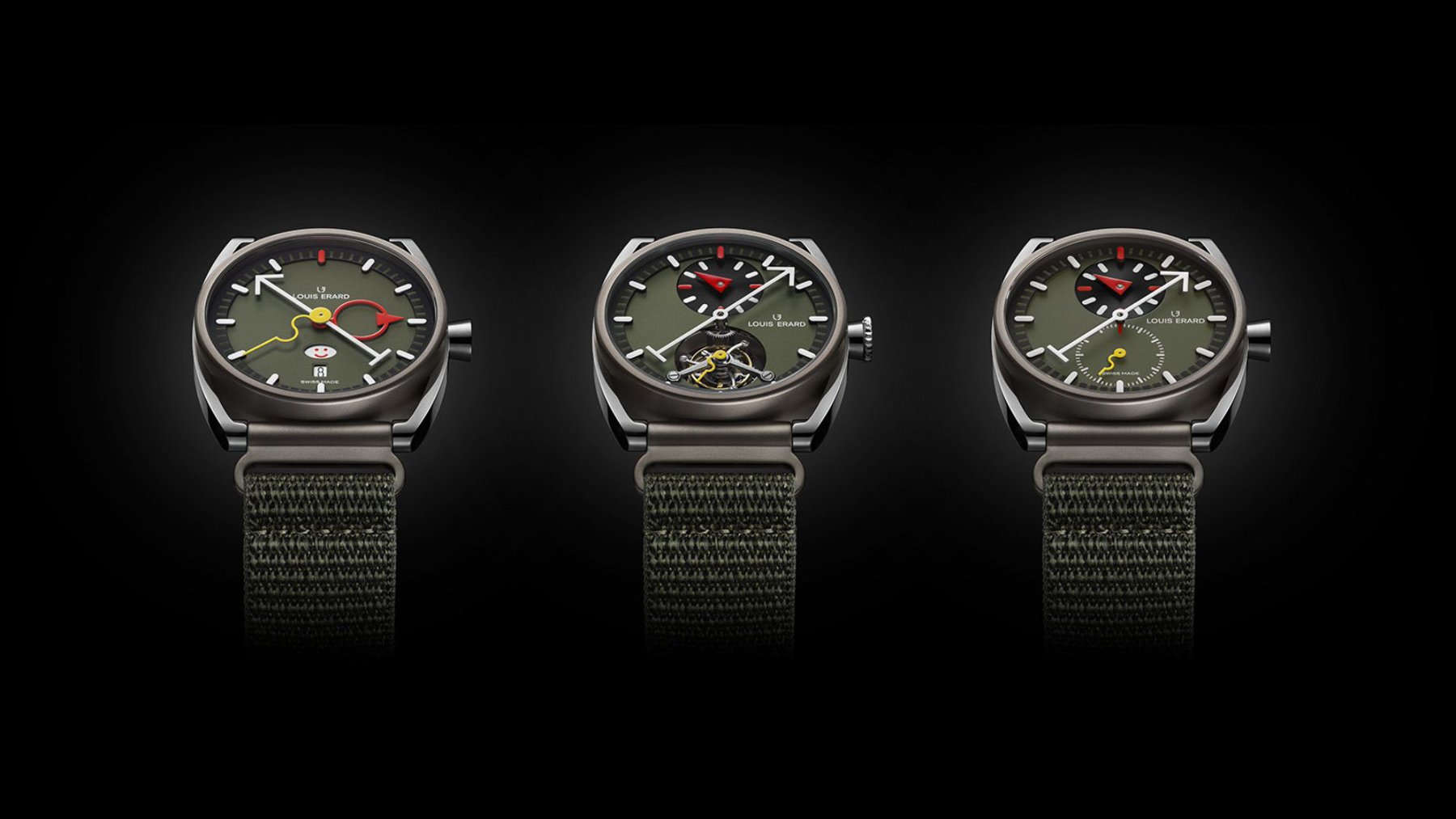 Same case, different colors
I'll go over the case specifications first because those are the same for all three watches. The polished lugs that literally hold the case in place are 47mm long and made of Grade 5 titanium. The 40mm micro-blasted case itself is made out of Grade 2 titanium. You can clearly see the difference in color and finishing between those two different grades of titanium in the pictures. Regardless of the version you get, all three watches are 11.8mm thick and come on the same nylon Velcro strap in khaki green.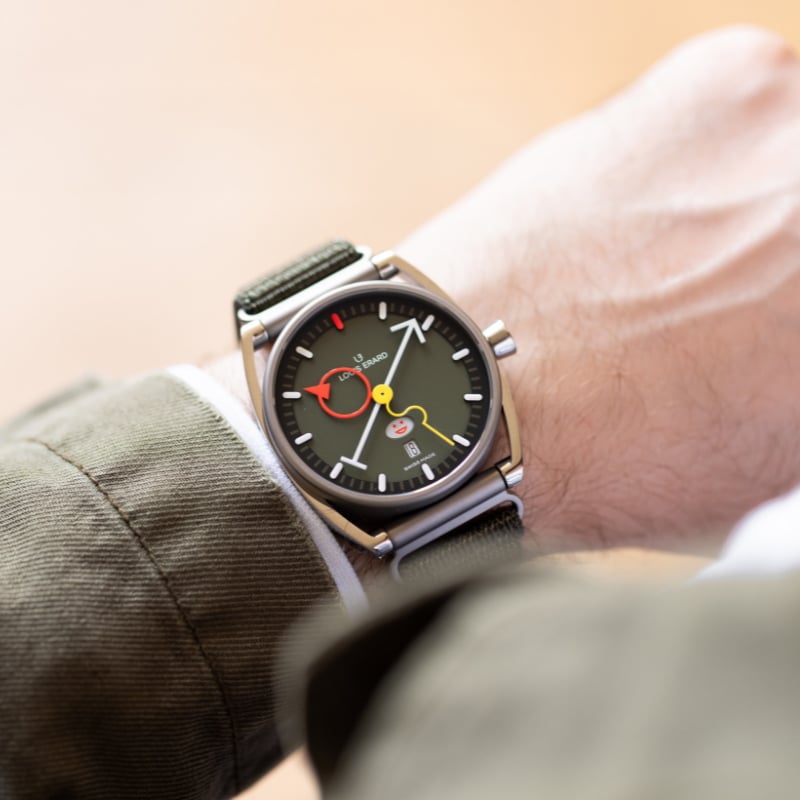 The sapphire crystal has an antireflective coating on both the underside and the top. This is, of course, to make sure that you can take a good look at those fun shapes and colors on the dial. However, when you look at this new khaki version, it's actually a little less colorful than those earlier black or white ones. To make the design work with this khaki shade, the blue details from the previous models are now white. That was a wise choice, but it does make the watch look a little more subdued.
Yes, the bold shapes, arrows, and sub-dials are still there. But the absence of the bright blue color and the presence of the matte khaki background make it a little easier on the eye.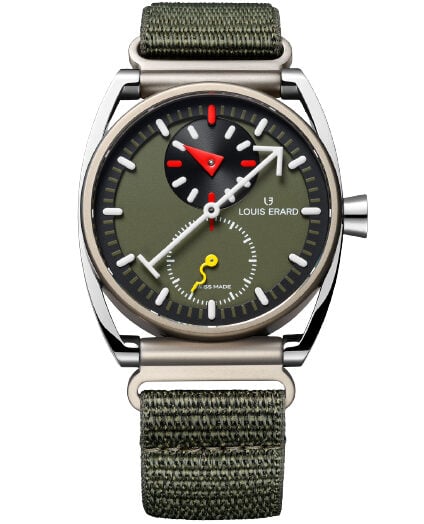 Le Régulateur and La Semaine
Two years ago, the first black versions came in a set of three watches. That Triptyque series consisted of Le Régulateur, La Semaine, and Le Chrono Monopoussoir. Le Régulateur and La Semaine are still here for this Le Triptyque Khaki set. The regulator model has a black sub-dial at 12 o'clock for the hours, which features white and red indices. You'll find the seconds on the khaki sub-dial at 6 o'clock and the minutes indicated by the oversized arrow in the middle of the dial. Powering Le Régulateur is a 31-jewel élaboré-grade automatic Sellita SW266-1 movement with a 38-hour power reserve.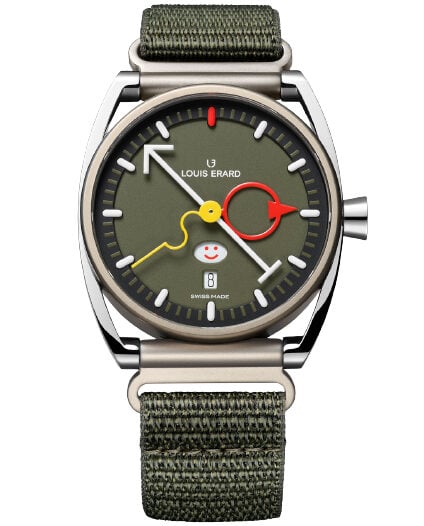 La Semaine looks like a more conventional watch, keeping all three hands for the hours, minutes, and seconds in the center of the dial. I say "conventional," but the shapes of the hands are anything but conventional, of course. At 6 o'clock, we see Silberstein's signature "mood of the day" and date complications. La Semaine is powered by another élaboré-grade automatic Sellita movement. This time, it's the 26-jewel SW220-1 with a 38-hour reserve. And just like on all three of these watches, it's visible through a transparent window on the case back.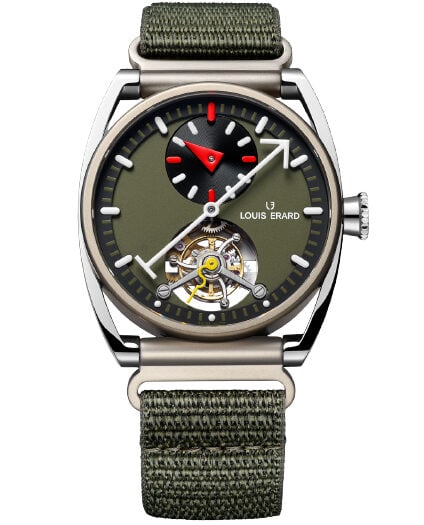 Le Régulateur Tourbillon
Then we get to the cherry on the cake and the watch that completes this new Le Triptyque Khaki series, Le Régulateur Tourbillon. As the name suggests, its layout is quite similar to that of the previously described regulator. However, this time, the sub-seconds dial makes way for a tourbillon mechanism. The hand-wound BCP T02 movement inside was developed by watchmaker Olivier Mory, who is known for his experience with movement manufacturing on a large scale. But he also knows how to keep grand complications and high-end mechanisms relatively affordable, hence, the tourbillon here.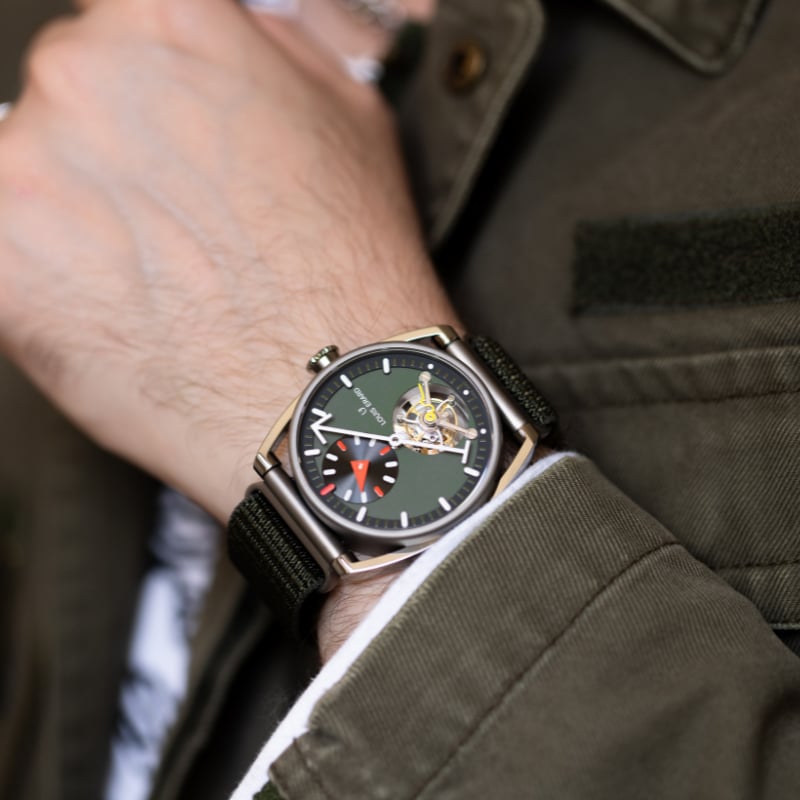 The movement runs at a 21,600vph frequency and boasts an impressive 100-hour power reserve. And while we're talking about impressive features, all three watches have a 10 ATM water resistance rating. That's not something you find all too often with watches that are mainly about looks.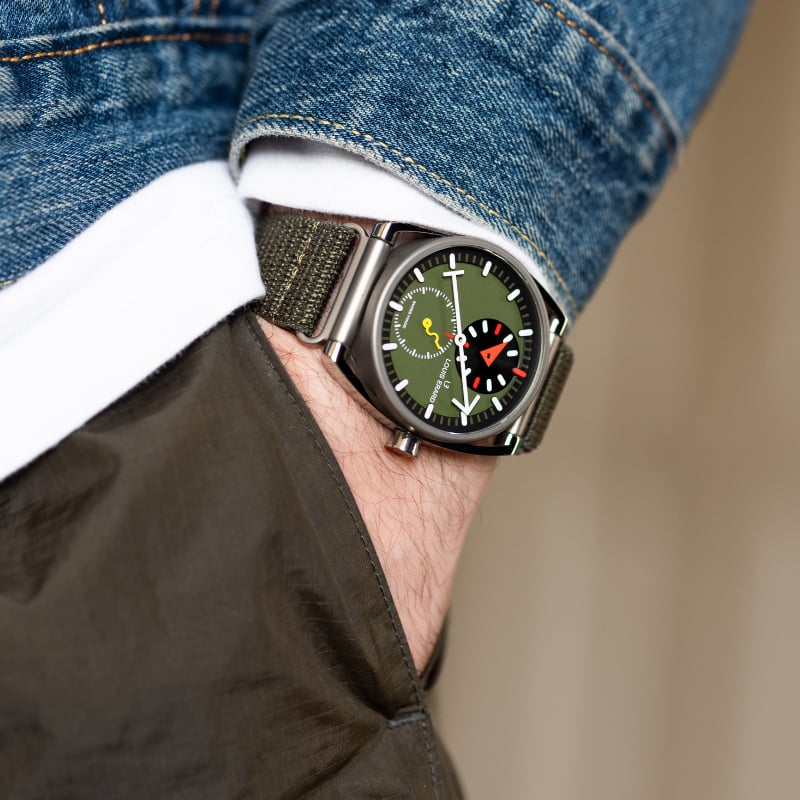 Le Triptyque Louis Erard × Alain Silberstein Khaki — Final words
I really like the more toned-down look of this Louis Erard × Alain Silberstein trio. The industrial look of the case design works well with the matte khaki green on the dial and the nylon strap. It might be a little less eclectic than the previous two versions, but therefore, I think it's also a little more wearable. My favorite of the three watches is most definitely Le Régulateur with that typical dial layout.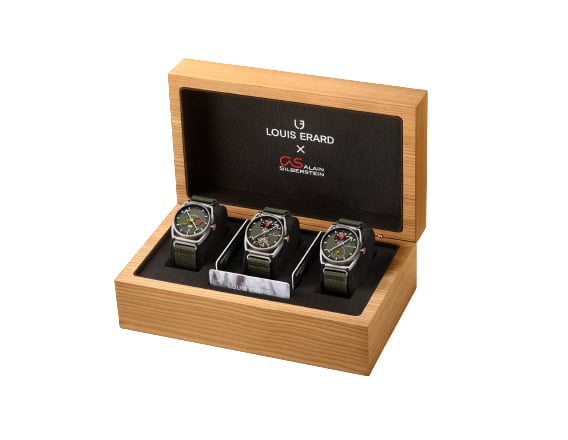 The new Le Triptyque Louis Erard × Alain Silberstein Khaki series is available now. Le Régulateur and La Semaine are available separately for CHF 4,000 (excluding taxes), and both are limited to 178 pieces. Of those, 78 are reserved for the collector's box, which includes all three watches. That box is available for CHF 22,222 and is the only way that you can get your hands on Le Régulateur Tourbillon. For more information, please check out Louis Erard's official website.
What do you think of the new Le Triptyque Louis Erard × Alain Silberstein in khaki green? Let me know in the comments below.
Watch specifications
Model
Le Triptyque Louis Erard × Alain Silberstein Khaki (Le Régulateur / La Semaine / Le Régulateur Tourbillon)
Reference
85358TT06.BTT89 / 75357TT06.BTT89 / 89356TT06.BTT89
Dial
Matte khaki green with applied luminous indices
Case Material
Polished Grade 5 titanium and micro-blasted Grade 2 titanium
Case Dimensions
40mm (diameter) × 47mm (lug-to-lug) × 11.8mm (thickness)
Crystal
Sapphire with antireflective coating on both sides
Case Back
Titanium with transparent display
Movement
Le Régulateur: Sellita SW266-1 (élaboré grade) — automatic and hand winding, 28,800vph (4Hz) frequency, 38-hour power reserve 31 jewels, open-worked rotor with black lacquered Louis Erard symbol / La Semaine: Sellita SW220-1 (élaboré grade) — automatic and hand winding, 28,800vph (4Hz) frequency, 38-hour power reserve 31 jewels, mood of the day +date complications, open-worked rotor with black lacquered Louis Erard symbol / Le Régulateur Tourbillon: BCP T02 — hand-wound tourbillon caliber, 21,600vph (3Hz) frequency, 100-hour power reserve, 19 jewels, côtes circulaires decoration
Water Resistance
10 ATM (100m)
Strap
Khaki-green nylon with Velcro closure (22.7mm width)
Functions
Le Régulateur (and Tourbillon): Time only (sub-hours, central minutes, sub-seconds) / La Semaine: Time (central hours and minutes, sub-seconds), mood of the day, and date
Price
CHF 4,000 (Le Régulateur or La Semaine) / CHF 22,000 (Le Triptyque full set)