New Release: Mr Jones Watches — A Perfectly Useless Evening
A little R & R in the pool by the light of the lume
Mr Jones Watches, the beloved and quirky watch producer out of London, is back with a new release. "A Perfectly Useless Evening" is a variation on a theme, the popular "A Perfectly Useless Afternoon". As the title suggests, it reimagines the setting of the artwork of the watch as taking place at night. And art is key to Mr Jones. In fact, Mr Jones doesn't really care about telling time. That's most apparent in a watch that features an anonymous figure lazily floating around a small pool as the dial and hands. If you can tell the time, you're missing the point.
Mr Jones Watches has a cult following among watch and art enthusiasts alike. We at Fratello certainly love what the brand is doing. Nacho just got back from a tour and interview with one Mr. Crispin Jones, founder and namesake of the company. I've featured Mr Jones before, as has Tomas Rosputinsky. The watches embody the contradiction of owning and wearing analog wristwatches in a connected, digital age. Treating a watch as a blank canvas, Mr Jones takes the conventions of telling time and legibility and throws them out the window, all for the sake of joy and beauty. As a variation on a previous model, A Perfectly Useless Evening isn't a groundbreaking design per Mr Jones Watches' standards. It is, however, another fun watch, and points to the brand's burgeoning popularity that it can release another variation of a much-loved watch in its catalog.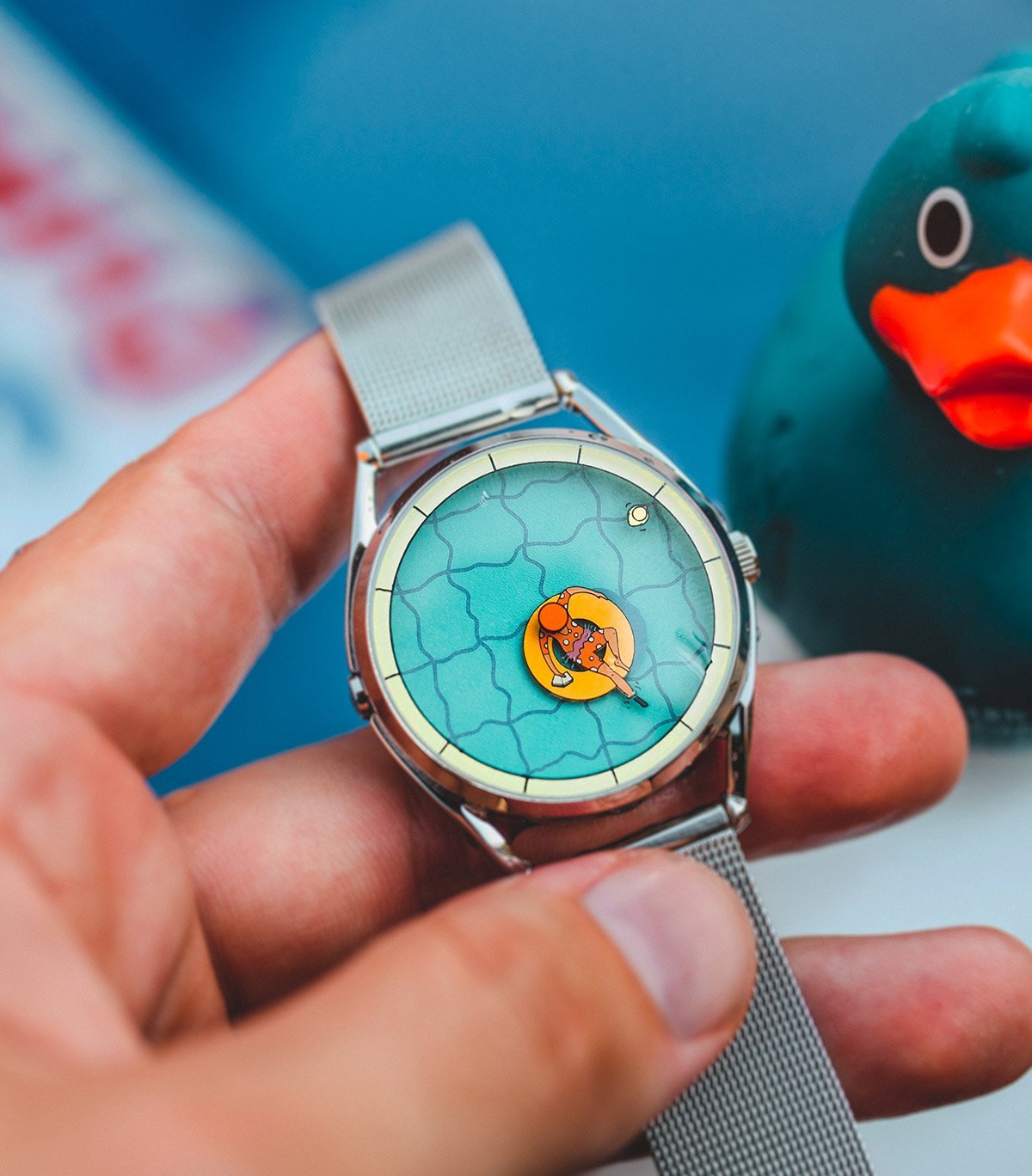 A Perfectly Useless Afternoon
To fully appreciate A Perfectly Useless Evening, one must be familiar with A Perfectly Useless Afternoon. That watch is perhaps the ideal antithesis of modern life and attention to time. An orange swimsuit-clad figure sitting in an inner tube reads a book while floating with a little yellow rubber ducky around the dial.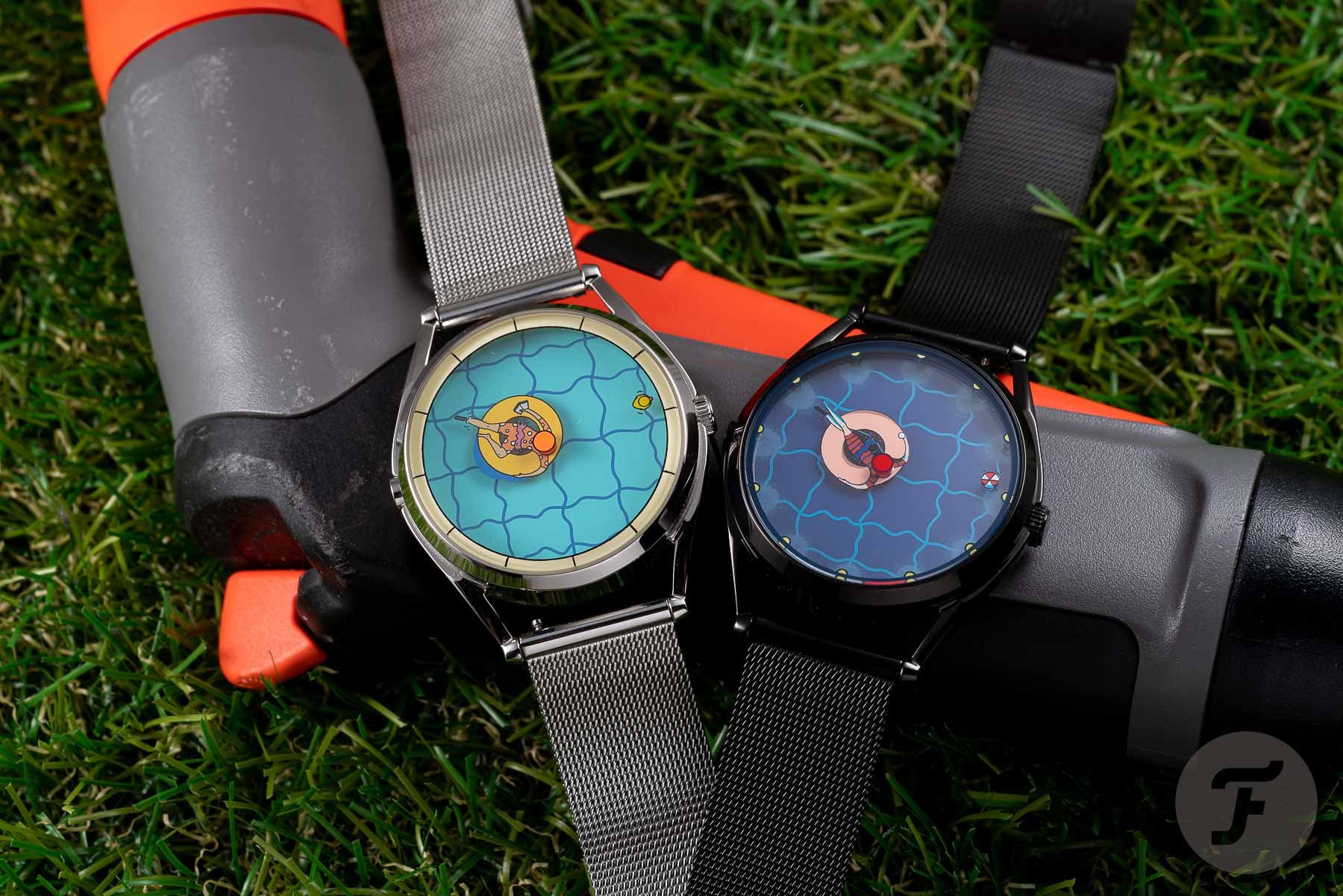 The time is displayed somewhere in that tranquil scene. The stretched leg of the person points to the hour. The duck indicates the minutes. But beyond that barest of minimums to indicate the time as a watch, A Perfectly Useless Afternoon is a huge middle finger (or whatever rude gesture you have in your country) to the daily grind, the hustle, and being a slave to time. Needless to say, it's become extremely popular.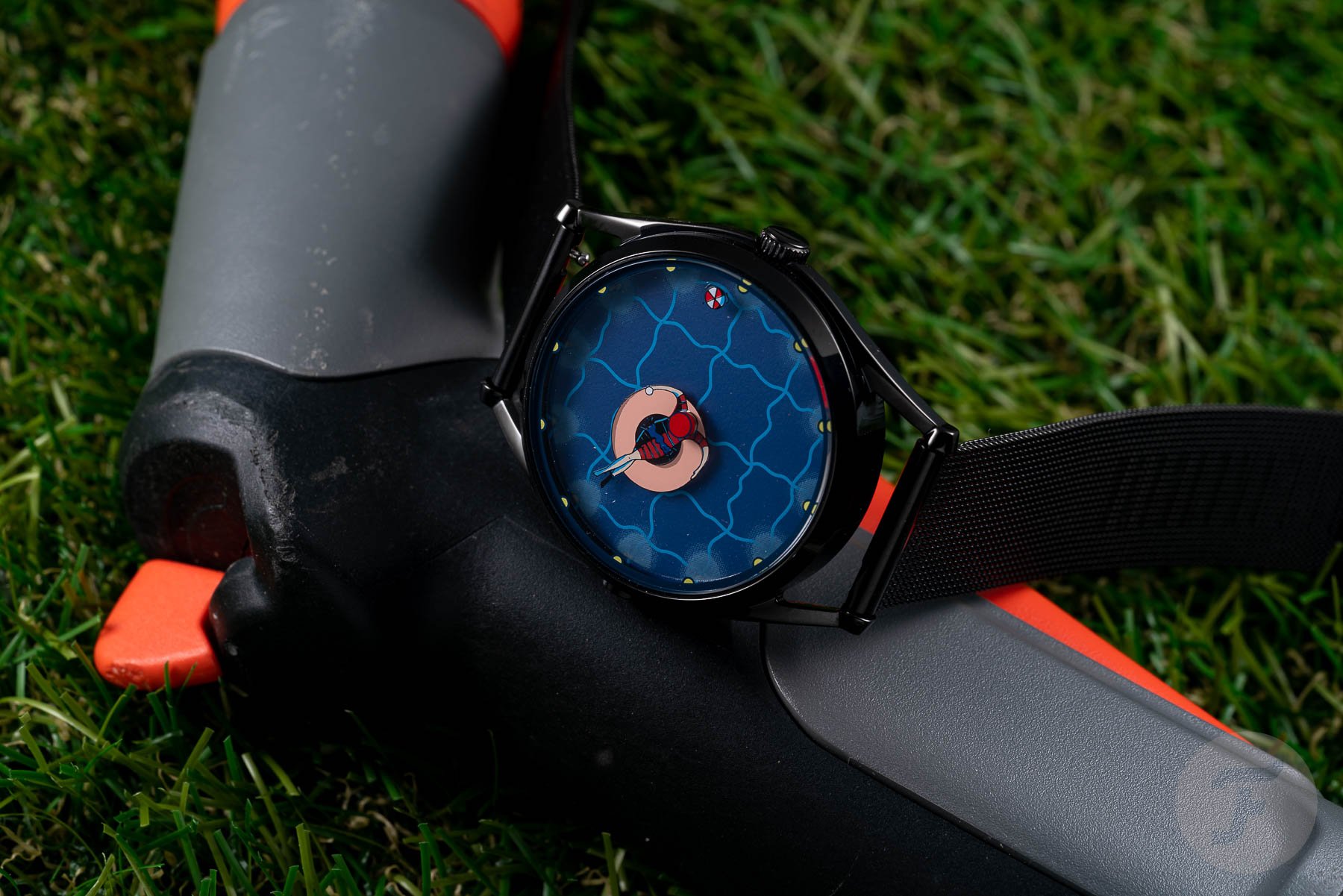 A Perfectly Useless Evening
A Perfectly Useless Evening takes the scene from A Perfectly Useless Afternoon and pushes it into the evening. The entire scene is darkened and muted, as it would be at twilight. The book in our anonymous floater's hand is replaced with a drink. The duck is gone, perhaps to whatever rubber nest rubber duckies go to at night. Instead, a red-and-white inflatable pool ball floats around, marking the minutes.
Ringing the dial are twelve pool lights, unfortunately marking the hours. But I guess it is still a watch, though the practicality disappoints me. What is cool is that the pool lights are lumed, so they glow when it really is dark out. The stainless steel case, uncoated and polished in A Perfectly Useless Afternoon, is now PVD-coated in black.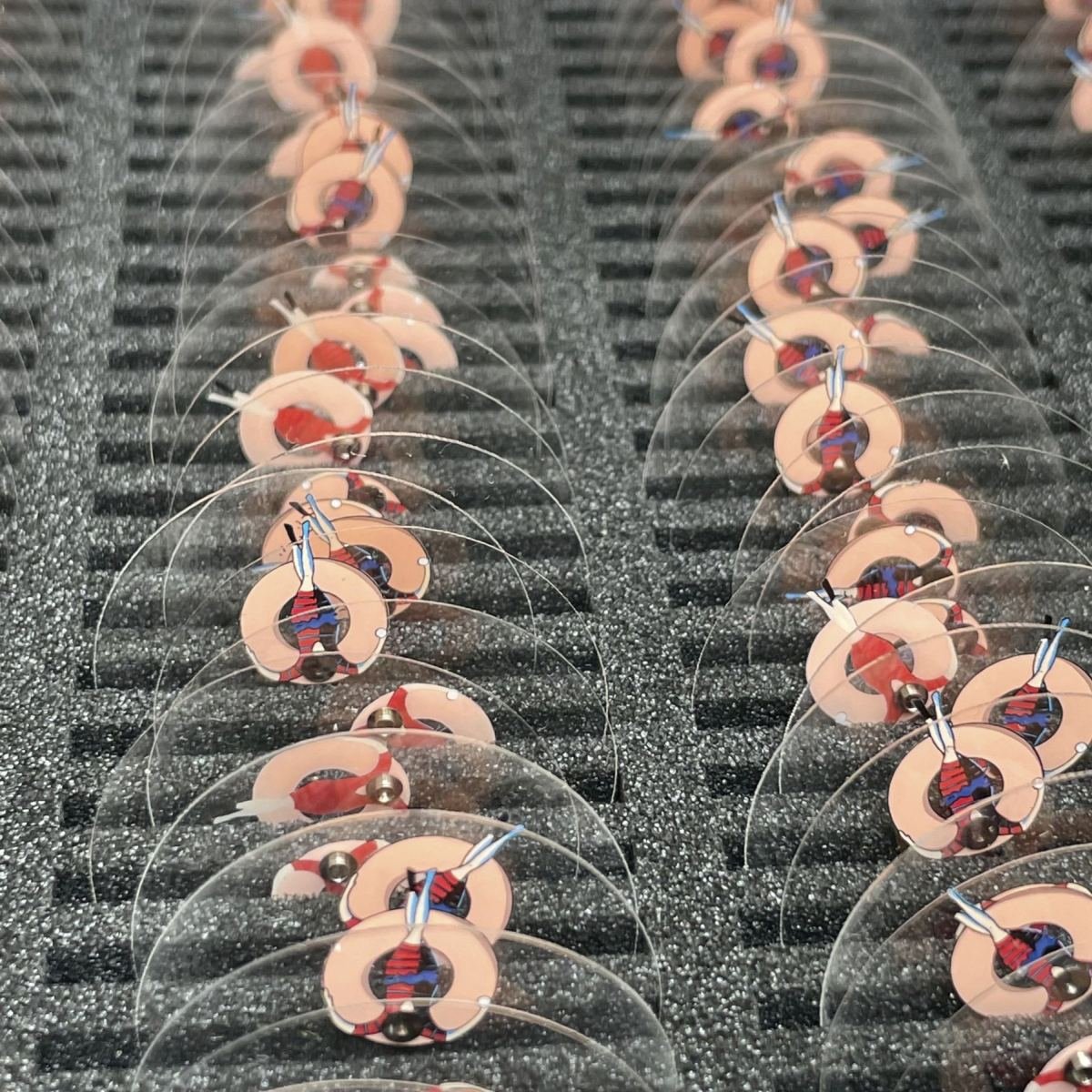 Specifications
The rest of the specifications remain unchanged from A Perfectly Useless Afternoon. A single-jewel quartz movement drives the tranquility. The simplicity of the movement and the art is supported by a complex layering of transparent discs. That's how traditional watch hands are forgone for more whimsical, floating elements.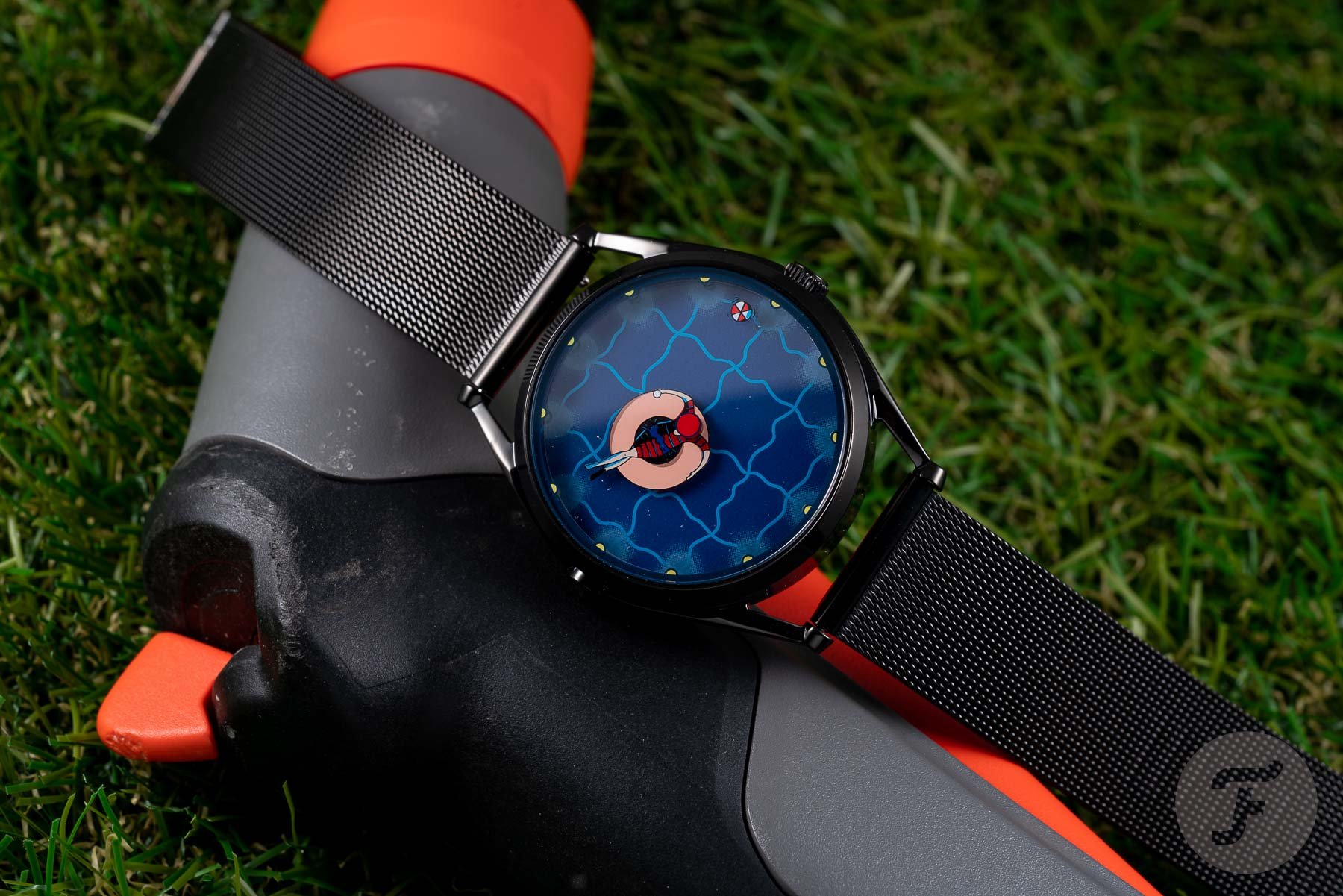 The sapphire crystal is the window to that world we wish we were in. Fifty meters of water resistance means that this watch can go in the pool for an entirely meta Inception experience. And a 37mm diameter and 46mm lug-to-lug ensure easy wearability on most wrists. Just as Mr Jones Watches upends conventions in telling time, so too is this watch accessible to either gender (I just wish the website would do away with "Mens" and Womens" categories). If you like it, get it and wear it. At $225, it's certainly more accessible than many other watches that are trying to keep you a slave to the machine.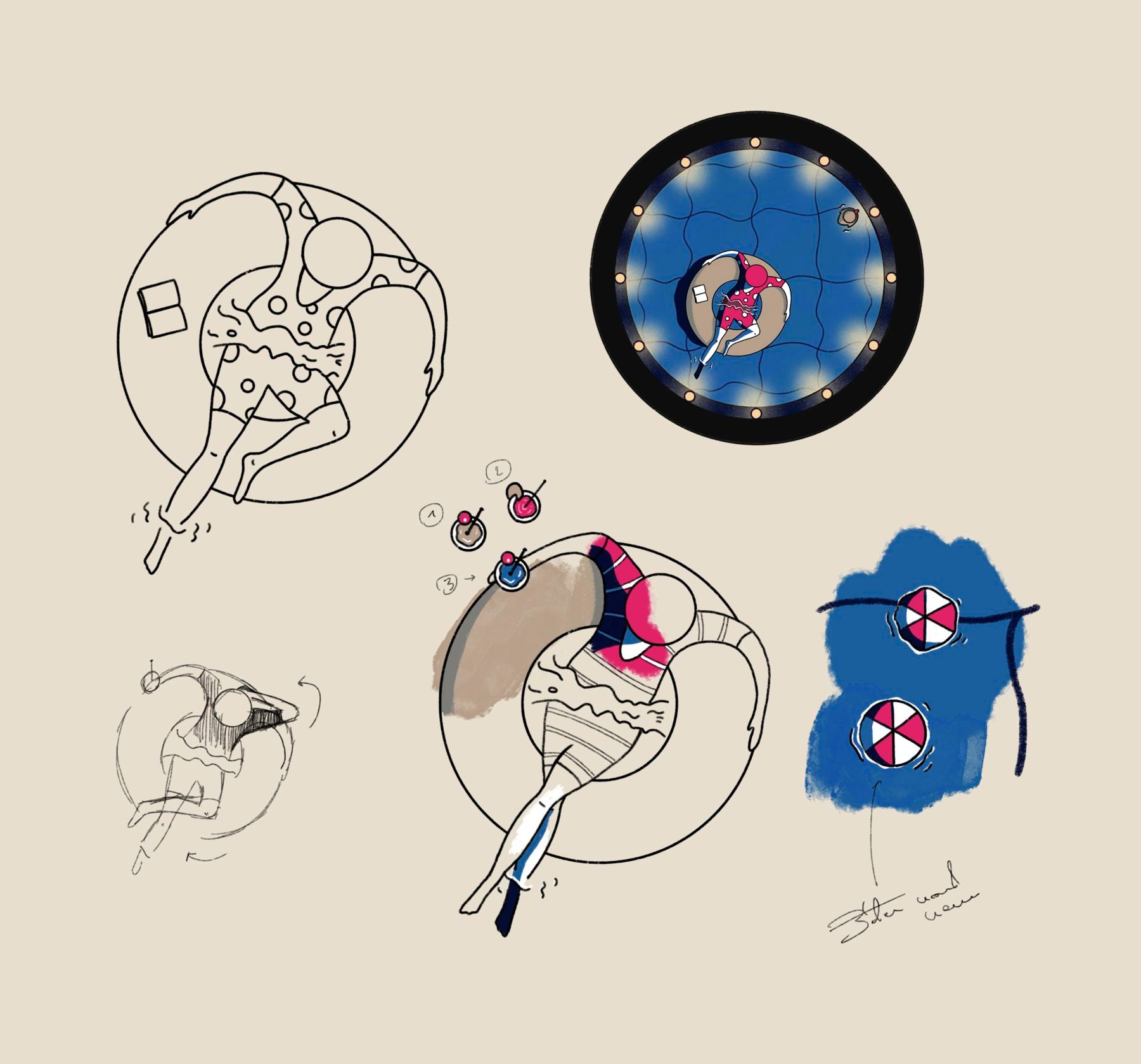 Where this perfectly useless watch originates
Mr Jones collaborates with many different artists and artisans to create its watches. The Perfectly Useless collection is no different. Belgian illustrator and author Kristof Devos is the mind behind the idea. As he says: "A couple of years ago, I read a quote by Chinese writer, translator, linguist, and philosopher Lin Yutang, that I've kept close to my heart ever since: 'If you can spend a perfectly useless afternoon in a perfectly useless manner, you have learnt how to live.'
"This quote led to the design of the 'A perfectly useless afternoon' watch that was first released by Mr Jones Watches back in the summer of 2019. Since then, the watch has been produced more or less continually, and I'm still amazed that my design resonates with so many people around the world."
Let that be a reminder that not everything lighthearted or whimsical in appearance is without some serious philosophical clout behind it. It's important to remember the message that A Perfectly Useless Afternoon and now A Perfectly Useless Evening impart. It's no wonder to me why the theme has become so popular within Mr Jones Watches' catalog. He who has no time to relax is in greatest need of relaxation.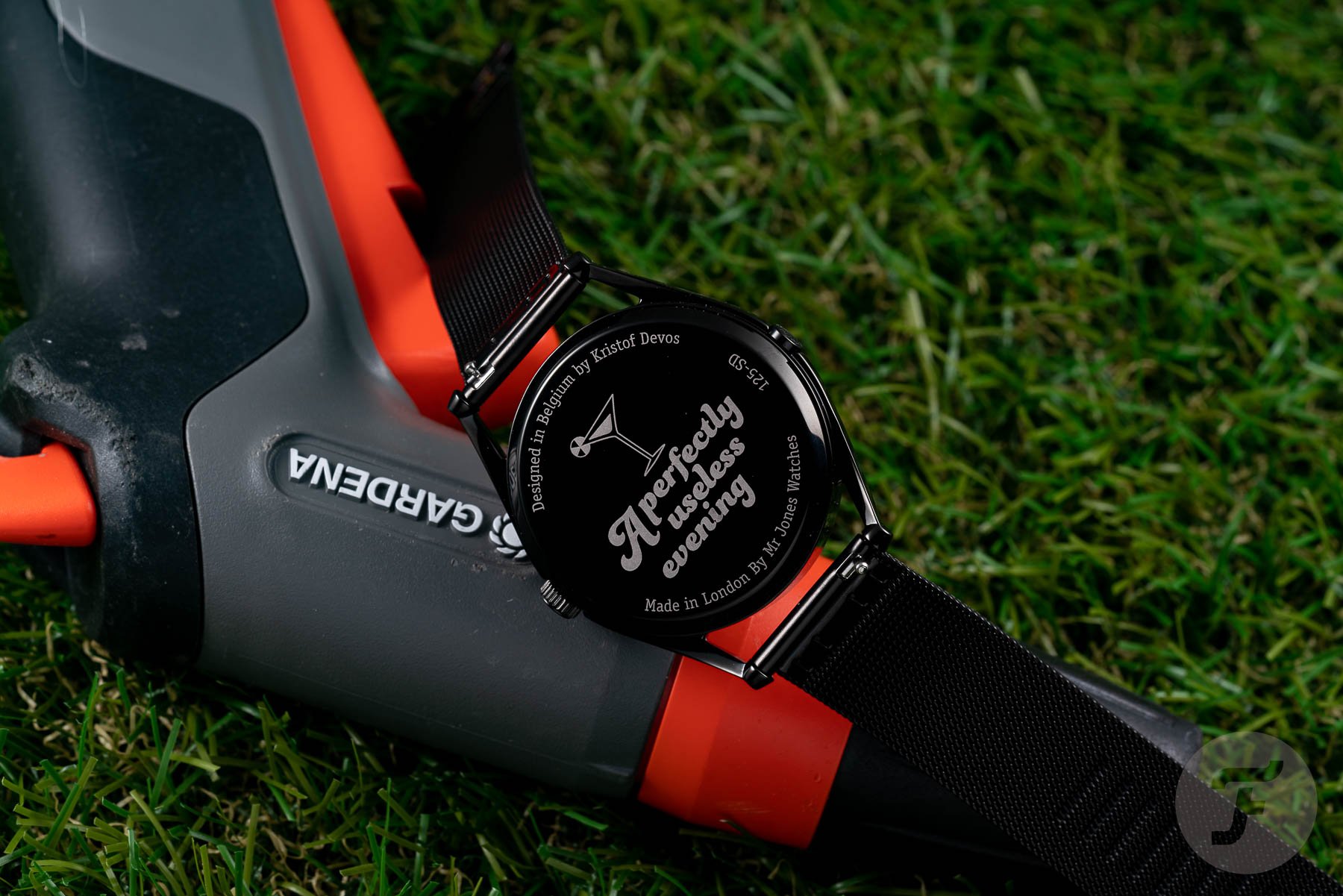 Do you have time to ignore the time?
What do you think of A Perfectly Useless Afternoon? Are watches that don't focus on the time worth the, uh, time? Let us know in the comments. As of this article's publishing, A Perfectly Useless Evening is available at Mr Jones Watches' official site. If it's not quite your cup of tea but you like the idea of watches that don't tell time (at least not easily), browse around. Mr Jones Watches is scratching an itch that we watch enthusiasts didn't even know we had.
You can find more of me on Instagram @watchingthomas.