Celebrating The 15th Anniversary Of Mr Jones Watches
A decade and a half of unique and unusual watches with a side of light-hearted fun
What's the use of being into something if you're not having fun with it? Far too often, the world of watches can be a very serious and even snobby place. Thankfully, there's a handful of brands out there unafraid to have fun with it, prioritizing creativity above all else. The longest-standing brand which not only follows this philosophy but fully embraces and allows itself to be molded by it is Mr Jones Watches. Self-described as "an unforgettable British watch company," the brand specializes in "unique and unusual watches." I think you'll find that, if anything, this is an understatement. Looking through the Mr Jones website, one can see the kinds of quirky and colorful designs that the brand has become synonymous with. Watchmaking with a sense of humor is something that comes as a breath of fresh air, and Mr Jones has been doing it for 15 years now!
Have you heard of Mr Jones watches previously? If you've been paying attention, you'll have seen them being mentioned on Fratello earlier this year by Thomas Stover, who wrote a piece highlighting the brand. Tomas Rosputinsky also talked fondly about his wife's Mr Jones watch here. The model in question is one of the brand's most popular — "A perfectly useless afternoon" — and it is one that our social media manager Sinara also owns and wears frequently. This particular design beautifully sums up the brand's sense of humor, fluency in design, and unique approach to displaying time. But where does it all come from? I chatted with the brand's founder Crispin Jones (Mr Jones himself), about the brand, its origins, and future plans. So stay tuned and read on to learn more about Mr Jones's journey and success over the past 15 years.
Every great design begins with an even better story
A few weeks ago, I spoke with Crispin Jones, the founder and mastermind behind Mr Jones Watches. From the first question I asked, it was clear to see the passion and enthusiasm that had driven the brand over the past decade and a half. Asking him how he got into watches and about his background revealed that everything started with his degree in fine art (specializing in sculpture) and his master's degree in interaction design. It was during this time that he developed a fascination for out-of-the-norm design applied to everyday objects. This fascination met the early days of mobile phones and websites and quickly took a critical turn with a healthy dose of cynical British humor. Jones even created a series of conceptual mobile phones, dubbed "Social Mobiles," each of which had a unique function. These were exhibited in media art galleries in the UK.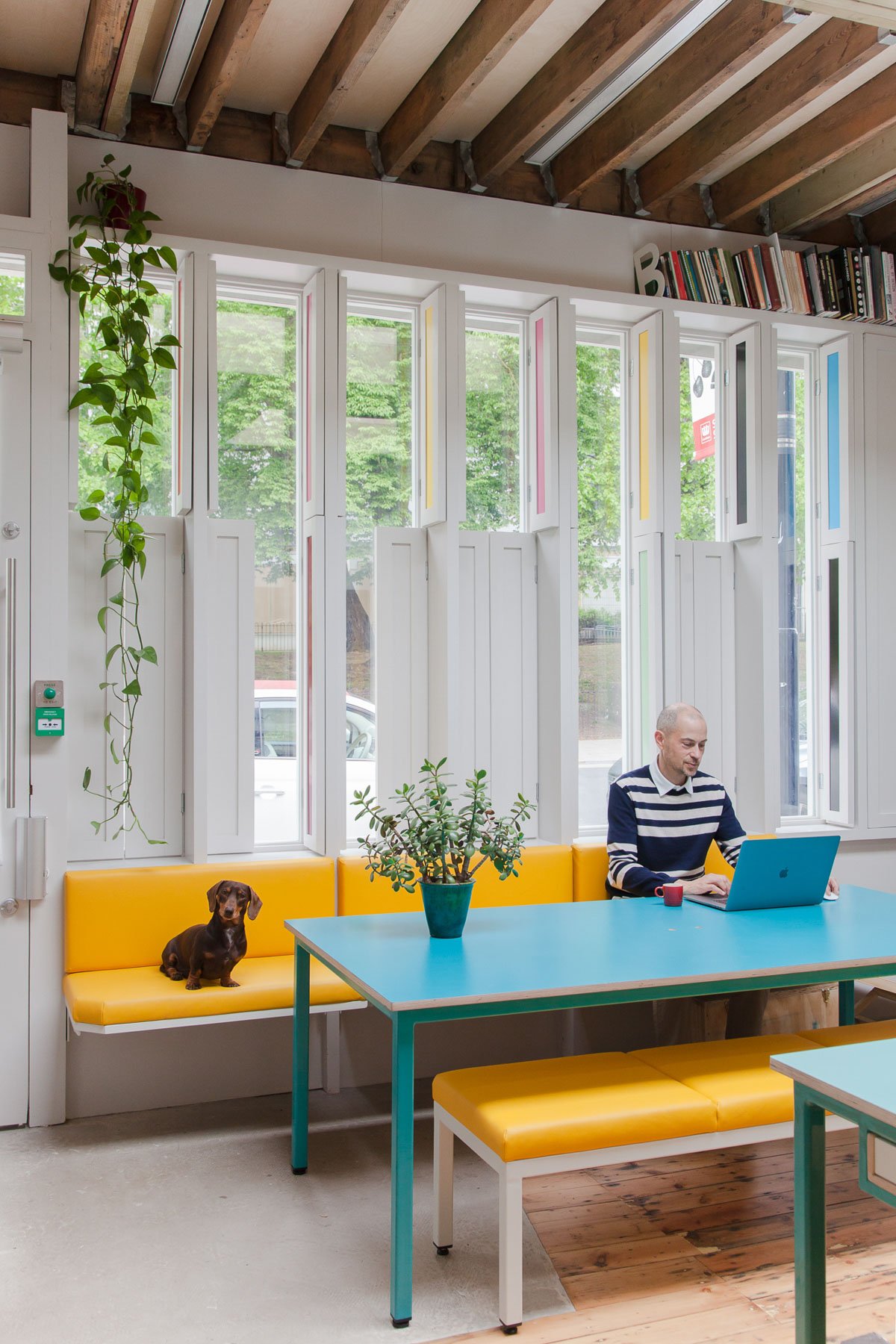 Driven by his critical approach to everyday objects, watches were one of the next things to spark his imagination. These are objects closely connected with the quintessentially human concept of tracking time. Watches, Jones explained, seem to be exempt from the extremely short life that other items of technology suffer. Despite being a 100-year-old concept, wristwatches still seem relevant and current, whereas some items of technology from less than a couple of decades ago look positively archaic. As objects, they are provocative as much as they are communicative. People use watches as signaling objects, communicating wealth or social status. This is why Jones created a watch with a built-in lie detector that keeps the wearer honest, for better or worse. This watch was also exhibited, which both satisfied and frustrated Jones.
From art to product and beyond
This frustration came from seeing his product shown to the masses behind glass. He created these objects as products that he ultimately wanted to see in their corresponding context. This is why he abandoned his academic ambitions and endeavored to create real products. With watches already in mind, Jones noticed vendors in street markets selling extremely cheap watches, some copies of more expensive models and others with original yet questionable designs. Seeing these watches, coupled with his understanding of manufacturing, triggered a thought: why not bring together design and low-cost manufacturing? This was back in 2007 and ultimately was the birth of Mr Jones Watches.
Crispin reached out to a manufacturer who allowed him to create 500 watches at a very reasonable cost. To make the most of this initial investment, he provided five different designs, allowing five limited-edition series of 100 pieces each. These watches all had the tongue-in-cheek approach to design that Jones had developed over the years. One of these first designs — a bestseller still present in the brand's lineup today — was a watch with hands displaying the message "remember, you will die." Selling to friends and family in the beginning, Jones found success in some of the designs. This meant that he simply made more of those for which there was a demand and let the others models drop out of production. This experimental approach continues to be the brand's method of building its catalog to this very day.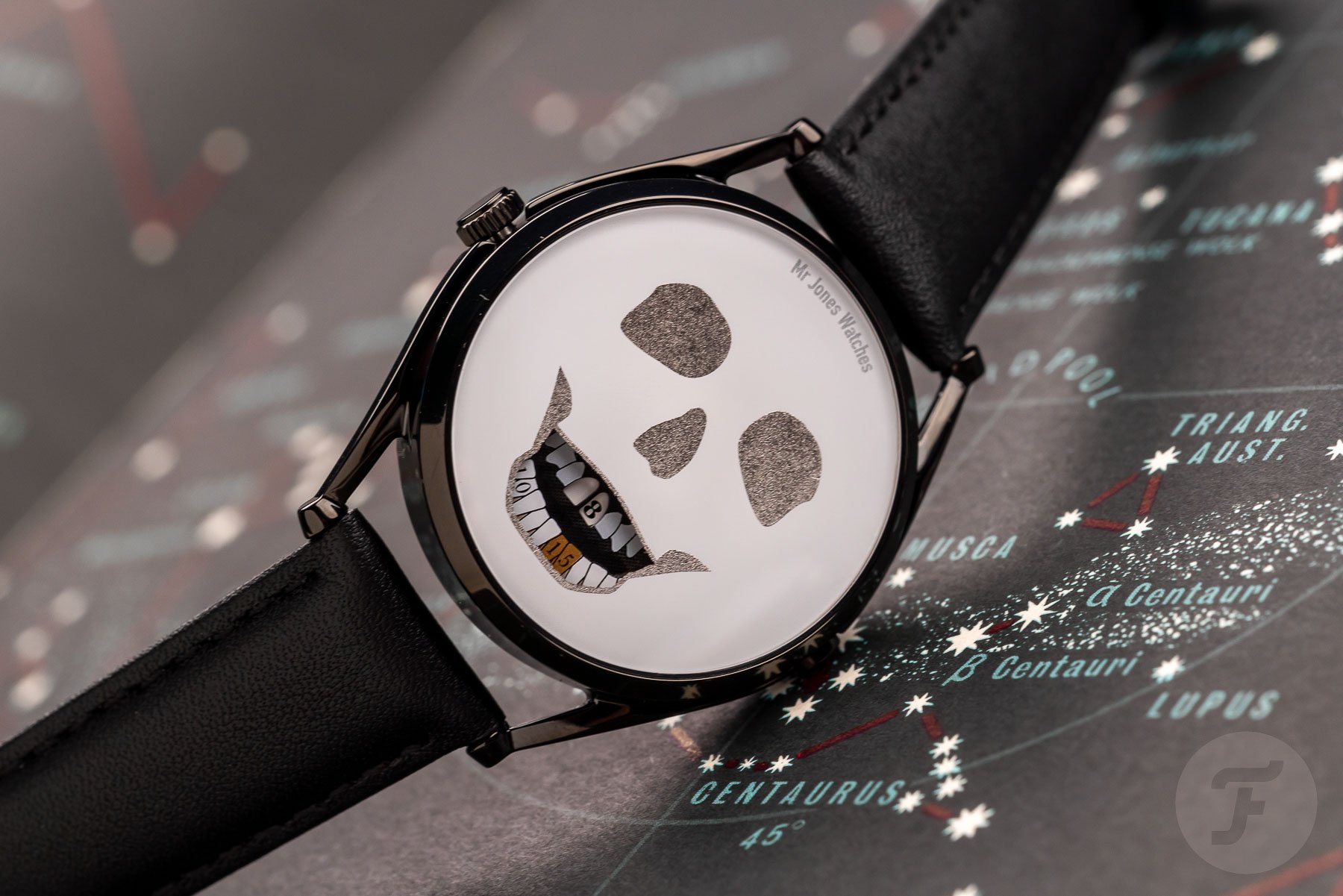 Give the people what they want!
In the early days of the brand, Jones was sourcing the watches (equipped with cheap yet serviceable quartz movements) in the Far East. In 2010, he decided to visit one of the factories and was immediately captivated by the industrial manufacturing process that goes into producing even the most affordable watches. At this point, the samples were being created in the UK, but production took place in Asia. After several years of launching new designs and testing them for success, Jones decided to bring manufacturing (from dial printing to assembly) to the UK, which the brand achieved in 2015/2016. Today, Mr Jones continues to work with designers, creating new watches and following the same approach of giving the people what they want.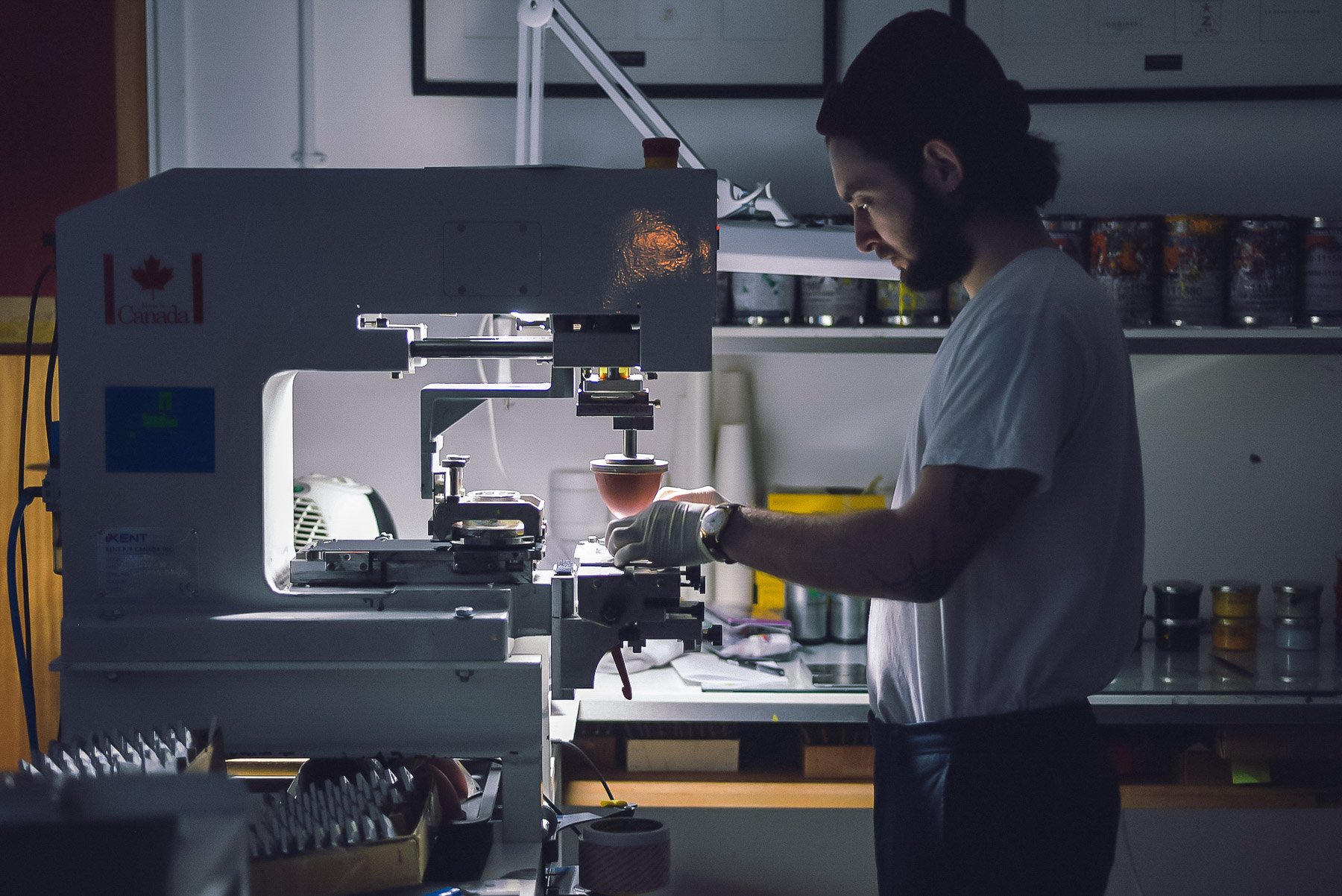 It seems rather simple, but it's a rather democratic way of operating. If the first 100 pieces of a watch sell out quickly, the brand will produce more as demand dictates. However, if a design proves to be slightly less popular, it will simply be phased out. Nowadays, the brand has also tackled somewhat more ambitious methods of production. The Ricochet model, for example, uses real metallic foil to achieve the metallic look of the robots on its dial. Jones's answer is clear and to the point when I asked about the brand's future ambitions. He wants to see the brand's mechanical "chops" on par with its design ambitions and have all production take place under one roof. With Jones harboring a deep appreciation for Jaeger-LeCoultre watches and having taken over five years of night classes in watch servicing, this is a rather promising vision indeed.
Mr Jones Watches — past, present, and future
I mentioned "cheap yet serviceable quartz movements" before, but today, Mr Jones Watches offers much more than that. A lot of the watches the brand sells are powered by mechanical movements. Models like the Last Laugh even use a jumping-hour mechanism to display the time. But that's not all. From gilding and using flower petals to cloisonné enamel and chinoiserie, it seems that the brand knows no bounds when it comes to taking things to the next level. When creative design meets mechanical ambition, traditional watchmaking methods, affordable prices, and a healthy dose of Monty Python-esque humor, you get the charming mishmash that is Mr Jones Watches.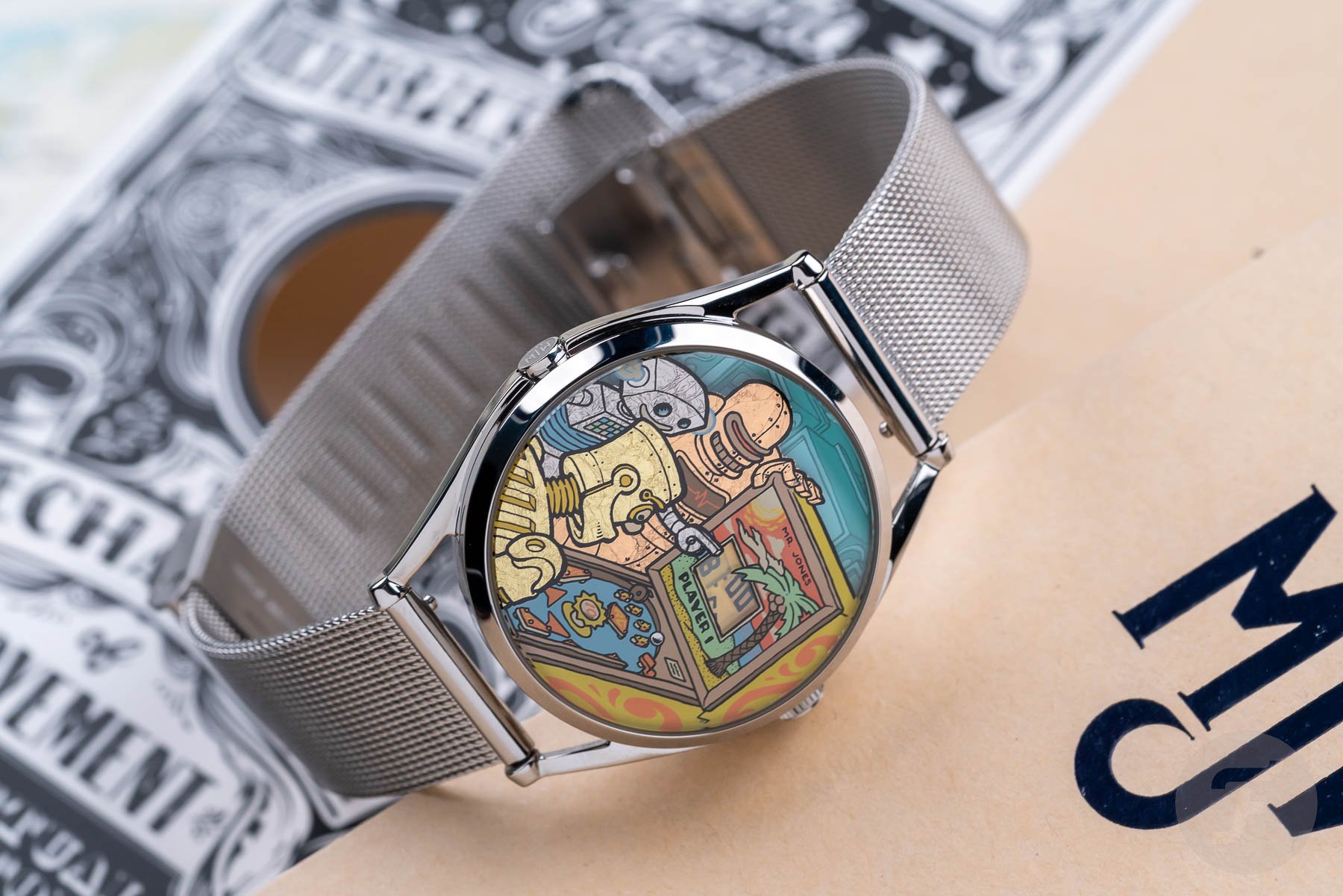 And though we're glad that the brand has been around for 15 years, something certainly worth celebrating, it's just as exciting to think about what the future holds for Mr Jones Watches. Certainly, the brilliant work of the many designers working with and for the brand will never fail to put a smile on our faces. So we'll continue to follow along, keeping a close eye on the Mr Jones website for new designs as they regularly make it into the lineup. And if the brand speaks to you, you should certainly do the same. And as a special note from me, I'd advise you to look at the Mr Jones YouTube channel. On it, you'll find many intriguing videos in which artists and designers walk through the inspiration for their designs and demos of some of the most unusual (in the best possible) watches you've ever seen.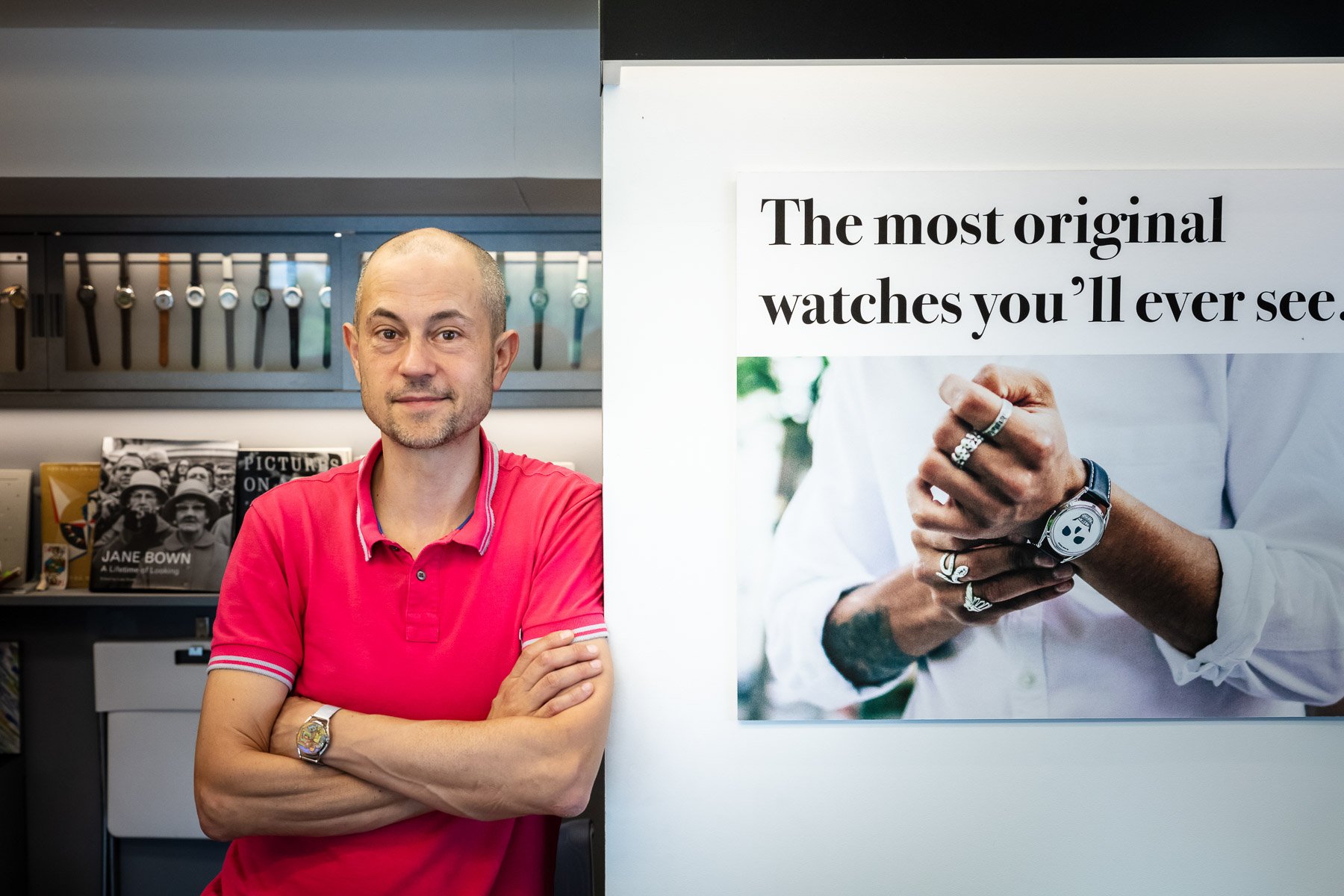 Final thoughts
There you have it, my dear Fratelli — a brand well worthy of your attention celebrating a significant milestone. We couldn't be happier to celebrate along and continue to be amazed by the boundless creativity, affordable prices, and smile-inducing designs of Mr Jones. If you're unfamiliar with the brand, check out Thomas's article here, then do yourself the favor and head to the Mr Jones website. I also want to thank Crispin for taking the time to speak with me and share his passionate insights into design and watchmaking, as well as the Mr Jones team and designers, for keeping watches fun and bringing artistry and humor together in such a special way.
What are your thoughts on Mr Jones? Do you, like us, appreciate the fun and light-hearted break the brand provides in this often too-serious space? If so, which of its designs (old or new) is your favorite? As always let us know in the comments down below.