New Omega Seamaster 300 Dive Watch With Luminous Sandwich Dial + Video
A pleasing maturation of material usage
As you can probably imagine, last week was a very exciting week at Fratello HQ. We were lucky enough to receive a special package from Omega, jam-packed with some of the brand's tastiest novelties of the season. We divvied up the watches among the team and set to work. By complete chance (and a happy one at that), the Omega Seamaster 300 with a rich blue dial landing on my plate.
The cynic might ask how many times a brand can keep reissuing or redesigning the same concept while remaining interesting. I don't have an answer for you, but I can tell you this: Omega hasn't reached that cut-off point yet. In fact, the brand is far from it if this new diver is anything to go by.
Inspired by the very first Seamaster 300 way back in 1957, this piece fuses design elements from all over the model and the brand's history. The result? A mature, timeless classic that figures to be one of the most exciting and then enduring releases of the year.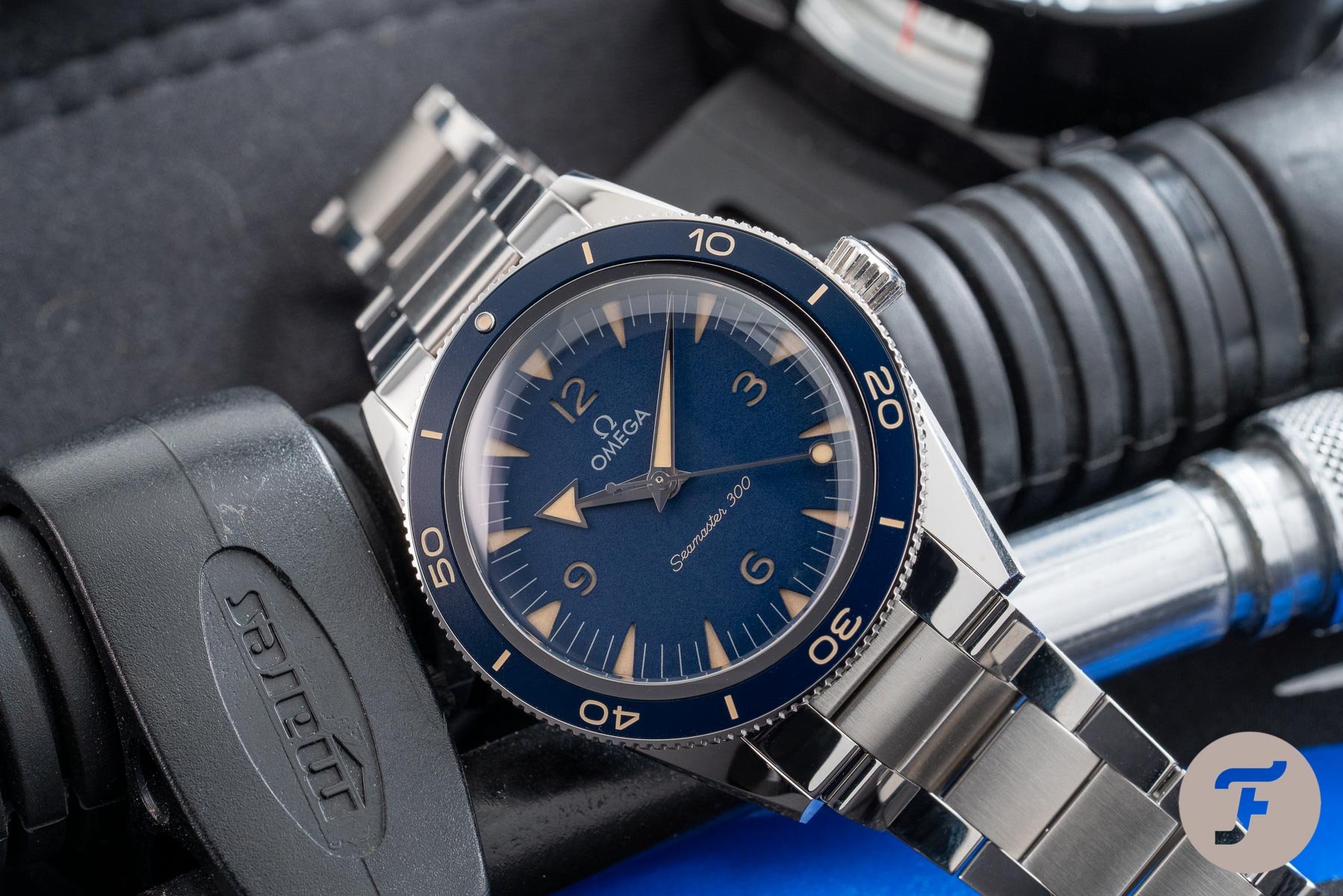 Classic dive watch lure
Classic dive watches are hard to get right but absolute goldmines when executed properly. Just look at the Tudor Black Bay 58 blue from last year. It is, for all intents and purposes, a very middle-of-the-road watch. But what does being middle of the road mean? It means you're in everybody's lane. That refined neutrality is hard to pull off without being boring. The BB58 did it, and so too does this classic dive watch from Omega.
That's the kind of mechanical improvement I'd demand at over €5k…
I'll dig into some of the aesthetic updates/throwbacks shortly, but first, let me say this: the Omega Seamster 300 is more than just a beautiful shell. This model, along with its other Seamaster 300 brethren, is now Master Chronometer certified, guaranteeing an uptick in accuracy and anti-magnetism. That's the kind of mechanical improvement I'd demand at over €5k and I'm glad Omega delivered on that front.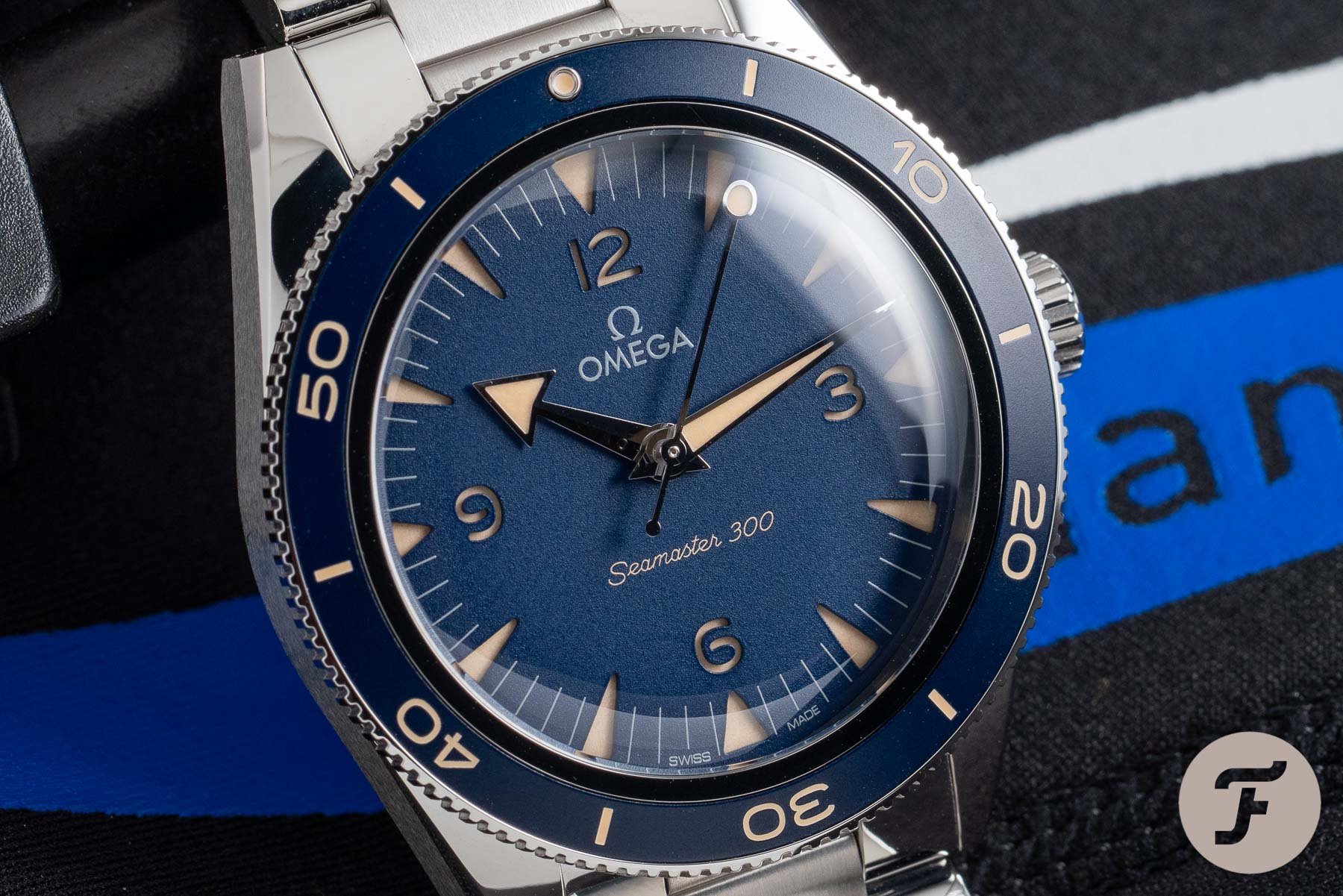 Ol' blue eyes
While the mechanics needed to tick a box, that's really all I needed them to do. I'm comfortable admitting that all I want this watch to be is a drop-dead gorgeous slice of delicious wrist cake. I rarely say that kind of thing out loud, but I'm always on the hunt for tasty morsels with which to feed my insatiable watch collecting habit. And what is it that's whetting my appetite so noticeably? Why, it's that delicious lollipop whizzing around the dial, of course!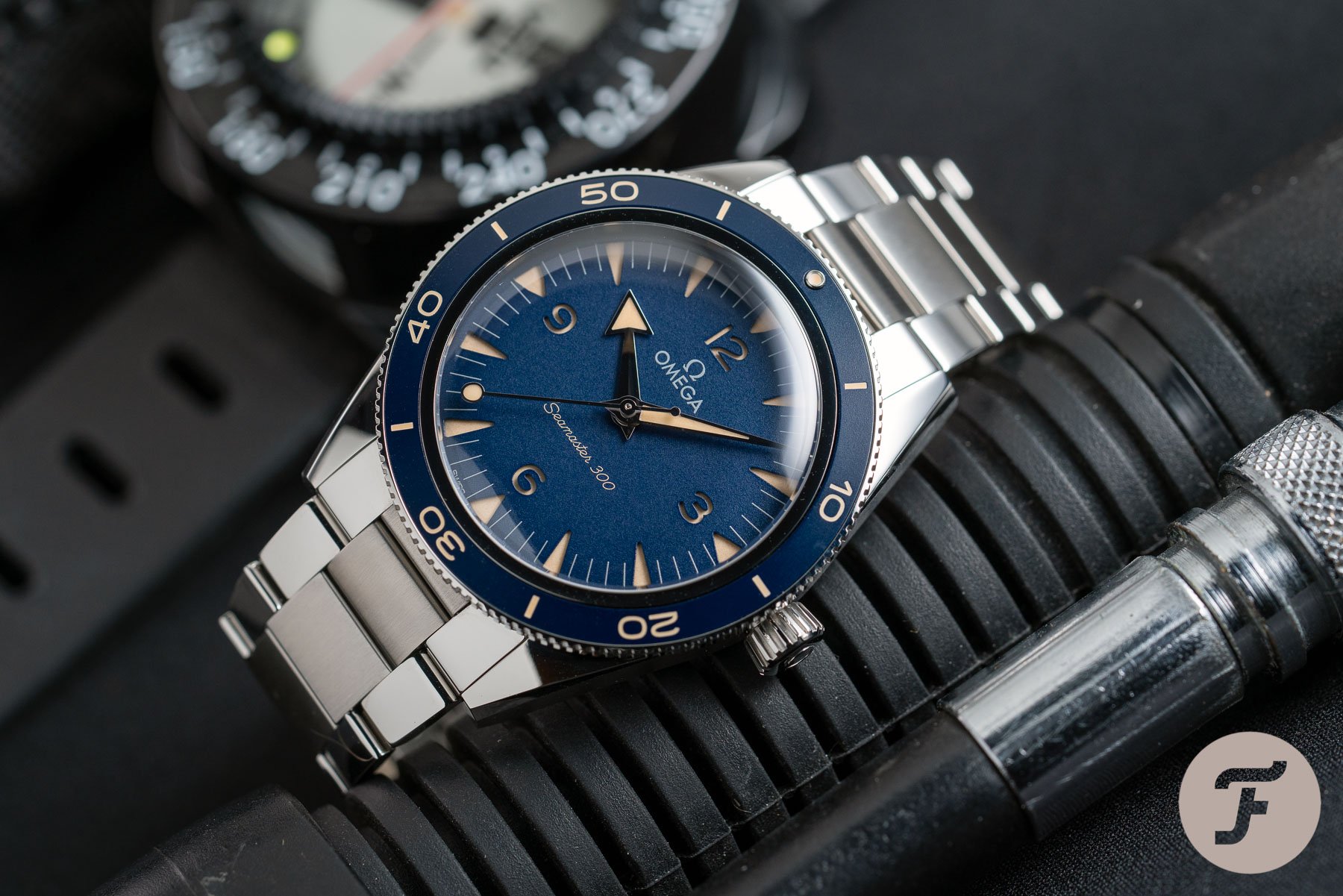 The lollipop seconds hand. It isn't for everyone. In fact, perhaps I should say, "it isn't for everywhere." I'm neither friend nor foe to this design element. I love it on some watches; I hate it on others. Here, however, I think it works. Maybe the old radium-style lume is what does it, providing, as it does, an excellent contrast with the hands.
While I like my watch news as fresh as possible, it's fair to say that lollipops keep rather well. This stylistic quirk first appeared on an Omega Seamaster 300 in 1959. Now, 62 years later, it's good to see it return.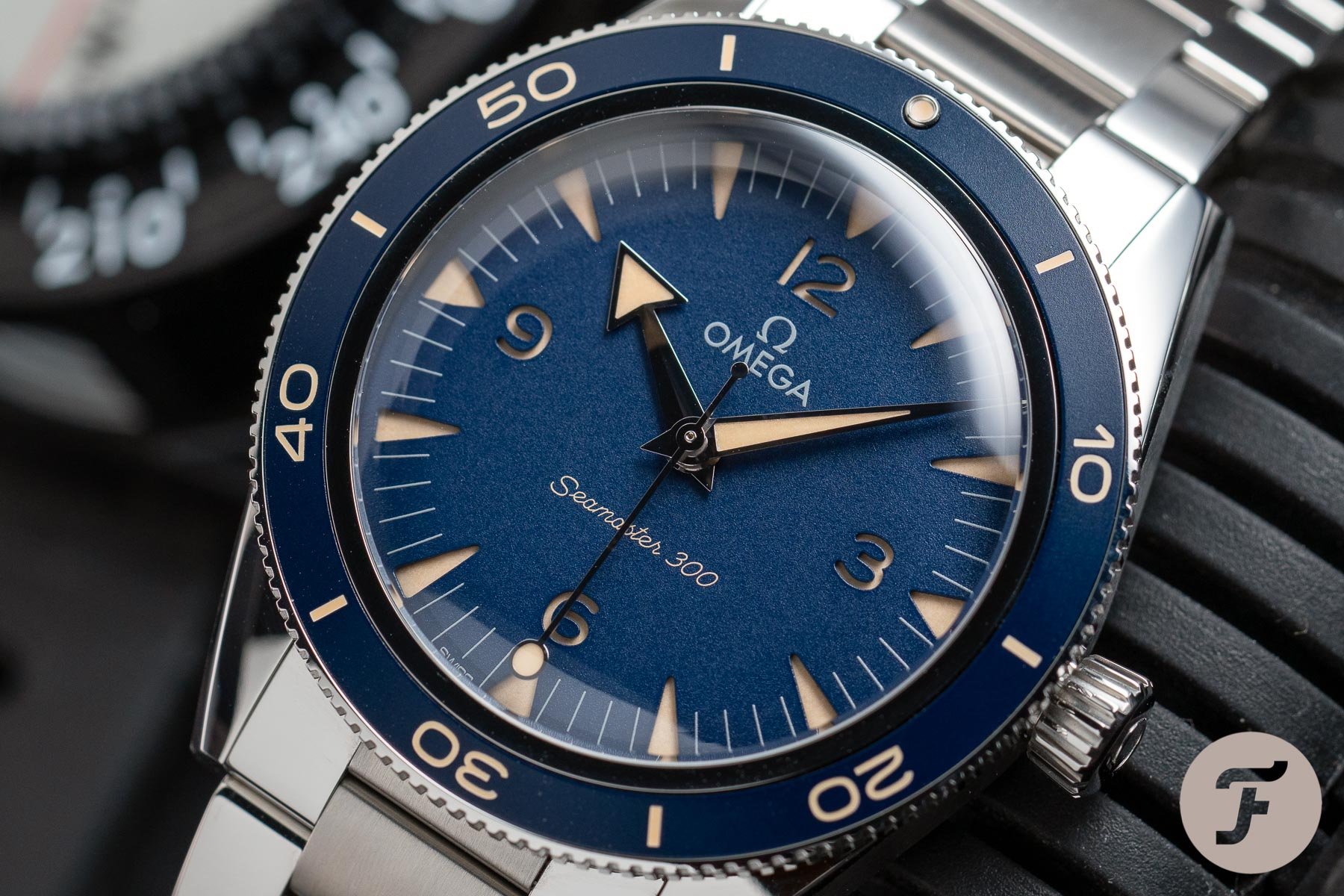 Open your heart to me
And the lollipop isn't the only returning design element from the Seamaster 300's long history. No, the open-style Arabic numerals on the dial have their origins in a model from 1962. These numerals (along with the cut-out markers) facilitate the use of a sandwich dial resulting in bright, blazing lume performance, and (as I often discuss) excellent lume homogeny between the hour markers and the hands themselves.
These markings in this color look absolutely excellent alongside the blue dial color, as well as the black dial version, which is also being made available in this unlimited addition to the core catalog. Another interesting note regarding dial decoration is the pared-back use of text. Unusually, this model features only the model name between the center and 6. There is no mention of the movement (although it is automatic).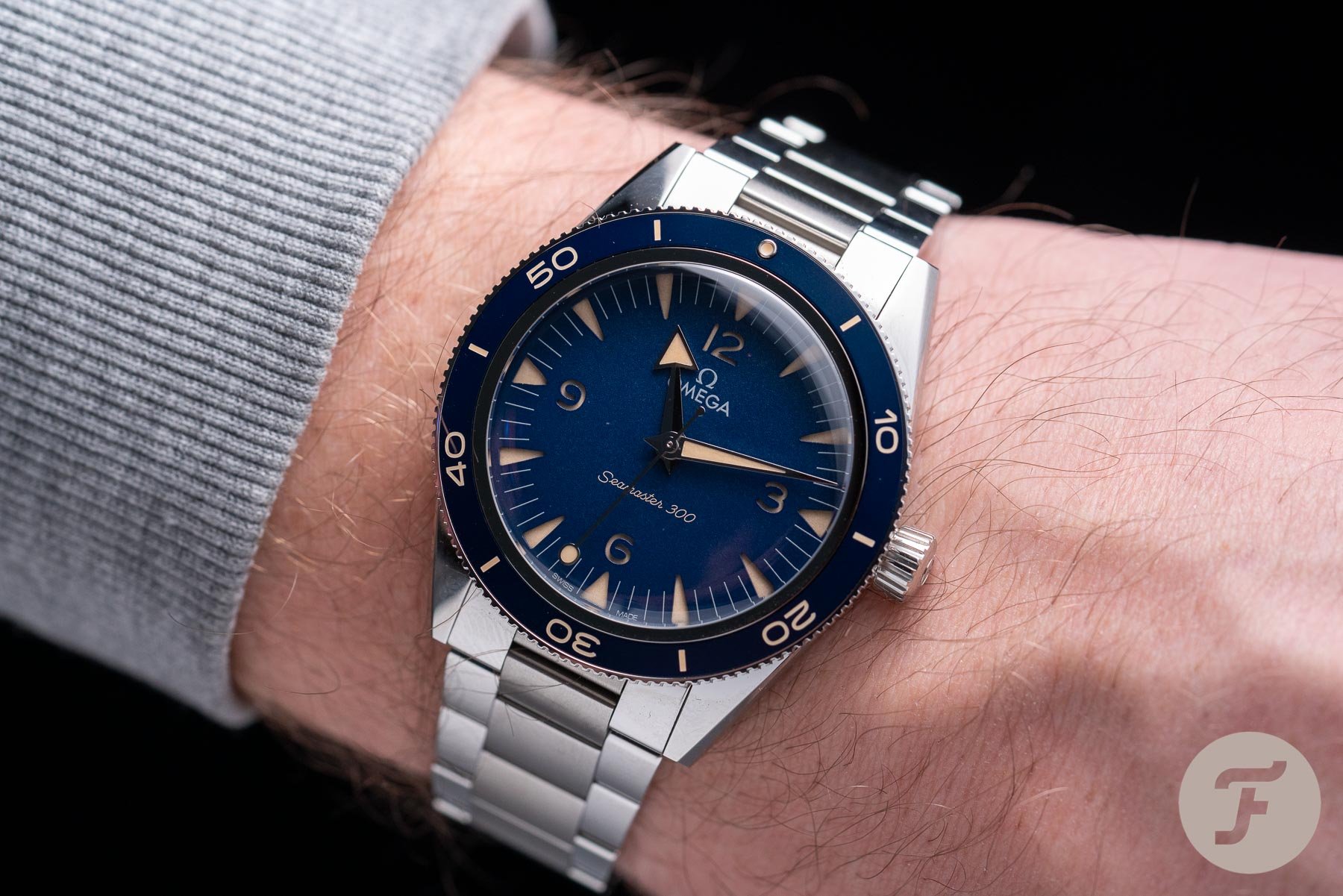 Deceptively wearable
This watch may look quite a bit bigger than its predecessor, but I can assure you, it is not. In fact, it possesses the same diameter (41mm), but plays with its proportions to achieve an entirely different aesthetic. Firstly, the dial aperture of the new model is a full 1mm wider than on the old model. This was achieved by thinning the case band wall around which the rotating bezel sits.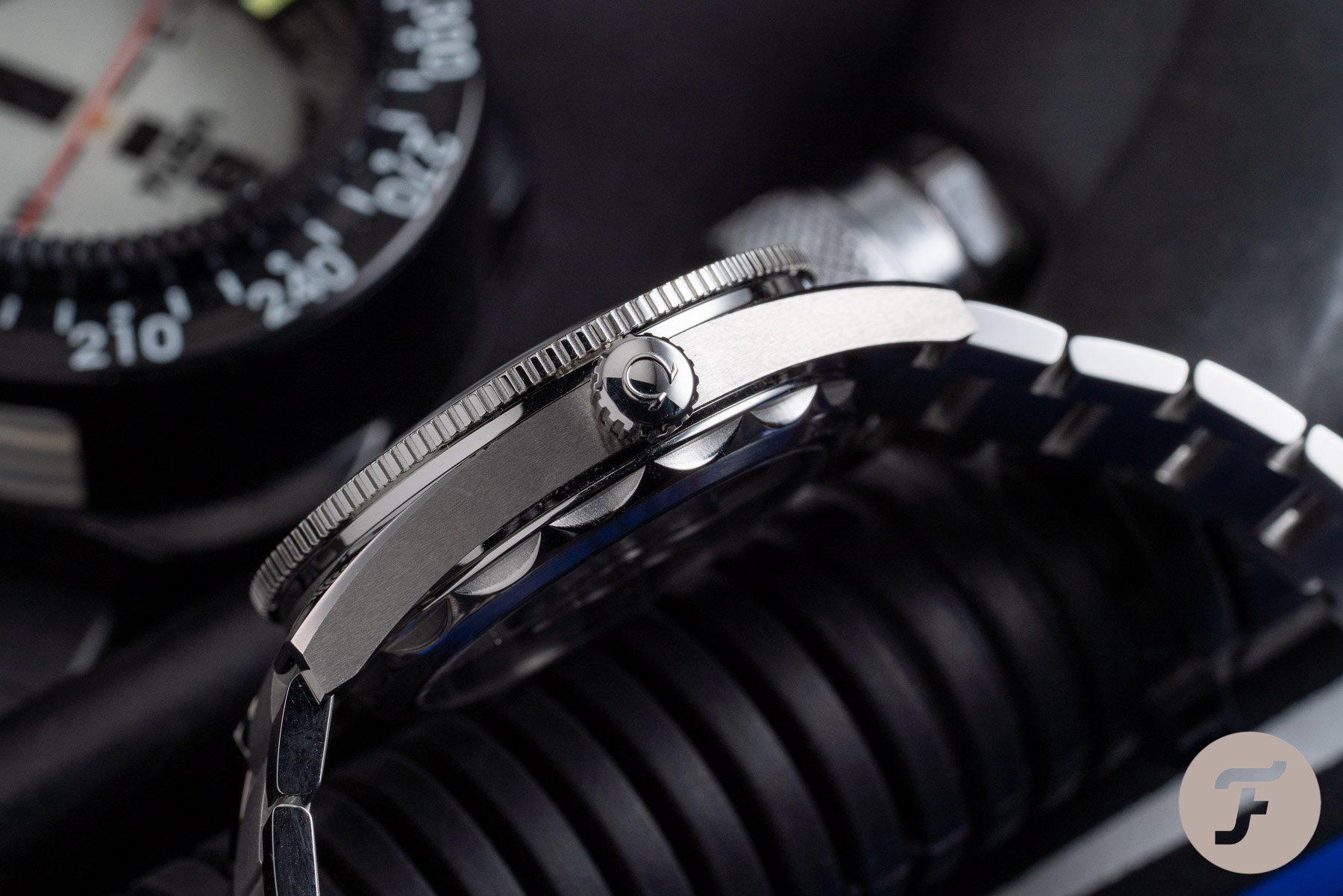 That bezel also plays a role in changing this watch's appearance on the wrist. While the total height of the watch including the boxy walled sapphire is the same as the previous model (14.4mm), the portion comprising case middle and bezel is roughly 1mm thinner. That box crystal compensates for what would otherwise have resulted in a lack of hand clearance, but the visual impact of the piece is noticeably reduced. And, hey, who isn't a fan of more sapphire?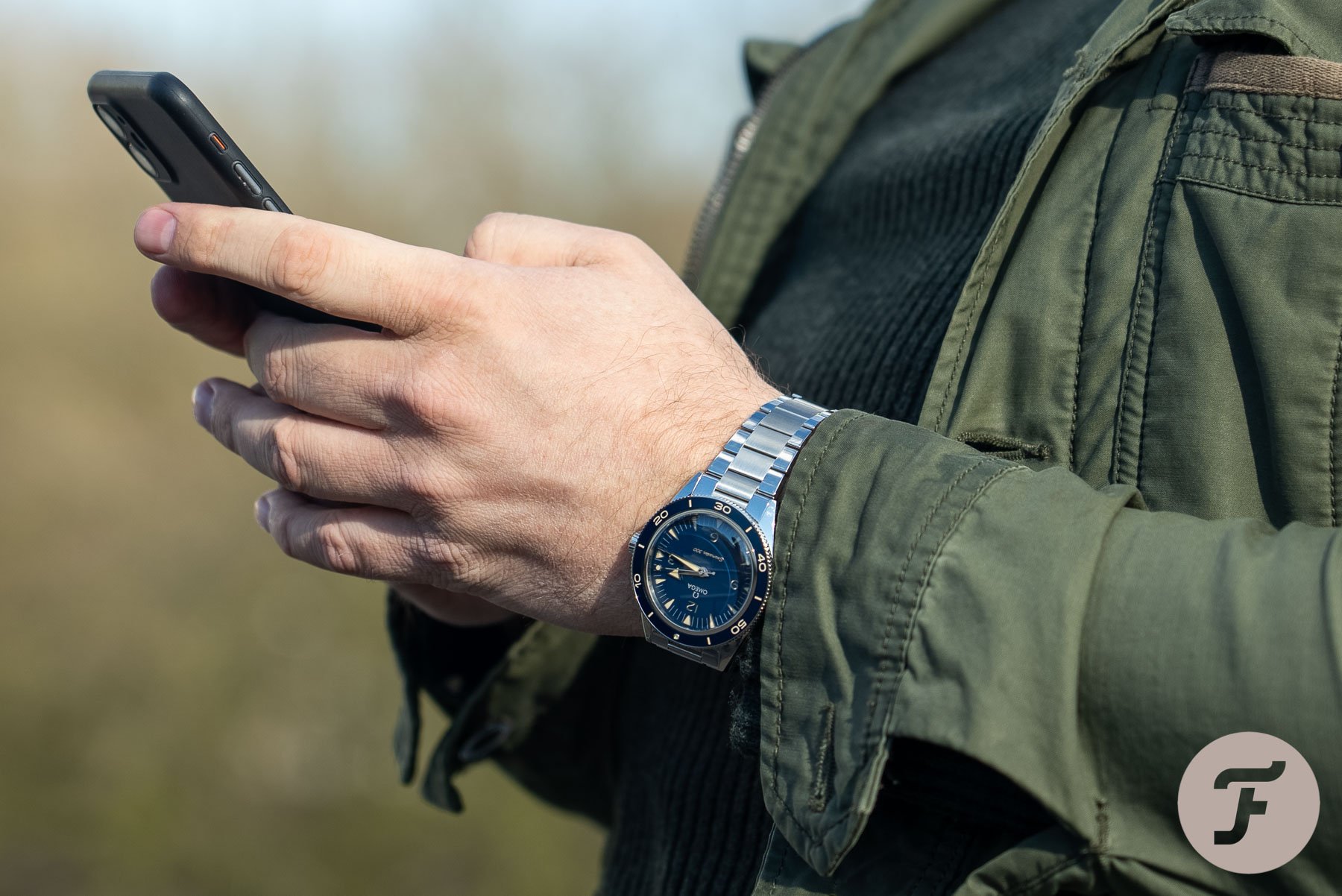 Bezel facts
I love bezel facts. I feel like it might be worthwhile starting a podcast called "bezel facts", and fill two hours of every single day with long-winded and entirely random facts about bezels. But I won't. Instead, I'll tease you with these two bezel facts, which I hope to sustain you for many moons to come…
Did you know that in 1957, upon the launch of the Omega Seamaster 300, there was a security system used by bezels quite different from the ubiquitous unidirectional type we know and love today? Instead of a one-way system, these bidirectional bezels had to be depressed (pushed down against the case band) before they could be turned.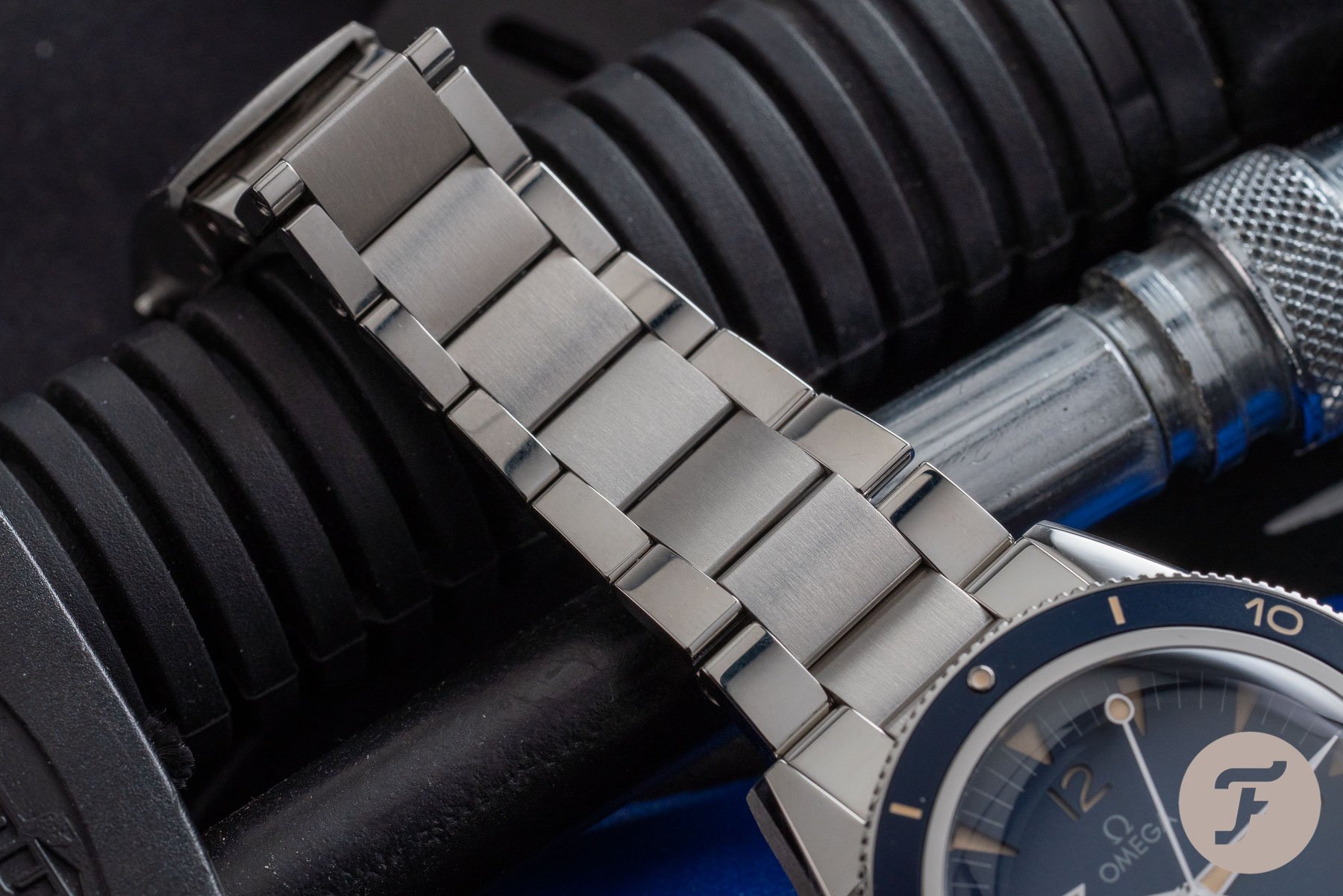 Awesome, right? This system isn't unheard of in the modern world (I believe Oris has used this method on some of its modern Pro-Divers), but it is rare and quaint. Nowadays, Omega has upgraded to the unidirectional system so common around the industry. However, to bring this component up-to-date, Omega has anodized the bezel insert in such a way that its hardness on the Vickers scale has been massively increased (to apparently 5,000 Vickers). Now that's not a bad improvement for the "weak spot" of an aluminum bezel insert, which many of us prefer for their old-school chops.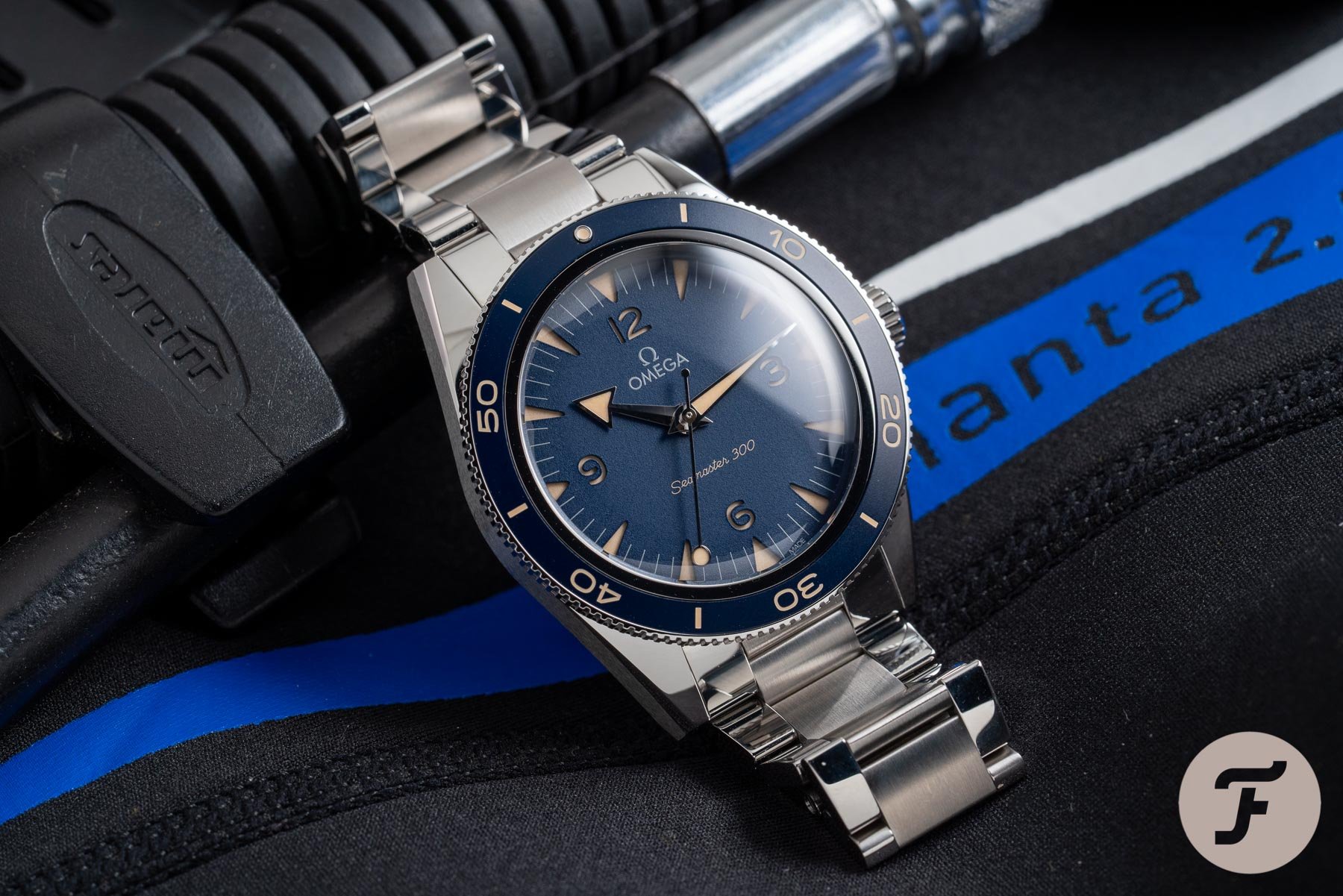 Wait, there' more
It gets better. Those markings on the ultra-hard bezel insert? They are filled with Super-LumiNova. And when I say filled, I mean filled. Brimful. Bursting. Chock-a-block. How come? Well, those markers aren't just printed on top of the bezel, oh no. Rather, that bezel is engraved down to 0.2mm before being pumped full of top-notch lume. The result? A truly stunning nighttime visage that manages to live up to the sandwich dial's performance. This, in my opinion, is a shining example of a job well done.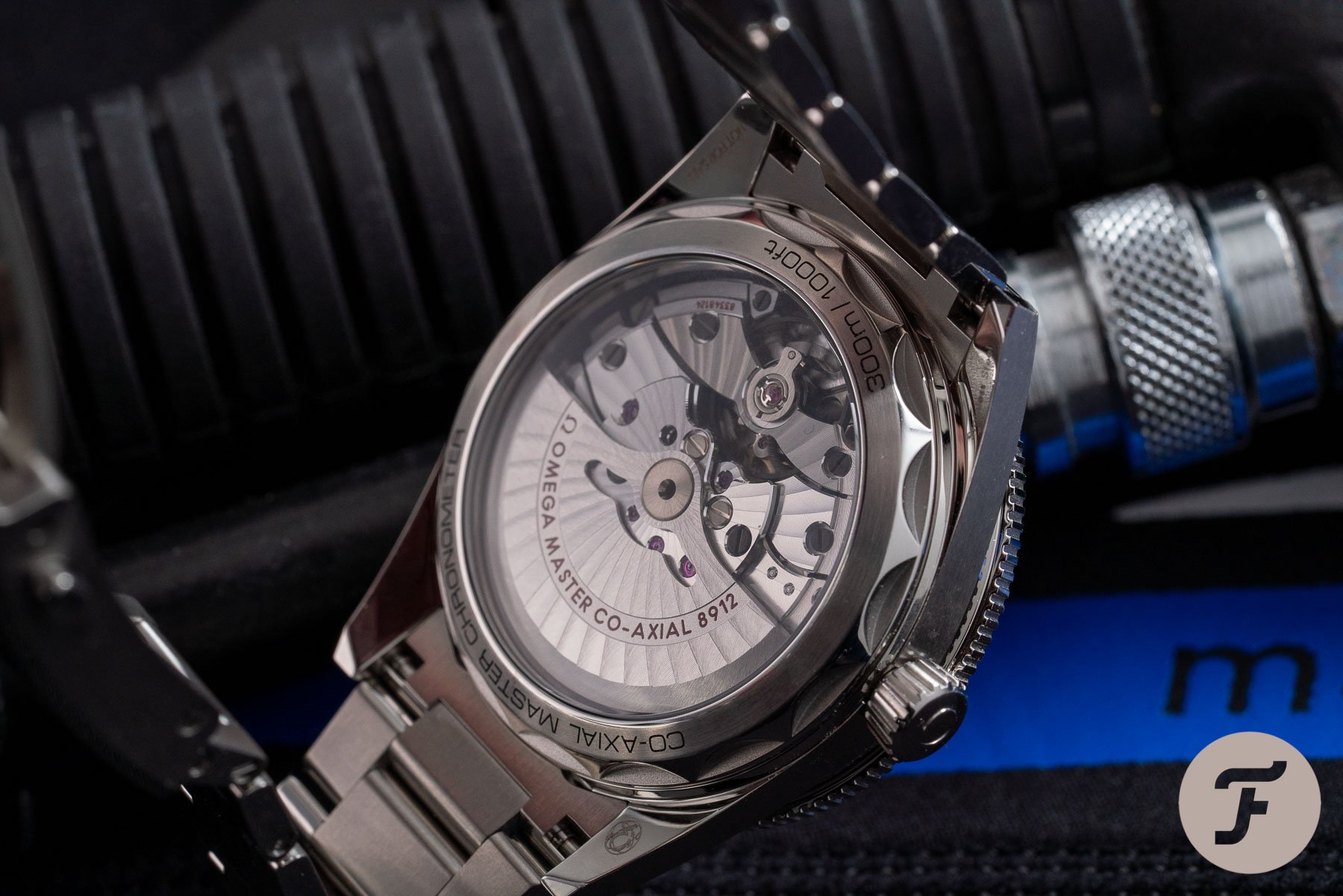 Crown, case back, and conclusion
You might have noticed that the crown is an odd, conical shape. If you noticed that, well done. Give yourself a gold star. Do you like it? I'm not so sure what I make of it, but I think I like it as a point of difference is nothing else. While it is true that good and bad crowns can make or break a design, here I feel the Omega Seamaster 300 neither needs it nor could do without it. It's a funny feeling, but I'm sure it works. Let us know in the comments if you think this crown profile adds to or detracts from this model's overall appeal.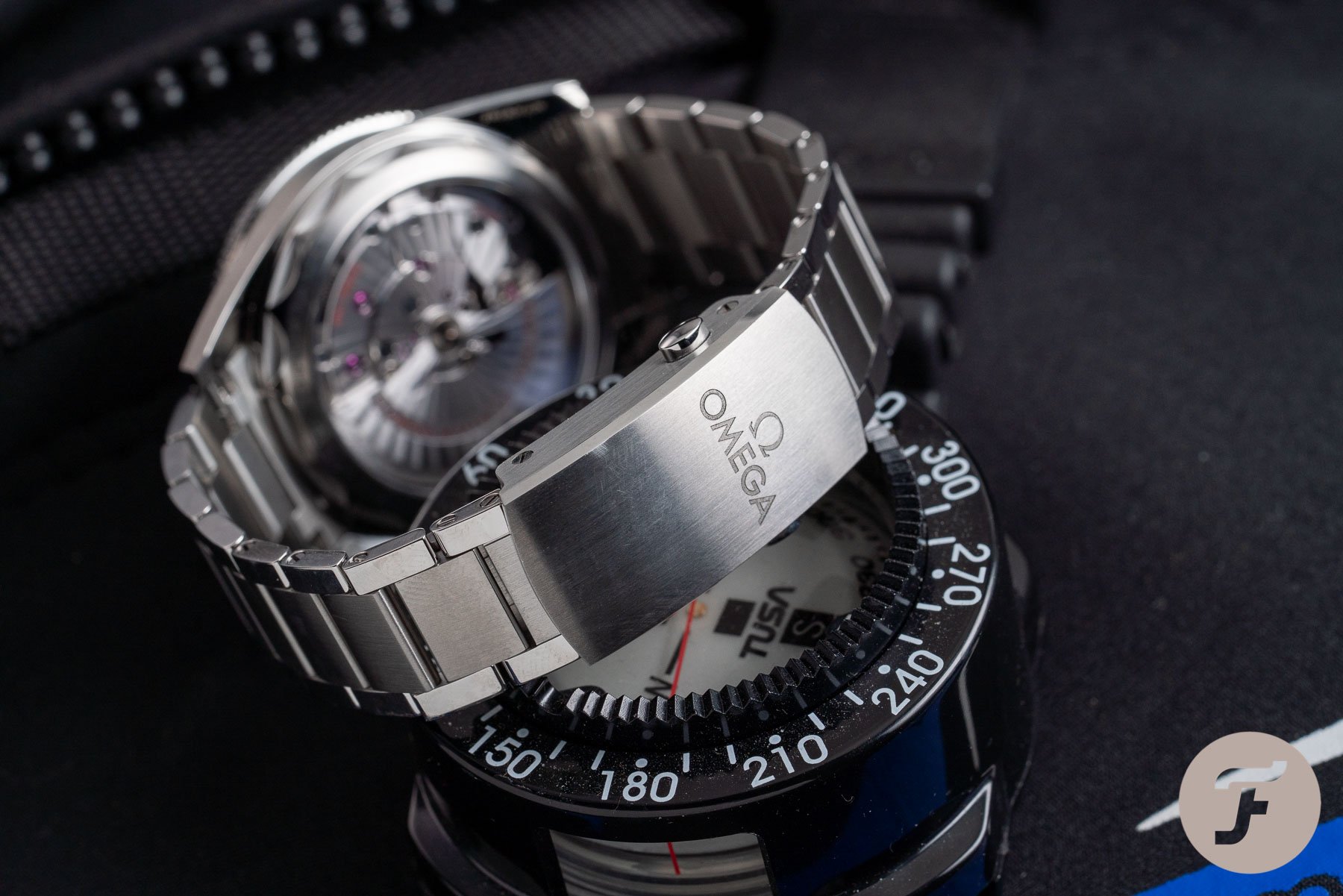 The case back does not have the Naiad lock system because it does not have a medallion or emblem case back. I'm not too bothered about Naiad (which ensures case backs line up in exactly the right spot every time the case is closed), so I don't miss it, but I do think it is a really good idea in general and exactly the sort of thing more big brands should try and do to add value.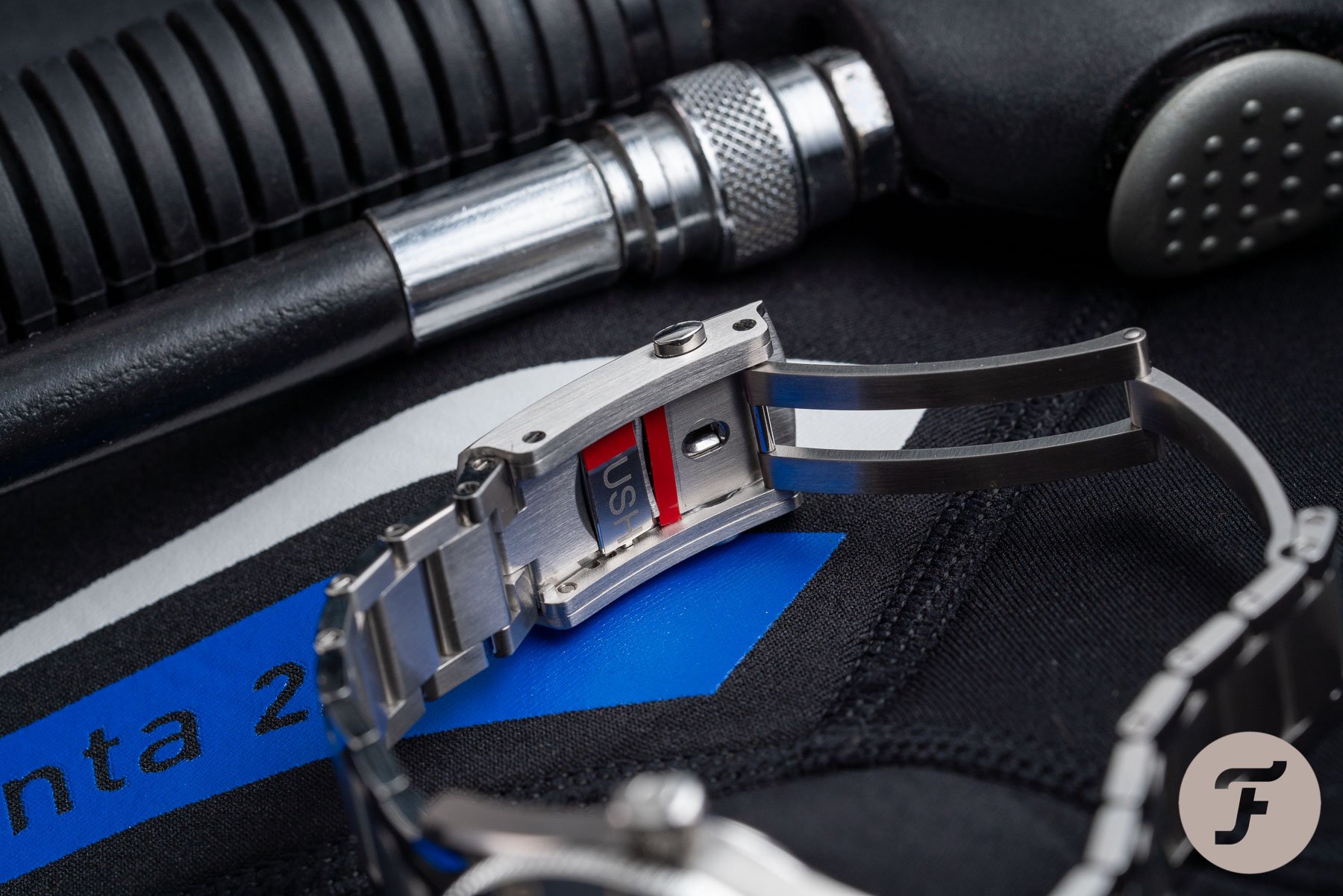 The last big news here is the bracelet. Or, more specifically, the end link. This ergonomically-designed component is specially designed to allow for immediate "drop-off", which means the bracelet drapes much more comfortably. This is ideal for smaller wrists. In my opinion, this flat link style works even better on this than it does the Speedmaster.  As if the aesthetic package weren't enough, the buckle has a 3-position extension clasp. That should result in excellent comfort, no matter who you are. The price of the pictured steel Seamaster 300 with steel bracelet (ref. 234.30.41.21.03.001) is €6,500 (CHF6,450 Swiss Francs). Alternatively, the price of the black-dial steel Seamaster 300 (ref. 234.32.41.21.01.001), which comes on a strap, is €6,100 (CHF6150 Swiss Francs). To learn more about this model, check out Omega's official website here.