New Release: The Hamilton Khaki Field Titanium Automatic Far Cry 6 Limited Edition Watch
A timepiece for gamers and watch enthusiasts alike!
The Hamilton Khaki Field Titanium Automatic Far Cry 6 Limited Edition watch offers a watch for video game and watch enthusiasts alike. I'm sure that anyone that enjoys the kind of gaming experience that the beloved Far Cry series provides has found themselves wishing they could jump into this world and take part in the adventures themselves. Immersion is a key aspect of video games. It's the feeling of losing yourself in a world created by the developers, and something that is made possible by a combination of next-level visuals, a well-written script, immersive sound effects, and relatable characters. Those familiar with the Far Cry universe will almost certainly know this feeling. With this latest release, Hamilton will allow gamers to wear the same watch as the characters in the most recent Ubisoft title.
For the lucky few who share a passion for both of these worlds, and who are quick enough to pick one up, it's an absolute must-have! Read on to find out what makes this wonderful watch from Hamilton tick, both when virtually rendered and when physically on your wrist.

Field-tested reliability
We all know and accept the fact that most of our watches won't be used to the fullest extent of their potential purpose and design. Most of us won't actually visit the moon or drive on the Daytona track, or even dive down deeper than a dozen meters, let alone a few hundred meters. But we still appreciate and admire the potential for adventure that these watches have. Hamilton has changed this completely, allowing the wearer of its latest release to drive recklessly, engage in high octane shootouts, fly without a license, and even encounter some rather unfriendly wildlife. A watch that can withstand all that action, virtually or otherwise, has to be tough as nails, and comfortable to wear, so the Khaki Field Automatic in titanium was a perfect choice.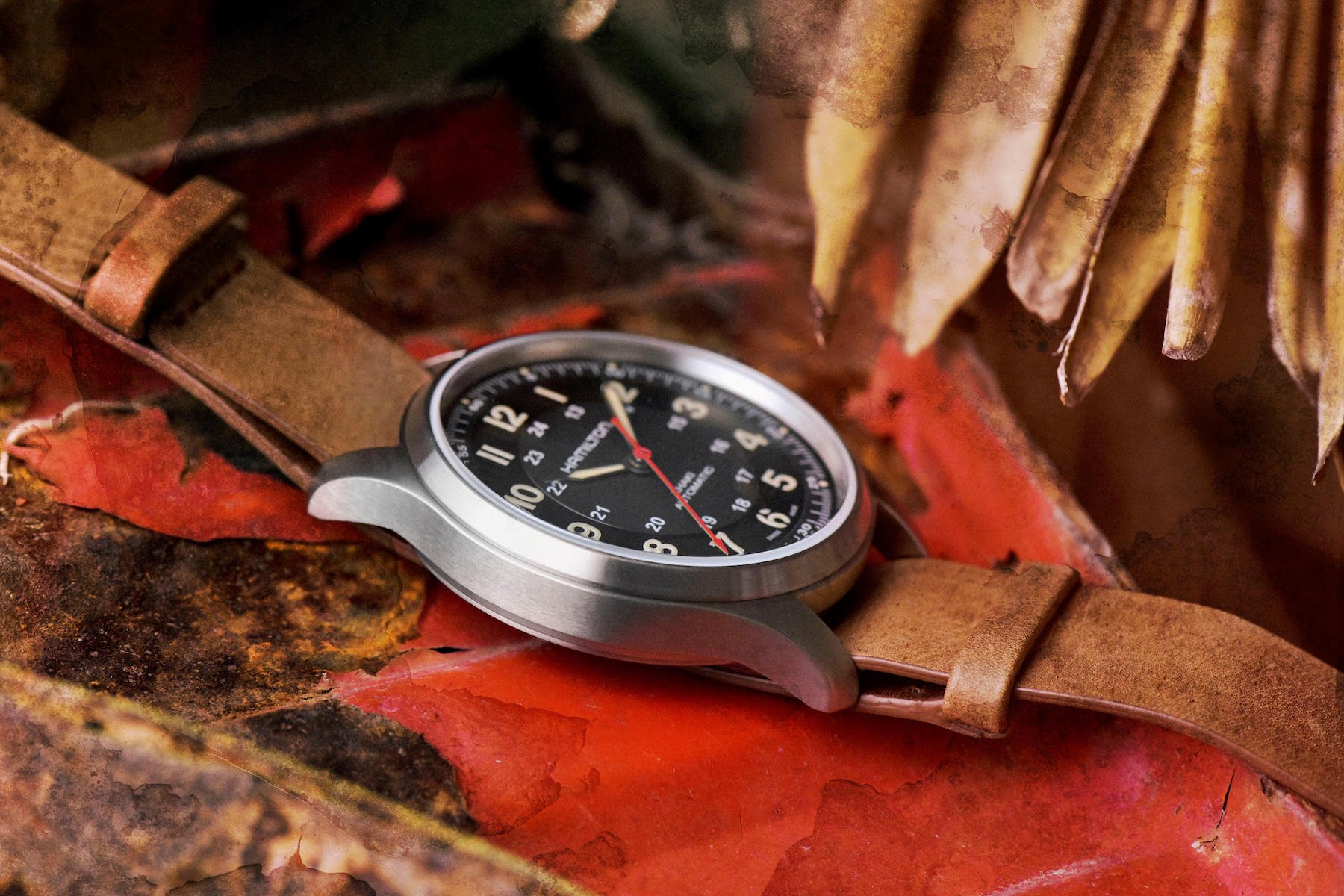 Hamilton's field watches have certainly passed the test of endurance, the brand having provided timepieces for the U.S. Army in the past, some of which are still around and ticking today. A watch built for battle will certainly endure the day-to-day wear that most of us would put it through, as well as the virtual adventures that these watches will face in the Far Cry 6 game. RJ gave us his thoughts on the standard Hamilton Khaki Field Titanium Automatic last year. Speaking of the game, not only does this watch provide a great accessory for your character in-game and in real life (IRL), but it comes with added benefits. Players who unlock the Khaki Field Titanium Automatic in the game will enjoy better defense during sprints, in their quest to liberate the fictional Caribbean island nation of Yara from the cruel dictator Antón Castillo (voiced by Giancarlo Esposito).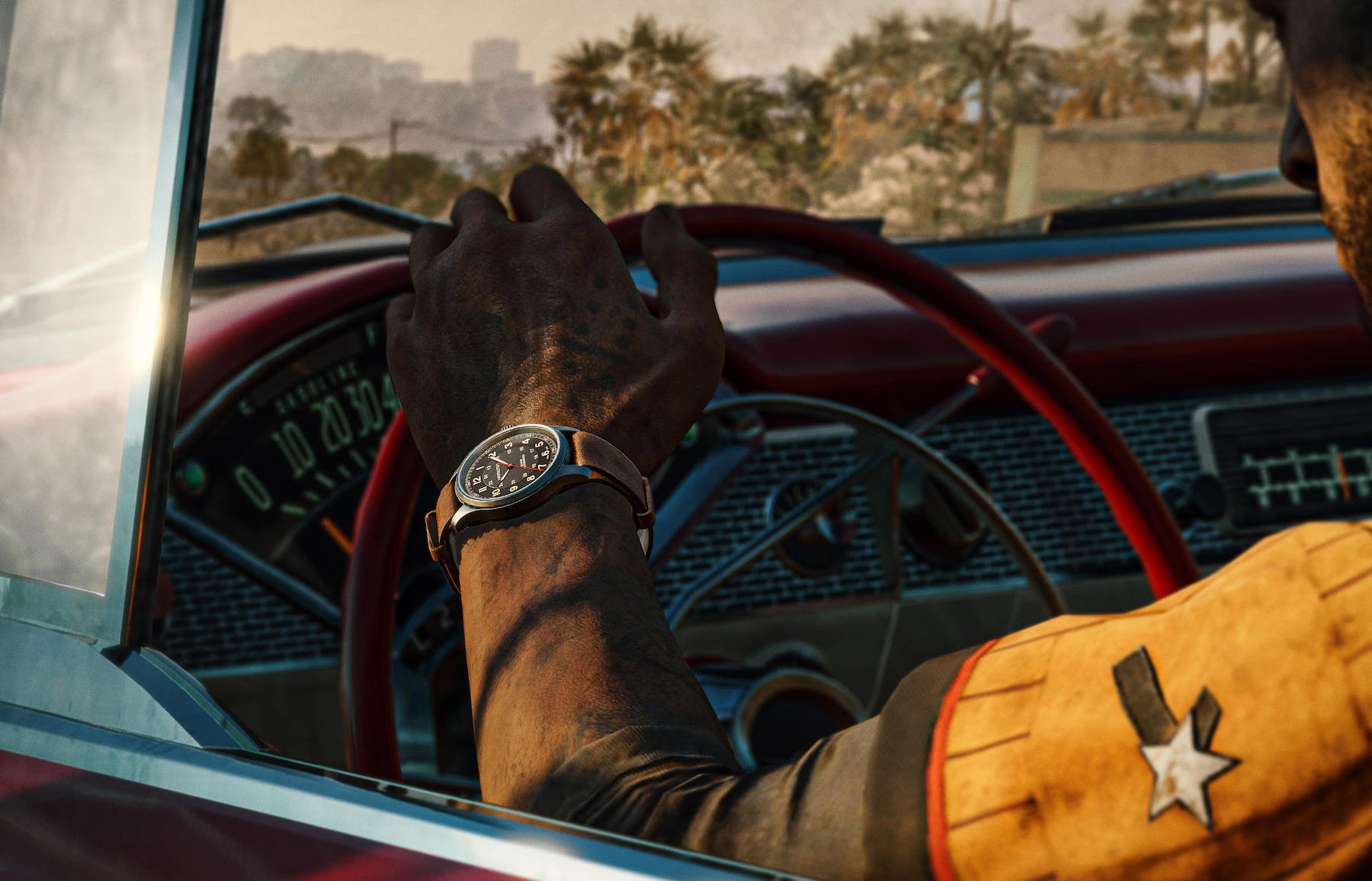 A Battle-ready makeover for the Hamilton Khaki Field Titanium Automatic
The watch will also be available for purchase IRL, in a limited quantity of 1983 pieces. This number ties into the game, as it was in 1983 that an assassination attempt of the former owner and previous ruler of the island took place. The watch changes hands and ends up on the wrist of our in-game protagonist, Dani Rojas. It can also end up on your wrist too, and if it does then you'll be please to hear some of the statistics that make this timepiece quite impressive both in-game and IRL.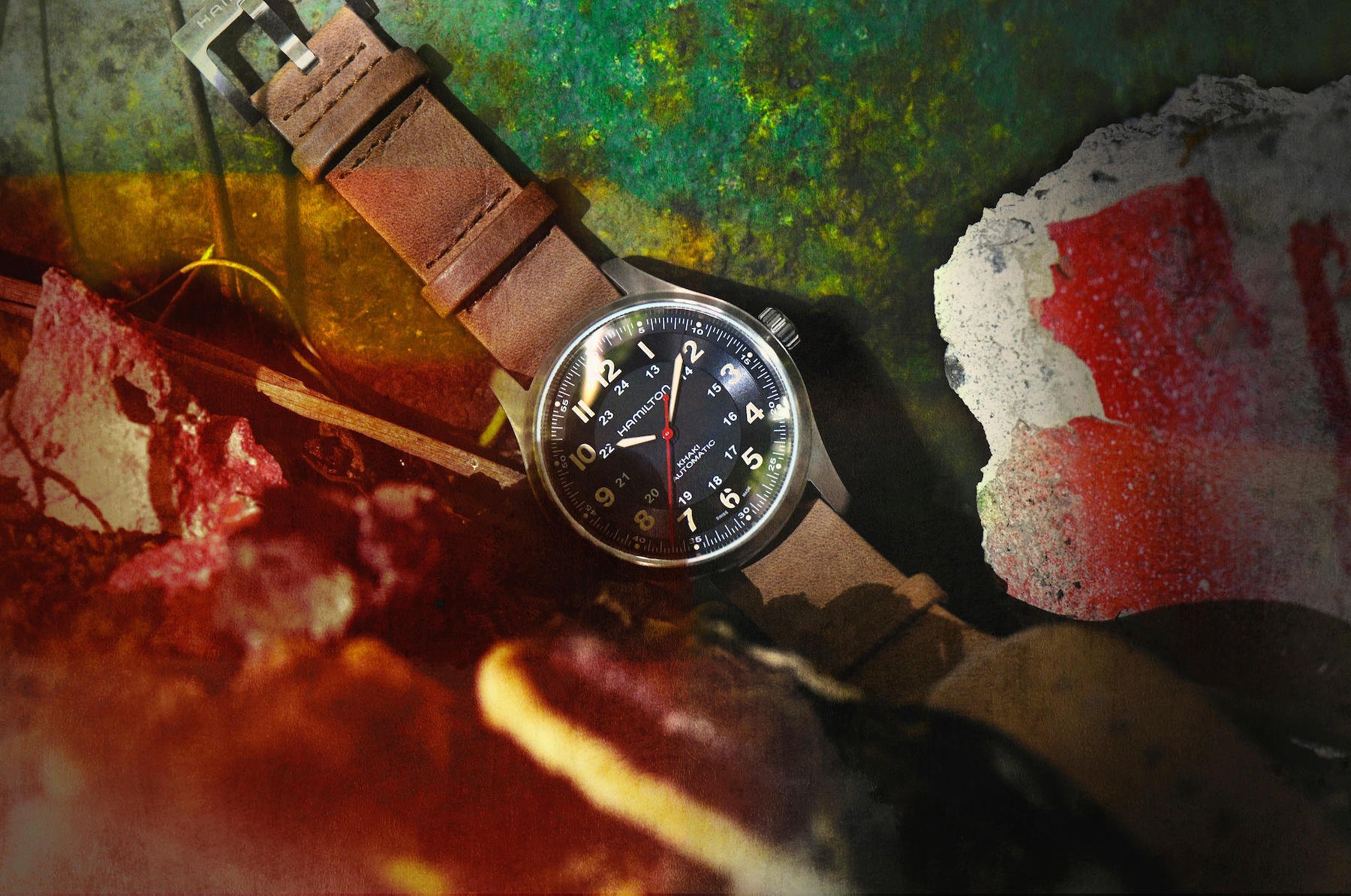 For those who are familiar with the Hamilton Khaki Field automatic models, both in steel and titanium, the watch will be a familiar face, with some welcome changes. The 42mm brushed titanium case is just 11.45mm thick, and ensures lightweight and wearing comfort. A black vinyl dial with a matte textured center and beige Super-LumiNova lumed numerals, including a split number six, to match the game's signature typography. Hamilton's signature 24-hour track can also be found in the center, and on the outer edge of the dial additional lume plots and a minute complete the watch's functional aesthetic. The red-lacquered seconds hand is not only bold choice but makes reference to the game's guerrilla forces fighting for the liberation of the island. A lug width of 20mm will allow you to enjoy the versatile watch on a number of straps.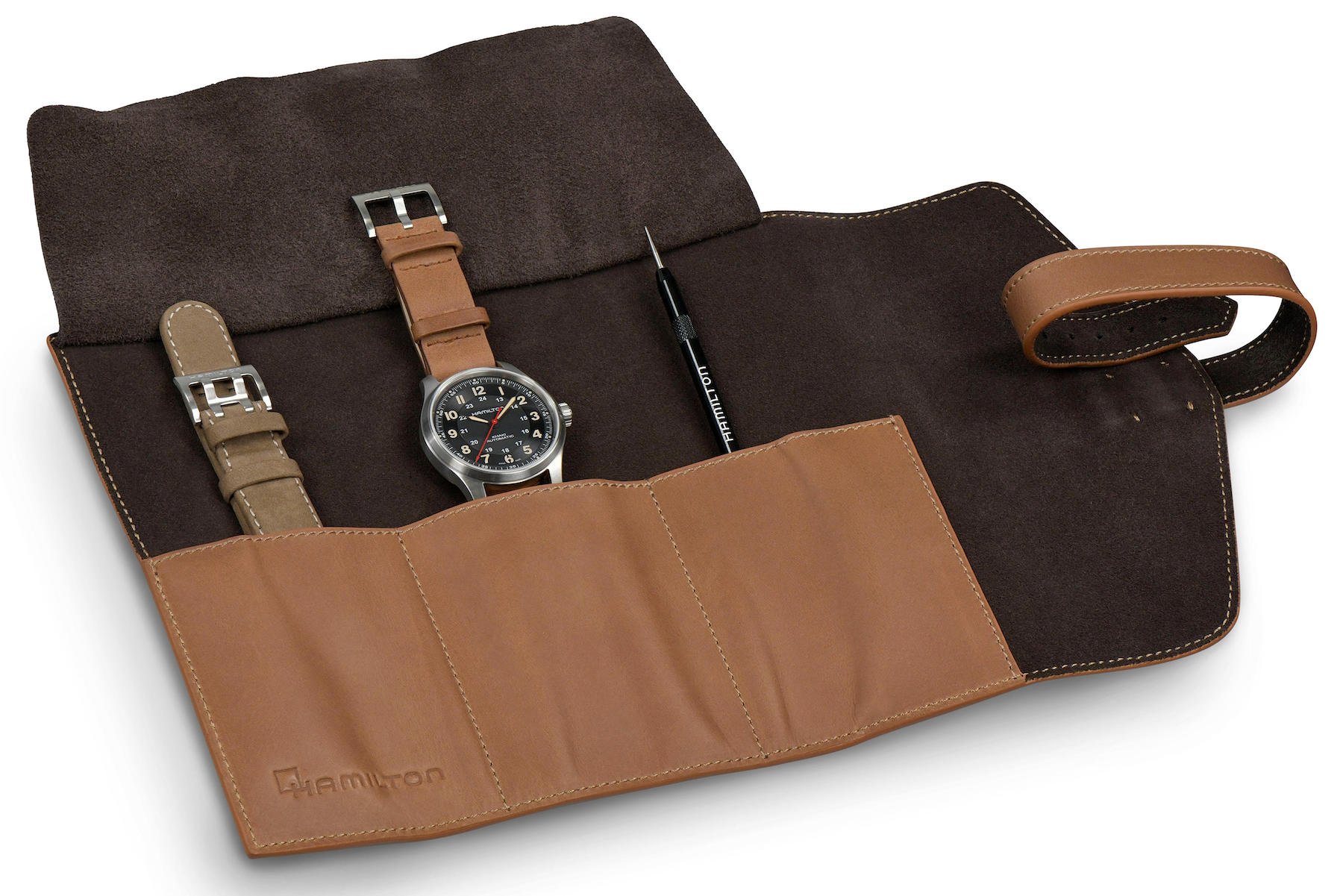 Plenty of goodies
Speaking of straps, the watch will come in special packaging which includes a brown calf leather nato strap as well as a brown nubuck strap, both with a signed stainless steel pin buckle. You'll also get a leather watch roll and a spring-bar tool. As much as I like the leather straps, I would love to see the watch on a tan nylon nato strap, matching the faux-patina lume's color. An option that would better allow you to enjoy the 100 meters of water resistance of the watch. The sapphire crystal ensures worry-free wear. Inside and visible through the open case back, the Hamilton H-10 automatic movement features a skeletonized rotor and a Nivachron balance spring and provides an 80-hour power reserve. This means that even if you take it off your wrist for a couple of days, you'll most likely still find it running reliably on time.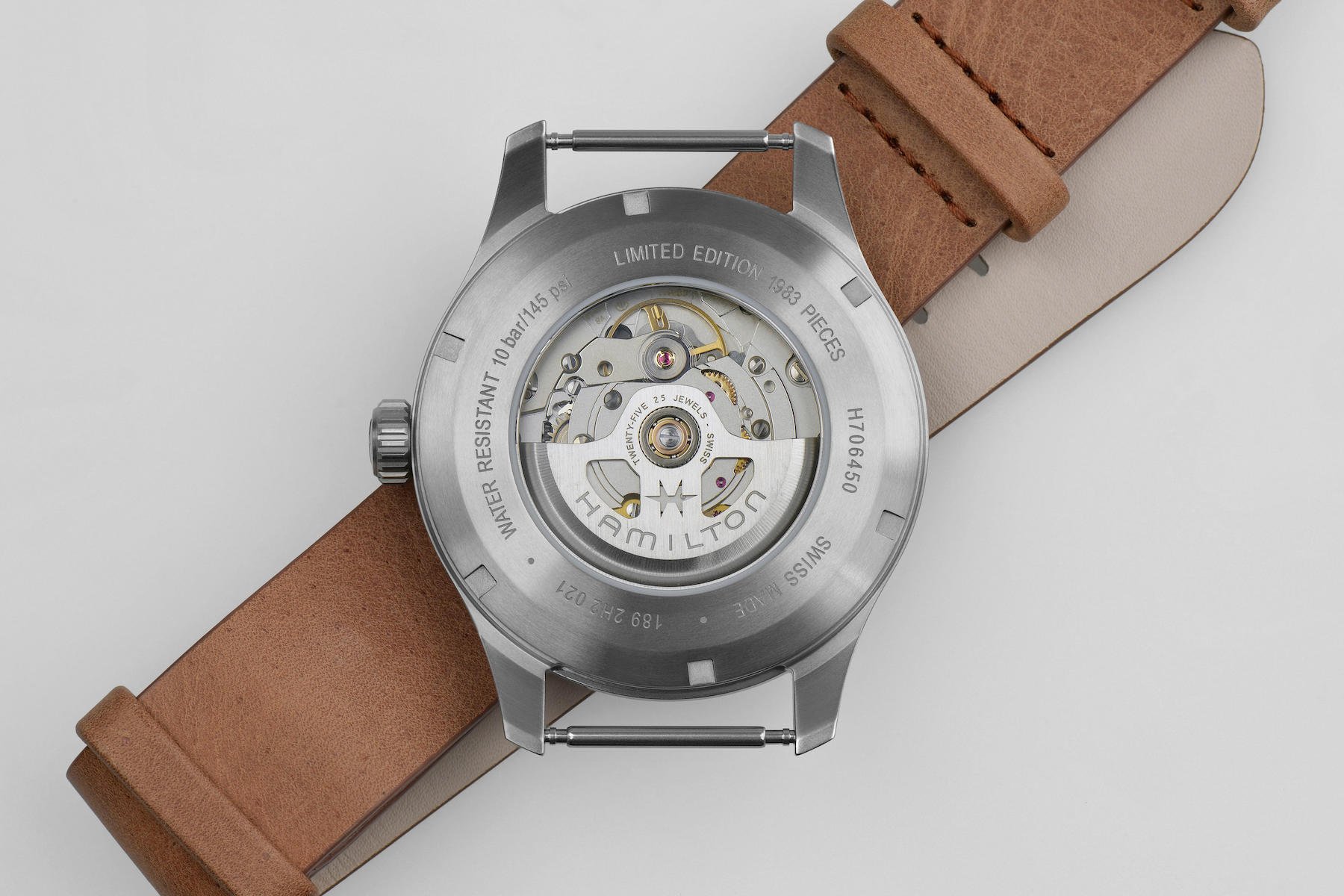 Final thoughts
If you want to be one of the lucky 1,983 people to enjoy this watch in person and not just virtually, you'll have to be quick! For its €1,045 asking price you don't just get an additional element to your immersion into the Far Cry 6 game, but you also get a reliable and resilient time-telling companion. When you think that prices for the regular production models of the Khaki Field Automatic Titanium watch range from €895 to €945, the slight premium here is anything but excessive. Regardless of whether you are an avid gamer and a fan of the Far Cry titles, this latest release from Hamilton is not hard to like. For more information, check the Hamilton website here.