Monday Morning Resolution: No More Car Analogies For Watches
And no more watches with details that look like car parts either
Enough is enough. To prove a point, first in a presentation and later that week in a discussion, a car was used when a watch was the subject of interest. "This watch collection is like the Porsche 911; it evolves constantly, but always the original design shines through." And also this: "I don't mind that this watch uses elements of the watches in another collection because all Porsches also have familiar design characteristics." Why reach outside the rich watch universe to prove your point? And also, why do watch brands keep incorporating miniaturized car details in timepieces? Car brands don't work the other way around. To put it bluntly: car analogies for watches have to stop, and so does the production of watches with details that look like miniature car parts.
Let's start by answering the last question with the Lexus IS 200, a car that rolled onto the scene in 1999. This car proves the exception to the rule that car brands don't integrate watches into their designs. The main instruments of the IS 200 mimicked the look of a chronograph. The result not only looked cool but was also easy to read.
Car analogies for watches have to stop: take inspiration, not car parts
You could argue that Citroën's luxury brand DS also used elements from a watch and incorporated them in its cars. But that argument won't hold because, inside the DS 7 and DS 9 "Esprit de Voyage" models, for instance, you will find Clous de Paris guilloché inserts and "watch strap" leather upholstery, as the brand calls it. The details are not exact copies of watch parts, but they draw inspiration from a world where craftsmanship is of huge importance. Inside the DS cars, it's that exact value that stands out.
The way that DS and Lexus "sample" the world of watchmaking is very different. DS uses it as a source of inspiration to make car components that look nothing like watch parts. The main instrument of the Lexus IS 200, on the other hand, is similar to a chronograph in two ways. The first is the appearance, but there's also a functional resemblance. Both the instrument on your wrist and the one on the dashboard are there to display information. But do chronograph pushers shaped like a race car's diffuser, which helps the car stick to the track, make the watch sit better on your wrist? Exactly…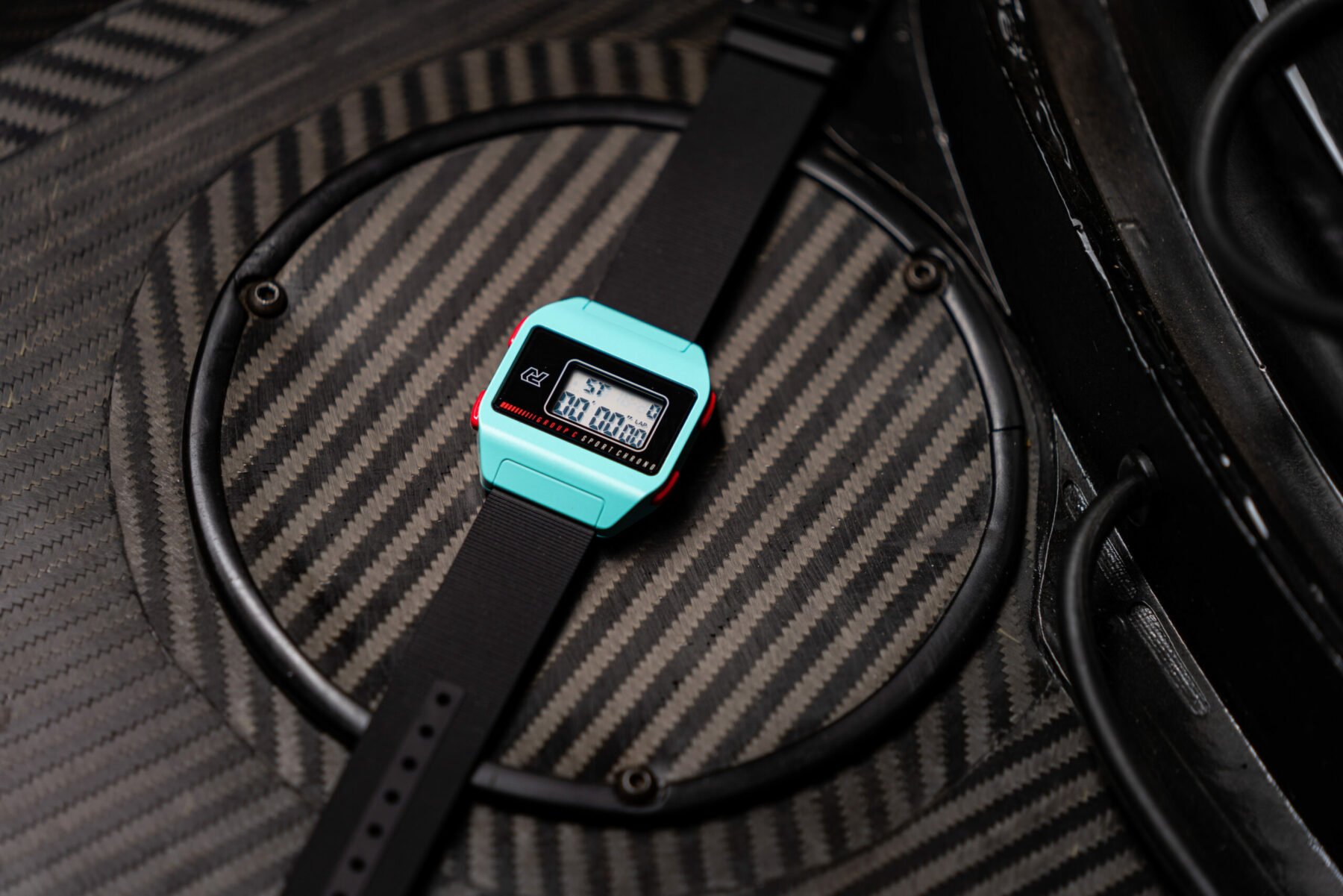 Evoking thoughts
Not too long ago, Thor asked himself if car-themed watches could be cool. He answered that with a firm "Yes!" I wholeheartedly agree with some of his picks. When there's more or less an invisible link to cars and/or motorsport, I'm on board — there's no reason to argue about the Laurent Ferrier Sport Auto at all. If the inspiration lies in the high-octane world of endurance racing, the brand subtly incorporates it, and the result is the vivid and period-correct-looking Autodromo Group C, I also have no problem. Better still, that watch evokes thoughts about cars like the Porsche 965, Peugeot 905, and Mazda 787B roaring through the dark during 24 Hours of Le Mans.
The Porsche Chronograph 1 75 Jahre Porsche Edition with its Fuchs wheel for a rotor in the back is borderline.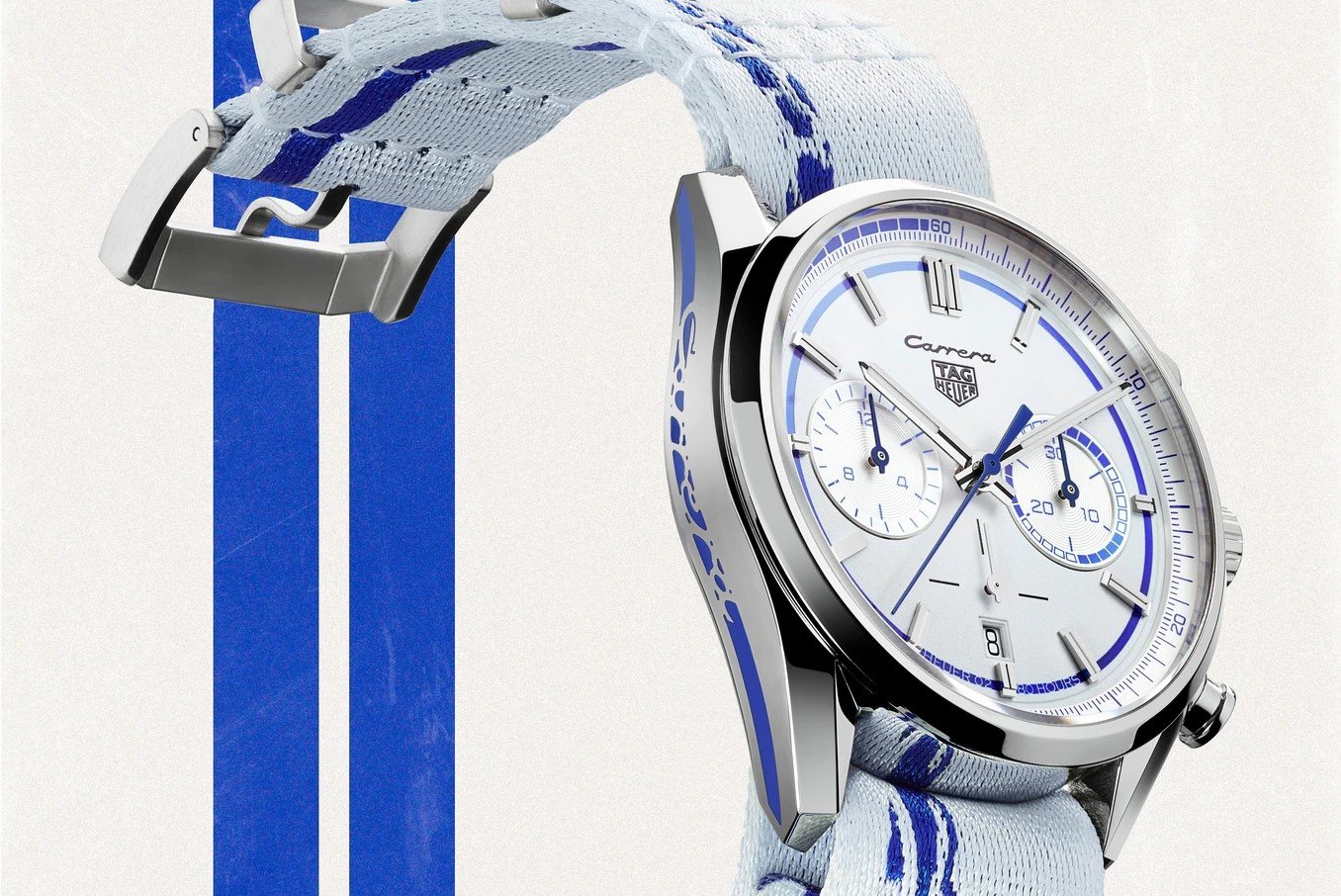 Another Porsche homage, the very white and blue TAG Heuer Carrera Porsche RS 2.7 in the colors of the famous 911 Rennsport from 1972, is just too much for my taste.
Racing overalls for a strap
Way wilder uses of car parts and details were seen in the past from brands like Audemars Piguet. The brand made a range of wild watches linked to Formula 1 drivers like Rubens Barrichello and Michael Schumacher, and it all started in 2005 with the Royal Oak Offshore Montaya Limited Edition ref. 26030. The watch shows, among other car-related things, a carbon fiber bezel, a brake-disc-inspired vented rotor, a special Méga Tappiserie dial with a checkered-flag pattern, and a strap that mimics racing overalls.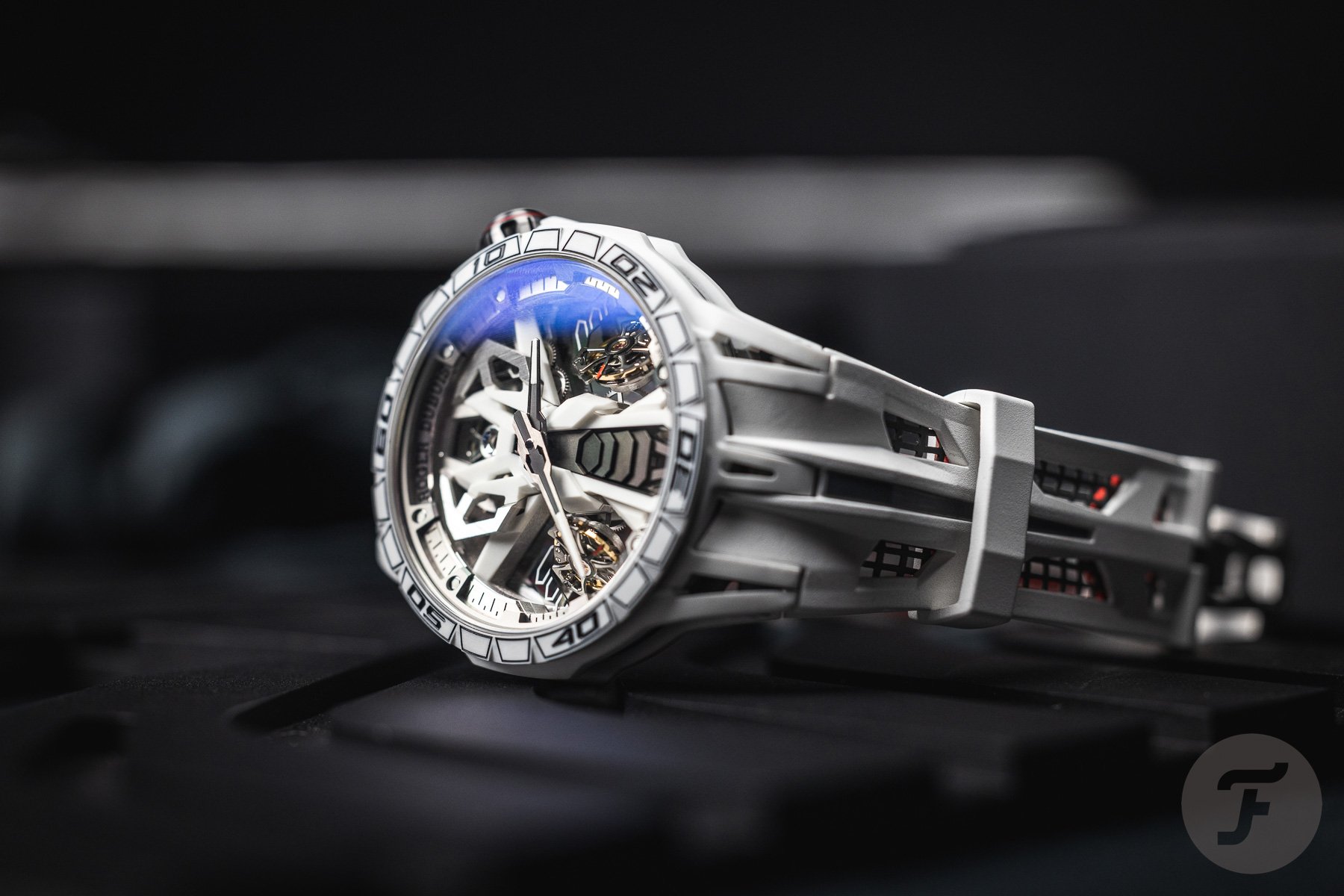 The Roger Dubuis Excalibur Spider Countach DT/X translates its inspiration very literally. It is a fascinating 47 × 16.45mm object due to its wild shapes and striking pearlescent Bianco Siderale appearance. But when you look at the double-tourbillon watch from a rational point of view, things change. The black diagonal lines on the open-worked dial resemble the hood and the rear engine compartment. But because it's miniaturized, it doesn't have the same visual impact by a long shot. The Excalibur is already a very exuberant creation. By adding outside design elements, the watch leaves the world of horology and becomes more of an objet d'art that's just there for your visual pleasure and nothing else.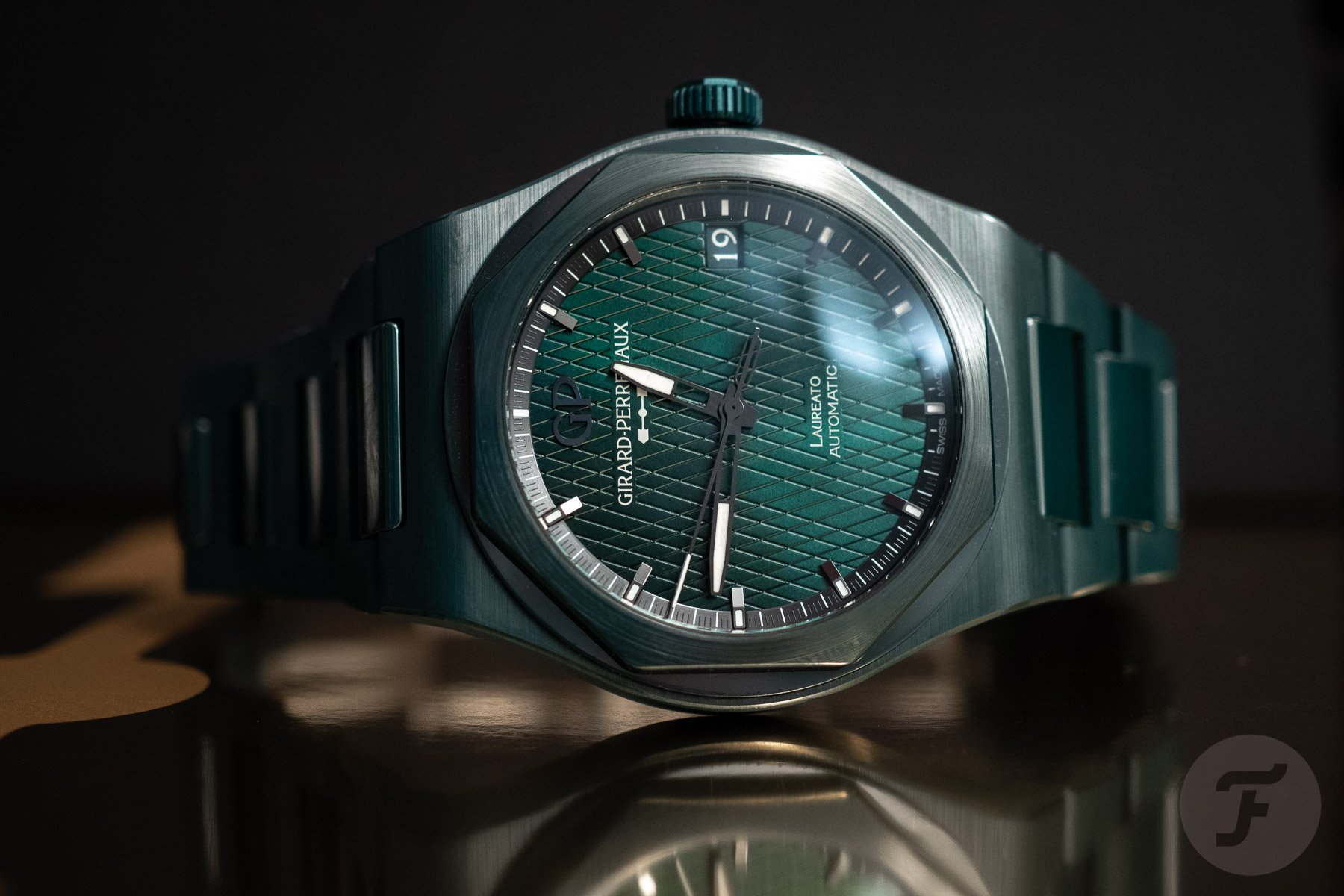 The very recent Girard-Perregaux Laureato Green Ceramic Aston Martin is a bit more subtle. Still, the watch features the Aston Martin signature cross-hatch across the dial, as seen on the seat stitching of classic Aston Martin cars. There's also the fact that this new Laureato has a completely green ceramic case and bracelet. Another nod to Aston Martin's branding is the subtly integrated "side strake" on the central seconds counterbalance. It's a striking visual element of classic and modern Aston Martins, but no matter how subtle a grille or a stitching pattern is integrated into a watch design, I find it all very gimmicky.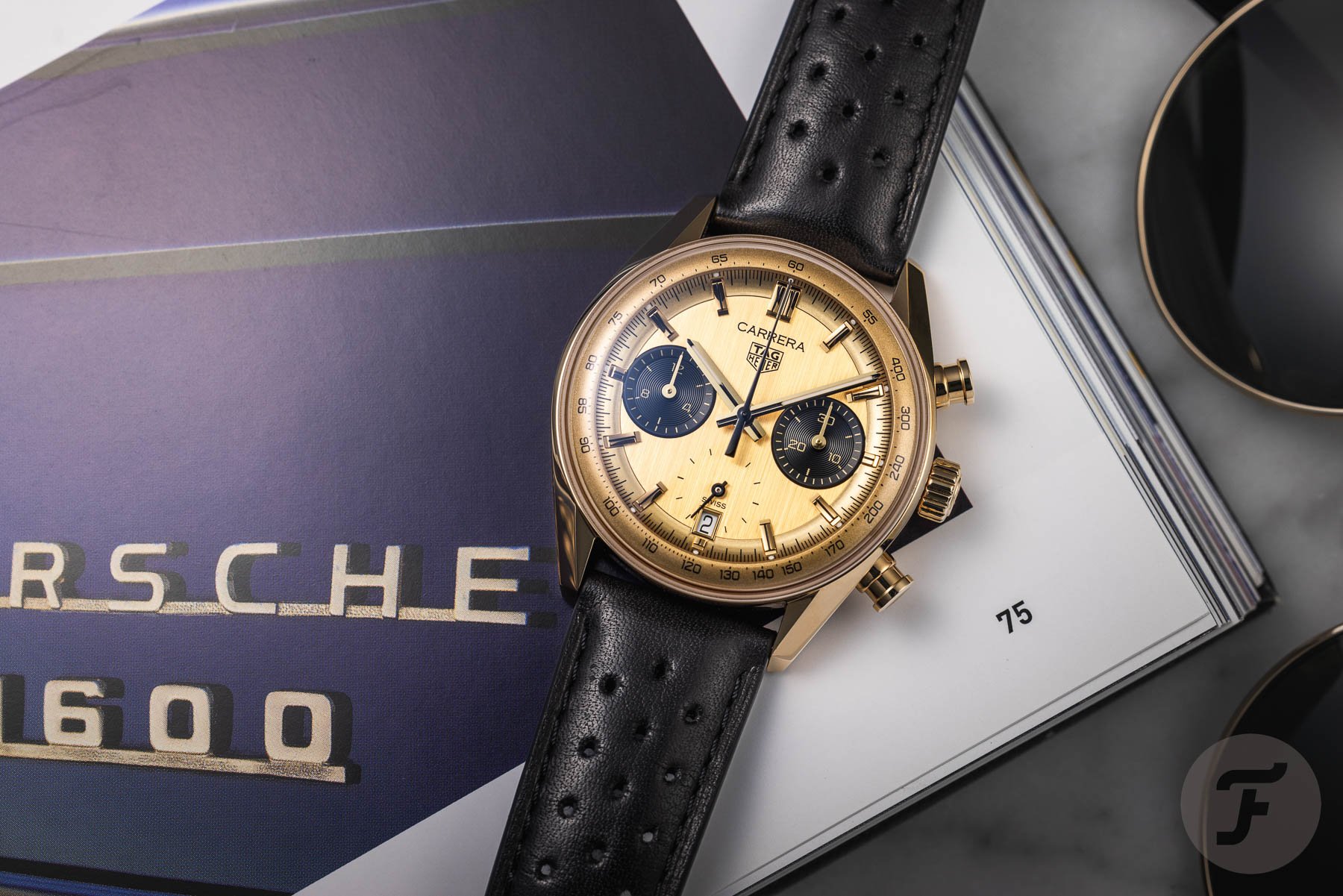 Natural causes
There is an undeniable link between cars and watches — many different links, actually. Watch enthusiasts often also have a love for watches and vice versa. In the past, stopwatches and chronographs played an instrumental role in motorsports too. It gave us watches with names that leave nothing to the imagination, such as Daytona, Carrera, Monaco, and so on. The Carrera Chronograph Glassbox "Golden Panda" is unmistakably a "car watch," but that's not because of in-your-face details. Rather, it's because of the Carrera's backstory. The latest precious-metal Carrera is inspired by the 1970s gold Carrera 1158 CHN worn by Heuer-sponsored Ferrari F1 drivers. And not just Ferrari drivers wore that watch. "Superswede" Ronnie Peterson drove for Lotus, but he still wore an 18K gold Carrera 1158 CHN.
Expand your vocabulary
Car terminology is also something that crept into watch lingo. I'm sure I've also used it in the past. In a way, this is a mea culpa. But I promise that I will try harder not to use phrases like, "Under the hood of this watch, you'll find an in-house engine." A movement is neither a combustion nor an electric engine, although it moves hands. And a mainspring barrel is not a fuel tank, a case is not a chassis, a crystal is not a windshield, etc. These comparisons are too easy and also are a one-way street. When you look at a large V8 in an American muscle car, you don't comment on it by saying, "Now that's a good-looking caliber!"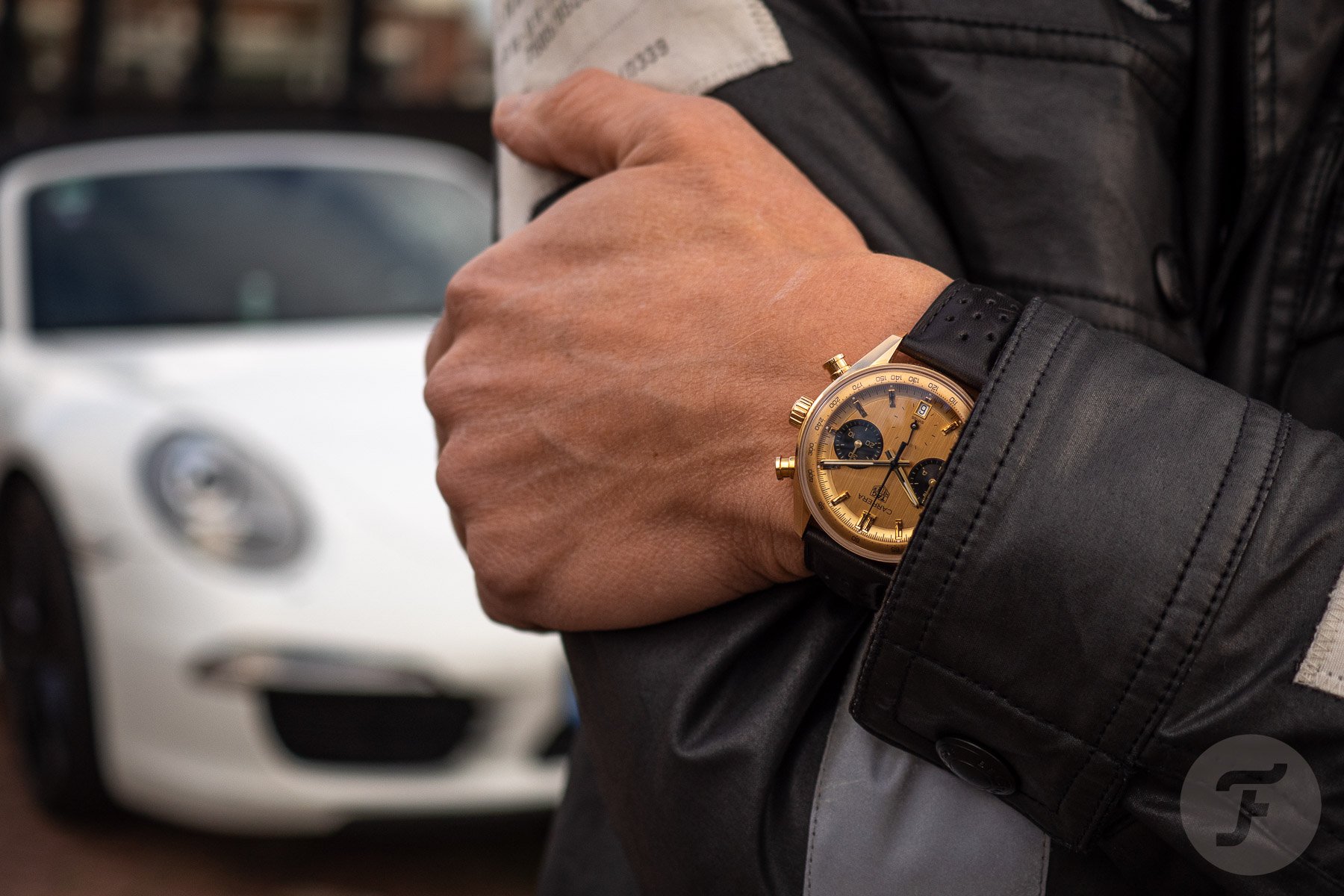 No more car analogies — start talking "watch"!
Watch brands have a way longer history than car brands. If we count time as an important factor in how we perceive things and talk about them, then people should be using watch analogies when talking about cars. From a historical perspective, it makes sense. What's also interesting is that the watch world as we know it is built on storytelling. Yet we still tend to use a "foreign language" when telling watch stories. It happens when writing about watches, discussing them, and presenting them too.
Not too long ago, I listened to the CEO of a watch brand talking about a slightly updated version of an existing model. He couldn't resist bringing up the Porsche 911 as the perfect example of evolution — apples and oranges if you ask me. When a comparison is necessary to prove a point, why not use an example from the world of watches? You don't even need to mention other brands if yours doesn't provide the right example. Talk about the evolution of wheels, for instance, although that might not sound all too exciting. But whatever you do, don't talk about a car. Car analogies must be put to sleep!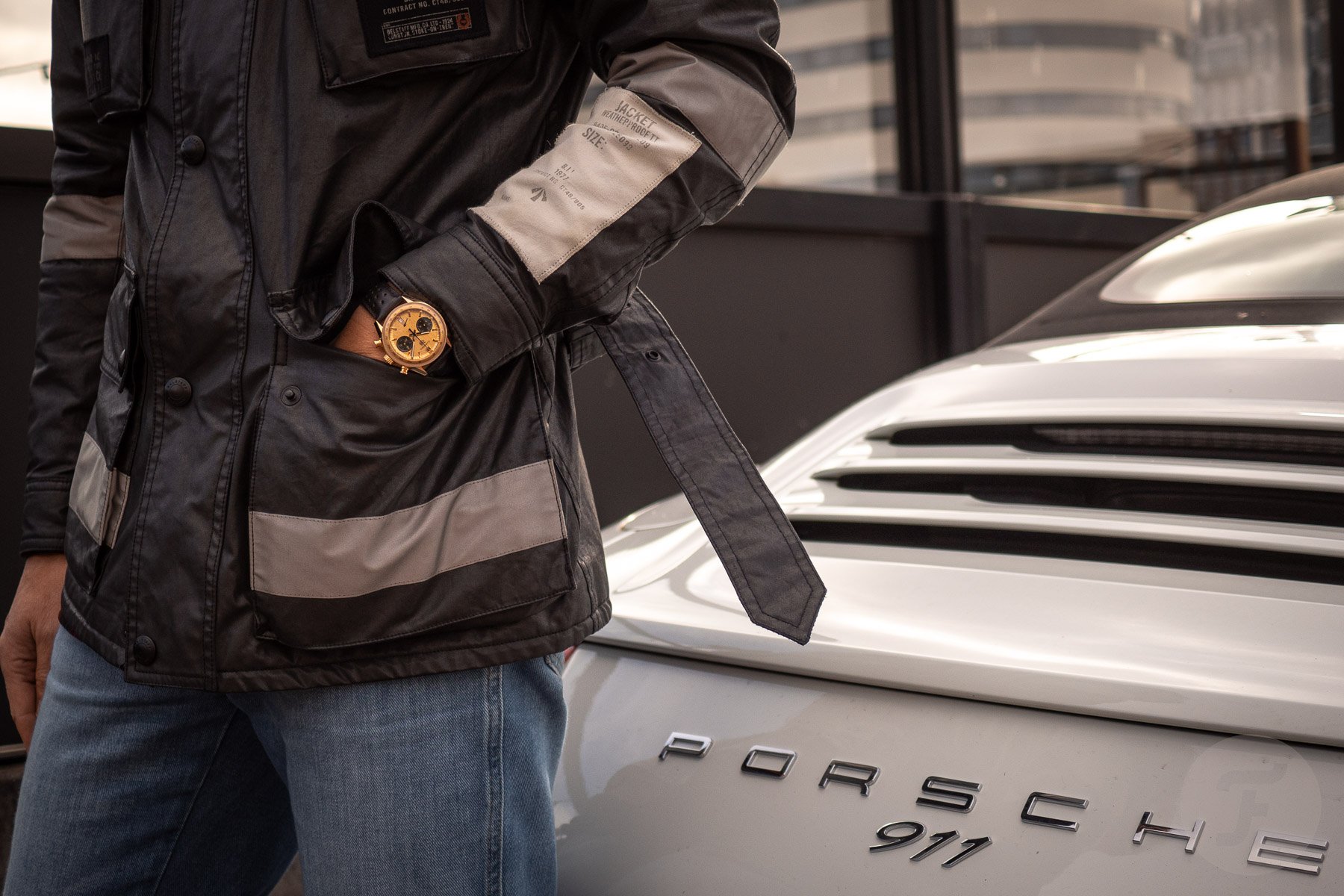 And that also applies to people who want to prove a point in a discussion about watches by comparing them to cars. In the end, comparisons between cars and watches are almost always flawed because you're comparing two different objects. Make your point by talking about other watches, even if it is way more challenging. Oh, and please also stop saying stuff like, "Patek Philippe is like the Rolls-Royce of watches." It is not. Patek Philippe is like the Patek Philippe of watches. End of rant. Have a coffee. Enjoy your day.