NOMOS Glashütte Club Campus Deep Pink And Blue Purple In 36 And 38.5mm
NOMOS lets its hair down and embraces the color rush!
One thing I love about this job is how diverse the watches we get to review are. Recently, I wrote about the new 10th-anniversary pieces from Bvlgari, celebrating the iconic Octo Finissimo line with a pair of monochromatic masterpieces. Funnily enough, those models came from a brand known for some of the industry's most ostentatious pieces found in its Serpenti line. Today, NOMOS Glashütte, the famous Saxon independent, is bucking its penchant for producing Bauhaus classics in a pared-back palette in favor of another brightly colored release. Hot on the heels of last year's orange and gray models, we have a new duo of Club Campus models in Deep Pink and Blue Purple in both 36 and 38.5mm sizes. Rejoice.
To say NOMOS Glashütte hasn't earned its stripes in the arena of color would be grossly incorrect. In fact, despite the brand's chromatically uncomplicated core, NOMOS has been one of the industry's leaders in the field of flare. Historically, NOMOS has preferred to use its fringe collections to experiment with color. The square Tetra line is frequently refreshed with new tones. The unusual and oft-forgotten Lux collection (NOMOS's only family that remains exclusively gold) has the Zikade and Zobel models within its ranks. But, in recent times, pops of vibrancy have made their way into the typically quieter families.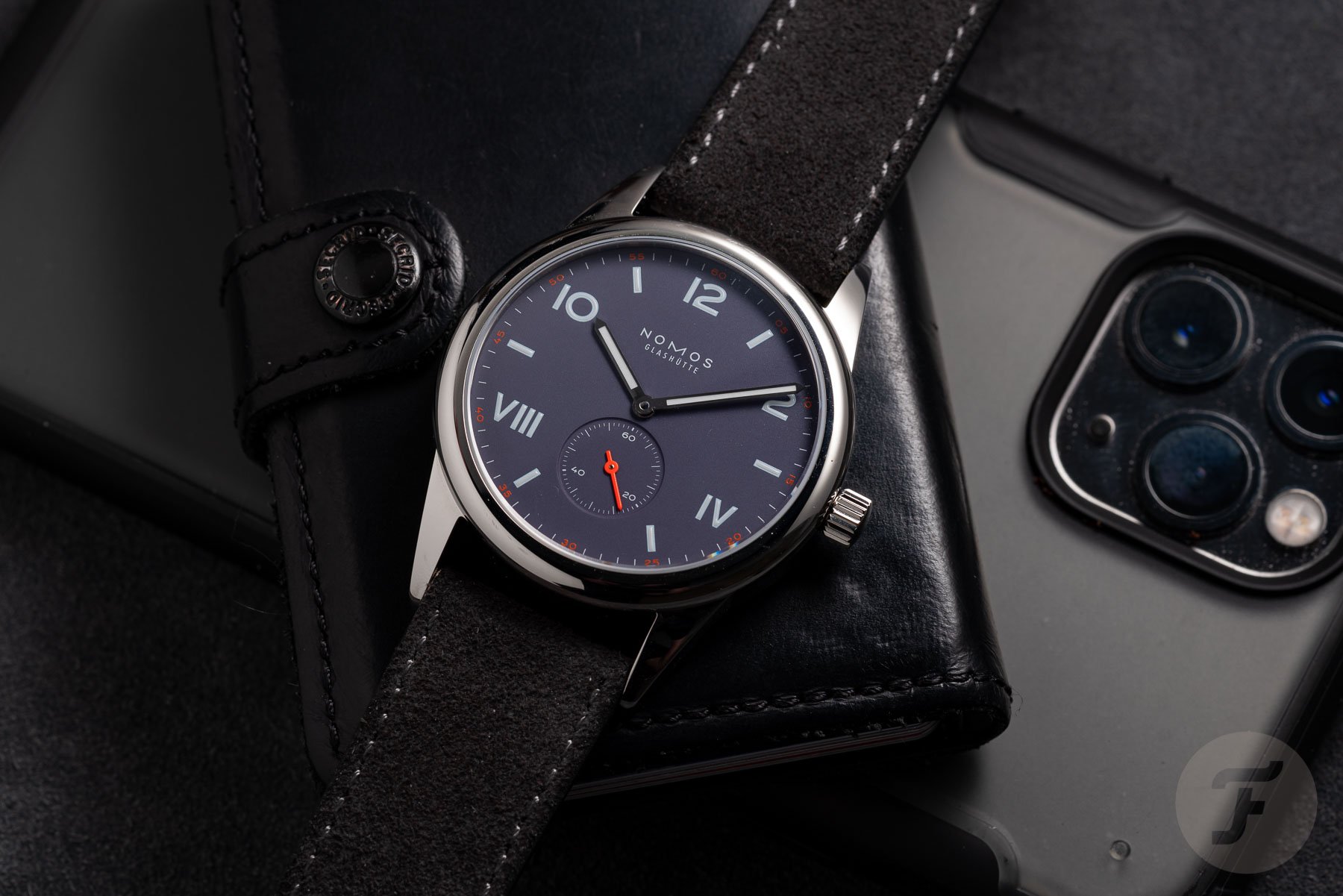 A history of violets
The Metro line launched with reference 1101. That model became a hero for the brand. Its asymmetric layout and mint green/red power reserve indicator was frequently chosen as the poster boy of a new age. It was quintessentially NOMOS and yet, somehow, it was "other". It was wild and ambitious in a way the core models rarely threatened to be. Quietly, it spoke to a future of aesthetic experimentation that NOMOS has now fully embraced with its most youthful collection, the Club Campus.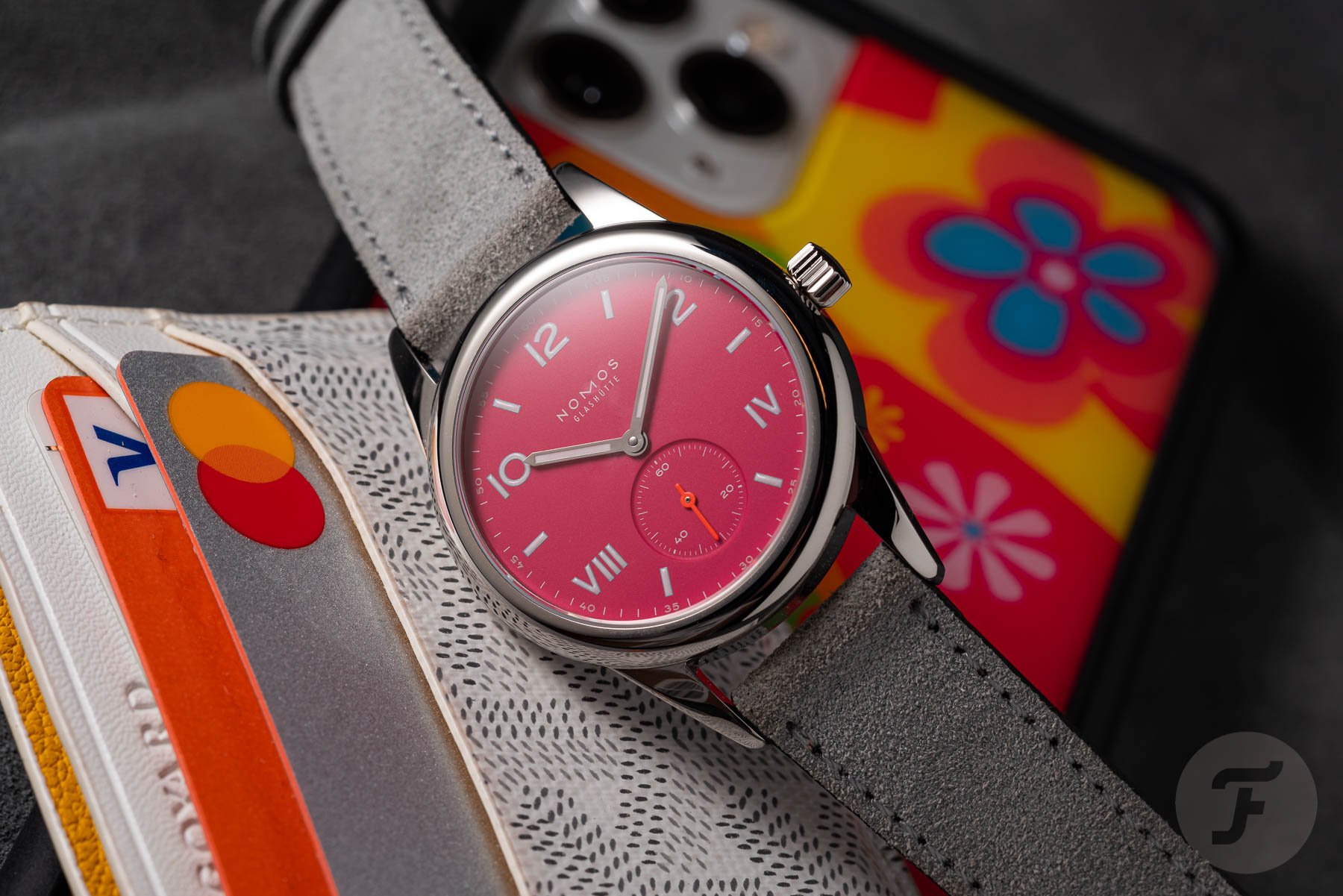 A prideful endeavor
A couple of years ago, in mid-2020, NOMOS released a six-watch capsule collection for Cool Hunting. The watches, each with brightly colored dials inspired by the rainbow flag, would garner $100 per sale for the Trevor Project. Additionally, these pieces were all from the Club Campus collection. It was that capsule release that really stuck out in my mind as the gamechanger for the Campus.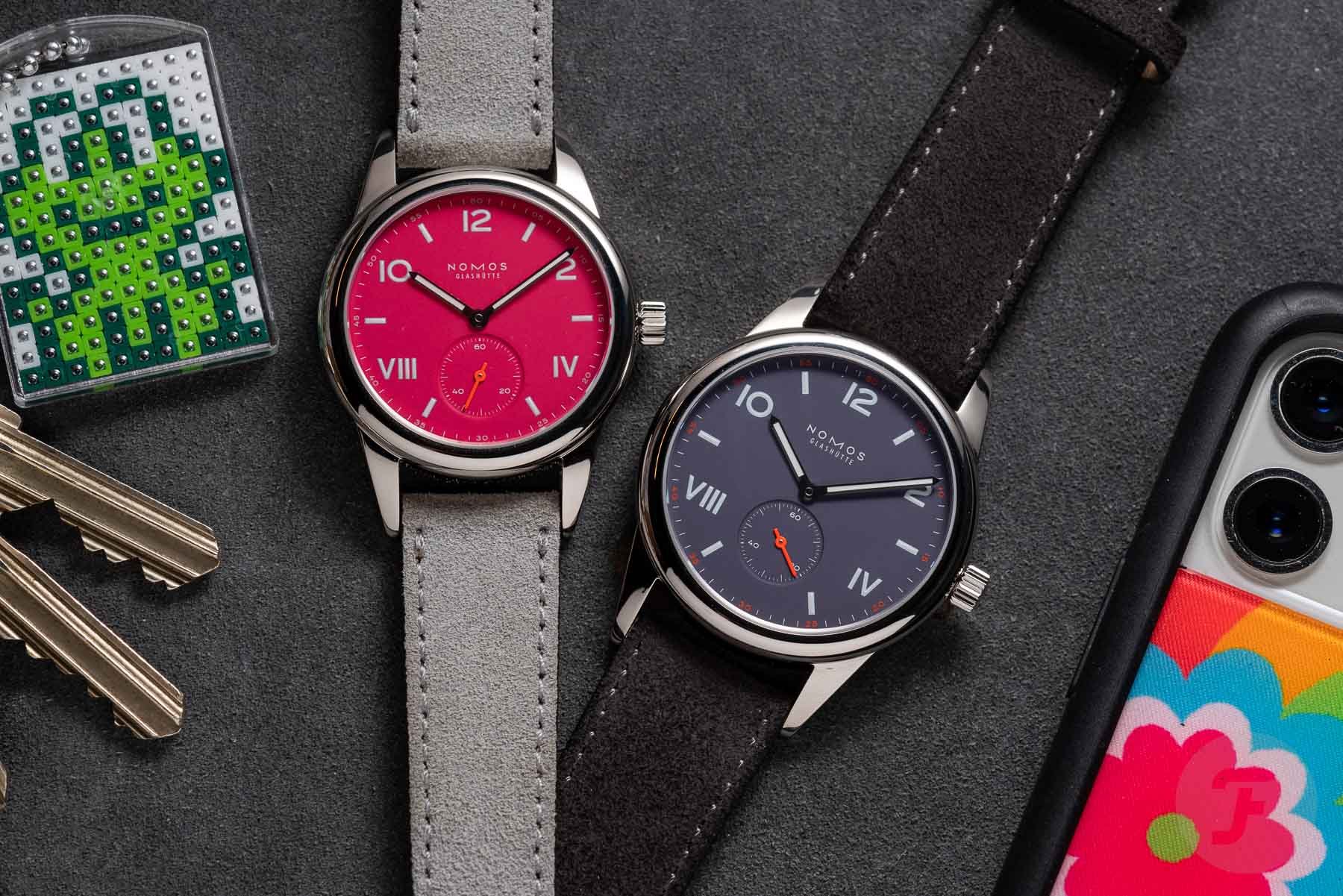 When NOMOS debuted its Aqua theme in 2017, many were quick to praise the vibrant Signal Rot and Signal Blau dials (Siren Red and Siren Blue), but equally swift to condemn the prices of such playful watches (despite those prices being more than justified because of the in-house DUW 3001 movements within). There was much chatter then and even more since that the Club Campus line, NOMOS Glashütte's entry-level selection, would have been a better place to play with such out-there shades.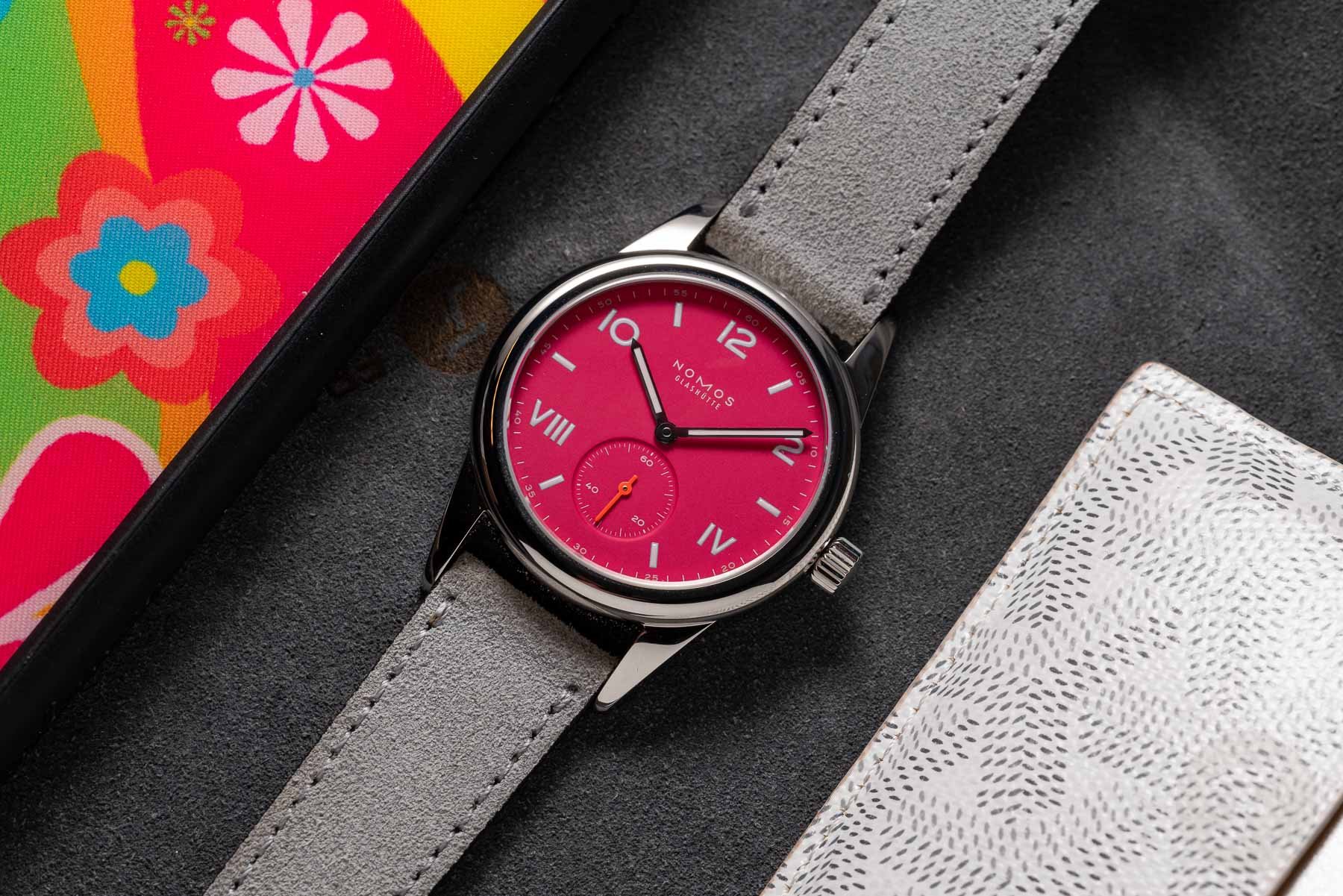 A vibrant vision
I remember having a very clear and sensible conversation with my friend Dale Vito Boom of Ace Jewelers in Amsterdam, in which he expressed exactly that sentiment. Dale, a regular Club 701 (I think) owner, said (something along the lines of), "That color's a lot of fun, but not at three or four thousand euros. That watch isn't a daily beater. It's an occasional piece. It's something special. Even if you're a collector, you don't need the DUW movements behind dials like that. If they put that kind of color in a Club for a little over 1K, I would buy one. And I bet a lot of other people would too."
He was right. I agreed with him at the time but wasn't totally convinced NOMOS would do it. In fact, I must admit, NOMOS has pleasantly surprised me in several ways since I left the brand. The release of a metal bracelet seemed impossible when I started working there in 2016. The fact it is not only a reality but also a reality several times over is remarkable to me. It was set in stone that the Lambda would never be steel. Thanks to the 175th anniversary of watchmaking in Glashütte, that changed too. And I never thought the wild color experimentation would bleed out from the Tetra family and reach the Club. And yet, here we are. What a time to be alive!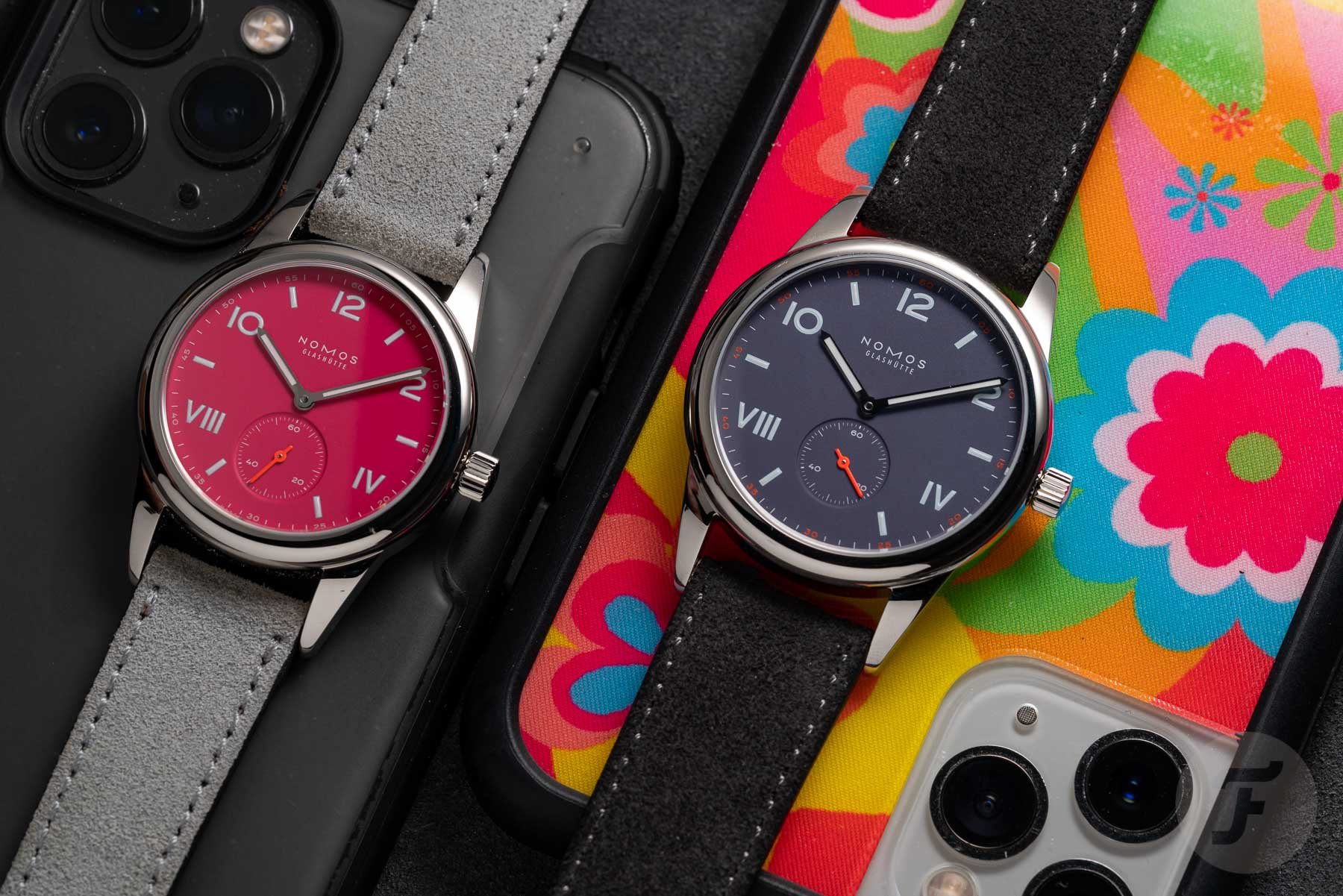 Who wants pink and purple dials? Who doesn't?
If you'd asked me a week ago what colors I'd like to see on NOMOS dials this year, I probably wouldn't have said pink. I might have said purple at a push, but I would have been imagining a richer, more palatinate shade. Similarly, if you'd have said pink, my mind would have gone for a dustier, more muted shade as seen in the Tetra Divine Spark. NOMOS flipped the script and gave us a vivid fuchsia pink and a dusty Blue Purple that really (and I mean really) deserves a second look.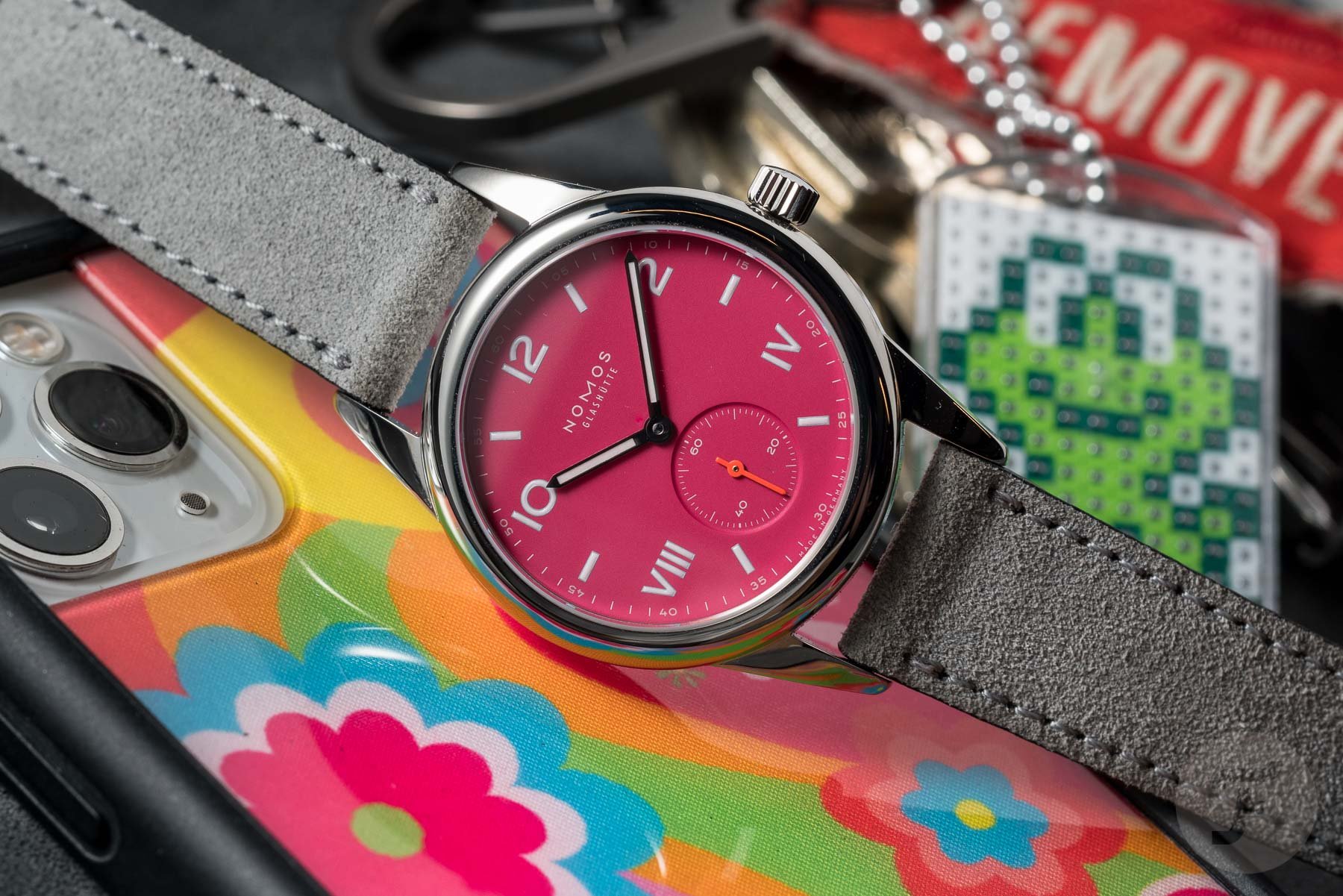 I'll be straight-up: my favorite color here is the Deep Pink. I just don't love the way it coordinates (or clashes, if you prefer) with the orange seconds hand. As you know, I love a bit of orange, but here, for me, this one jars a bit. When it comes to the Blue Purple, however… Man, that's the kind of color combo I would go to the ends of the Earth for.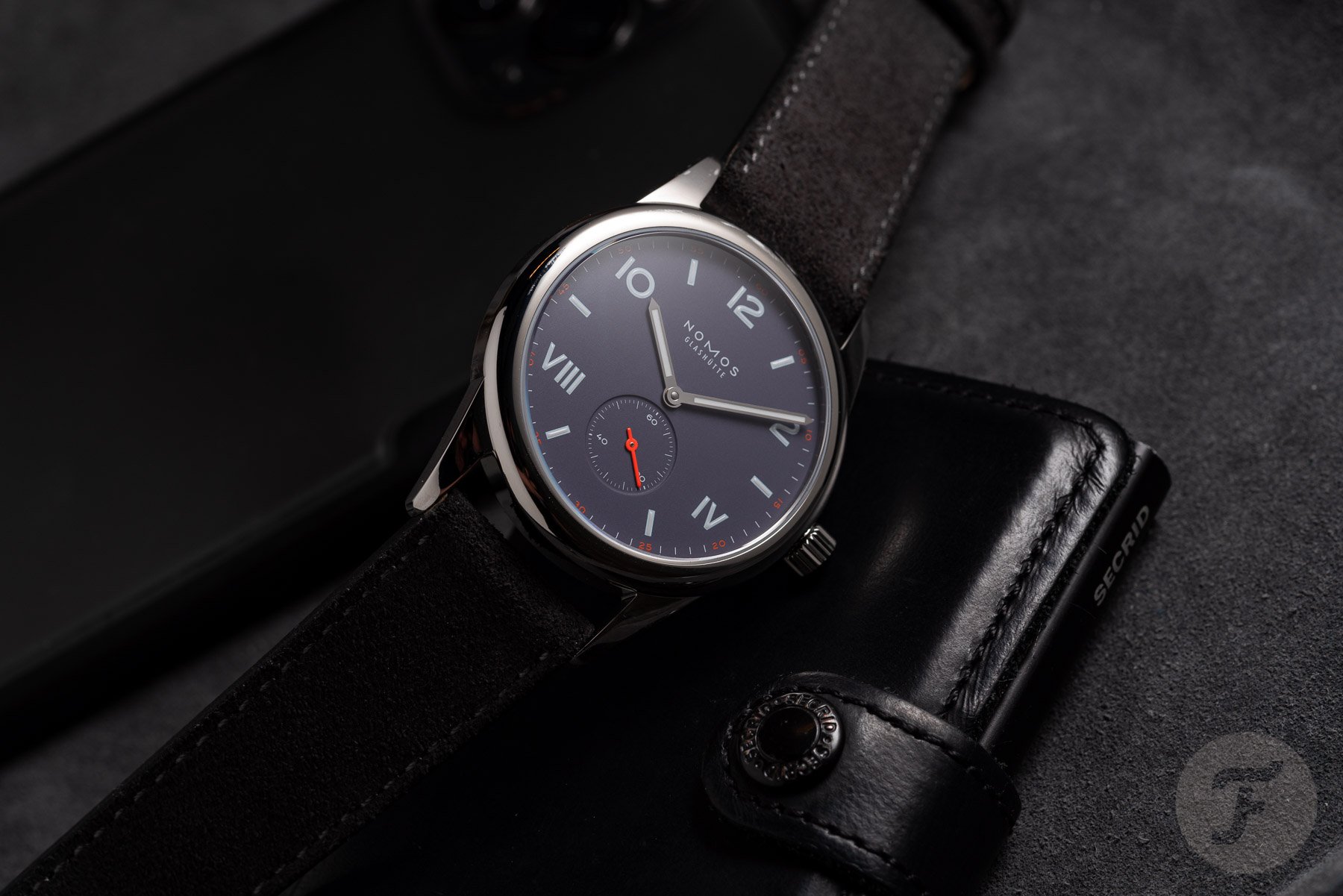 And you know what? Perhaps the best thing about it is that despite its total novelty, its depth and interest, and the likelihood it won't match a damn thing you're wearing, it's somehow versatile. It isn't too loud to ruin a suit. It isn't too quiet to get lost at the end of a bare arm. And, perhaps most oddly of all, it comes across as a truly unisex color.
A one-watch collection?
In this industry, we often talk about a "one-watch collection". If you had to distill your watch stable down to one piece (or grow it from zero to one), what would that single model be? What is there that could satisfy you at all times? What kind of watch could be everything you need it to be and then just enough more to keep you coming back to it time and time again? For a while now, the Club Campus has been one of those models that could be just that. These models are made of stainless steel, come in both 36 and 38.5mm diameter, have a 100-meter water resistance thanks to a double-gasket push-down crown, and provide a perfectly sufficient 43-hour power reserve derived from a 3Hz manually-wound mechanical caliber, which is hidden behind a closed case back on these four references.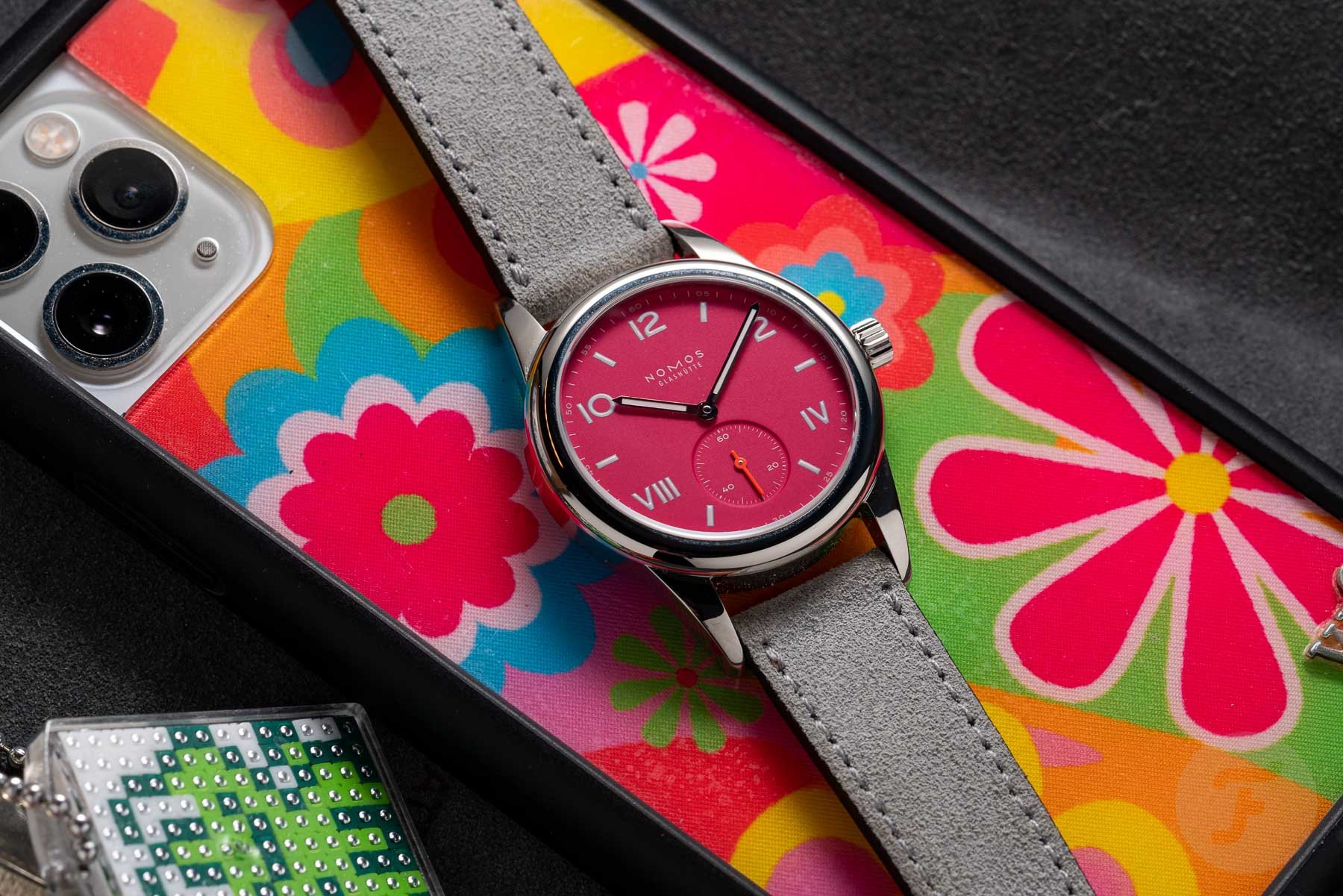 With retail prices starting at €1,100 for the 36mm models (reference 711 for the Deep Pink and 713 for the Blue Purple) and rising to €1,200 for the 38.5mm pieces (reference 728 and 730 respectively), you can't go far wrong. If I were buying one of these pieces for myself, I would, as a 36-year old man with 16.5cm wrists who owns both the 36mm Club Campus and the 38.5mm Club Campus Amsterdam already, buy the 36mm Blue Purple, and regard it as a welcome addition to a collection that can not currently boast a color anything like it. Learn more about NOMOS Glashütte here.