New Release: Norqain Adventure Neverest — A Trio Of Hardy Adventurer's Watches Suitable For Everyday Use
Three bold divers in support of a worthy cause
I don't know about you, but I love a good dive watch. In fact, looking at my collection, I clearly can't get enough. But there is a point when you look down into your watch box and see only black dials and bezels staring up at you that your appetite starts to fade or shift. There really is no reason to limit yourself to the standard black-on-black, especially when brands like Norqain are bringing you exciting new takes on this familiar format, as they do with these three new offerings in the Neverest line.
The latest press release from Norqain will come as great news to all those looking to expand their collection in a fresh and exciting direction. If you find yourself having satiated your dive watch hunger, think of these as the light palette cleanser that will bring back your appetite. The new Norqain Adventure Neverest offerings come in three different tasty flavors and two tantalizing textures.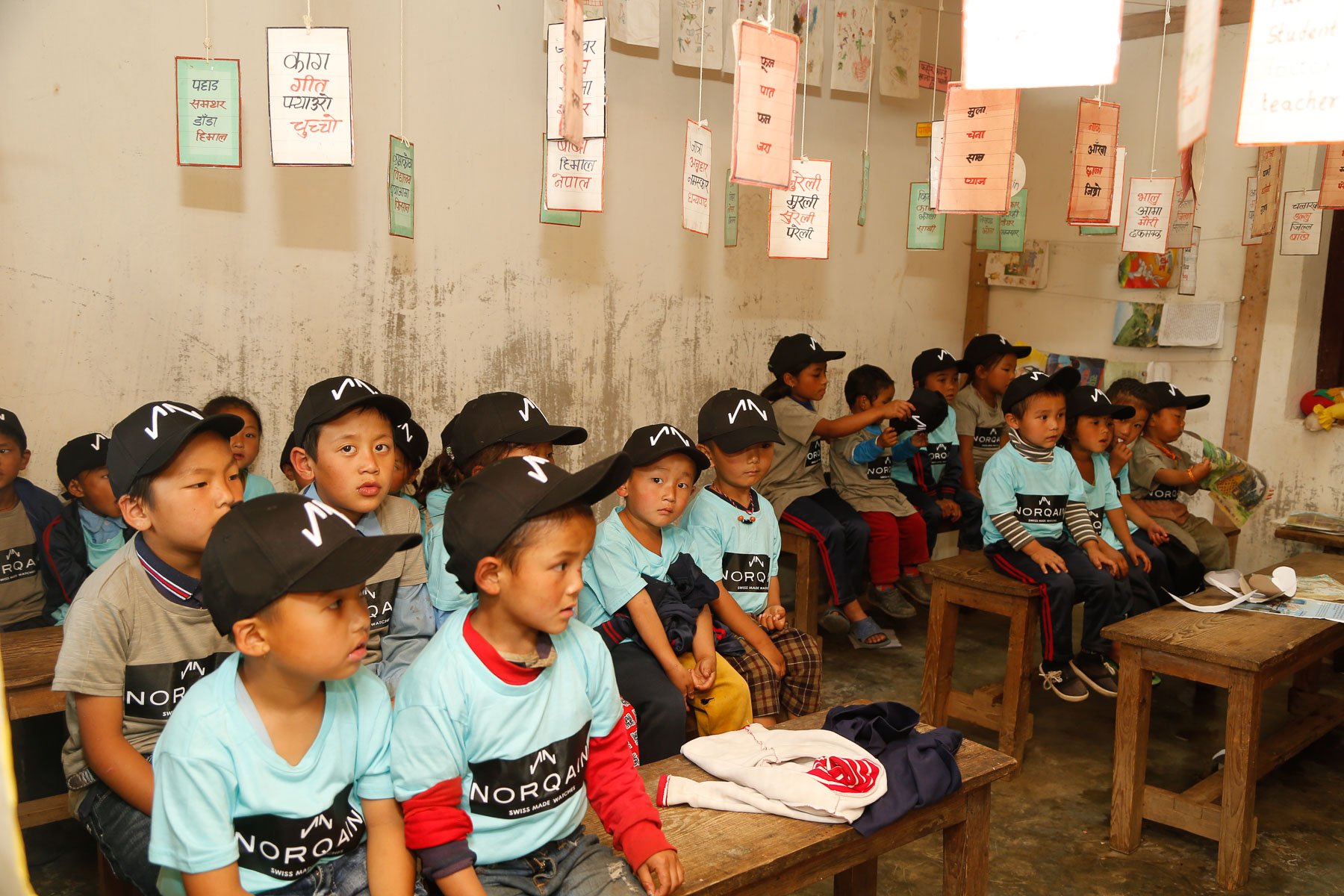 A cause worth supporting
Before we jump into the watches though, let's have a look at the more than worthy cause that Norqain is supporting with the release of these three Neverest models. Anyone who purchases one of these timepieces will be making a contribution to the Butterfly Help Project. Ten percent of the earnings to be precise.
Founded by Norbu Sherpa and Andrea Sherpa-Zimmermann of Wild Yak Expeditions, the Butterfly Help Project aims to help support the families and children of Sherpas who have lost their lives in the Himalayan mountains. Primarily by helping give their children access to education. Norqain has expressed their support for the project, pledging to send 50 children to school, as well as support them over the coming years. This is in addition to their support of the Butterfly Help Project through the sales of the Neverest watches.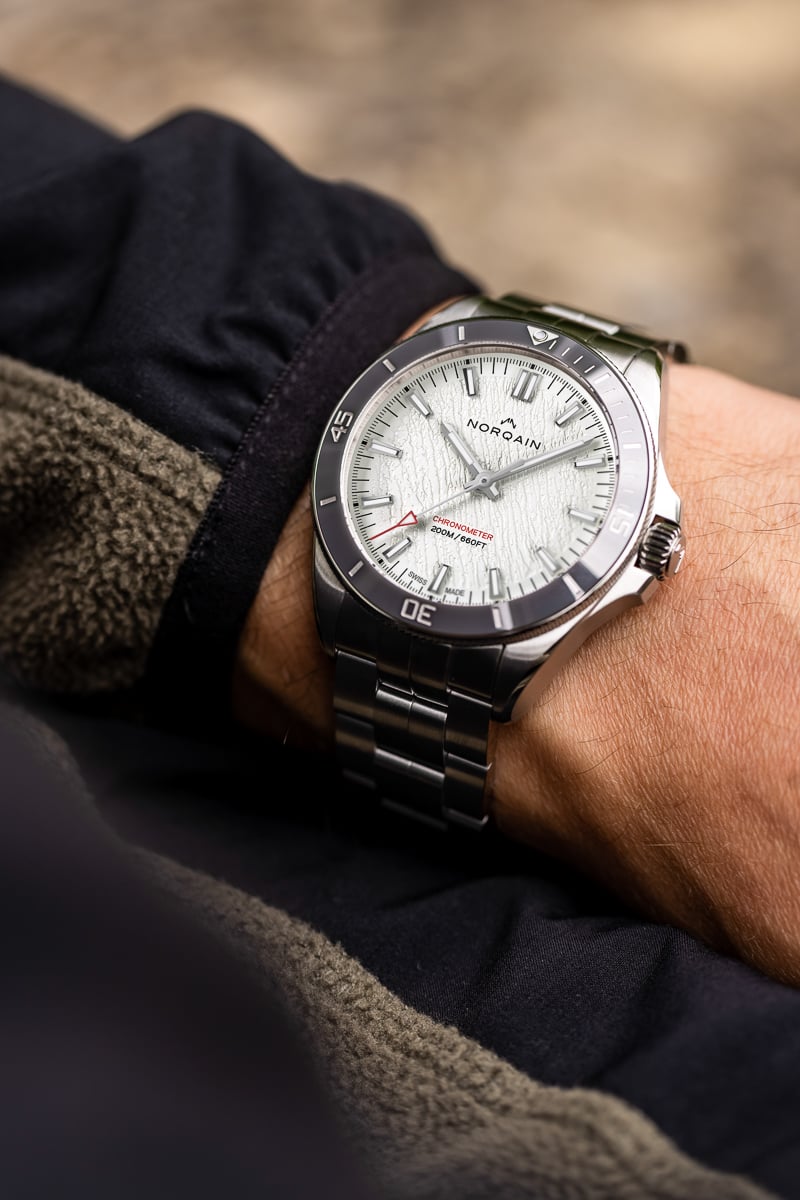 Norqain Adventure Neverest Glacier
The first of these three watches, and probably my favorite, is the 40mm Glacier model. It features a wonderfully textured white dial, which takes inspiration from the jagged crevasses of Khumbu Icefall. Those of you more versed in Everest knowledge will recognize this as the most dangerous stage of the climb. The icy dial is warmed by the red accents found on the arrow tip of the second hand as well as the printed "chronometer" text at the 6 o'clock position.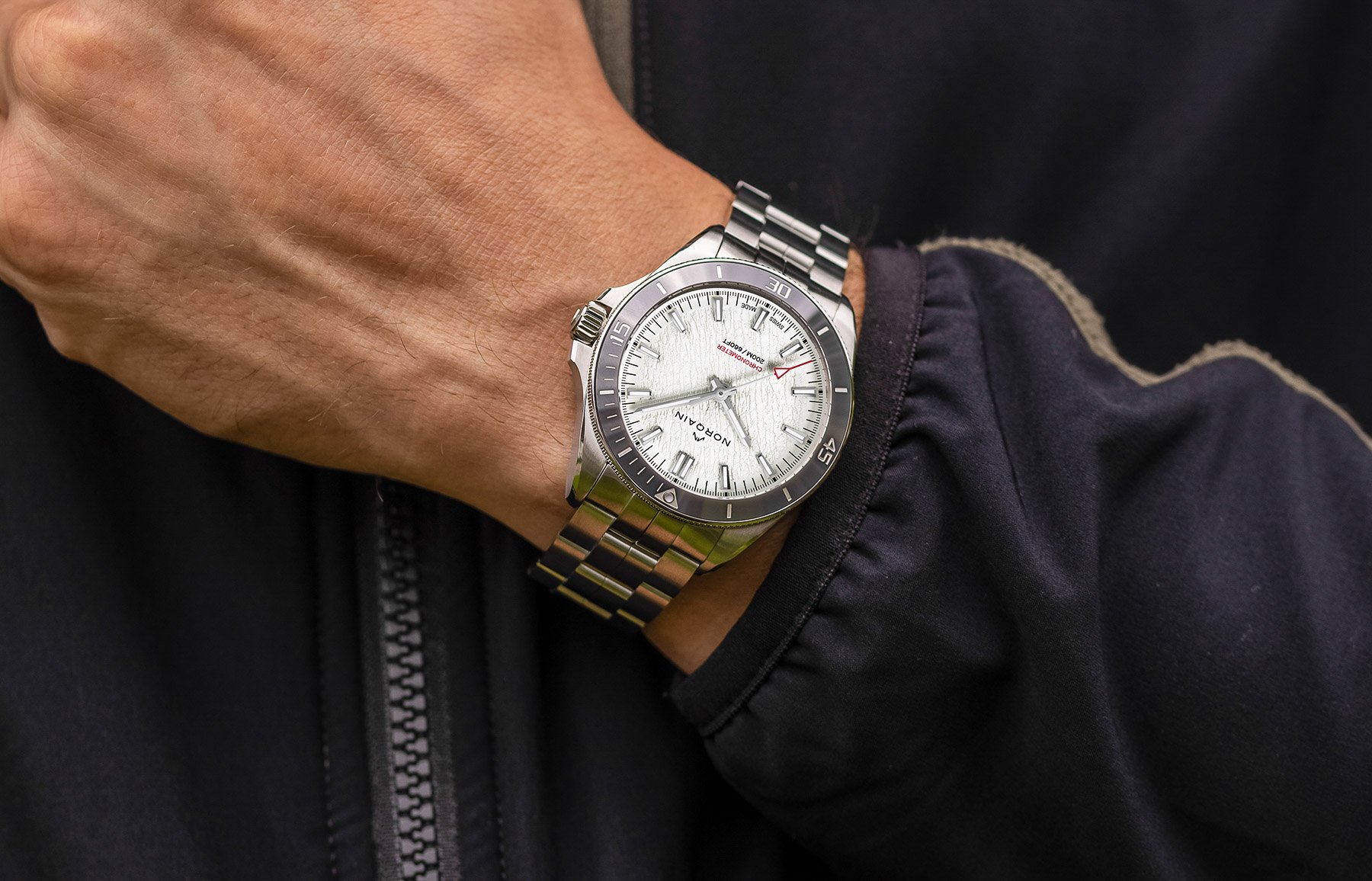 This model is available on a matching steel bracelet, as well as on a textured rubber strap and a flexible fabric strap. Prices start at CHF 3,050 for the model on straps, and CHF 3,250 on the bracelet. They are powered by the Norqain Manufacture Calibre NN20/1, visible through a sapphire case back, and have the 200m water resistance you'd expect from any worthy dive watch.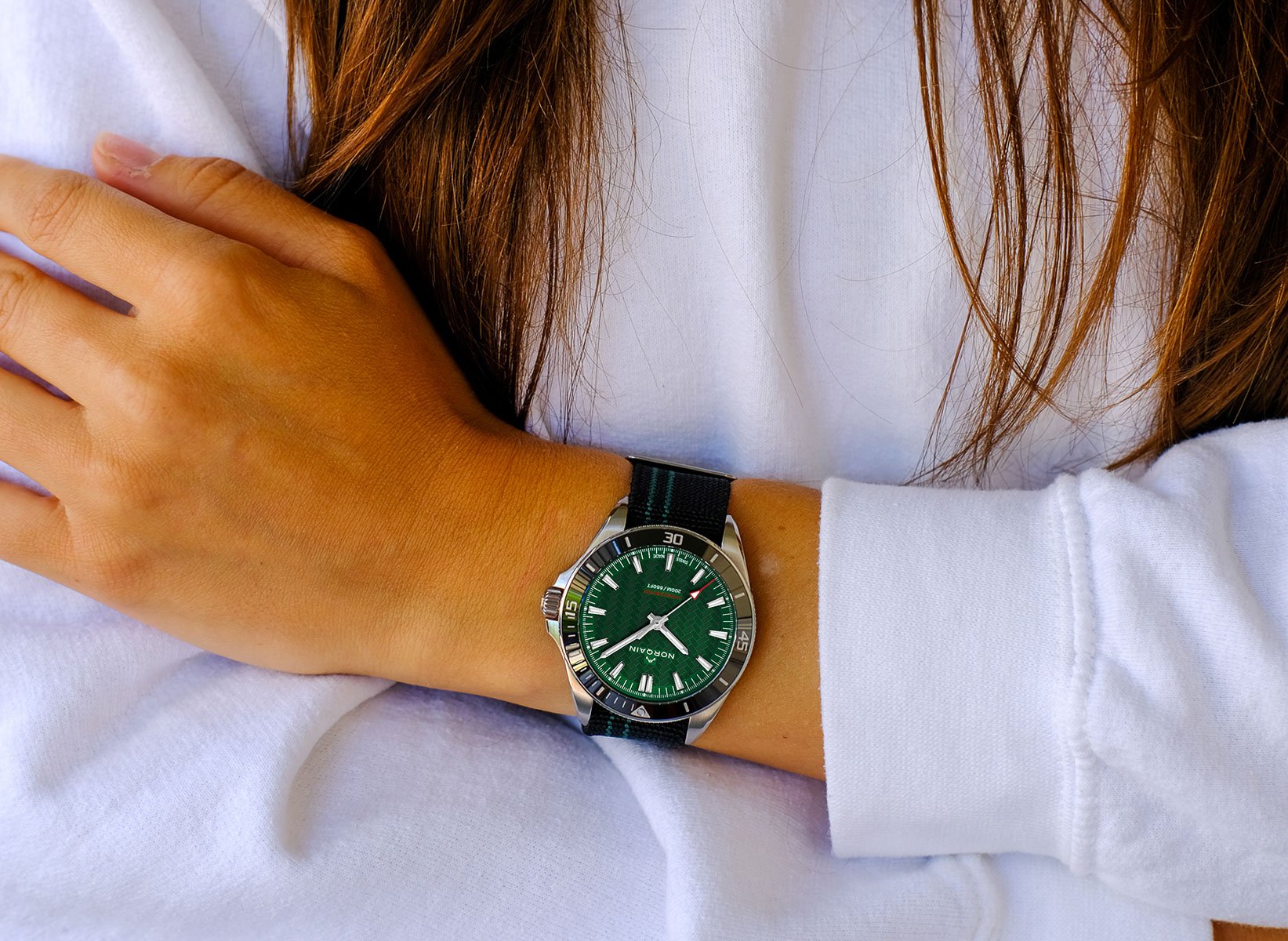 Norqain Adventure Neverest: bicolor and steel
Let's have a look now at the two further models of the Neverest on offer. They both feature the same movement, case, and 200m of water resistance. However, this time the dial has a completely different and very appealing texture. The green dial variant has an all-steel case, a black ceramic bezel, and also has the same red accents as the Glacier model. The dial's deep shade of forest green contrasts nicely against the black bezel insert. Prices for this one start at CHF 2,990 on the straps and CHF 3,190 on the steel bracelet.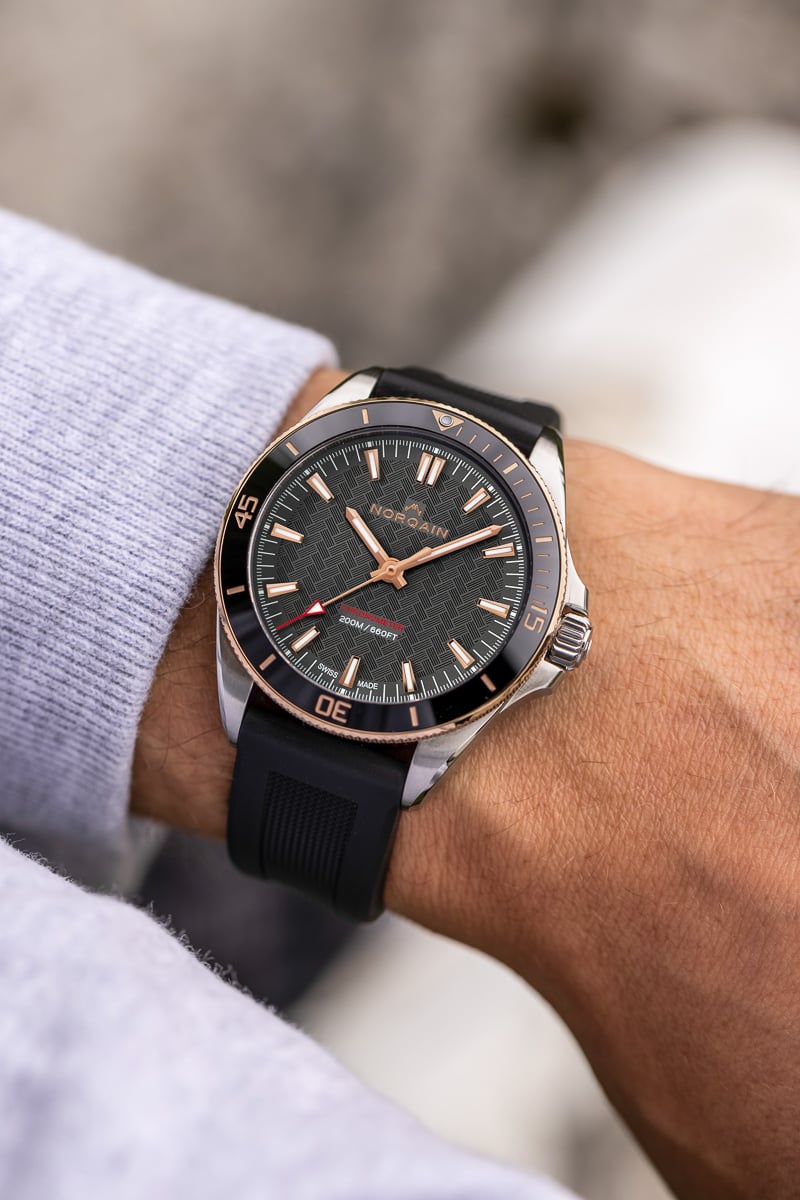 Now on to the final model, a limited edition two-tone model. Although more reminiscent of the ubiquitous black dialed and bezeled divers, this limited edition model is distinctively elevated by some selective rose gold elements. The hands, bezel numerals, and marking, as well as the X1 Superluminova-filled markers, share the rose-gold color. The unidirectional bezel, featuring a grippy knurled edge and a black ceramic insert is made of 18ct 5N red gold.
This two-tone model is limited to 100 pieces, individually numbered and indicated on the case back. Prices for this model begin at CHF 4,380 on the rubber or fabric straps, or CHF 4,580 for the steel bracelet, which features an additional security clasp.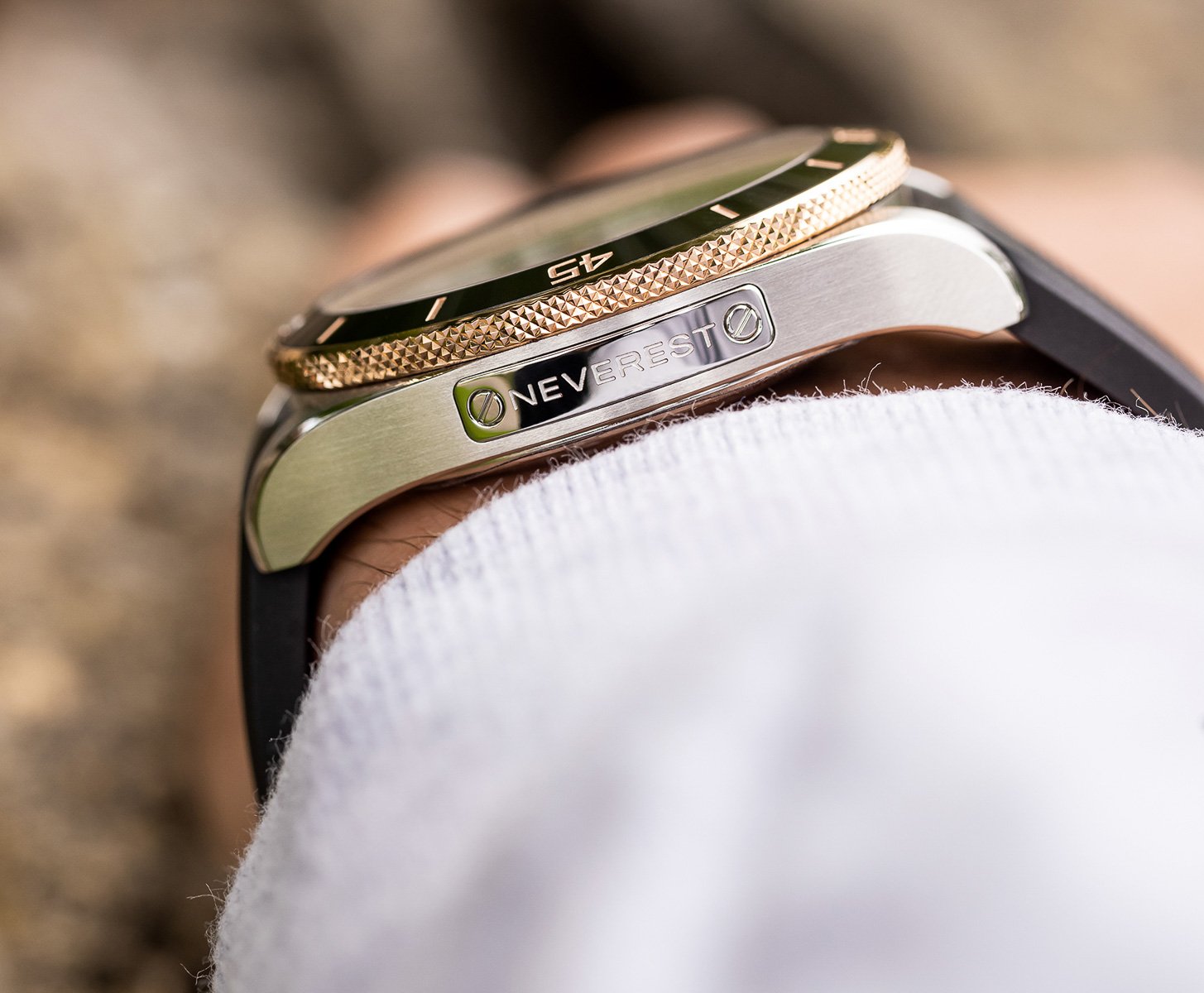 Final Thoughts
Overall, these new Norqain Neverest models are not just brilliant watches on their own, but they certainly serve as a great option for those looking to expand their collection with something different. Plus, in doing so you support a more than worthy cause. Though I'm pretty sure I know which of the three I'd go for, I would love to hear which would be your pick in the comments below.
Check them out on the Norqain website here.