Notable Sale: Heuer Autavia 2446C SN "panda"
Today is apparently vintage Heuer Autavia day on Fratello Watches, as we're giving you a double-dose (see our #TBT article on the Heuer Autavia 2446 "Jochen Rindt")!
In case you missed it, and you wouldn't be alone due to the lightning fast sale, hen's teeth were available on eBay earlier this week.  A so-called Heuer Autavia 2446C SN was listed at $20,000 and was apparently purchased by a prominent dealer with a best offer. Most pundits actually consider this an incredible bargain and potential values have been listed as high as $50,000! For those not familiar with Heuer coding, this is actually a panda dial on a compressor-case Autavia equipped with a Valjoux 72.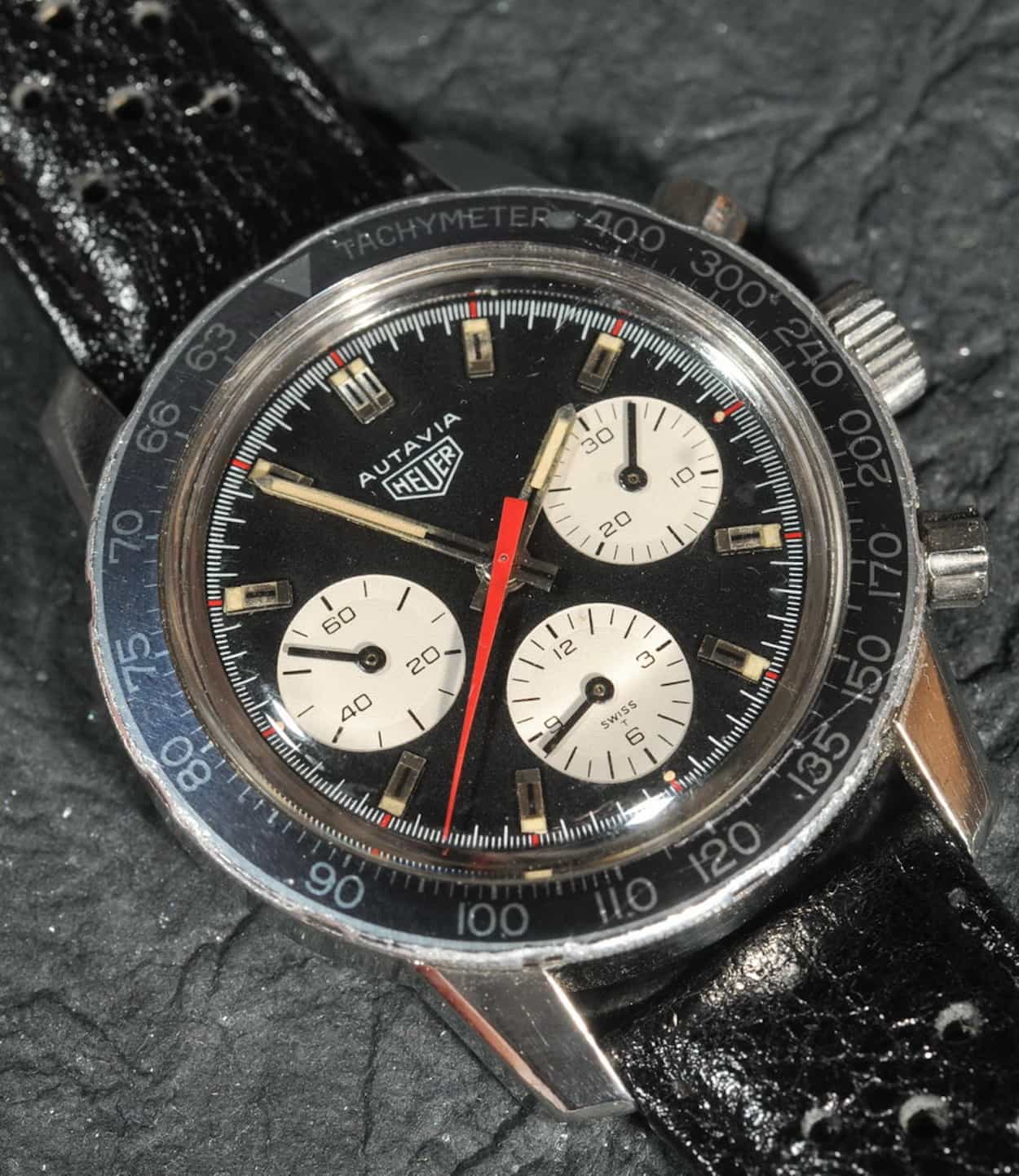 The common dial, of course, was a traditional reverse panda and is shown above courtesy of onthedash.com. According to a thread on chronocentric and some information added by both Jeff Stein and Abel Court, this seems to be the 5th known Heuer Autavia 2446C SN. Rare? Uh, yes. Controversial? Absolutely, and let's briefly talk about why…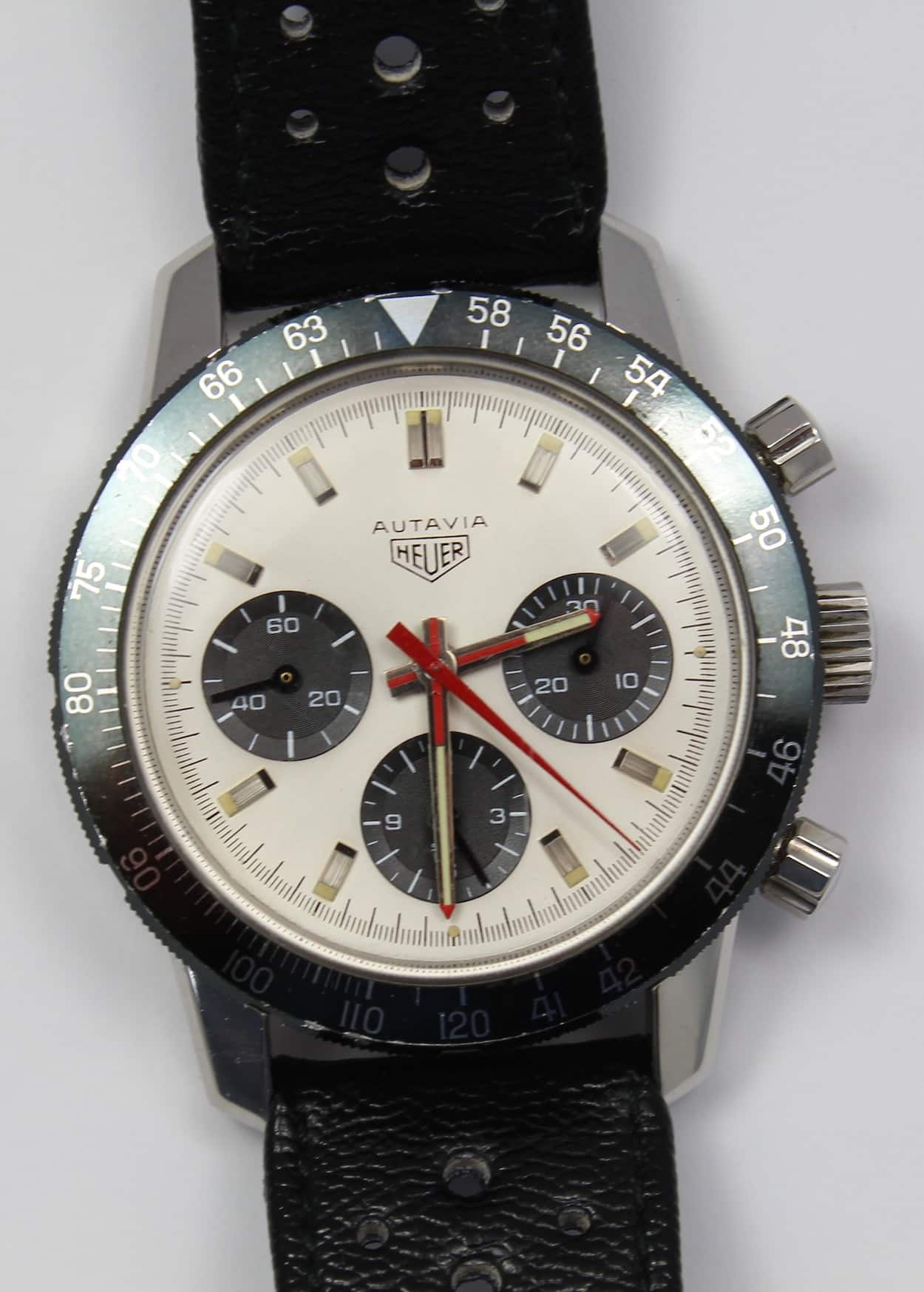 If you follow the thread on chronocentric, titled "What a crazy, crazy morning on the 'Bay", you'll note that several heavyweights have opined on the white dials. I won't recount all the details, but it's an interesting view.  There seems to be consistent agreement that Heuer in fact ordered these dials from Singer and that this piece has an authentic dial, but that no Heuer Autavia actually ever started life with a white dial. In fact, no one really knows what these dials are: prototypes, marketing materials, samples, etc. could all be possible reasons. Hmm…funny, in a vintage watch world so highly concerned with originality, this seems and feels like an aberration.
It should be noted that vintage Heuer is not alone when it comes to prototype dials. A quick jaunt over to the Rolex Passion Report shows plenty of pictures of prototype-dialed Submariners and Daytonas. One lovely thing about a supposed free market is that it ultimately decides the authenticity, and worth, of these dials and, so far, there seems to be a healthy appetite for pieces like the Heuer Autavia.
Personally speaking, I prefer to "dance with the one that brung ya"…meaning, I'm more loyal to the original intended designs, but I do understand the appeal of these oddities. For the completist collector, these pieces may represent the ultimate prize. For the traditionalist, perhaps heresy! It's just another wrinkle in this multi-layered hobby that provokes discussion and interest. For now, come to your own conclusions and check out the seller's pictures, but something tells me that we haven't seen the last of this intriguing Heuer Autavia 2446C SN.
2446C image is courtesy of onthedash.com
All 2446C SN images are from ebay.com posted by seller "jewelrybymarcus".