Hands-On Omega Seamaster Planet Ocean Deep Black Review
The Omega Seamaster Planet Ocean collection is over 10 years old. In this article we already gave you some background on the Seamaster and Planet Ocean in particular. A fact you should know is that in 2007, the models were slowly upgraded to Omega's in-house calibers (8500 and later on, in 2011, 9300). Other improvements were the use of ceramic for the uni-directional diving bezel. Last year in June, Omega suddenly dropped the ceramic bomb on the Seamaster Planet Ocean like they did on the Speedmaster 9300 series and called it "Deep Black". I was able to wear one for a few weeks, and here are my thoughts about it.
Omega Seamaster Planet Ocean Deep Black
Just a few months after BaselWorld, Omega introduced the Seamaster Planet Ocean Deep Black. A full ceramic version of their Planet Ocean diver collection. The success of the Speedmaster Dark Side of the Moon doesn't need much explanation, and it was only a logical step that the use of this material would also be applied to the Seamaster Planet Ocean. Available with red, blue and Sedna gold accents, as well as a full "Deep Black" version, the watch that I've been wearing for a couple of weeks.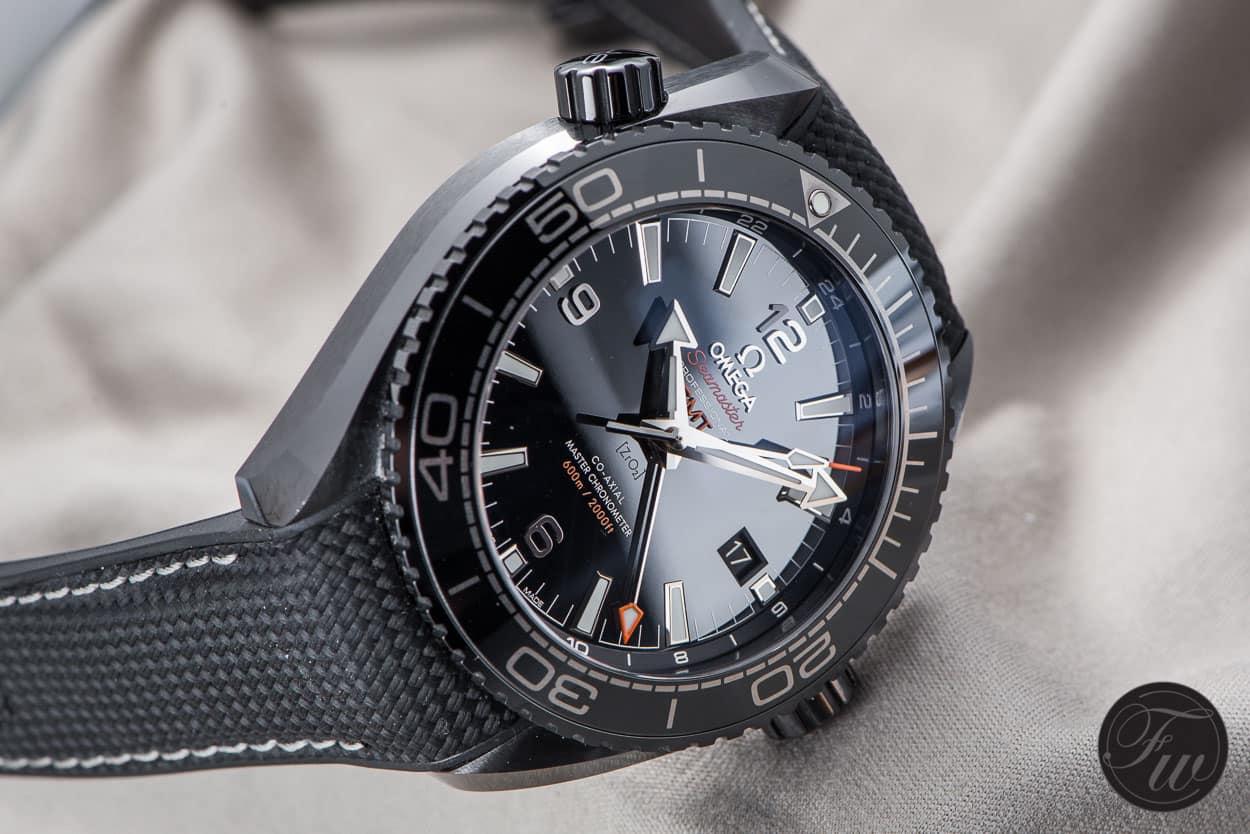 Although I have a couple of Seamaster watches in my own collection (vintage and a 1990s Seamaster Professional Chronograph 300M Diver in titanium), I never was able to pull the trigger on a Planet Ocean myself. Not that I don't like the Seamaster Planet Ocean, in fact, I do. But I concentrate mainly on their Speedmasters for my personal collection. I've once came very close in buying the Goodplanet GMT version of the Planet Ocean, as its size was perfect for me (43.5mm) and I simply liked the Goodplanet project. But somehow another Speedmaster crossed my path that I just needed to have.
Deskdiver
Even though I am not a diver, not even a gifted swimmer, I like the appearance of a divers watch. I assume most buyers of a Seamaster watch are 'desk divers', but I could be wrong of course.
Being a deskdiver, I still wanted to give the Omega Seamaster Planet Ocean Deep Black a try. I chose the all-black version of the watch to try, even though I also like the red, blue and Sedna models. My personal preference would be the all-black Deep Black, as I am afraid I might get fed up with the red and blue accents at some point. The Sedna gold version is something I fancy as well, but gives it less of a 'tool watch' appearance. However, I like the touch of gold.
Deep Black Reference 215.92.46.22.01.001
The Omega Seamaster Planet Ocean Deep Black is packed with innovations. Not only does it have a ceramic case, cut-out of one block, it also features a ceramic bezel, in-house developed caliber 8906 movement and a water resistance of 60 bar (~ 600 meters). The red and blue version have a bezel where ceramic and rubber elements are blended into one piece. Another interesting technical detail is the Naiad technology for the caseback, so the engraving is perfectly positioned. I could go on explaining about the METAS certified Master Chronometer movement and its specifications, but I've done that a couple of times already (click here for an overview of the Master Chronometer standards). Most important is that the watch is anti-magnetic up to 15,000 gauss and accurate with a daily average between 0 – +5 seconds a day.
But let's not make this review a summary of technical details. In the end, even though I appreciate Omega's innovating character a lot, it is about emotion and how you (and I) feel about [wearing] the watch.
On the Wrist
Make no mistake, this watch is big. With a diameter of 45.5mm it fits my fairly large wrists perfectly, but I did need a few days to get used to this size. Normally, my watches are a tad bit smaller. The black rubber strap fits like a glove and is comfortable from the first moment when you slide the watch on to your wrist.
Not only the diameter is impressive, the watch is also rather thick. It measures 17.8mm in height and that is a lot. It does make the watch feel a bit top heavy at first, especially on the light-weight rubber strap.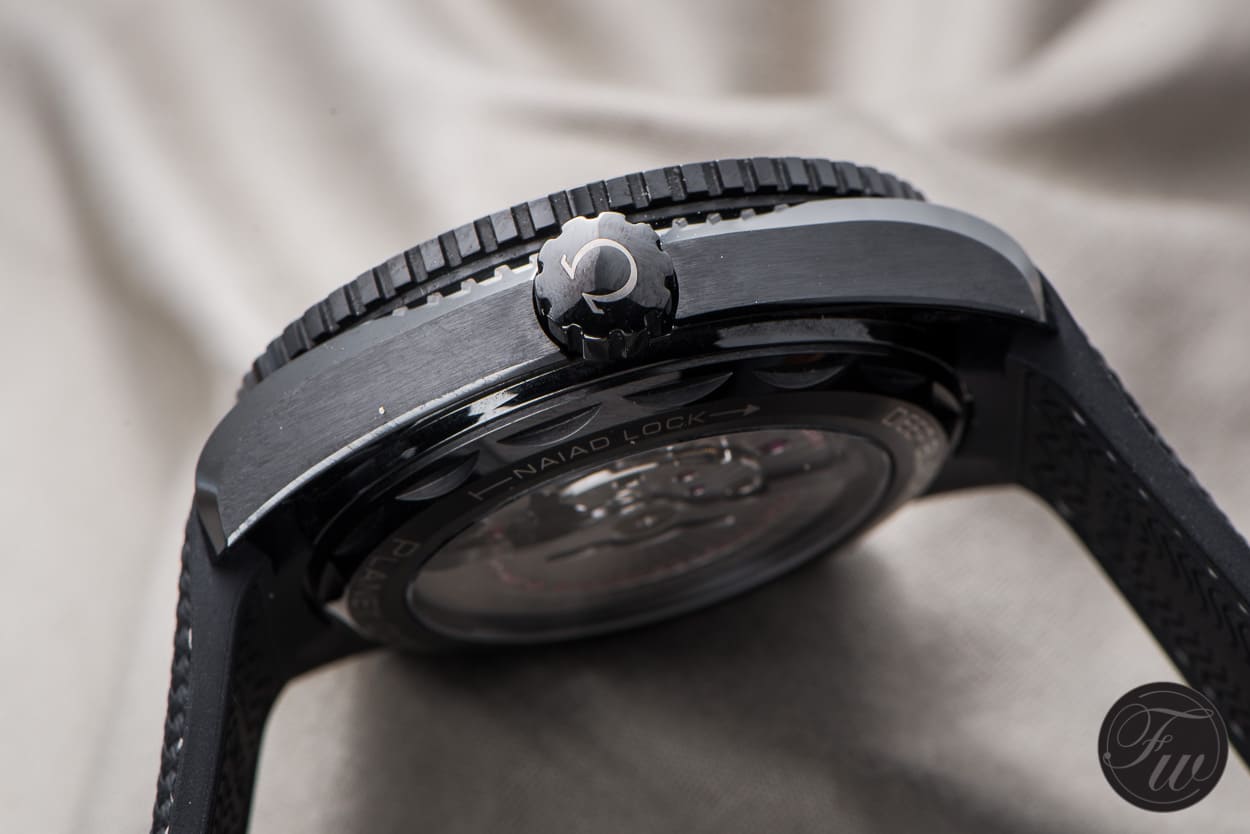 However, I got used to it fairly quickly. The watch looks amazing on the wrist, like the Speedmaster Dark Side of the Moon, the watch doesn't come across as being a pure tool watch. Perhaps due to the combination of white gold hands and a glossy ceramic dial, but there is little connection with the old Seamaster divers watches from the 1960s. If that is what you are after, perhaps the Seamaster 300 is something that would fit you better.
The Omega Seamaster Planet Ocean Deep Black is a real divers watch though. The specifications don't lie and the rubber strap with its anti-bacterial treatment on the lining make it a watch suitable for diving or at least swimming. Omega just combined the elements of a divers watch with something that can be worn all day every day. That's what I did for a couple of weeks and I really got used to it.
In low-light conditions, the watch is still perfectly readable and the extra hour hand (GMT) is a feature that I really fancy. The finish of the watch is what you should expect of a watch with this price tag. The case has the typical combination of polished and matt brushed surfaces, like we are used from their lyre lug design. The glossy dial might not be for everyone, as it can look very shiny from certain angles. See below. It is something you just should make up for yourself.
The polished white gold hands, orange tip and hour markers still give enough contrast to be perfectly readable though. The date is located at 3 o'clock and using a matt black disc with white printing. As you can see above, it contrasts a bit when you look at the dial from certain angles where it [the dial] appears to be shiny.
On the dial you will also find the 24 hour track on the rehaut. As I wrote above, the GMT function is something I applaud. Especially if you're a frequent traveler, it is a very welcome feature.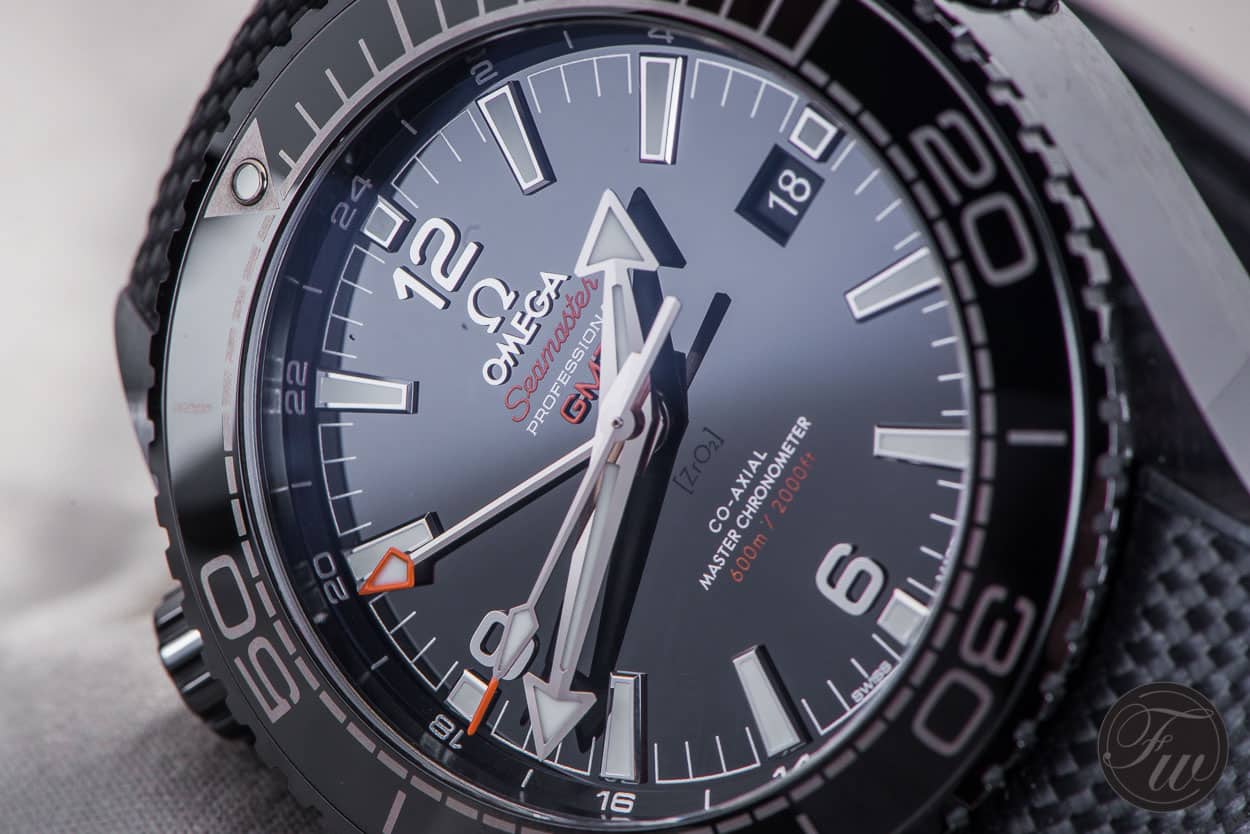 In all honesty, I think there could have been a bit less writing on the dial. But it isn't very disturbing during daily use. Just when looking at the images that Bert took, I've found that there is a bit much text. Interesting to note is that on ALL Omega Seamaster models, there is no mentioning of the collection name. The Seamaster family is, as you know, quite big and versatile. From the somewhat more casual Aqua Terra to the professional PloProf 1200M, there is no mention of these model names on the dial. Where the 'Co-Axial Master Chronometer 600m/2000ft' isn't very disturbing on the lower half of the dial, take a look at the upper half on the image above. From the 12 hour marker down to the center pinion, it is packed. There isn't any irrelevant information there, so perhaps it has to do with the size of the used characters.
However, in daily use, it wasn't really bothering me. The large arrow hands are the things you focus on when reading the time on this Omega Seamaster Planet Ocean Deep Black.
Master Chronometer Movement
One of the key features of all modern Omega watches is the in-house movement. What started with the caliber 8500, is now being upgraded to calibers that comply with the Master Chronometer standards. True, these are the standards that Omega set themselves, but independent third party METAS does audit and certify them. It is like accountancy firm KPMG performing an audit and signing off. But in the end, what does it mean for us, the end consumer?
Well, you get a watch that is guaranteed anti-magnetic to 15,000 gauss. That still sounds very 'tech spec', but it means that the movement of your watch won't be affected by magnetism from all sorts of devices. Think of micro wave ovens, security gates, magnetic clip locks on bags and purses, speakers, etc. It might sound as 'over reacting', but I was amazed to see that by de-magnetizing of one my own watches, the accuracy went from +10 seconds a day to +2 seconds a day. And I wasn't even aware that it was exposed to magnetism (yet I wear that specific watch often).
Accuracy in general is guaranteed to be at least in the plus, in Omega's case between 0 and +5 seconds a day on average. The Chronometer (COSC) specifications are quite old in the meanwhile, and warranty an average performance of -4 / +6 seconds a day. Although I can live with a small plus, a watch running slow is more annoying in daily use. No more with the performance of the Omega Seamaster Planet Ocean Deep Black or any of the other Master Chronometer watches.
The caliber 8906 movement that is inside this Planet Ocean Deep Black, has a similar appearance as the other members of the 8500 family. Only the watches in precious metals have a gold weight mass.
As you can see below, the movement has a nice finish with a rhodium plated weight mass. The Geneva waves in arabesque are a wonderful decoration. The double barrel ensures a power reserve of 60 hours. The bezel of the caseback contains some additional information like the Naiad lock technology and the full model name.
Some Thoughts
Is it all good with the Omega Seamaster Planet Ocean Deep Black? No, of course not. I already measured the size and thickness of the watch that required a bit of 'getting used to' while wearing it. Even after wearing it for a couple of weeks, the watch is still big, but it didn't bother me at all. I actually got used to wearing it, even under cuffs. The one thing that did bother me, and I didn't mention yet until now, is the folding clasp. While there is nothing to criticize regarding its finish or quality, I found it to be quite large. Especially the width of the clasp bothered me a bit. It was sticking into the inside of my wrists and felt I couldn't move my hands and wrist freely without being bothered by it. Perhaps the watch was a bit too low on my wrist, but that's often the case when you wear a jacket during winter times. I would prefer a normal buckle on this watch and strap.
The list price of the Omega Seamaster Planet Ocean Deep Black 215.92.46.22.01.001 that I've been reviewing is 10.500,- Euro. That is quite a bit of money and perhaps out of the comfort zone of many old time Omega buyers who were used to somewhat friendlier prices. However, I am sure you understand that all this innovation and the transition towards a real manufacture comes at a certain price. The Deep Black is a quality timepiece for sure, and can be compared to the Rolex Submariner or GMT-Master (approx 8000 Euro) of today, or an IWC Aquatimer Galapagos (10.600 Euro) for example. I feel that the Deep Black has a bit more to offer than the Rolex for instance, innovation-wise, but in the end it is all a matter of taste.
The Omega Seamaster Planet Ocean Deep Black is probably the Planet Ocean I would buy myself, as I like the ceramic case a lot and the comfort of the rubber strap. The folding clasp is something I would try to exchange for a regular buckle. It is a nice and perfect everyday watch and suitable for the travelers amongst us. The watch is a wonderful allrounder, whether it is in the ocean, the swimming pool or during a business meeting, you'll always feel comfortable wearing it.
More information via Omega on-line.