A Subzero Cool Monday Morning With The Omega Speedmaster Alaska Project Limited Edition
The frostiest Speedy out there if you ask me
Why wait until Tuesday if you can wear an Omega Speedmaster Alaska Project on Monday? I took a peek inside RJ's Speedy Vault and stared into the frosty face of what I think is the coolest Speedy of all time, the 2008 limited-edition Alaska Project. Okay, the original, 1970 Alaska Project II prototypes are even frostier, but those live in the unreachable realm of mythical watches. The 1,970 Alaska Project Speedmaster models may be hard to get nowadays, but they're still (somewhat) within reach.
If you want to know all there is to know about the Omega Speedmaster Alaska Project you see on my wrist, please read the article The Original Alaska II and the 2008 Re-Edition. Today, I will keep it personal. I had seen the Speedmaster Alaska Project Limited Edition (311.32.42.30.04.001) in our shop online. I even had the chance a long while back to wear it for a very little while, but when I saw it in the vault and, shortly after, on my wrist, it struck me once again. And all the while, I tried not to think about the price. The watch is priced in line with the market, but it's also way beyond my budget, unfortunately. Thankfully, I managed to get my hands on the second-coolest Speedy of all time in my opinion, the Speedmaster Replica 3594.50 with Broad Arrow hands.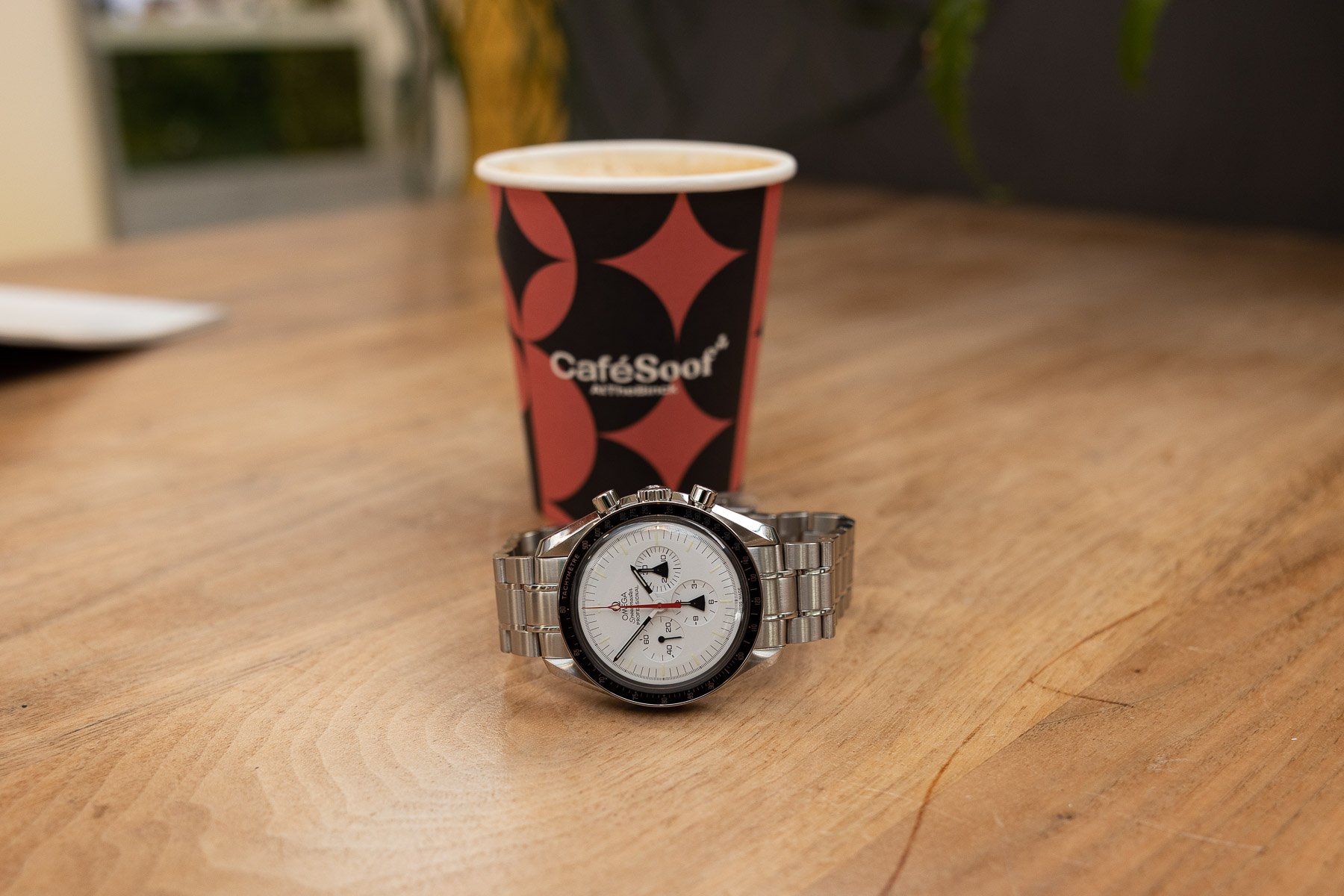 The hypnotizing Omega Speedmaster Alaska Project Limited Edition
The Speedmaster Alaska Project Limited Edition is a watch that looks fantastic on a computer screen and looks even better in the metal — way, way better. In the metal, the frostiest of all Speedy iterations is a mesmerizing timepiece. White dials can be flat and boring. Some white dials are even the equivalent of black holes. They suck up your gaze and give nothing back, just like my early 2000s Rolex Explorer II. The snow-white Alaska Project, however, catches your gaze and then treats it well — not like a blizzard hitting and scraping your naked face in subzero temperatures. No, the white has a soothing, almost hypnotizing effect. It won't cause snow blindness but instead, it cools and relaxes your eyes while simultaneously energizing them. This Omega has the freshest dial in the history of dials if you ask me.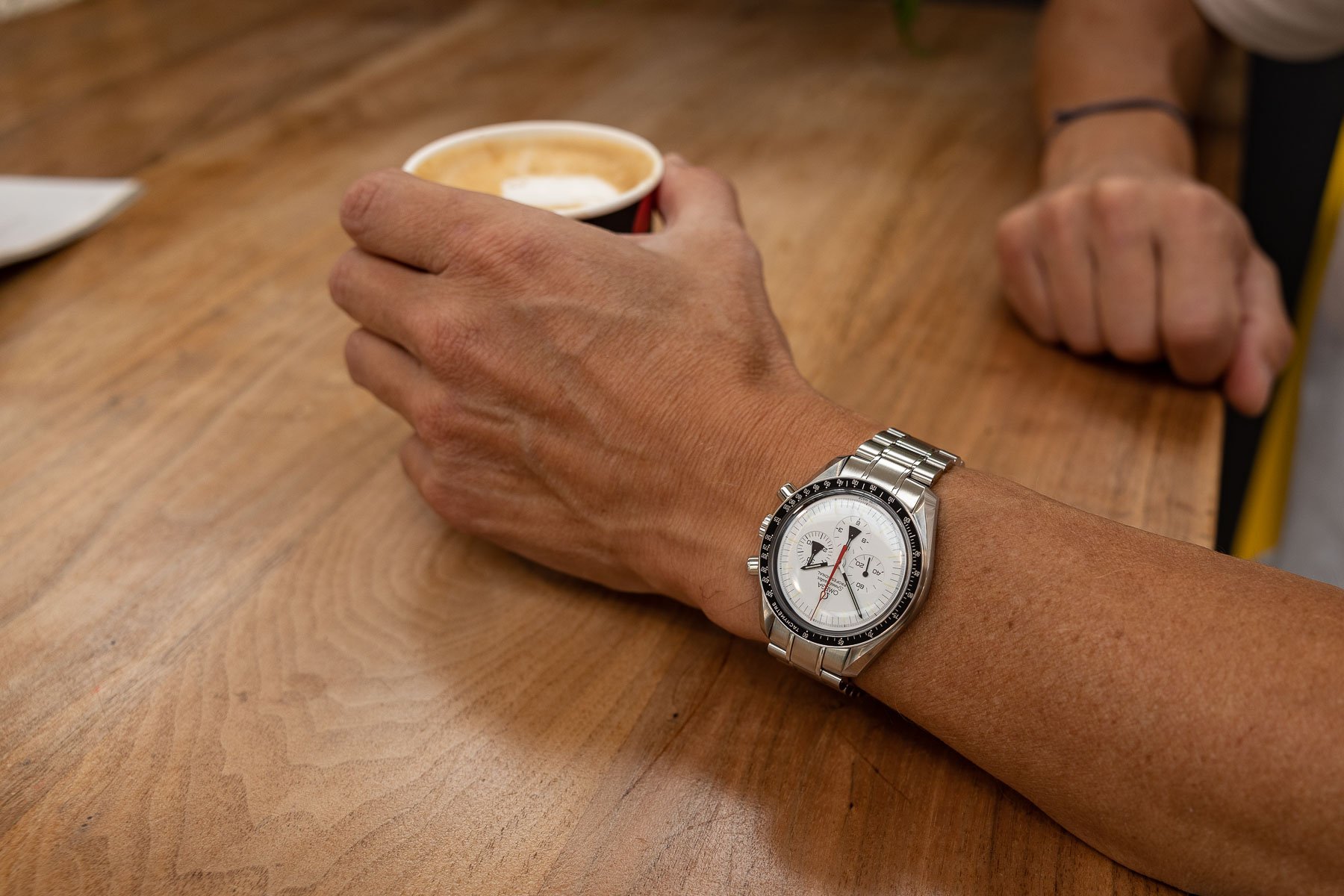 Who doesn't love tiny rockets?
And then there are the little bitty rockets for hands — the greatest little hands you've ever seen turn in a sub-dial, am I right? Sorry if I get carried away a bit, but this watch just really speaks to me and hits a soft spot. The Alaska Project Limited Edition that I very carefully wore over a cup of coffee reminds me of the blissful early days of my watch hobby. Hey, the watch made the cappuccino taste better. This is such a feel-good watch. Omega made 1,970 of them, which, admittedly, is a bit weird because the Alaska Project II was launched in 1972, and with it came different watches. There were different types of bezels, for instance. One of the watches made for the project was auctioned in 2007 during the OmegaMania auction.
Another nice detail of the 2008 limited edition is the case back engraved with "Flight-qualified by NASA for all manned space missions" as well as "Alaska Project Limited Series" and a unique number. Something perhaps not very wearable on a day-to-day basis but most definitely cool is the red aluminum protective outer case that comes with the watch. The watch also comes with both a long and a short white Velcro strap as well as strap-changing tools. But in my humble opinion, the Speedmaster Alaska Project Limited Edition looks best in its full-steel attire.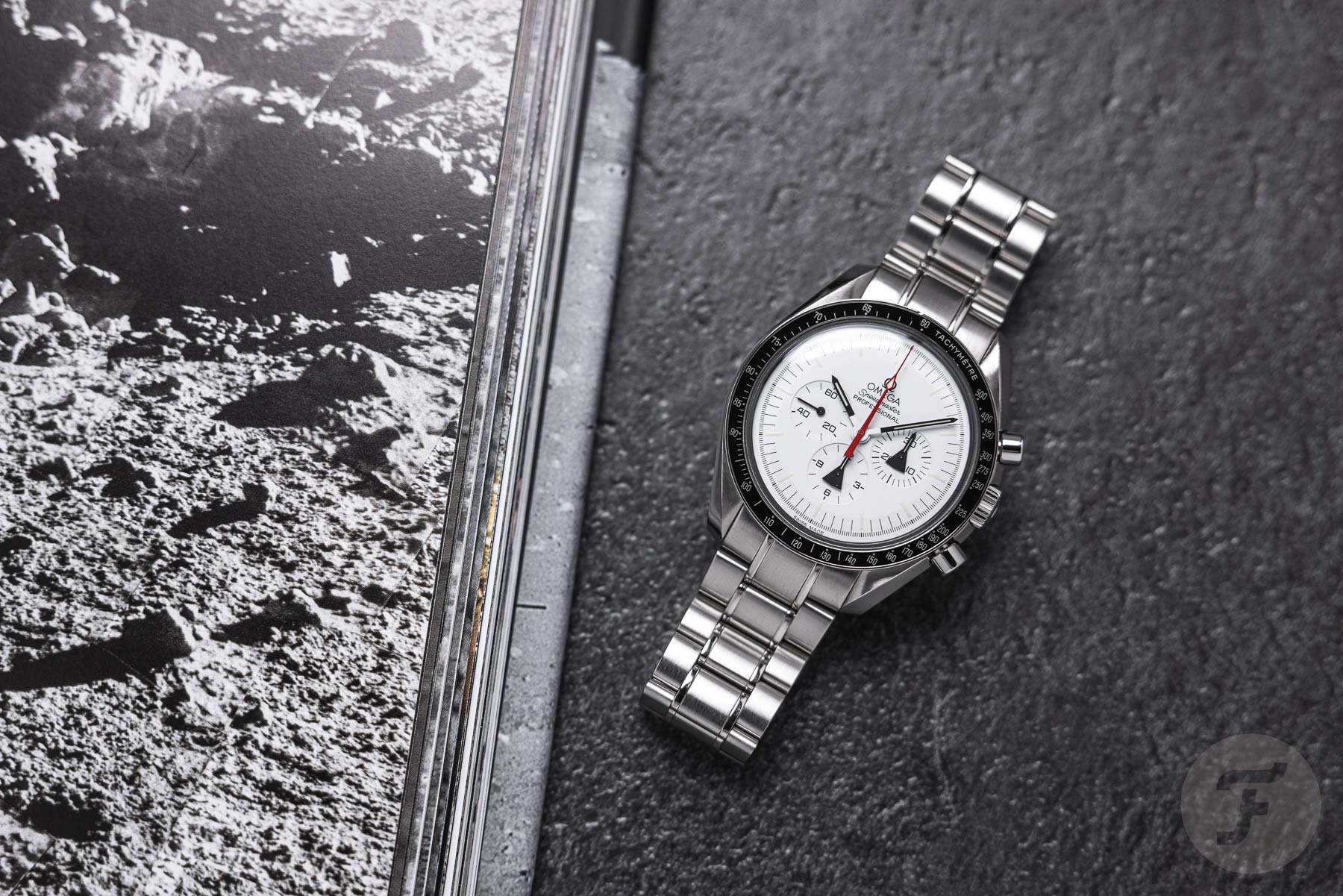 Ideas for the Speedmaster Alaska Project V
By the way, I would love to see a Speedmaster Alaska Project IV in the near future. I guess you all know that there was an Alaska Project III (145.022), the source of inspiration for the first Speedy Tuesday Limited Edition watch, right? In 1979, Omega built an Alaska Project IV prototype for NASA Space Shuttle pilots with a quartz movement and an LCD. And there the story of the Alaska Project ends. But it doesn't have to because after four comes five.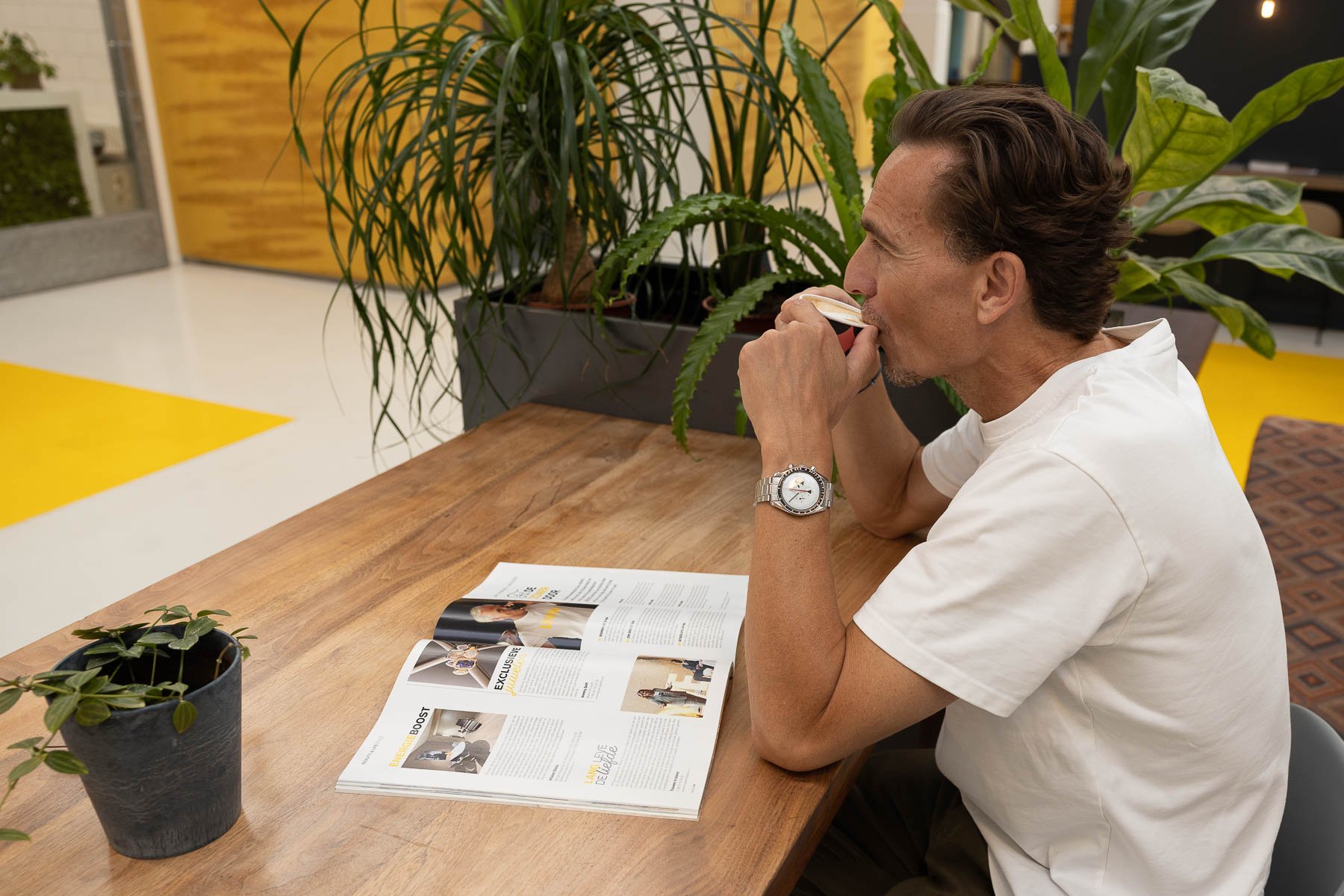 So, this is what I've come up with over coffee. The Speedmaster Alaska Project V that I want to see would have a 42 × 48 × 13mm case in matte red ceramic, a 20mm lug spacing, and a black unidirectional 0–60 dive bezel on top. On the icy-white dial, you would find black and white hour and minute hands, two red rocket-shaped chronograph hands that match the central chronograph seconds hand, and a black one for the running seconds. Inside the watch would beat the latest Omega caliber 3861, and to finish things off, the watch would come with two straps. The first would be a (conservative) black rubber one that would hug the contours of the case. The other one would be a bit wilder. It'd be a NATO-style white fabric strap with some red details. What do you think? Yes, I'm looking at you too, Omega.