A Hands-On Omega Speedmaster Chronoscope Review — On The Wrist For Two Weeks
Does it work for a Moonwatch collector?
As promised, a hands-on review of the new Omega Speedmaster Chronoscope. This new 43mm Speedmaster collection was introduced a few weeks ago in Milan, Italy. However, we've been fortunate enough to have two of these watches in our Fratello offices and were able to give them some time on the wrist.
Aside from the new 43mm case size and new movement (the hand-wound caliber 9908), it also brings a new dial design to the table. One with two additional scales to the existing tachymeter scale.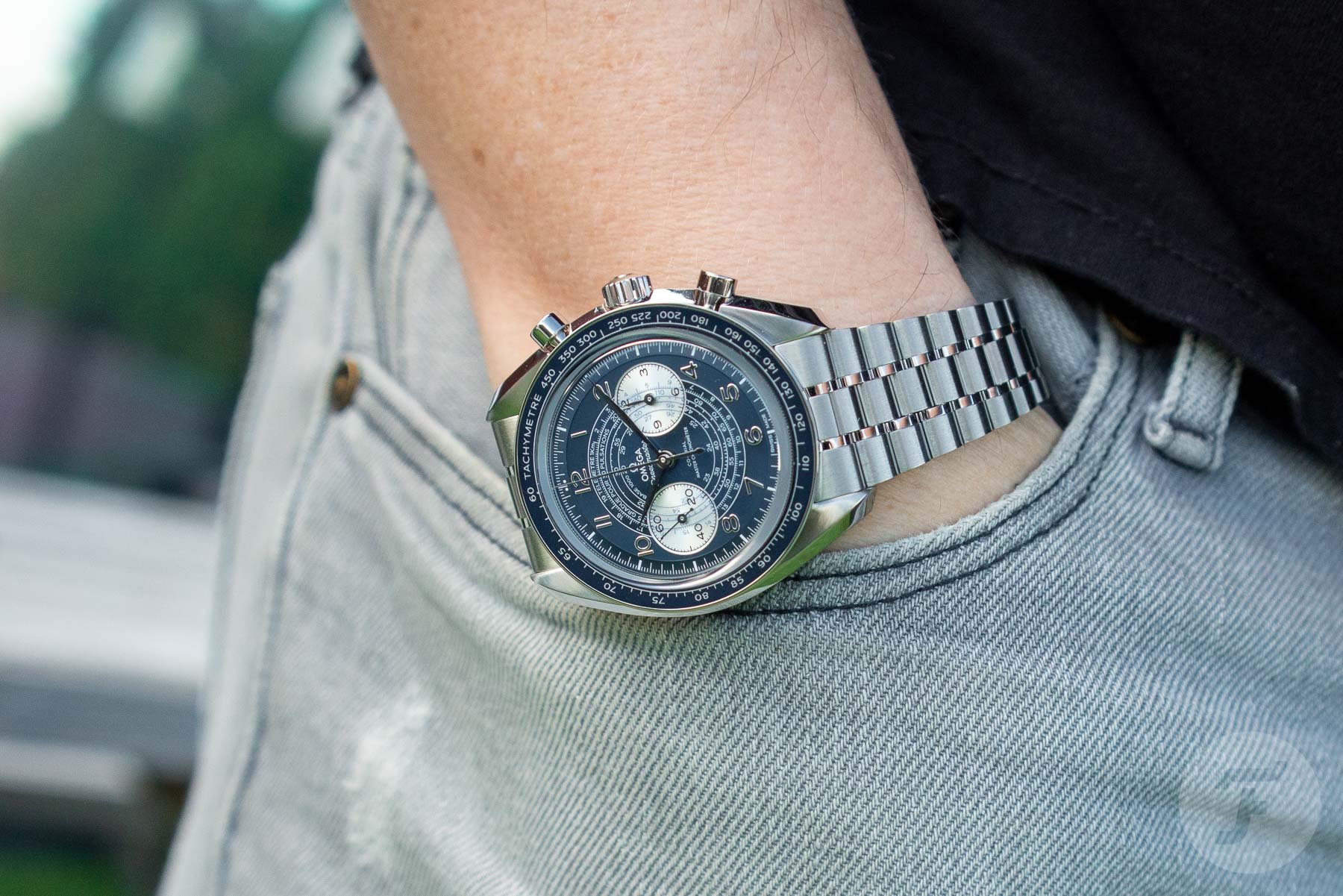 Did you know that the Omega Speedmaster was the first watch to have a tachymeter scale on a bezel? Before its release, watches with a tachymeter scale had it printed on the dial. In 1957, Omega decided to come up with three new watch models for professional use: the Railmaster for scientists and engineers who worked in an environment with magnetic fields, the Seamaster 300 for divers, and the Speedmaster for sportspeople (and scientists) who needed to time events or tasks.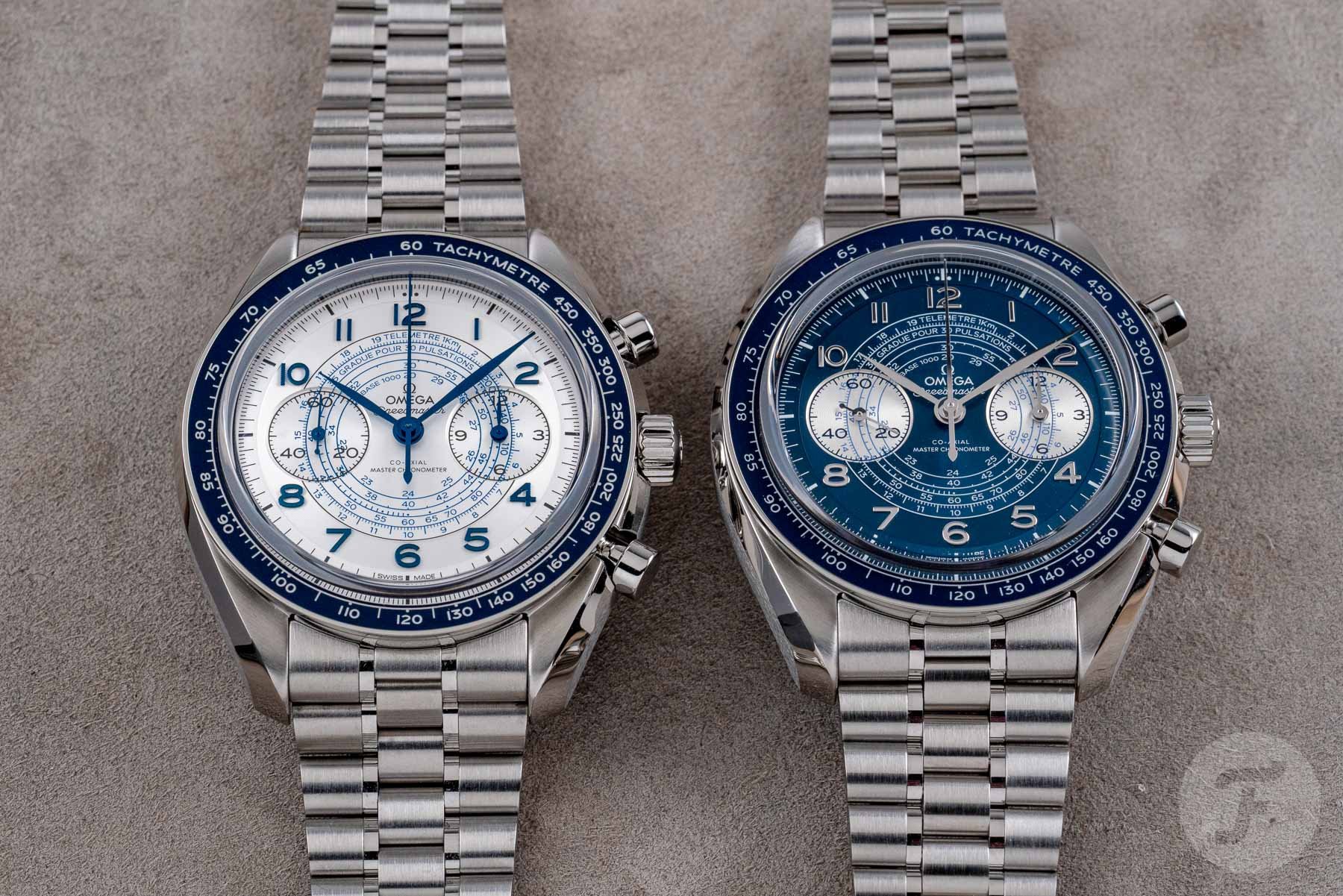 Omega Speedmaster Chronoscope
With the tachymeter bezel, the Speedmaster enables the wearer to measure the average speed over a mile (or kilometer) by using the chronograph. Since you will measure the duration over one mile or kilometer, the average speed is also calculated in that specific unit. Next to the rail track, for example, you will often see these poles to mark every kilometer. Start the chronograph when you're next to the pole, and stop it when you're passing the next one. You've now measured exactly one kilometer, the chronograph second hand will point to a number on the tachymeter scale.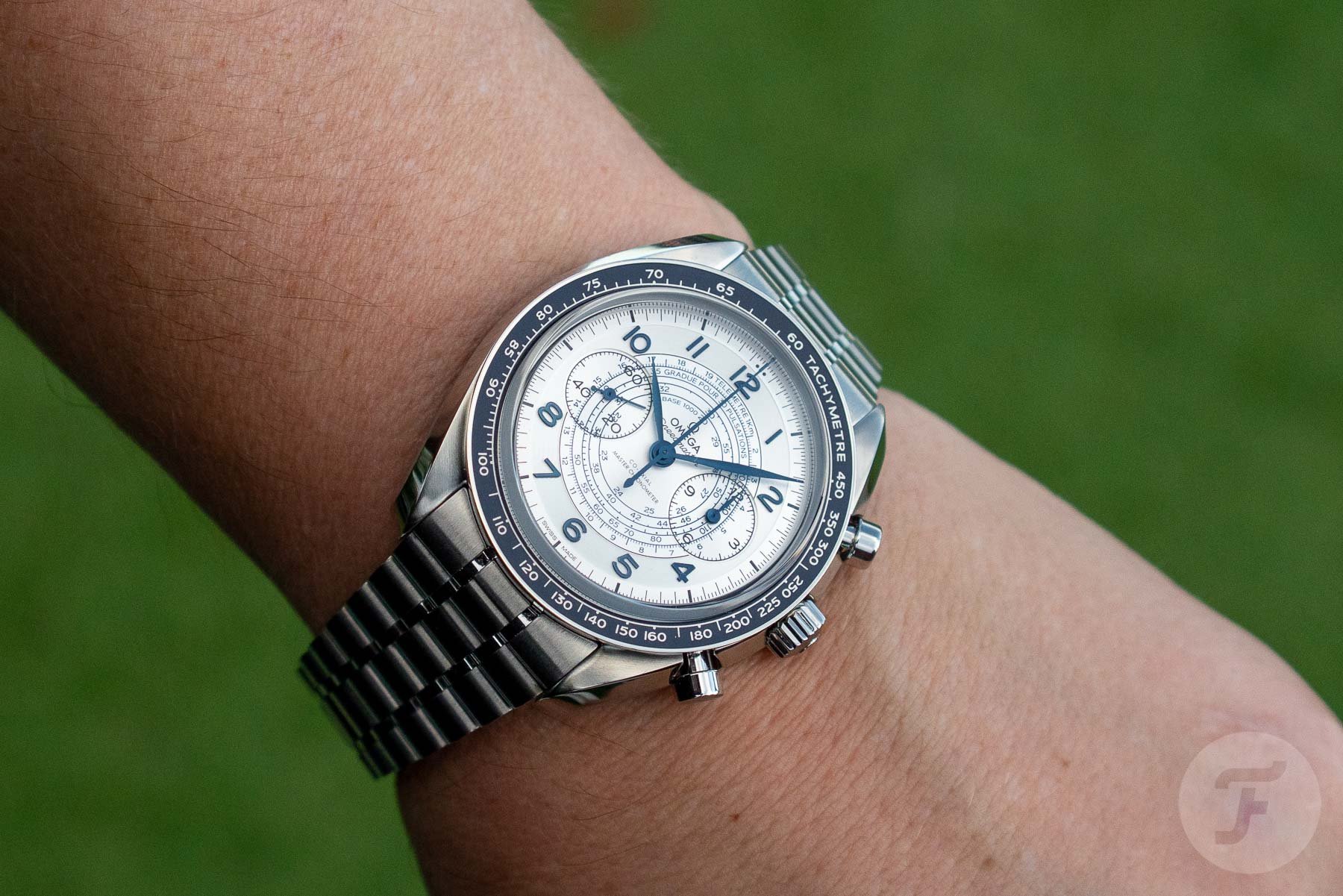 Let's say it took the train 12 seconds to measure one kilometer, the average speed has been 300 kilometers per hour. And yes, the scale will also work in miles per hour, as measuring the time it will take to travel one mile, will just take longer, so the chronograph second hand will indicate a later point on the tachymeter scale. I was surprised to see that this caused some questions during the presentation of the new watch, but apparently, not everyone is aware of how a tachymeter scale works.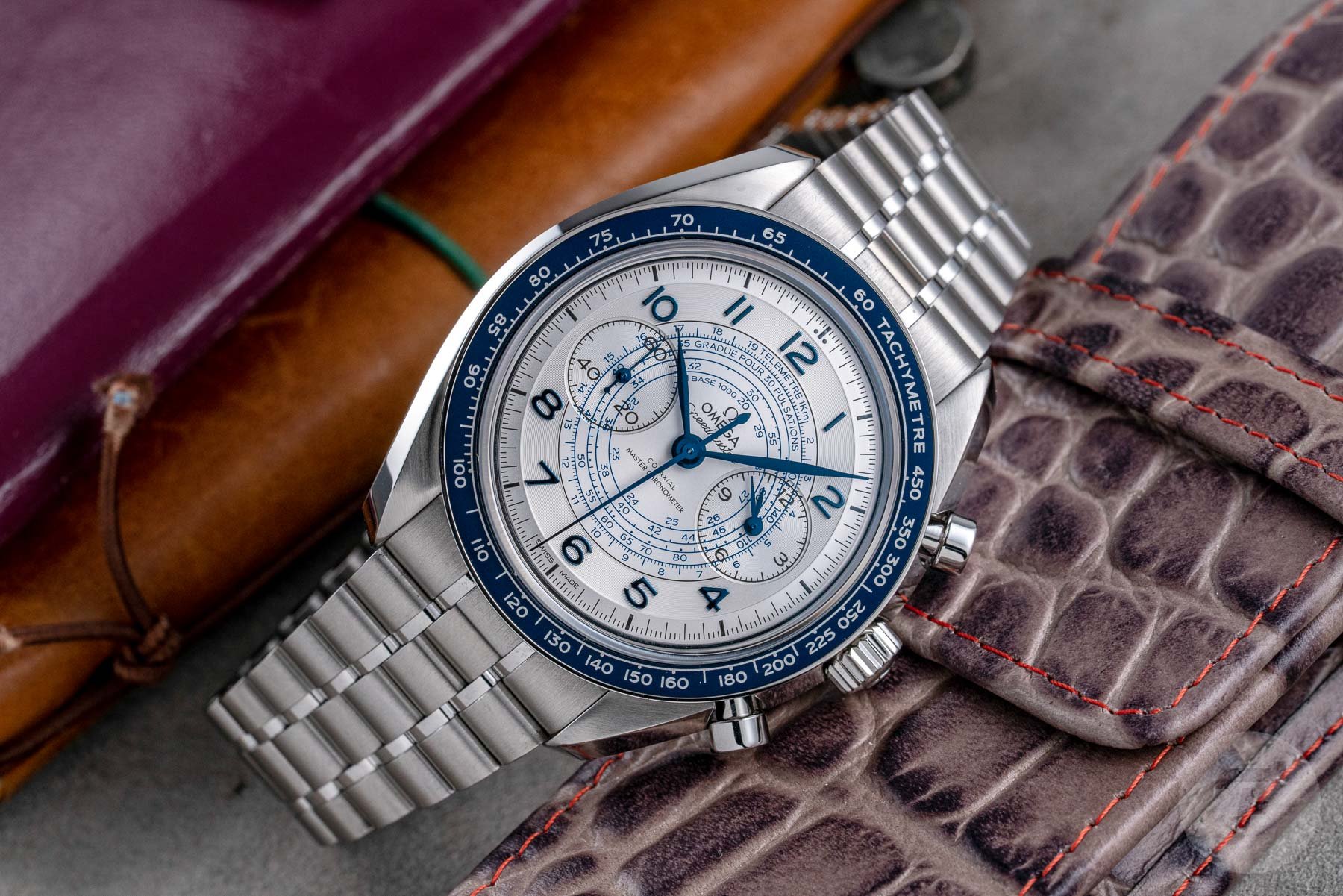 Anyway, the tachymeter scale has been part of the Speedmaster since 1957. Some Speedmasters were also delivered with a telemeter scale or pulsations scale. In that regard, these scales aren't new to the Speedmaster, but the way they are presented on the new Speedmaster Chronoscope is.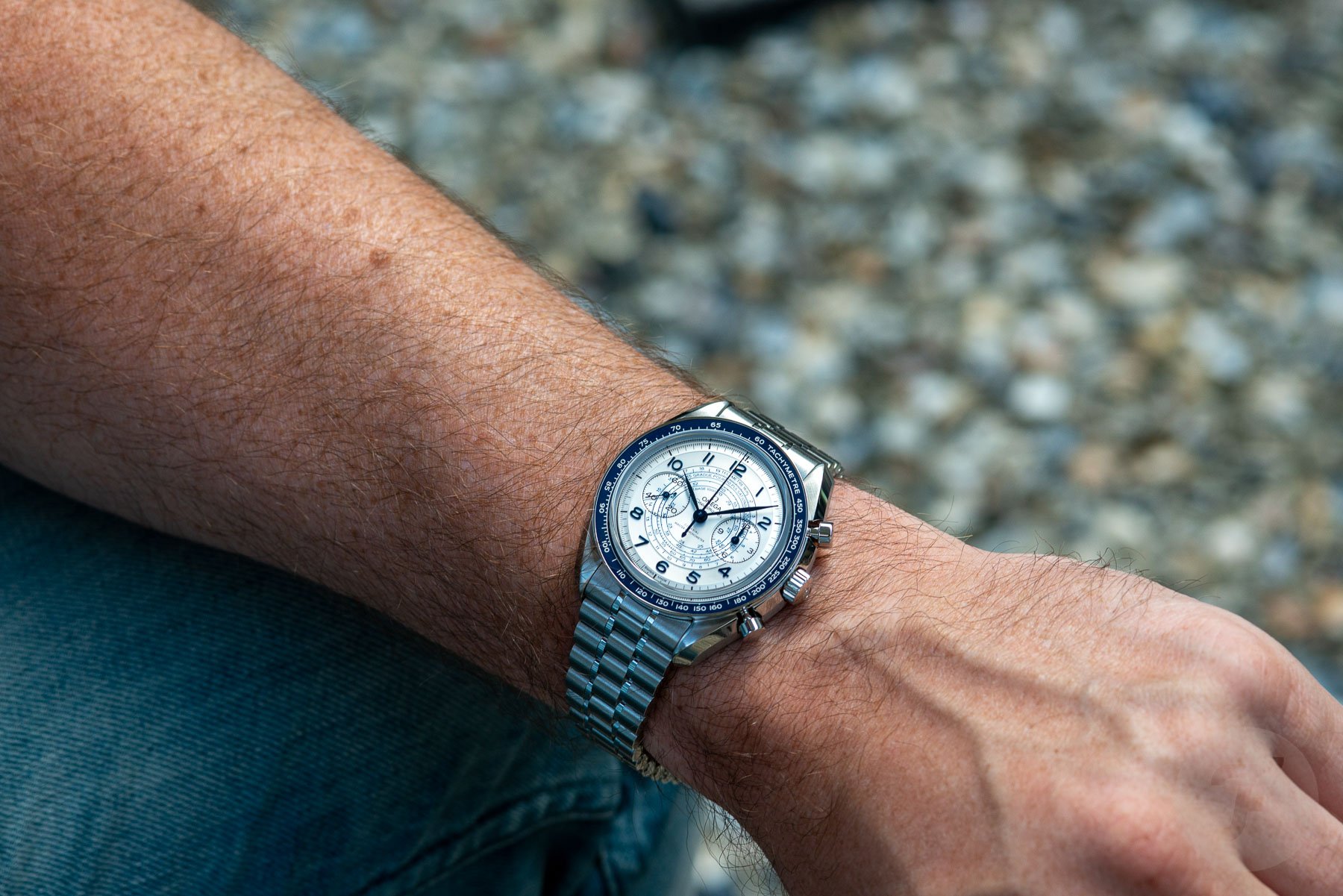 Watch Specifications can be deceiving
Truth to be told, I had to get used to the new Omega Speedmaster Chronoscope. The new case size of 43mm is no problem, I can also wear the 44.25mm Speedmaster Dark Side of the Moon or the previous steel Speedmaster Co-Axial with caliber 9300 (also 44.25mm). 43mm is a bit more on the side of the Speedmaster Professional Moonwatch with a diameter of 42mm that we all feel comfortable with. Not only does the new Speedmaster Chronoscope wear a little bit larger, but it's also a bit thinner than the trusty old 42mm Moonwatch — 12.8mm versus 13.58mm.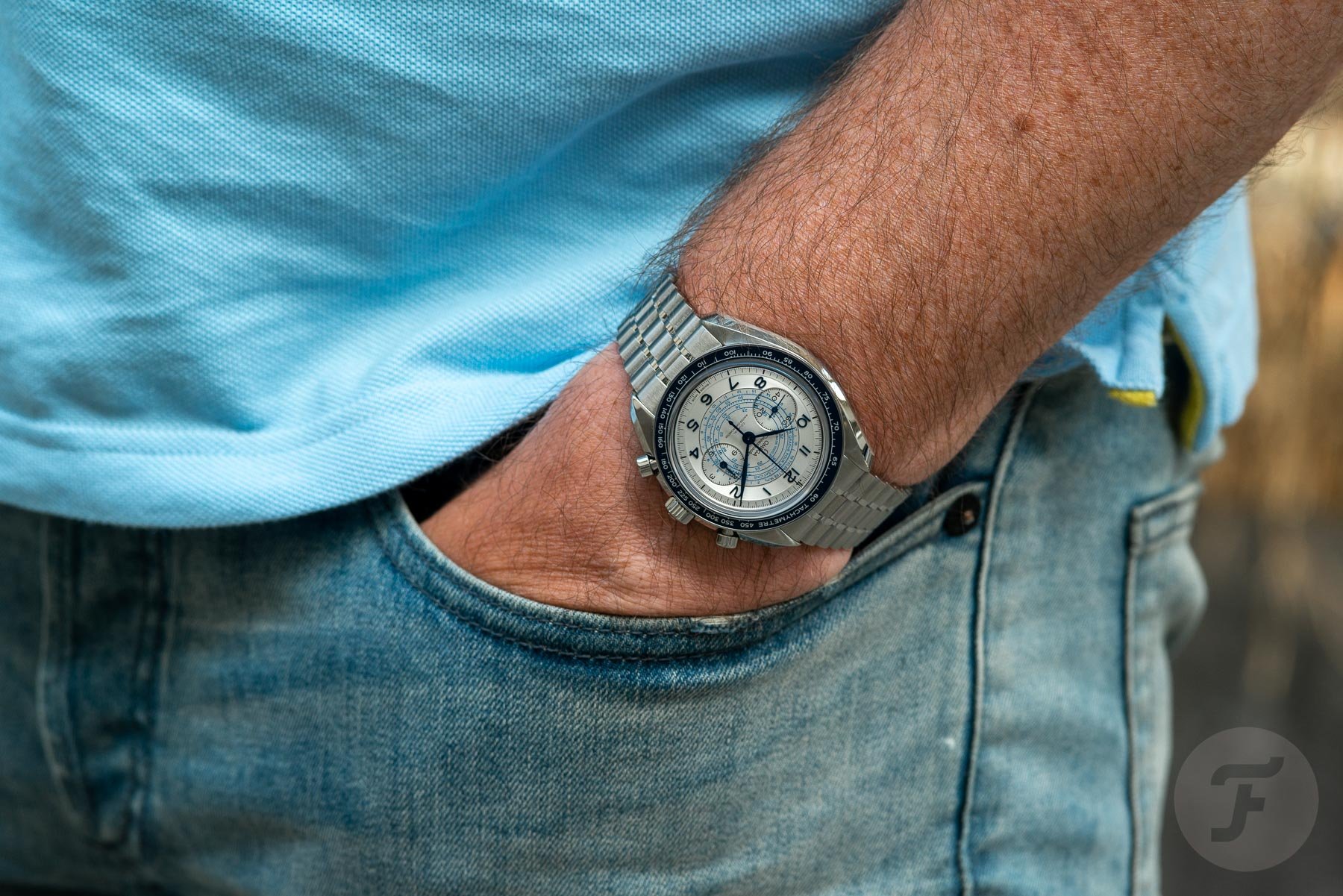 But, I also have to underline that I am not a sucker for specifications. They can be very deceiving, as my PloProf but also my 32.5mm Constellation Manhattan (yes, a gents model) subtly points out to those who want to give them a try. Very often, I still think you need to try a watch before you buy one and don't go blind on a chart with specifications. The real-world behavior of any watch's shape, weight, and dimensions aren't always reflected accurately by a table below an article.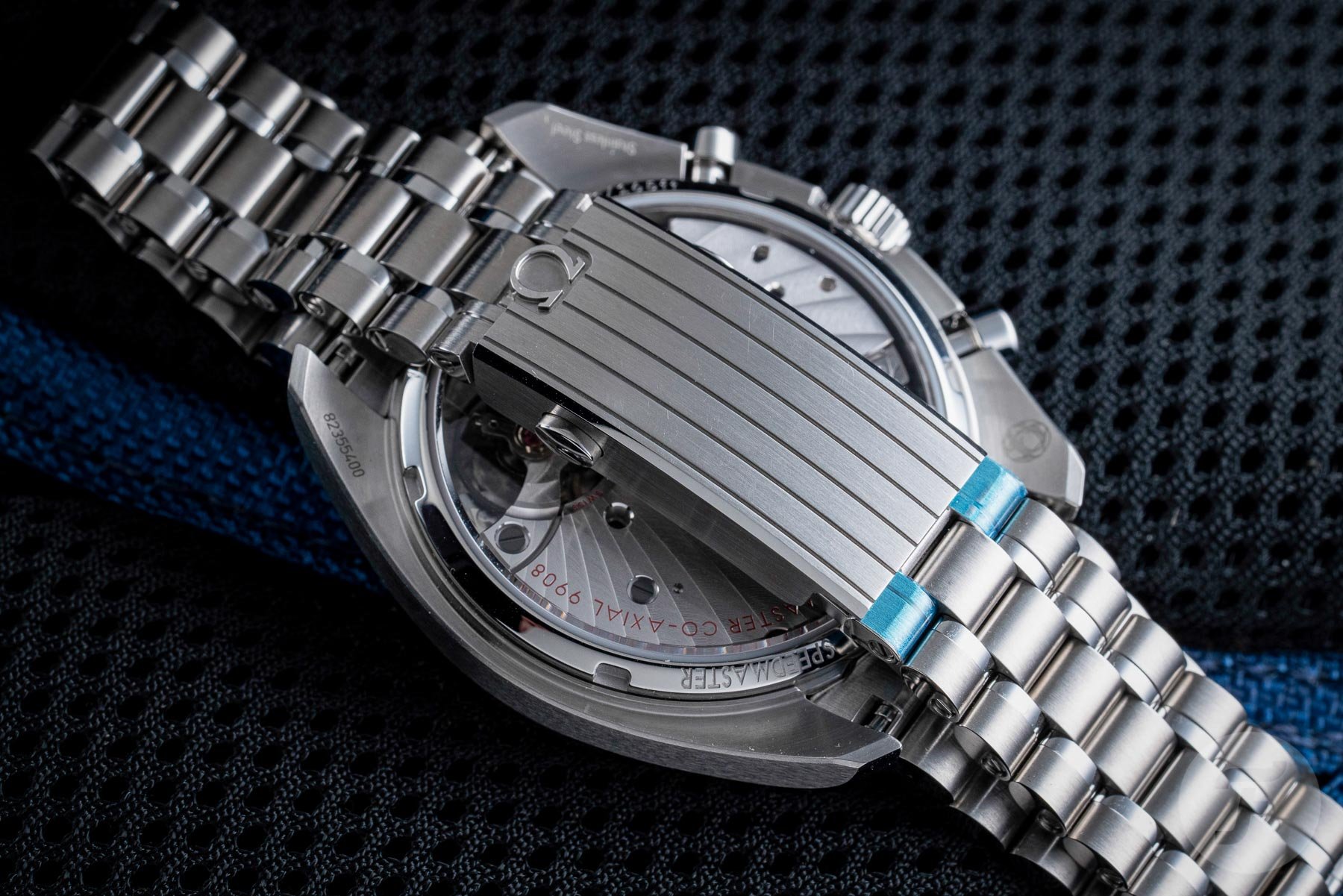 A new clasp with easy adjustment
On my 19cm wrists, the new Omega Speedmaster Chronoscope feels perfectly at home. The bracelet is sheer joy, one that I already know from the Speedmaster Apollo XI Moonshine edition from 2019. However, it tapers from 20mm between the lugs to 14mm at the clasp with that gold limited edition. My normal (new model) Speedmaster Professional has the same bracelet design but tapers to a more accepted width of 15mm. The new Speedmaster Chronoscope has the same style bracelet, but now it tapers from 21mm between the lugs to 16mm at the clasp. And now that I am talking about that beautifully decorated clasp anyway, you might have noticed (or read in our introduction article) that it is equipped with an easy adjustment system.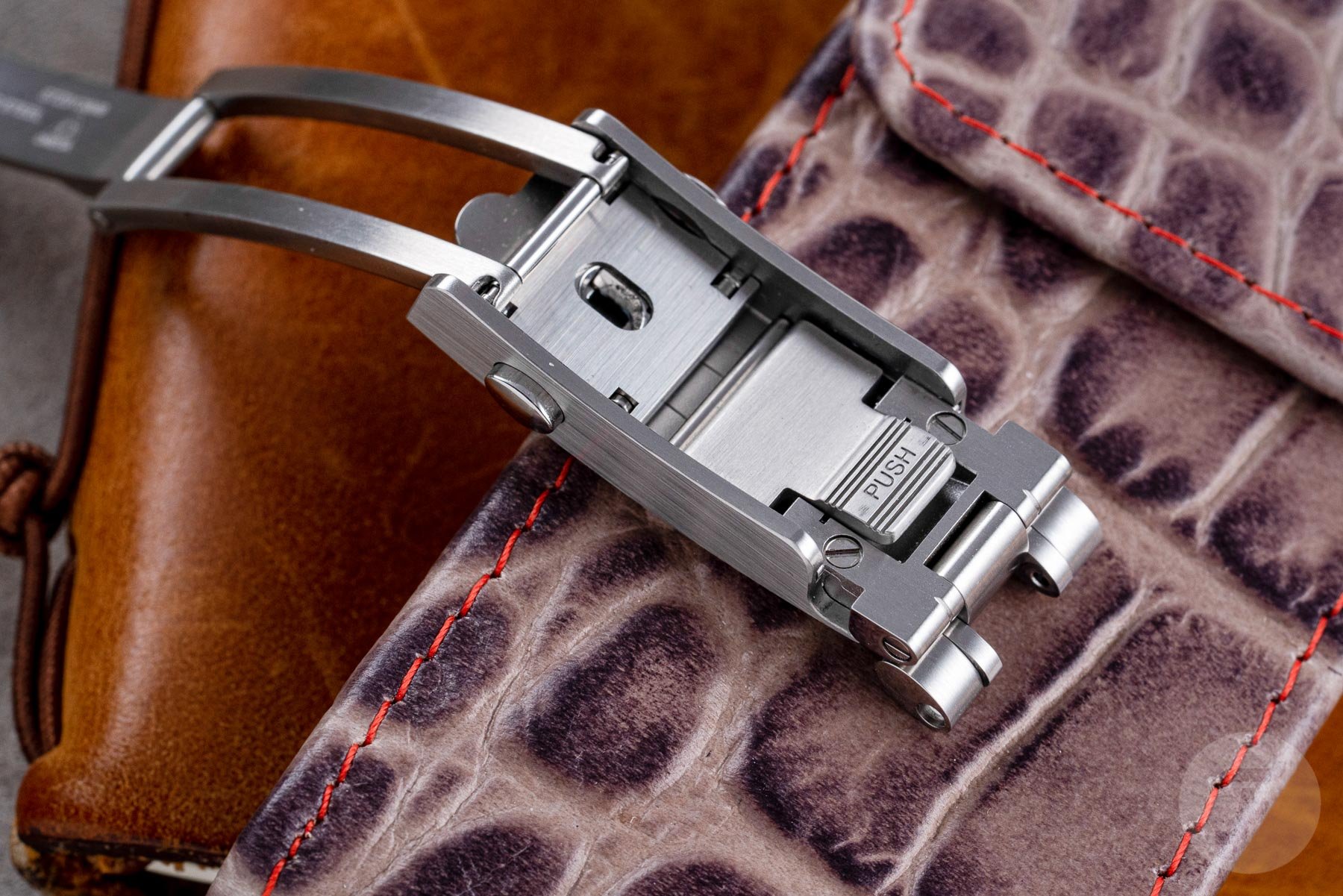 Or, to put it bluntly, a pusher that will allow you to extend the bracelet. You can extend the bracelet by 2.3mm, which is nearly half a link size. No toothpick or Bergeon tool is needed, just push the button inside the clasp and slide it out. Voila. And yes, Omega will also come up with an upgraded clasp like this for the regular steel Speedmaster Professional watch. Current owners of that watch will be able to replace theirs as well with the new clasp. But all in due time — Omega could not give us a timeline for this upgrade. But at least you know it will be coming in the (near) future.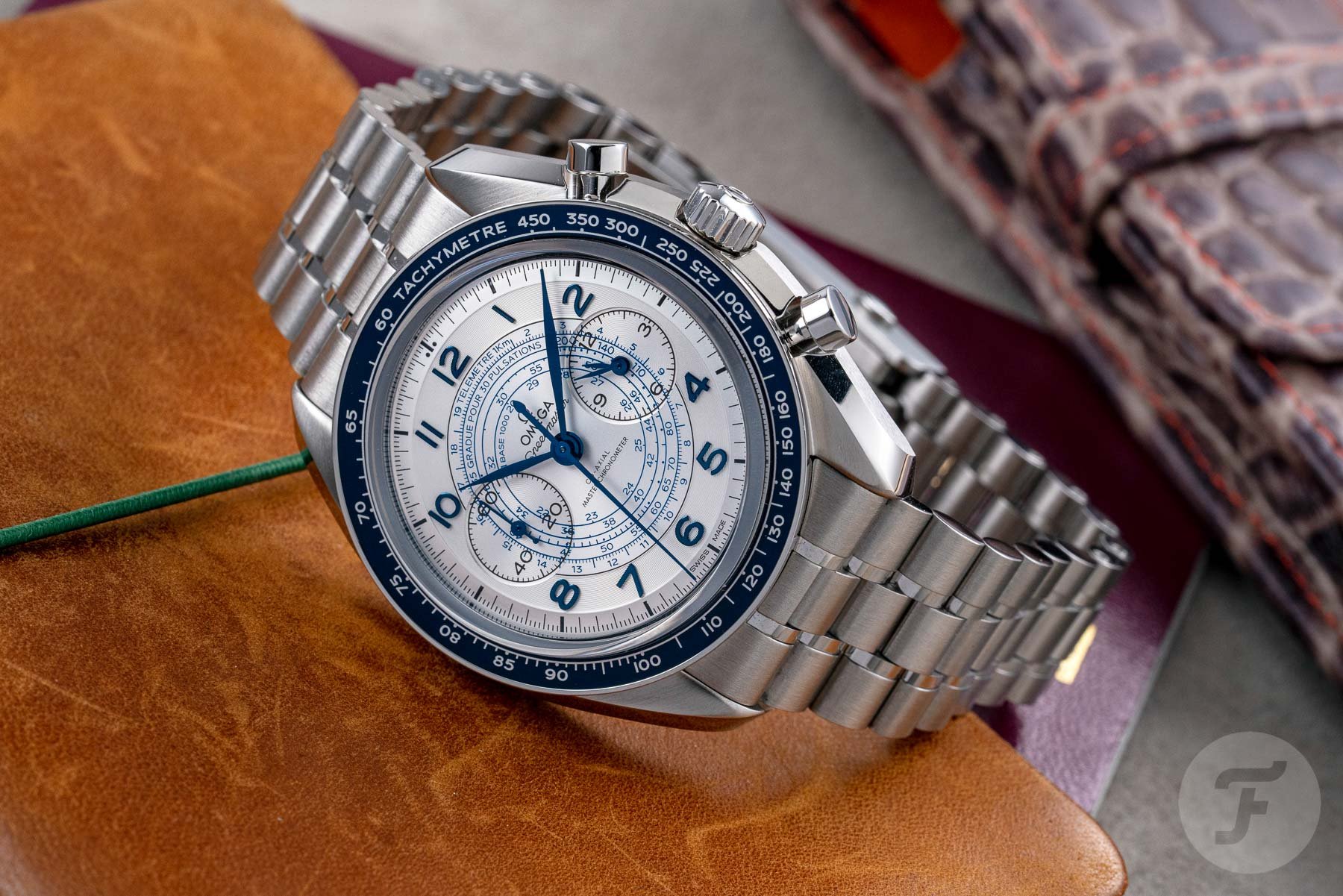 Similar but better
The new style bracelet, that we dubbed the "Nixon" in this article (and not to everyone's liking, I must add), is such a revelation compared to previous bracelets. Although the previous Moonwatch bracelet (the style was used from 1997 until 2020) was not a bad or uncomfortable bracelet, it was just not as refined as the new bracelet or bracelet prior to those ones. From 1988 till 1996, Omega used a bracelet with reference 1479. It looks quite similar to the current one, and I have several Speedmasters with that bracelet, but it is not as good (quality-wise) or as comfortable as the new one. It's really a long-awaited treat (or necessary upgrade) from Omega.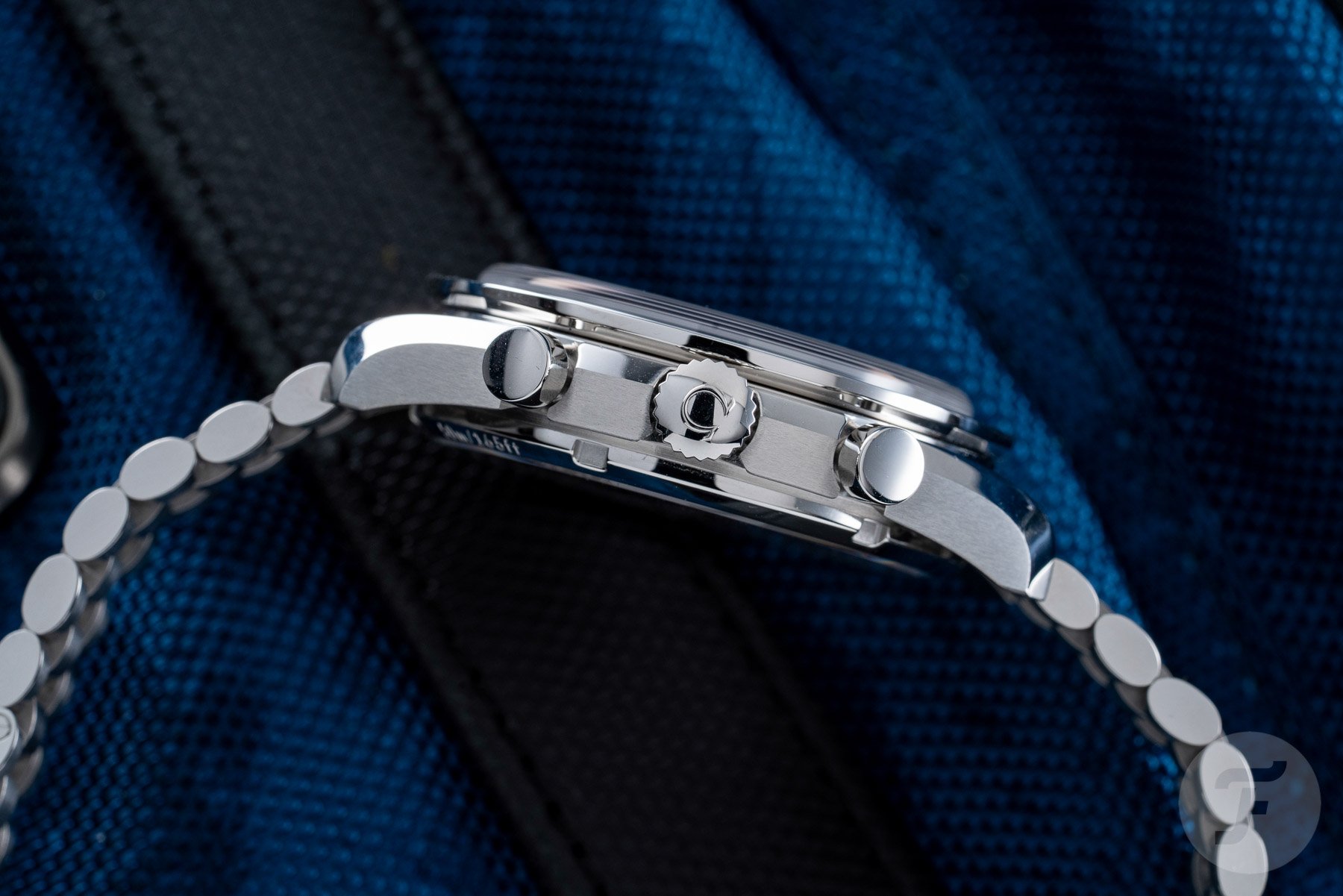 Does it work in a Speedmaster case?
However, one of the most important aspects of a watch is of course the dial. It is the part you will look at the most when wearing the watch. So it has to be good. Here, I would have expected a few more negative comments, to be frank with you. I was convinced that you (and I) would be far too puritanical to fall for the new Speedmaster Chronoscope.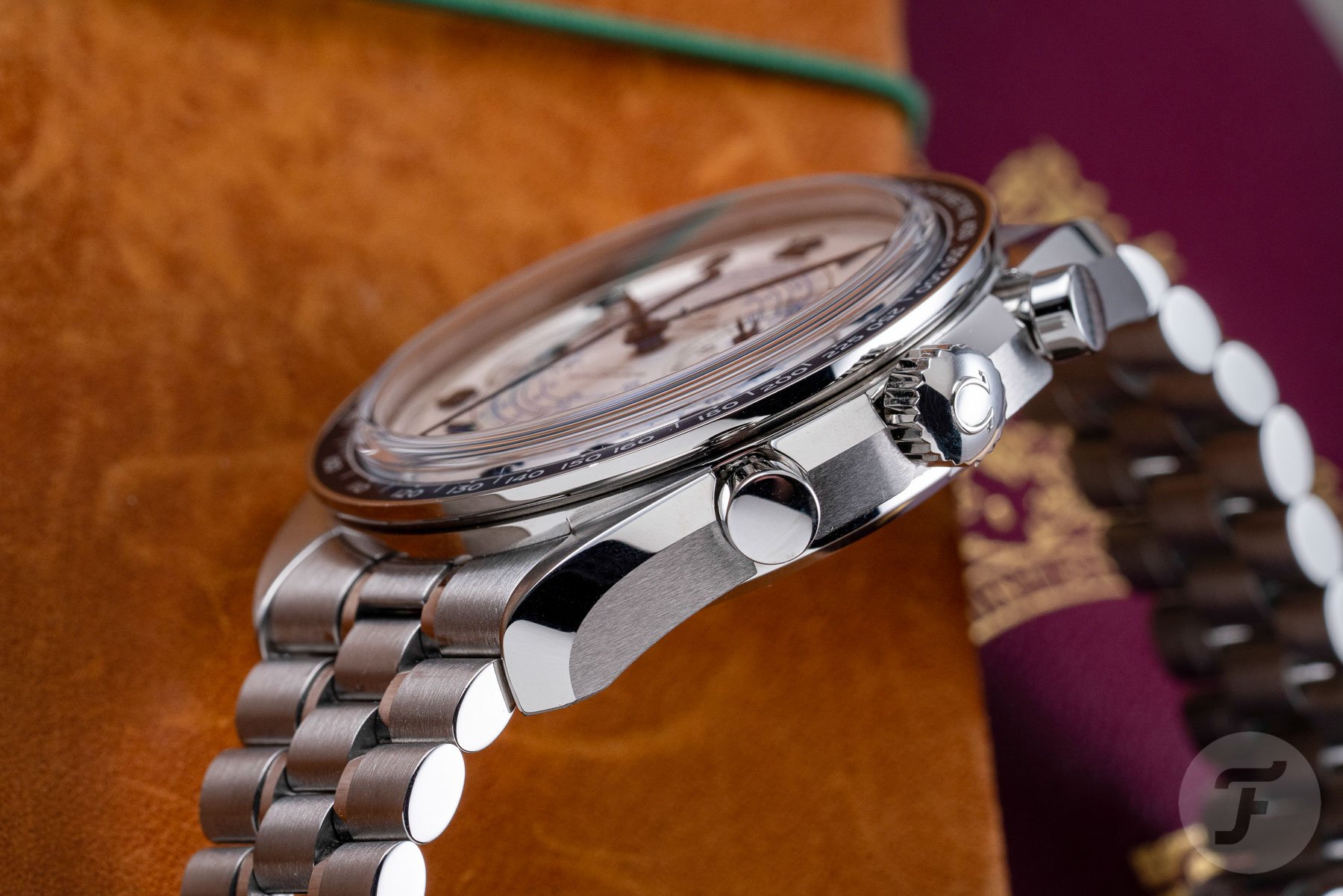 But the comments were positive in general — very positive, I might add. Sure, some of the vintage collectors prefer a 1930s caliber 33.3 Omega watch with two or three scales on the dial, but those are not the people who will buy a modern Omega Speedmaster anyway. The Omega Museum collection has been serving those who are more in favor of vintage case designs and dials but, let's face it, those aren't the big sellers.
If you are not familiar with them, check the pre-owned prices. If you like them, you are in for a treat. Unfamiliarity makes one unloved, as a Dutch expression goes. And that also applies to the Omega Museum collection. Anyway, what I wanted to say is that if Omega had put the new dial into a vintage-inspired cases, it would just have been yet another Omega Museum collection piece.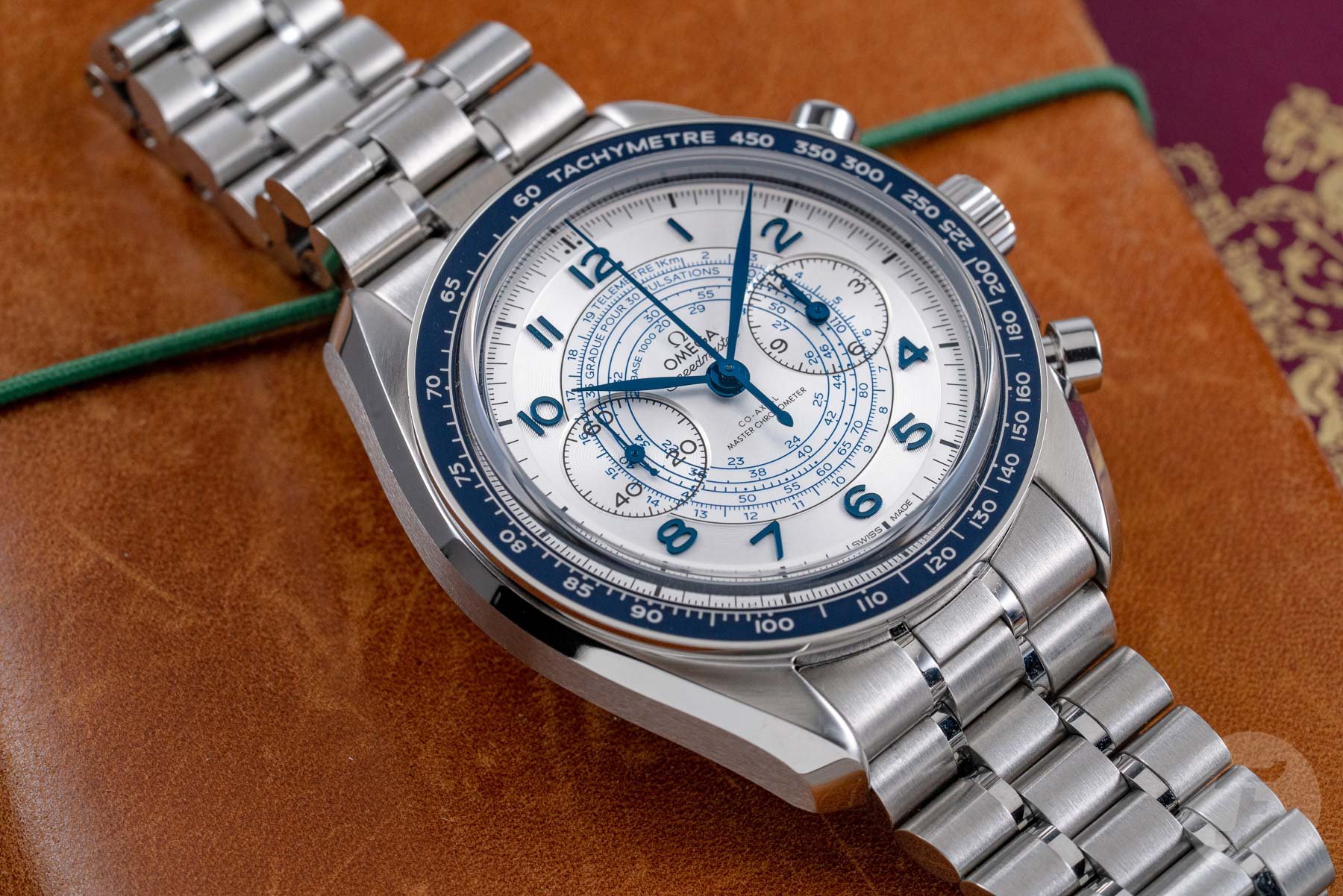 Arabic Numerals For The Speedmaster Chronoscope
The dial of the Speedmaster Chronoscope comes in a few color variations, including a panda dial. I have the silver dial version and the blue dial version here. Although I preferred the blue dial version at first, I now prefer the silver dial. If you want something a bit sportier, the panda dial might be a wise choice. Interestingly, this Speedmaster employs Arabic numerals. While this has been done before — mainly on the smaller case size models that often featured a calendar function — it is rather unusual to find such elegant, applied numerals in such a masculine case.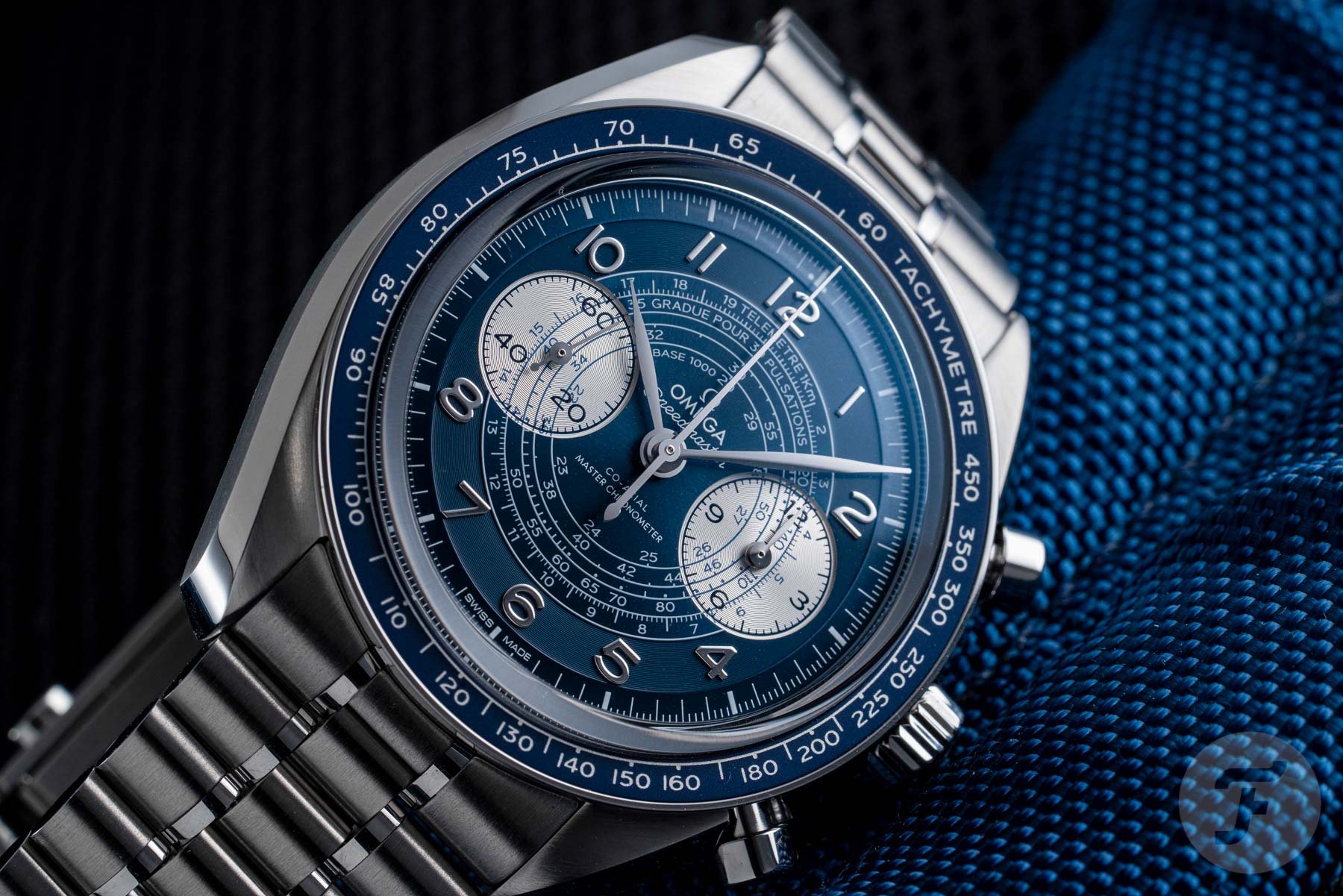 It might remind you a little bit of the IWC Portugieser watches. It gives the watch a somewhat classier mien. And while it wasn't love at first sight, I've come to like the dial with the Arabic numerals. The printed telemeter and pulsation scales bring something extra into play in such a modern watch. They are an effective nod to the much-missed chronographs of the 1930s and 1940s.
The only thing I found is that I sometimes struggle to read the scales. Although I do wear glasses, my eyesight is not terrible. Regardless, I needed to squint my eyes to get a proper read-out. I guess in the end, not many people will calculate how far away they are from artillery (or a storm, for that matter), or even measuring their heart rate. How many people will drive their Range Rover or G-wagon through the mud? Right. It is more about the style than the actual application of its intended purpose.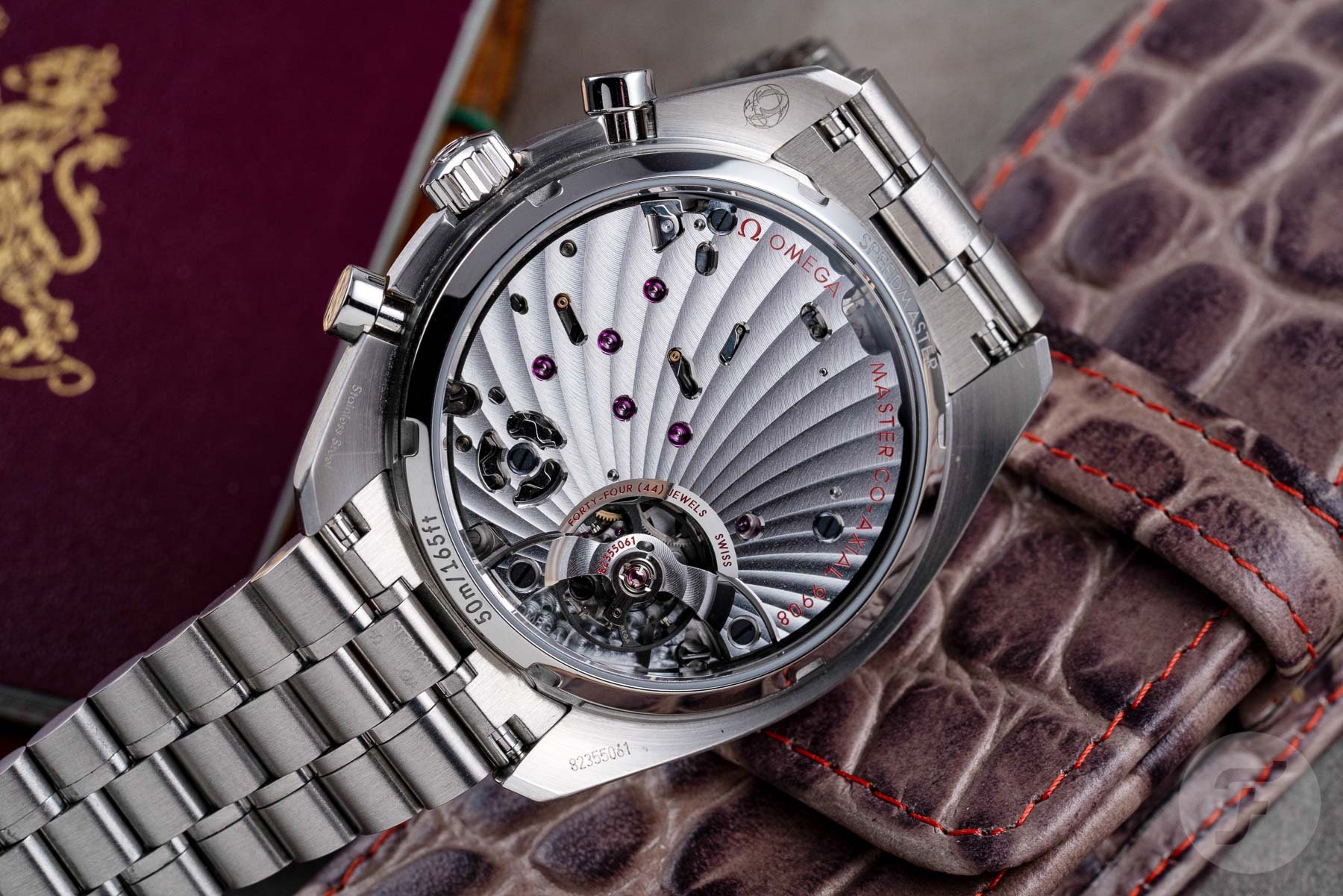 Caliber 9908 — A new hand-wound movement
Then, there's the new in-house developed and manufactured movement. Omega's caliber 9908. You could say it is a caliber 9300 or 9900 without a rotor, which might be the case to a certain extent, but it also has this new decoration, where the Geneva waves in Arabesque start from the balance wheel. It is a ¾th plate (just like the famous movements more often associated with Glashütte, these days) and it is a joy to look at.
Thankfully, Omega ensured there's a display back fitted to the Speedmaster Chronoscope to admire this large movement. Besides the beautiful decoration, you will also find the column-wheel visible as well as the black balance wheel. This movement has been chronometer-certified by COSC before it was fitted to the case.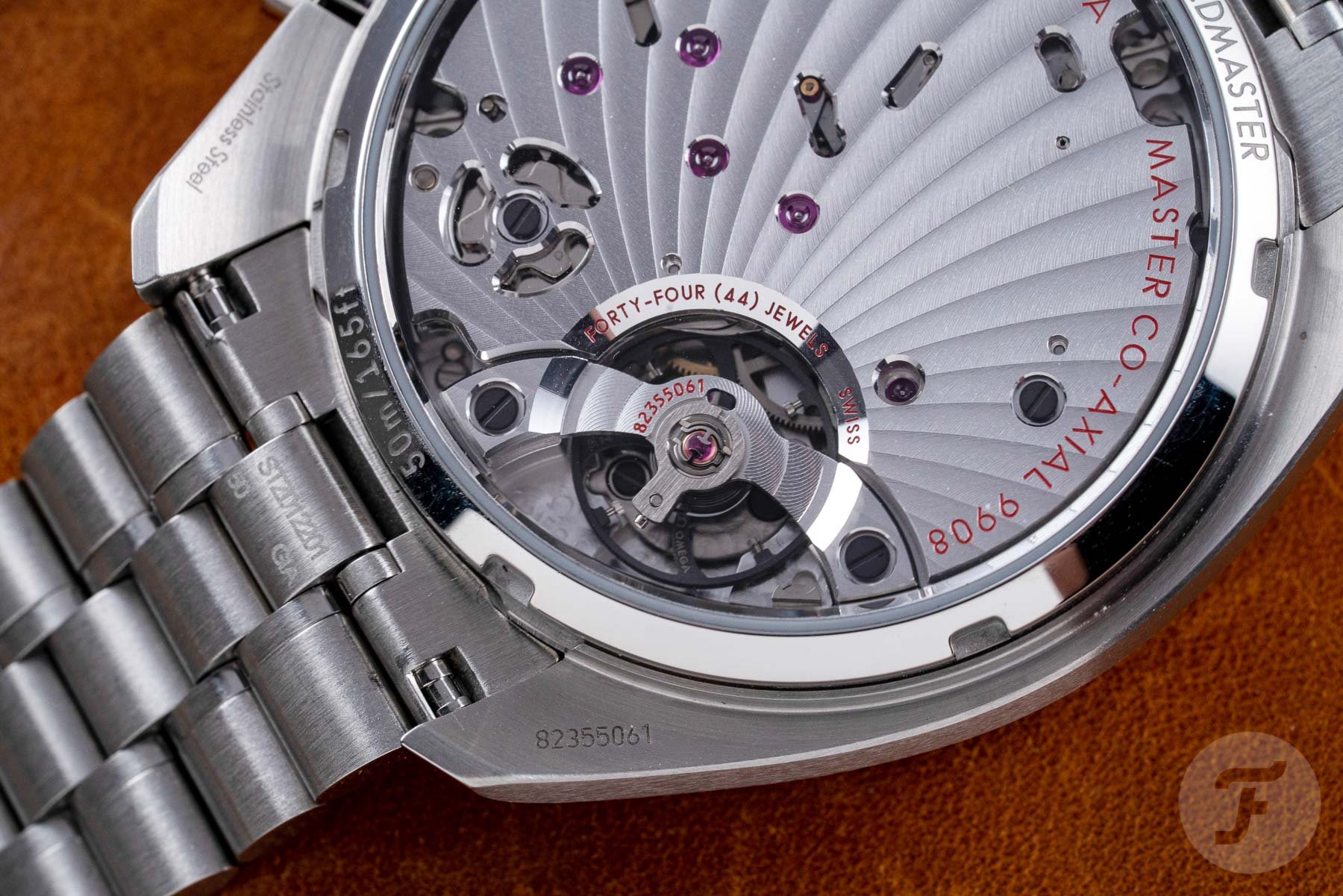 After its assembly, Omega puts it through some rigorous testing again. During these tests, the watch must keep time to +5/0 seconds per day on average (also when the power is only at 30%), and be resistant to magnetic fields of at least 15,000 gauss. When the eight tests are passed, Omega is allowed to put "Master Chronometer" on the dial. Omega introduced this in 2014 and made the Constellation Globemaster the first watch to meet this new standard in 2015.
Now, in 2021, nearly all mechanical Omega watches are certified as Master Chronometer. Having one or two watches certified as Master Chronometer is impressive in itself. Being able to put almost all of them through the test (and have them pass) is something else. The Master Chronometer is an open standard, set by Omega and METAS. That means other brands are also welcome to adopt it (if they want to test their mettle).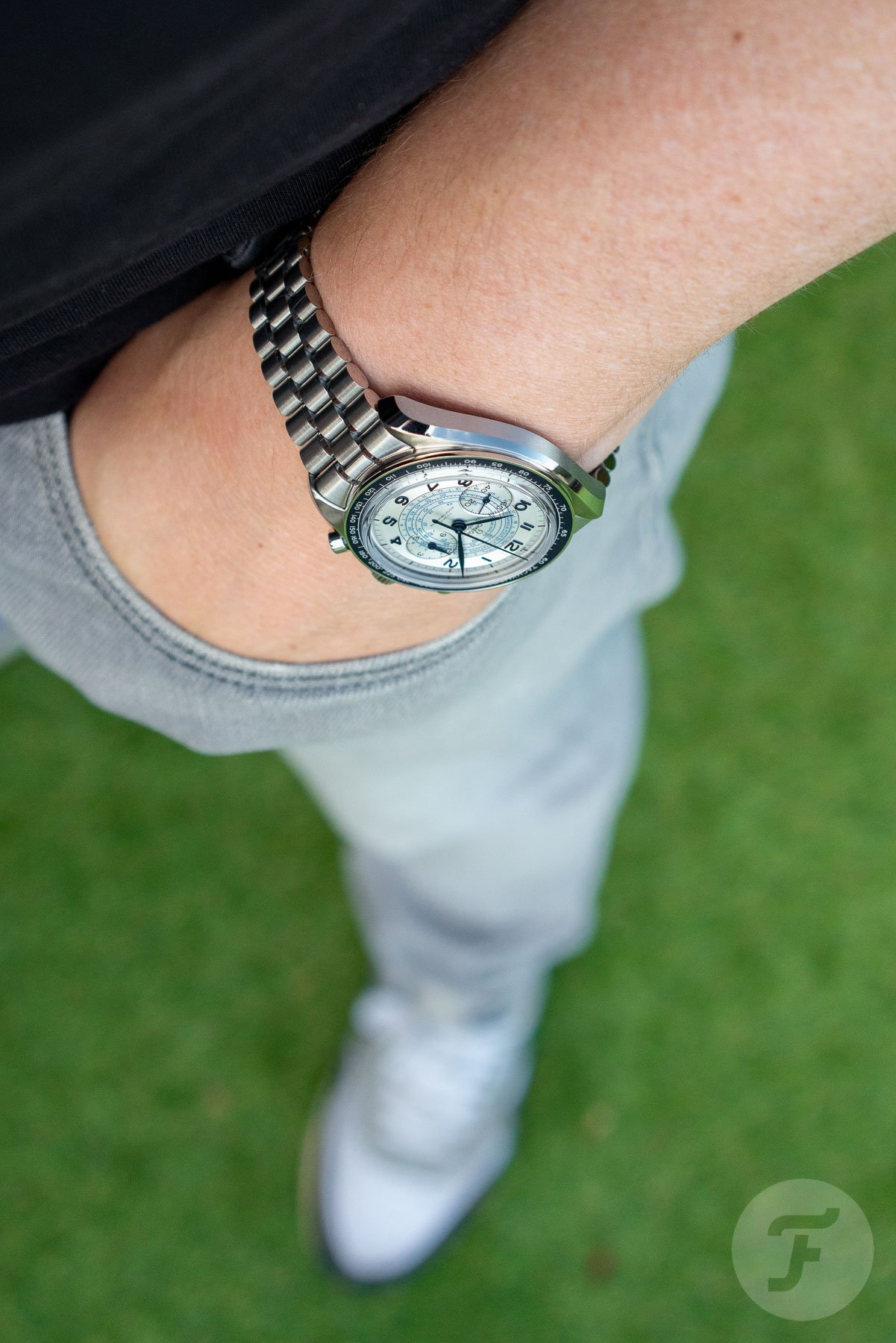 Is the Speedmaster Chronoscope something for me?
Omega's Speedmaster Chronoscope is a new addition to the Speedmaster collection and one that none of us saw coming. In my opinion, it's not a watch meant for the die-hard Moonwatch collectors (that includes me). Rather, it strikes me as an ideal companion for someone who isn't held back by heritage or rules made up by us purists. That said, I want to stress again that many of the comments on our introduction article were very positive. A good reception, I would say. And, after having worn this new Speedmaster Chronoscope on and off for a few weeks now, it has grown on me. Especially the "busy" dial that required a little bit of acceptance from my side.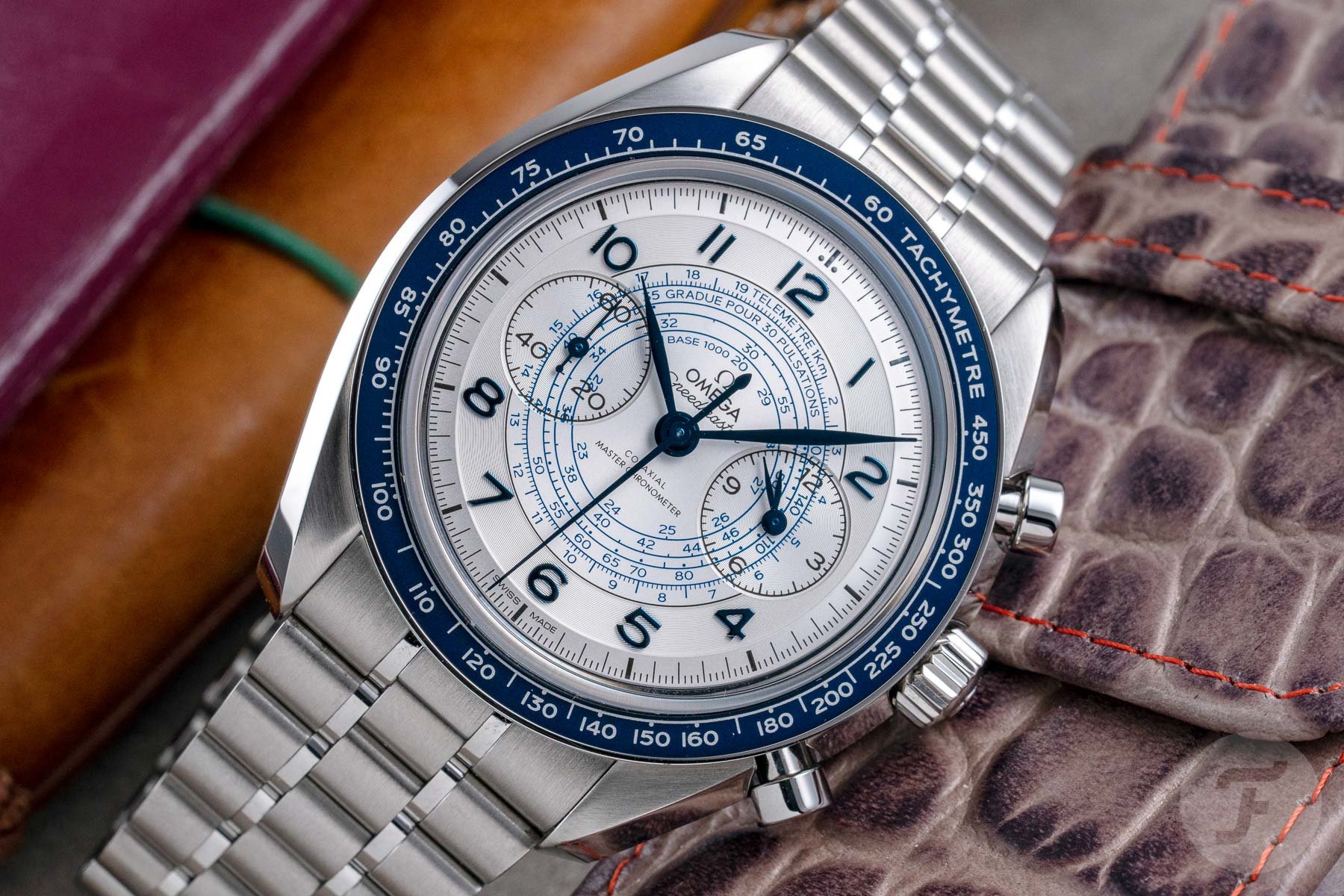 However, is the Speedmaster Chronoscope something I'd buy? Probably not. It took me eight years to (not) pull the trigger on a Dark Side of the Moon. I've grown to love that watch. And yet, it remains on the outside of my collection, looking in. Every time I come close to buying one, another Moonwatch calls my name. The Speedmaster Chronoscope might be a watch that goes into the same category. I might make an exception for the bronze-gold Speedmaster Chronoscope. That one has a little bit more of that vintage vibe due to the colors. I will give the warmer bronze gold Chronoscope a try and keep you posted. All specifications and pricing can be found in the chart below this article. More information via Omega's official website.
Watch specifications
Model
Speedmaster Chronoscope Co-Axial Master Chronometer Chronograph 43mm
Reference
329.30.43.51.02.001
Case Material
Stainless steel, steel bezel with aluminium inlay
Case Dimensions
Diameter: 43mm, Height: 12.8mm, Lug-to-lug: 48mm
Movement
Caliber 9908, Master Chronometer certified self-winding chronograph movement, column-wheel mechanism, power reserve: 60 hours, anti-magnetic >15,000 gauss, Geneva waves in Arabesque decoration, silicon balance spring
Water Resistance
50 meters
Strap
Stainless steel with folding clasp (easy adjustment clasp)
Functions
Time, Chronograph, Tachymeter, Pulsations, Telemeter
Price
€8,600 / CHF8,900 / $8,650
Warranty
5 years of international warranty