Speedy Tuesday – My Omega Speedmaster Professional 145.012 From 1967
Ever since I was a kid, I have been interested in watches. First in Casio and Swatch watches, but basically in all sorts of watches. Since I was born in 1977, I grew up in the quartz and – for a large part – in the digital era. Digital watches were basically the ones to have. In the meanwhile, the rest of my family was wearing Omega watches, gold Constellations and a sporty 1960s Omega Geneva. My father always told me that this was the brand that went to the Moon, without being exactly precise which model that was.
Omega Speedmaster Professional 145.012
Fast forward 1999. In the meanwhile I received an Omega watch for my graduation, which really triggered me into watches. In 1999, I was a student and it was only one year earlier that I moved from the east part of The Netherlands to the more crowded west part. At one evening, together with some friends, I was riding my bicycle in the city of The Hague when I suddenly noticed a watch shop with a bunch of watches on display. I stopped and noticed there were two Speedmaster watches on display. A vintage model and a more recent one.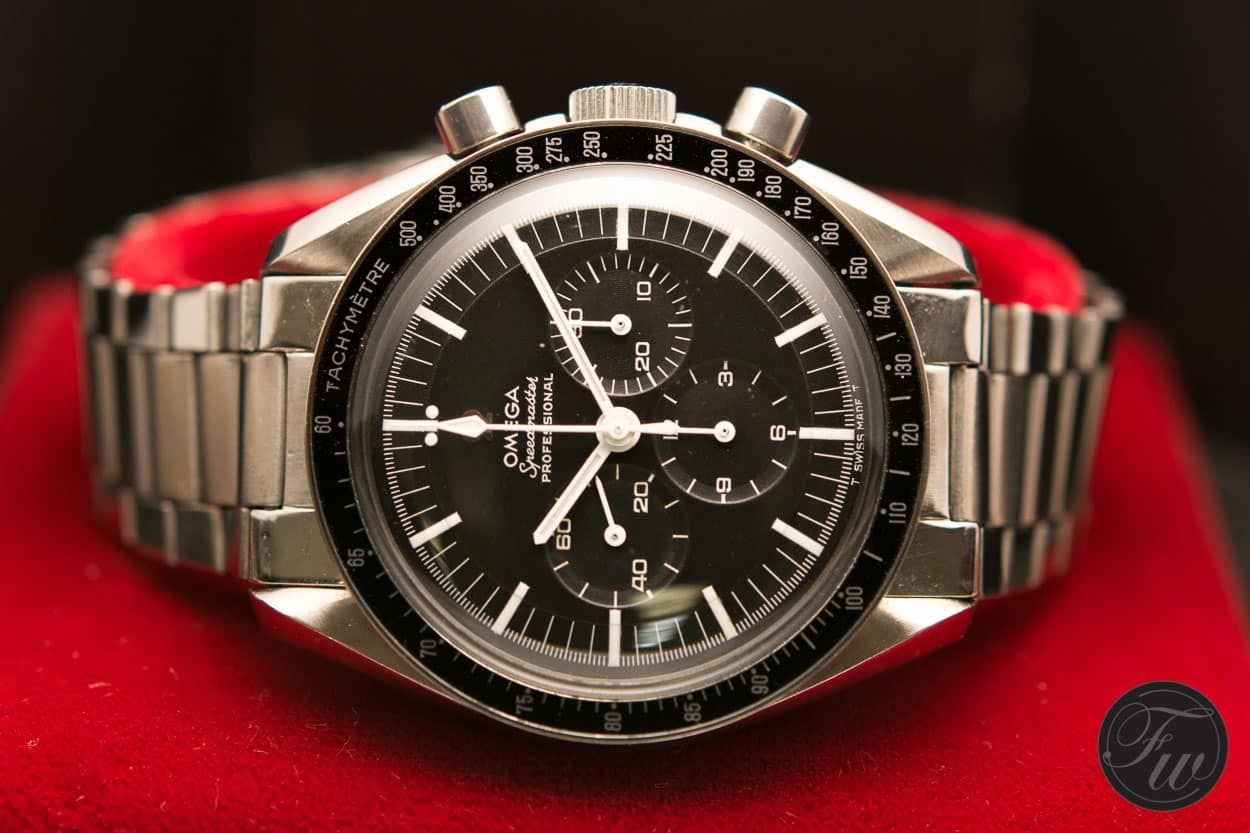 I emailed or phoned the seller (which happened to be Gerard Nijenbrinks, now part of the Fratello Watches team) and asked him about both watches. Truth to be told, I was going after the newer model, but at the time the vintage Speedmaster Professional was a bit cheaper than the new – but pre-owned – model. On the 1st of October 1999, I stepped into his shop and bought the watch. Not knowing that much about it then, I soon found out I made the right choice in going after the Omega Speedmaster Professional 145.012 with this Lemania based caliber 321 instead of the newer one.
The Omega Speedmaster Professional 145.012 is considered to be a Moonwatch, although during the Apollo XI mission it was its younger brother 105.012 that was on the wrist of Buzz Aldrin – this watch was later lost in the mail according to a source at NASA  – and Neil Armstrong.
However, it was this Speedmaster Professional 145.012 that was on the wrist of the third astronaut of the Apollo XI mission, Michael Collins. His Omega Speedmaster Professional 145.012 was probably in the batch of 1968 that went to NASA where the 105.012 models were already handed out in an earlier stage.
The difference between the Omega Speedmaster Professional 145.012 and 105.012 is not that big. The 105.012 has the two stepped case back, where the 145.012 only has one step. There is a little difference in the writing on the dial as well, especially with regards to the T Swiss Made T writing. However, the 105.012 was produced for a longer period in time, using for example different case makers as well, so the 105.012 has under gone a few changes itself as well. The later models (1966 was the last year of production) are quite similar to the Omega Speedmaster Professional 145.012.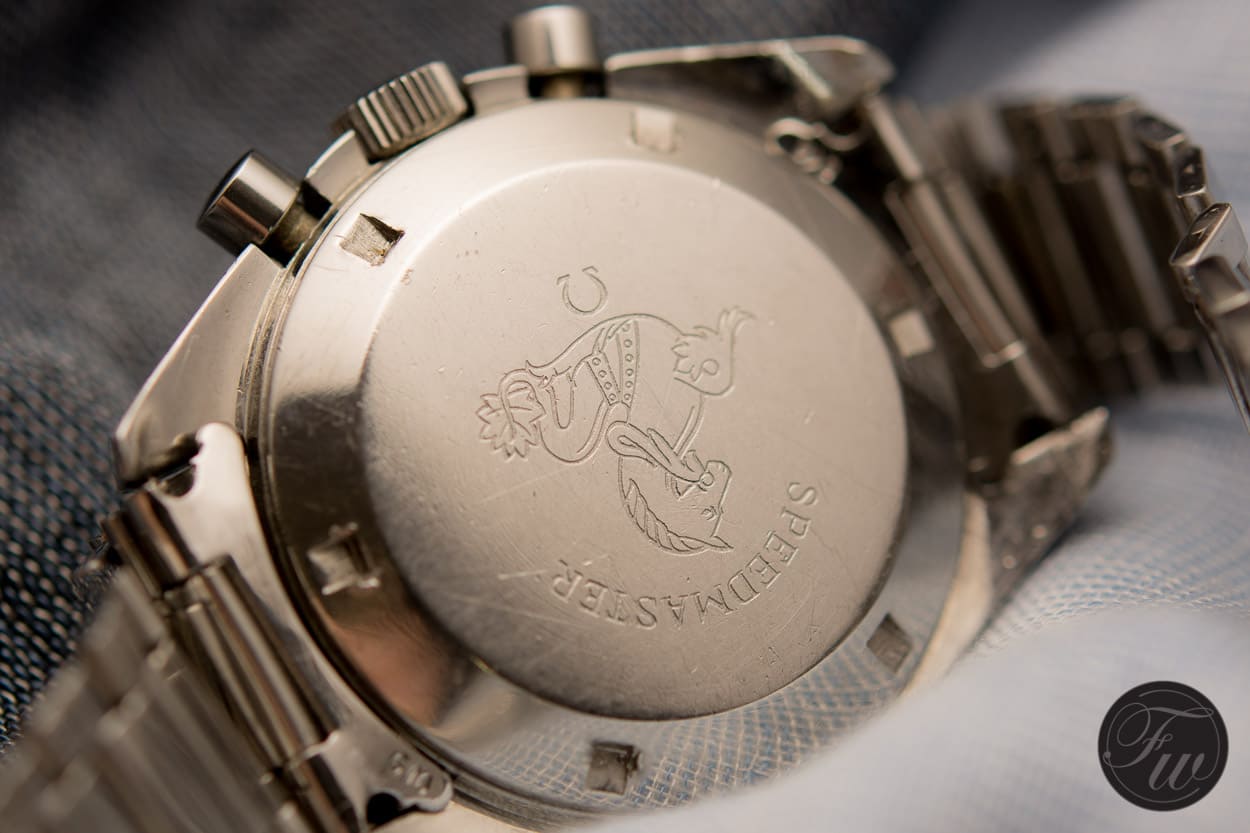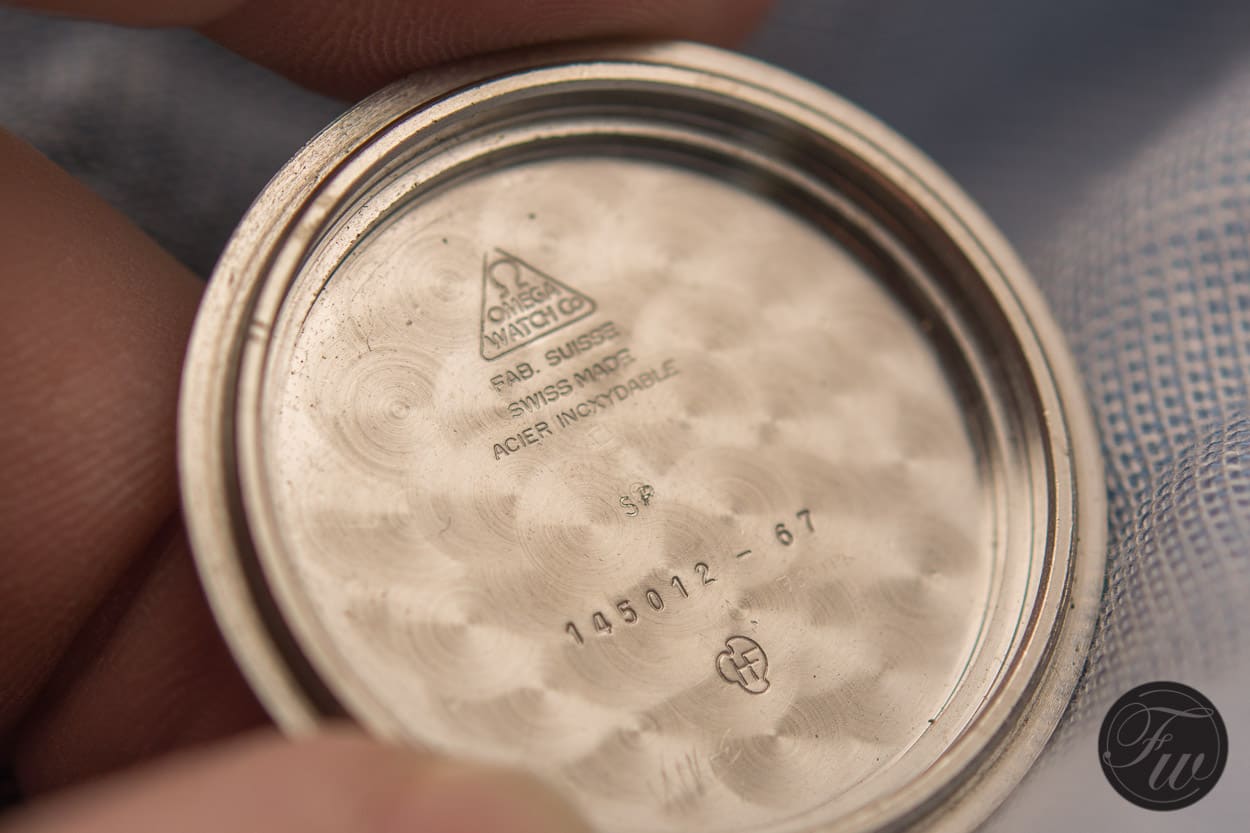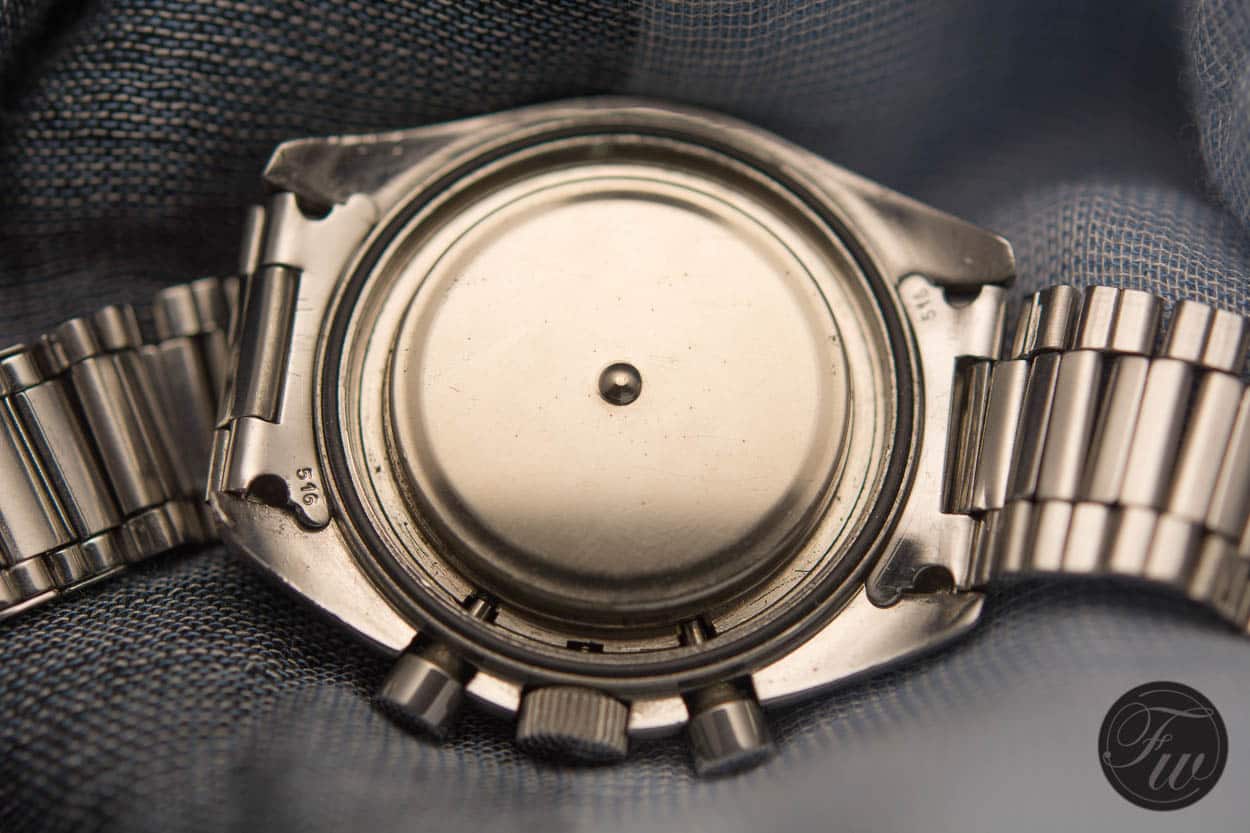 It remains very difficult to be definite on this topic. Omega – and probably a lot of other brands as well – used different parts of watches that were on the shelves at the time. First clean out stock before you grab something new, was probably the motto. This explains why you will see 145.022 models with an applied logo on the dial or perhaps the use of 'wrong' hands, dials, bracelets in general. However, because Omega has a great archive and there has been done a big deal of research by their museum and collectors of Speedies, we can be quite certain about most of the Speedmaster watches out there. But it always will remain a question whether a specific Speedmaster left the factory with that particular chronograph hand (for example) or not.
In any case, my Omega Speedmaster Professional 145.012 was produced in 1967 with its 25,006,242 serial number. According to Omega's archive, the watch didn't leave the factory in Bienne until October 22nd in 1968 (actually the day my father turned 18).
When I bought it, it had the correct hands on it, but these were cleaned by its previous owner probably, as there was hardly any paint left on them. I swapped them for a new pair, with the correct second hand (spear shaped). The hour and minute hand are not as pointy as the originals though. The bezel was also replaced (for a 1990s model), as the one I received it on also lost some of its paint. How can you identify the correct bezel? Click here!
I have this watch in my possession for exactly 15 years now, it has seen a bit of abuse during my years in university since it was my daily wearer for quite a while. It has been serviced a couple of times, repaired a couple of times and I think it might need a service interval as we speak. Parts are getting more difficult to find, especially when it comes down to the movement. Parts like a time-correct bezel or hands are not a real problem, but they've become far more expensive than they were a couple of years ago.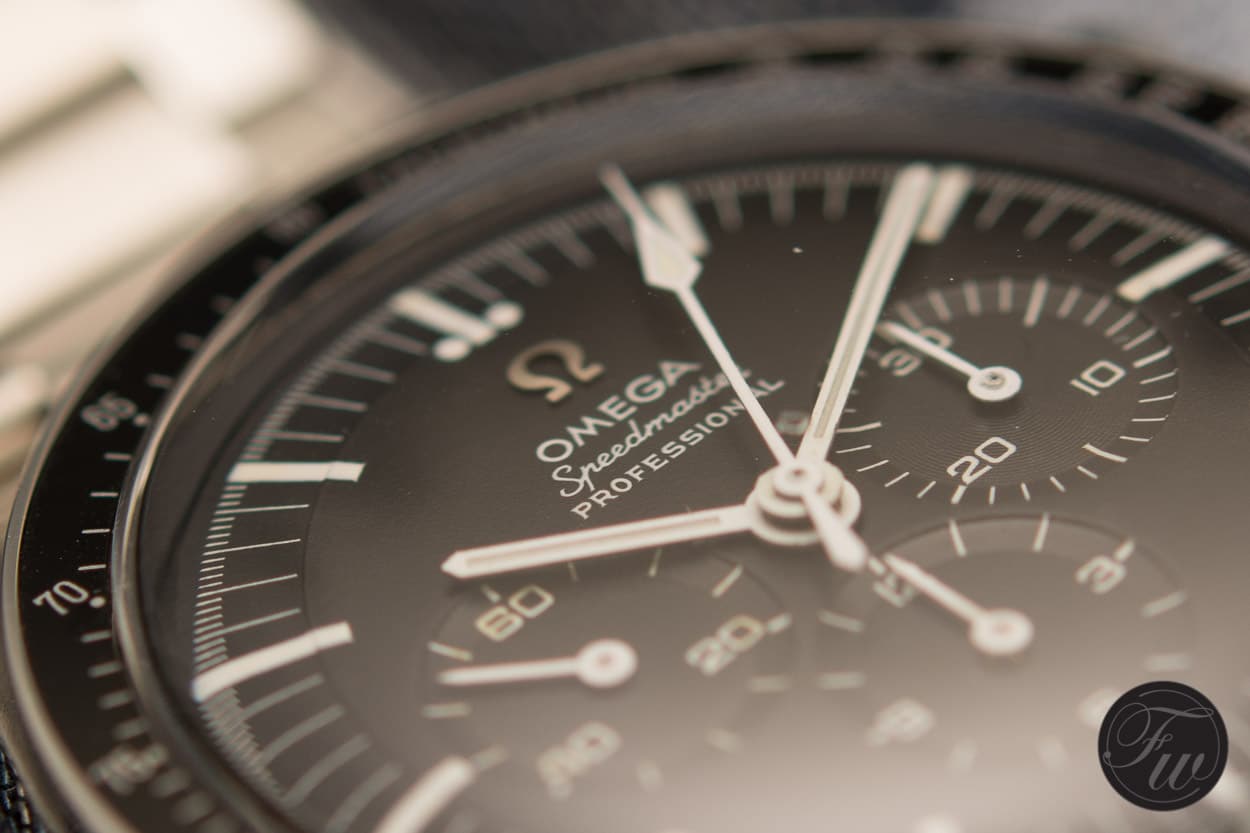 Since there are some things that could be done better on my watch, regarding the bezel and hands, I might source them in the future but I am not in a hurry and not really looking for them. The watch is fine as-is and it is no museum piece by far. I still wear it quite often and although I am careful with all my watches, it doesn't receive a special treatment. It is a watch for wearing.
Later on, I added this reference 1039 bracelet (dates back to 1968) to my Omega Speedmaster Professional 145.012. I already had sourced a 1039 bracelet but it was a bit too small for me. This one had enough links to fit perfectly. I had it restored by my watchmaker and had the original brushed/polished finish applied to it again as it should be. The bracelet has a few of these springs in the last few links near the clasp, which makes it able to stretch a bit.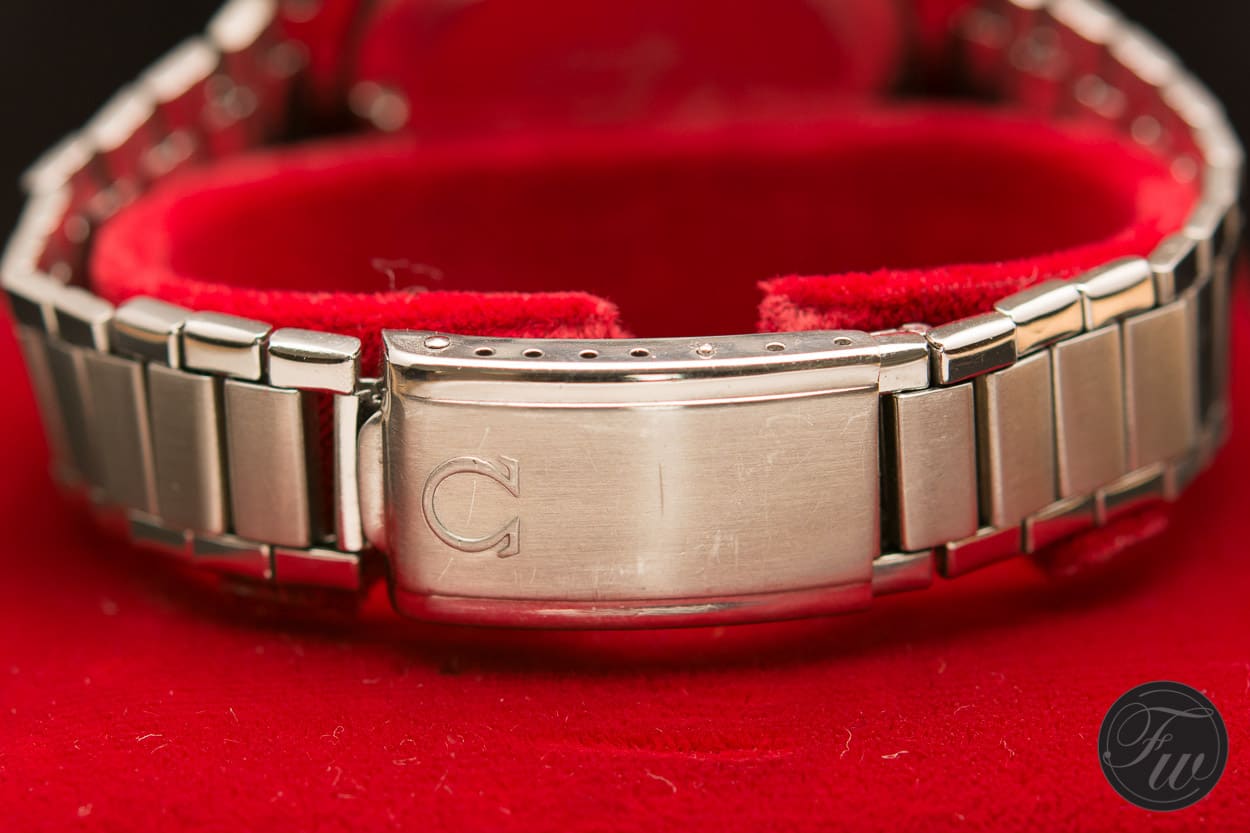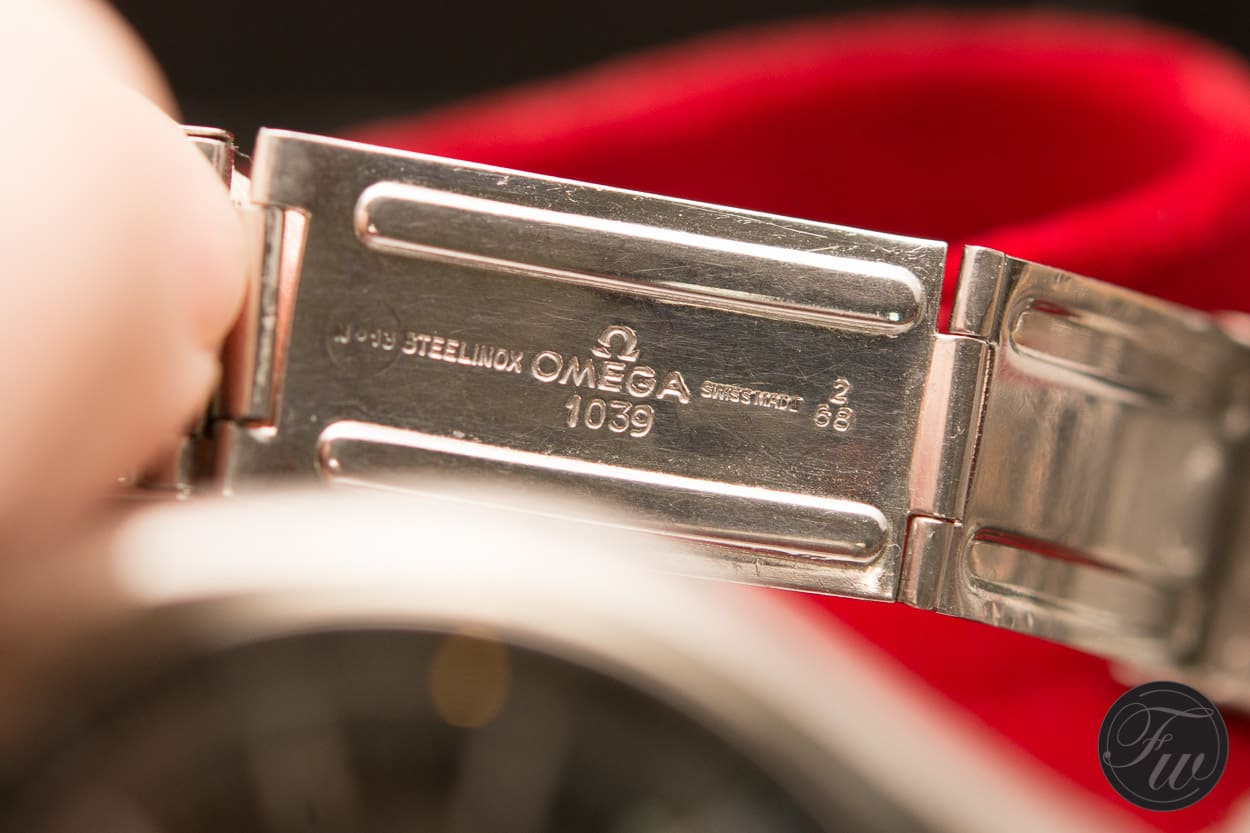 The Omega Speedmaster Professional 145.012 is probably the cheapest caliber 321 Speedy you can get out there, around 3200 Euro (according to our Speedmaster Price Table) based on Chrono24 offers. You will probably be able to source it for somewhat less if you scrape some of the sales forums or go to watch trade shows.
If you can get a complete Omega Speedmaster Professional 145.012, with box and original papers, you – of course – will have to cough up some more money for it than stated above. I was able to source an original red box for this model (box has number 1501 on the bottom) but unfortunately the watch came without papers or its original (red) instruction booklet.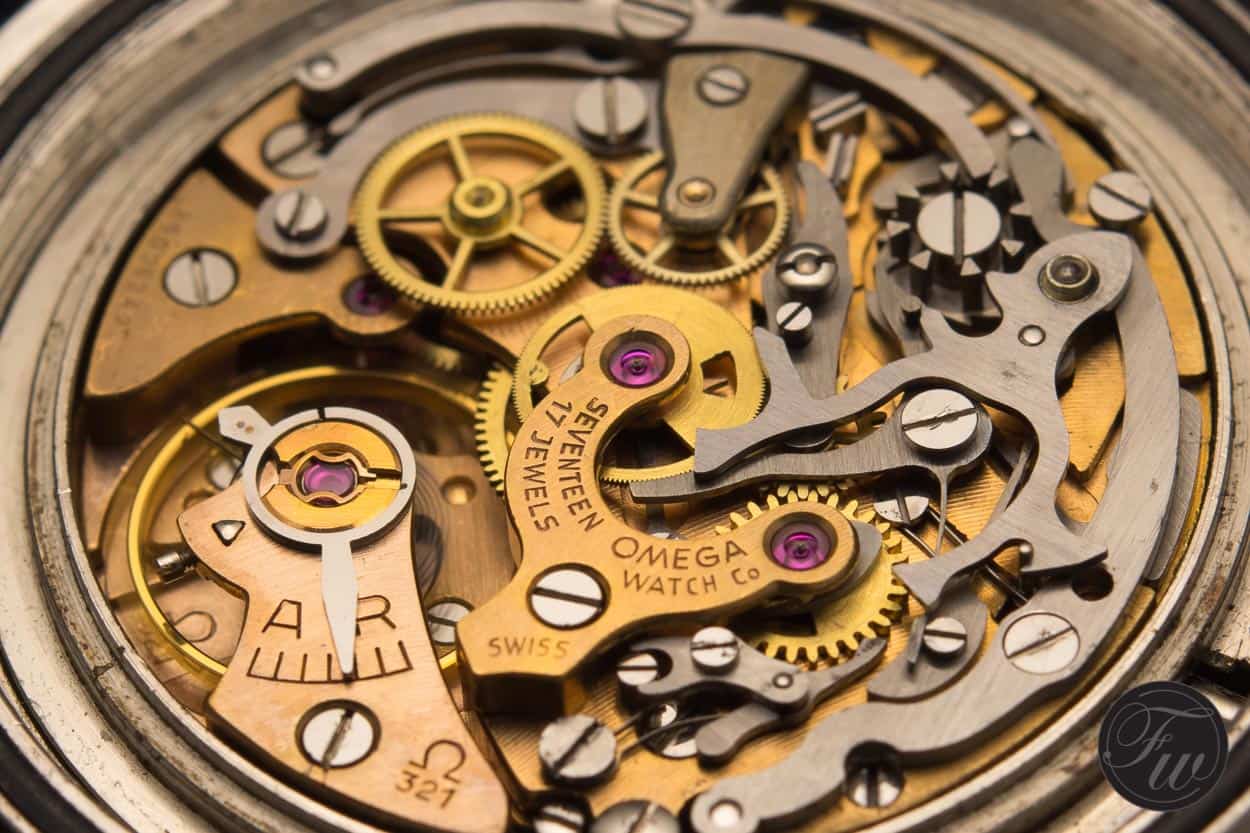 Nevertheless, it is the watch used by NASA during their Apollo missions and it has the wonderful Lemania caliber 2310 based movement, Omega caliber 321.
This column-wheel movement is very pleasing for the eyes and starting the chronograph feels like silk. There is no caliber 861 (or later derivatives) that feel as silky as the caliber 321 chronograph. So if you put some effort into it, you might be able to find an Omega Speedmaster Professional 145.012 for a far more attractive price than those earlier references and still on-par with a brand new Omega Speedmaster Professional 3570.50 / 311.30.42.30.01.005 (new reference for the 3570.50).
The Roman Hartmann table with Speedmaster serial numbers can be found here.