A Hands-On Oris Aquis Date Review
In our on-going quest for affordable mechanical watches I stumbled upon Oris. Oris is a brand that only produces mechanical watches, there is not a single quartz watch in their catalog. Besides that, it is an independent brand that has produced watches from this little Swiss village called Hölstein since 1904. Their key to success is perhaps best captured in their slogan "real watches for real people", something that we – here on Fratello Watches – certainly try to promote as well. Although there is still a lot of fun in writing about high-end complex pieces as well of course, but at the end of the day, most of our readers – and you can include us into this category as well – leave a watch shop with an affordable mechanical timepiece that suits our needs and fits our budget.
Although Oris proved to be capable of developing and manufacturing their in-house (Oris caliber 110) movements, we decided we wanted to review one of their very affordable mechanical watches that carries a Sellita based movement. Oris sent us the Oris Aquis Date for me to wear for some time and I'd like to share my observations with you in this article.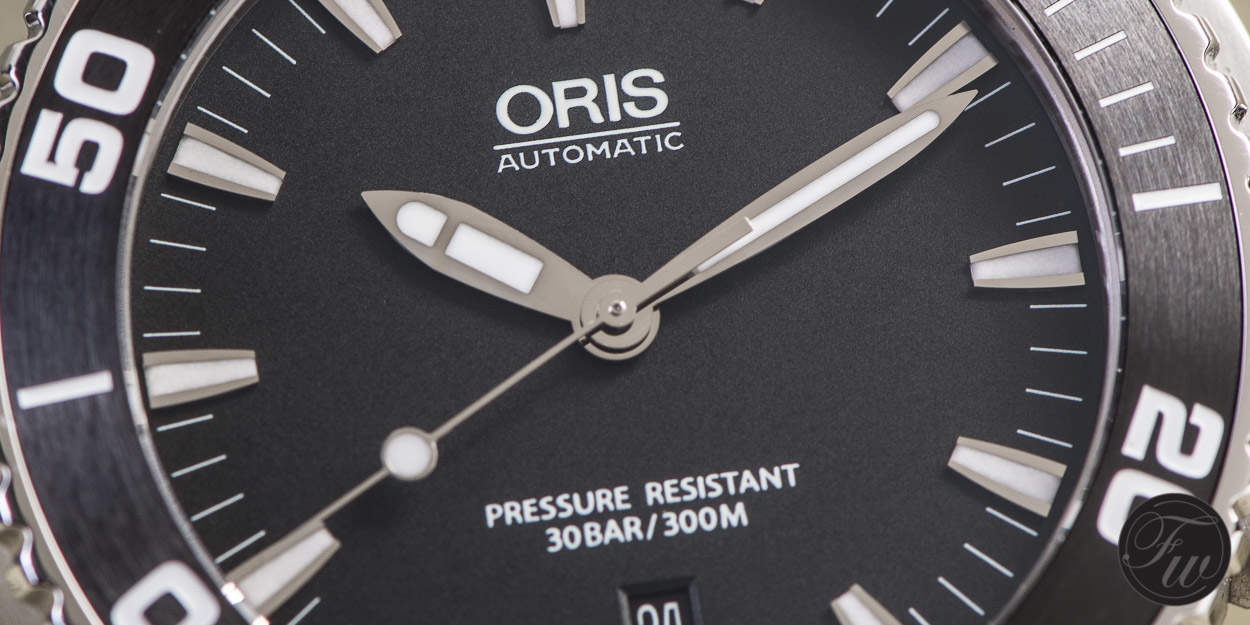 Oris Aquis Date
Perhaps the best way to start this review is by giving you a small anecdote of what happened at Fratello Watches HQ. Normally, I give the watches first to our photographer Bert Buijsrogge as he often complains that I make the watches dirty which means he needs to clean them thoroughly before they are ready to be photographed. After the photography, I wear the watches to make my observations and write down some notes on the watch. So, when Bert came down to the office to collect this Oris Aquis Date, he just grabbed it out of the box and put it on his wrist without saying too much about it (normally he doesn't like rubber straps).
After a few days, we were on the phone and he told me he really liked the watch and that it was actually still on his wrist. He asked me about the list price (€ 1300,- Euro ~ $1610.- USD) and he replied something like "No way!" in a good and surprised way. That would pretty much sum up both our thoughts on the watch if this were a 300 words review.
When Bert did what he does most of the time (taking photos) he gave the Oris Aquis Date back to me and I started to wear it myself. One of the things I couldn't get out of my head when wearing this watch was the attractive price tag. Although it is not the most important aspect of this watch (or any watch), it is quite difficult to believe that brands like Oris are able to produce solid and well-designed watches in this price range. Of course we reviewed the Longines HydroConquest just a few weeks ago, with a similar price tag which also had the same effect on us. Both watches could be seen as competitors for those who are looking for a serious diver's watch in this price category.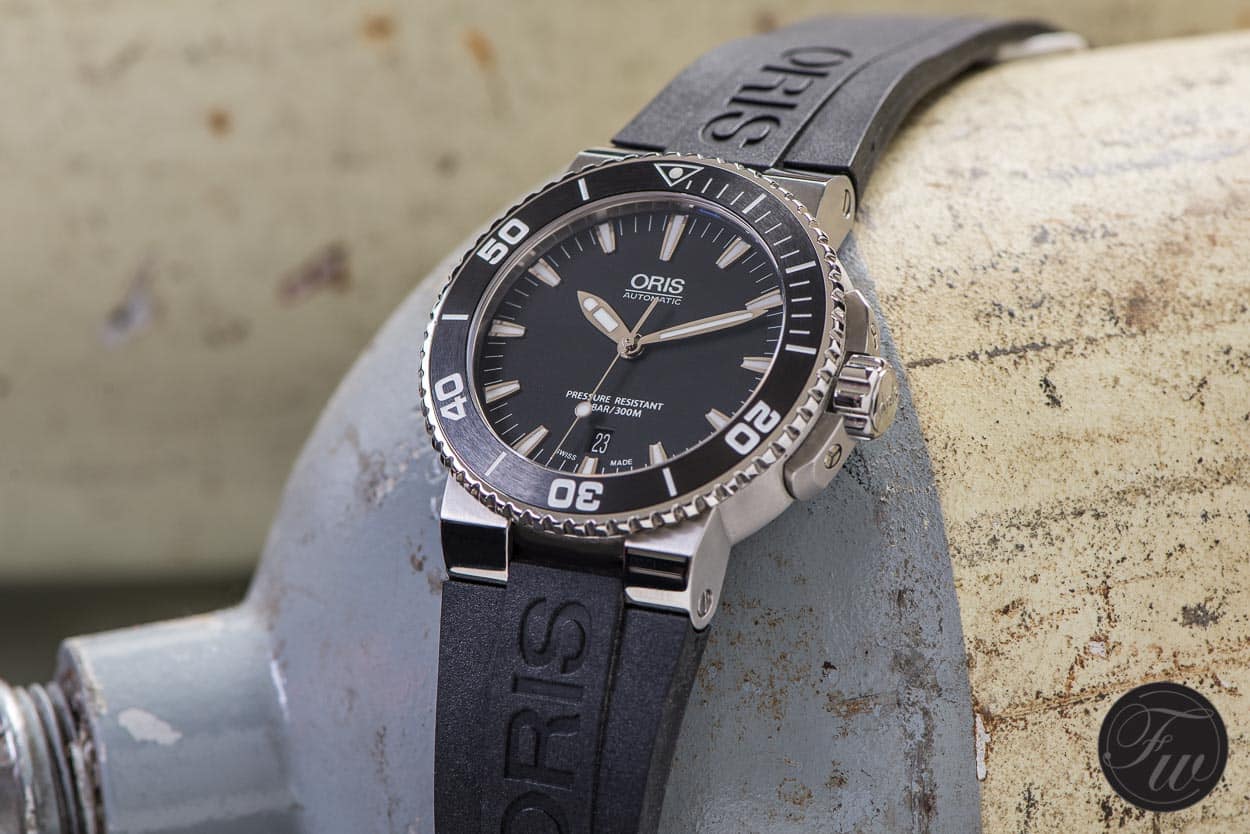 The Oris Aquis Date has a very distinctive look. Even though the black dial and black uni-directional bezel are common used ingredients for a diver's watch, the shape of the case and the lugs make it stand-out from the crowd. The black rubber strap is screwed to the lugs (as you can see in the picture above) which makes a very solid impression. The stainless steel folding clasp on the strap is very comfortable and can be resized very easily. However, if you have smaller wrists, you might want to have the strap cut on the right length for you. Always do this in little steps, as you don't want to ruin the strap and you can still resize it in the clasp of course.
The stainless steel folding clasp makes a very solid impression as well, no concessions were made here by Oris. On the outside, the clasp has a combination of a matt brushed finish and a polished finish. In the polished center part, the brand's name has been engraved.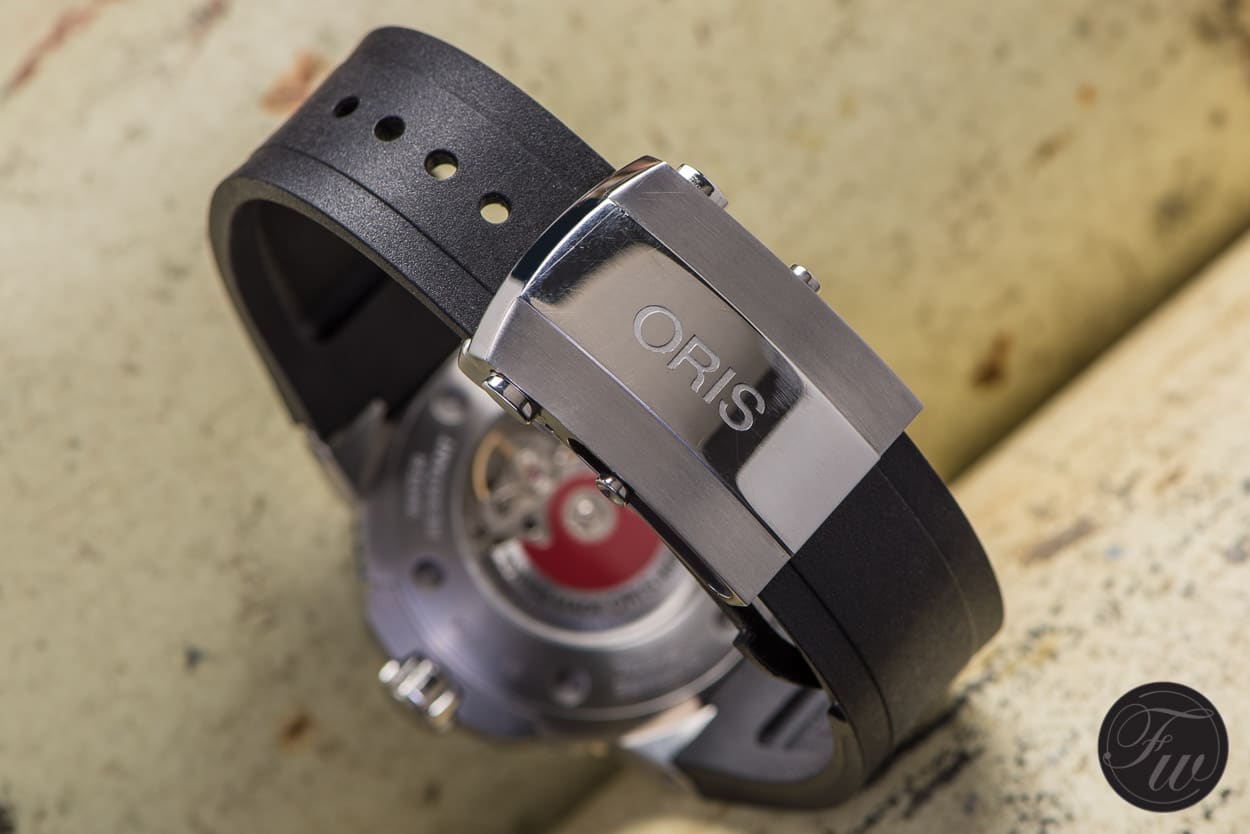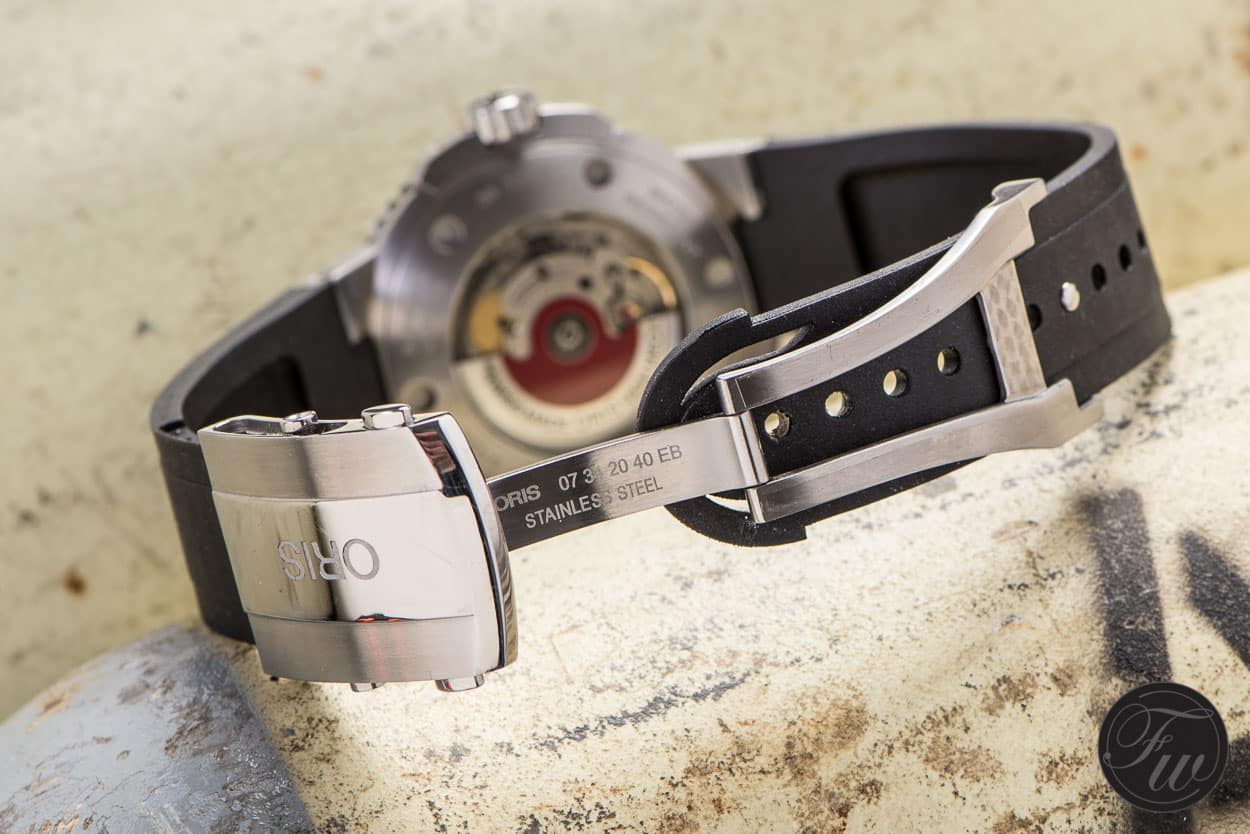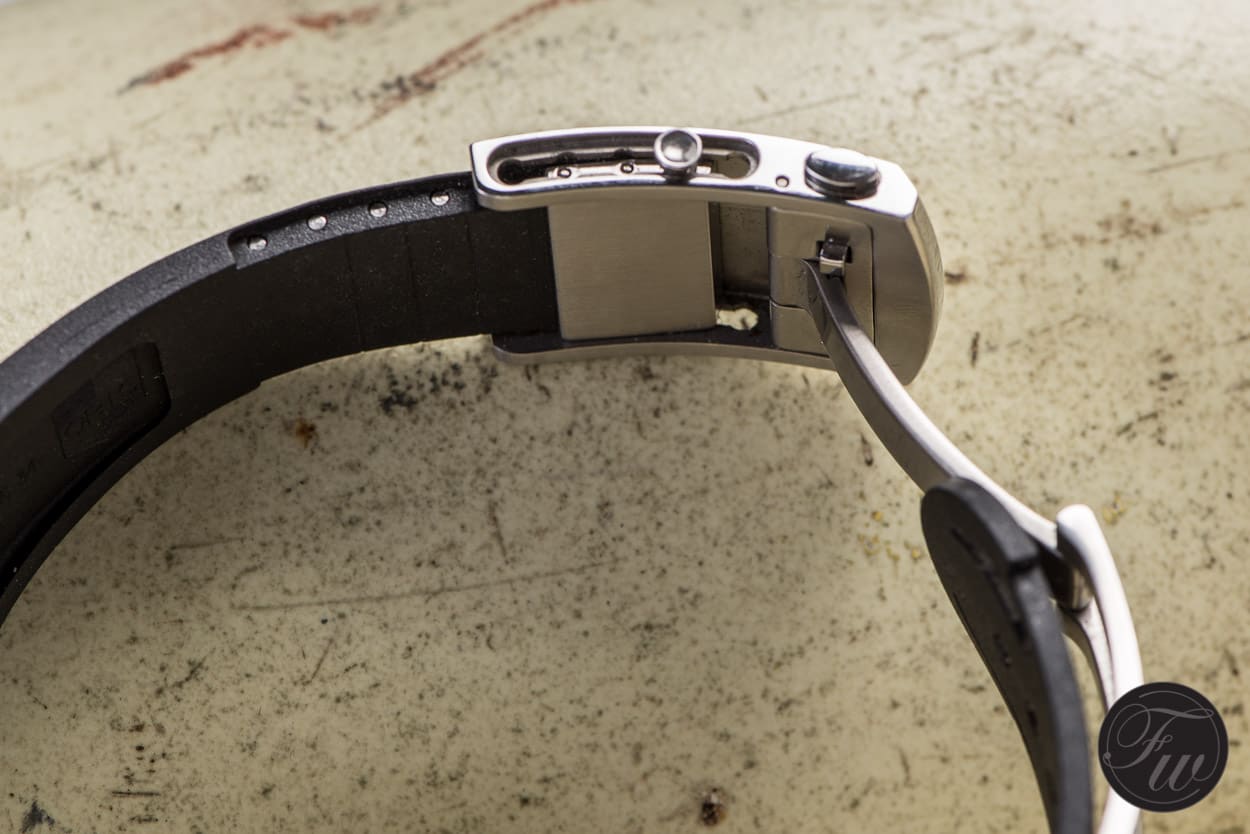 As the photos above revealed already, the Oris Aquis Date has the famous red rotor which is visible through the sapphire case back of the watch. Although I am often not too keen on display backs, especially when relatively standard movements are being used I can imagine that this doesn't reflect the opinion of most watch enthusiasts and consumers who are into mechanical movements. Perhaps I've been spoiled too much, but I do like a closed stainless steel case back on watches.
In any case, the movement that is used for the Oris Aquis Date is Oris caliber 733. This movement is based on the Sellita SW200-1 movement, which is being used in many other watches, even with watches from brands with higher price tags. Oris mentions the original base caliber on their website, which also says something about their no-nonsense policy and their transparency. Something I surely appreciate.
The movement has been fitted with the famous red Oris rotor, a nice distinctive feature. The stainless steel case back provides some information to the wearer of the watch, such as the reference number, the level of water resistance and the fact that the case is made of stainless steel. The crown guard is a bit integrated into the case as you can see on the photo below. The screw-down crown is big enough for an easy operation.
Oris caliber 733 has a power reserve of 38 hours and ticks at 28.800 beats per hour. With the screw-down crown, you can of course set the time (with hacking second) and correct the date. The time keeping of our test watch was quite good, although we didn't use a Witschi device to fully run it through some tests. We used our radio controlled clock to see if there was much deviation after a few days but the Oris Aquis Date kept great time.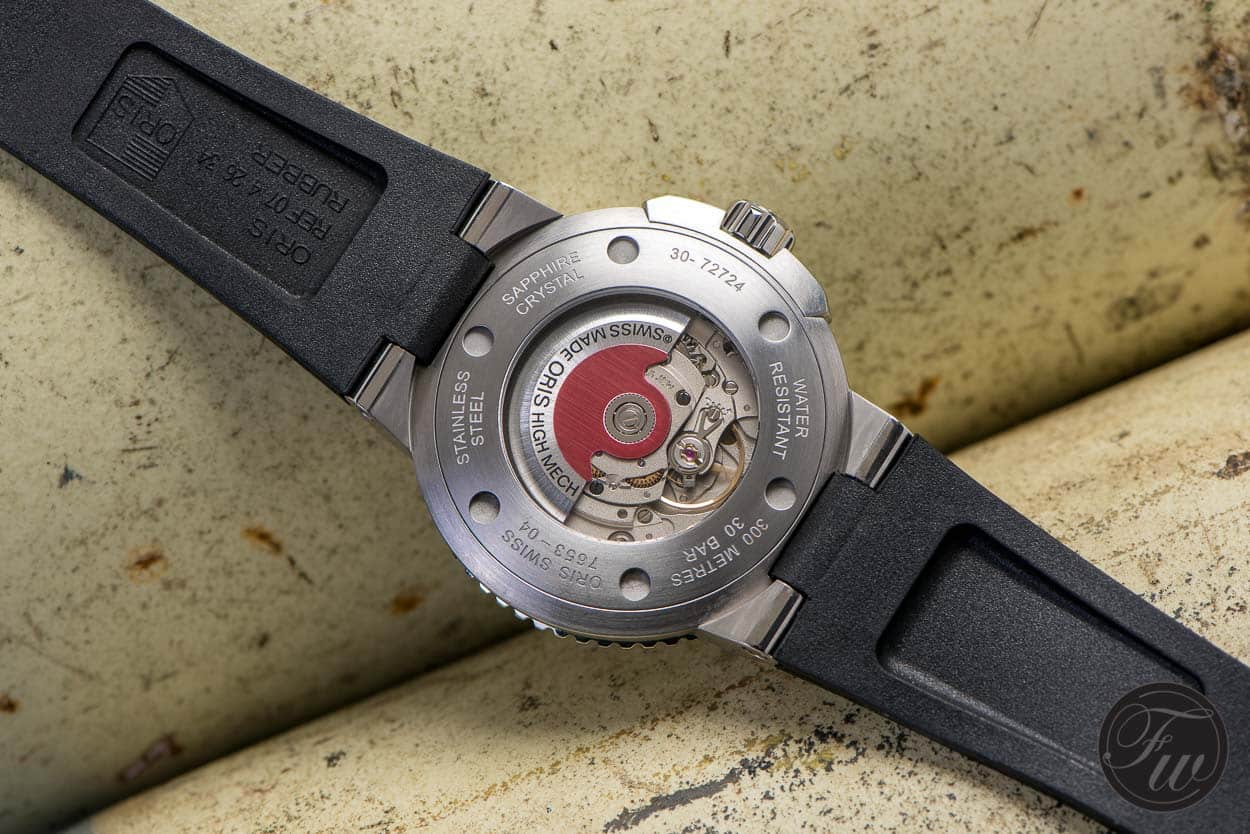 One of the most important aspects of a good diver's watch is of course the readability. This Oris Aquis Date on rubber strap has a black dial and black bezel. Other variations are available as well in the Oris catalog, but for a real tool watch – which this Oris Aquis Date basically is – I do prefer a high contrast dial. The polished silver colored hands match the dial perfectly and are filled with Super Luminova. Of course, Super Luminova is also used for the (silvered applied) hour markers.
Oris has been careful with printing words on the dial. Only the necessary information is there and it helps to keep the dial clean and readable. Another small detail is that Oris has used a black date disc with white printing instead of the other way around (which is unfortunately still done by a lot of brands).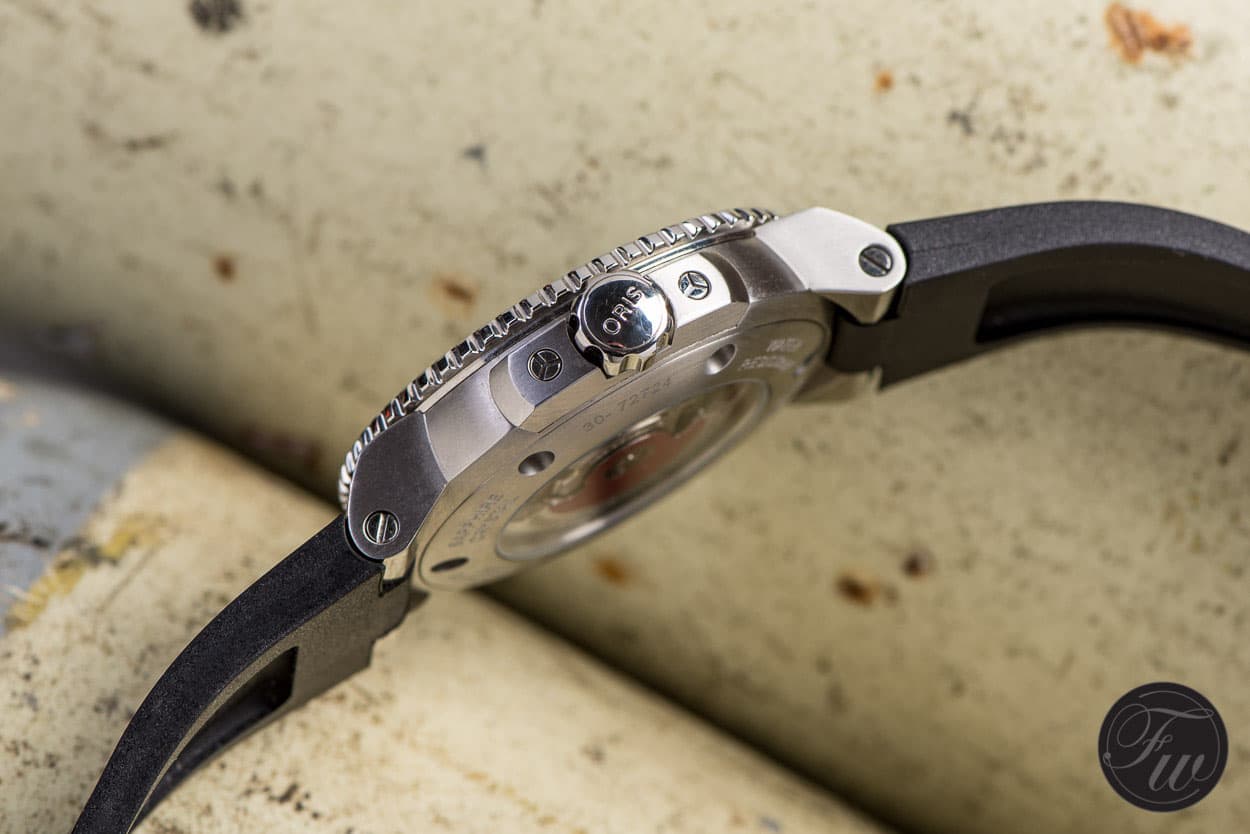 As I already wrote before in this review, the crown guards are more or less integrated in the case design. However, the two little screws with uncommon heads give away that it is a separate part of the stainless steel case construction. The crown is signed Oris and makes a solid impression without any play when being unscrewed. The black uni-directional bezel has this black brushed finish and is easy to grasp and operate. I detected no play in the bezel, which definitely would have annoyed me.
In tearms of wearing, the Oris Aquis Date has a 43mm case which isn't exactly small but does fit my wrists perfectly. Combined with the rubber strap it was a real pleasure to wear this professional tool watch. The crown didn't stick into my hand and the rubber strap was soft enough to be very comfortable. I used the resizing feature a couple of times (as I was wearing this watch in a period that the weather changed drastically) and it is easy and quick to use.
At the end of the testing period, I still had the same opinion of the Oris Aquis Date as in those first few days of wearing and basically the same to the comment Bert made about the watch. During and after my period of wearing the Oris Aquis Date I am convinced that this is one of the watch you seriously need to consider (and try!) if you are looking for a nice no-nonsense mechanical diver's watch.
No minors? Of course there are but at this price you can wonder whether they really matter that much as it is all about personal preferences and details. Personally, I think that there is a bit much text engraved on the caseback of the watch. I know it is a stainless steel watch and that it has a sapphire crystal. Also, both "Water Resistant" and "300 Meters" is a bit much, only "300 meters" would have been enough. On the other hand, as you can see on the photo, there is text engraved between all circled 'holes' that are being used to open the case with a special tool. It does look well-balanced. Another little minor would be that you need to cut the strap if you have small wrists. However, your authorized Oris dealer is well capable of doing this for you of course. Just make sure you don't get too big afterwards.
More photos can be found below in our gallery. Detailed information on the entire Oris Aquis collection can be found here.