Our Favorite Swatch Watches: Jorg Connects The Dots With His Swatch Bar Oriental
A Swatch from 1989 turns out to be a coincidental reflection of the future
This story is about my first Swatch, which, as it so happens, was also my first watch. The tale begins when my parents gave me the watch back in the late '80s. People over 40 will know that Swatch was all the rage back then. And I was also in awe of the colorful plastic watches accompanied by groundbreaking marketing campaigns. There was no escaping it, and I was totally on board. On my 12th birthday, I came home with the Swatch Bar Oriental, a watch that turned out to be the perfect storyteller of my future. As such, it holds a special place in my heart.
Lex brought us back to 1986 in the first of this series of Swatch articles. For mine, we'll be starting back in 1989. In those days, I would spend most of my afterschool hours and weekends at the tennis club. Both my parents and brother were also members, so it was a true family affair. I started playing tennis at seven years old, and it became one of the longest love affairs of my life. I still play tennis at 45, although my ambitions are much less grand than they were as a young boy. These days, it's the perfect reminder of not being able to do what I could do with a tennis racket 20 years ago. But my love for the game of tennis hasn't faded one bit, and it's through that my fascination with Swatch began.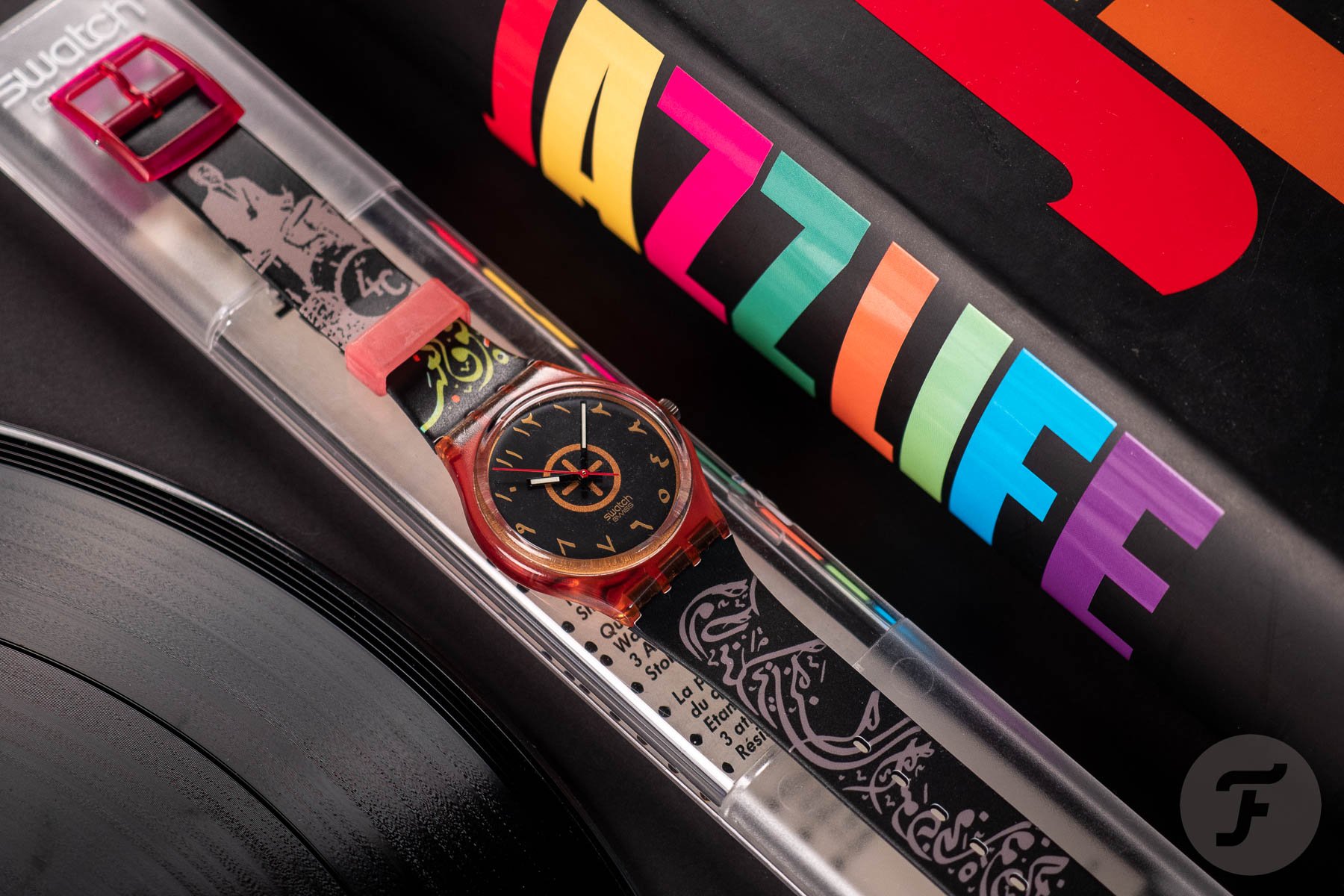 Back to the future
As a young kid who loved tennis, my entire social life was centered around the tennis club. So naturally, that's also where I made friends who I would hang out with often. And I remember vividly that one of my friends, Martijn, got his Swatch not long before I got mine. I loved seeing his neon-colored Swatch every time he wore it, and he did so religiously. Back in those days, neon was a trend that quickly took over. I remember the hype surrounding Ocean Pacific T-shirts very well. It's another one of those brands that gained a lot of momentum in the late '80s.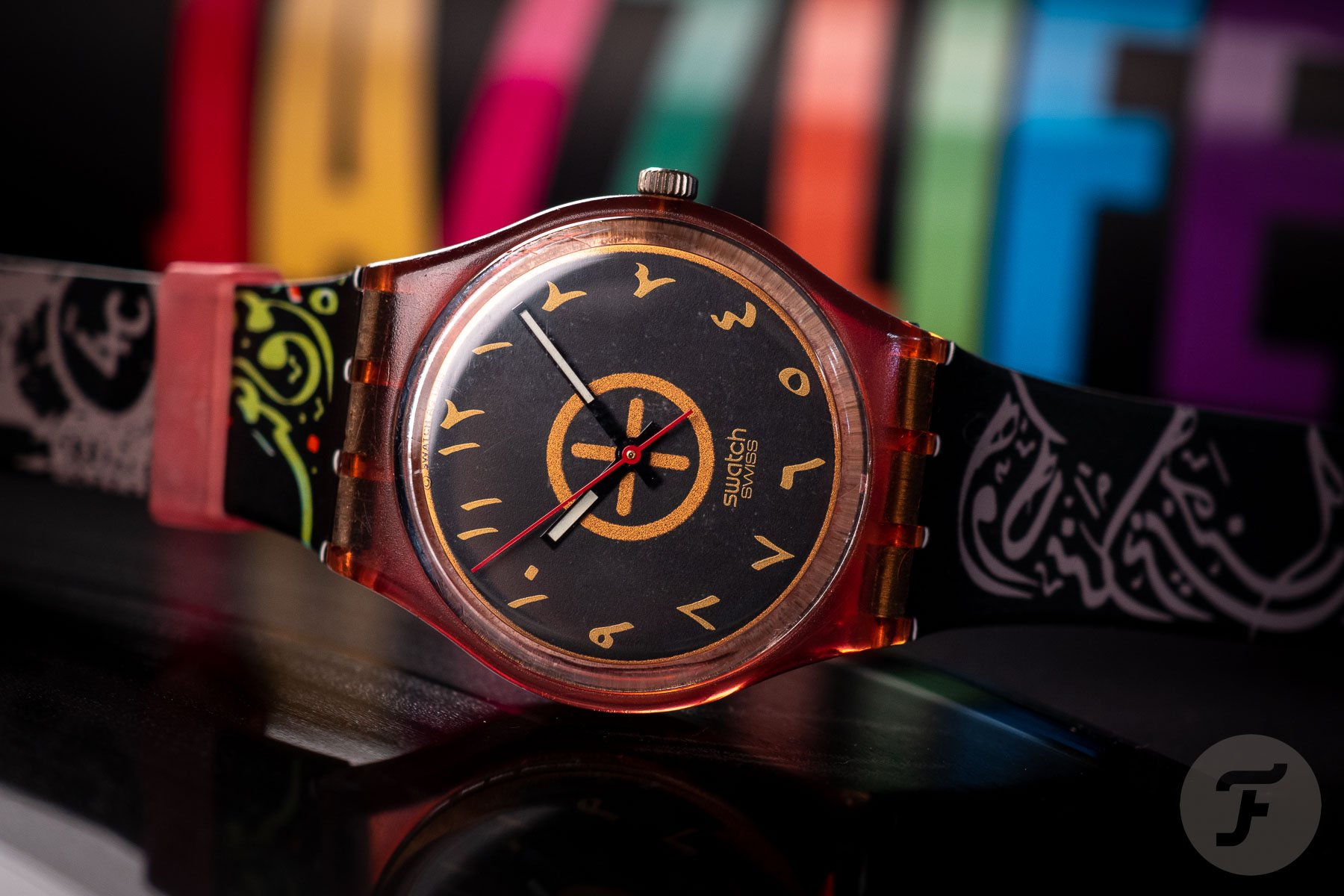 While not all of Ocean Pacific's prints were necessarily neon, they were inspired by surfing and brightly colored. And they were everywhere. I loved a small number of the brand's short- and long-sleeved shirts. I specifically remember a blue T-shirt with the OP logo on the front and a huge black backprint of a surfer with neon yellow details that I loved. Besides the surf prints, the magic of these T-shirts for me was also in the huge backprints. There was something magical about a small logo on the chest and a huge print on the back. It triggered the recognition of people wearing an OP tee and the curiosity to discover what was on the back.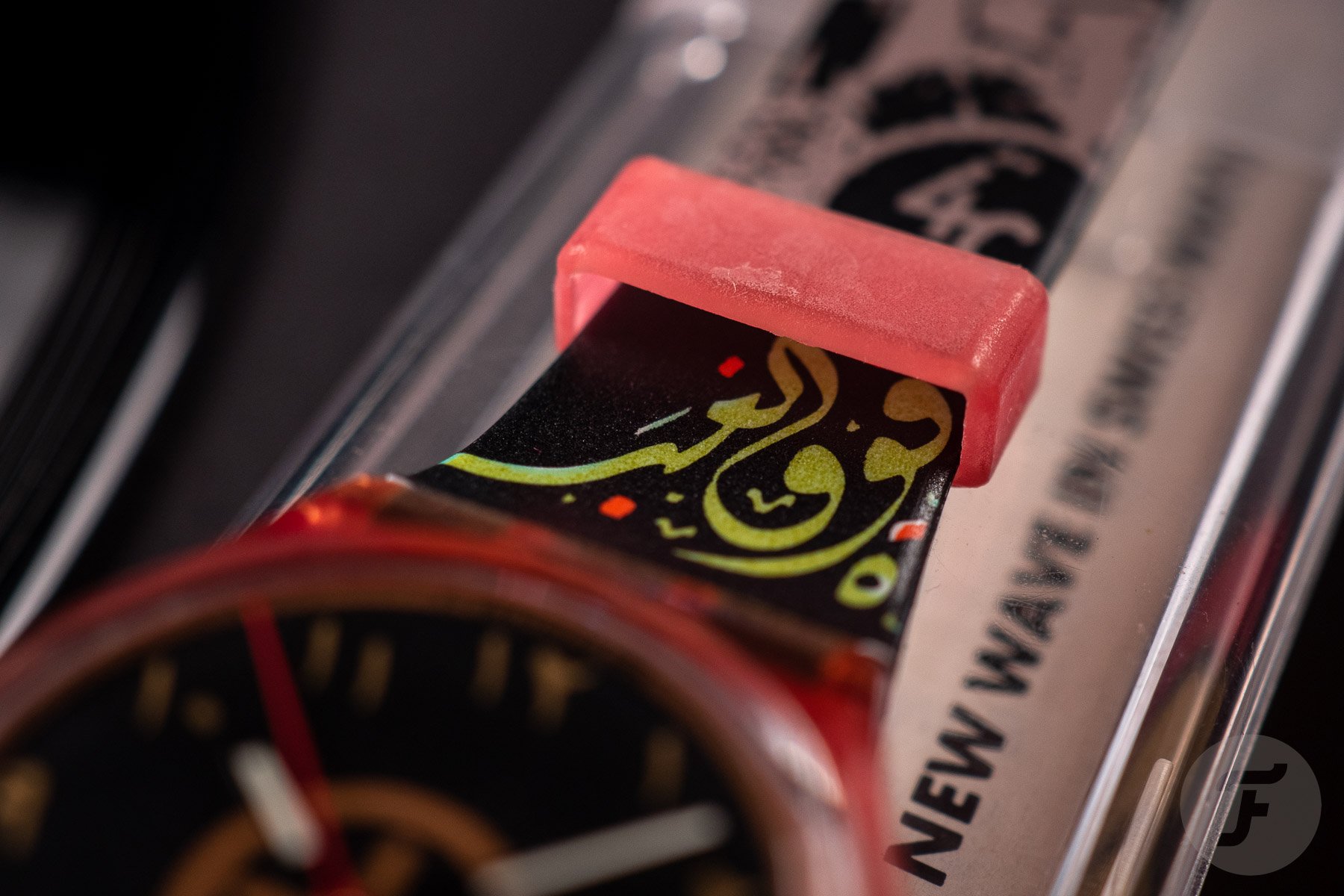 The neon trend also hit Swatch
But I'm drifting off topic here. Anyway, as a kid back in the late '80s, I just loved neon colors, and you could also see them in the new collections that Swatch released. A glance at all the Swatch watches from the late '80s in the legendary book Swatch-Clopedia — get one if you don't have one of these reference books —shows that the first Swatch models with translucent neon-colored cases debuted in 1988. Seeing my buddy wearing one, and after that, more tennis friends, made me want to have one too. But one thing was obviously out of the question — buying the same watch as one of my friends.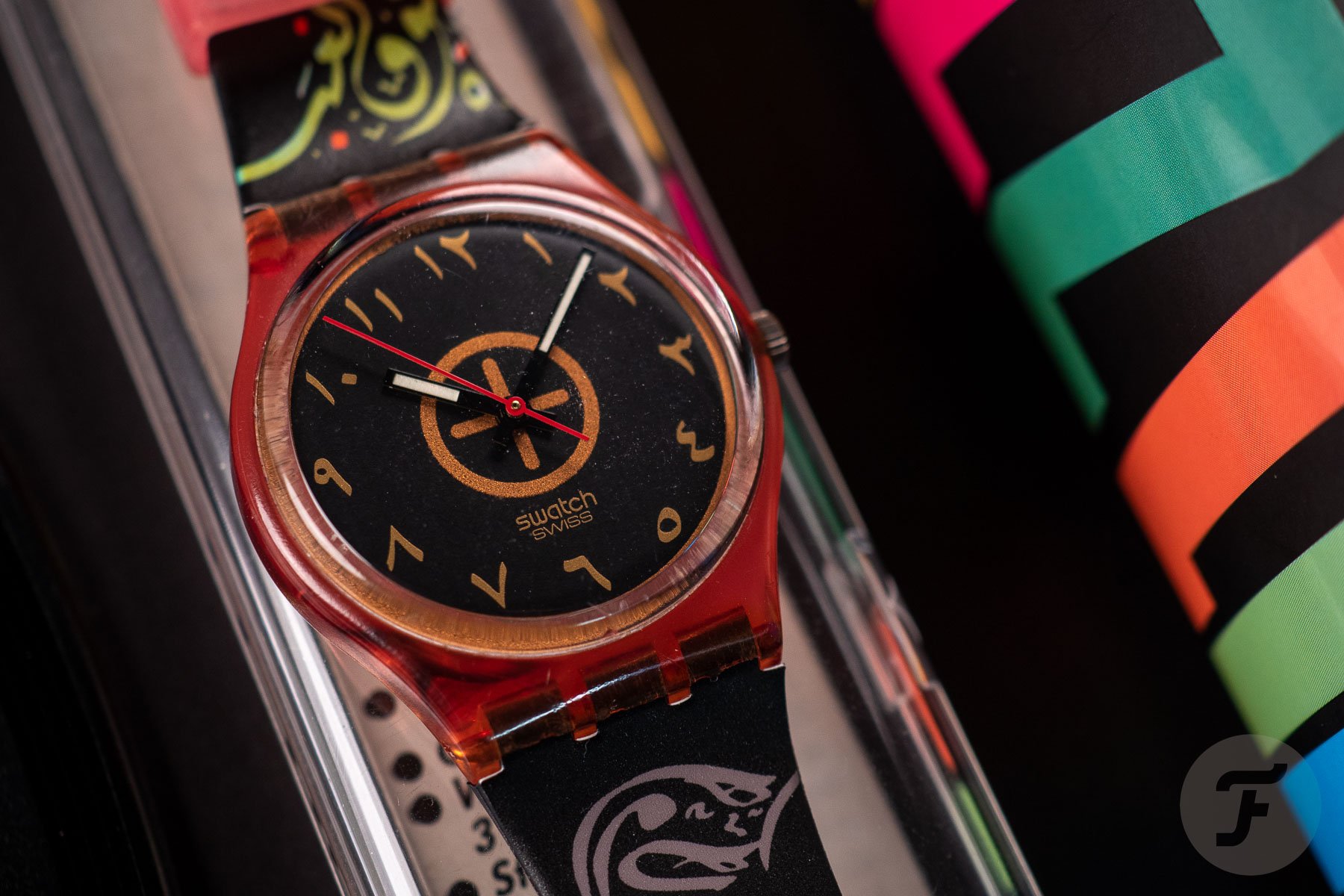 So my mother took me to the local jewelry store called Kormelink in my hometown of Oldenzaal. You might recognize the town's name as it's also the hometown of Bart and Tim Grönefeld, who have made a tremendous name for themselves in the watch industry. Back then, their dad owned a watch/jewelry store, but somehow, we ended up in the competitor's store. Kormelink carried Swatch watches and had neon ones, but I had seen those on the wrists of my friends, so they were out of the question.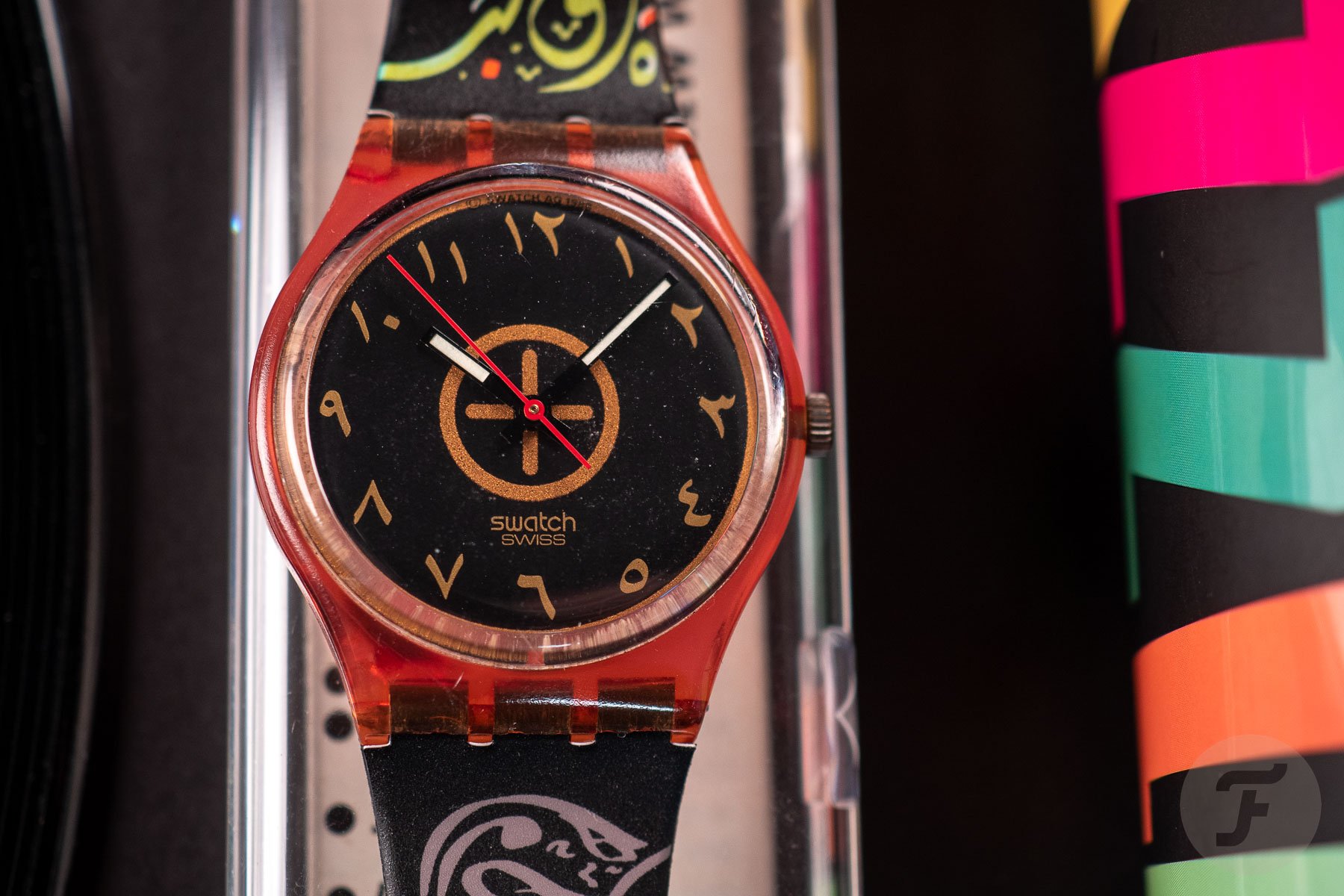 Picking the Swatch Bar Oriental
After an Indiana Jones-like search for my holy grail, I settled on the Swatch Bar Oriental. It wasn't necessarily a bright neon model that matched the Ocean Pacific tees and bright Campri anoraks that you would also see. I don't recall why I didn't go for a neon model other than the obvious reason I didn't want the same watch as one of my friends. The Swatch Bar Oriental I picked had a red translucent case with a black dial, a gold cross in the middle, and dark (rose) gold Indo-Arabic numerals. There was something stylish that attracted me to that dial. Looking back now, I am still a fan of the combination of black and gold, so I can't say I'm surprised with my pick as a 12-year-old kid.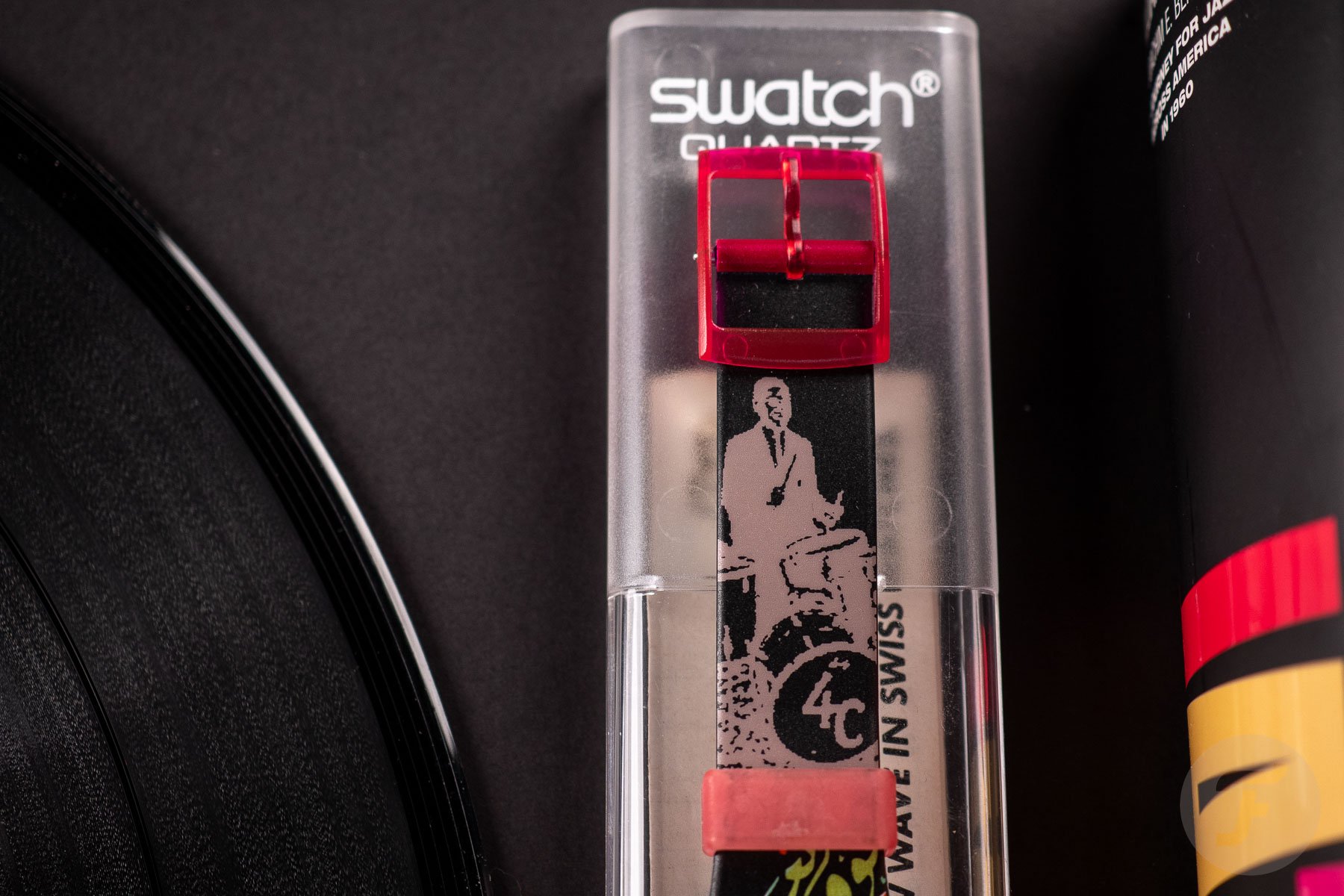 Another standout element that I have always loved is the two-piece strap. The upper piece featured a jazz drummer. While I loved the overall look of the strap back in 1989, I had no idea how relevant it would become for me later in life. But we'll get to that in a bit. The second part of the strap featured what looked like an Arabic script. A fun detail is that I don't remember the now-pink keeper starting that color. As far as I can recall, both the rubber keeper and the buckle were red. But it's fun to see that a hint of neon is there almost 35 years later due to discoloration.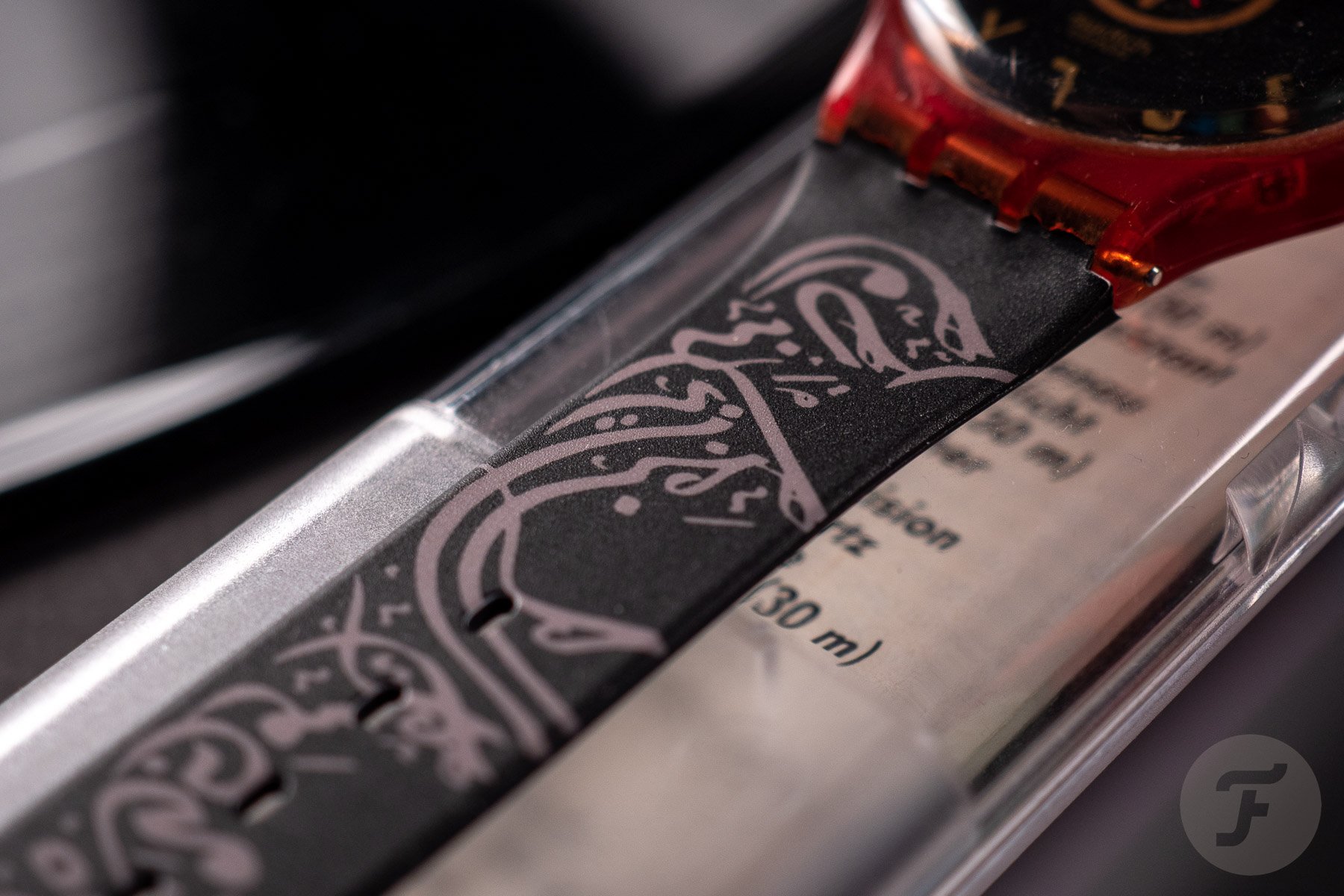 The fun is in the details of the Swatch Bar Oriental
But the printing on the strap is more than just purplish-gray. The upper part of the strap also featured yellow-gold-colored printing with red dots. This ensured that the strap was not too monotone. Overall, it was rather busy, but I loved that about the Swatch Bar Oriental (a name that I never realized the watch had). In retrospect, it was an interesting choice from a design perspective, but I wasn't too fussy about that back then. I just knew that I loved the watch a lot, and I wore it religiously for months on end.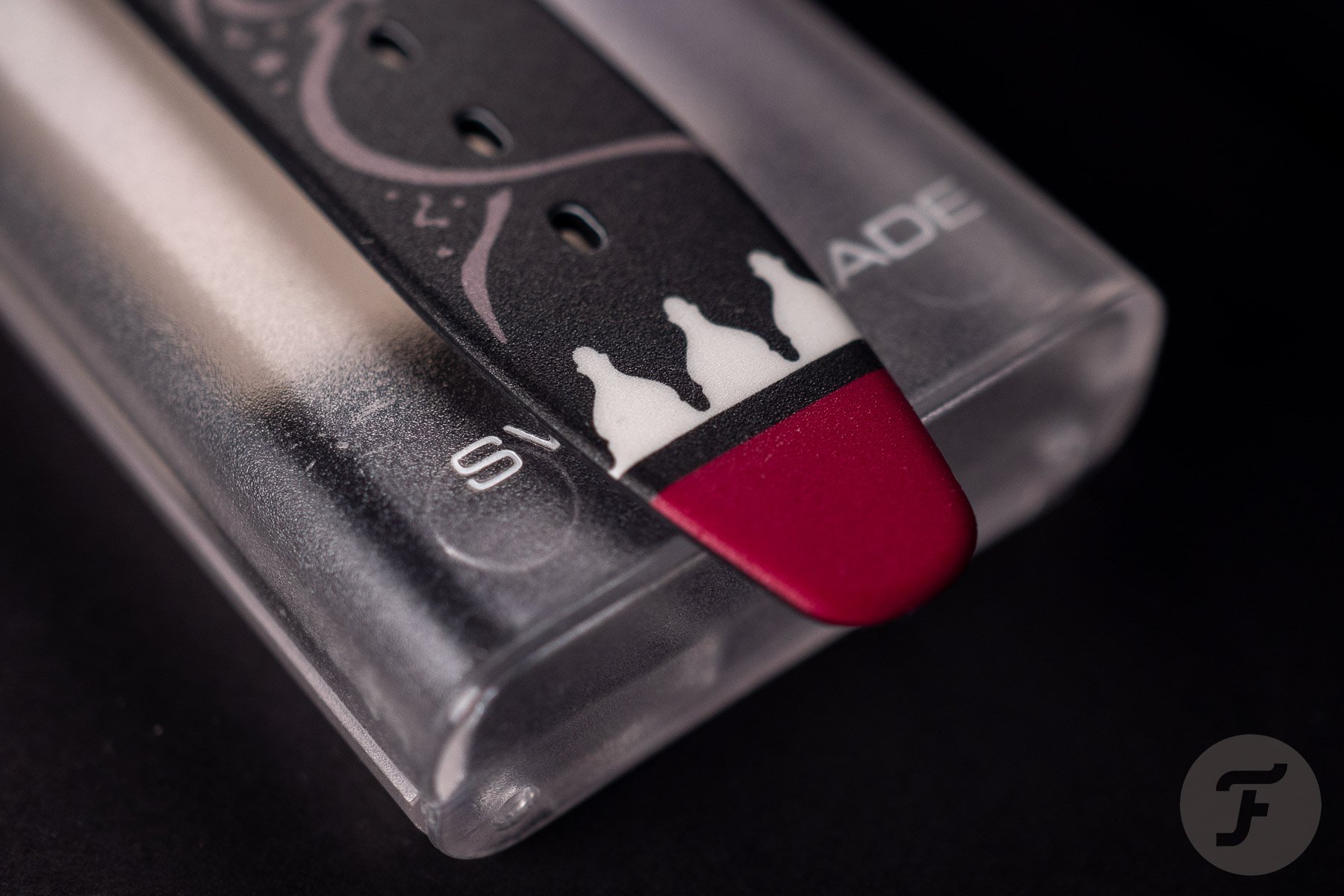 It was also the first time that a watch became a daily accessory for me. After wearing the watch for months after I got it for my birthday, I noticed the biggest downside of the Swatch watches — the quality of the rubber strap. After the first cracks appeared, it didn't take long before the lower part of the strap broke into two pieces. To say I was devastated was an understatement. My mother got me a replacement strap for the watch, but it turned out to be a simple black strap without any printing, and it lacked all the appeal of the original. After that, the watch lost its magic, and I wouldn't say I liked wearing it that much anymore. As a result, I pretty quickly moved on to a different Swatch.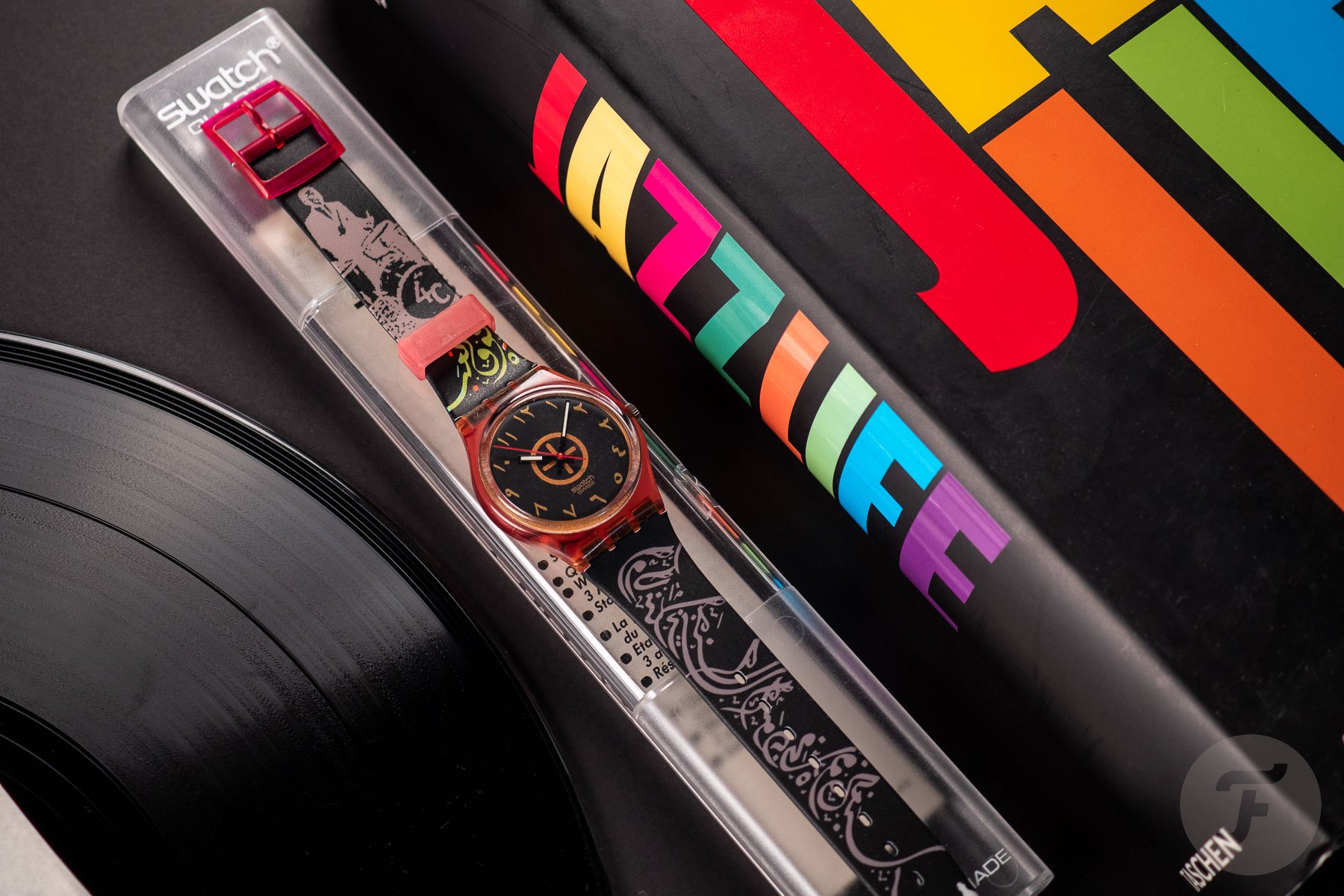 Finding my old Swatch from back in the day
In the end, the love affair with my first Swatch ended pretty abruptly and on a low note. Honestly, I have no recollection of how long it took for the strap to break, but in my mind, it was a matter of months rather than years. Fast-forward to 2018 when I was asked to write an article about my first watch. That's when I started hunting down that Swatch I originally loved so much. I had no idea what the name or the reference number was, but I had a place to start. I borrowed Robert-Jan's Swatch-Clopedia, which gives a great overview of all the Swatch references.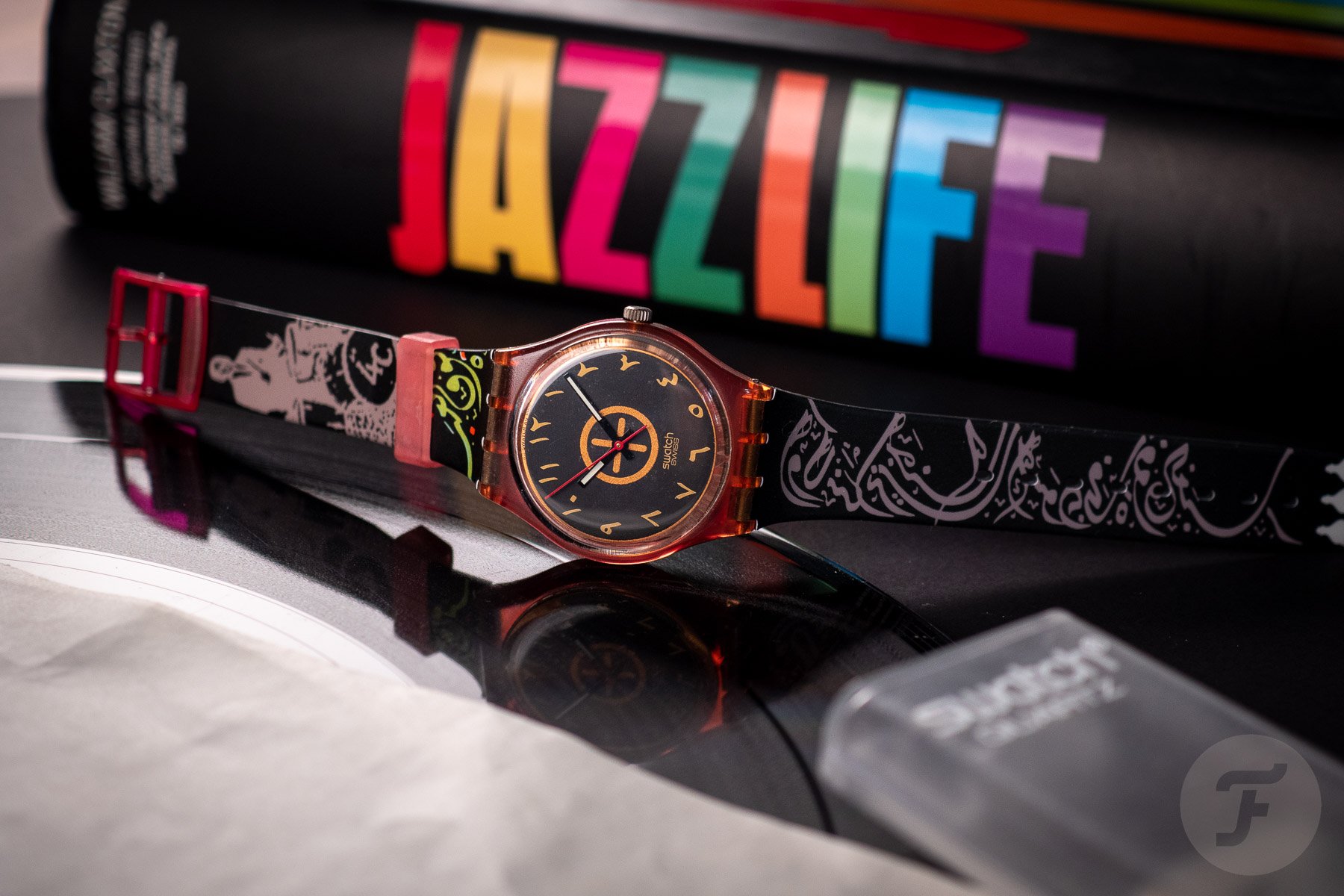 Just flicking through the Swatch-Clopedia reminded me of how much I loved Swatch watches when I was young. So before even specifically searching for my Swatch from 1989, I tracked down a Swatch-Clopedia and ordered it. For anyone interested, you can still find them pre-owned, and they are perfect reference guides for everything Swatch. The last edition of the physical copies published offers an overview from 1983 until 2006. I tracked down a version that had an overview until 2000 for not too much money and ordered it.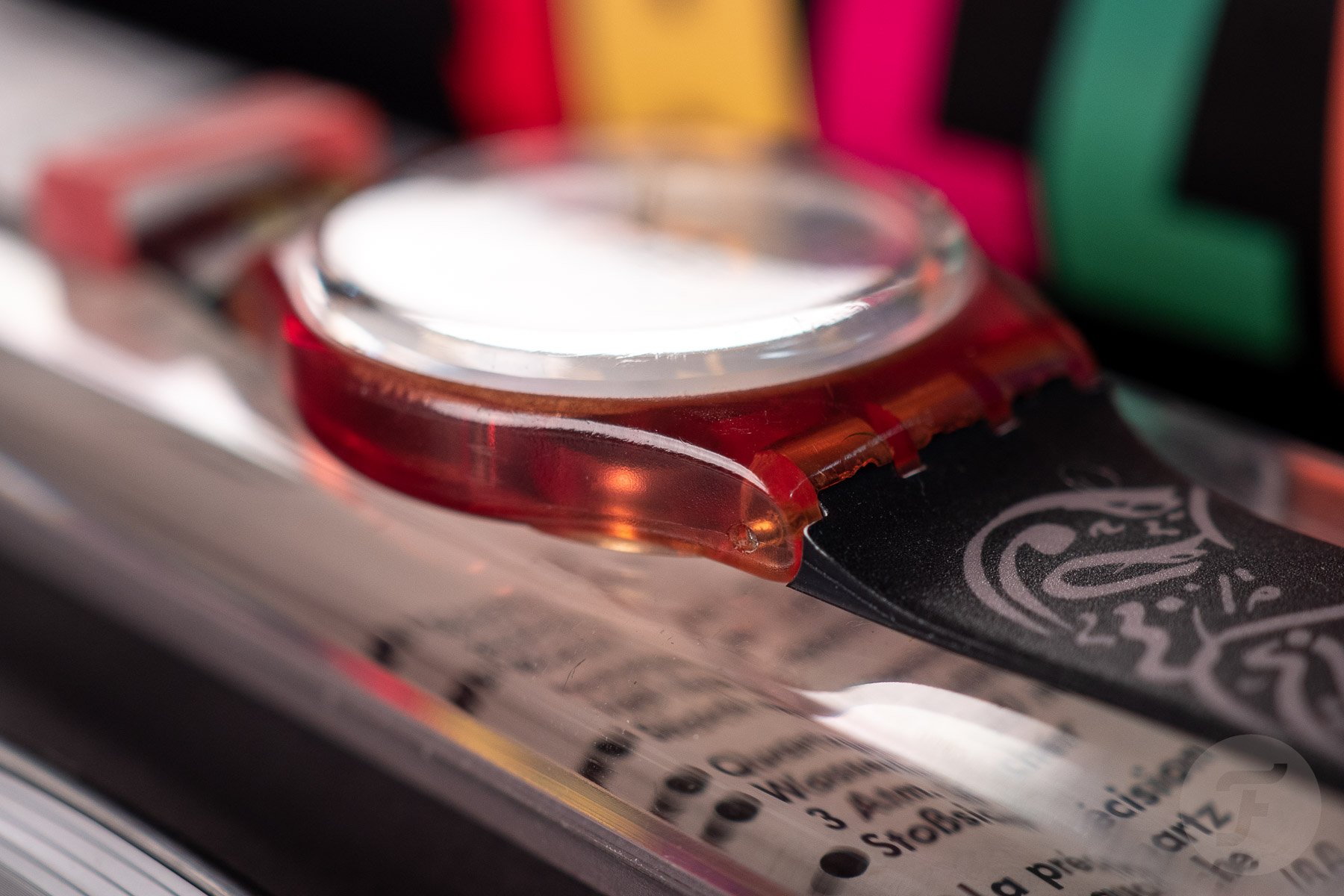 Finding my Swatch Bar Oriental ref. GR104
After a good day of searching, I thought I had found my Swatch, but I wasn't entirely sure. It didn't add up. I knew I must have been 12 years old when I got it. However, the Swatch Borgo Nuovo ref. GF102, which I first thought had been my watch, was from 1987 when I was just 10 years old. But I remember that I was 12 years old when I got mine because of one vivid memory. It was the 1989 debut album of the hip-hop group 3rd Bass. I remember borrowing The Cactus Album from the local library and taping it on a That's EX 90 cassette tape.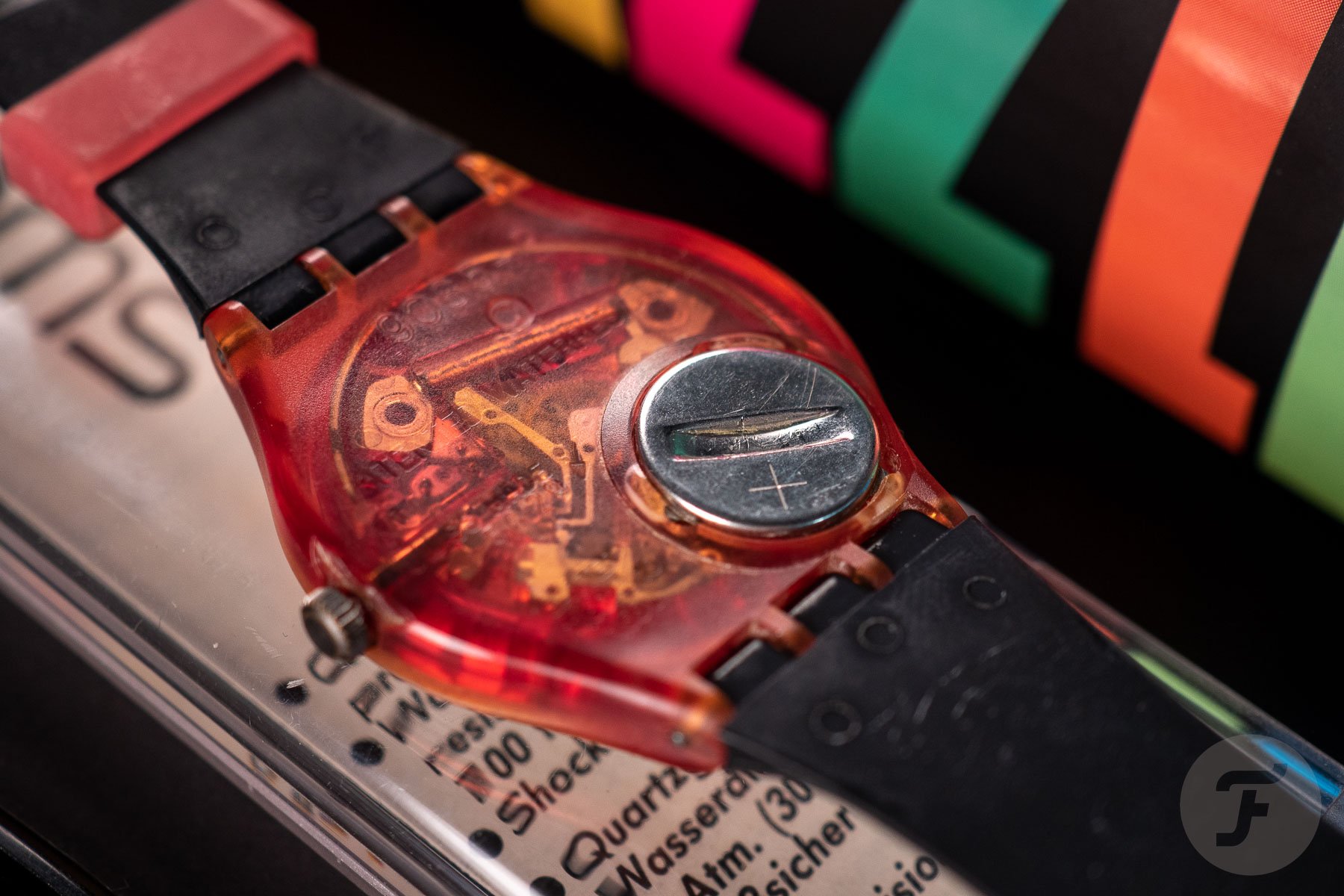 That's how I knew it must have been 1989. I remember entering a tennis tournament and listening to the 3rd Bass album in the parking lot just before I had to play. Because I loved the music so much, I forgot about the time, and when I saw the time on my Swatch, I noticed I was late. This is how I know that it could not have been a watch from 1987, but it had to be from 1989 when I turned 12. So after more searching in the Swatch-Clopedia, I finally found my Swatch. I was a bit puzzled because I remember my Swatch having a dark red translucent case, so that's what I looked for.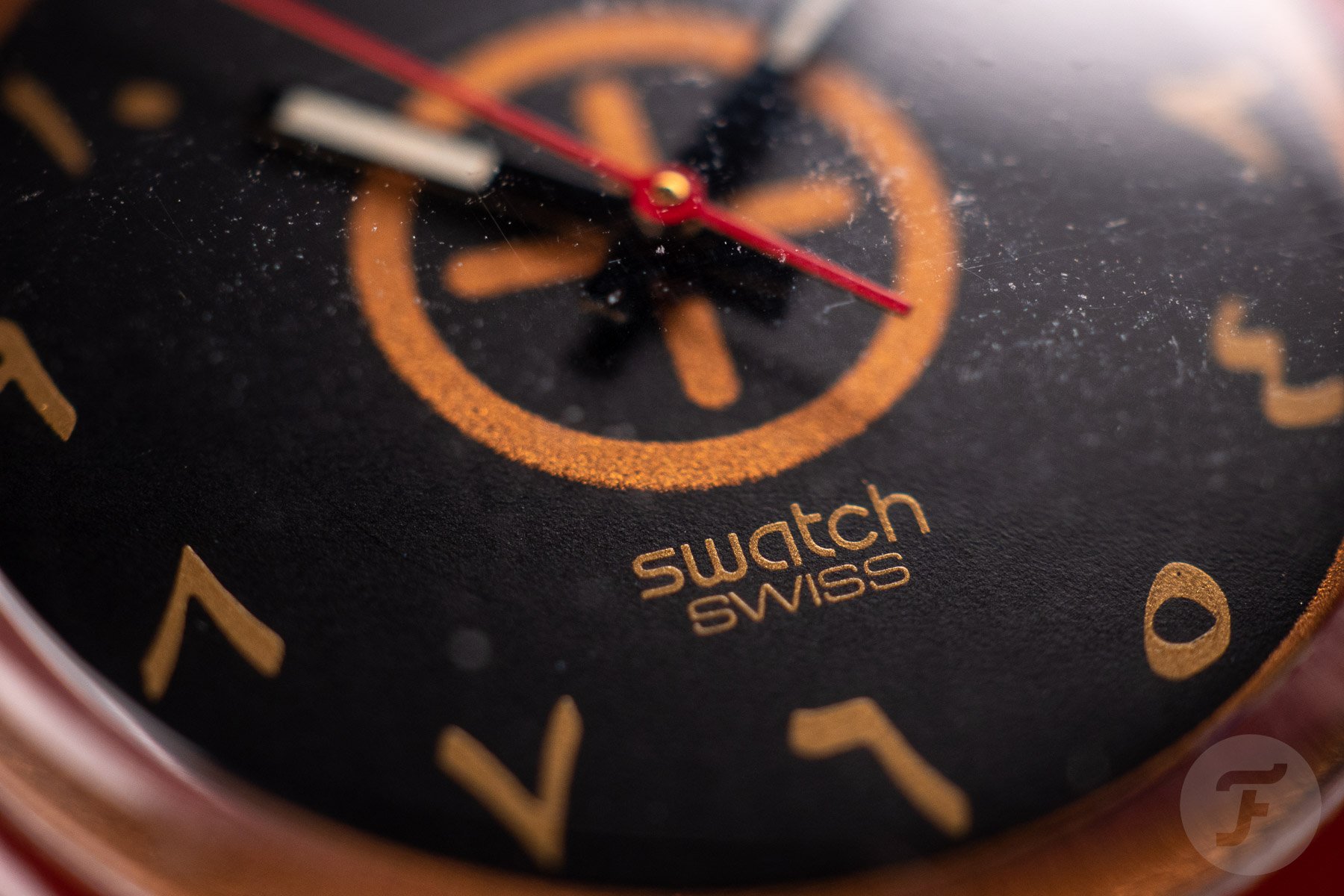 Finding the connection with music
But the Swatch Bar Oriental looks pink in the book, and with hundreds of models to go through, I dismissed it every time based on the color. But as soon as I knew it had to be from 1989, I thoroughly reviewed all the models from that year and finally recognized the print on the strap. That print made me so happy as a young kid. After seeing the name and reference, I immediately searched eBay for the watch, and to my surprise, I could buy one from a Swatch seller in Germany. A couple of days later, the watch arrived in new condition in its original packaging. I could finally see the watch again in all its glory with the right strap and not that basic black strap that tainted my memory.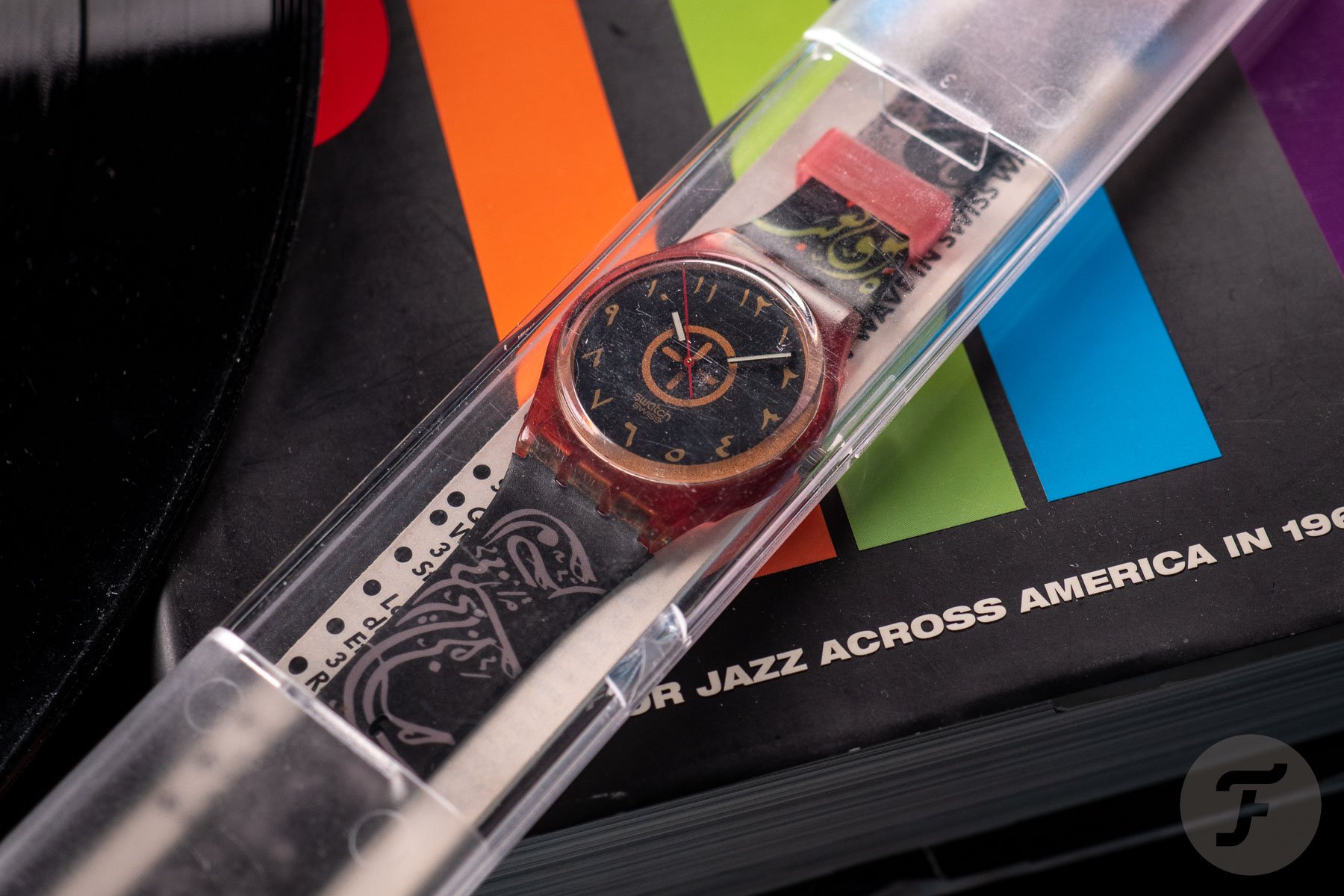 When I first looked at the watch and admired its design, I noticed the jazz drummer on the top part of the strap. It's something that I hadn't noticed in the book because the keeper partly covers the print. And I don't have active memories of picking the watch specifically because of the jazz drummer. But that makes the magic of picking this particular Swatch Bar Oriental even greater for me. As some of you might know, music is also a huge passion of mine, and I never shied away from exploring all the different styles.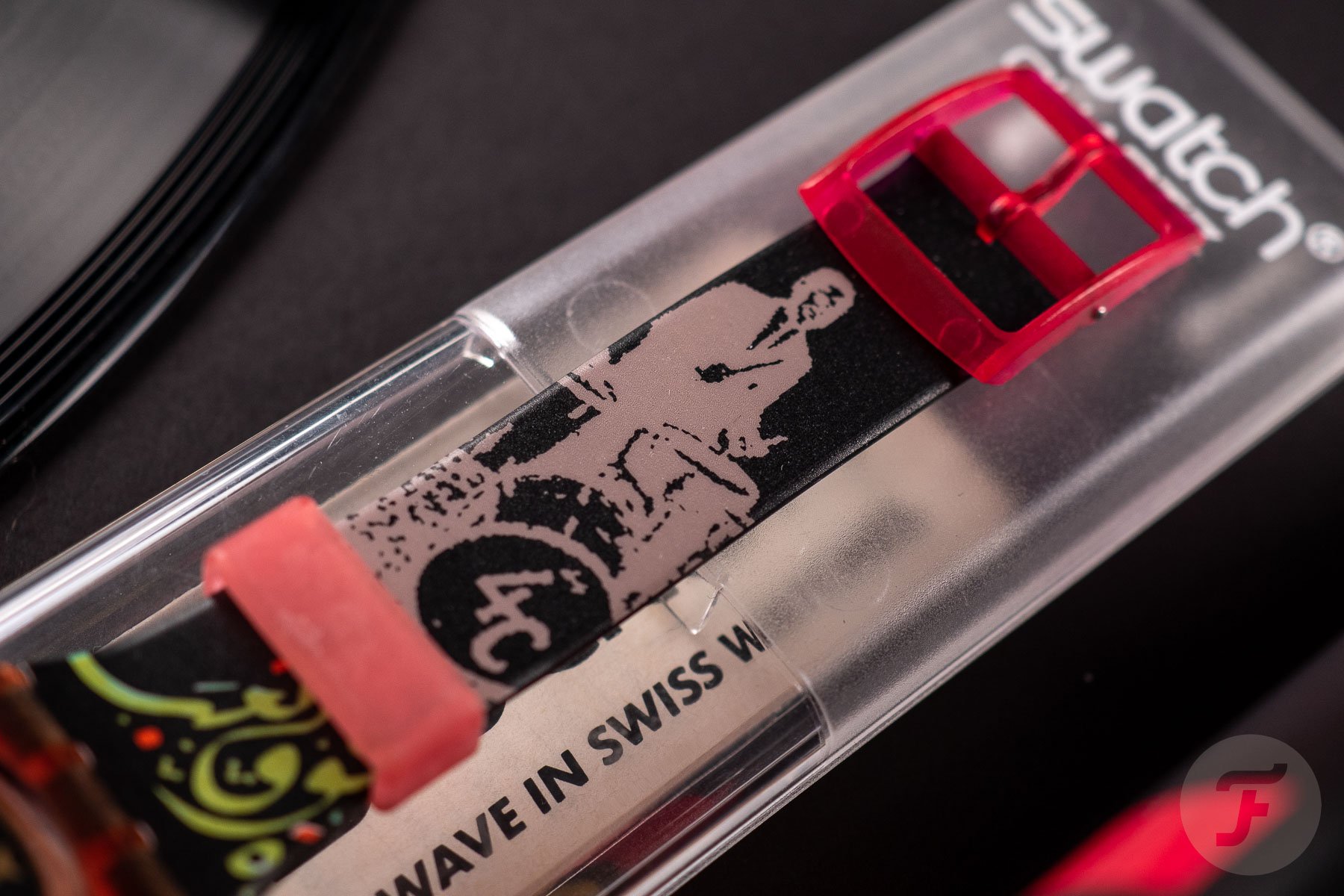 The significance of the jazz drummer
When I first moved to The Hague in 1995, I found my musical Valhalla in the city library. There, you could borrow CDs from any genre of music. And after hearing Dave Brubeck's "Take Five" through a college buddy of mine, I was intrigued to learn more. So I borrowed Dave Brubeck's Greatest Hits and Manhattan Afternoon by the Cedar Walton Trio. As it turned out, those two albums sparked a fire that led to a dedicated search for my favorite jazz music. Besides a great love for the greats like Miles Davis, John Coltrane, Thelonious Monk, and Ornette Coleman, I also loved and still love artists like Esbjörn Svensson (RIP), Jacky Terrasson, Brad Mehldau, and The Bad Plus.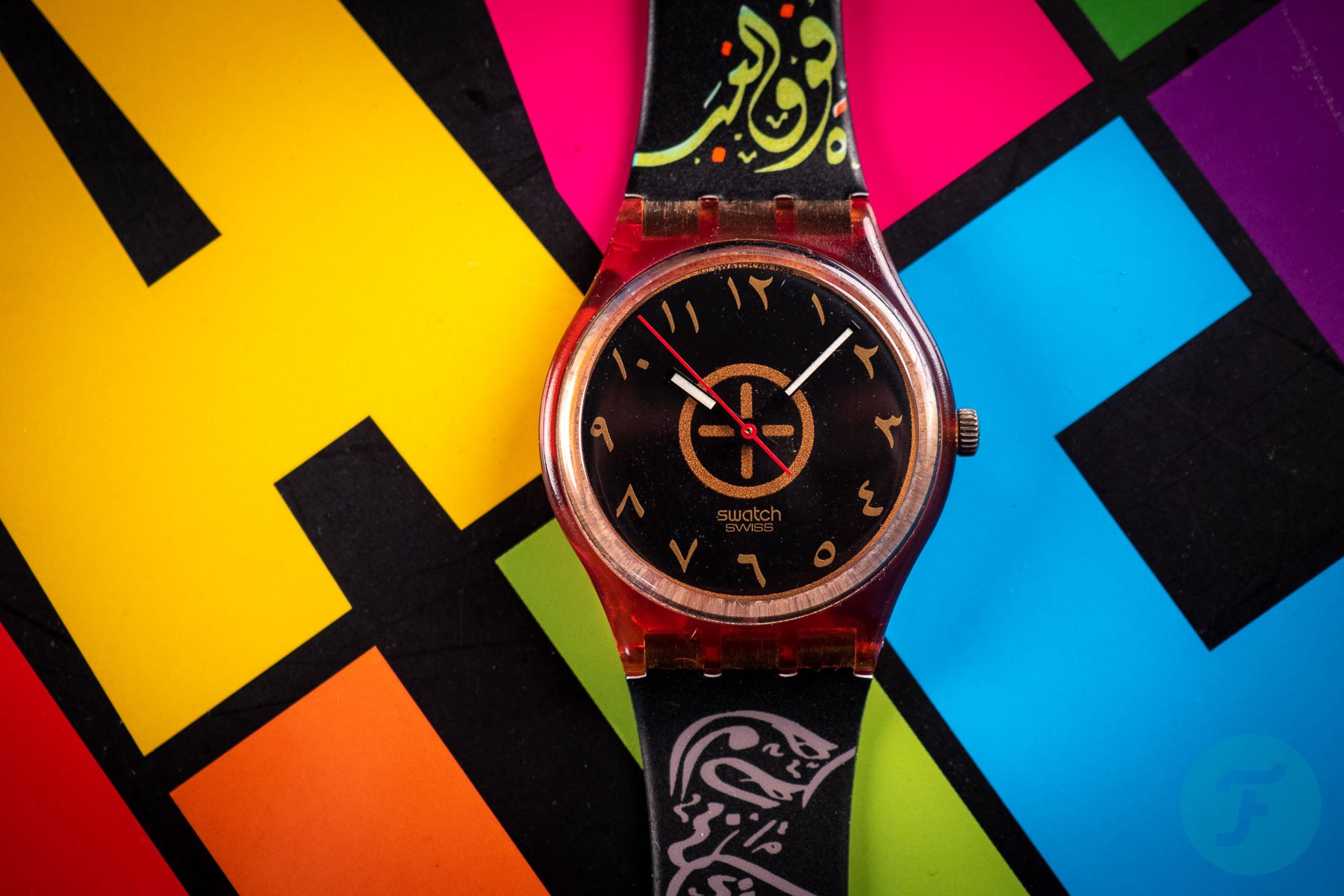 With my love for jazz, a yearly highlight for me was always the North Sea Jazz Festival. This world-renowned jazz festival was organized in The Hague from 1976 until 2005 when it moved to its current location in Rotterdam. As a last performance on the Sunday night of that 2005 North Sea Jazz Festival, I decided to see the 30th Anniversary Bebop Session by the Charlie Parker Legacy Band. The drummer of the band was the legendary Jimmy Cobb. Cobb was part of Miles Davis's First Great Sextet and can be heard on classic albums like Kind of Blue and, my favorite, Sketches of Spain. During the last track, I walked out of the room, realizing that I had seen a legend that played with Miles Davis and recorded some of my all-time favorite albums. And he played at my favorite jazz festival in my favorite festival venue in my city. It's one of the musical highlights of my life.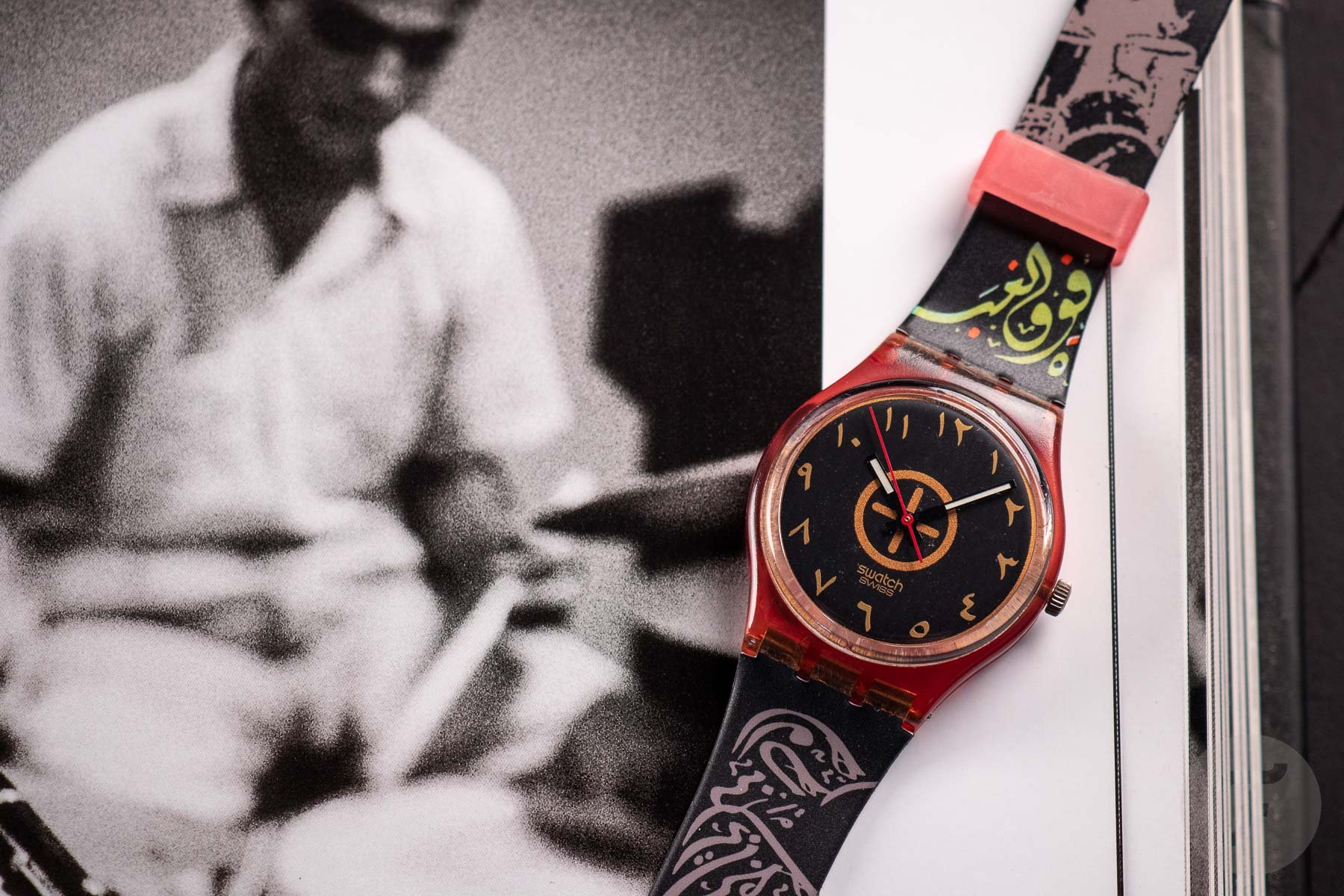 The significance of my Swatch Bar Oriental
Looking back at my love for music and that jazz drummer on the strap of my first Swatch, I realize that I have always had a thing for drummers. Besides being the rhythmic backbone of a band, drummers add style and flair to their groups. The drummer is the first person I check out when I see a band play live — what is their style of playing like, and does it convey their personality? There is simply something special about drummers. It's something that 12-year-old me wasn't aware of in 1989, but it is a remarkable coincidence that my first Swatch had a jazz drummer on the strap.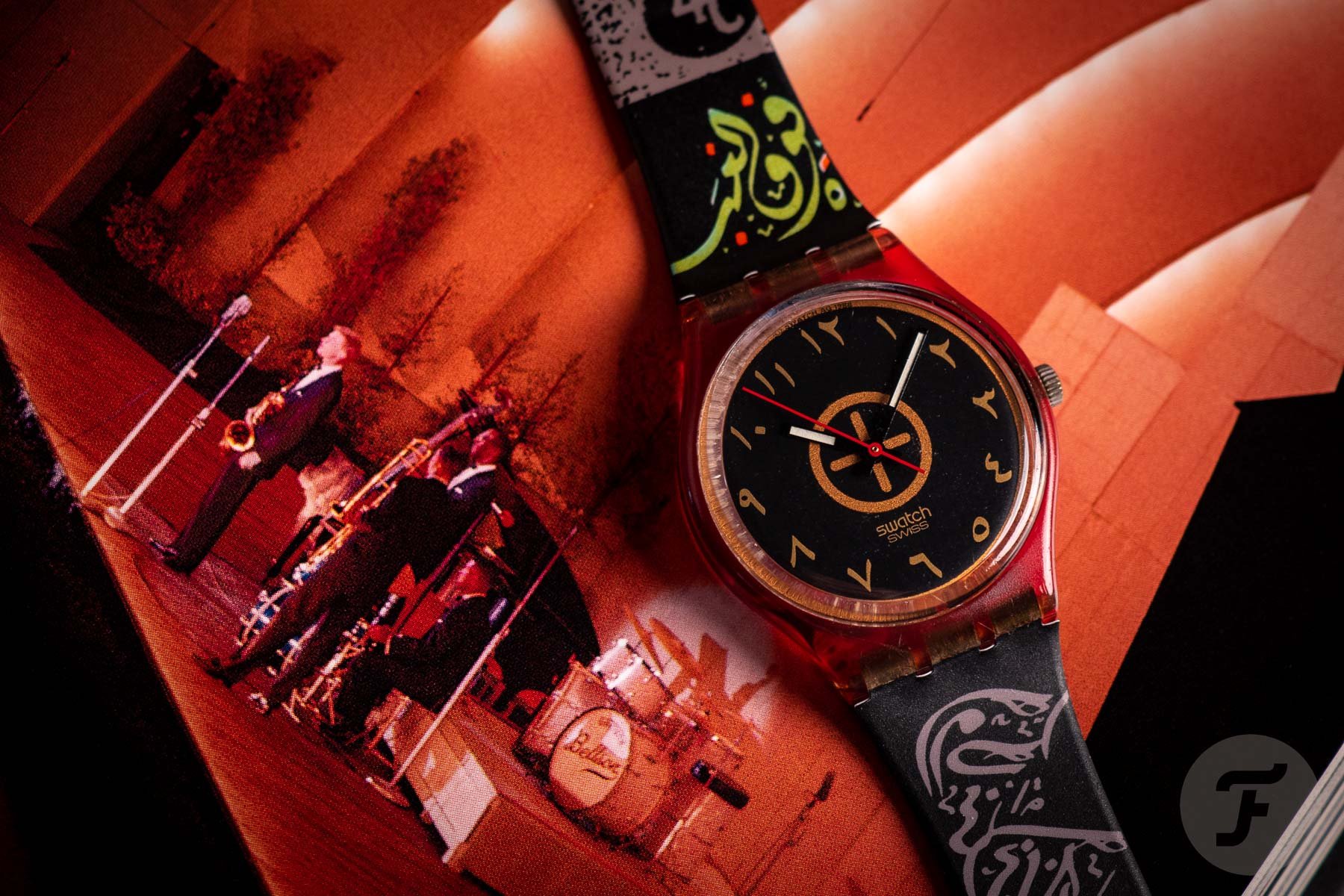 Was it just a coincidence? Or was it a subconscious decision that had more meaning than I could have imagined at that point? I'll leave the answer to that question open. But it does give the Swatch Bar Oriental that I picked in 1989 a lot more sentimental value than just being my first Swatch. I keep the watch in its original packaging and never take it out. The reason is that the rubber strap has a crack, and I don't want to break it. When it comes to reliving that bad memory, I'll gladly pass. This piece is all about reliving my great memories with my first watch, memories that make it incredibly special for me.