Hands On With The Pinion Pure Bronze Watch!
Bronze Watch
That bronze watch cases are getting more popular again, was proved this spring by some remarkable moves in the industry. While bronze watches were usually found in the more affordable price categories, two high-end brands, MCT and Hautlence presented their over €100K Euro costing top models, in a bronze version. Quite a decision and a firm sign that bronze has become a serious material for watches.  Let's go back where the trend started and that was actually not that long ago.
Pilots and Divers
Gérald Genta was one of the first brands that launched a bronze watch in 1997, called Gefica. The watch was re-released in 2007 in a stunning 47mm case and was very popular. But it was the launch of the Panerai Submersible in 2011, that really fed the hype and gave bronze the status it has today. Since about two years, bronze watches are upcoming again. Many collectors like the charm of the material. But when the decision is made, to get a bronze watch, in the more affordable price category of up to €3500.- Euro.
The choice that can be made, is mainly divided  between a pilot or a divers watch. If you're one of the guys that doesn't have a permit to fly and have absolute no aspiration to get your diving license, it may be a bit too 'möchte gern macho' to arrive in the office with a 43mm pilot watch under your cuff.
Pinion Pure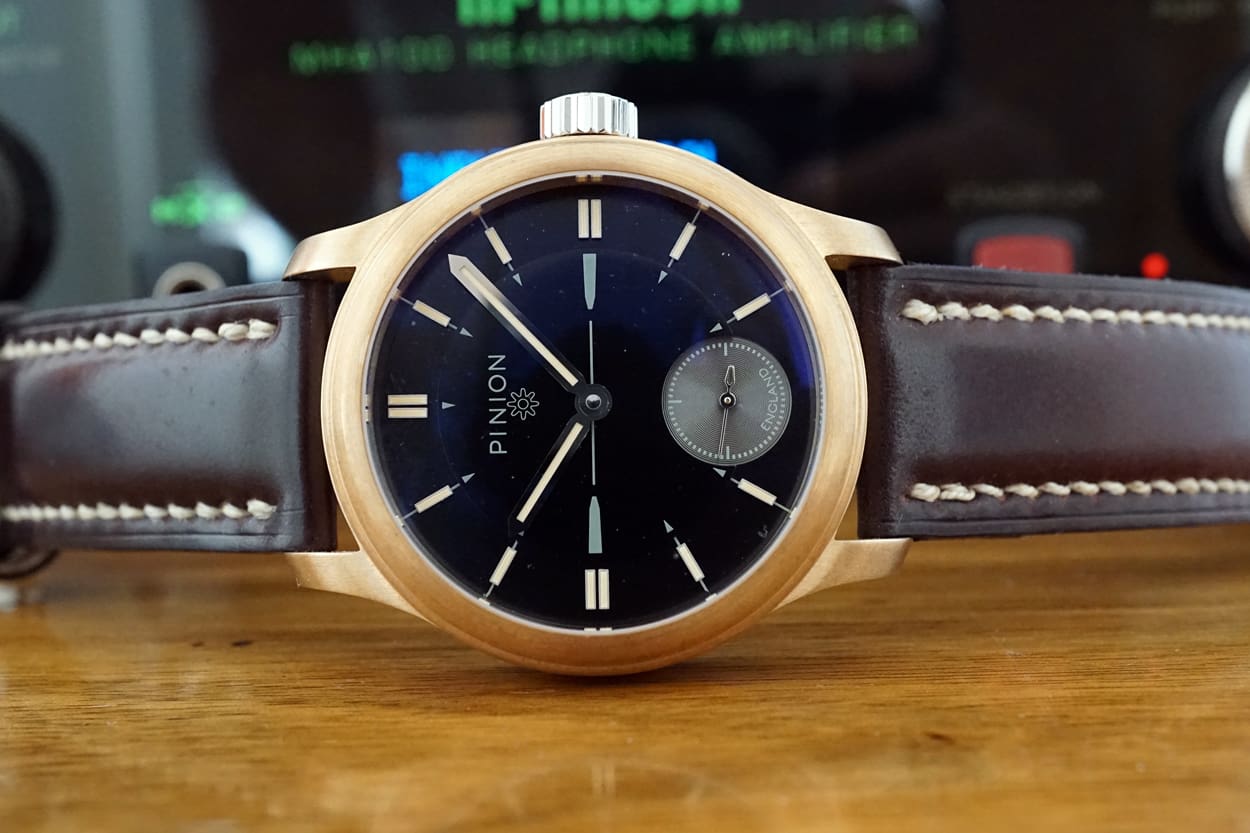 Pinion is one of the few brands that has a non-pilots bronze watch in the collection and I must say that it looks refreshing, to see a well made watch like that, in daily use. My colleagues here on Fratello have written a few times about some other models of the British brand Pinion and not without a reason.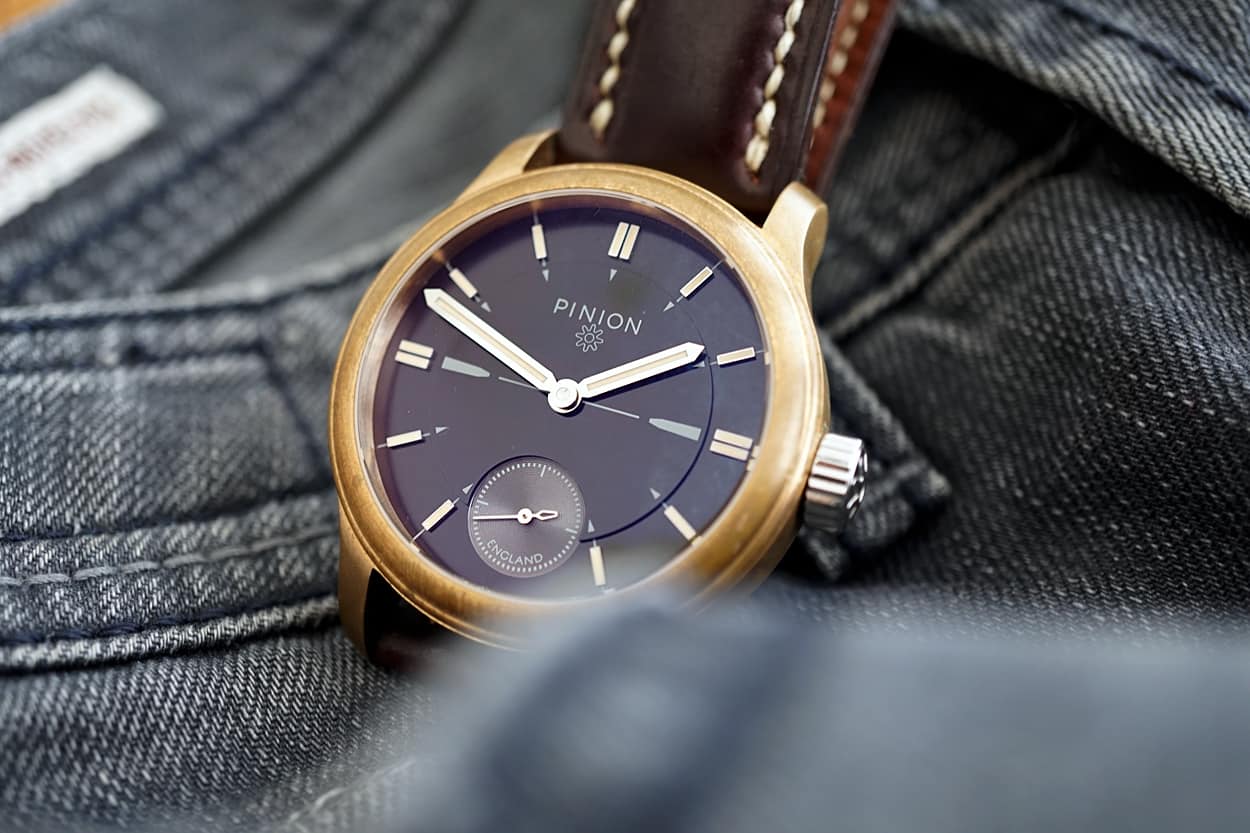 Details
When you have an eye for details, you will notice the amazing layered dial and applied numerals. These multi-level dials are a study in black radiance, with differing finishes to provide subtle visual contrasts. The dials and hands of all Pinion watches are state of the art. It has probably the most beautiful dial I have seen in this price category.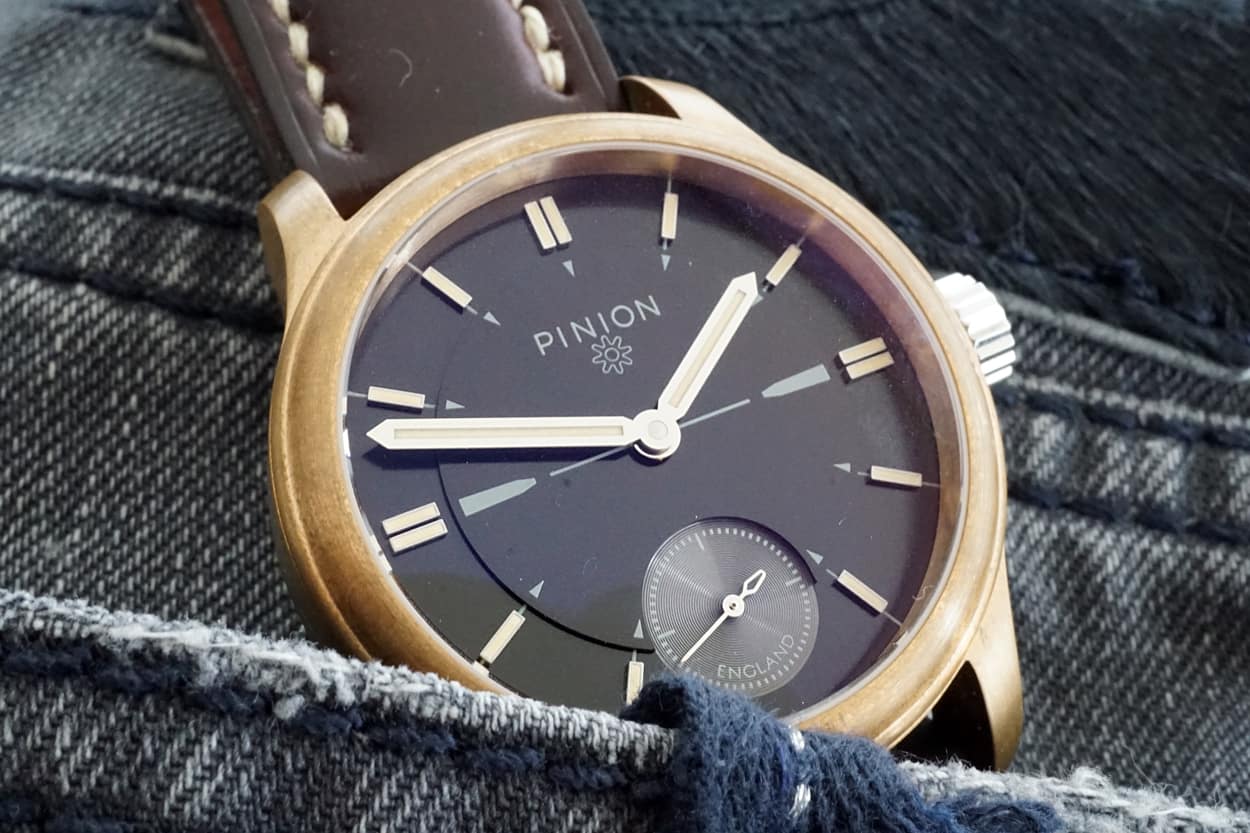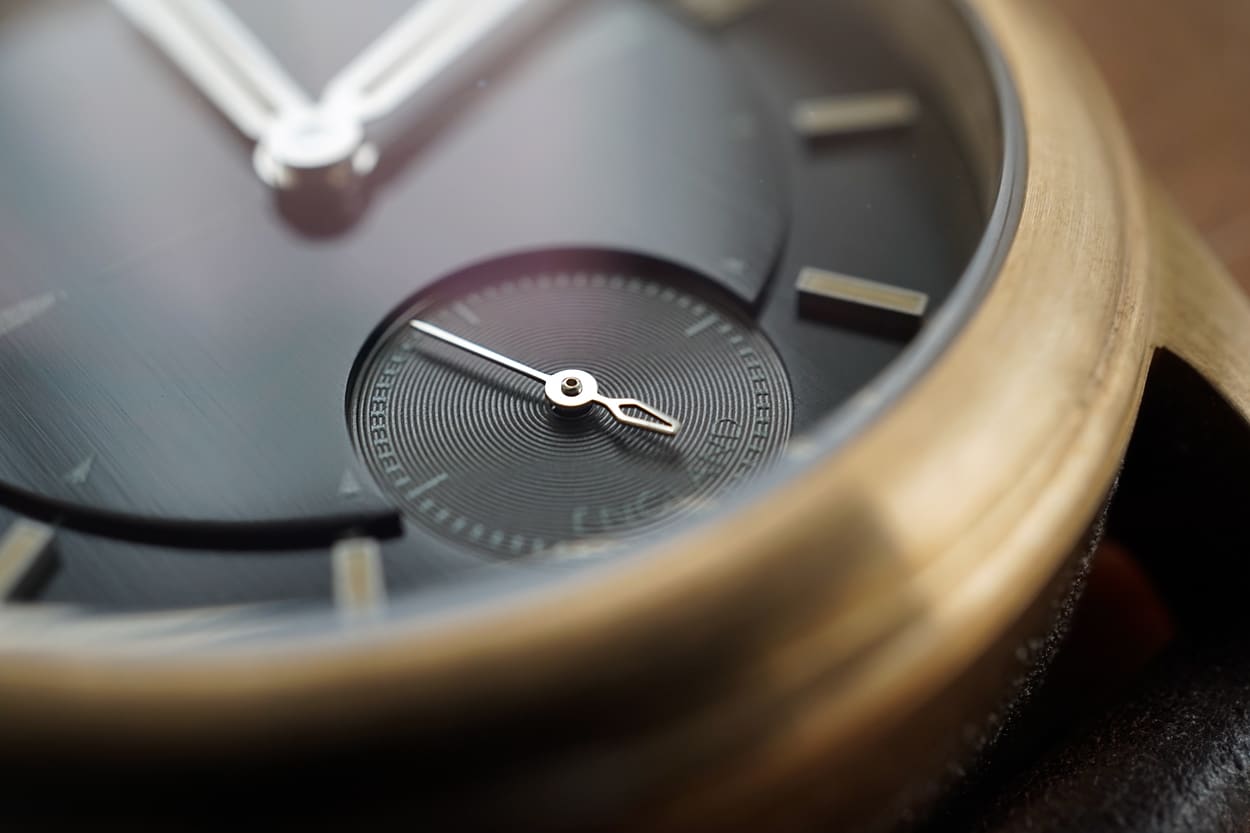 Unitas 6498
Take for instance the indexes, that are individually milled, polished, then filled with Pinion's own Super-Luminova mix, that provides that cool classic look.  The designer and founder of the brand, Piers Berry, choose for the hand-wound Unitas 6498, a caliber that was originally developed as a pocket watch movement and guarantees a power reserve of 45 hours.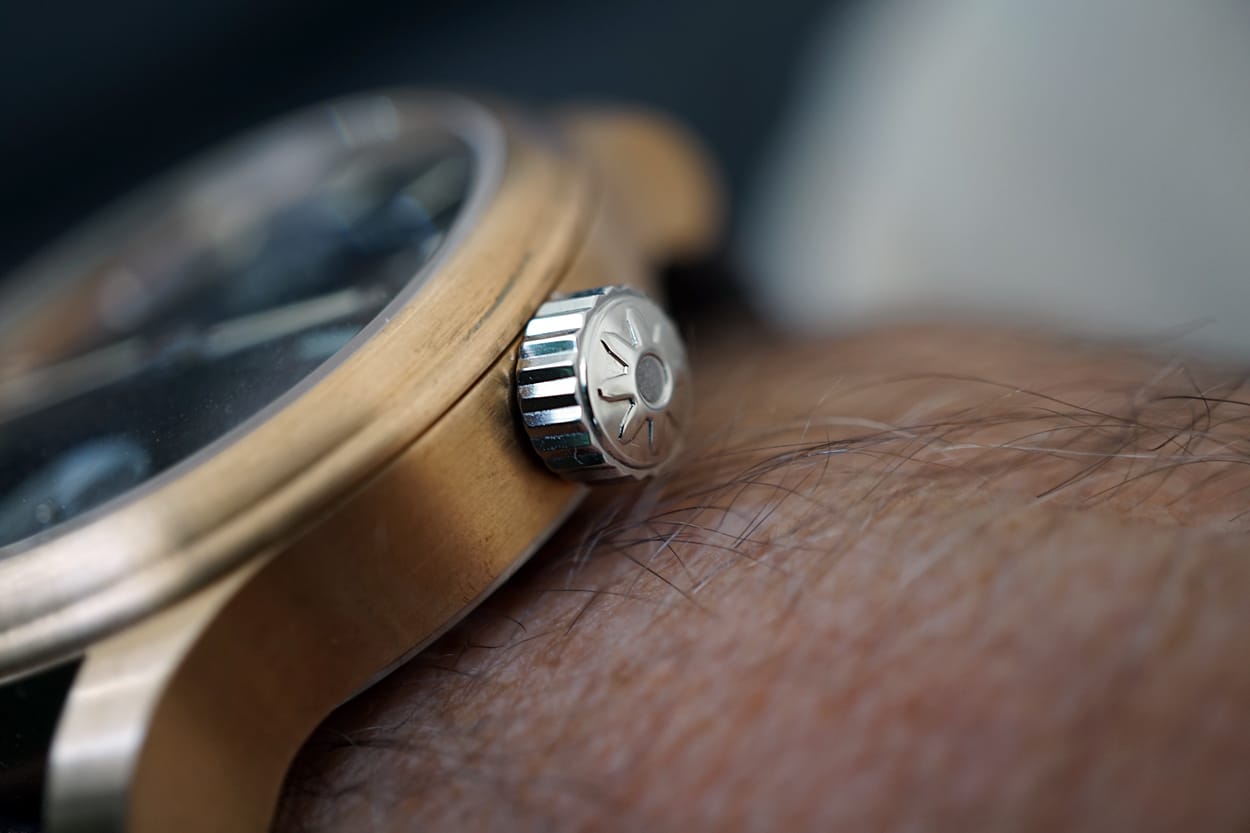 Charming Bronze
Winding the watch, with that nice over sized crown and the sound it makes during the process, is a joy; I love the sound that it makes.  What makes the charm of a bronze watch, is the patina it will get. We never know in advance how and when it will develop. It all depends on the climate, air, water, daily wear, salt etc. which means that you may get a complete different patina, than a friend having the same watch, but living in a different area. And when ever you're tired of the patina the watch developed, you can easily get it back to that shiny polished bronze it had, when you first got the watch.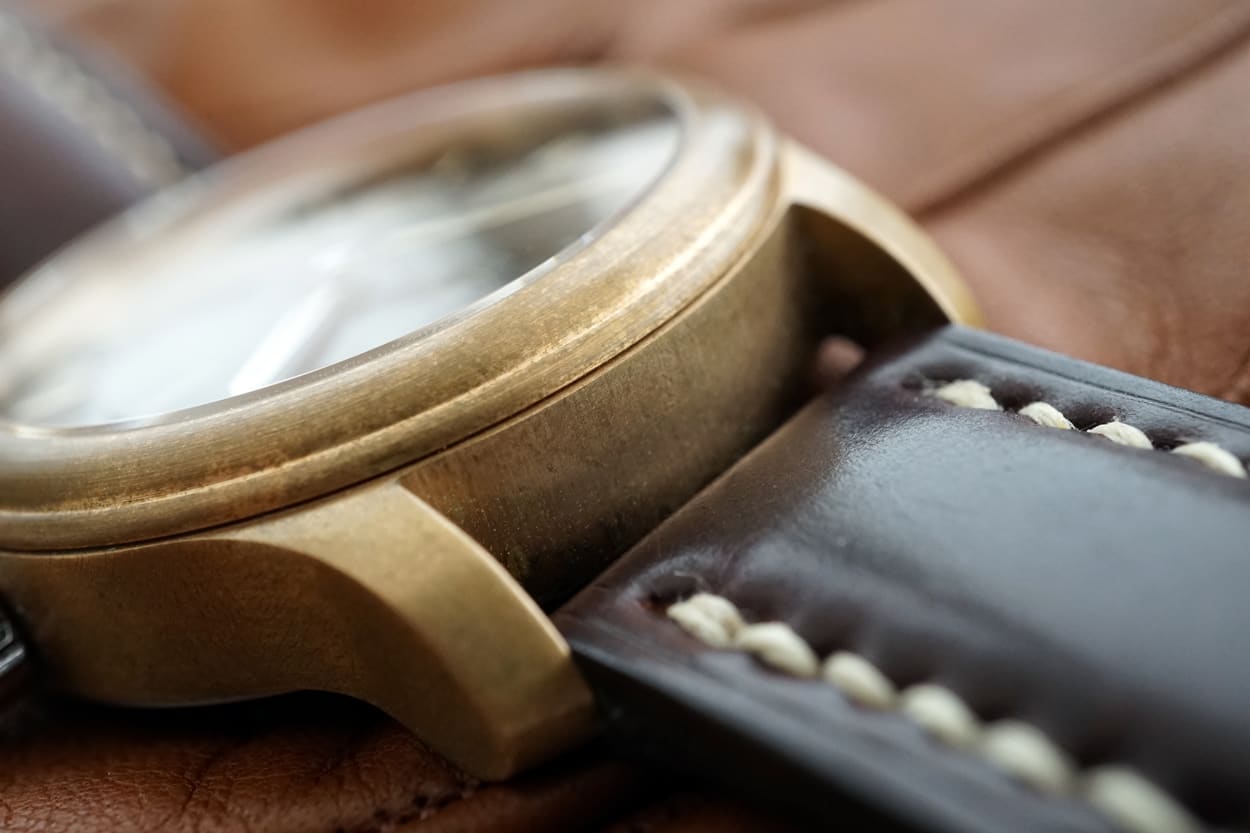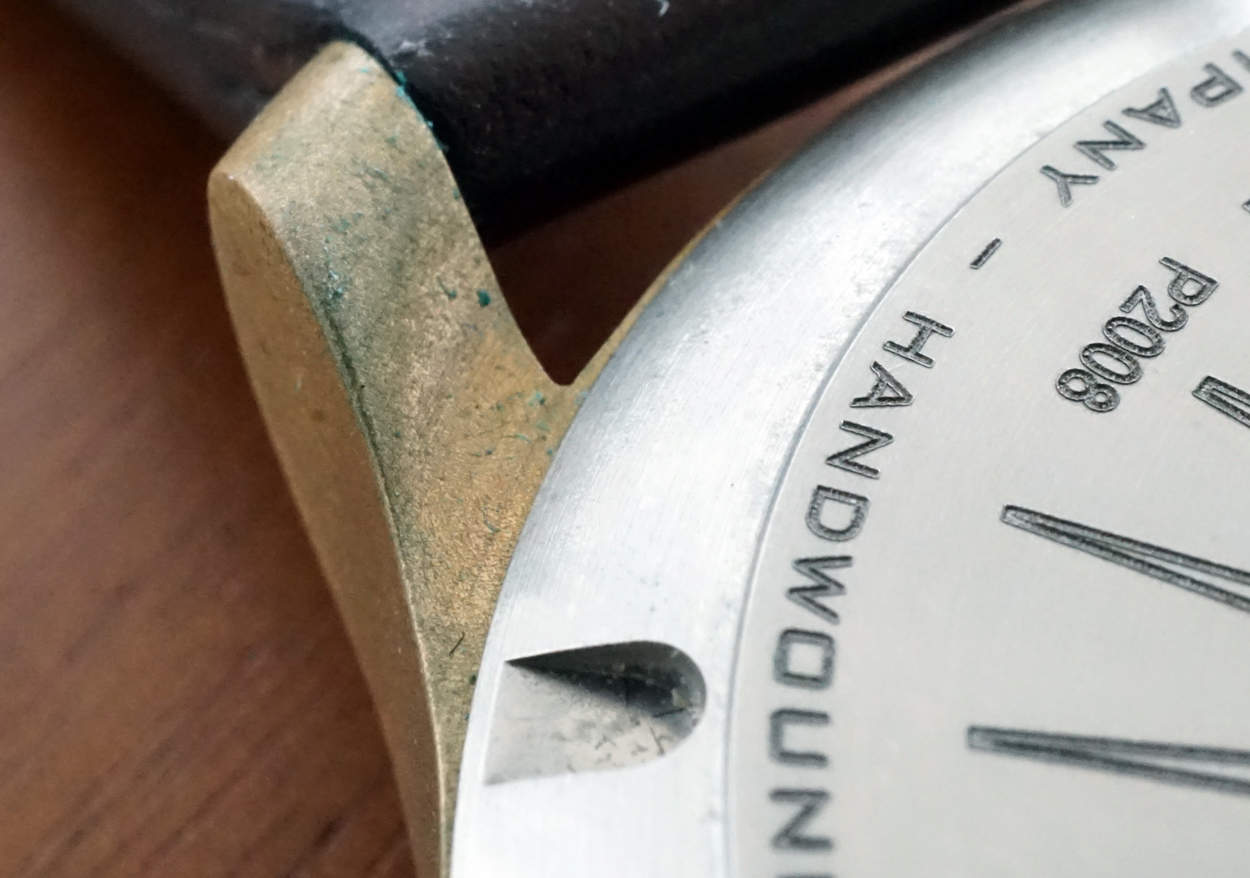 Daily Watch
Bronze watches are sometimes seen as unhealthy, mainly because bronze could cause skin irritations. When you're sensitive to bronze that is. That's why the back of the case, the crown and the buckle of the Pinion timepieces are made out of steel. This is to avoid contact between the bronze and the skin. Just to make sure  there is no problem at all, wearing a bronze watch on a daily basis.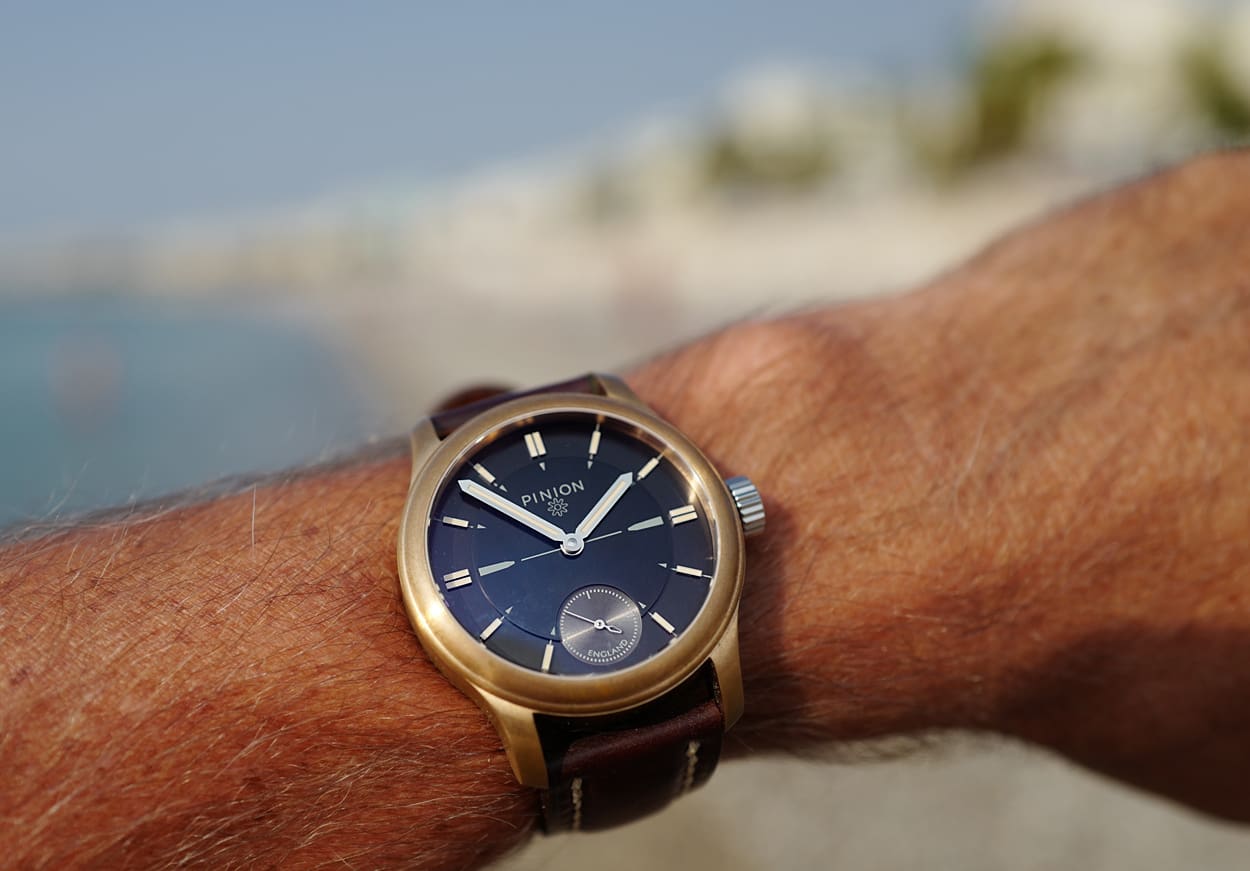 I received this 42mm Pinion Pure in June and as some of the pictures show, the watch is smooth and it shines. But this is controllable. If you would like to keep it that way,  just to rub it a bit with a dry soft cloth now and then. When wearing the watch daily, the tone of the bronze will change and every part that is touched a lot,will get less patina. I like the changing effect of the color of the case, a lot and have let it go, which shows a couple of weeks later.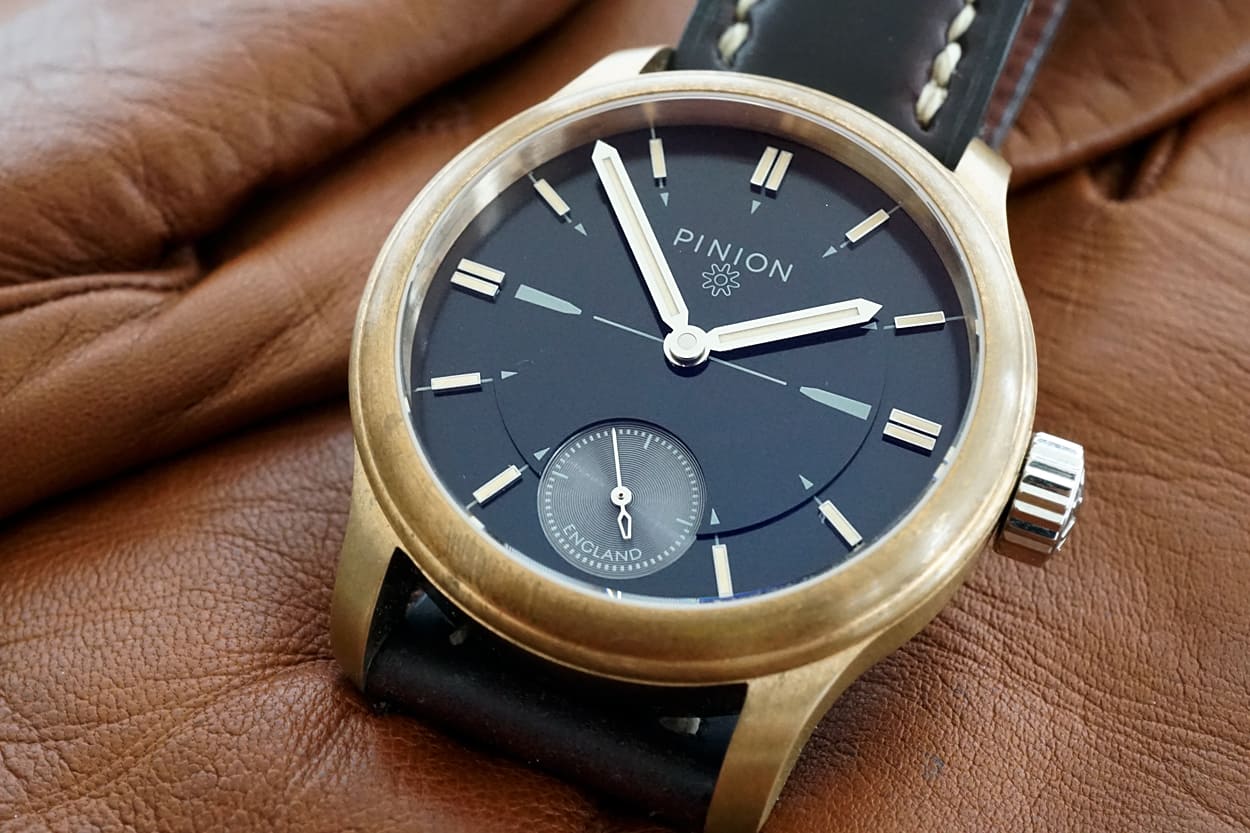 This or That
If you're not the pilot to be, but are still in love with the charm of a bronze watch, that will get its own patina after some time, check out this Pinion Pure. I like this hand wound mechanical version a lot, but the mechanical Pinion R1969 Chronograph , we wrote about here , may be another good option to check out.
Room for Improvement
Is there room for improvement?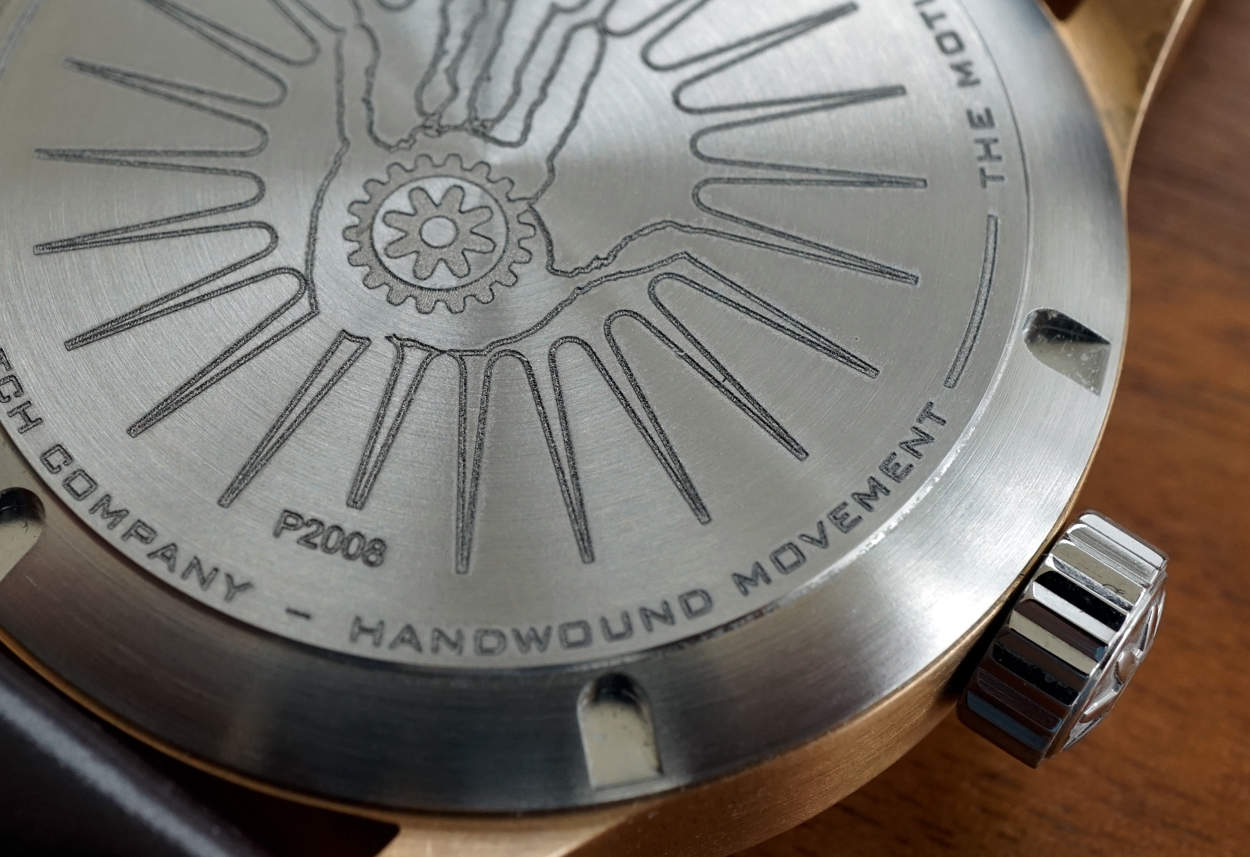 Yes, although not much and my remark is also very personal. The nicely decorated back is satin finished, just like the buckle. I would have preferred if the crown would have been finished the same way. It is just a detail and it's good to know, that it could be done, if you prefer it that way!
More information at the Pinion website.