A Warm And Comfy Monday Morning With The Cuddly Polo Ralph Lauren Tartan Tuxedo Polo Bear Watch
The sharply dressed bear is having a martini — I'll stick with coffee at this hour
Forget about Winnie and Paddington. Yes, they're cute and maybe wise and fun, but man, the Polo Bear has got it goin' on! Just look at him in his tartan tuxedo jacket and embroidered velvet slippers. That's classy swagger. The Polo bear oozes confidence too. Just look at his left paw casually tucked in the pocket of his pants and the right nonchalantly holding a martini. The debonair bear is dressed in classic pieces with modern twists that look to be part of a carefully curated, timeless wardrobe. I can imagine him owning items such as perfectly tailored jackets, crisp button-down shirts, perfectly fitted jeans, and suave, soft loafers. Should the Polo Ralph Lauren Tartan Tuxedo Polo Bear watch be a staple in your wardrobe?
There's no point in looking at the €1,800 / US$1,750 Polo Ralph Lauren Tartan Tuxedo Polo Bear watch in the same way you look at the Fratello × Aquastar Deepstar II LE with roughly the same price. The Aquastar is a passion project aimed at hardcore watch lovers. Ralph Lauren watches, such as the ones with polo players on the dial and the retro-inspired Vintage 67, are for people who move in different circles. Just as the watch departments of Chanel, Hermès, and Louis Vuitton rely heavily on clients who also shop for everything else in the respective brand universes, Ralph Lauren watches are for those who don't just buy an occasional polo with a polo shirt player on the chest.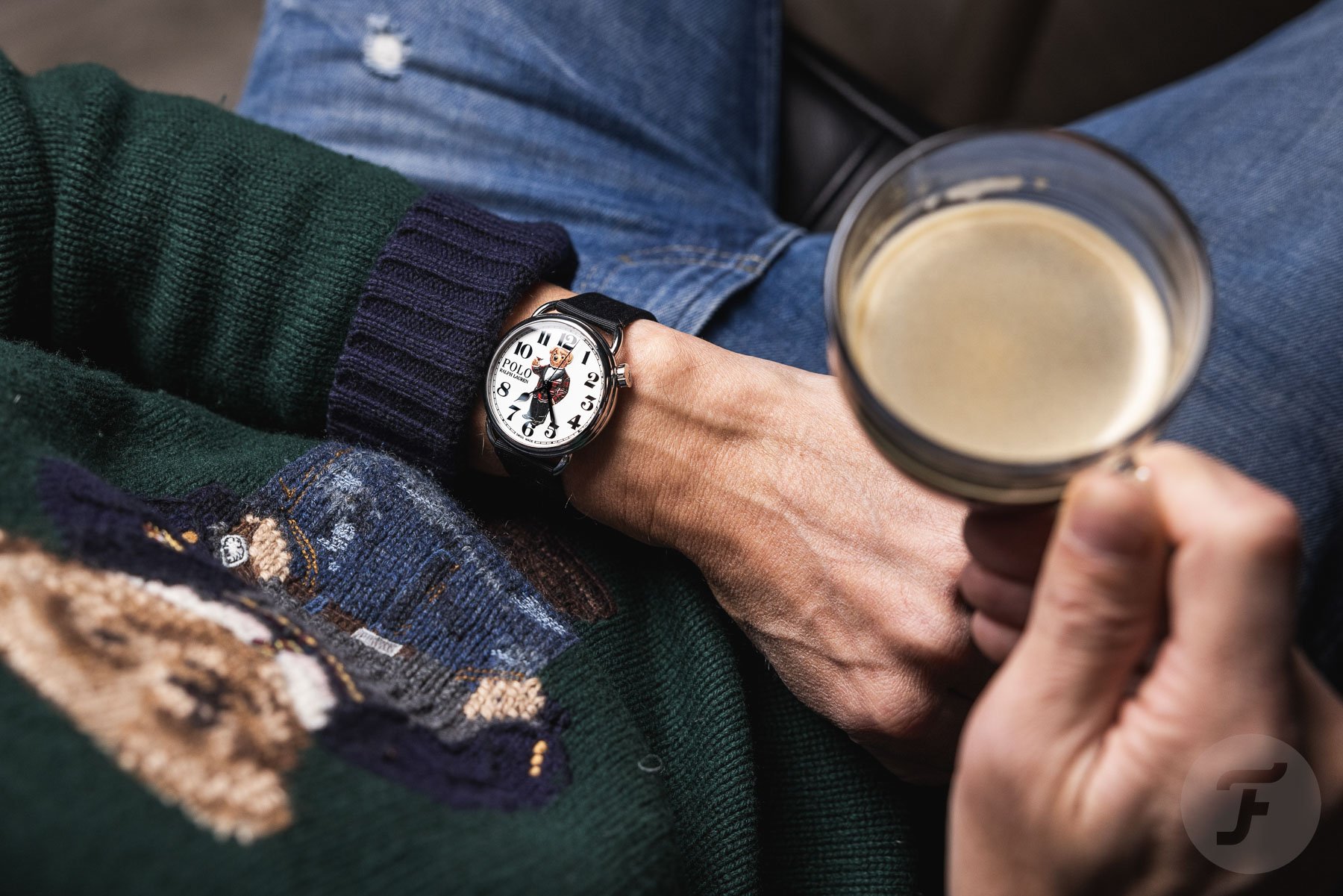 The cuddly Polo Ralph Lauren Tartan Tuxedo Polo Bear watch
Ralph Lauren watches are a casual timekeeping companion for those who dress their babies in the brand and also decorate their interiors with Ralph Lauren Home products. When you sleep in US$245 monogrammed bedsheets made of organic cotton and sit on a US$25,785 Brook Street Sofa, an elegant take on the classic Chesterfield silhouette, why not also wear a watch in the same Ralph Lauren style?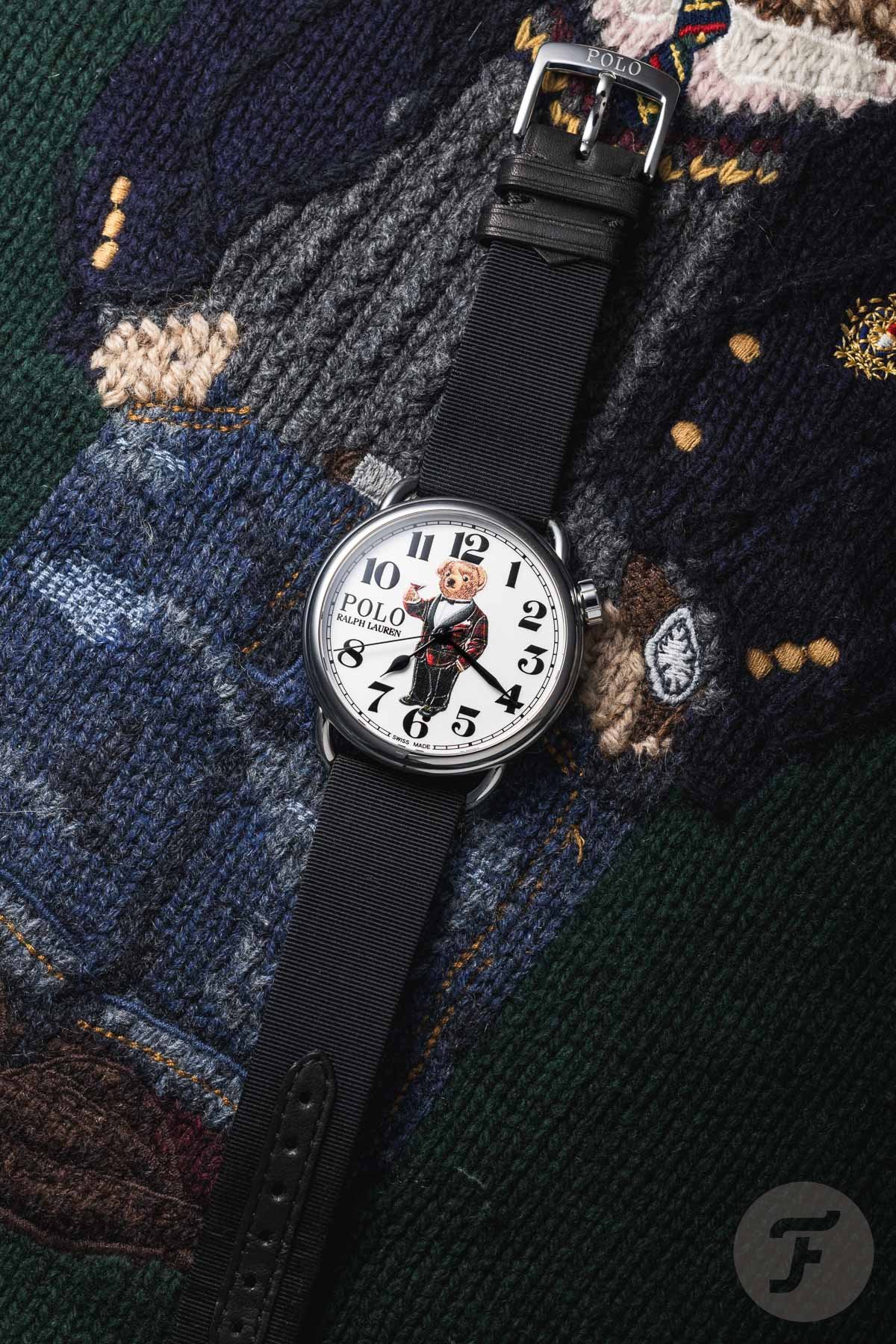 To be able to fully understand and experience the Polo Ralph Lauren Tartan Tuxedo Polo Bear watch, I had to borrow Laurits's Polo Bear sweater (since he's the Fratello Shop manager, you can probably take it off his hands if you make him a nice offer). The watch has a 42 × 10.7mm steel case that's water resistant to 5 bar. It also has an antireflective convex sapphire crystal and a steel crown at 2 o'clock with a stamped Polo Pony logo. The watch also comes on a stylishly slick black grosgrain silk strap with leather details and a steel pin buckle engraved with "Polo."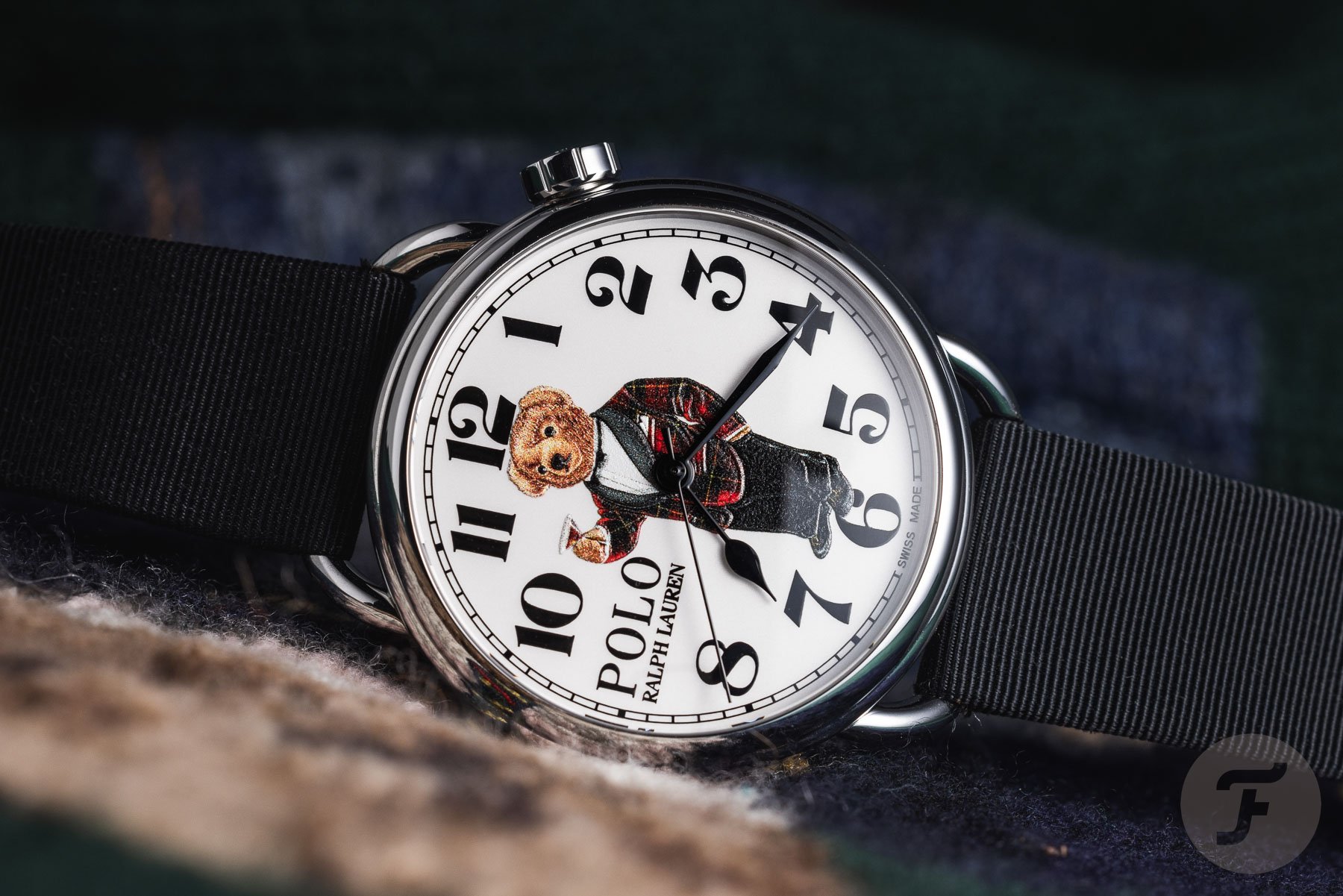 The heart of the bear
I guess that when a customer in a Ralph Lauren boutique asks about the insides of the watch with the bear on the dial, the answer "automatic, so you never have to buy a battery" from the salesperson is more than sufficient. Well, that salesperson is not wrong. But you might want to know that the movement inside the watch is actually the self-winding RL200 caliber. Unsurprisingly, that caliber is based on the Sellita SW200-1. The 4Hz movement received Côtes de Genève and perlage, but you can't see them because the case back is solid. There is plenty of room for a witty engraving, though. The Swiss-made movement has a power reserve of approximately 38 hours and shows you hours, minutes, and seconds via shiny black lacquered hands.
The dial is, of course, where the magic is. The white lacquer surface is the perfect backdrop for the 3D-printed multicolored bear. There are also black Arabic numerals, a classic railroad-style minute track, plus a huge black Polo Ralph Lauren logo to behold.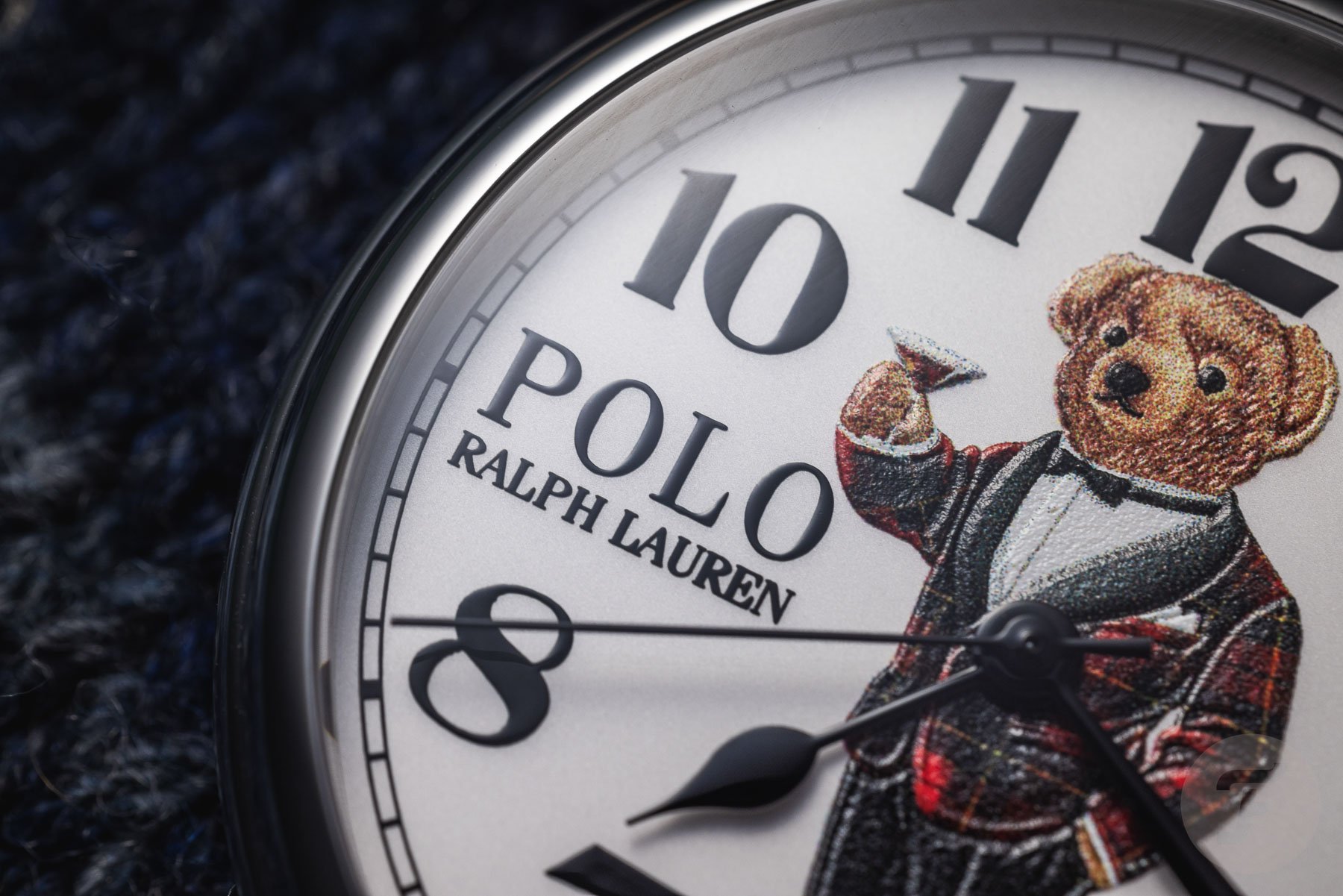 If you have to ask…
Listen, I like the watch. It's fun, especially in combination with the matching sweater. I can understand that when you're in a position to live inside the world of Ralph Lauren, the €1,800 / US$1,750 price tag is not an insurmountable obstacle. If you, for example, can afford to wear the €6,250 / US$5,495 Kent handmade plaid wool-cashmere suit from Ralph Lauren's top-end Purple Label collection, the price of the watch probably won't cause a big scare. And there you have it. I feel very strongly that if you have to ask about the price of the cuddly Polo Ralph Lauren Tartan Tuxedo Polo Bear watch, you can't afford it.
What do you think? I'm sure many of you won't hesitate to let me know in the comments.