Pre-Owned Picks – Watches From Rolex, Omega and IWC
Our preferred pre-owned picks for week 2
Here's our selection of pre-owned picks for the 2nd week of 2020. Last week we had a watch planned that was sold just before we published, so we're making up for that.
Every week we pick a few pre-owned watches from the largest market place for wristwatches in the world, Chrono24. Watches that we love ourselves, or think they will be interesting to you. So to be clear, we picked the watches, Chrono24 only sent us the images without their watermark and in a proper resolution.
Pre-Owned Picks Of Week 2
Last week I wrote about this Rolex GMT-Master II 16710, but it sold before we published this article. To make up for this, I've picked two GMT-Master watches this week: Two different references, a GMT-Master 16750 and a GMT-Master II 16710. My other picks are from Omega and IWC. The IWC is a Pilot Doppel Chronograph (one of my favorite watches from their collection); the Omegas are a Speedmaster 105.003 "Ed White" in good condition and a bi-color Globemaster. The latter is just a very sharp offer and a great value proposition for a modern watch. Without further ado, let's take a closer look.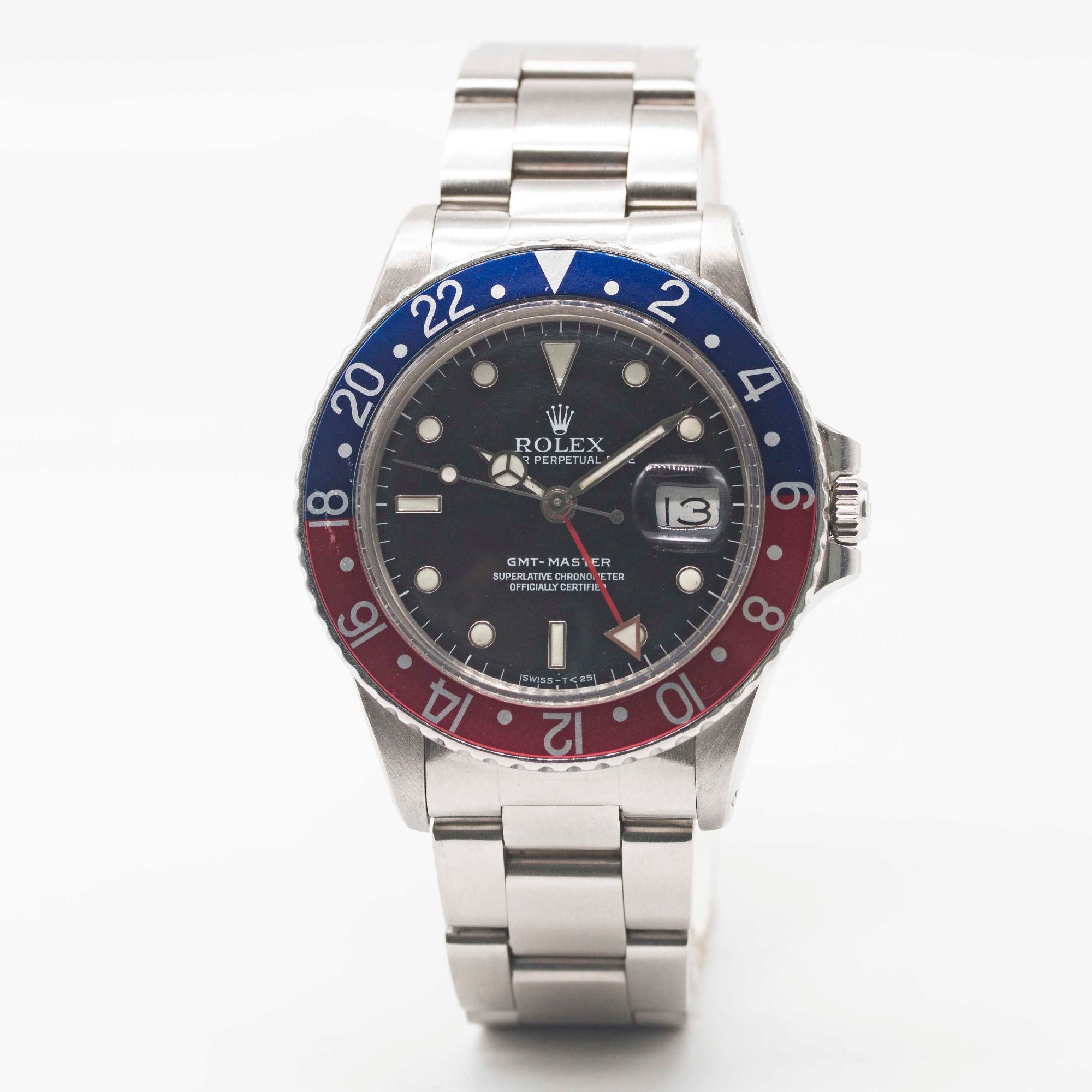 Rolex GMT-Master 16750 (€9,700)
When I purchased my first GMT-Master (way back in 2003), I had to decide between a reference 1675 and a 16750. I went for the 1675, but the 16750 is an interesting alternative. It is a so-called transitional model, between the 1675 and the modern 16700. It is a GMT-Master, not a GMT Master II. The major difference between the first generation GMT-Master watches from Rolex, and the popular follow-up is the independently adjustable hour hand. With the GMT-Master, you use the bezel to read the second timezone. This transitional 16750 exists in several executions; some come with a glossy dial, some with a matt dial. The GMT-Master 16750 was the first GMT to have a quick-set date and an operating speed of 28,800vph, thanks to the introduction of the caliber 3075. This particular reference was replaced by the earlier mentioned 16700, which was subsequently discontinued in 2001, heralding the end for the GMT-Master. You can find our historical overview of Rolex GMT-Master watches here. This Rolex GMT-Master 16750 dates back to ca.1984 and doesn't come with box and papers. Although I would always suggest placing a premium on the paper trail, it is often hard to acquire. The reality is that many people didn't (and still don't, based on the offered modern GMT-Master II 'Batman' watches without anything) take care of these things as they should. The watch appears to be in good condition, with the original bracelet (without flip-lock) and original tritium dial and hands. Click here for the offer on this Rolex GMT-Master 16750.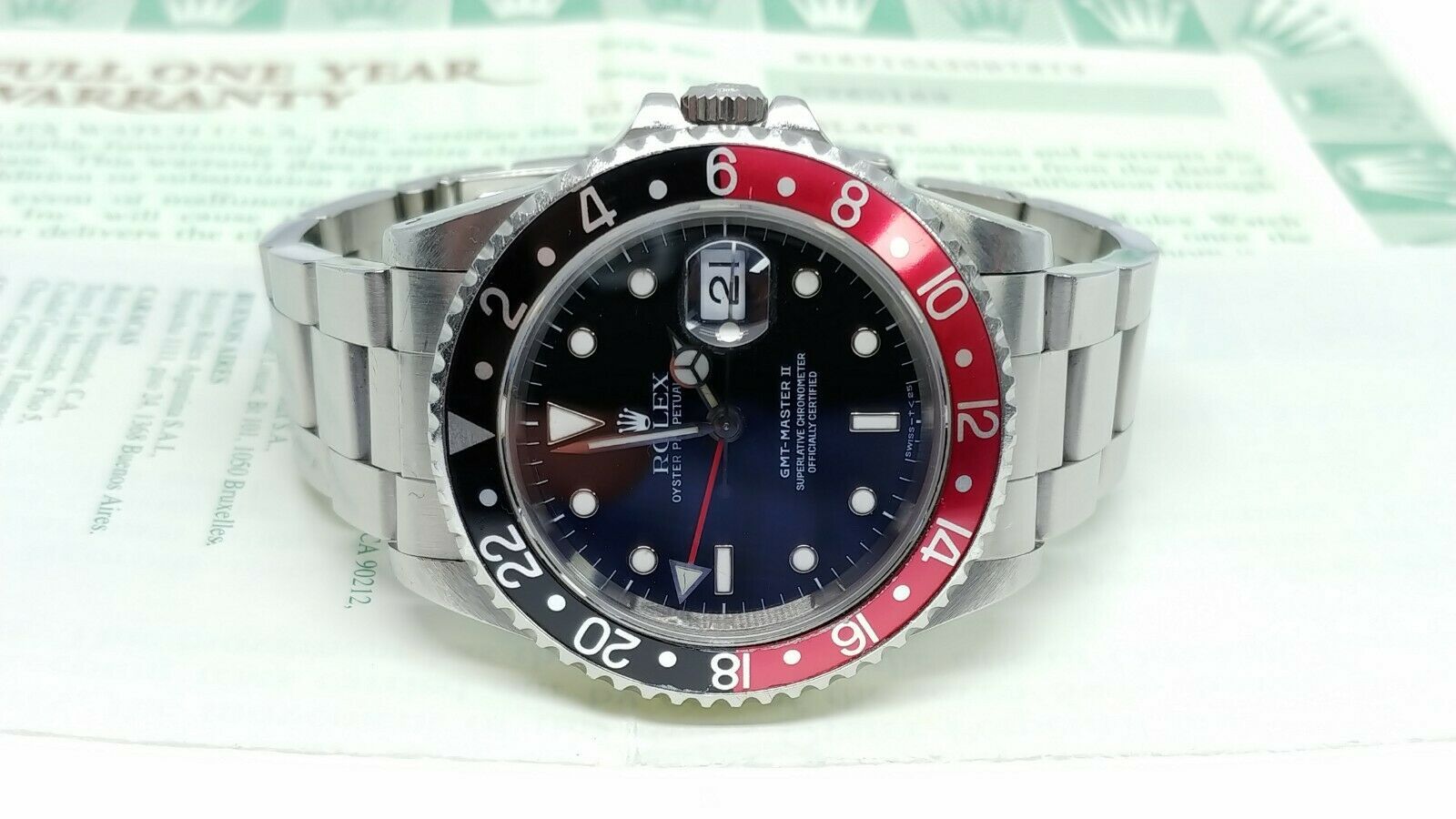 Rolex GMT-Master II 16710 (€9,640)
In 2006, I had quit my job as an IT auditor at EY. I'd built up a sizable nest-egg through burning the candle at both ends, so I decided to convert those savings into a brand new Rolex GMT-Master II 16710. It was the perfect watch to celebrate my new job, which I knew would involve a fair amount of overseas travel, allowing me to use this watch as its designers intended. There aren't too many on this list, but the Rolex GMT-Master II 16710 is one of the ones I regret selling. Mine was complete with all bezel combinations (black, black/red, and blue/red), and I often switched between them. It was a cool no-nonsense watch that got a lot of wrist time. I sold it because I was after a Royal Oak Chronograph, but, in retrospect, I should have kept it. I paid under 4,000 Euros when I bought it and sold a bit above that number. Today's prices are a world away from those. And while I don't think this is a nearly €10,000 watch when solely considering finish and quality, the market says otherwise. And that's fine. This one dates back to 1997 and is one of the few I could find below 10,000 Euros with box and papers there. Click here for the offer on this Rolex GMT-Master II 16710.
IWC Pilot Double Chronograph 3711 (€4,599)
In a time before the craziness surrounding steel Rolex watches, the Patek Philippe Nautilus and Aquanaut, and the Audemars Piguet Royal Oak models, I visited my first watch trade show in Germany. There, I encountered the IWC Pilot Double Chronograph 3711 (or Doppelchrono). At that time, it was hot stuff. There was a massive demand for these watches, with people treating them as the epitome of cool. It surprised me that the price of such a watch today on the pre-owned market isn't much different from the price during their heyday. I think you are buying an excellent chronograph with a split-second function. Based on the famous Valjoux 7750 movement, and modified by IWC, the reference 3711 I selected dates from 2002, 10 years after its initial introduction in 1992. With a price tag of €4,599, I would say it is a very interesting chronograph to add to one's collection. You can find them cheaper, but this one comes with box and papers and in exemplary condition. Click here for the offer on this IWC Pilot Double Chronograph 3711.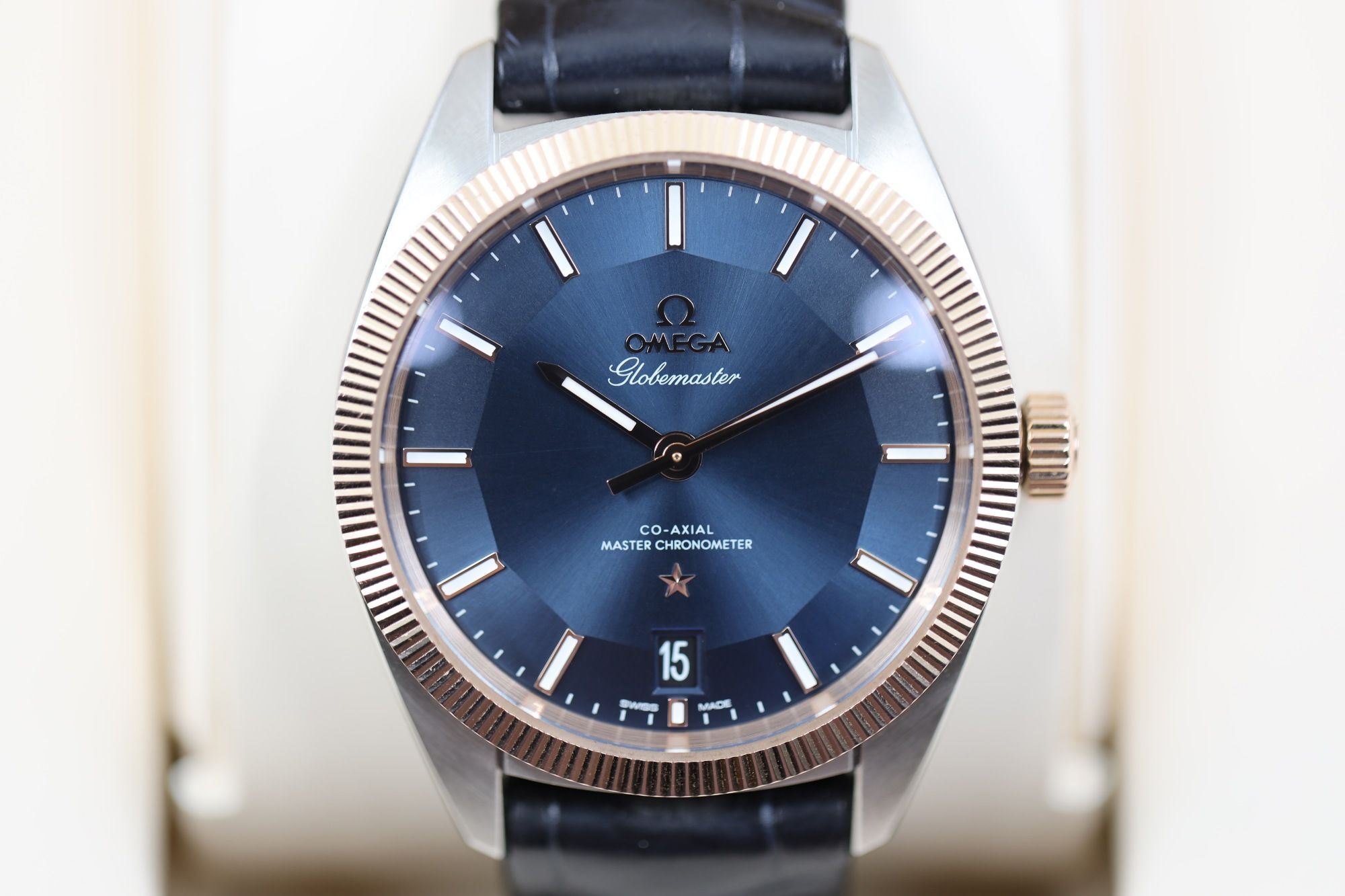 Omega Globemaster 130.23.39.21.03.001 (€4,775)
And now for the youngest watch in this overview. The Omega Globemaster debuted in 2015, and immediately became one of my favorite models in the collection. This particular watch is also quite new, from 2019, but someone decided to sell or trade it without giving it much of a chance on the wrist. As a result, it is in mint condition. The pictures from the seller are a bit overexposed, but as you can see in our article on this particular configuration, the Sedna gold and the blue are an amazing combination. The pie-pan is a nod to the original Omega Constellation series from the 1950s and 1960s, the fluted bezel was used on several Constellation models as well, especially on the C-shape model from the late 1960s and early 1970s. This watch measures 39mm and while it may have the looks of these vintage Constellation models, it is a very modern watch with the in-house developed Master Chronometer caliber 8900 inside. It is the best of both worlds, in my opinion, and for this offered price (€4,775) it is a complete steal. I've written about my love for this piece in this article, which is worth checking if you want some more in-depth information on the Globemaster. An underappreciated watch, but I am sure at some point it will catch up. Don't be late. Click here for the offer on this Omega Constellation Globemaster.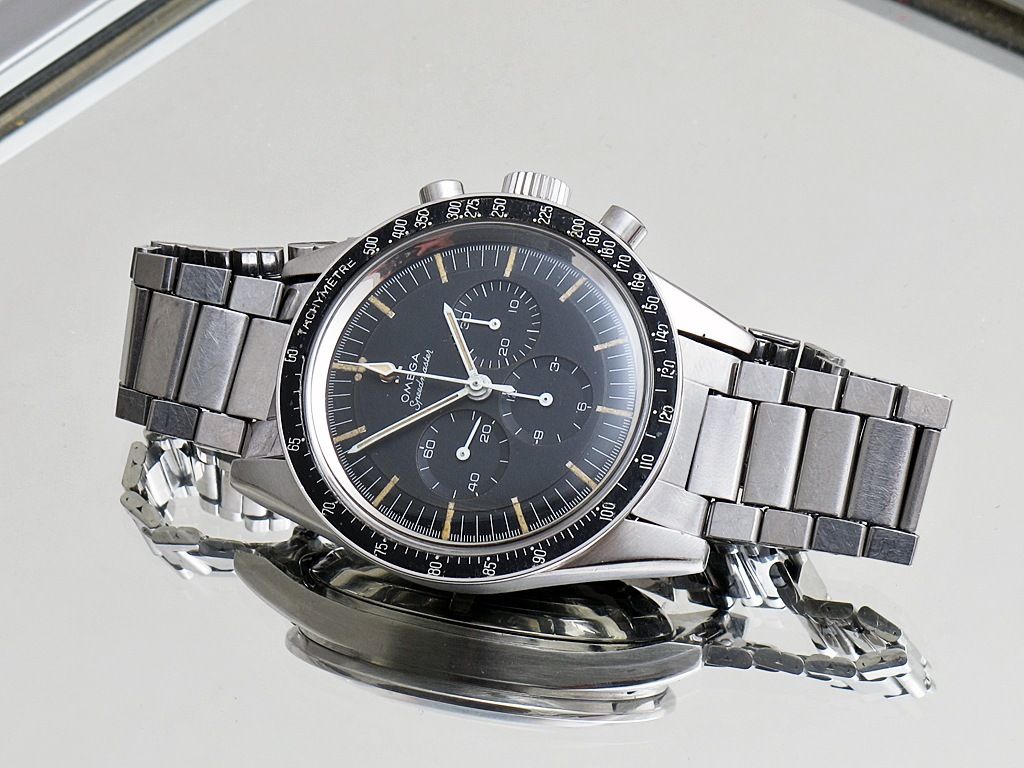 Omega Speedmaster 105.003 "Ed White" (€16,950)
With this week's introduction of the new steel Speedmaster with caliber 321, I thought it would be interesting to search for an original 105.003 on a bracelet in good condition. I found one from this well respected Dutch seller, produced in the mid-sixties. According to Omega's archives, this watch was shipped to the Navy, Army, and Air force institutes (NAAFI) in Great Britain. The watch appears to be in good and original condition. You will find a Speedmaster 105.003 with a lower price tag, but condition is everything when it comes to vintage watches and this one ticks a lot of boxes. I would always advise you to spend a bit more than initially budgeted on a vintage watch to get one in a top-notch condition instead of just settling for the cheapest ones out there. As the adage goes, you get what you pay for, and cheap vintage watches (especially classics like this one) are often cheap for a reason. Bringing a battered model up to speed (pardon the pun) can be a nightmare given the cost and scarcity of spare parts from the same era. The 105.003 was one of the three references used on the Moon. One of which called the wrist of Gene Cernan (the last man to set foot of Earth's single satellite) home. To me, reference 105.003 is the first Speedmaster that is really linked to the Moon program, although the predecessor could already be found on the wrist of Wally Schirra in 1962 (and in space). Click here for the offer on this Omega Speedmaster 105.003.
As always, with pre-owned watches, make sure to do your (own) research. Also, feel free to make an offer on these watches (remember, these are merely asking prices), and don't be afraid to discuss the warranty the seller can provide. Chrono24 offers its Trusted Checkout system, so you have proper buyer protection (more here). But it never hurts to be surer than sure. Always do your homework. Spending adequate time on a purchase can help minimize frustrations further down the line.
Happy Hunting!